This post may contain affiliate links. Read my disclosure policy.
Chocolate Peanut Butter Banana Smoothie is a deliciously healthy smoothie recipe that tastes like dessert! With the ultimate flavor combo, you can enjoy a protein-packed breakfast or snack (about 20 grams!) while you feel like you are indulging in a sweet milkshake. Kids of all ages will love to sip on rich and creamy Funky Monkey Smoothies.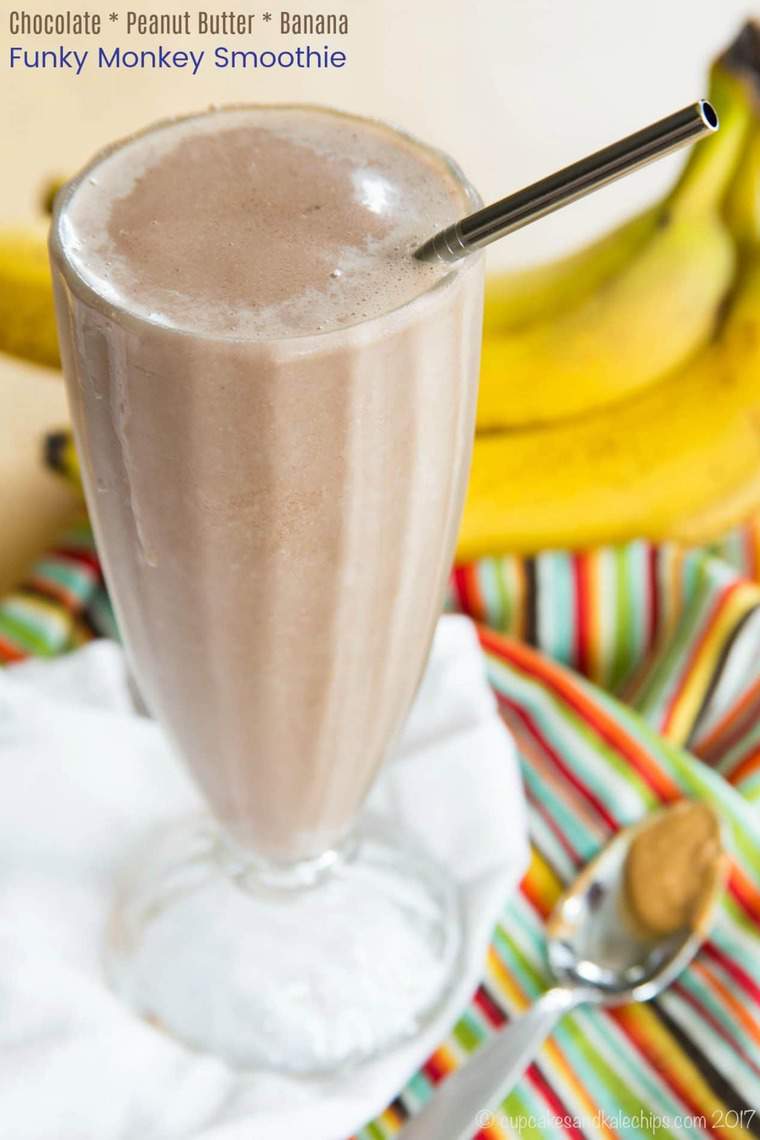 How funky is your monkey? How loose is your goose?
Sorry, my mom is a lifelong cheerleader and cheerleading coach. Sometimes that kind of silliness just comes out of me.
But THIS RECIPE isn't silly. This glass of chocolate peanut butter banana goodness masquerading as a rich dessert is good for you! It's my Funky Monkey Smoothie!
I'm kind of a sucker for pairing chocolate, bananas, and peanut butter together, and I'm always happy to enjoy some funky monkey treats like banana peanut butter chocolate chip ice cream. And the next time I make a Reese's Cake, I am totally adding a layer of banana pudding.
But any time I can get my favorite decadent flavor combo in a healthier way, I'm all over it. So I've squeezed this trifecta of deliciousness into everything from chocolate chip cheesecake frozen yogurt pops to chocolate peanut butter banana energy balls, and even healthier chocolate cupcakes!
And of course, there's my personal favorite, a healthy dessert smoothie…
Peanut Butter Chocolate Banana Smoothie Recipe
Who doesn't love this amazing combination of flavors? And when you can enjoy something that tastes like a rich and creamy milkshake, but still feel good about having it for breakfast or a healthy snack, then it's a total win.
This is the ultimate healthy dessert smoothie recipe for all the chocolate and peanut butter lovers out there. And with a good dose of protein and some dark leafy greens, you'll definitely fuel yourself through the morning until lunch or get yourself through the afternoon slump.
What is in a Funky Monkey Smoothie?
Let's talk a little more about the simple ingredients that make this chocolate peanut butter banana smoothie so amazingly delicious and healthy. Plus I will share some substitutions you can make to customize your smoothie.
Milk
I like to use Silk Unsweetened Vanilla Almondmilk in my smoothies since it is so low in calories but still has a lot of calcium. If you want to add more protein, you can use regular dairy milk, and anything from skim to 1% to 2% to whole milk will work. And any non-dairy milk can be substituted as well.
Leafy greens
Adding dark leafy greens to your smoothie is totally optional, but it's a great way to sneak in extra vitamins, minerals, and fiber.
I prefer to use baby spinach since it has a milder flavor and basically disappears once you blend it. But others like to use kale because it is a nutritional powerhouse. Feel free to use your favorite dark leafy green, or omit it completely.
Cottage cheese or Greek yogurt
For many people, Greek yogurt is the go-to in smoothies to add protein and more creaminess. You can definitely use that in this recipe, but I actually prefer cottage cheese.
Many people aren't fans of cottage cheese, but trust me on this. It has become my go-to for cherry smoothies, blueberry smoothies, you name it. ,
It blends up so super smooth, without that bit of tartness from the yogurt. And the salt in the cottage cheese just enhances the sweetness of the fruit, as well as the nuttiness of the peanut butter in this recipe.
If you avoid dairy, substitute a non-dairy yogurt like coconut or soy yogurt.
Peanut Butter
Use your favorite brand or style – creamy or chunky, traditional or natural, store-bought or homemade. If you want to save a few calories, you can also use powdered peanut butter, but you will also lose a bit of the protein and healthy fats that help keep you full.
Cocoa Powder
Cocoa powder is a great ingredient to add a tone of chocolate flavor with minimal calories. I use plain old Hershey's Cocoa Powder, but you can use cacao powder for even more of a nutritional punch of antioxidants.
Bananas
Bananas are pretty much my favorite smoothie ingredient because I love the creaminess they add when they are all blended up. You've seen banana "nice cream", right (I seriously want one of these Yonanas things)? Well, the same effect happens in smoothies, giving them an almost milkshake-like texture.
How to freeze bananas for smoothies:
I recommend peeling bananas before you freeze them, as the peel is very hard to remove from a frozen banana. You have a couple of options:
Peel your bananas and freeze them whole in a plastic freezer storage bag or airtight freezer-safe container. Then you will have to cut the frozen banana into chunks before adding it to your smoothie.
After peeling, cut the banana into chunks before freezing. You can place the chunks from each banana into a separate plastic baggie and put them all in a storage container before freezing so that you have them portioned out and ready to add to your blender.
Ice
I like a thick, frosty smoothie. So I do usually add several ice cubes. You will need to decide how much to add based on the size of your ice cubes and your preferred texture. If you leave them out, you will have a slightly thinner smoothie (though you could reduce the amount of milk), but a richer flavor.
Extras
Feel free to garnish your smoothie with banana slices, a drizzle of peanut butter or chocolate sauce, a sprinkle of mini chocolate chips or cacao nibs, or a bit of whipped cream.
How to make a banana chocolate peanut butter smoothie
Add the ingredients to your blender in the order listed:
Add blend until smooth. Pour into a glass or insulated smoothie cup and enjoy it immediately!
BRIANNE'S FAVORITE BLENDER
I always recommend a high-powered blender like the Blendtec for the smoothest, most creamy smoothies. The Mini Wildside+ Jar is the perfect size for one or two smoothies. You can even use the "Smoothie" setting to have it gradually increase the speed to perfectly incorporate the liquids and frozen ingredients. Note, I do usually stop it a little before the cycle is over because I prefer an extra thick smoothie.

I am a Blendtec ambassador, and should you make any purchases through my  Blendtec Store link, I will receive a small commission, but that also means you can use the code CUPCAKESANDKALECHIPS to receive 20% off.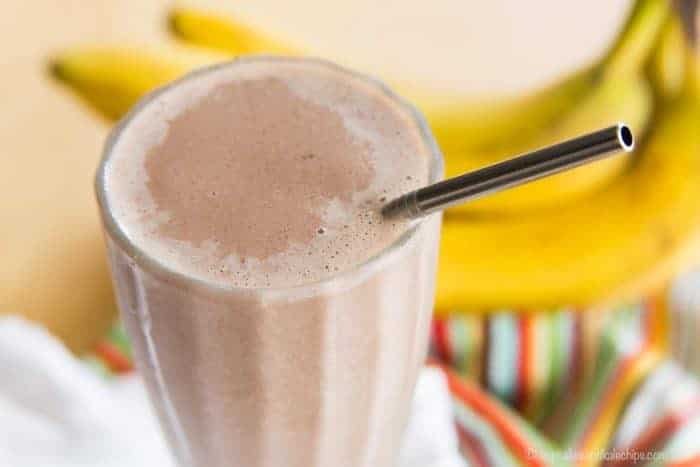 More healthy chocolate smoothie recipes
So you know you want to cap off your evenings with a chocolaty dessert. Just whip up a Chocolate Peanut Butter Banana Smoothie instead and indulge while you are treating your body well!
No guilt here because it is packed with healthy ingredients and about 20 grams of satisfying protein.
Funky Monkey Healthy Chocolate Peanut Butter Banana Smoothie
The decadent combination of chocolate, peanut butter, and banana comes together in this healthy and protein-packed smoothie that tastes like dessert.
Ingredients
1

cup

milk

I used unsweetened vanilla almond milk

1

cup

spinach

or other dark, leafy greens, if desired

1/2

cup

cottage cheese

or plain Greek yogurt

1

Tablespoon

peanut butter

(or 1 Tablespoon peanut butter powder)

1

Tablespoon

unsweetened cocoa powder

1

large

frozen banana,

cut into chunks

4

ice cubes

more or less depending on desired texture
Instructions
Add the ingredients to a blender in the order listed, and blend until smooth.

Pour into a glass and serve.
Nutrition Facts
Funky Monkey Healthy Chocolate Peanut Butter Banana Smoothie
Amount Per Serving (1 g)
Calories 371
Calories from Fat 144
% Daily Value*
Fat 16g25%
Cholesterol 17mg6%
Sodium 809mg34%
Potassium 943mg27%
Carbohydrates 42g14%
Protein 20g40%
Vitamin A 3045IU61%
Vitamin C 20.3mg25%
Calcium 417mg42%
Iron 2.2mg12%
* Percent Daily Values are based on a 2000 calorie diet.
Enjoy!