Funky Monkey Healthy Chocolate Peanut Butter Banana Smoothie
Chocolate Peanut Butter Banana Smoothie is a deliciously healthy smoothie with a funky sounding name and your favorite combination of ingredients. As a healthy snack or breakfast, and maybe even dessert, kids of all ages will love this Funky Monkey Smoothie recipe.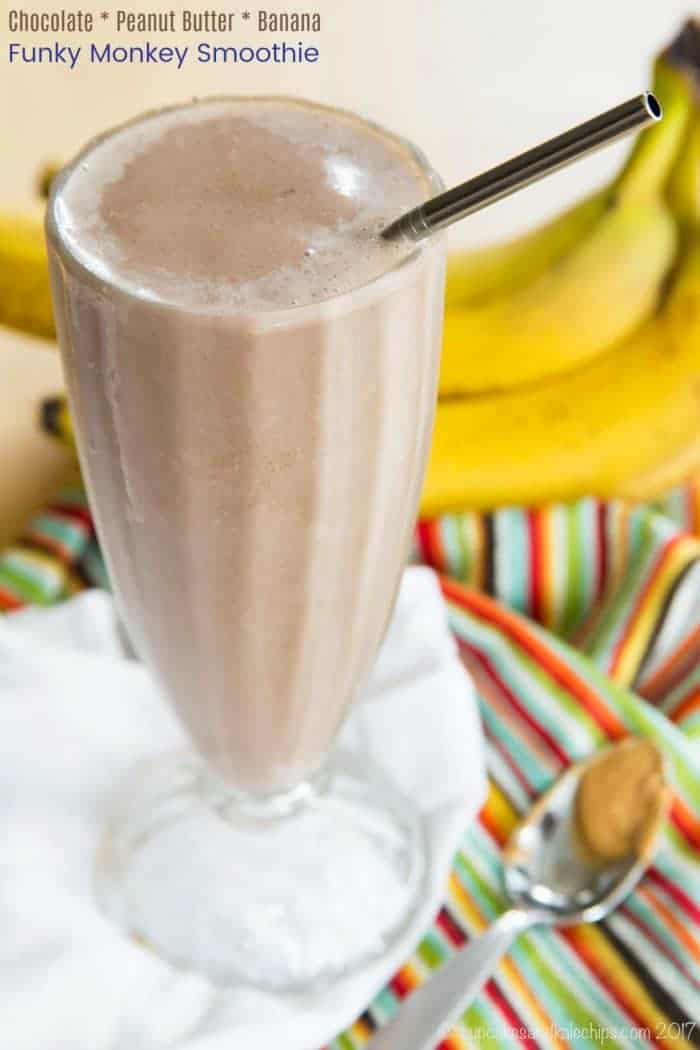 Chocolate Peanut Butter Banana Funky Monkey Smoothie
How funky is your monkey?  How loose is your goose?
Sorry, my mom is a lifelong cheerleader and cheerleading coach.  Sometimes that kind of silliness just comes out of me.  But THIS isn't silly.  This glass of chocolate, peanut buttery, banana-y goodness masquerading as a rich dessert is good for you!  It's my Funky Monkey Smoothie!
I'm kind of a sucker for pairing chocolate, bananas, and peanut butter together, and I'm always happy to enjoy some funky monkey treats like banana peanut butter chocolate chip ice cream. But any time I can get my favorite decadent flavor combos in a healthier way, I'm all over it. So I've squeezed this trifecta of deliciousness into everything from chocolate chip cheesecake frozen yogurt pops to chocolate peanut butter banana energy balls, and even healthier chocolate cupcakes!
And of course, there's my personal favorite…
It's my Funky Monkey Healthy Chocolate Peanut Butter Banana Smoothie recipe!
Bananas are pretty much my favorite smoothie ingredient (coming in pretty even with cherries, like my other favorite Cherry Vanilla Almond Smoothie) because I love the creaminess they add when they are all blended up. You've seen banana "nice cream", right (I seriously want one of these Yonanas things)? Well, same effect in smoothies, giving them an almost milkshake-like texture.
For many people, Greek yogurt is the go-to in smoothies to add protein and more creaminess, but I actually prefer cottage cheese. You can go with whatever you have in your fridge, especially because I know cottage cheese weirds out some people, but trust me, it blends up so super smooth, without that bit of tartness from the yogurt. And the salt in the cottage cheese just enhances the sweetness of the banana and the nutty goodness of the dollop of peanut butter.
Now all you need is some cocoa powder and milk (I use almond milk to keep the calories in check, especially if I am having this as a snack and not in place of a meal), and, well…
Funky monkey healthy smoothie in all its glory!
So you know you want to cap off your evenings with a chocolaty dessert.  Just whip up a Funky Monkey Smoothie and indulge while you are treating your body well!  No guilt here!
Here's some more chocolate smoothie recipes…
My friends also have some more healthy ways to sip a chocolaty treat. There's this dairy free Chocolate Avocado Smoothie from Texanerin Baking. You can also try a Chocolate Raspberry Smoothie from Two Peas and Their Pod. And for a different twist, here's a White Chocolate Strawberry Smoothie from Big Bear's Wife.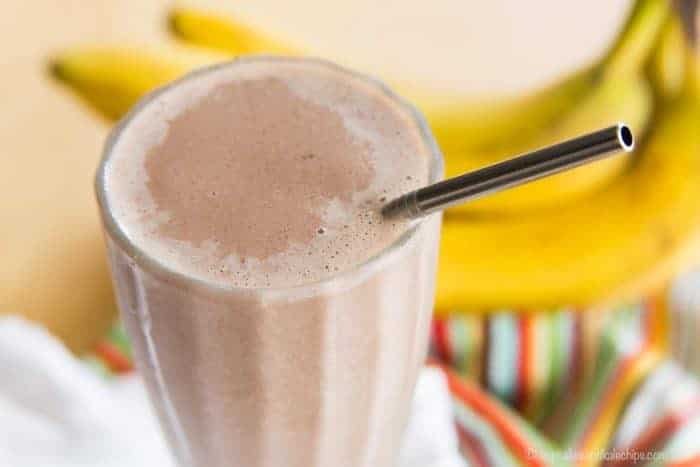 A few things you might need…
Products from Amazon.com
‹
›
Get a little funky and enjoy this Healthy Chocolate Peanut Butter Banana Smoothie…

Funky Monkey Healthy Chocolate Peanut Butter Banana Smoothie
The decadent combination of chocolate, peanut butter, and banana comes together in this healthy and protein-packed smoothie.
Ingredients
Large handful of spinach or other dark, leafy greens, if desired
one frozen banana, cut into chunks
1/2 cup cottage cheese or plain Greek yogurt
1 Tablespoon peanut butter
1 Tablespoon cocoa powder
1 cup milk (I used unsweetened vanilla almond milk)
about 1/2 cup of ice cubes, more or less depending on desired texture
Directions
Add the ingredients to a blender in the order listed, and blend until smooth.
Pour into a glass and serve.
Loading nutrition data...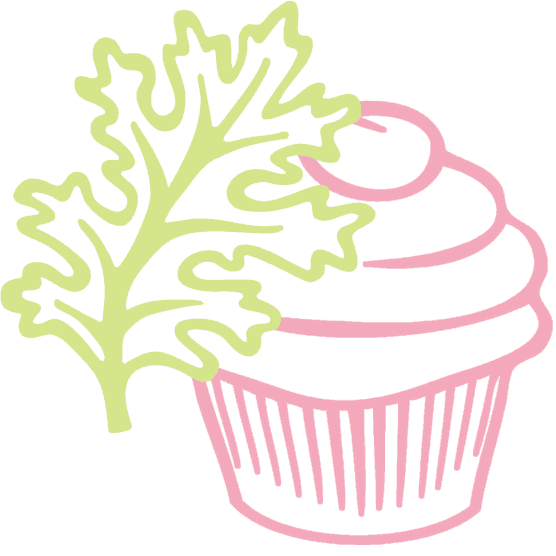 LOVE THIS RECIPE?
Give it a 5 STAR rating and share your photos on Instagram with the hashtag #CKCrecipes!
Enjoy!