Flourless Peanut Butter Cup Brownies
Disclosure: This post may contain affiliate links. Cupcakes & Kale Chips is a participant in the Amazon Services LLC Associates Program, an affiliate advertising program designed to provide a means for us to earn fees by linking to Amazon.com and affiliated sites.
Flourless Peanut Butter Cup Brownies taste ridiculously amazing. Rich, fudgy brownies are swirled with peanut butter and dotted with chunks of peanut butter cups. You get double the chocolate, double the peanut butter, and none of that pesky flour. So there is nothing to get in the way of all the intense flavor in this easy gluten free brownie recipe that is also one of the best chocolate peanut butter dessert recipes!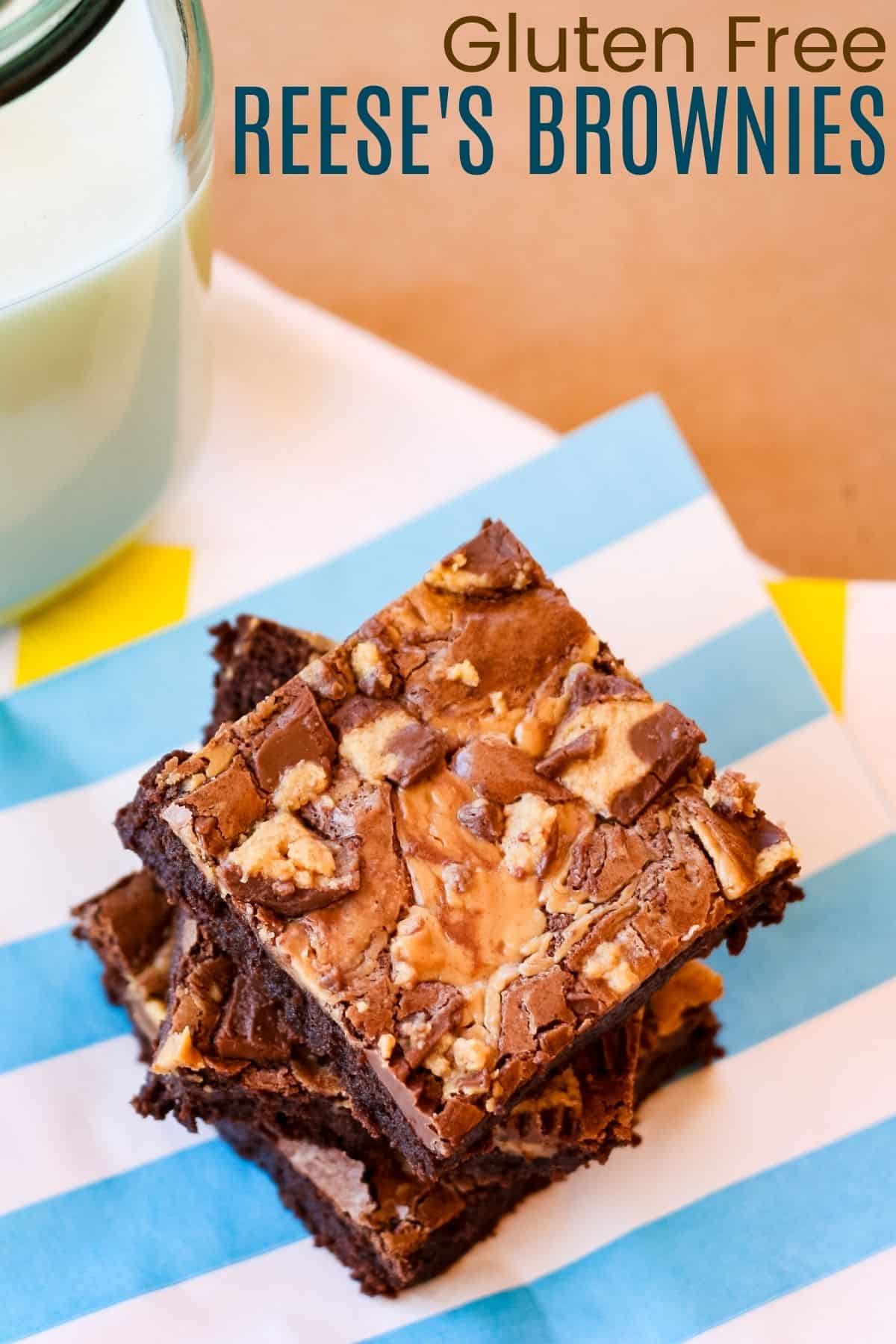 Originally published on March 25, 2014. Updated and republished on July 19, 2017.
A couple weeks ago was one of the Top 10 Days in My Life. Yup, this day ranks right up there with the day I got married, found out I was pregnant, and gave birth to my children. It was the day I confirmed that Baby Smiles is NOT allergic to peanut butter!
I hate to make light of this because I know people who suffer from serious allergies and it is a scary thing. But I am seriously addicted to the stuff. Like, open jar and insert spoon-type addicted. Throw chocolate into the mix and forget about it (oh wait, I'm from Jersey, I'm supposed to say "fuhgeddaboudit!").
When I was little, we always went to this ice cream place where they make Blend-Ins – you know, ice cream whizzed up with toppings. My order every single time – chocolate ice cream with peanut butter cups. So it comes as no surprise that I had to make a Peanut Butter Cup No-Churn Ice Cream Cake.
I'll let you guess what were the first types of candy to disappear from my Halloween stash. I mean, the only reason to not devour all the Reese's is to make Flourless Chocolate Peanut Butter Cake Roll so that I can just eat more chocolate and peanut butter with my chocolate and peanut butter.
And green smoothies, do you think I usually make  blueberry smoothie or a pineapple smoothie or something like that? Nope. Most often it's, yup, you guessed it, a Chocolate Peanut Butter Banana Smoothie!
Heck, I even have an entire Pinterest board dedicated to my Chocolate & Peanut Butter Obsession!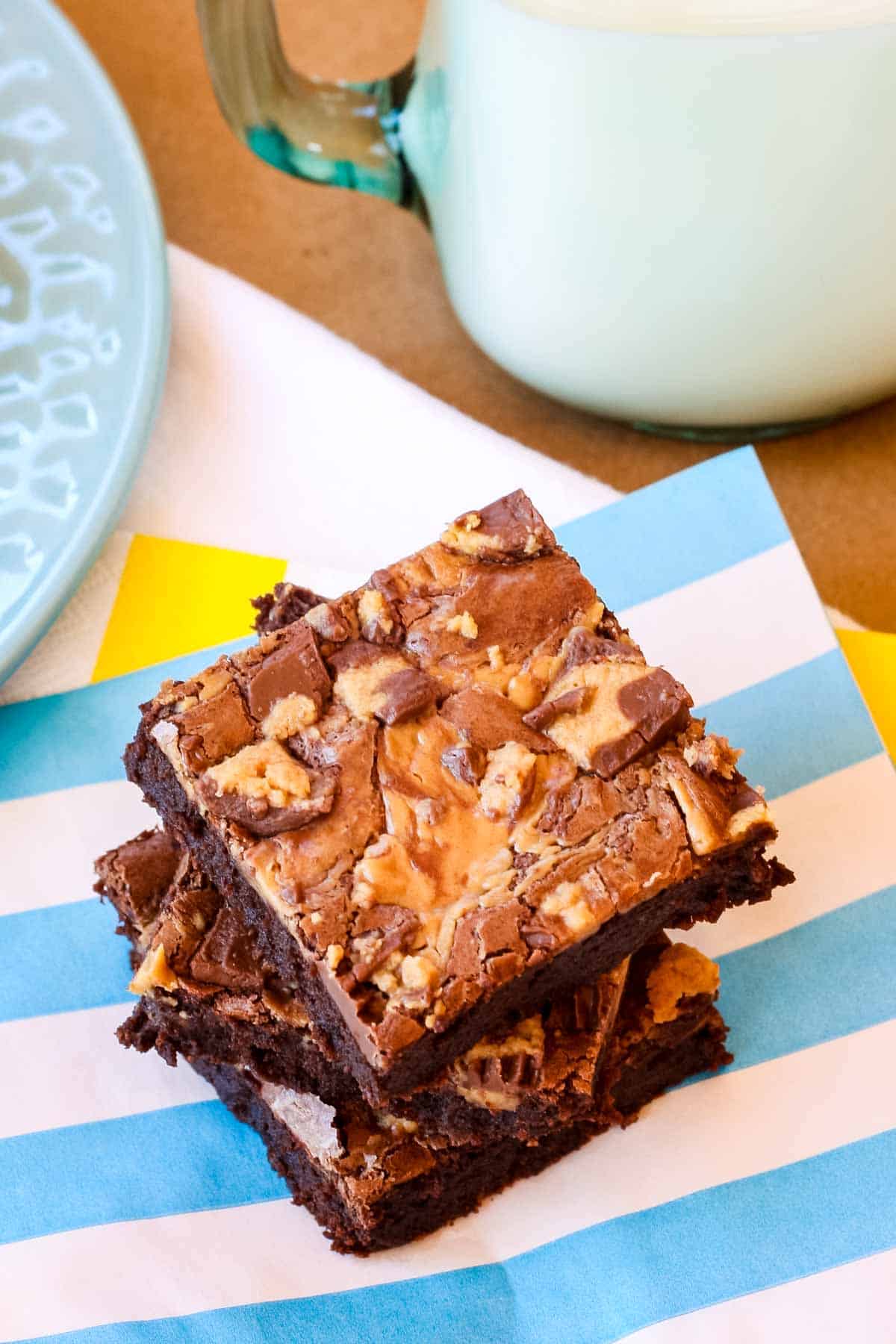 Gluten Free Peanut Butter Cup Brownies
So, you know, brownies. And not just any brownies. Naturally these are chocolate peanut butter brownies! Beyond that, they are flourless brownies made with cocoa powder and chocolate chips, just to make sure it has that gooey, chocolate intensity. Then they are swirled with creamy, dreamy peanut butter for that salty, peanutty contrast to the sweet, fudgy brownie, and scattered with chunks of peanut butter cups for texture, and, you know, more chocolate and peanut butter.
Just pour me a glass of milk and give me one (dozen)! Or if you actually manage to not eat the entire pan, you could always make these Brownie Peanut Butter Mousse Parfaits.
But first…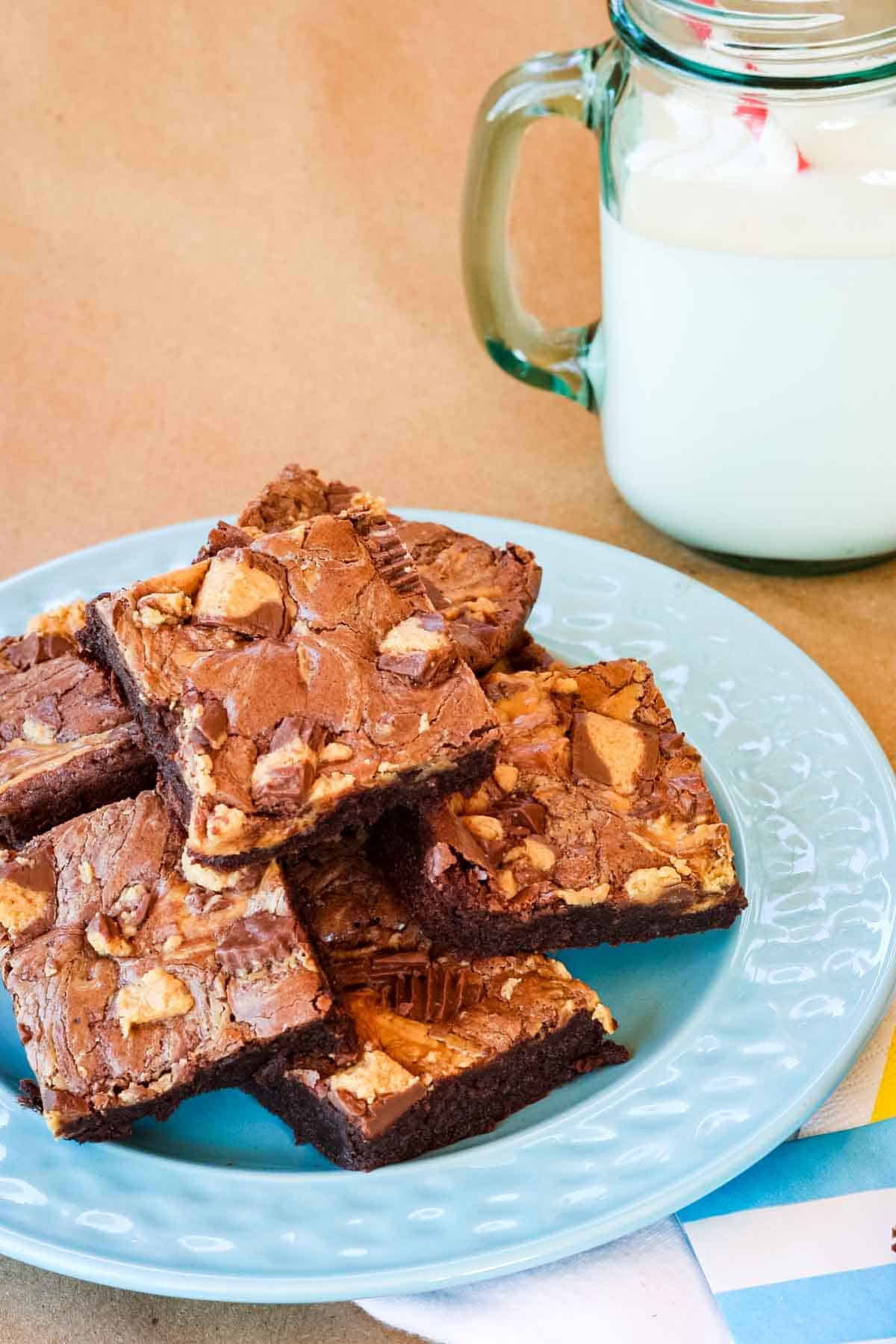 How do you make Flourless Peanut Butter Cup Brownies?
Products from Amazon.com
‹
›
First, line your brownie pan with parchment paper. It really helps with removing these uber-gooey brownies from the pan.
Second, melt the butter and chocolate chips together. Since nobody really has a double boiler, I usually just set a glass bowl over a simmer pot of water. Then set it aside to cool
Now whisk the eggs and sugar until they get thick and pale yellow. Don't rush this step, but it really only takes a minute or two. And yes, I do typically do this by hand with a wire whisk. I figure it helps burn off some of the brownie calories.
Add the chocolate mixture a little at a time into the egg mixture, whisking constantly until it is smooth.
The final step of making the batter is to whisk in the almond meal, vanilla, cocoa powder, and salt. Next, pour it into the pan.
Finally, drizzle the batter with peanut butter and swirl it around, sprinkle on the peanut butter cups, and bake.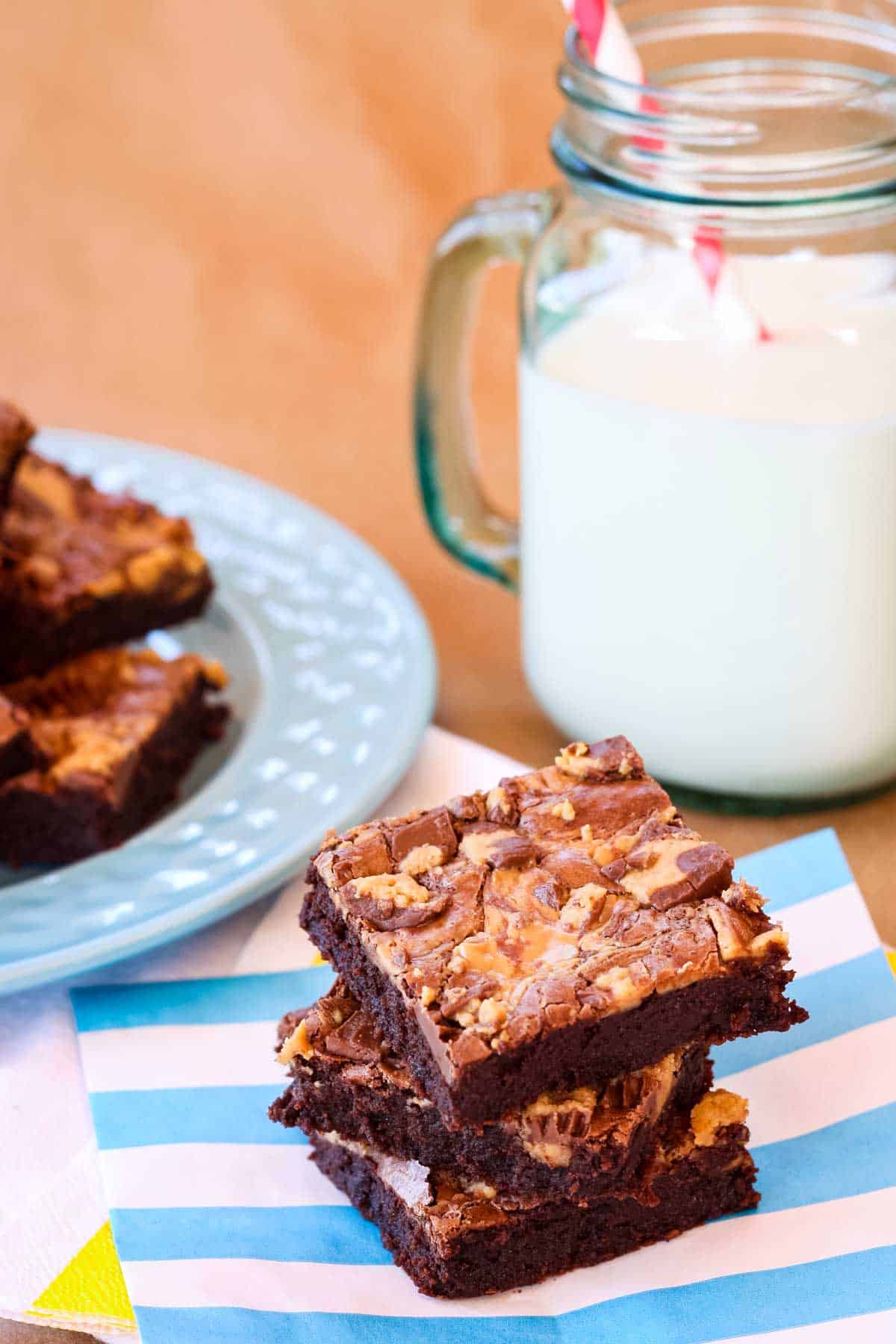 Are Flourless Peanut Butter Cup Brownies gluten free?
As I mentioned, this is a flourless brownie recipe, so it is naturally gluten free. It is my go-to brownie recipe, and I've turned it into everything from Flourless Nutella Cheesecake Swirl Brownies to Flourless Caramel Cashew Cheesecake Brownies.
While these brownies don't contain all purpose flour, they do have almond meal or almond flour, which is gluten free and typically easy to find these days.
Always be sure to read labels on ingredient such as vanilla extract and cocoa powder to ensure that they do not have any sneaky gluten-containing ingredients or are produced in a facility where there could be cross contamination. You might also want to check your chocolate chips. I always use the Costco-sized bag of Nestle Toll House Morsels.
So there's just one last thing to check when making Flourless Peanut Butter Cup Brownies.
Are Peanut Butter Cups gluten free?
Hershey states on their website that all Reese's Peanut Butter Cups are gluten free except the specially shaped ones for the holidays. So just stick with the regular or mini Reese's and you are good to go. You can also use Justin's Peanut Butter Cups or make your own Honey Sea Salt Peanut Butter Cups if you want to make these Flourless Peanut Butter Cup Brownies totally from scratch. You could even swirl it with the Honey Sea Salt Peanut Butter you stuff in the cups.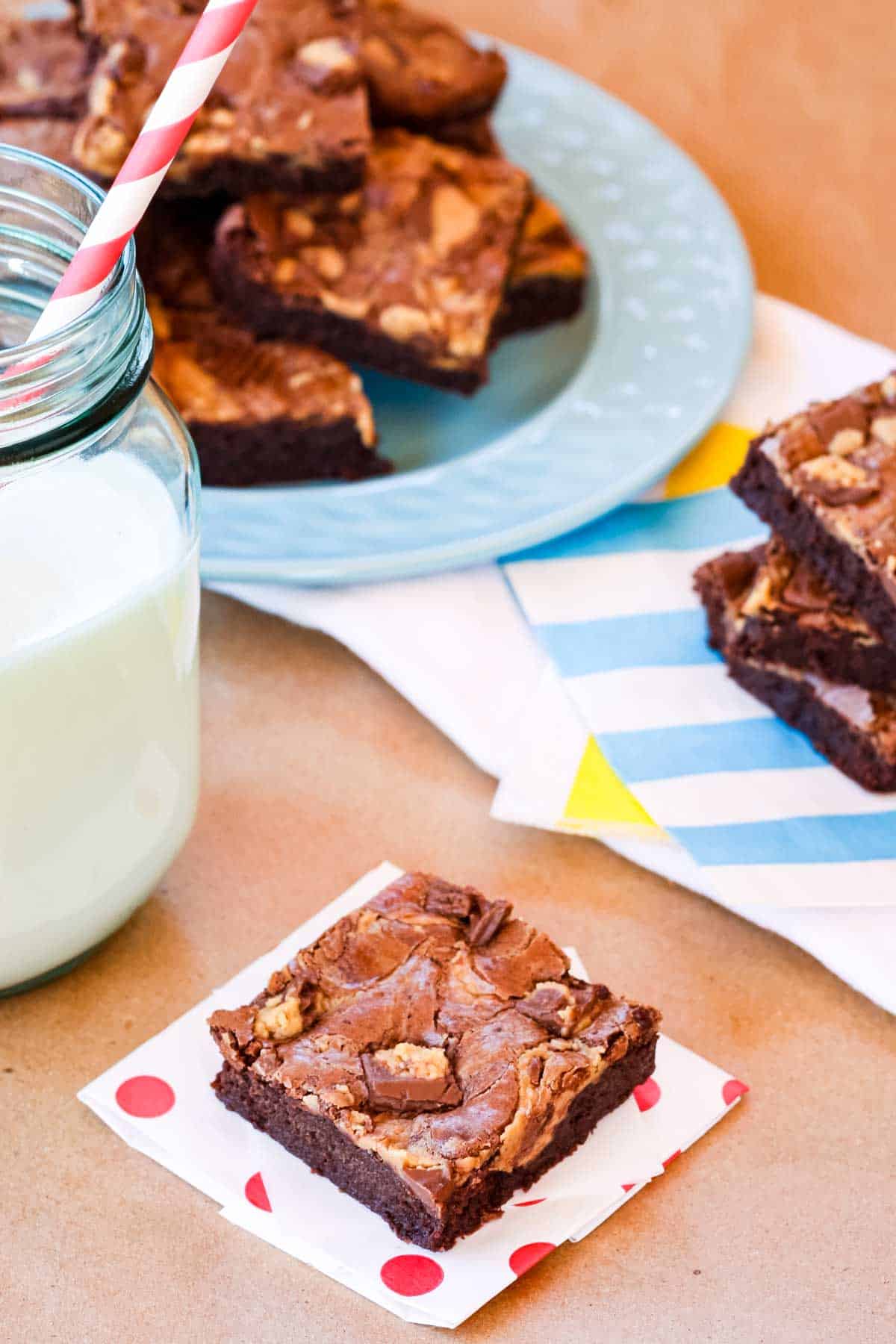 What are some more gluten free flourless brownies recipes?
These Flourless Mocha Brownies from That Skinny Chick Can Bake have a secret ingredient, and I'm not talking about the coffee. Fudgy Toffee Flourless Brownies from Mom on Timeout are so gooey. And if you want to change things up a bit, try Flourless M&M Brownie Cookies from Foodie with Family.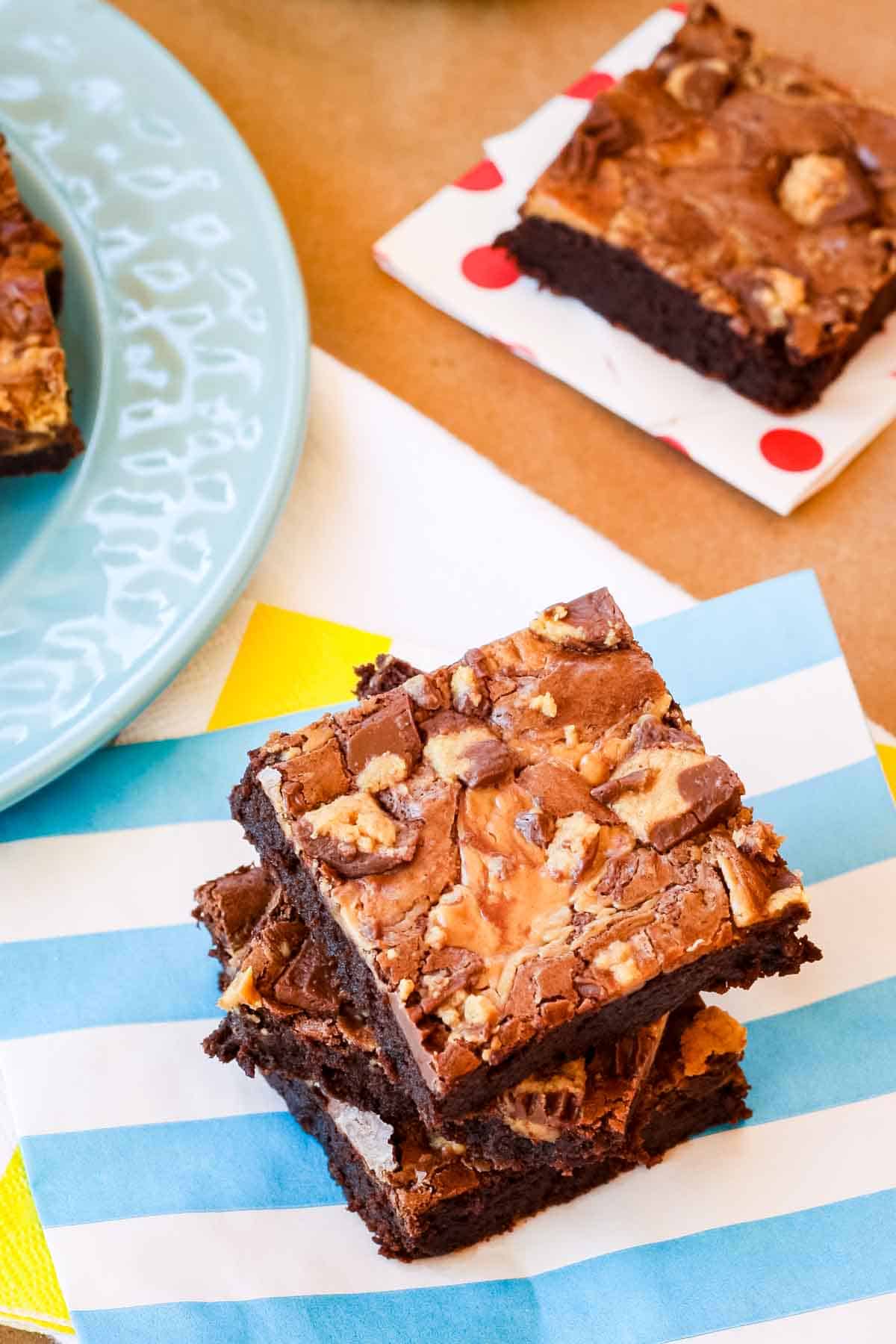 For more yumminess from me and my foodie friends, keep up with me on…
Or sign up to have Cupcakes & Kale Chips delivered straight to your Inbox!
Flourless Peanut Butter Cup Swirl Brownies Recipe
Making gluten free brownies doesn't get any easier than when you just skip the flour completely and bake flourless brownies. This makes them extra rich and fudgy. Then add swirls of peanut butter and plenty of Reese's Peanut Butter Cups and you have a pan of epic chocolate peanut butter brownies that nobody can resist.
I hope you'll leave a comment and give it a FIVE STAR rating or share a photo on this pin on Pinterest!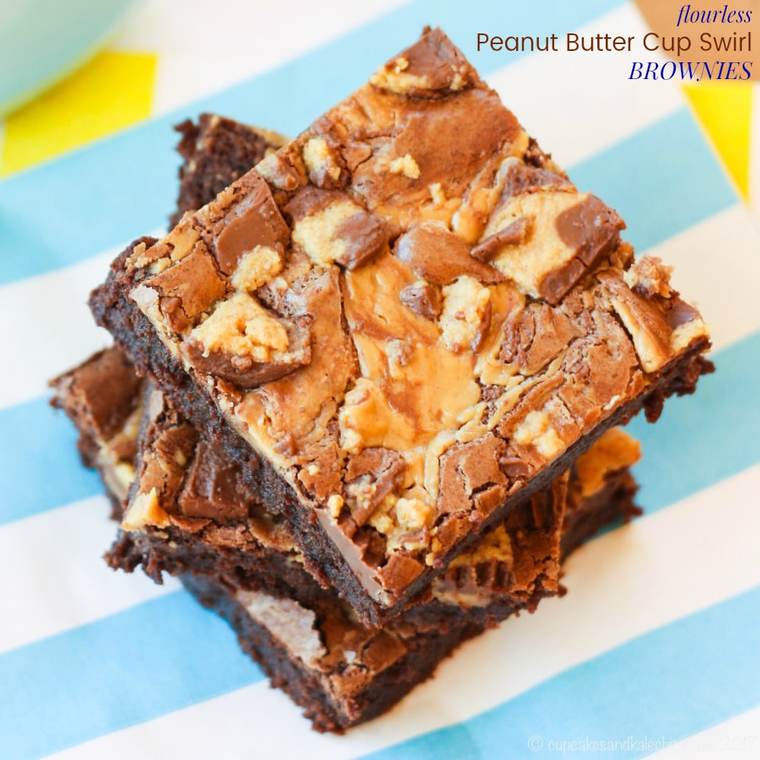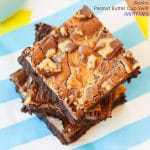 Print Recipe
Flourless Peanut Butter Cup Swirl Brownies
Rich, fudgy brownies swirled with peanut butter and chunks of peanut butter cups make these flourless brownies ridiculously amazing (and gluten free!).
Ingredients
1

cup

semisweet chocolate chips

1/2

cup

unsalted butter

4

large

eggs

1

cup

sugar

1/2

cup

cocoa powder

1/2

cup

almond meal

1/2

tsp

salt

2

tsp

vanilla

1/2

cup

creamy peanut butter

12

mini peanut butter cups,

coarsely chopped
Instructions
Preheat your oven to 350°F and line a 13×9 inch pan with parchment paper (or grease really, really well, though I'd recommend the parchment).

In a double boiler or a bowl set over a simmering pan of water, melt the butter, then add the chocolate chips, stirring until melted. Set aside to cool slightly.

In a large bowl, whisk together the eggs and sugar for a minute or two.

Add melted chocolate mixture a little at a time, whisking well after each addition.

Whisk in the cocoa powder, almond meal, salt, and vanilla.

Pour the batter into the prepared pan and spread evenly.

Place small dollops of the peanut butter over the batter and then create swirls with a butter knife or small spatula. Scatter the chopped peanut butter cups over the top of the batter and lightly press in any larger chunks.

Bake at 350°F for 20-25 minutes, or until just set in the middle.

Cool completely in the pan before cutting.
Nutrition
Serving:
1
brownie
|
Calories:
189
kcal
|
Carbohydrates:
16
g
|
Protein:
4
g
|
Fat:
12
g
|
Saturated Fat:
5
g
|
Cholesterol:
41
mg
|
Sodium:
99
mg
|
Potassium:
128
mg
|
Fiber:
1
g
|
Sugar:
13
g
|
Vitamin A:
3.3
%
|
Calcium:
2.3
%
|
Iron:
6.1
%
Enjoy!
And of course check out all of these new recipes for Chocolate Peanut Butter Day from my friends…