This post may contain affiliate links. Read my disclosure policy.
Is your Valentine a chocolate lover? Or cheesecake lover? Or Nutella lover? Or all three? Whether you need to eat gluten free or not, the only "special" ingredient you need is almond flour. So anyone can enjoy the rich, fudgy, marbled goodness in these Flourless Nutella Cheesecake Swirl Brownies.
Flourless Nutella Cheesecake Swirl Brownies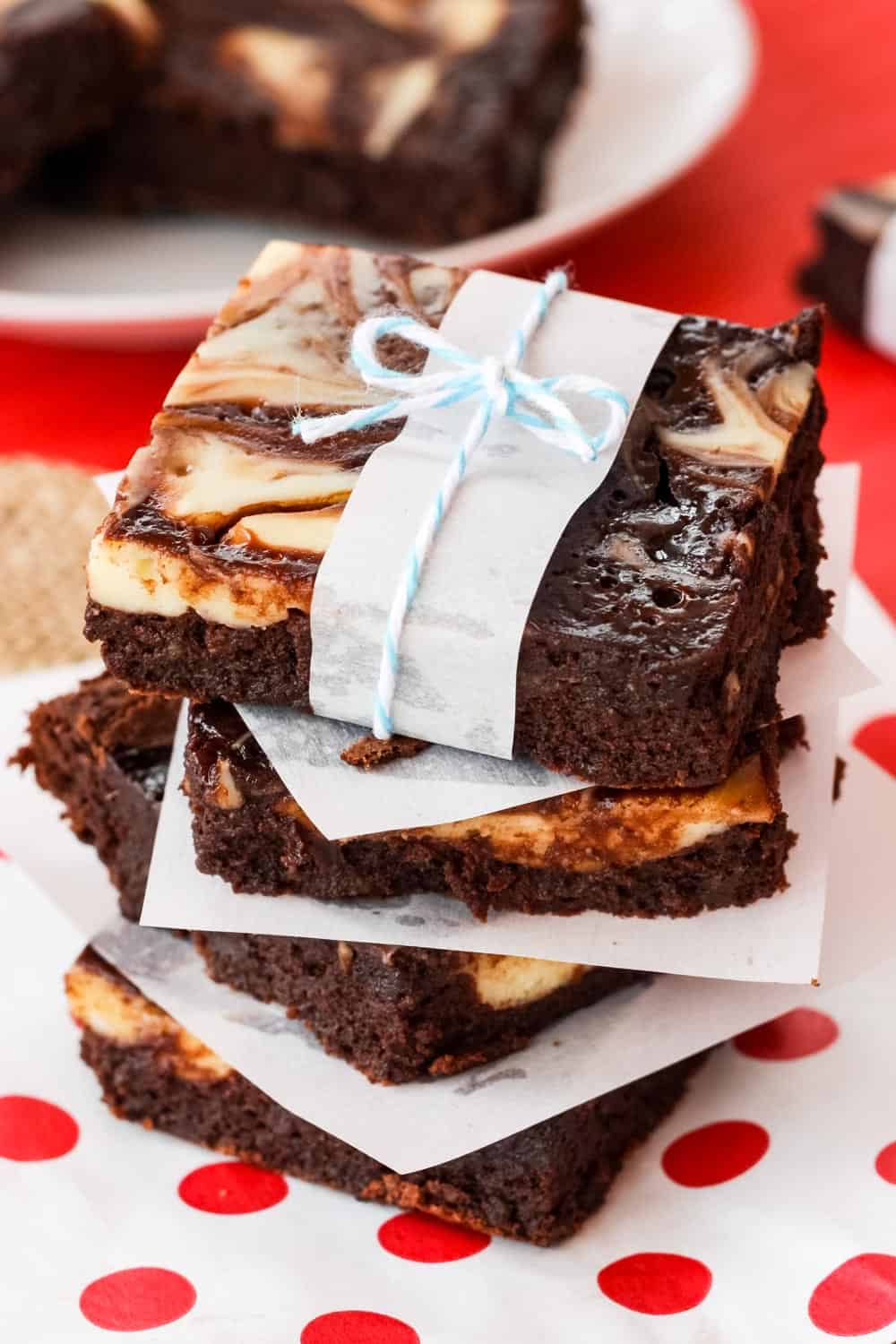 <
span id="more-6676″>
Watch out – for the next couple weeks I have some amazing sweet treats coming at you. And guess what, all gluten free, but still super easy, and no laundry list of special ingredients. At most, I'm asking you to either pick up a bag of almond meal or grind up some oats into a flour. Oh, and one recipe needs a tablespoon of flour, so pick up a bag, make that recipe and use the rest for Cauliflower Wings.
And I know, I know, I should stick to those Cauliflower Wings or Cauli-Tots. They go viral on Pinterest, they are healthier for my boys, and better for my waistline. But, you know, Valentine's Day. Hearts and flowers and chocolate, chocolate, chocolate! So I've been experimenting. And failing. And eating the failures because they still taste delicious, they just look atrocious or explode out of the ramekin or collapse. Follow me on Instagram and you can watch all the excitement as it unfolds.
Let me just tell you, it's a good thing that I've got Shaun T kicking my butt through those killer T25 workouts every morning. At 5am. Ugh! I hate 5am.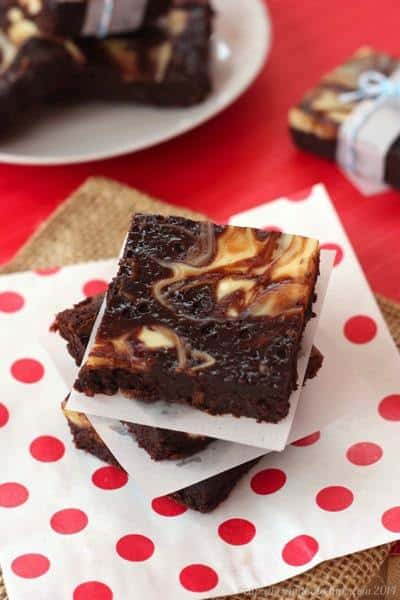 The sacrifices I make for you people.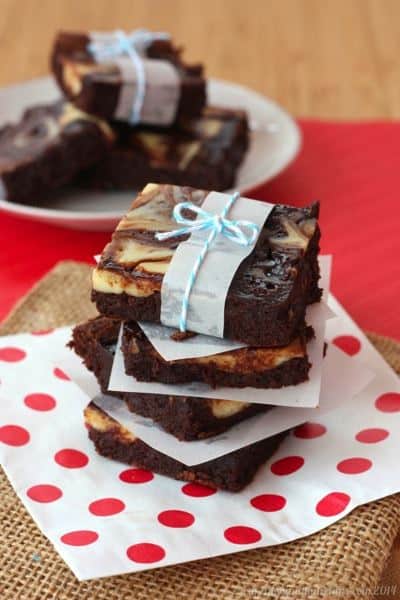 What do I sooo NOT hate? These…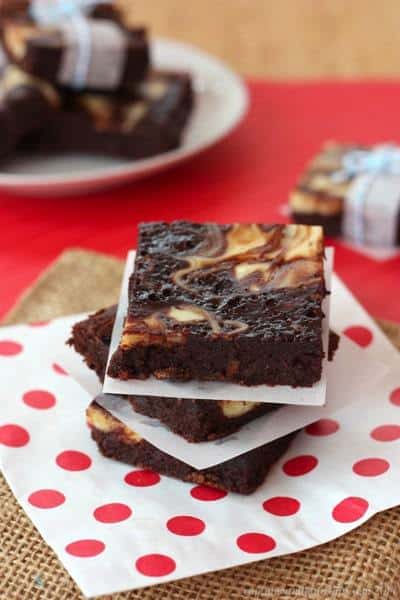 OK, I'll be honest. This tray is heading into work with The Hubby, other than the little bit we sampled. Not gonna mention what happened to the first attempt that didn't quite work out.
Well, I'll tell you on Thursday 😉 But for now, just enjoy these, because they are ridiculously amazing. I am in the fudgy brownie camp. The first batch, well, at first they were essentially pudding in the middle, then I baked them longer and they turned cake. But these? Oh, these were perfectly fudgy, and the marbley effect of the cheesecake and Nutella swirls not only bring these to just an indescribable level of awesomeness, but it makes them just so darn pretty!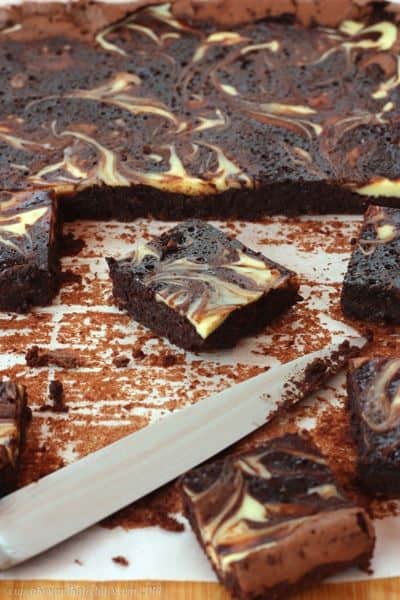 Fudgy brownies or cakey brownies?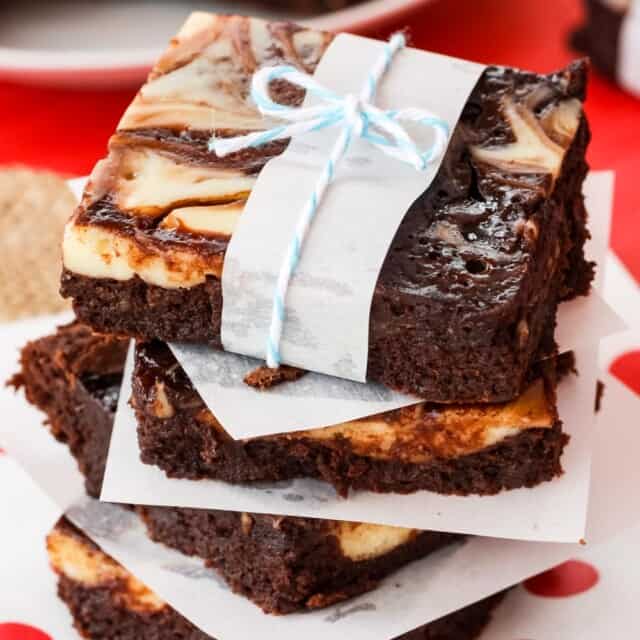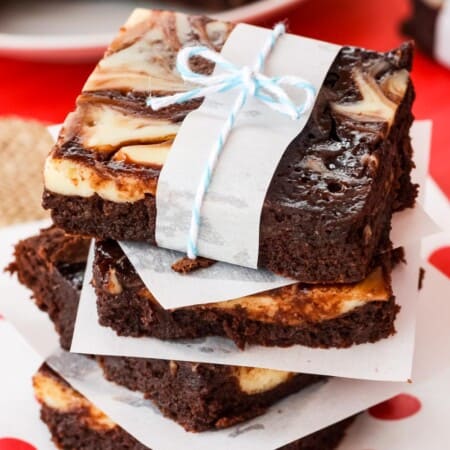 Flourless Nutella Cheesecake Swirl Brownies
Rich, fudgy brownies marbled with Nutella and cheesecake swirls, Flourless Nutella Cheesecake Swirl Brownies are perfect for any chocolate-lover.
Ingredients
For the cheesecake swirl:
4

oz

cream cheese

light or regular, softened

1

egg yolk

save the white for the Nutella swirl

1/4

cup

powdered sugar

1/2

tsp

vanilla
Instructions
For the cheesecake swirl:
Combine all of the ingredients in a small bowl, and blend until smooth. Set aside.
For the Nutella swirl:
Combine the Nutella and egg while in a small bowl and stir until fully blended. Set aside.
For the brownies:
Preheat your oven to 350°F and line a 13x9 inch pan with parchment paper (or grease really, really well, though I'd recommend the parchment).

In a double boiler or a bowl set over a simmering pan of water, melt the butter, then add the chocolate chips, stirring until melted. Set aside to cool slightly.

In a large bowl, whisk together the eggs and sugar for a minute or two.

Add melted chocolate mixture a little at a time, whisking well after each addition.

Whisk in the cocoa powder, almond meal, salt, and vanilla.

Pour the batter into the prepared pan and spread evenly.

Place small dollops of the cheesecake mixture and Nutella mixture over the batter and then create swirls with a butter knife or small spatula.

Bake at 350°F for 16-20 minutes, or until just set in the middle.

Cool completely in the pan before cutting.
Enjoy!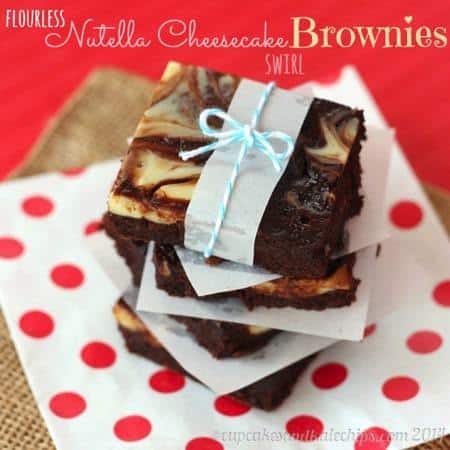 Need more Nutella?
And here are some from my friends…
Oh, and how about an entire Nutella Obsession Pinterest Board?