This post may contain affiliate links. Read my disclosure policy.
Gluten free brownies for two are perfect whether you are looking to make a special meal for just you and your sweetie, are having a good friend over, or are cooking for yourself and don't want to have a ton of leftovers. These rich and fudgy, ooey gooey Deep Dish Hot Fudge Gluten Free Brownies for Two have a fairly simple ingredient list and they'll be loved by everyone!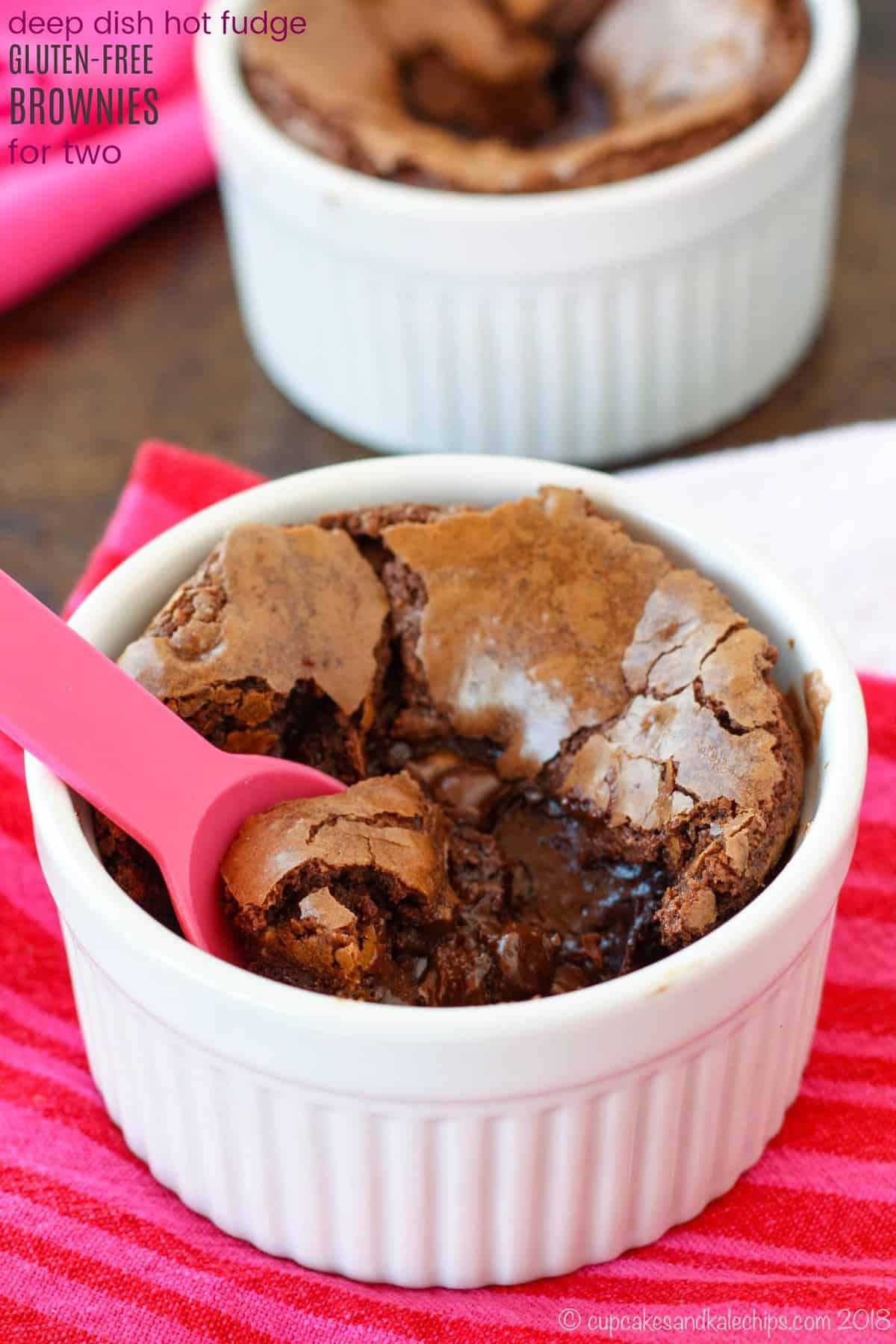 Recipes for two are a brilliant idea if you are planning a date night in. Often these special meals require a bit more work or perhaps more expensive ingredients, so paring it down to serve just you and a special someone make sit easier and more economical.
Plus, dessert for two means I don't have a bunch leftover in my freezer, which still is home to several of these and these because I made wayyyy too many Christmas cookies.
As a food blogger, I have a love/hate relationship with holidays. Yes, I do savory and sweet recipes here, but when it comes to holidays, I want to make treats. And when I make dessert, well, as I told you the other day, I eat the dessert.
Even the failures (this was THE BEST FAILURE EVER!!). I also take 87 billion photos and then have to pare them down and edit them. And then I still want to post them all. And then I snap a few for Instagram and by the time I'm ready for the "real" photos shoot, this lovely perfectly puffed, crackly-topped brownie…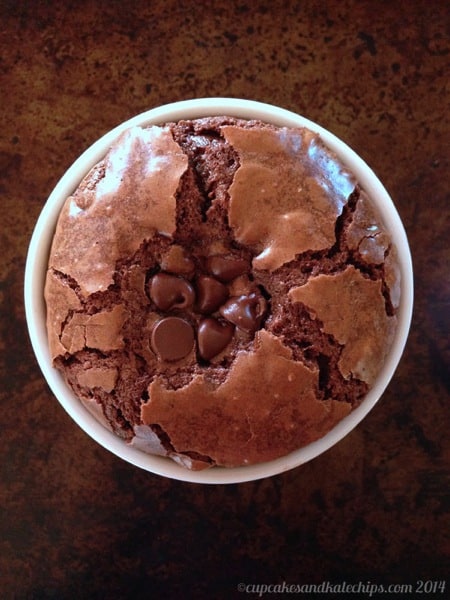 Totally sunk in the middle. But you know what, these are still a total success because not only did I achieve crackly-top brownie perfection, these brownies also had the perfect fudgy (not cake) texture, plus the gooey hot fudge center that I was going for. I mean, when you have hot fudge IN THE MIDDLE of your brownie, you gotta expect a little collapsing, right? If it bothers you that much, fill it up with ice cream.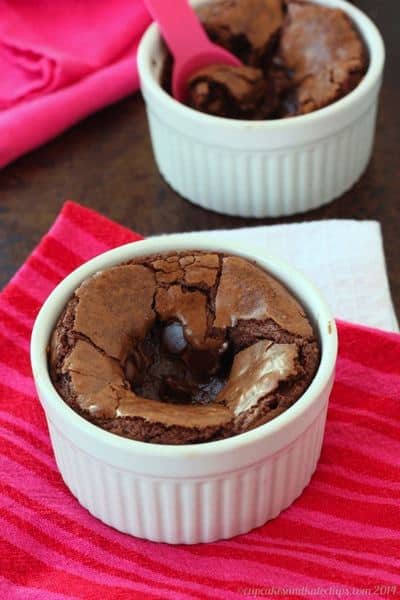 Actually I have one of these brownies in the freezer with a scoop of ice cream in it because I was going to include some photos of that too, and, shhh, food blogger photography tip – if you don't want your ice cream to melt all over your brownie while you are taking pictures (and undoubtedly tending to a whining preschooler or crying baby mid-photo shoot), don't put the ice cream on the hot brownie. It'll look the same even if it's frozen. Of course, then you have a week like I did with three snow days for the aforementioned preschooler, and an insufficient amount of napping leading to an excessive amount of crankiness for the aforementioned baby and, you know, the planned a la mode photo shoot never happens.
Also, then I'd have more photos to edit, which requires even more time that I don't have. And then the ice cream would be melting, so naturally I'd have to immediately consume said brownie. Which would mean that I would have consumed two of the Gluten-Free Deep Dish Hot Fudge Brownies.. for two, since naturally The Bug and I had to taste test and ice cream-less one shortly after I took the photos, you know, just to make sure I had achieved hot fudge center perfection.
Mission: Accomplished
So eat them straight out of the oven, top them with ice cream – your call. Just make them. They take no time, you won't have an entire pan that you pick at for the rest of the day week. And as far as the gluten free aspect of it – don't let that stress you out. Look at this ingredient list – nothing crazy. And use the rest of the brown rice flour to make cauliflower wings, since that totally cancels out the brownies.
Speaking of inspiration, how about I inspire you to have a bite of chocolate awesomeness?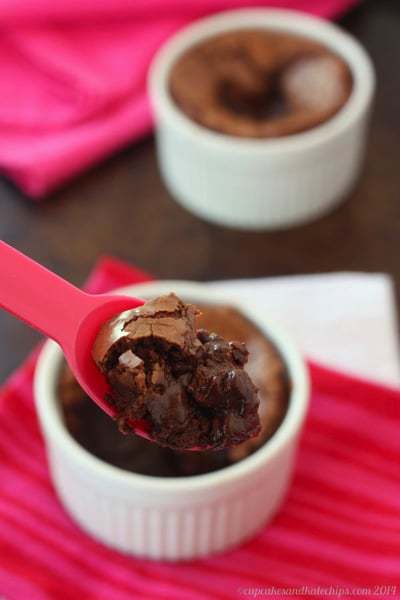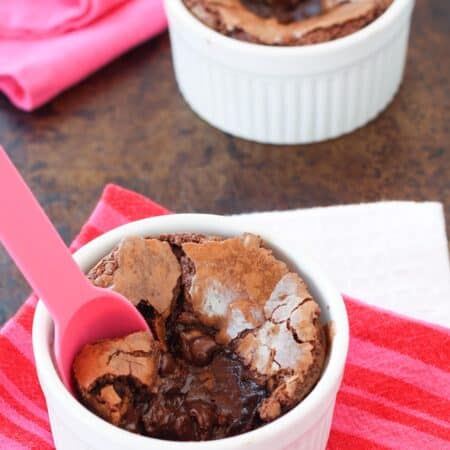 Gluten-Free Deep Dish Hot Fudge Brownies for Two
Gluten-Free Deep Dish Hot Fudge Brownies for Two are a perfect fudgy chocolate treat for you and your sweetie!
Ingredients
1/4

cup

1/2 stick unsalted butter

2/3

cup

+ 2 tsp semisweet chocolate chips

1

egg

1/4

cup

granulated sugar

1/8

tsp

salt

1/2

tsp

vanilla extract

2

Tbsp

almond flour/meal

1

Tbsp

brown rice flour

Optional ice cream or whipped cream for serving

if desired.
Instructions
Preheat oven to 325°F and place two 6-ounce ramekins on a baking sheet (just in case).

Melt the butter and 2/3 cup chocolate chips in a medium bowl over simmering water and stir until smooth. Remove the bowl from the pan and let cool.

Combine the egg and sugar in a medium bowl and whisk until thick and lighter in color.

While whisking, gradually add the melted chocolate, then whisk in the salt, vanilla, almond meal, and rice flour.

Divide the batter between the two ramekins and place 1 tsp chocolate chips in the center of each ramekin, pressing down lightly.

Bake at 325°F for 18-22 minutes or until not quite set, and the tops crackle.

Let cool slightly before serving, topping with ice cream or whipped cream, if desired.
Enjoy!
Here is how I would round out my special Valentine's Day dinner…

Plus check out all of these amazing #SundaySupper Valentine's Day recipes for two…
Alluring Appetizers:
Exquisite Entrees:
Decadent Desserts and Drinks: