This post may contain affiliate links. Read my disclosure policy.
You'll never again need to choose between tender chocolate chip cookies or rich, fudgy brownies. These Gluten Free Brookies are both! This is the ultimate mash-up of two all time favorite dessert recipes.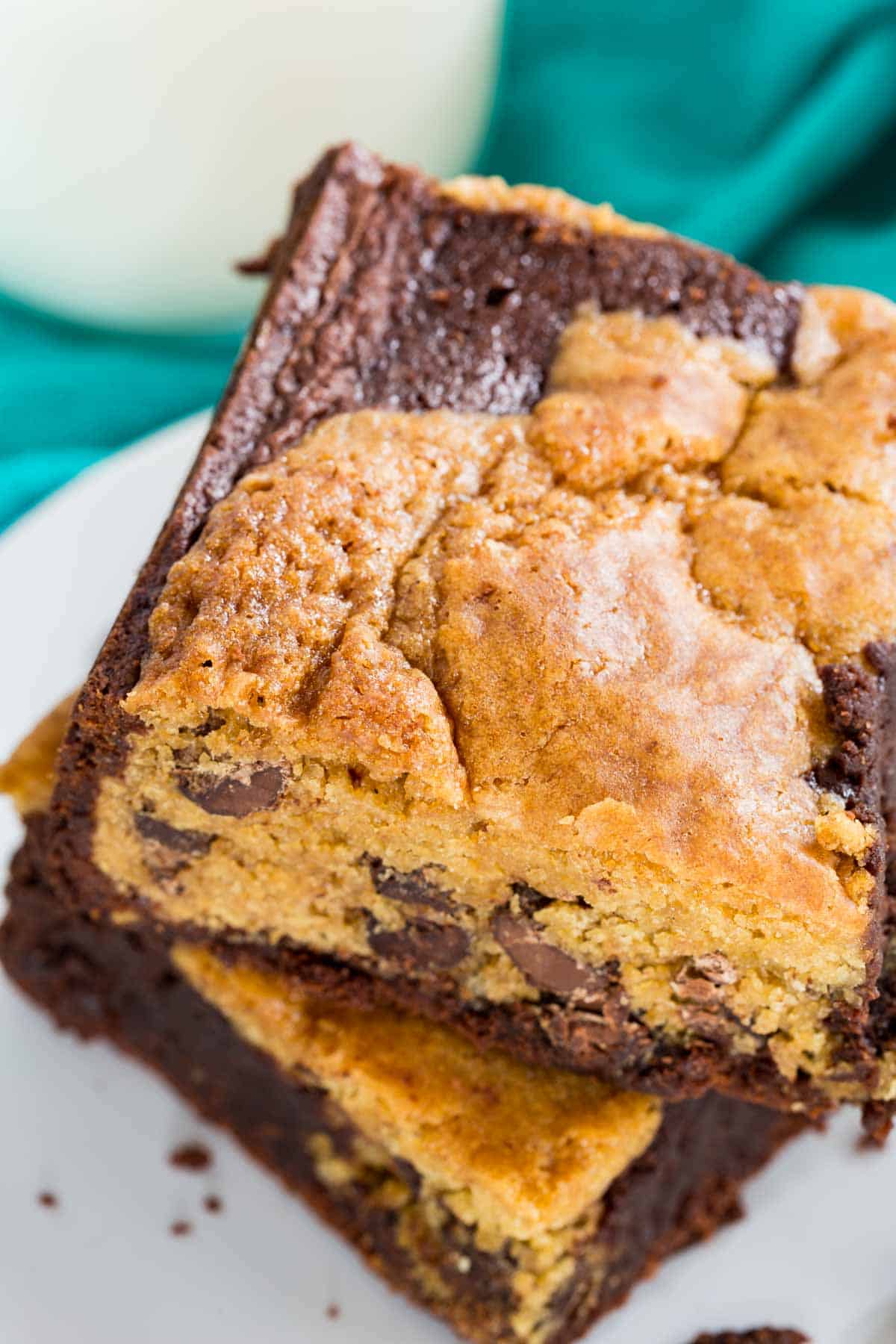 Dreamy Chocolate Chip Cookie Brownies
These dreamy brookies solve the pretty much weekly dilemma of choosing between Gluten Free Chocolate Chip Cookies and Gluten Free Brownies in our house. It's a spectacular mash-up of two favorite desserts, filled with the richness of a chocolate brownie and the soft, tender chew of a fresh-from-the-oven chocolate chip cookie.
My brookie recipe is made extra delicious with a secret ingredient: browned butter cookie dough. Filled with chocolate chips and laced with delicious fudgy brownie batter, it takes these brownie cookies over the top in the best possible way.
What Are Brookies Made Of?
This easy gluten free dessert comes together in two parts: brownie batter and cookie dough. Here are the ingredients involved for both (don't forget to check the recipe card further on for the full amounts):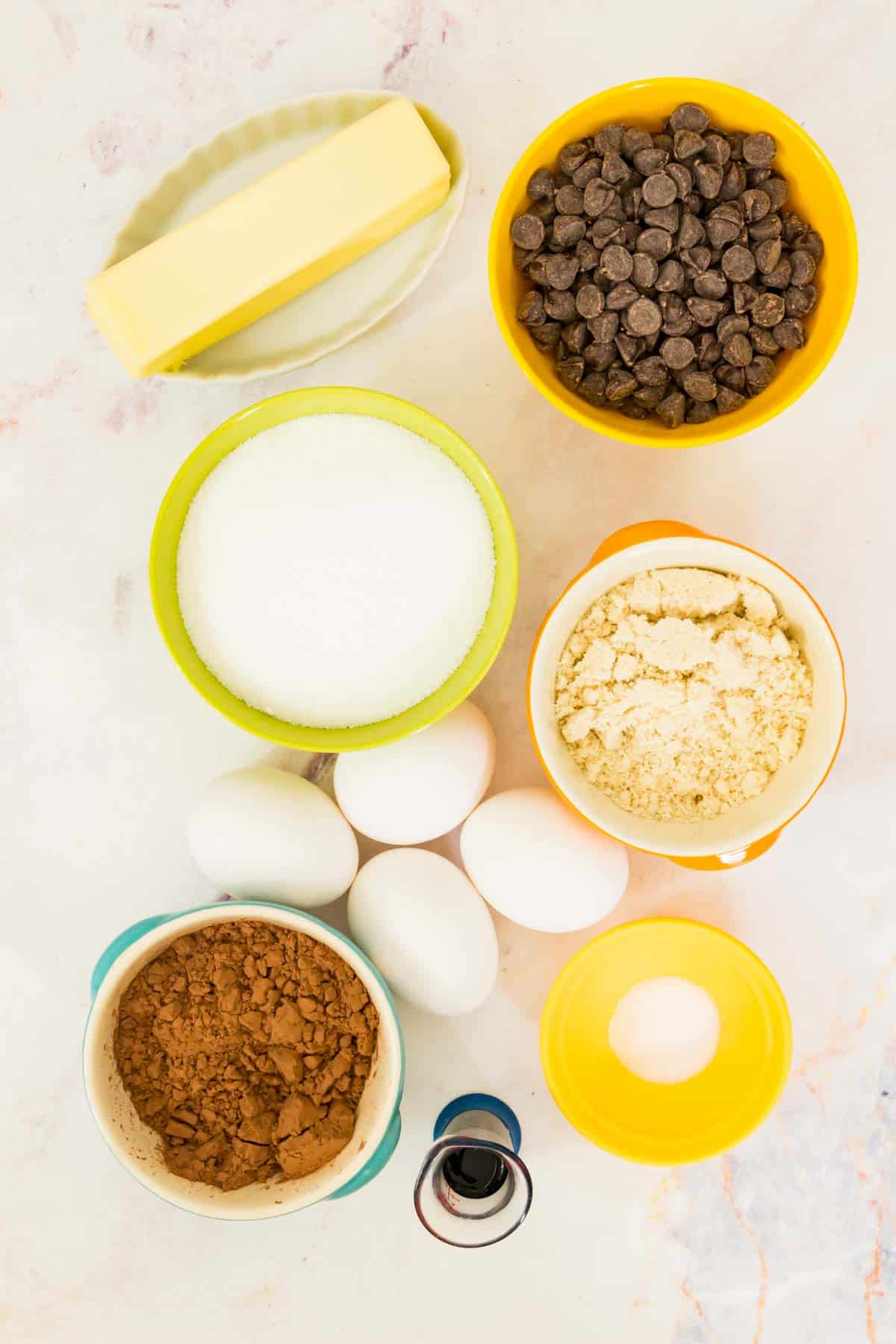 For the Brownies
Butter: This recipe calls for one stick of butter. I recommend unsalted, but you can use salted butter and simply omit any added salt later on.
Chocolate Chips: Choose a good quality variety of semisweet chocolate chips, as you'll need them for the brownie and cookie layers. For the brownie layer, you could also use chopped semisweet chocolate. Avoid milk chocolate chips, as these don't melt down as easily.
Eggs
Sugar: Any white granulated sugar variety will work.
Cocoa Powder: A nice quality cocoa powder such as Dutch process or similar.
Almond Flour
Salt: If you use salted butter, use less salt or leave it out altogether.
Vanilla Extract: I always recommend pure vanilla extract in baking, for the most authentic flavor.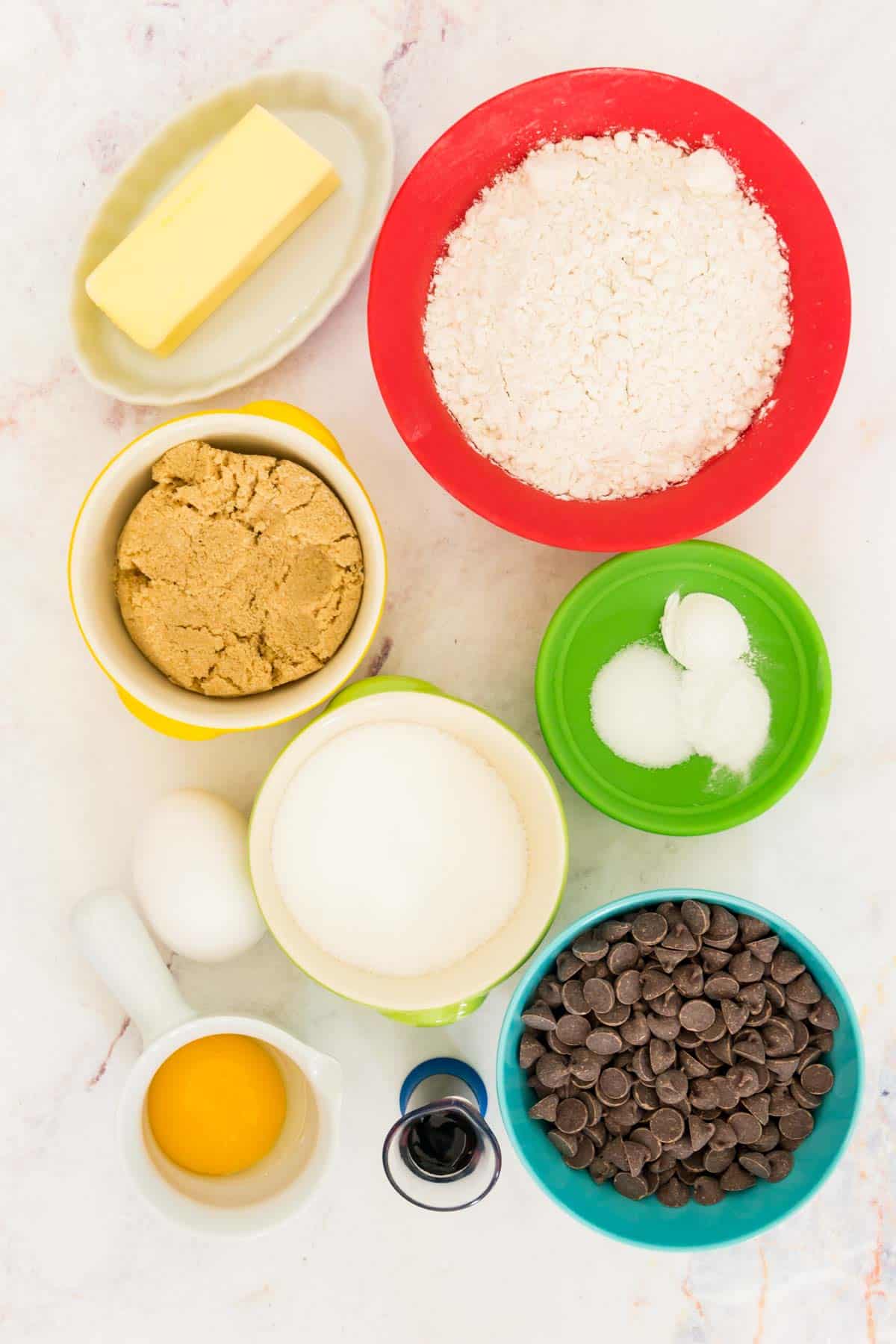 For the Chocolate Chip Cookies
Butter: Like the brownies, I prefer unsalted butter in this recipe, but salted will also work in a pinch.
Sugar: The best cookies call for a combination of light brown sugar and regular granulated sugar.
Egg: You'll need one whole egg as well as one yolk for the cookie layer.
Vanilla Extract
Gluten-Free Flour: You'll need a 1-to-1 gluten free flour blend, like Bob's Red Mill or Cup-4-Cup.
Salt
Leavening: The cookie dough calls for baking soda as well as baking powder for lift.
Chocolate Chips: You can use the same semisweet chocolate chips that you used for the brownie layer.
How to Make Cookie Brownies From Scratch
Don't let words like "double boiler" deter you, this brookie recipe is actually super simple! It doesn't take long and the end result is perfectly chewy-meets-gooey brownie cookie bliss. You'll start by making the brownie layer:
Melt the Chocolate: In a double boiler or in the microwave, melt the chocolate together with the butter. A double boiler is easy to make with a heatproof bowl set over a simmering pot of water. Stir the chocolate as it melts, then set it aside to cool.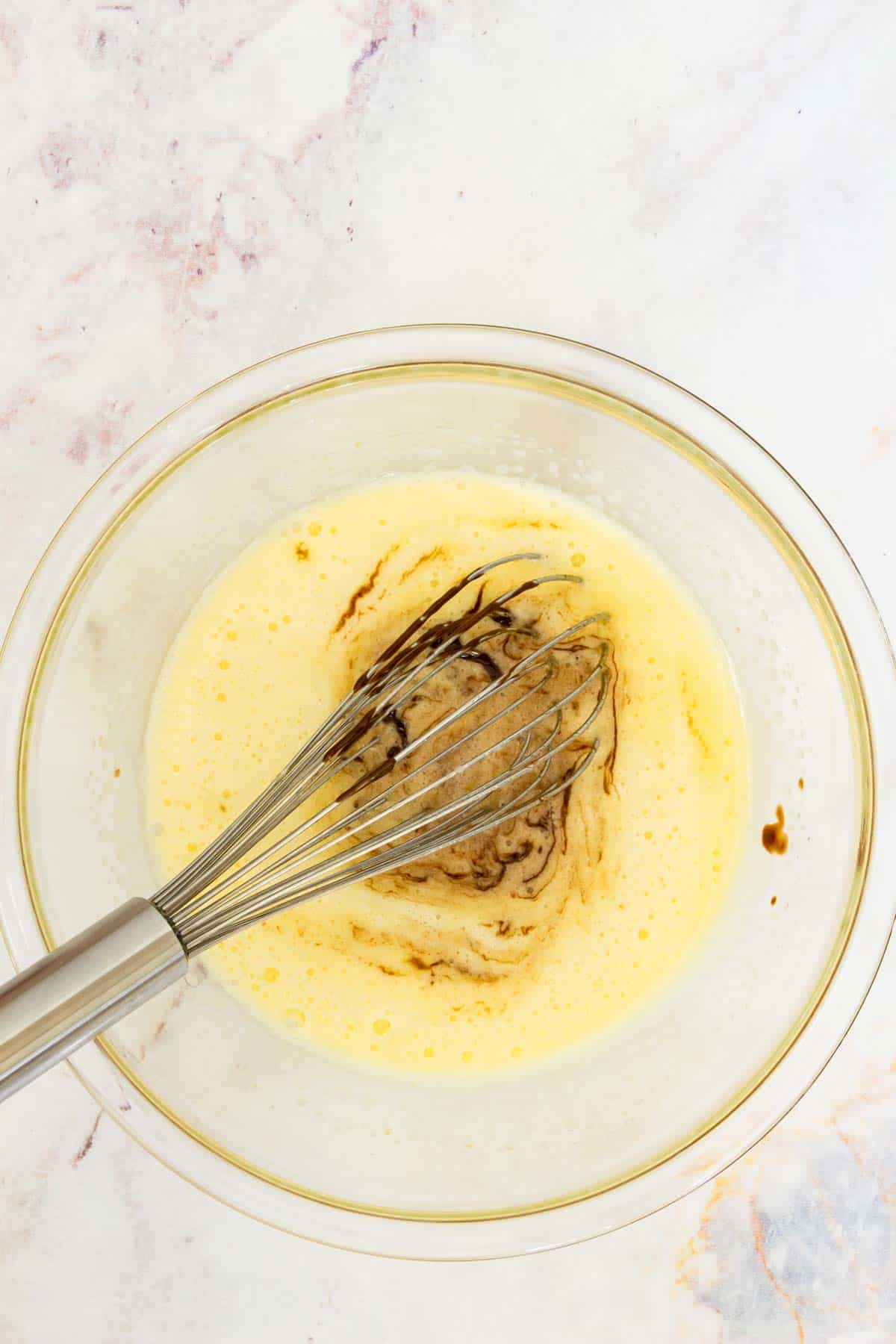 Make the Brownie Batter: Next, whisk the eggs and sugar together in a large bowl. Slowly add in the melted chocolate while continuing to whisk until everything is combined. Mix in the cocoa powder, almond flour, salt, and vanilla. Finally, pour the brownie batter into a prepared baking pan. Next, it's time for the chocolate chip cookie layer.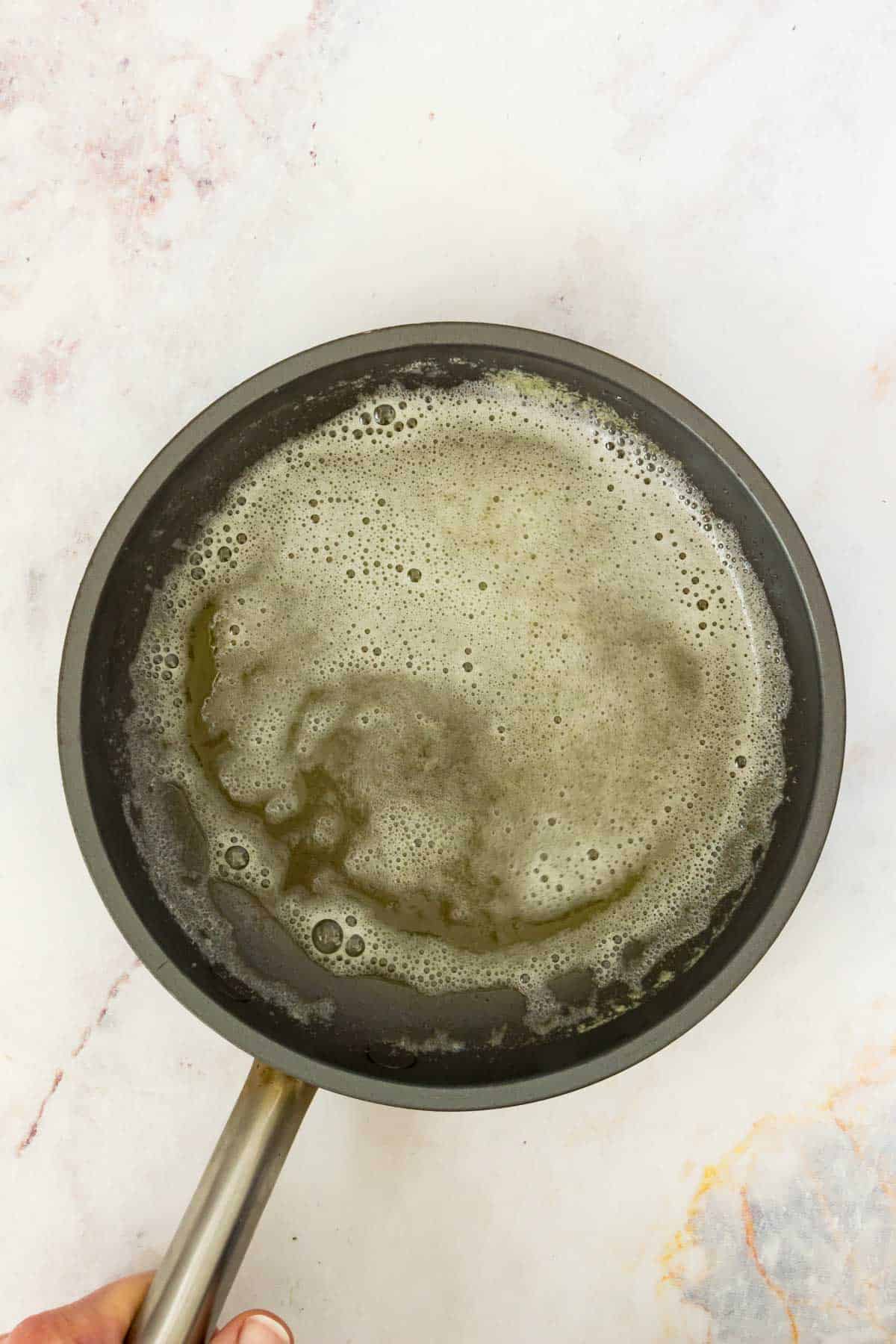 Brown the Butter: First, heat the butter in a saucepan until it's melted and bubbling. Let it simmer for a couple of minutes, then take it off of the heat once it starts to brown. Cream together the sugars with your browned butter in a mixing bowl.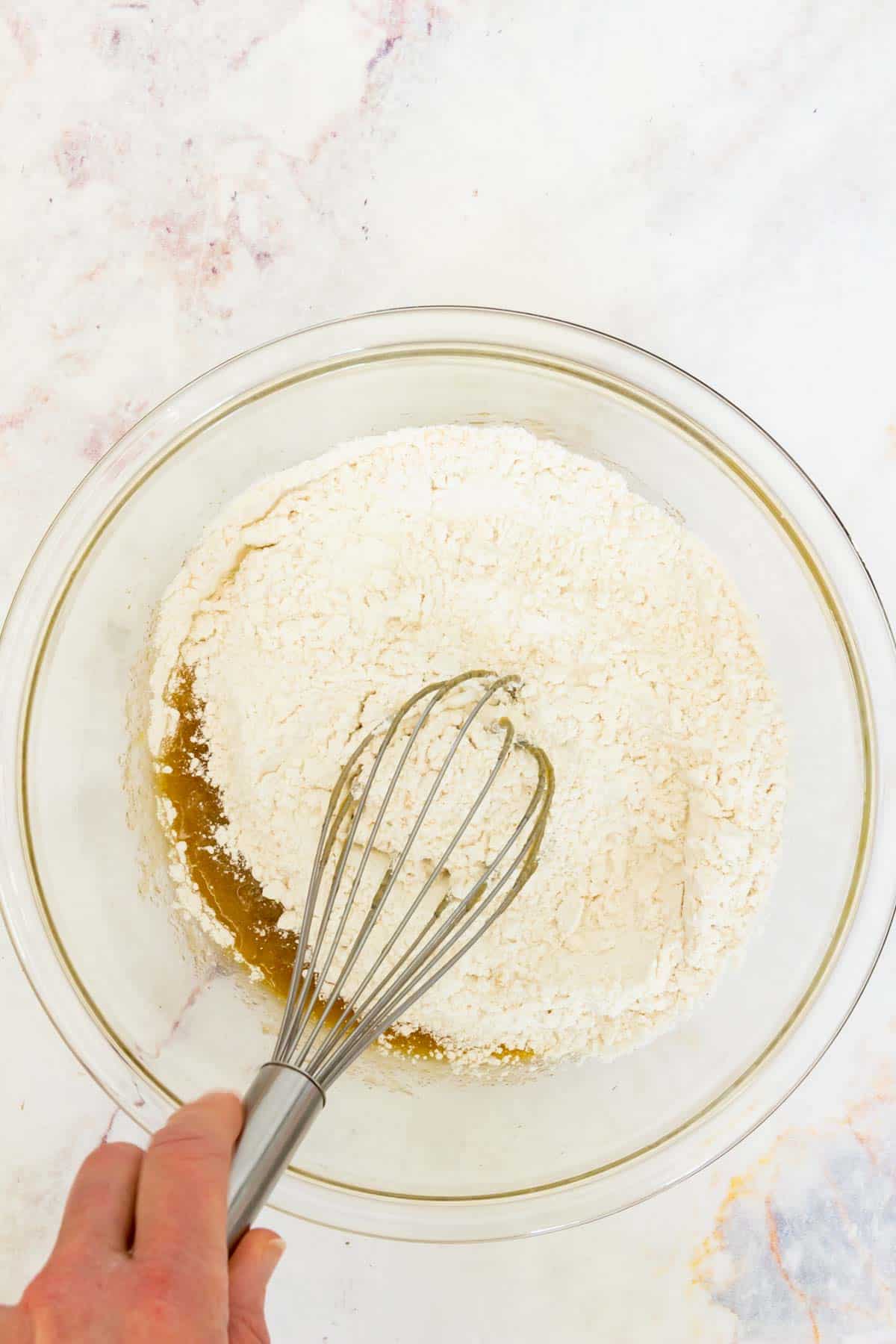 Make the Cookie Dough: Add the other wet ingredients, and continue whisking until smooth. Add in the flour and dry ingredients to form an even dough, then fold in the chocolate chips.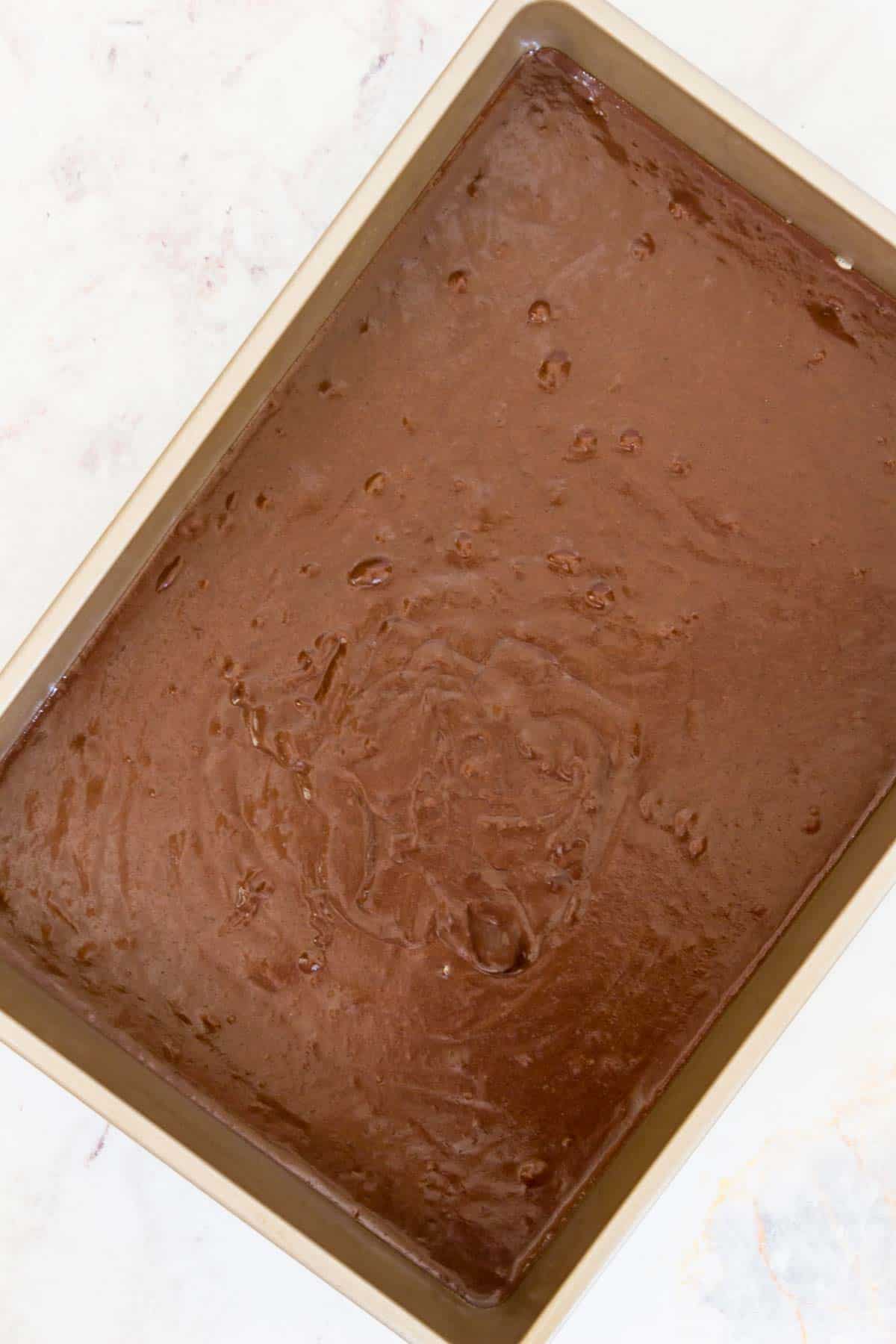 Assemble and Bake: Drop spoonfuls of cookie dough into the baking dish over top of the brownie layer. Gently press them into the brownie batter, leaving some of the batter peeking through in spots. Cover the pan with foil, and place it into a preheated oven. Remove the foil after about half an hour, and continue to bake until a toothpick inserted into the center of the brookies comes out clean.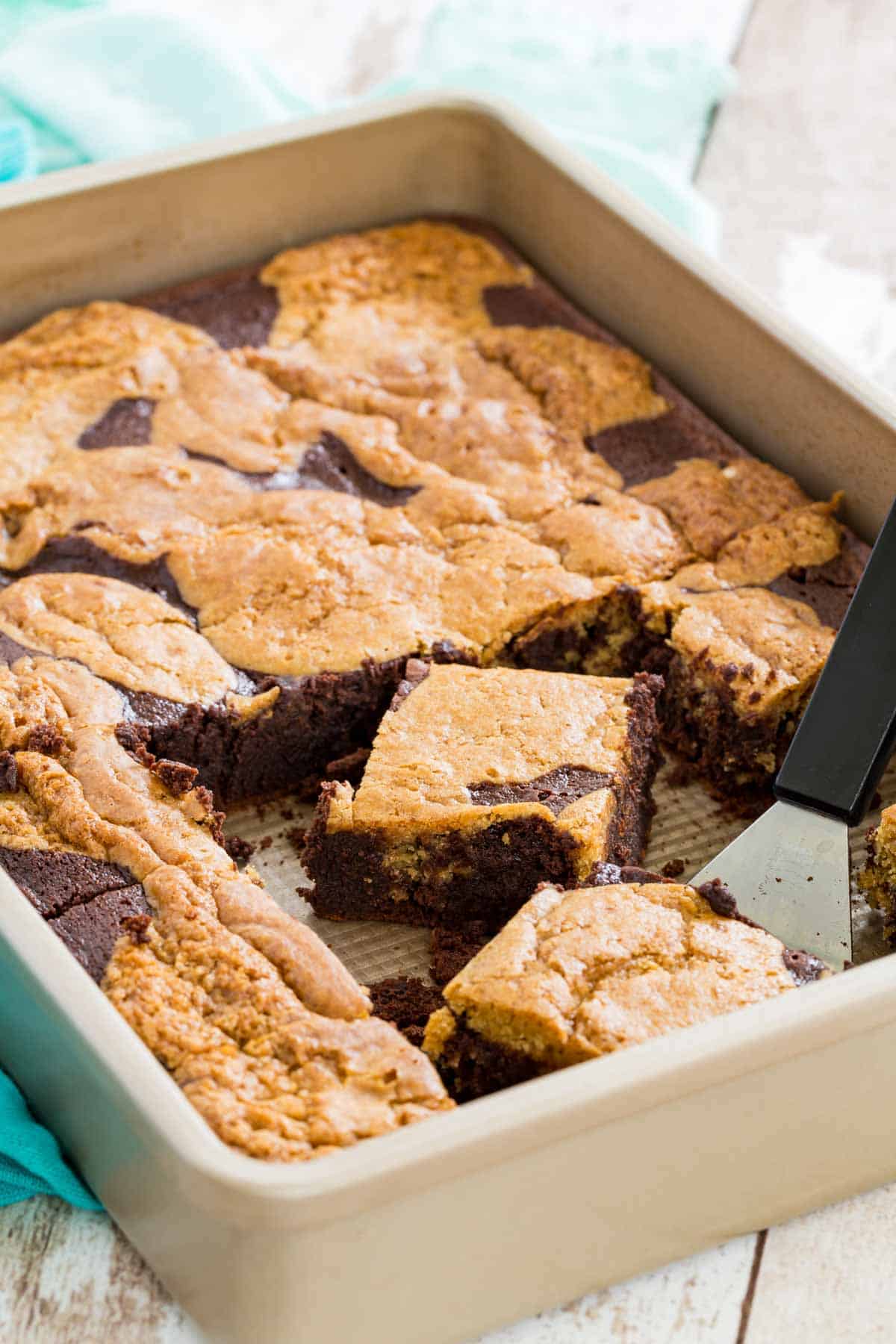 Tips for Success
Here are my tips to really make your delicious homemade brookies shine:
Glossy Brownies: Be sure to thoroughly beat the egg and sugar together when making your brownie layer, to get that glossy brownie effect once everything is baked.
Grease the Pan: Grease the pan well so that the brookies pop out easily. If you're worried about sticking, you can line the pan with parchment paper and lift the finished brookies out that way.
Use Room Temperature Butter: For best results, let the butter come to room temperature before you start. This helps it mix in and bake evenly.
Let the Brookies Cool: Make sure you give the brookies enough time to cool completely before removing them from the pan. Warm brownie cookies are too soft for slicing. You can always warm the individual brookies up again for serving!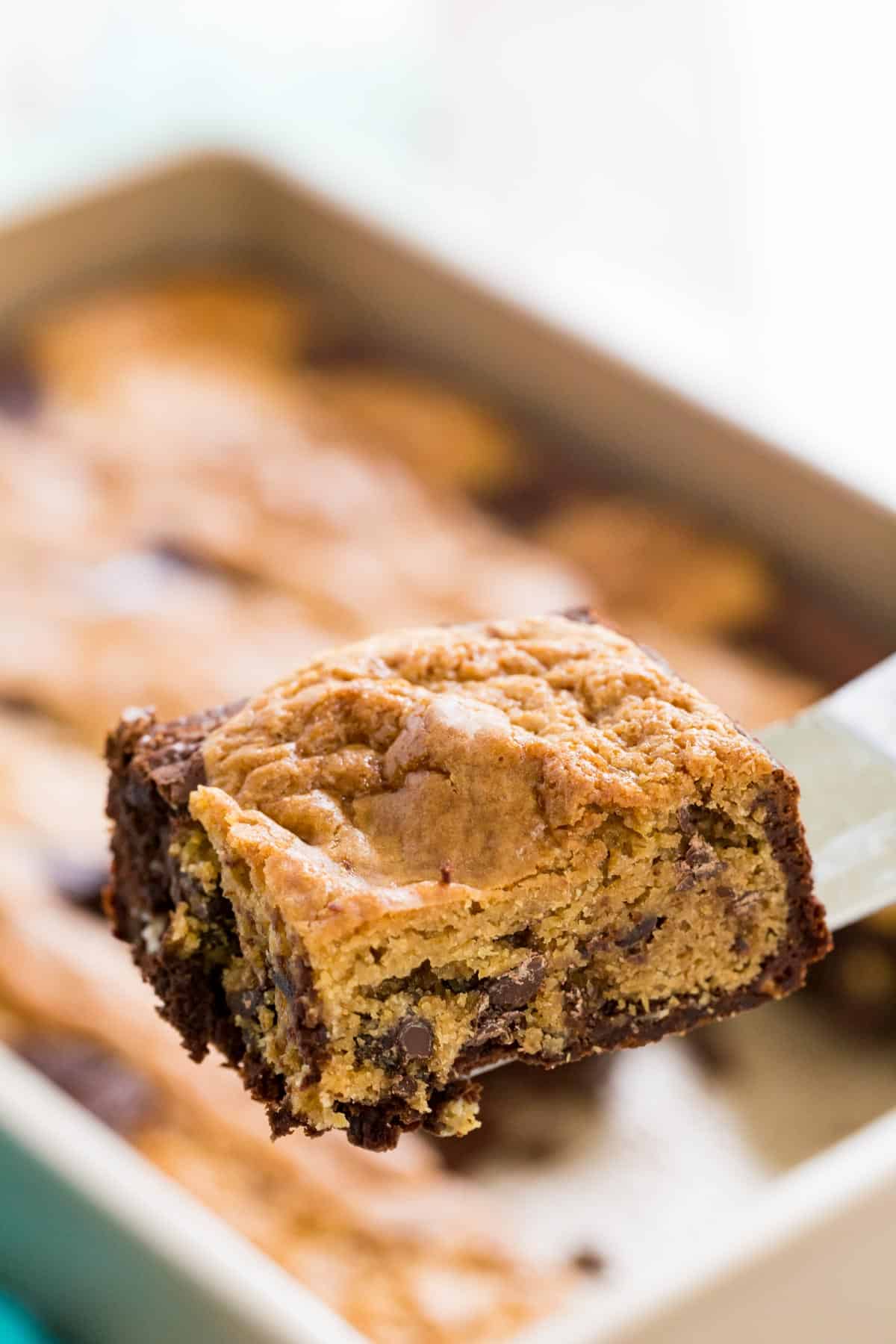 Add-Ins & Variations
These brookies really are the best compromise ever. Not only are they out here solving the cookies vs. brownies debate, but the variation possibilities mean even more delicious dessert ideas! Here are some suggestions:
Mint Chocolate Brookies: Add in peppermint extract for some festive, minty freshness. Perfect for holiday baking!
Rocky Road Brookies: Fold crushed peanuts and mini marshmallows into the batter.
Salted Caramel Brookies: Drizzle the brookies with caramel sauce and give them a sprinkle with flaked sea salt (Maldon salt or similar).
S'mores Brookies: Add in mini marshmallows and top your brookies with crushed gluten-free Graham crackers and a drizzle of chocolate fudge sauce.
Oreo Brookies: Chop up gluten-free Oreos to bake into and scatter on top of your brookies!
You can also get creative with easy add-in (or add-on) ideas:
Lemon or orange zest
Crushed pecans, walnuts, or hazelnuts
Rainbow sprinkles
Craisins or freeze-dried fruit
Crushed pretzels
Mini peanut butter cups
Toasted coconut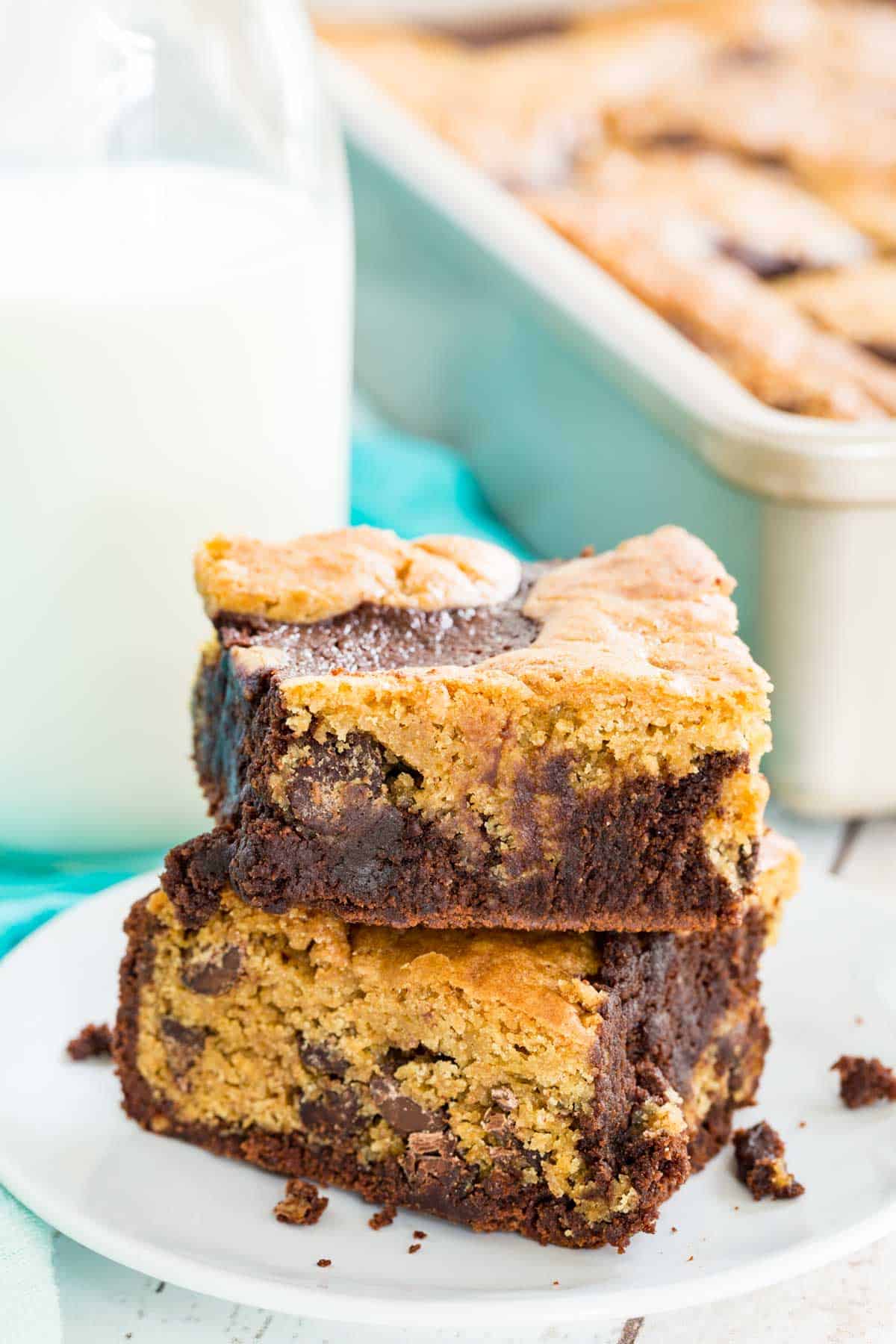 Serving Suggestions
I love to serve these brookies warmed up with a scoop of my homemade No-Churn Nutella Toffee Ice Cream. The combination is amazing!
For something fun and festive, these are scrumptious with a scoop of No-Churn Funfetti Cake Batter Ice Cream.
You can also serve these with a tall glass of milk, for a classic milk and brookies combo. And if you're going all out, try brookies with ice cream, drizzled with chocolate fudge sauce or caramel sauce and topped with whipped cream!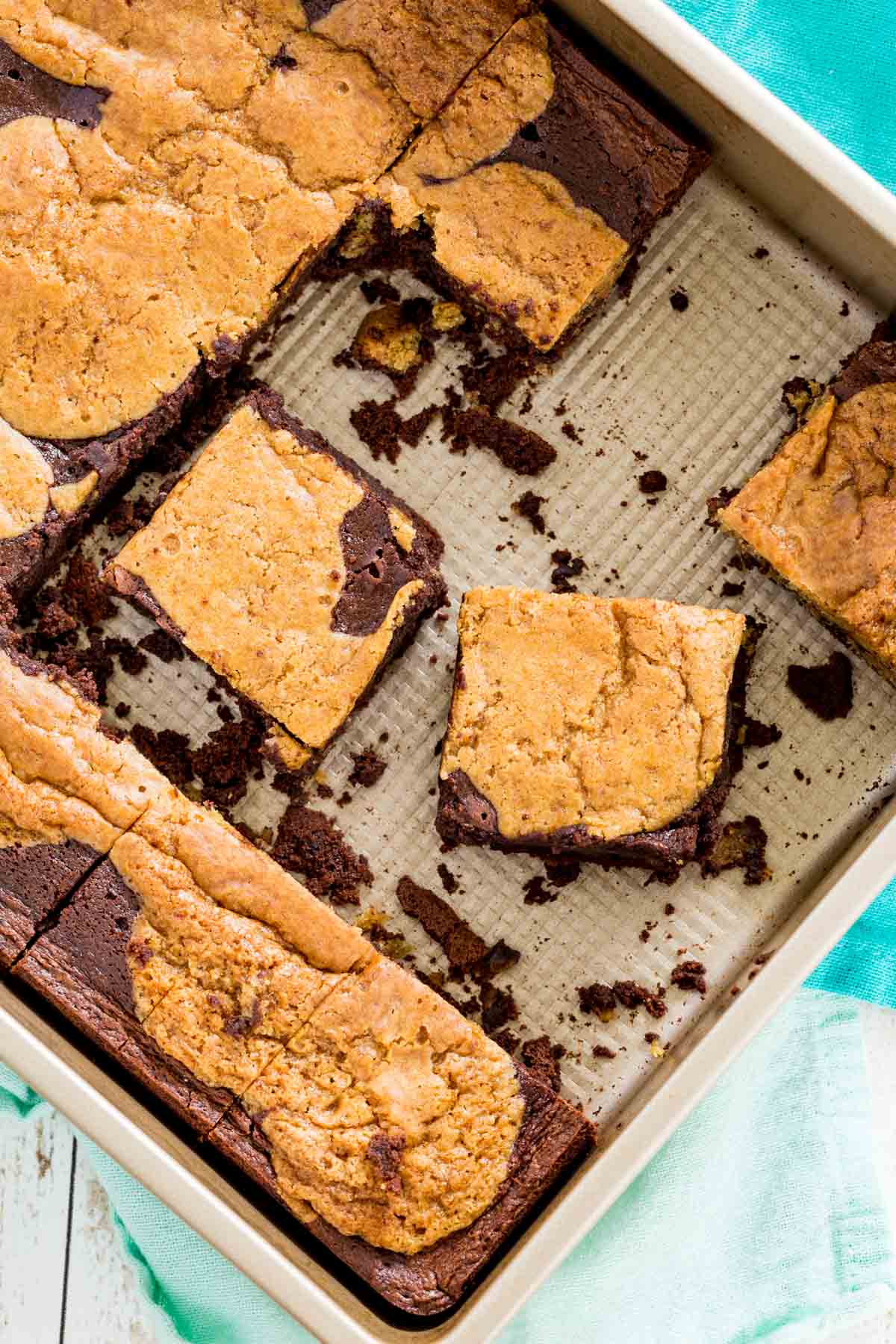 How to Store Extras
Store your brookies airtight in the fridge for up to 5 days. You can also individually wrap your brookies for easy freezing and reheating, see below!
Can I Freeze These?
Brookies are great for freezing. You can freeze them in an airtight container or freezer bag, or freeze the individual brookies wrapped in plastic wrap for up to 2 months. Enjoy a warm brookie anytime by defrosting them on the counter or in the microwave!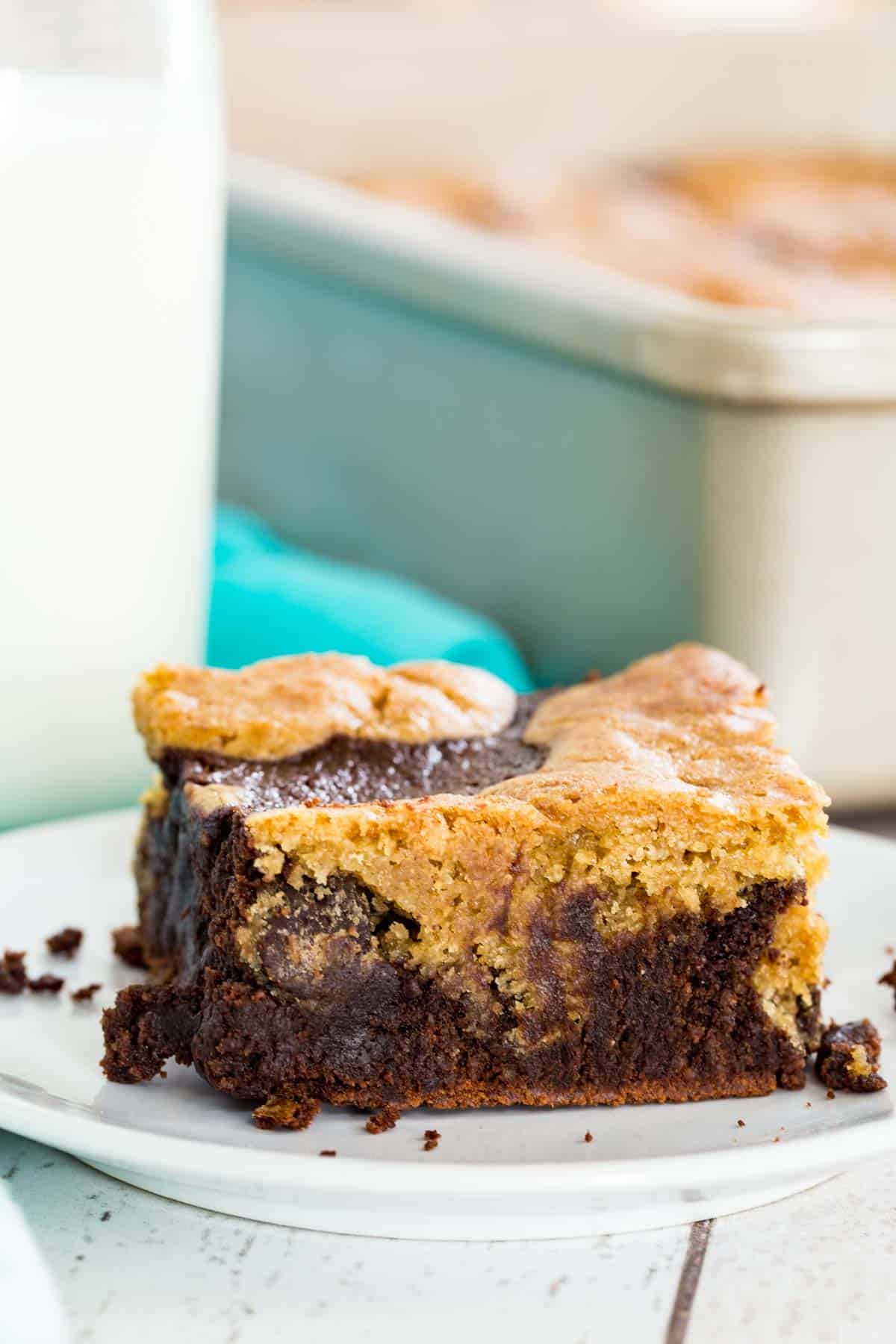 More Gluten-Free Brownie Recipes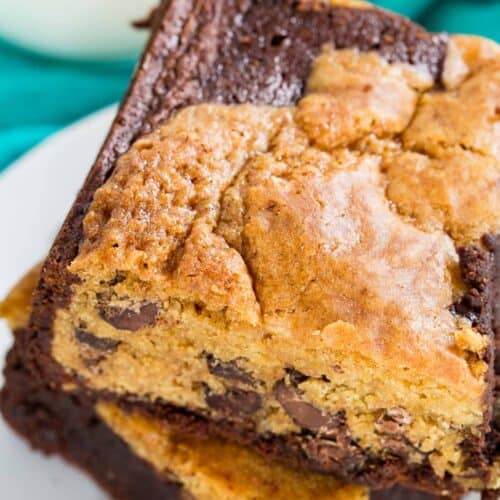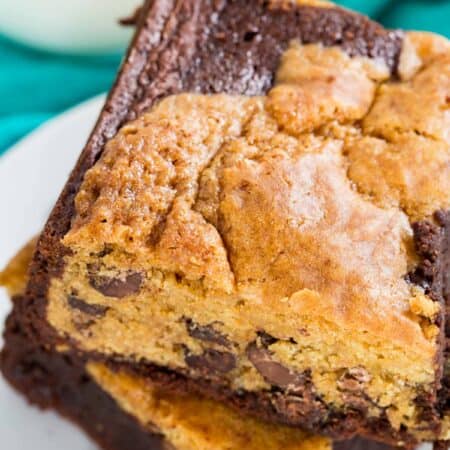 Gluten Free Brookies
You'll never need to choose between tender chocolate chip cookies or rich, fudgy brownies again. These homemade Gluten Free Brookies are both!
Ingredients
For the Brownies:
1/2

cup

unsalted butter

(one stick)

1

cup

semisweet chocolate chips

4

large

eggs

1

cup

granulated sugar

1/2

cup

cocoa powder

1/2

cup

almond flour

1

tsp

salt

2

tsp

pure vanilla extract
For the Chocolate Chip Cookies:
1/3

cup

unsalted butter

1/2

cup

light brown sugar

1/2

cup

granulated sugar

1

egg

1

egg yolk

1

tbsp

pure vanilla extract

1 1/2

cups

1-to-1 gluten-free flour blend

(Bob's Red Mill, Cup-4-Cup)

3/4

tsp

salt

1/2

tsp

baking soda

1/2

tsp

baking powder

1

cup

semisweet chocolate chips
Instructions
Preheat your oven to 350°F and grease a 13×9 inch pan with nonstick spray.

In a double boiler, bowl set over a simmering pan of water, or the microwave, melt the butter, then add the chocolate chips, stirring until melted. Set aside to cool slightly.

In a large bowl, whisk together the eggs and sugar for about two minutes until it is thickened slightly and pale yellow.

While whisking constantly, slowly add melted chocolate mixture a little at a time until it has all been incorporated.

Whisk in the cocoa powder, almond flour, salt, and vanilla.

Pour the batter into the prepared pan and spread evenly. Set aside.

For the cookies, In a small saucepan, heat the butter over medium-low heat until melted and bubbling. Once it starts bubbling, allow it to simmer over low heat for 2-3 minutes, or until the butter starts to brown, then pull it off of the heat immediately to prevent burning.

Meanwhile, in a medium mixing bowl, combine both sugars. Add the browned butter and mix until smooth. Add the egg and egg yolk and whisk until smooth. Add in the vanilla and whisk again.

Add the flour salt, baking soda, and baking powder on top of the wet ingredients and lightly whisk to combine the dry ingredients before stirring them into the wet ingredients until you have a uniform dough. Fold in the chocolate chips, taking care not to over-mix the batter.

Drop spoonfuls of the cookie dough onto the brownie batter, leaving some brownie batter peeking through. Gently press the cookie balls into the brownie batter.

Cover with foil and bake for 30 minutes. Then remove the foil and bake for another 15-20 minutes, until a toothpick in the center comes out clean. Cool fully in the pan before slicing.
Nutrition Facts
Gluten Free Brookies
Amount Per Serving
Calories 271
Calories from Fat 135
% Daily Value*
Fat 15g23%
Cholesterol 64mg21%
Sodium 211mg9%
Potassium 145mg4%
Carbohydrates 32g11%
Protein 4g8%
Vitamin A 270IU5%
Calcium 38mg4%
Iron 2mg11%
* Percent Daily Values are based on a 2000 calorie diet.