This post may contain affiliate links. Read my disclosure policy.
Gluten-Free Red Velvet Brownies for Two are the perfect dessert to share with someone special or keep both for yourself. Yes, this warm, rich, and fudgy gluten-free brownie recipe is baked in ramekins and makes just two servings. When it comes to the best gluten-free dessert recipes for two, this is the one for ultimate chocolate indulgence!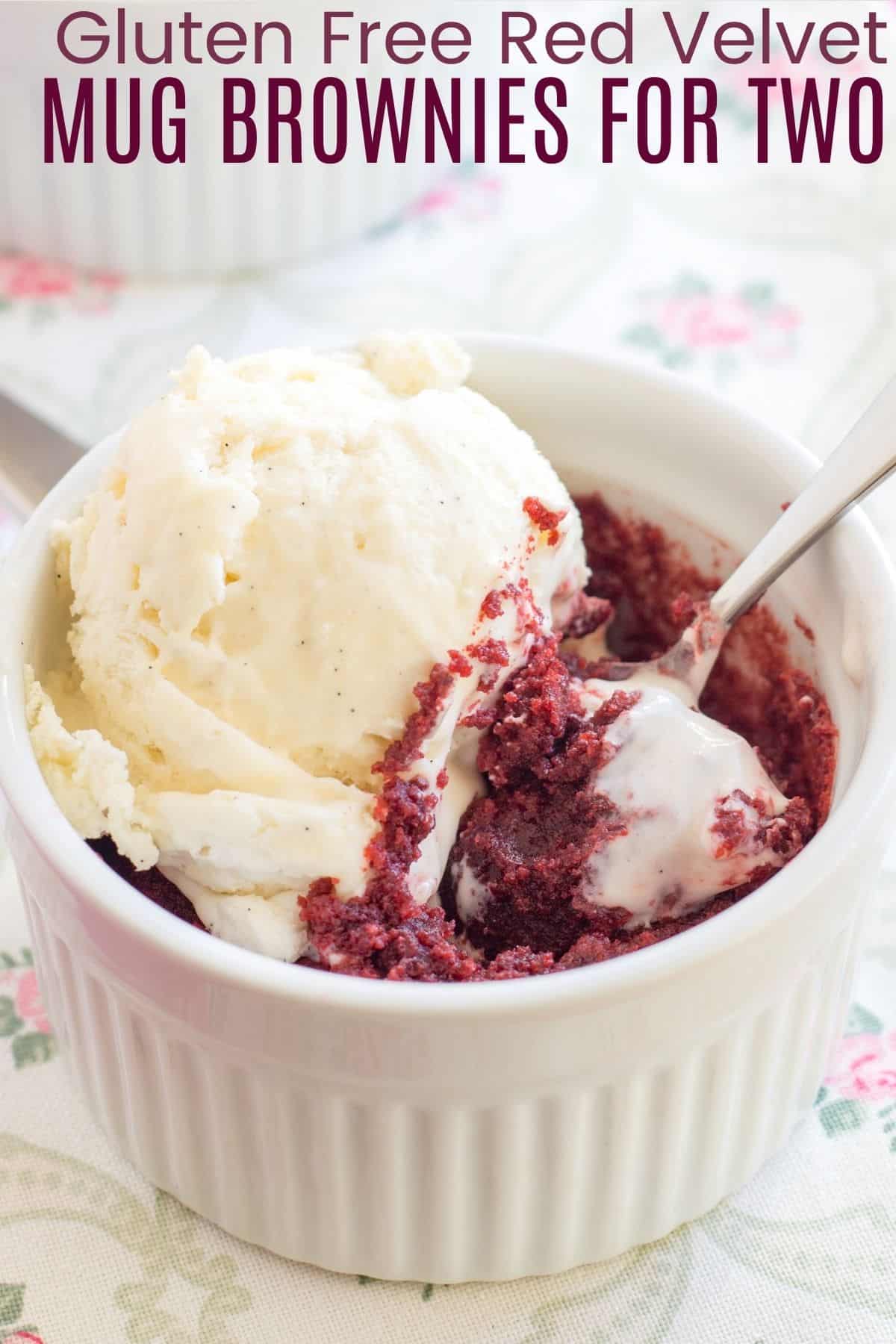 Disclosure: Compensation was provided by Gallo Family Vineyards via Sunday Supper, LLC. The opinions expressed herein are those of the author, and are not indicative of the opinions or positions of Gallo Family Vineyards.
I love the idea of a date night in. A quiet, peaceful meal free of toddler-wrangling, zone-defense, food-cutting, and all that goes along with food consumption in the company of two little boys. There's no worries about trying to find a babysitter or making a reservation. (Both of which can be a challenge on any weekend, but especially on a holiday weekend.) It's certainly cheaper, which means you can have that lobster or filet mignon without breaking the bank. And you aren't limited by the menu – you can make anything your little heart desires. Or the heart of your favorite loved one.
I've tried doing the date night in thing. Yeah, not really working in our house right now. Our boys aren't ready for bed until 7:30 or 8, and to be perfectly honest, I don't want to wait that late for dinner. And if we put them to bed early, then they're up early. And who wants that after you've spent the evening relaxing and enjoying a wonderful meal? So we've tried giving the boys dinner early then putting on a movie while The Hubby and I have dinner together. That works until the little guy loses interest in the movie after about five minutes, and then toddles into the kitchen demanding the food off of our plates even though he has already eaten. The big guy can't be left out of anything either, especially when there's food involved. So that quiet dinner for two – not happening.
Luckily my boys are great eaters, so I can make a special meal for four, and enjoy it with my three best guys. Triple the love, even if it does mean that our dinnertime conversation never gets around to adult topics, like work or sports or house projects. How about food? Yes, that is a topic we all enjoy. Perhaps we'll savor the caramelized subtle sweetness of some seared scallops and rich and creamy risotto with a side of grilled asparagus with lemon. Even my boys can get into that. We'll call it a family date night.
Then we'll get the boys to bed and, instead of a dinner date night in, we'll enjoy a dessert for two…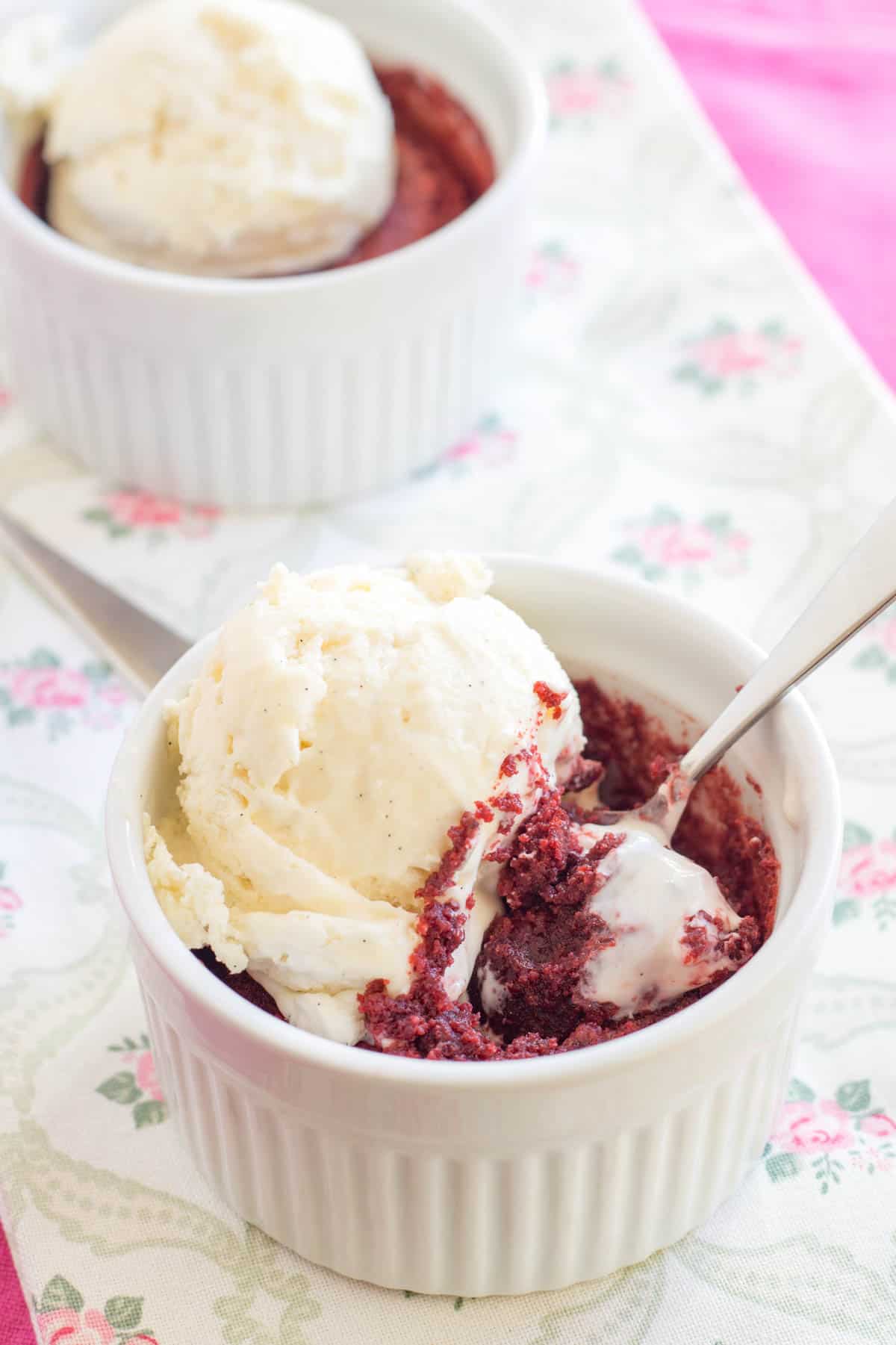 Gluten Free Red Velvet Brownies For Two
That's where these red velvet brownies come in. It took a few tries to get them right, plus a little help from my friends and this recipe from Renee at Magnolia Days, but this dessert is sure to please any red velvet lover or any chocolate lover or any brownie lover or anyone you love that you want to share it with. That is, if you want to share! You'll want to slightly underbake them so that they are totally ooey gooey, and then serve them right away.
Another option is to cool them to room temperature and top with my Greek yogurt cream cheese topping. Or, you could always warm them up a bit in the microwave and top them with my Vanilla Bean Cheesecake No-Churn Ice Cream, because just like you and your sweetie, red velvet + cream cheese = 4ever…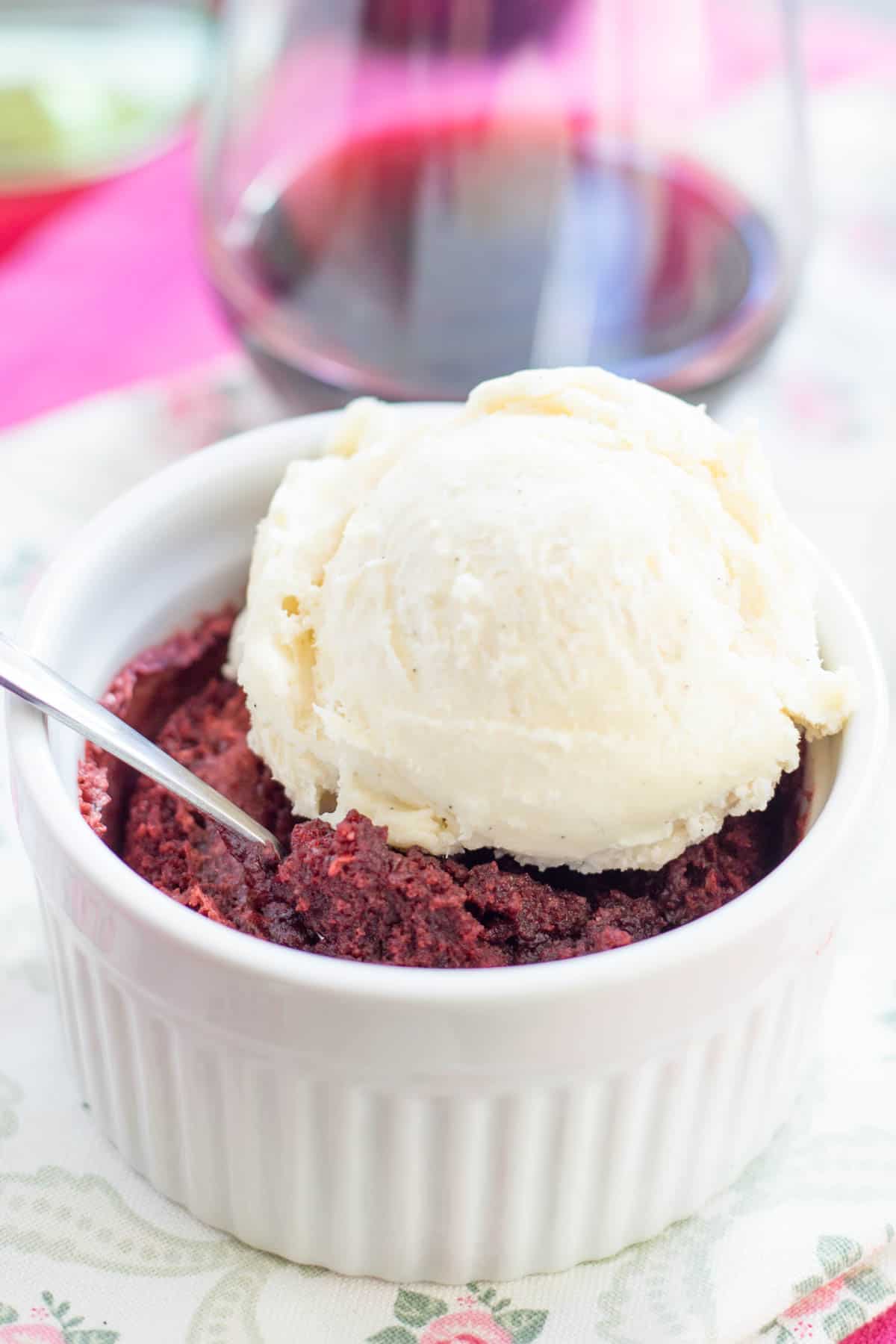 How to Make Gluten Free Red Velvet Brownies
For this recipe, the only special gluten-free ingredients you'll need are almond flour and brown rice flour. The key to these gluten-free brownies is to whip the egg and sugar mixture until it's thick. It should also be light in color. Since you are making a small batch in a small bowl, if your hand mixer will operate with only one of the beater blades, that is what I would suggest. I like baking the red velvet brownies in 6 ounce ramekins.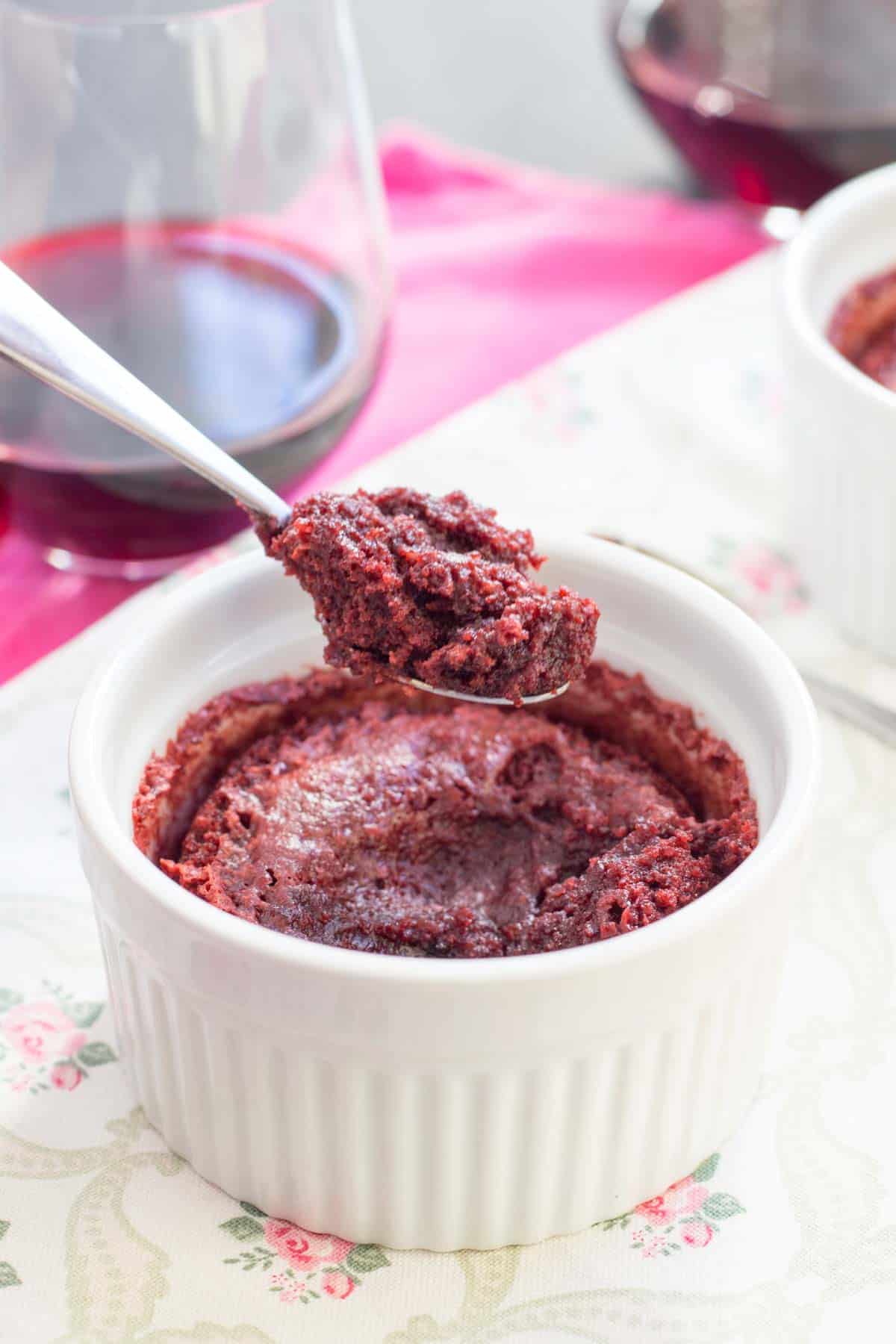 More Gluten Free Brownie Recipes
Ready to try some more rich and decadent brownie recipes? Check out these ones!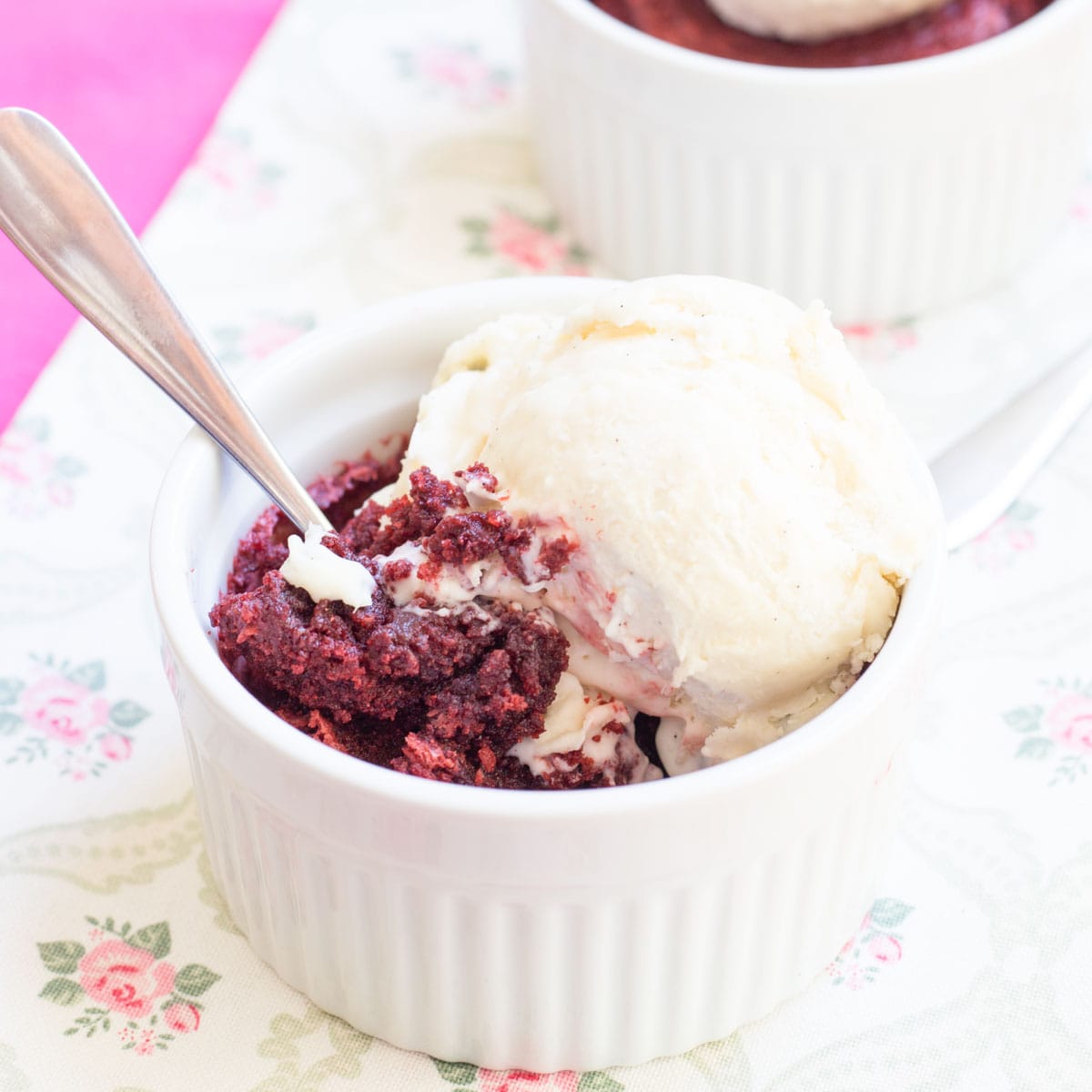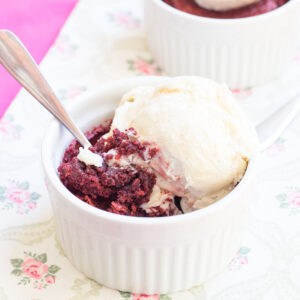 Deep Dish Gluten Free Red Velvet Brownies for Two
These Red Velvet Brownies for Two are a rich, fudgy, and decadent dessert recipe that makes just enough for you and your sweetheart!
Ingredients
2

tablespoons

unsalted butter

at room temperature

1/3

cup

sugar

1

large egg

at room temperature

1

tablespoon

unsweetened cocoa powder

1/2

teaspoon

vinegar

1/2

teaspoon

red food coloring

1/2

teaspoon

vanilla extract

2

tablespoons

almond flour

1

tablespoon

brown rice flour

1

pinch

salt
Instructions
Preheat oven to 325°F.

In a small bowl, beat the butter and sugar with an electric hand mixer (use only one beater blade, if possible) on low speed until combined, then increase speed slowly to medium-high and mix until until light and fluffy.

Add the egg and beat on medium high for a minute or two, until light in color.

Add the the cocoa powder, food coloring, vinegar, and vanilla and beat on medium speed until combined and one uniform color.

Add the almond flour, brown rice flour, and salt, and mix on medium-low speed until combined.

Divide evenly between two ramekins, and place ramekins on a baking sheet

Bake at 325°F for 20-25 minutes or until barely set, but still fudgy in the center.
Nutrition Facts
Deep Dish Gluten Free Red Velvet Brownies for Two
Amount Per Serving (1 g)
Calories 331
Calories from Fat 153
% Daily Value*
Fat 17g26%
Cholesterol 123mg41%
Sodium 38mg2%
Potassium 72mg2%
Carbohydrates 40g13%
Protein 5g10%
Vitamin A 485IU10%
Calcium 29mg3%
Iron 1.2mg7%
* Percent Daily Values are based on a 2000 calorie diet.