This post may contain affiliate links. Read my disclosure policy.
These delightful Gluten Free Red Velvet Cupcakes are the perfect allergy-friendly dessert for chocolate lovers celebrating a birthday or any occasion.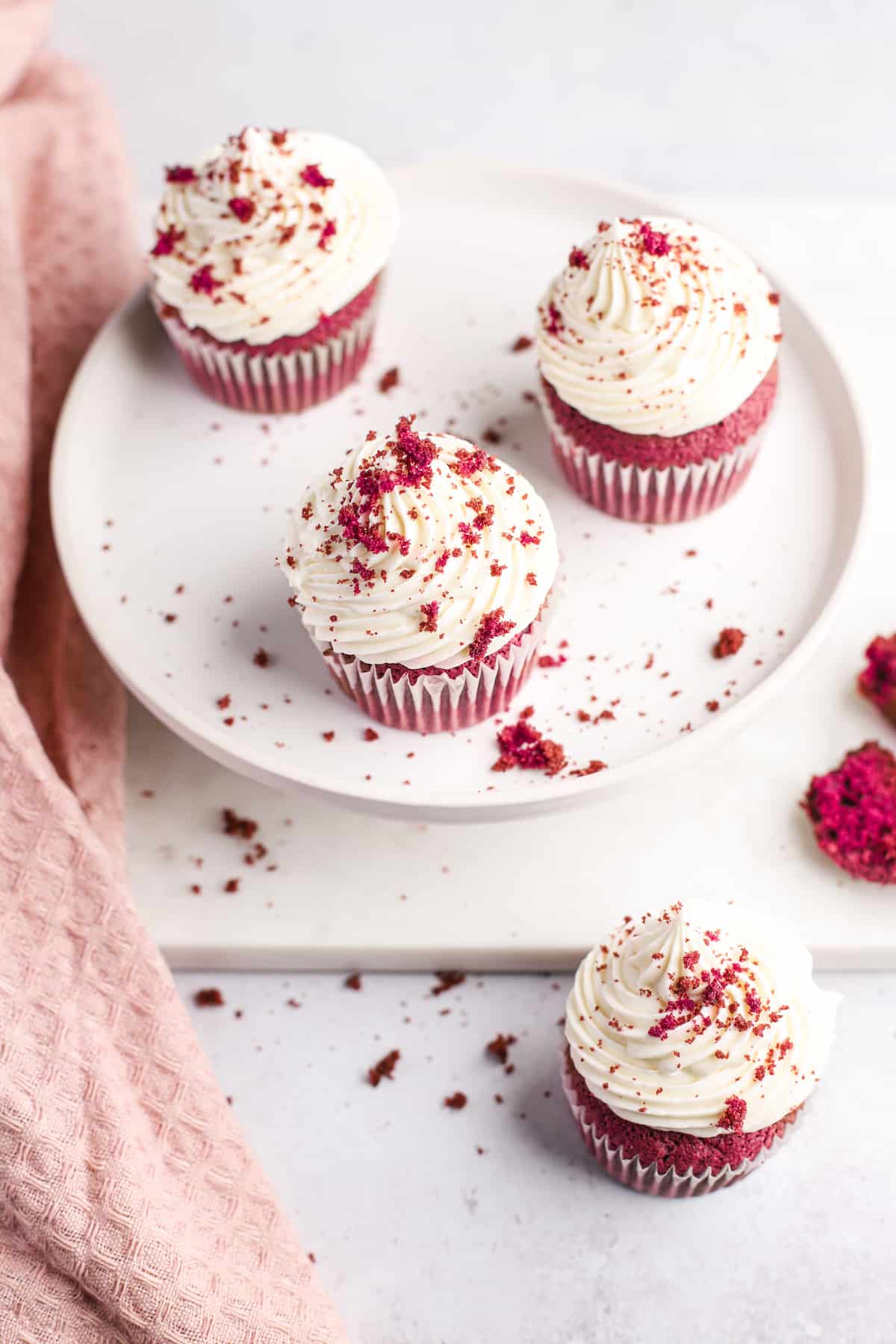 Best Red Velvet Cupcakes
These adorable gluten-free red velvet cupcakes are the perfect treat for Valentine's Day, a birthday celebration, or any occasion that calls for a chocolate dessert. They're moist, fudgy and delicious, topped with your favorite cream cheese frosting. Not to mention that this is an easy recipe with 10 pantry staple ingredients!
I love serving these cupcakes as a treat for kids' birthday parties. There's something extra fun about digging into red cupcakes, and the hint of chocolate flavor is always a bonus. You can decorate these however you like to fit a party theme, too.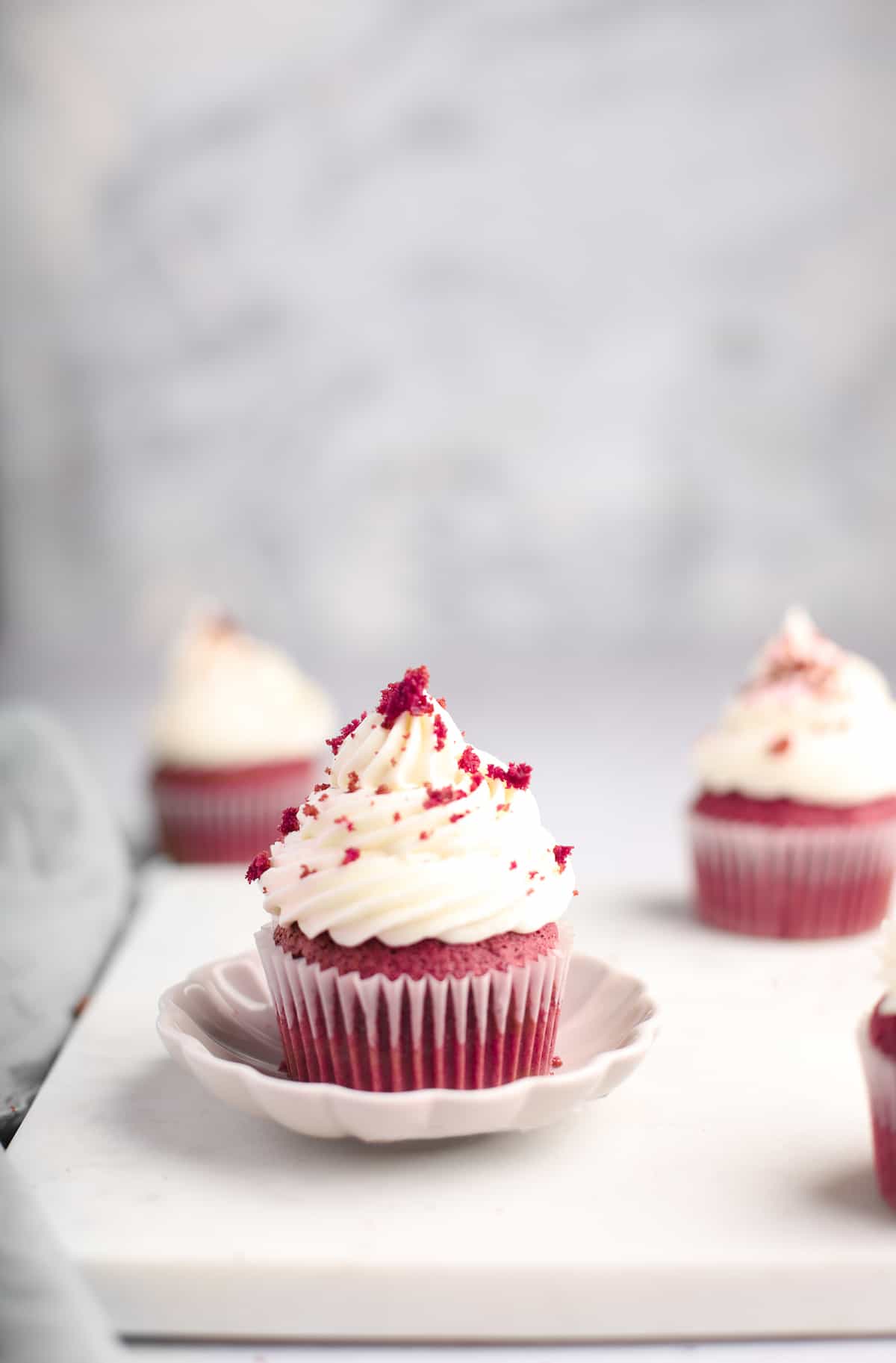 What is Red Velvet?
Red velvet is a classic cake flavor made with cocoa powder. The "velvet" in the name comes from the soft and silky texture of the cake itself. And the "red" part comes from the color of the cake. Traditionally, red velvet cakes got their crimson (and in some cases reddish-brown) color from using non-Dutch cocoa powder. But since I wanted to really amp up the red color in these cute cupcakes, I've added a few drops of food coloring to this recipe.
The difference between red velvet and chocolate cake is that most chocolate cake recipes call for melted chocolate, while red velvet recipes rely on cocoa powder. Chocolate cake recipes tend to have much more chocolate than red velvet cakes, and as a result, a deeper, more bitter chocolate flavor.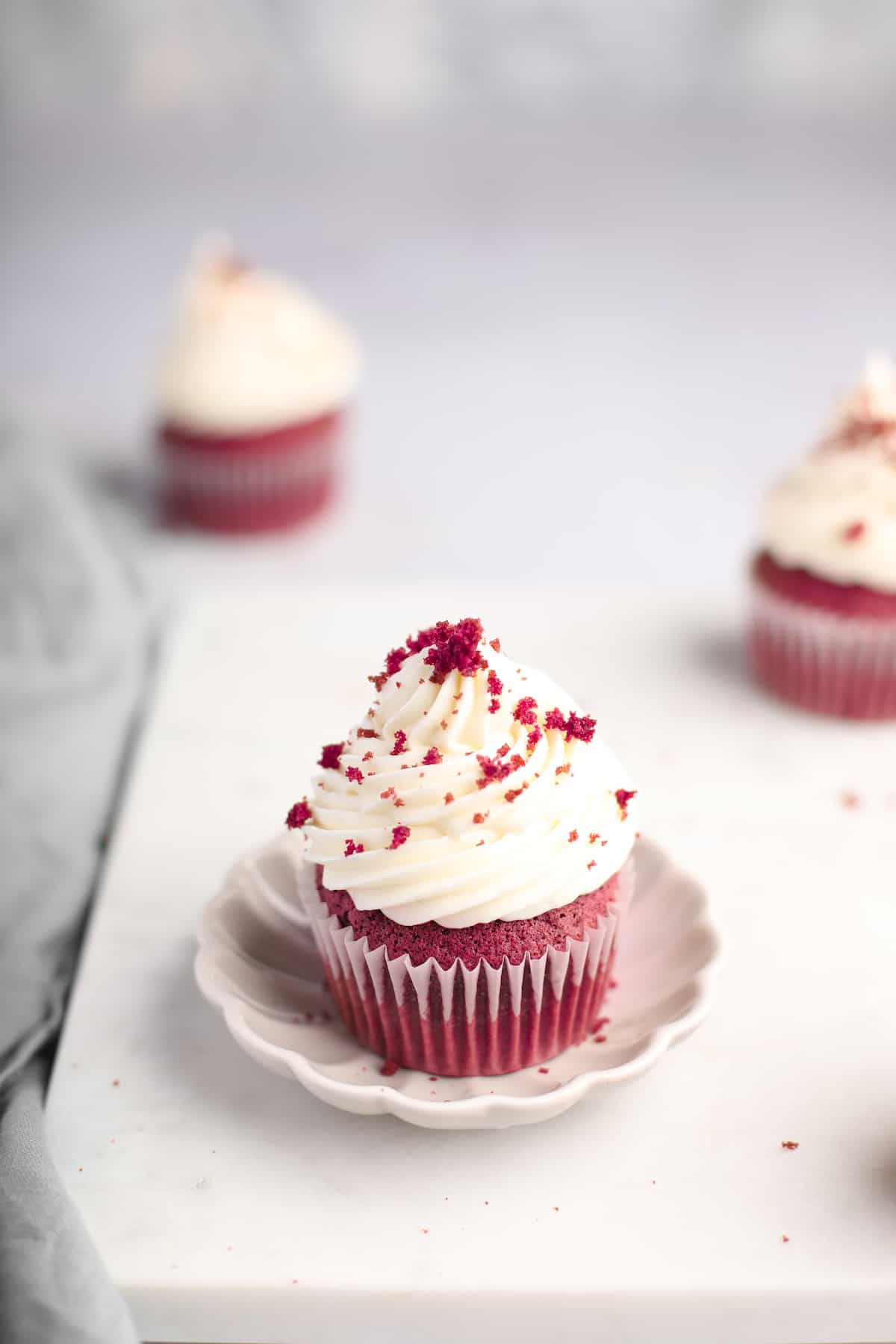 Ingredients
You only need 10 simple ingredients to make these fudgy chocolate cupcakes:
Gluten-free flour. If your blend doesn't include xanthan gum, add 1/4 teaspoon of xanthan to the dry ingredient mixture.
Oat flour. This is a great gluten-free flour for baking that adds nutty flavor without the fat of almond or other nut-based flours, plus a great texture. You can buy it or just pulse cetified gluten free oats in a blender until they form a powder.
Cocoa powder. Make sure it is unsweetenend. You can also use cacao powder.
Baking soda
Baking powder
Salt
Sugar
Eggs
Vegetable, sunflower or coconut oil. Either will work in this recipe, but if you're using coconut, make sure to melt it first.
Buttermilk. This adds a delicious tangy flavor. You can make dairy-free buttermilk by adding a tablespoon of lemon juice to a measuring cup, then enough of a plant-based milk to reach 1/2 cup and letting it sit for 5 to 10 minutes. This also works with regular dairy milk if you don't have buttermilk.
Red gel food coloring. This is necessary for the red in the cupcakes, but if you prefer not to add food coloring, you can omit it and enjoy delicious gluten free chocolate cupcakes.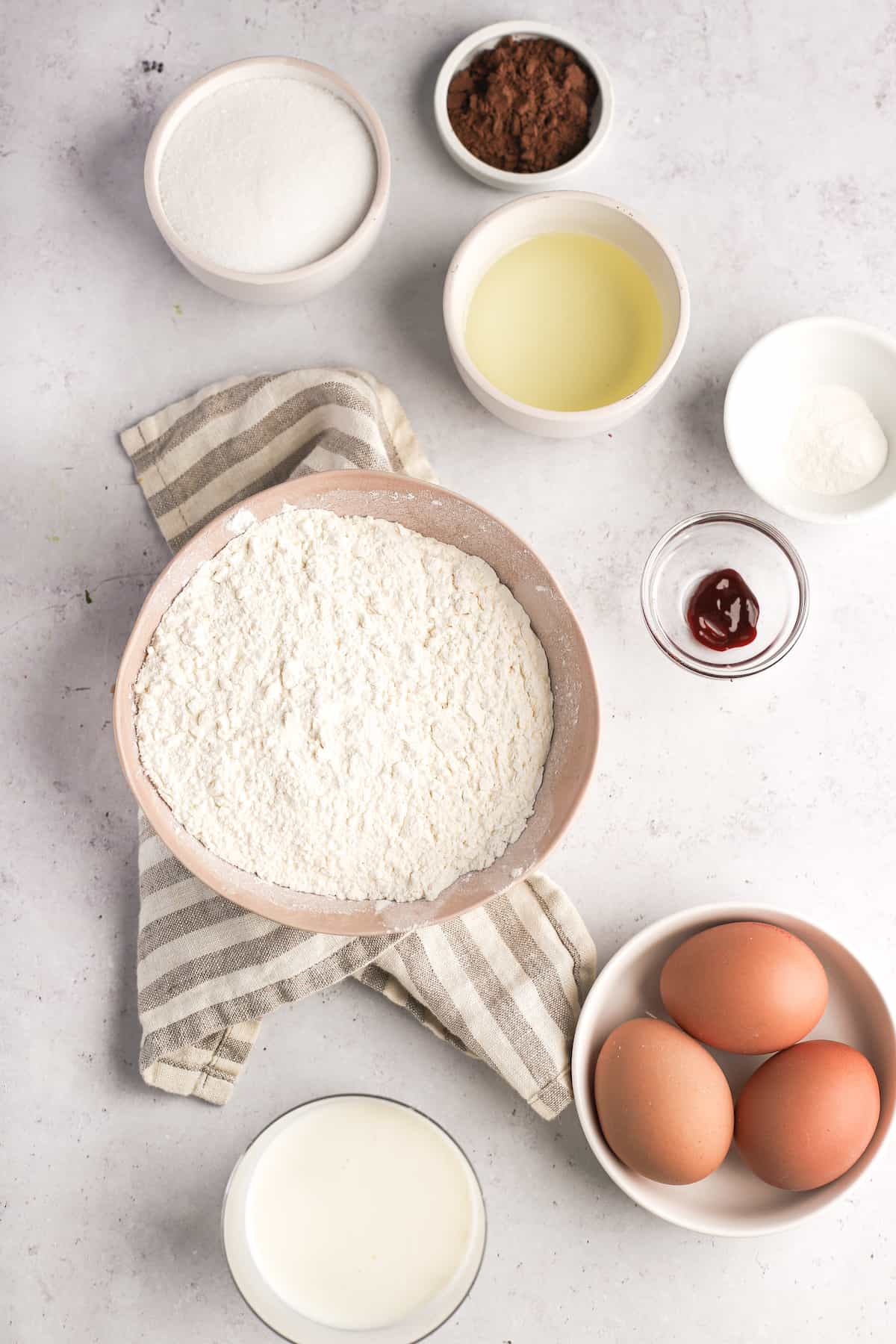 How to Make Gluten Free Red Velvet Cupcakes
Follow this simple step-by-step process to make and bake your cupcakes:
Prepare for baking: preheat the oven to 350°F. Line a 12-cup standard muffin tin with liners.
Make the cupcake batter: In a mixing bowl, combine both flours, cacao powder, baking powder, baking soda, and salt. In a separate bowl, beat together the eggs, oil, buttermilk, and food coloring. Add the dry ingredients to the wet ingredients and stir until evenly combined.
Bake the cupcakes: Divide the batter between the prepared cupcake liners. Fill each about 3/4 full. Bake the cupcakes for 20 to 25 minutes, or until a toothpick in the center comes out mostly clean. Remove the pan from the oven and let the cupcakes cool completely before frosting.
Tips for Success
Here are a few tips to keep in mind when making these cupcakes:
The baking time depends on your oven. Check the cupcakes after 20 minutes to make sure they're not cooking too quickly.
If you use a larger or smaller cupcake tin, adjust the cooking time up or down. Smaller cupcakes will cook in 10 to 15 minutes, while large cupcakes will take 25 to 35 minutes to cook.
Fill the cupcakes no more than 3/4 full to create a nice domed top that doesn't overflow onto the pan during baking.
You can replace the buttermilk with sour cream or thick Greek yogurt.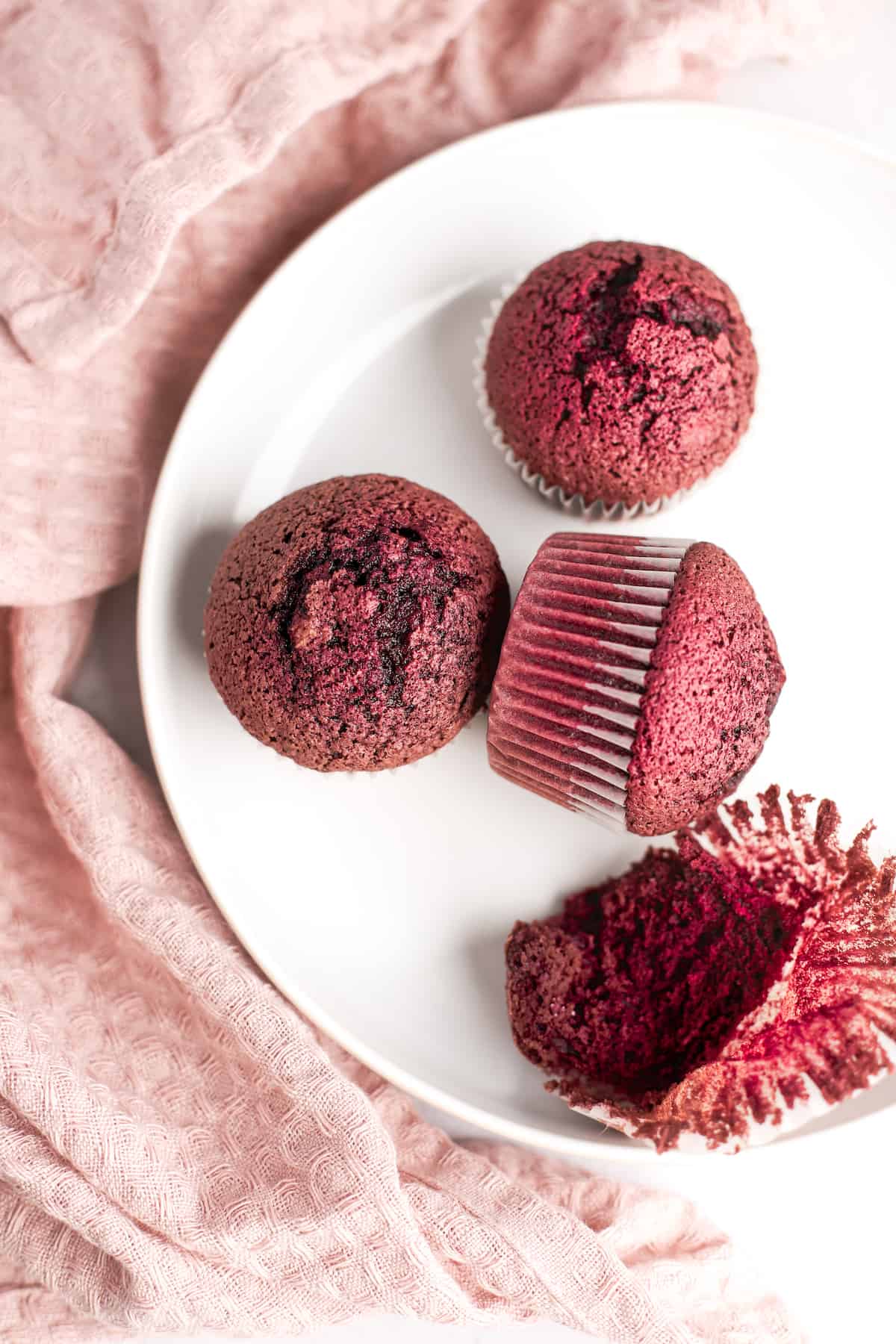 Serving Suggestions
As soon as the cupcakes are cooled, you can decorate them with your favorite frosting and fun decorations. Cream cheese frosting is a classic with red velvet, but if you love chocolate, go ahead and add your favorite rich chocolate frosting. My easy vanilla frosting is also a delicious pairing with the dense, chocolate cupcake flavor.
On top, you can have fun with crunchy and colorful toppings like sprinkles, chocolate shavings, cake crumbs, coconut, or other nuts.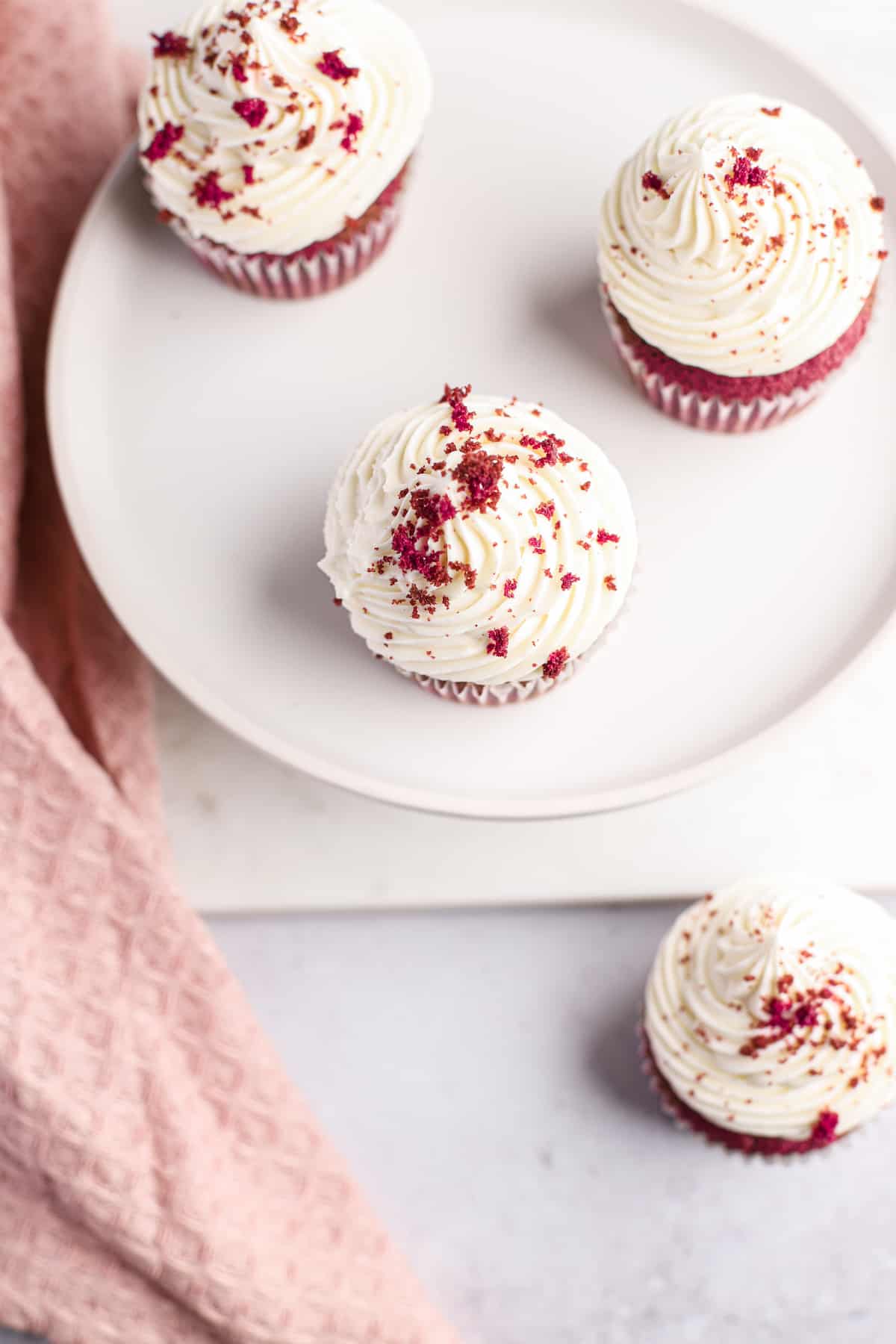 Storage
Store unfrosted and fully cooled red velvet cupcakes for up to 5 days in an airtight container at room temperature. Once they've been frosted, store the cupcakes in the fridge for up to 3 days.
Can I Freeze Leftover Cupcakes?
Yes! Freeze fully cooled, unfrosted cupcakes in an airtight container for up to three months. Defrost the cupcakes at room temperature overnight, then you can frost them just before serving.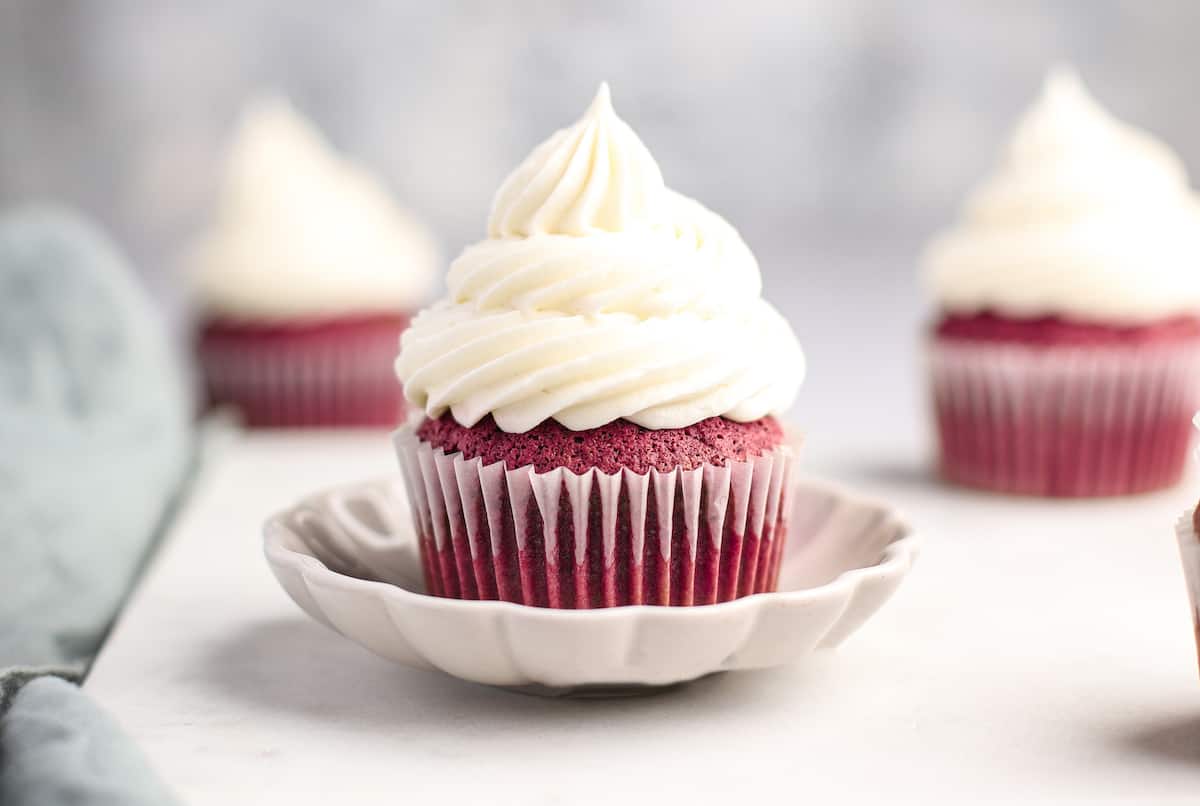 Shop the Recipe
Brianne Recommends
GLUTEN FREE FLOUR: While I can't say I use it all the time, Bob's Red Mill is often my go-to.
RED GEL FOOD COLORING: Gel colors are the best for the most intense color without affecting the texture.
MUFFIN/CUPCAKE PANS: Gotta have 'em.
CUPCAKE LINERS: I do recommend these for cupcakes versus just spraying the pans. White ones really let the red color of the cupcake shine.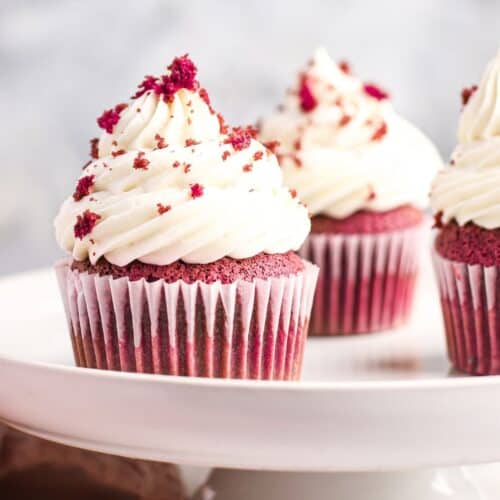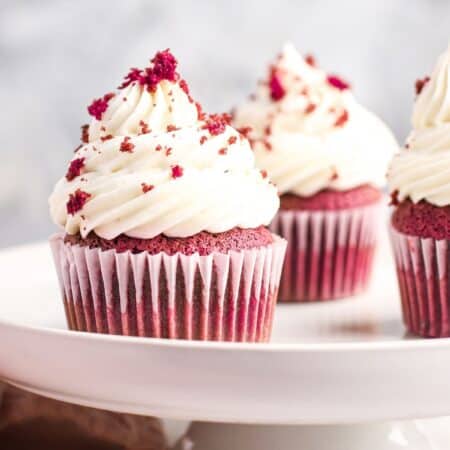 Gluten Free Red Velvet Cupcakes
These moist, delicious, and chocolaty red velvet cupcakes are gluten-free and topped with a delicious whipped cream cheese frosting.
Ingredients
1 1/2

cups

1-to-1 gluten-free flour blend

(if you use a blend that does not contain xanthan gum, add 1/4 teaspoon)

1/2

cup

oat flour

1

Tablespoon

cocoa powder

1 1/2

teaspoons

baking powder

1/2

teaspoon

baking soda

1/4

teaspoon

salt

3/4

cup

granulated sugar

3

large eggs

1/2

cup

vegetable oil,

sunflower oil or coconut oil

1/2

cup

buttermilk

1

Tablespoon

red gel coloring

Cream Cheese Frosting

or your favorite frosting
Instructions
Preheat the oven to 350°F, and line a 12-cup muffin tin with cupcake liners.

Combine the gluten free flour, oat flour, cocoa powder, baking powder, baking soda, and salt in a medium bowl and whisk together. Set aside.

Combine the sugar, eggs, buttermilk, and oil in a large bowl. Using an electric mixer, beat until combined and smooth. Blend in the red food coloring.

Add the dry ingredients to the wet ingredients and blend until everything is well incorporated.

Fill each cupcake liner about 3/4 of the way full.

Place them in the oven and bake for 20-25 minutes, or until a toothpick inserted in the center comes with very few crumbs.

Remove from the oven and let it cool completely before frosting.
Nutrition Facts
Gluten Free Red Velvet Cupcakes
Amount Per Serving (1 cupcake (does not include frosting))
Calories 174
Calories from Fat 99
% Daily Value*
Fat 11g17%
Cholesterol 42mg14%
Sodium 73mg3%
Potassium 104mg3%
Carbohydrates 15g5%
Protein 4g8%
Vitamin A 76IU2%
Calcium 53mg5%
Iron 1mg6%
* Percent Daily Values are based on a 2000 calorie diet.
Categories:
More Gluten-Free Cupcake Recipes