This post may contain affiliate links. Read my disclosure policy.
Light, fluffy, and oh-so-sweet, this wonderful Vanilla Frosting is just dreamy! You'll love how easy it is to make, and how its delicate vanilla flavor enhances just about any dessert.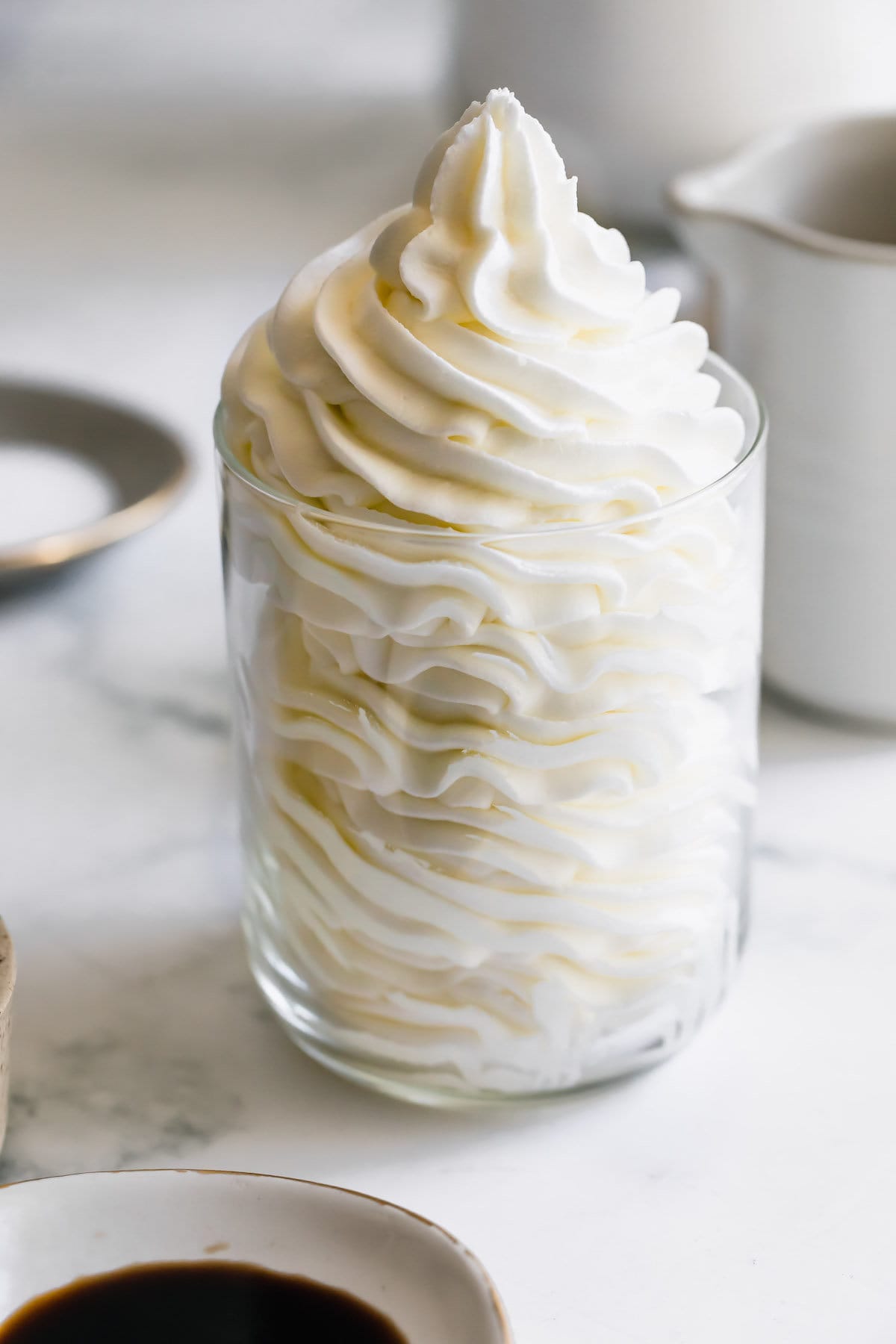 Easy Homemade Vanilla Frosting
No offense to the pre-made stuff, but homemade frosting beats canned frosting, hands down! It's just no contest. The simple, real ingredients blend together perfectly, creating a sweet and scrumptious topping for cakes, cupcakes, cookies, brownies… you name it!
I use this frosting all the time because it's so easy and versatile. As-is, it goes with just about any flavor profile, from chocolate to fruit to caramel. And if you want to add other flavors, or use food coloring, that works too!
These days, when I make this basic buttercream, I like to double the recipe, because it freezes beautifully! All I have to do is let it thaw, and then give it a quick mix with a hand-mixer. Easy!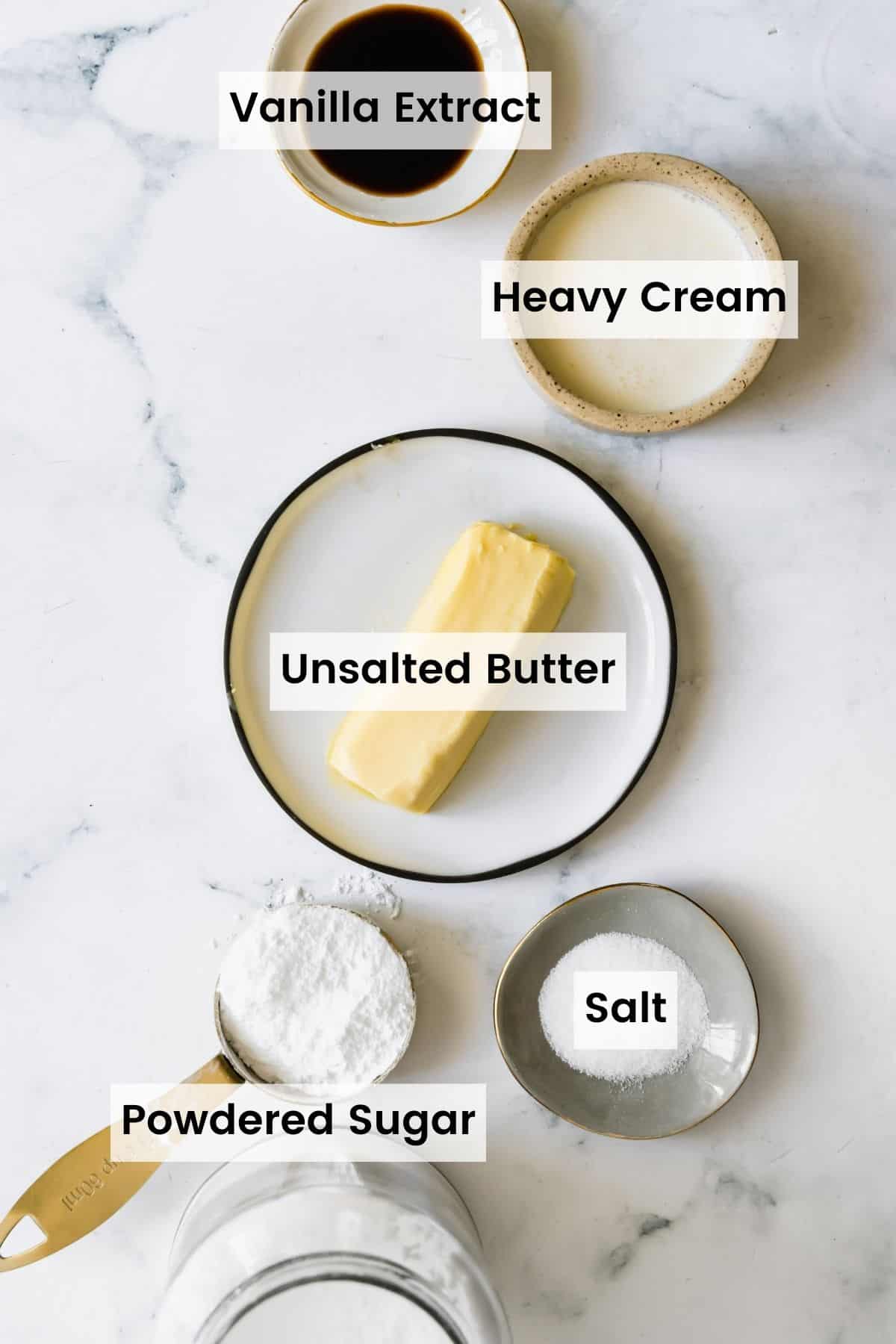 Recipe Ingredients
Since this recipe is essentially a homemade, from-scratch buttercream, it's probably no surprise that the two main ingredients are butter and sugar! Together, they make a light, fluffy, versatile frosting. Let's get to it!
Butter: Let your butter stand at room temperature until it's softened. You'll need one cup, or two sticks' worth. If you use salted butter, you may want to reduce the amount of salt in the recipe.
Powdered Sugar: To get the right consistency, you'll need somewhere around four or five cups of powdered sugar (also known as confectioner's sugar).
Vanilla: A tablespoon of pure vanilla extract gives this creamy frosting its signature taste.
Cream: Some recipes call for milk, but I prefer to use two to three. tablespoons of heavy whipping cream, for extra richness and flavor!
Salt: One-fourth of a teaspoon of salt brings out the beautiful flavors in this frosting.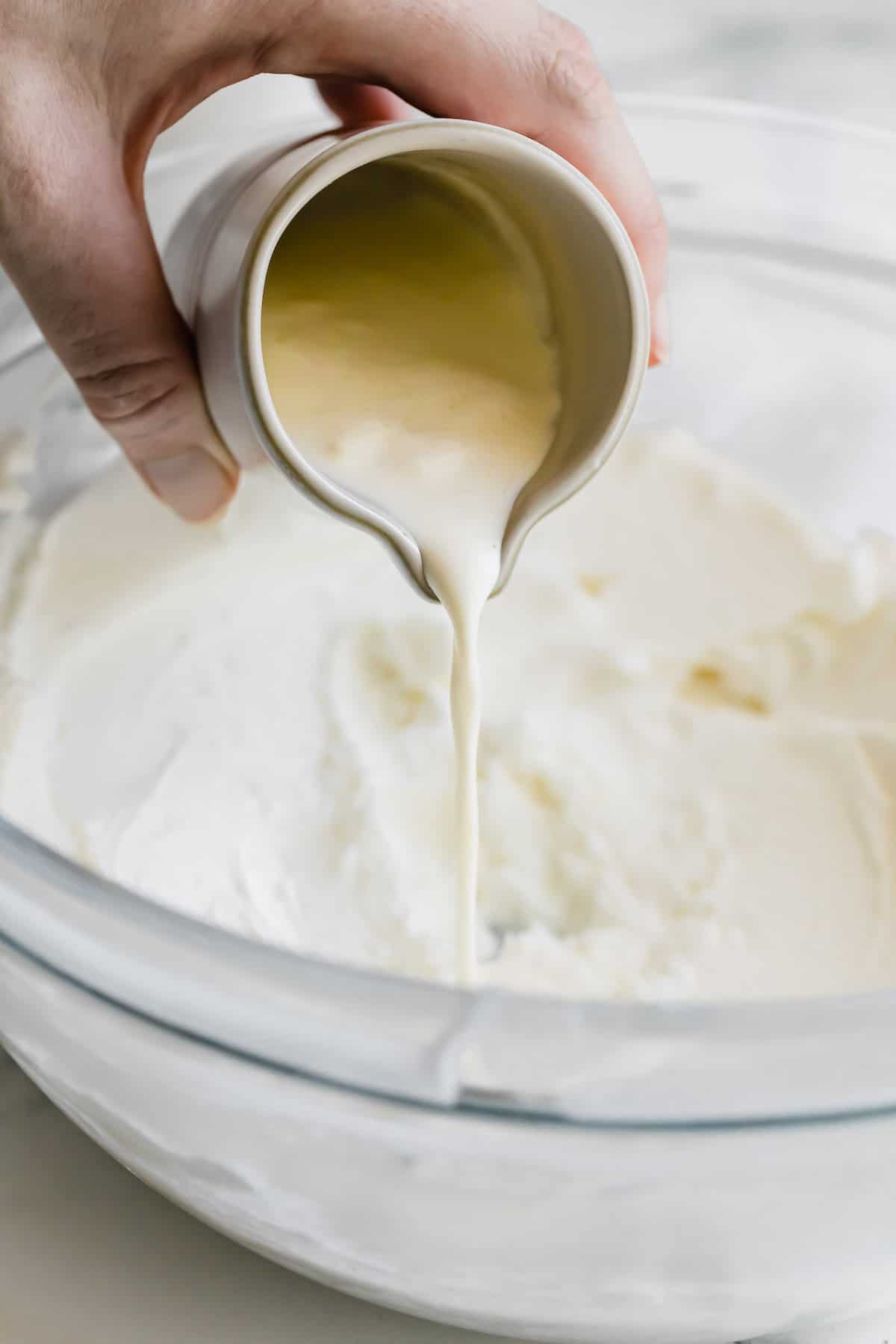 How to Make Vanilla Frosting from Scratch
It's as easy as pie (mmm, pie!) to make this indulgent vanilla buttercream. Just remember to add the sugar gradually, to avoid lumps and get a nice, even texture.
Beat the Butter. In a large mixing bowl, beat the butter with an electric mixer on medium speed for 3 minutes.
Gradually Add the Remaining Ingredients. Add the powdered sugar, vanilla extract, cream (starting with just 2 tablespoons), and salt. Beat well, adding additional cream to achieve desired consistency.
Frost All the Things! Immediately use your buttercream to frost your cakes, cupcakes, etc. Make sure they're cooled first! You can also store this tasty frosting in an airtight container for later use (see below for more details).
Tips for the Best Frosting
When it comes to making frosting, there are some little tips and tricks that are helpful to know! Keep reading for my best advice for making the best frosting.
Know Your Sugar: Powdered sugar comes in a few different types, from 4X to 6X to 10X. These numbers refer to how fine the sugar is, with 10X being the finest. Most cooks agree that finer is better, but you can definitely play around with it and see what suits you! The slightly more textured feel of 4X definitely has its own charm!
Beat the Butter Well: It's really important to make sure that your butter is completely smooth before you begin adding the other ingredients. This ensures a perfect, lump-free frosting that will spread like a dream! The butter should be at room temperature for the best result.
Flavor It Up: If you wish, you can add a touch of almond extract, orange extract, lemon extract, etc. If you add additional flavoring, plan on adding slightly less whipping cream to avoid having runny frosting!
Ways to Use Your Vanilla Frosting
Buttercream frosting is always appropriate, in my opinion. I mean, it goes so well with so many different desserts! From frosted cookies to frosted brownies, cakes to cupcakes, the possibilities are practically endless. Here are a few of my favorites!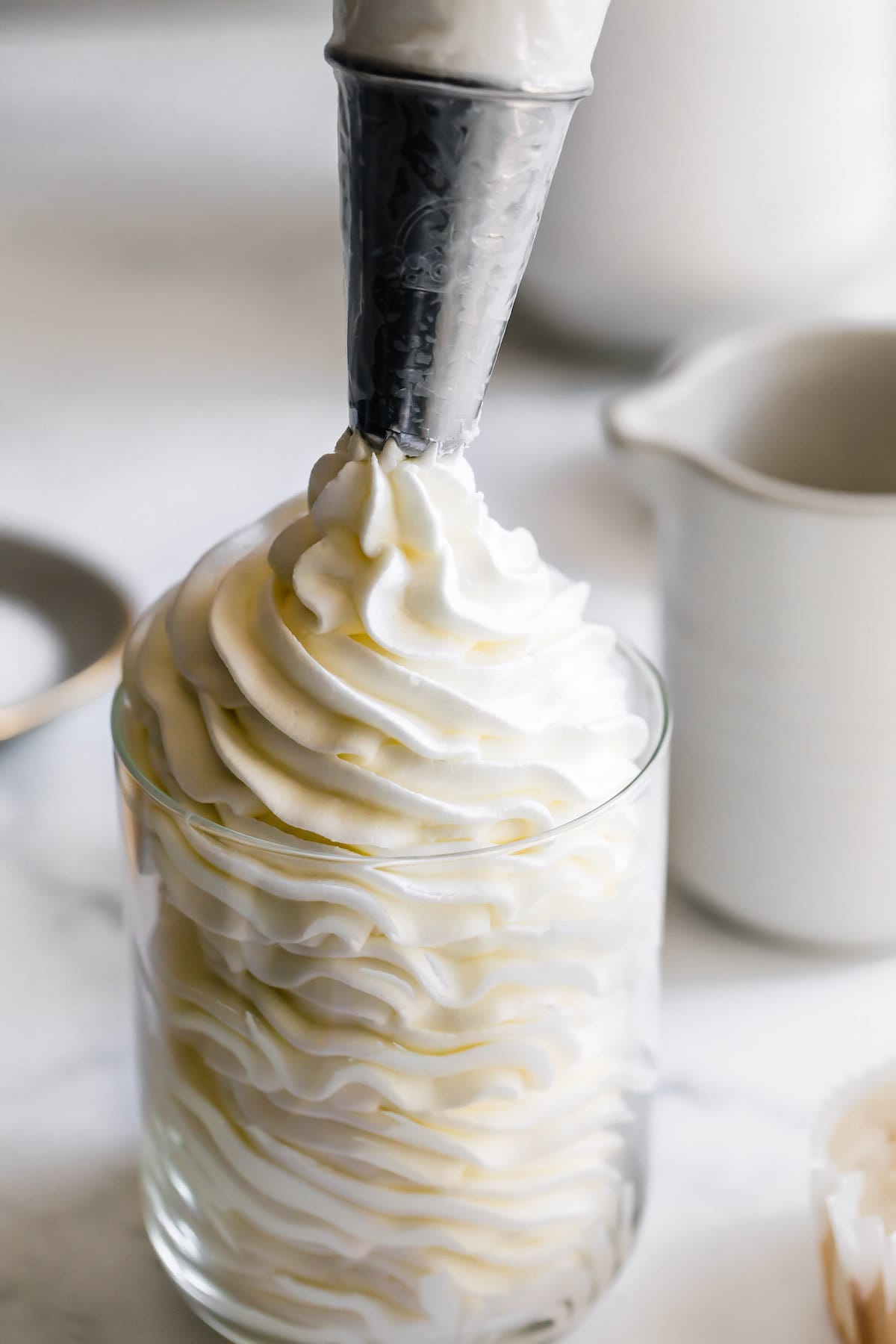 Can Frosting Be Made in Advance?
Definitely! I love making this ahead of time, to make things easier on the day I serve the dessert. You can make this two or three days in advance and just store it in an airtight container on the counter. If you need to store it longer than that, refrigerate or freeze!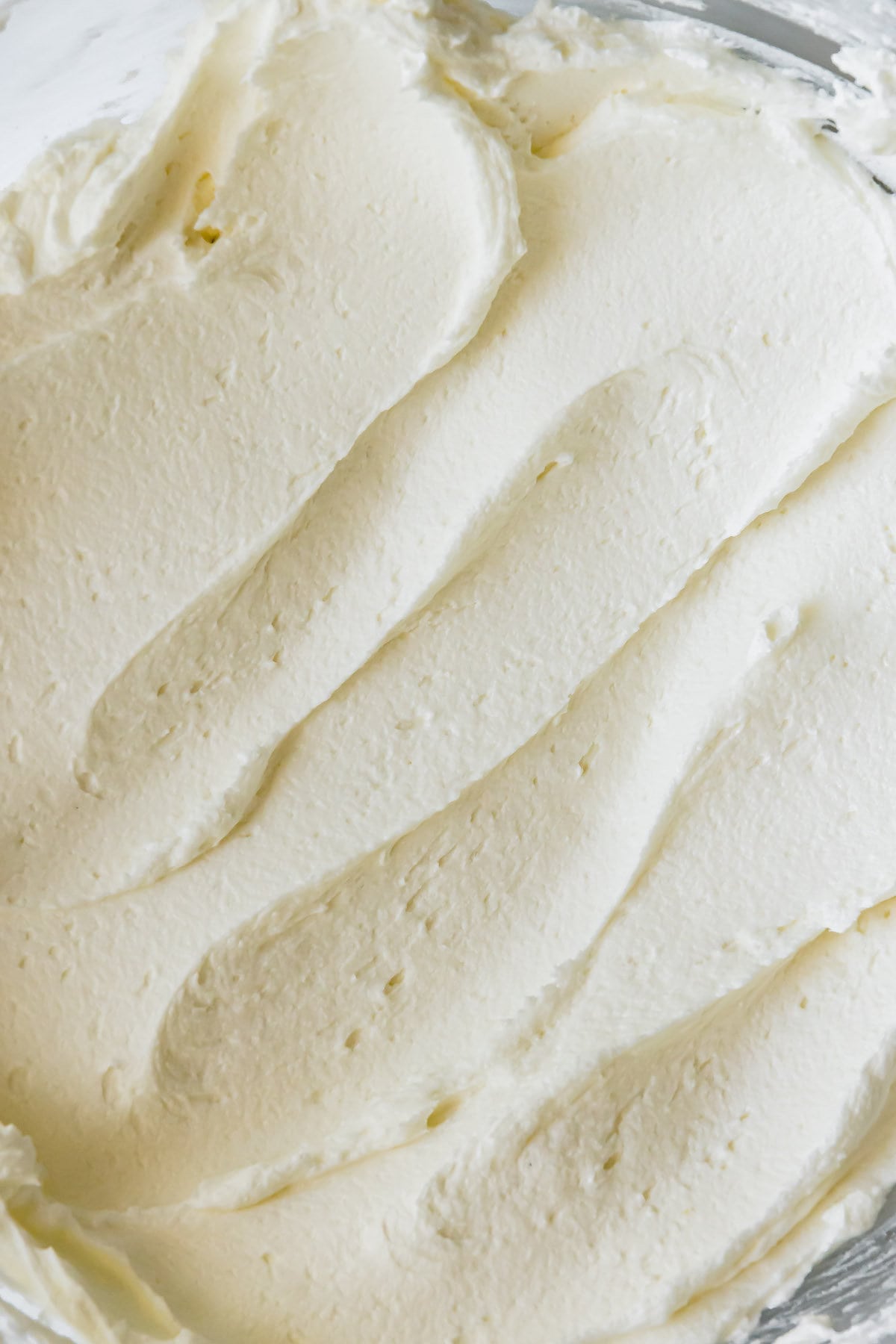 Storing Frosting
How to Store in the Fridge
Storing this in the refrigerator couldn't be easier! Just scrape or spoon it into an airtight food storage container, and refrigerate it for up to a week. Before using, let the frosting stand on the counter until it comes to room temperature.
How to Freeze Frosting
To freeze this frosting, just transfer it into a freezer bag. Press out as much air as you can as you seal it up. Frosting keeps in the freezer for up to a month. You'll need to thaw it completely and then beat it before serving.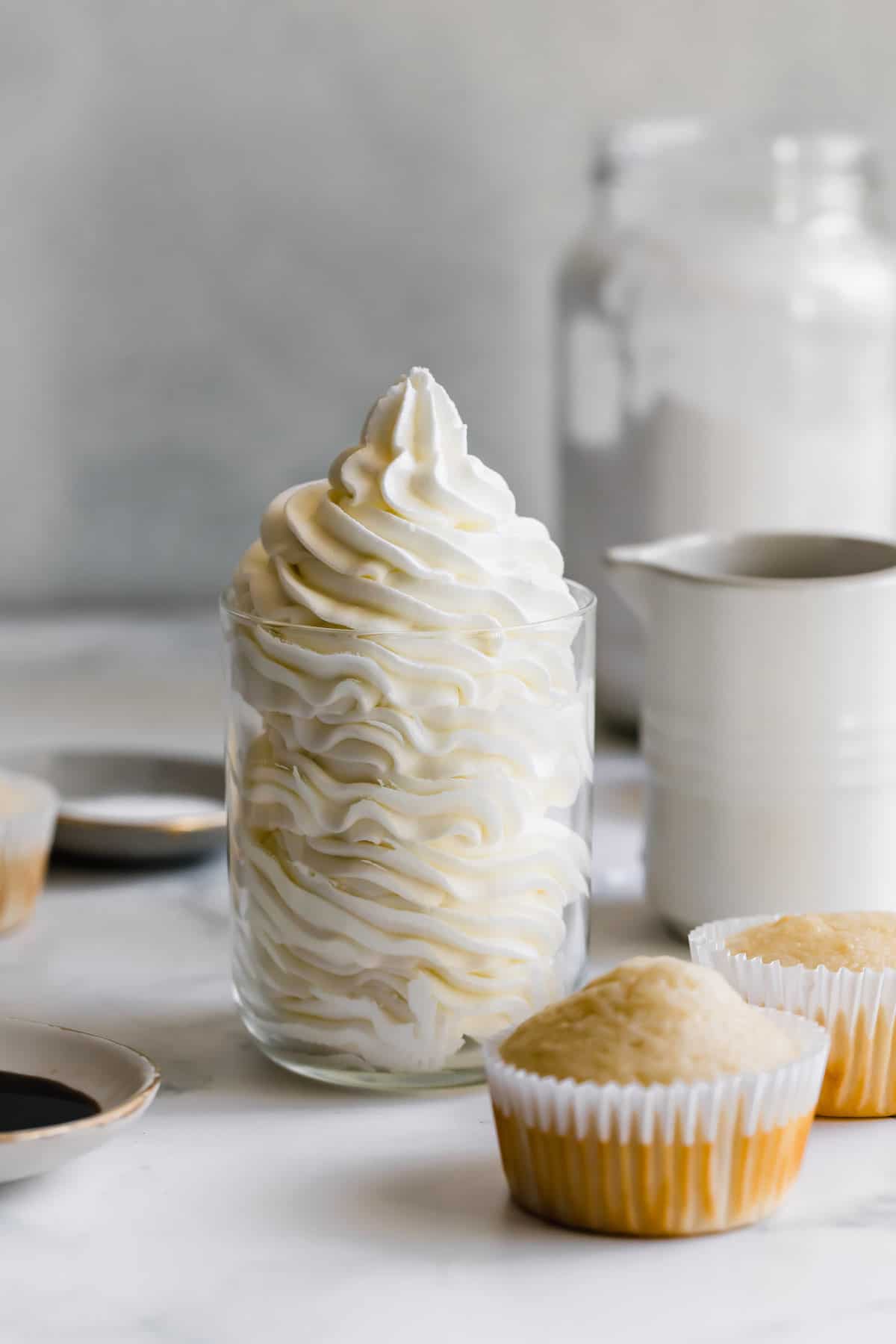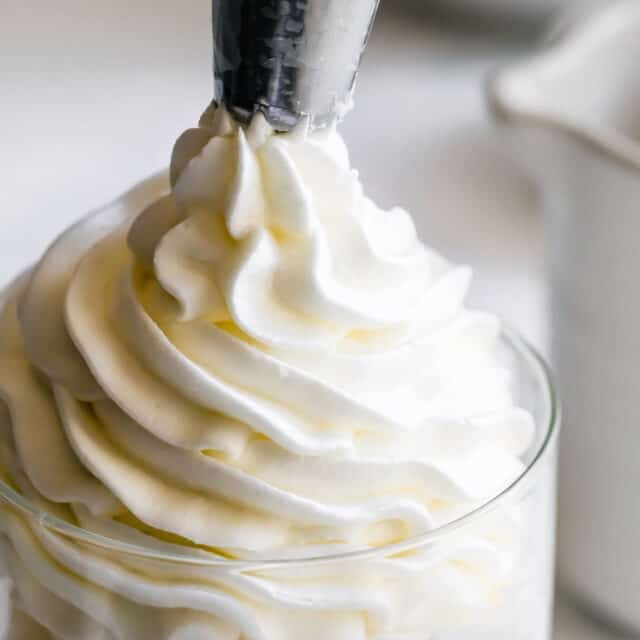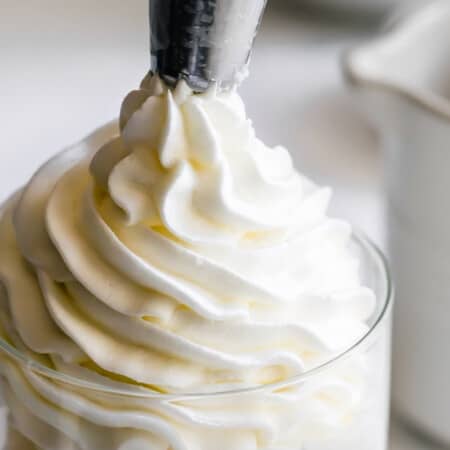 Homemade Vanilla Frosting
A light and fluffy vanilla buttercream frosting, made from scratch and perfect for frosting cakes, cupcakes, and more.
Ingredients
1

cup

unsalted butter

(2 sticks), softened

4 – 5

cups

powdered sugar

1

Tablespoon

vanilla extract

2 – 3

Tablespoons

heavy whipping cream

1/4

teaspoon

salt
Instructions
In a large mixing bowl, beat the butter with an electric mixer on medium speed for 3 minutes.

Add 4 cups of the powdered sugar, vanilla extract, cream (starting with 2 tablespoons), and salt. Beat until smooth and creamy. Add additional cream or powdered sugar to achieve desired consistency.

Immediately frost cooled cakes and cupcakes, or store in an airtight container for later use.
Notes
If stored in an airtight container in the refrigerator, frosting will keep for up to a week. Bring to room temperature before using. Frosting can also be stored at room temperature for 2 or 3 days.
Frozen frosting can be stored in a freezer for up to a month. Bring to room temperature and beat again before using.
Nutrition Facts
Homemade Vanilla Frosting
Amount Per Serving (12 g)
Calories 510
Calories from Fat 162
% Daily Value*
Fat 18g28%
Cholesterol 49mg16%
Sodium 188mg8%
Potassium 13mg0%
Carbohydrates 90g30%
Protein 1g2%
Vitamin A 565IU11%
Vitamin C 1mg1%
Calcium 10mg1%
Iron 1mg6%
* Percent Daily Values are based on a 2000 calorie diet.
More Dessert Recipes to Try