This post may contain affiliate links. Read my disclosure policy.
Treat the kids to cupcakes or cake topped with this easy Oreo Frosting. Start with creamy vanilla buttercream, then add crushed gluten free Oreos or your favorite chocolate sandwich cookie for a total cookies and cream dream for Oreo lovers!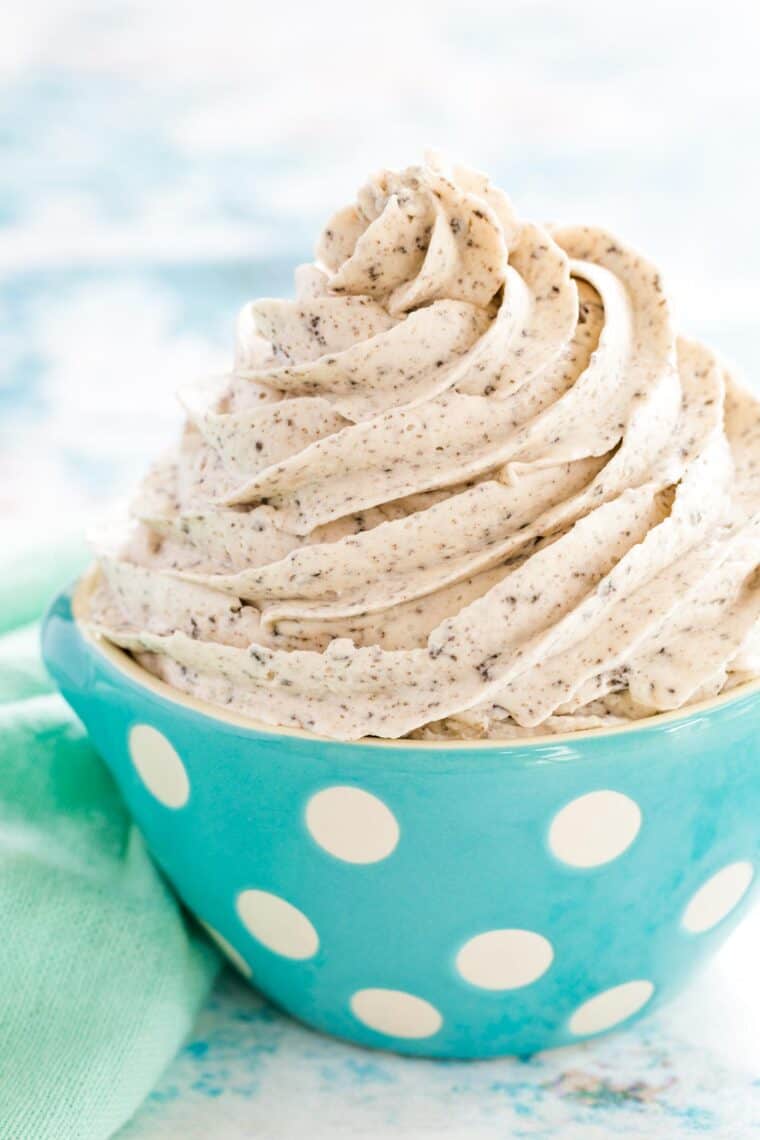 The Most Amazing Oreo Buttercream Frosting
Cookies and cream desserts are a favorite for kids and kids-at-heart. I know they send me right back to childhood sitting at the table with a stack of Oreos and a glass of milk. And seriously, this frosting will have those memories flooding back, especially if you think the cream filling is the best part of the cookie.
You get that buttery sweet goodness that tastes even better with flecks of chocolaty cookie pieces throughout. It's amazing whether you pipe it onto some Gluten Free Vanilla Cupcakes or spread it all over a Gluten Free Chocolate Pumpkin Spice Bundt Cake. And you won't believe how easy it is to make!
But first, let's clear up one thing…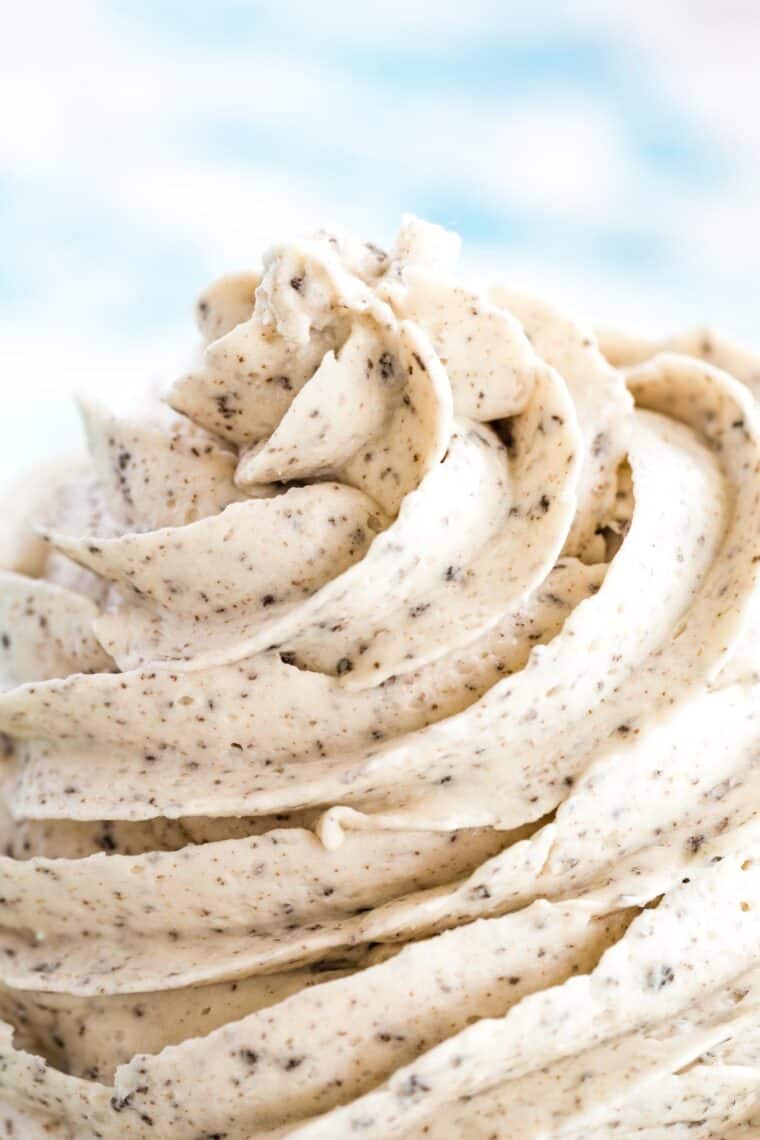 Are Oreos Gluten Free?
As you probably know, the classic Oreos you grew up eating are NOT gluten free. But Nabisco has come to our rescue with Gluten Free Oreos! They are certified gluten free by GFCO, and they taste just like classic Oreos. It is also super easy to make sure you don't accidentally eat the wrong thing because the packaging is white instead of blue, and the words "Gluten Free" are stamped right on the cookies.
One word of caution is that they do contain oats. While oats are gluten free themselves, as you likely know, they can be at risk for cross-contamination, and some people who are sensitive to gluten are sensitive to even certified gluten free oats, such as the ones used in the Oreos. So consider your situation and talk to your doctor if needed before trying them.
If you prefer to avoid the Oreos, there are chocolate sandwich cookies available from gluten free brands like Glutino, Kinnikinnick, and Goodie Girl.
Last updated on March 23, 2023 12:22 pm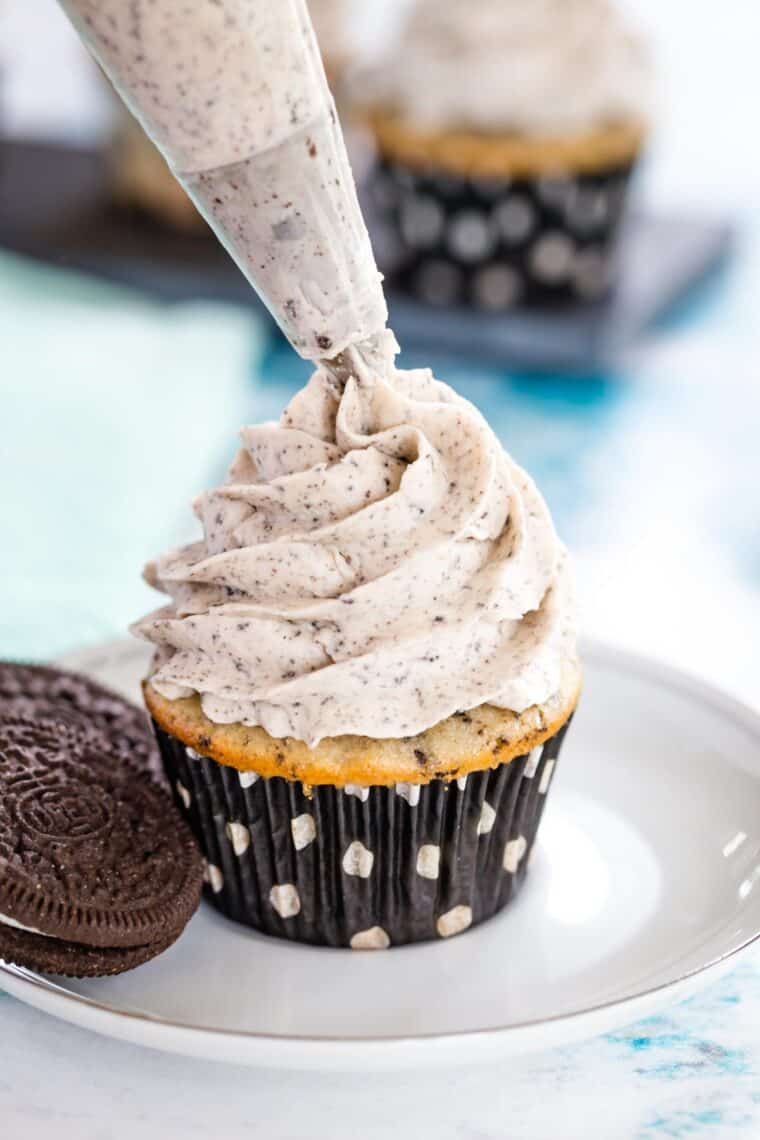 Ingredients
I started with my basic Vanilla Buttercream Frosting. It's perfectly smooth, creamy, and pipable, but not too sweet. So naturally, adding crushed chocolate sandwich cookies to transform it into Oreo Frosting only makes it that much better. Here's what you need for this cookies and cream buttercream:
Unsalted butter: Make sure it is softened to room temperature so that it whips up nice and fluffy.
Powdered sugar: You can adjust how much you add to achieve your desired consistency and sweetness. I prefer to sitck to the lowest amount and adjust the amount of cream versus adding more sugar, but you canm decide how sweet you like yours.
Vanilla extract: In a frosting like this, the vanilla flavor is prominent, so I recommend pure vanilla extract versus imitation, being sure it is gluten free.
Heavy whipping cream: Makes it super creamy. You can also use milk, but the cream adds a velevety smooth richness.
Salt: Balances the sweetness and enhances the buttery vanilla flavor.
Gluten Free Oreos: Or another gluten free chocolate sandwich cookie, such as the ones mentioned above. Or make your own gluten free Oreos. Crush them very fine, especially if you want to pipe your frosting. I like to use a food processor.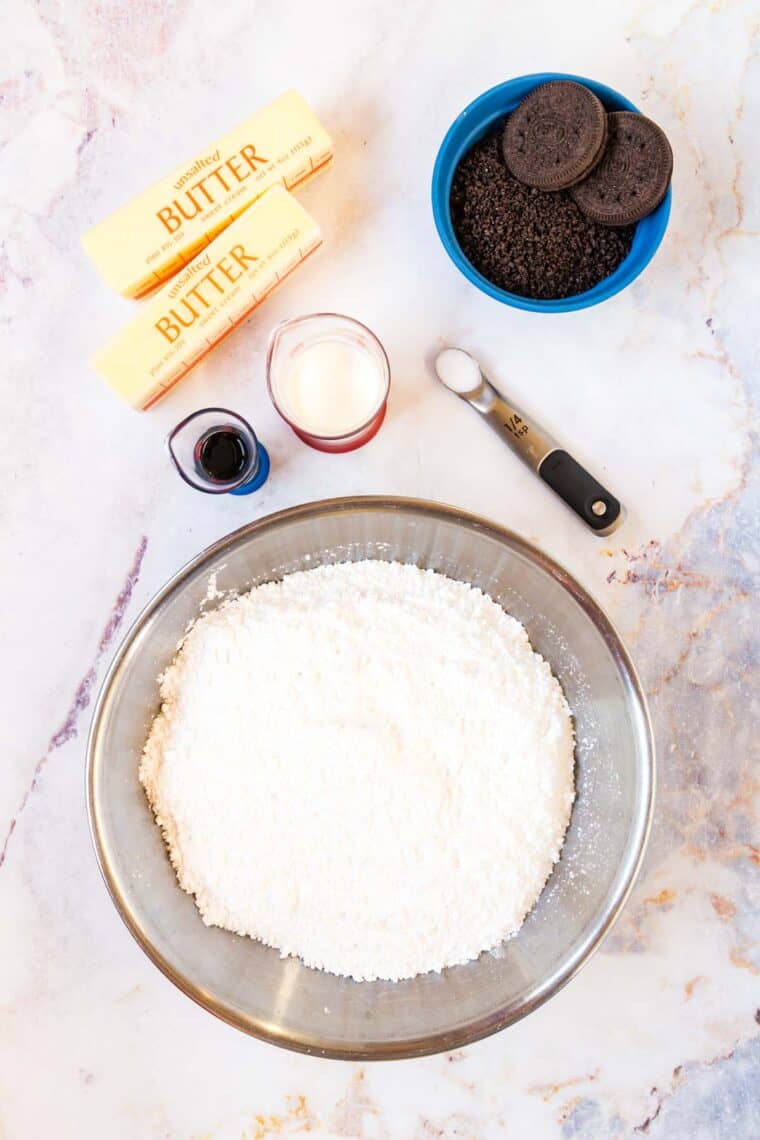 How to Make Oreo Frosting
Beat the butter: Add the butter to a large mixing bowl and beat with a hand mixer for at least 3 minutes or until it is light and fluffy. This ensures you will end up with the lightest, creamiest frosting.
Cream the ingredients together: Add powdered sugar, salt, vanilla extract, and heavy cream, and beat at low speed until everything is incorporated, then gradually increase the speed to medium ad whip until smooth and creamy. Beat in more powdered sugar or cream to achieve your preferred consistency.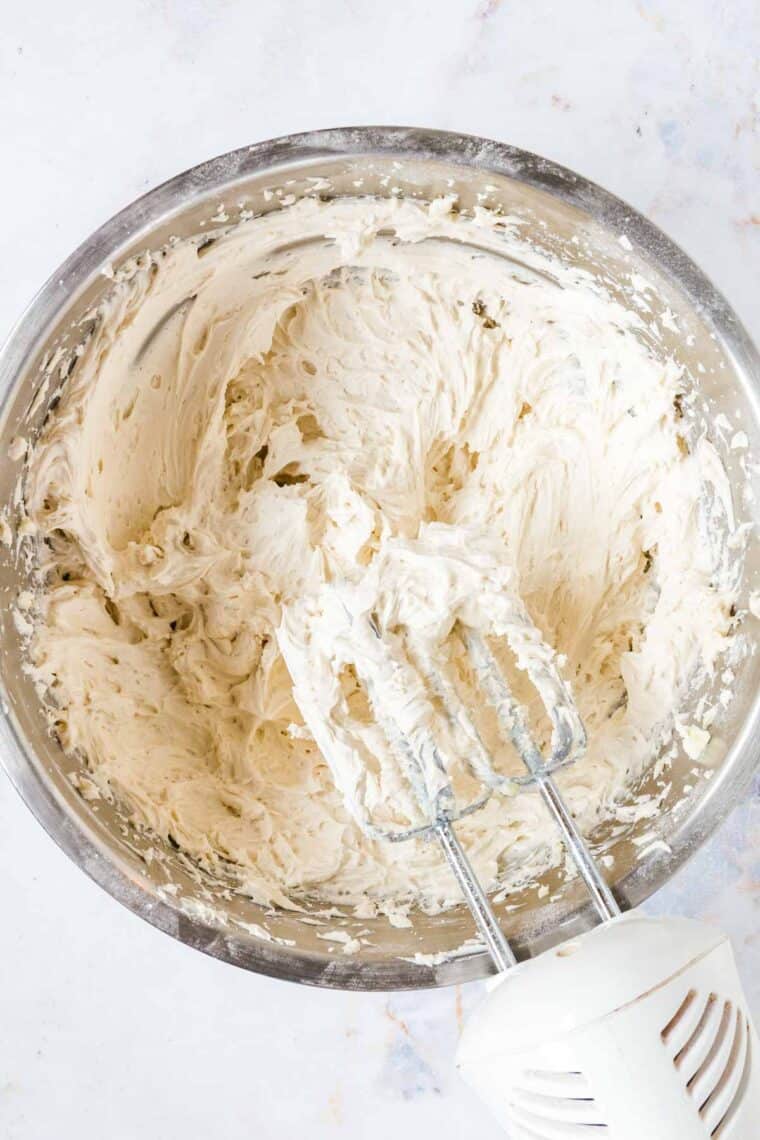 Mix in the Oreos: Blend in the Oreo crumbs on low speed until completely incorporated. Immediately frost cooled cakes and cupcakes, or store in an airtight container for later use.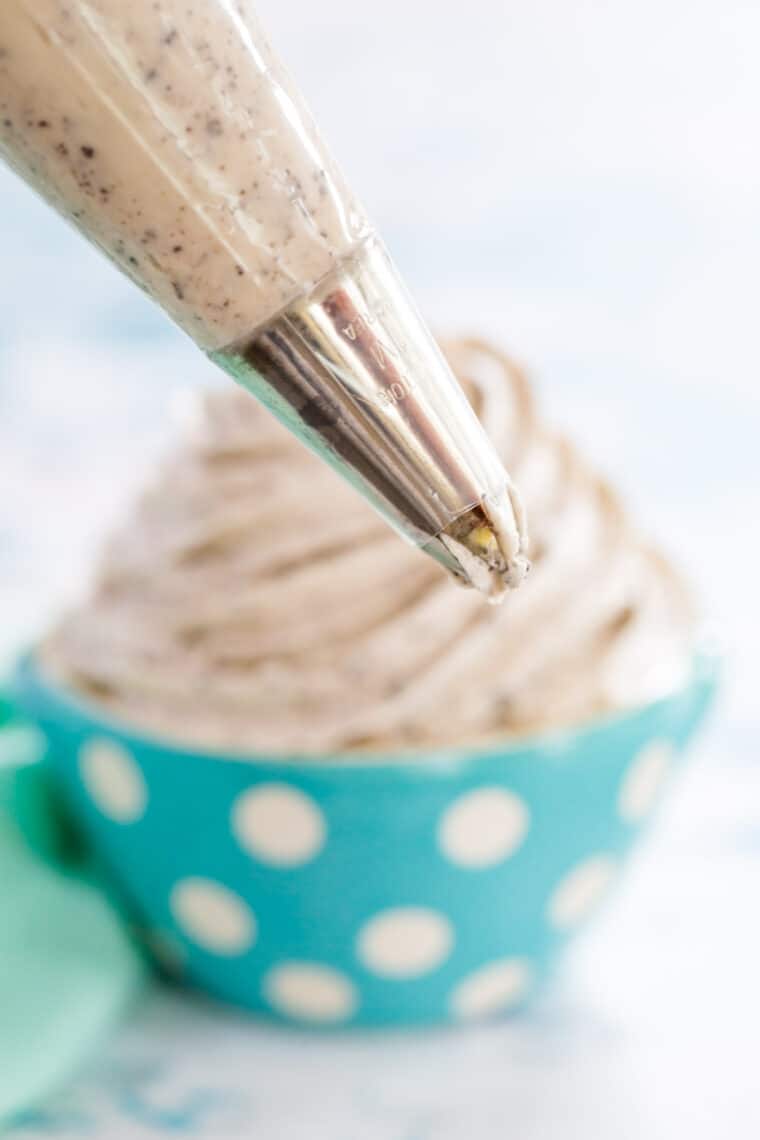 How Much Does This Make
This recipe will make about 4-5 cups of frosting. This will be plenty to frost 24 cupcakes, a 9×13-inch sheet cake, or an 8-inch round 2-layer cake. If you don't need as much, you can easily cut the recipe in half.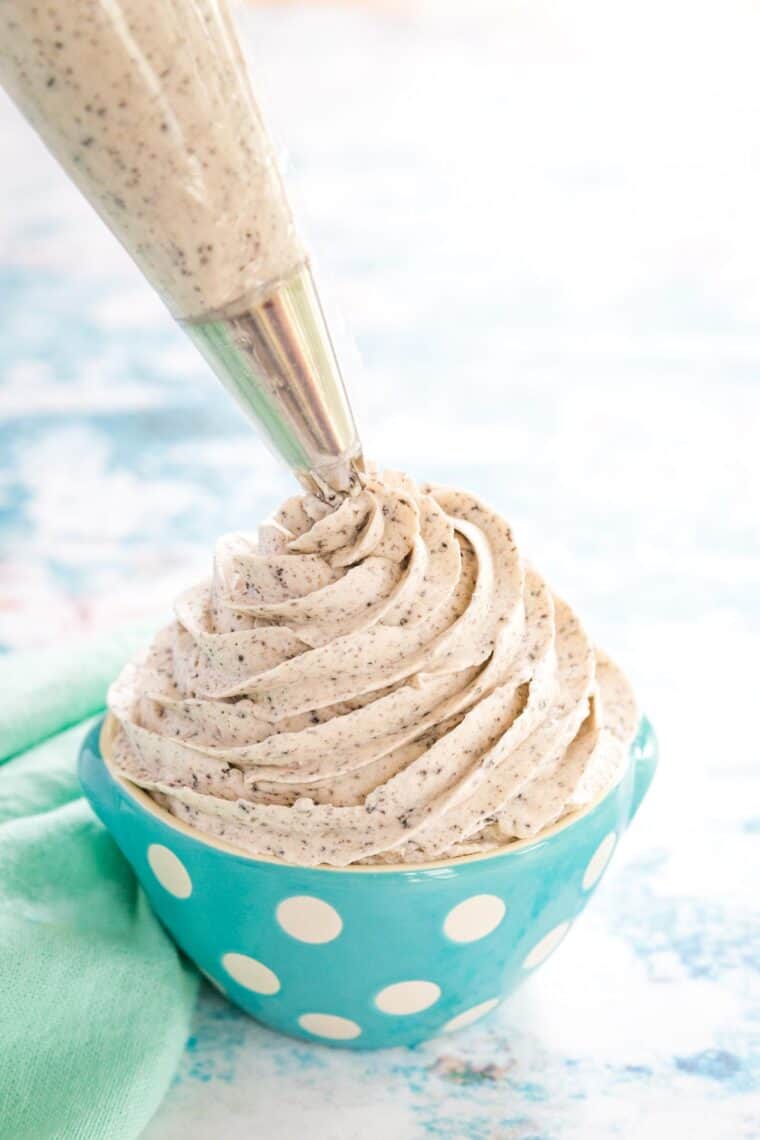 Ways to Use Your Cookies and Cream Frosting
You can never go wrong with spreading buttercream on pretty much any dessert, and adding Oreos definitely makes it more fun. So this frosting recipe can work with so many treats!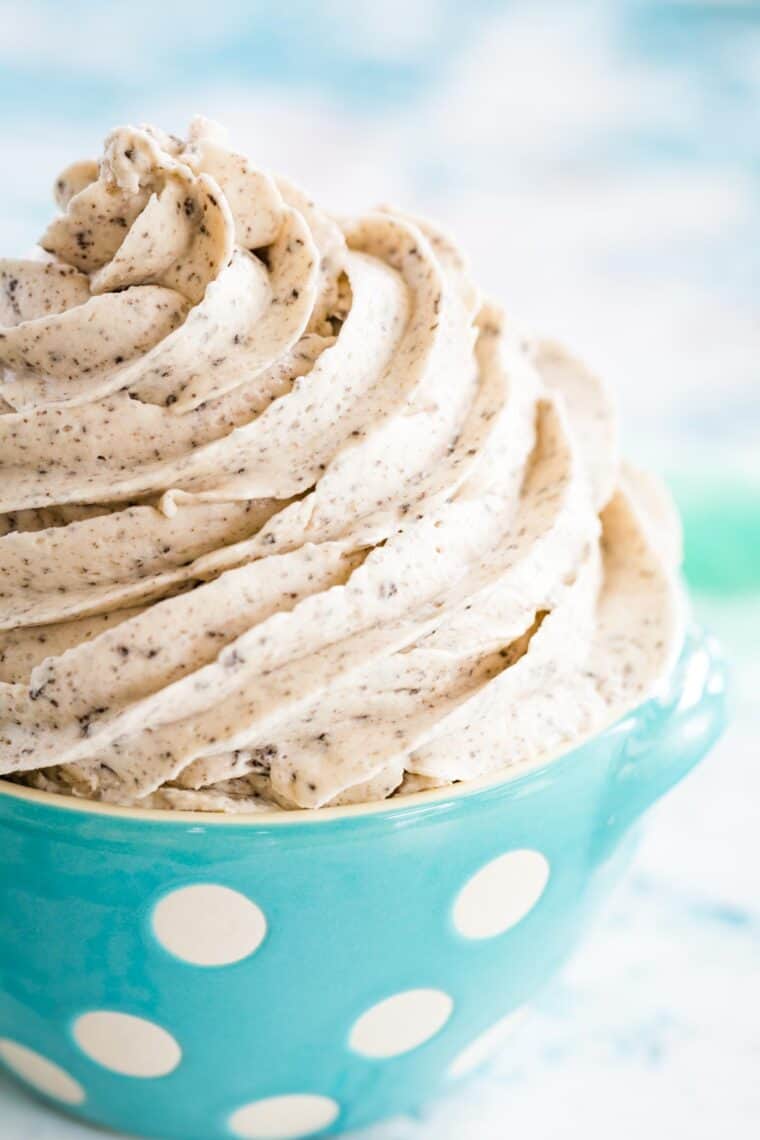 Storing Frosting
The cookies and cream frosting itself and frosted cakes or cupcakes can be left at room temperature for a few hours. Longer than that and I recommend keeping it in the refrigerator or freezing for longer-term storage.
How to Store in the Fridge
Transfer the frosting into an airtight food storage container, and refrigerate it for up to a week. Before using, let the frosting stand on the counter until it comes to room temperature so that it has a spreadable or pipable consistency.
How to Freeze Frosting
To freeze this frosting, just transfer it into a freezer bag. Press out as much air as you can as you seal it up. Frosting keeps in the freezer for up to a month. You'll need to thaw it completely and then beat it before serving.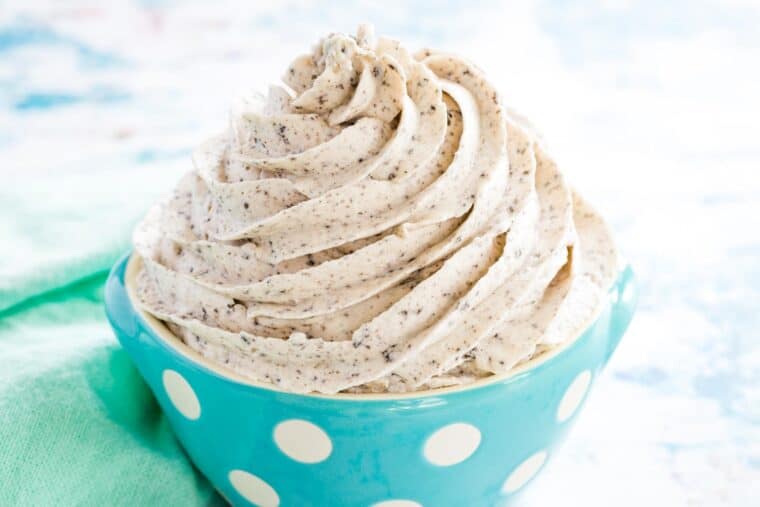 Tips for Success
Beat the Butter Well: It's really important to make sure that you use a hand mixer and beat your butter is completely smooth before you begin adding the other ingredients. This ensures a perfect, lump-free frosting that will spread like a dream! The butter should be at room temperature for the best result.
Blitz those Cookies: If you are planning to pipe the frosting, you definitely want to make sure you grind it to a powder. I like to use my food processor, but you can also put them in a heavy-duty plastic bag and whack it with a pan or rolling pin.
Use a Large Tip: Even if you crush it well, you'll want to use a piping tip with a larger opening. I used the Wilton 1M tip.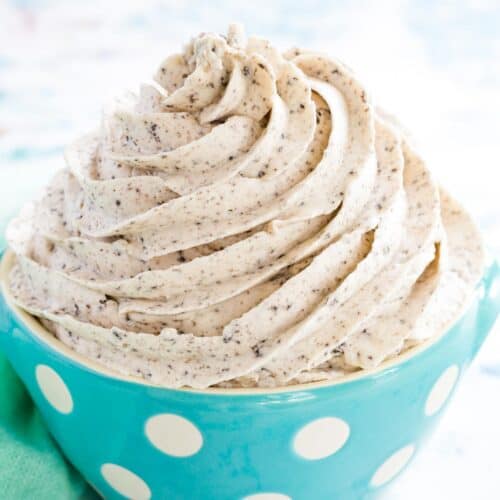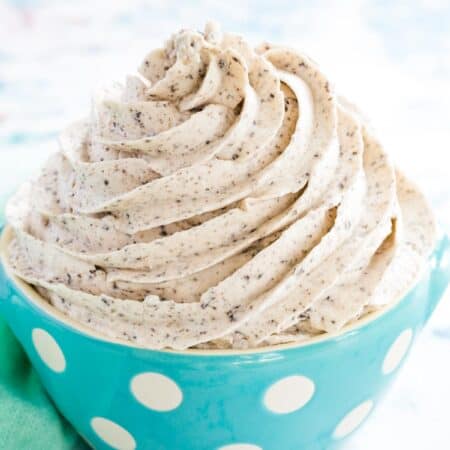 Gluten Free Oreo Frosting
Treat the kids to cupcakes or cake topped with this easy Cookies and Cream Frosting. Start with a creamy vanilla buttercream, then add gluten free Oreos or your favorite chocolate sandwich cookies for a total cookies and cream dream for Oreo lovers!
Servings:
24
servings (makes about 4-5 cups, enough for 24 cupcakes or one 2-layer cake))
Ingredients
1

cup

unsalted butter

(2 sticks), softened

4 – 5

cups

powdered sugar

1/4

teaspoon

salt

2 – 3

Tablespoons

heavy whipping cream

1

Tablespoon

vanilla extract

1/2

cup

finely crushed gluten free Oreos

or other chocolate sandwich cookie (you'll need about 7 or 8)
Instructions
In a large mixing bowl, beat the butter with an electric mixer on medium speed for 3 minutes.

Add 4 cups of the powdered sugar, salt, 2 Tablespoons of the heavy cream, and vanilla extract to the bowl. Starting on low speed, beat until everything is incorporated then gradually increase the speed to medium and beat until smooth and creamy. Add additional cream or powdered sugar to achieve desired consistency.

On low speed, beat in the Oreo crumbs.

Immediately frost or pipe onto cooled cakes and cupcakes, or store in an airtight container for later use.
Notes
If stored in an airtight container in the refrigerator, frosting will keep for up to a week. Bring to room temperature before using. Frosting can also be stored at room temperature for 2 or 3 days.
Frozen frosting can be stored in a freezer for up to a month. Bring to room temperature and beat again before using.
Nutrition Facts
Gluten Free Oreo Frosting
Amount Per Serving (2 or 3 Tablespoons)
Calories 170
Calories from Fat 81
% Daily Value*
Fat 9g14%
Cholesterol 22mg7%
Sodium 45mg2%
Potassium 13mg0%
Carbohydrates 23g8%
Protein 1g2%
Vitamin A 255IU5%
Vitamin C 1mg1%
Calcium 4mg0%
Iron 1mg6%
* Percent Daily Values are based on a 2000 calorie diet.
More fun gluten free desserts
It's always fun to bring a little childhood nostalgia into your life through some sweet treats.
Would you believe that these gluten free Lucky Charms Cupcakes are made with cereal milk?!
This Flourless Reese's Cake Roll is an epic chocolate and peanut butter dessert.
Yes, you can make Birthday Cake Ice Cream without cake mox or an ice cream machine!