No-Churn Funfetti Cake Batter Ice Cream
Disclosure: This post may contain affiliate links. Cupcakes & Kale Chips is a participant in the Amazon Services LLC Associates Program, an affiliate advertising program designed to provide a means for us to earn fees by linking to Amazon.com and affiliated sites.
No-Churn Birthday Cake Ice Cream is super easy and fun for kids of all ages. Enjoy a scoop of this frozen dessert that tastes funfetti cake batter with its rich, buttery vanilla flavor and tons of rainbow sprinkles. This recipe is made with only six ingredients and without a box cake mix, so it is naturally gluten free!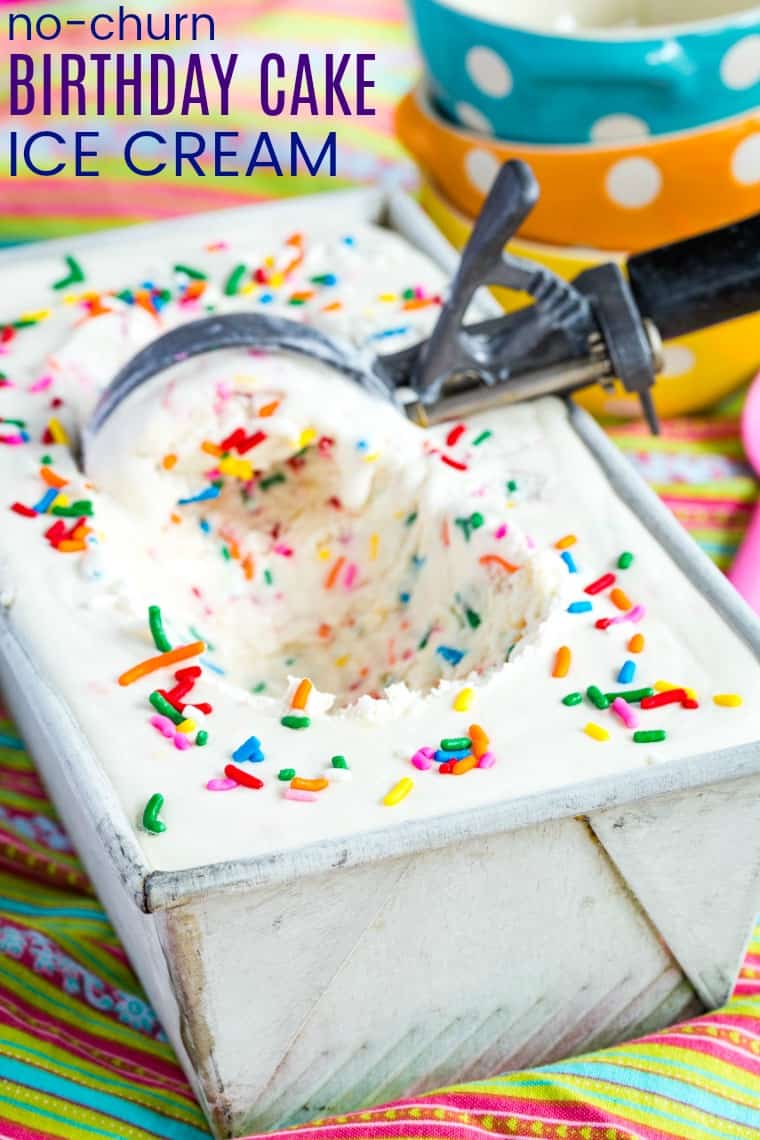 Lately, my kid is having ice cream issues. This is a serious problem.
We have been to our favorite local ice cream place tons of times. They only have soft serve. He knows this. And yet he threw a fit because he couldn't get a scoop of cookie dough.
They have vanilla and chocolate twist and vanilla and orange twist. He wanted chocolate and orange twist. Naturally.
And then he couldn't understand why they can't put a gelati in a cone. Nor why his gelati didn't come with hot fudge, whipped cream, and a cherry.
Dude, it's not a sundae!
Ah, the demands of 6-year-olds. Daddy has told him that if he makes one bit of a fuss next time, he will be limited to vanilla ice cream with rainbow sprinkles from now on. I'm much more strict. I told him he can have Brussels sprouts instead of ice cream.
And I'll keep the Birthday Cake Ice Cream with Rainbow Sprinkles all to myself!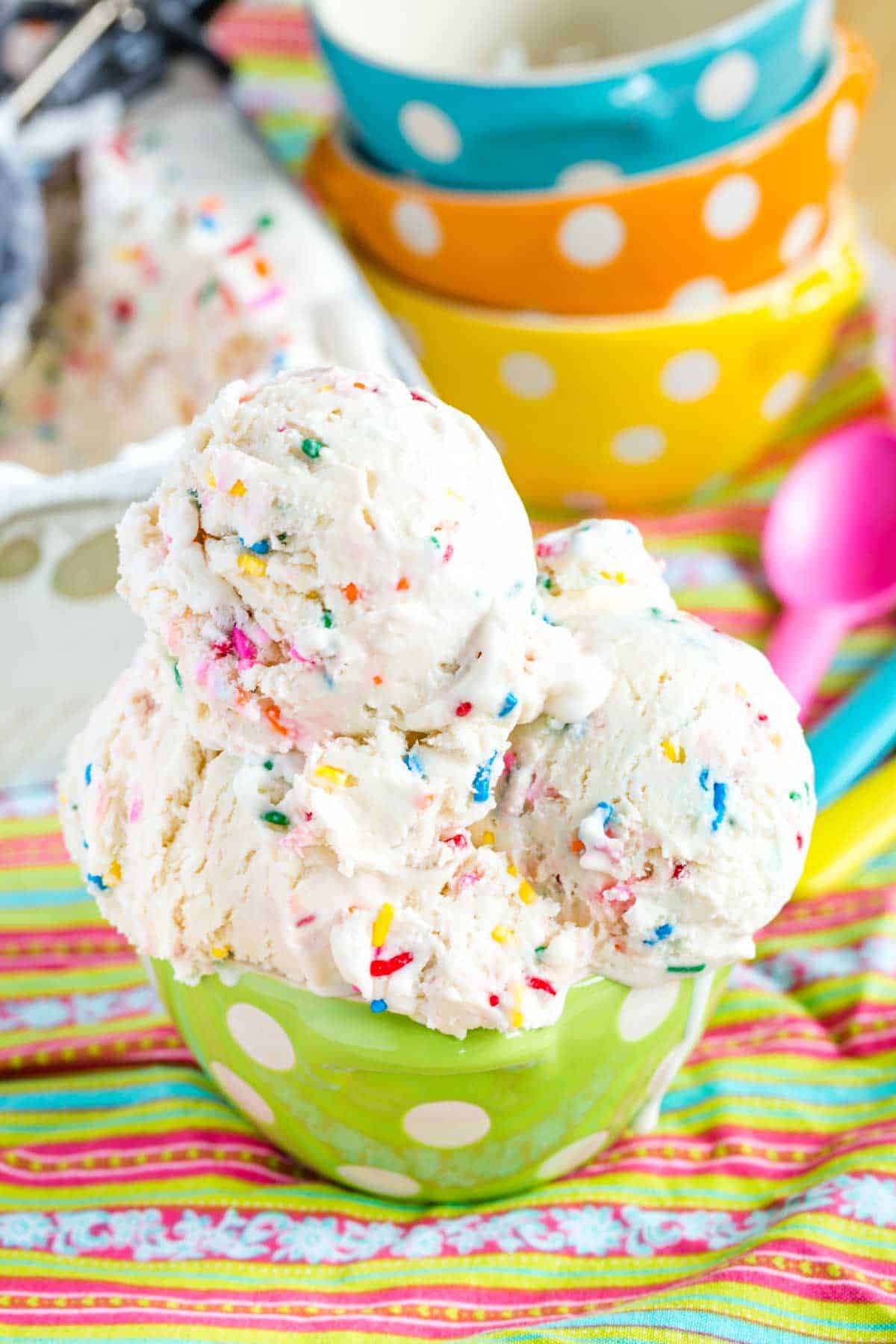 Funfetti Cake Batter Ice Cream
Whether you call it birthday cake ice cream or cake batter ice cream, it tastes just like you are licking the bowl after mixing up a Funfetti cake mix. It's creamy and buttery with rich vanilla flavor. There is a pinch of salt which doesn't make it salty. It simply enhances the other flavors. And let's not forget the rainbow sprinkles!
Only this recipe doesn't actually have cake mix, like many of the birthday cake ice cream recipes you'll find. So it's naturally gluten free.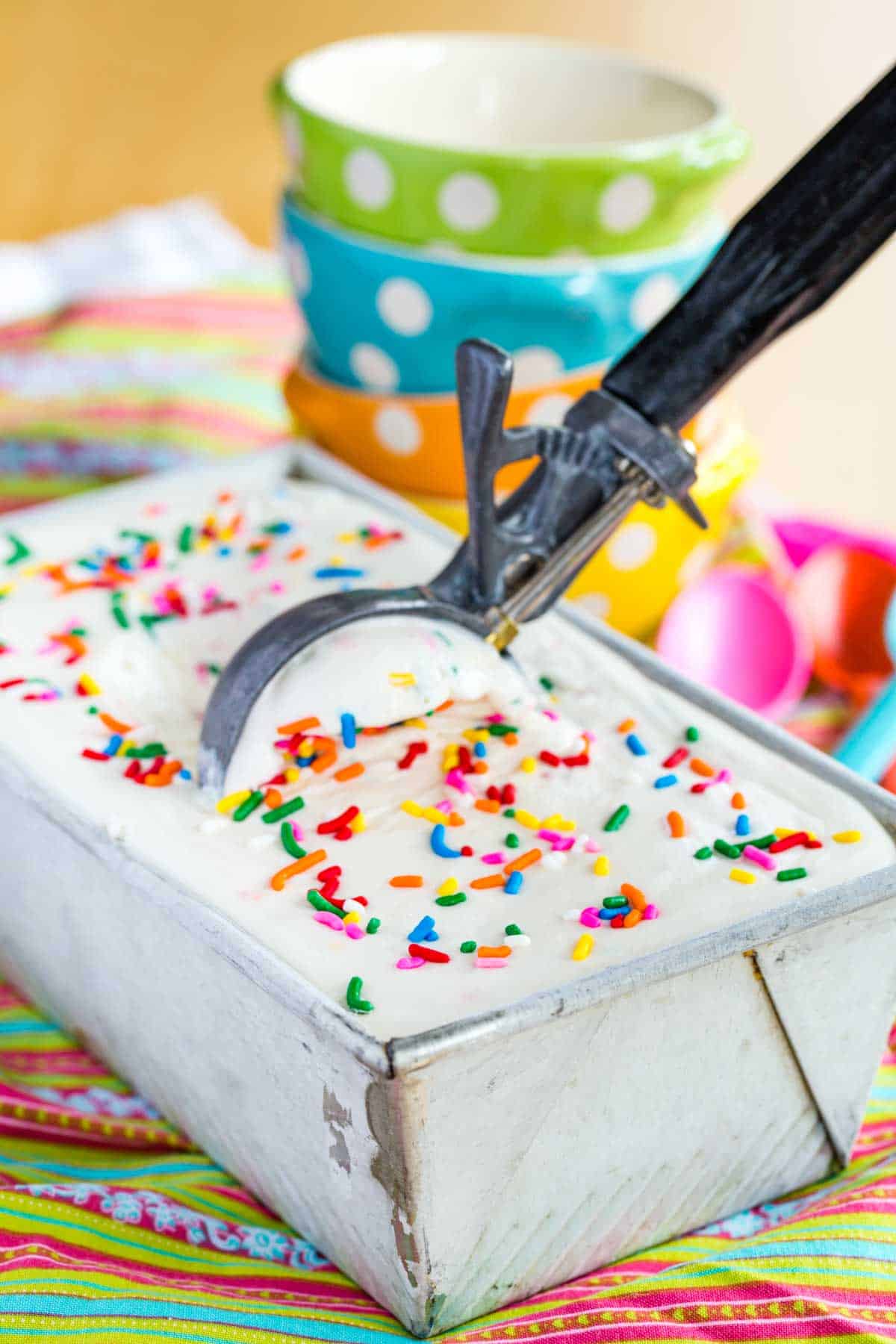 OK, then, without cake mix, what is in it to make it taste like cake batter?
Here is a brief overview so you can see just how easy it is to make. Scroll down to the printable recipe card for the full quantities and details.
But don't skip my PRO TIPS below!
Ingredients
Heavy cream
Sweetened condensed milk
Unsalted butter
Vanilla extract
Salt
Rainbow sprinkles
Heavy cream and sweetened condensed milk are the basis of any no-churn ice cream, whether it's something as simple as Cheesecake Ice Cream or chockfull of stuff like Butter Pecan Fudge Swirl Ice Cream. Heave cream is whipped to stiff peaks and sweetened condensed milks is folded in to give you an ice cream base that doesn't require any cooking or churning in an ice cream maker.
Unsalted butter is melted and cooled to give it that rich, buttery flavor just like cake batter.
Vanilla extract adds the vanilla flavor that is such a key component of the birthday cake ice cream flavor. Therefore, I highly recommend a good quality vanilla extract. Vanilla has gotten quite pricey in recent years, and in some recipes, it's not as critical. But here, you really want the vanilla flavor to shine, so choose something like Neilsen-Massey Madagascar Bourbon Vanilla Extract.
Salt, just a pinch, enhances the sweetness and buttery goodness while making the vanilla stand out.
And, well, rainbow sprinkles, enough said. They add color, texture, and, of course, fun!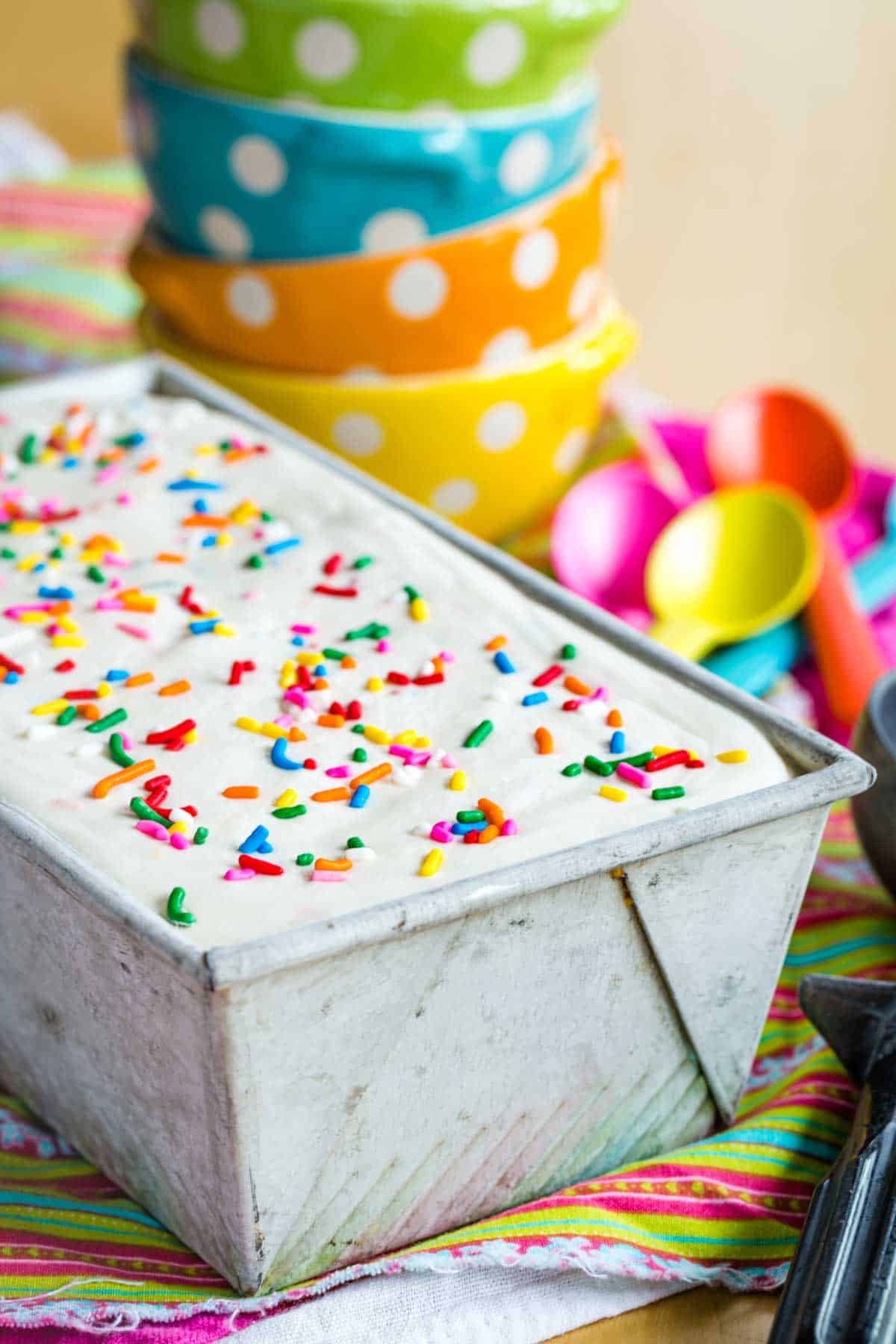 Besides only having six ingredients, as you'll see in the video above, it's actually super simple to make this Birthday Cake Batter Ice Cream recipe.
Directions overview – scroll to the recipe card for the full set of instructions
Combine the heavy cream, vanilla, and salt in a chilled bowl
Whip the cream to stiff peaks.
Pour the sweetened condensed milk and cooled melted butter into the whipped cream.
Fold this mixture into the whipped cream.
Stir in rainbow sprinkles.
Spread the ice cream into a loaf pan or another freezer-safe container and cover with a lid or wrap tightly with plastic wrap.
Freeze for several hours or overnight.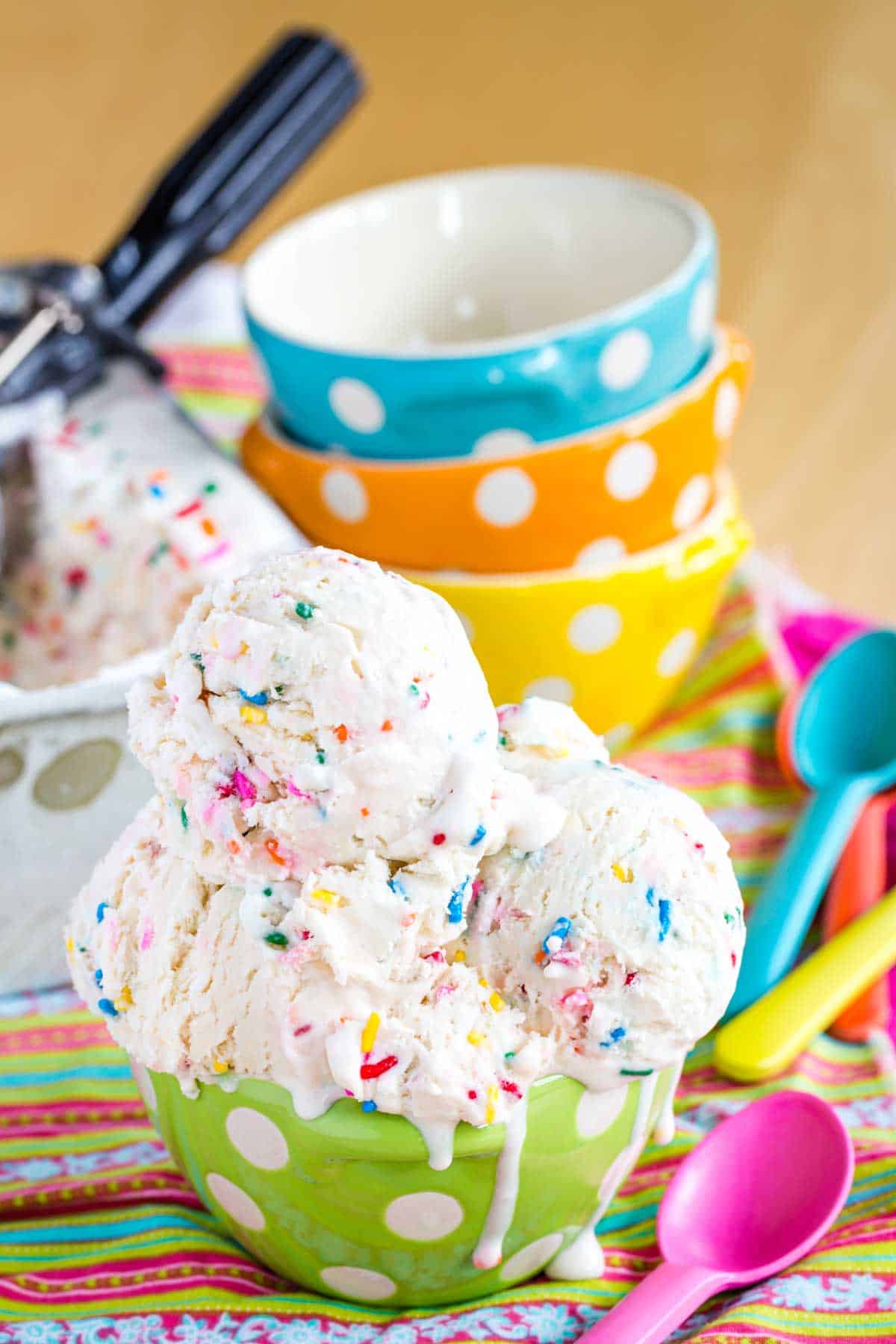 Brianne's pro recipe tips
Whipping the cream
Use a metal or even glass bowl, and chill it in the freezer or refrigerator before whipping the cream. Try to avoid plastic.
You can whip the cream by hand with a whist, but I like using a hand mixer. The beaters are fine, but a whisk attachment works better. A stand mixer can be used, but it is quite powerful so you do risk overbeating it.
Do NOT overbeat the cream. It's actually fine to have soft peaks. But if you whip to must it will curdle a bit and start to separate.
Folding in the other ingredients
Use a large spatula and fold the ingredients in gently. Pull the spatula vertically through the middle of the bowl to the bottom, then fold the mixture over on itself.
Make sure the butter is cooled completely to room temperature but has not solidified so that it doesn't "melt" the cream, but still distributes evenly.
Stir the sprinkles in very briefly so that the color does not start to dissolve off of them and smear through the ice cream.
Gluten free tips
Gluten Free Disclaimer: I am not a medical professional. This information is solely based on my research and personal experience, and I provide it as a courtesy to my readers. Please consult your doctor or medical professional for any questions as it relates to your needs, particularly if you have celiac disease or a severe gluten allergy or intolerance. Products, manufacturing facilities, and ingredients change frequently, so you should always contact the manufacturer for the latest information.
This birthday cake ice cream recipe is gluten free since it does not contain cake mix or any other flour ingredients. So it is a great option for those with celiac disease or a gluten intolerance.
Most of the ingredients are naturally gluten free, such as the heavy cream and sweetened condensed milk. There are a few vanilla extracts out there that contain colorings or other additives that contain gluten, so be sure to read labels and choose a vanilla extract such as the one I recommend above.
Most rainbow sprinkles are gluten free, but since some colorings can contain gluten, be sure to confirm.
The great thing about no-churn ice cream is that it is also egg-free, making it perfect for those with egg allergies too!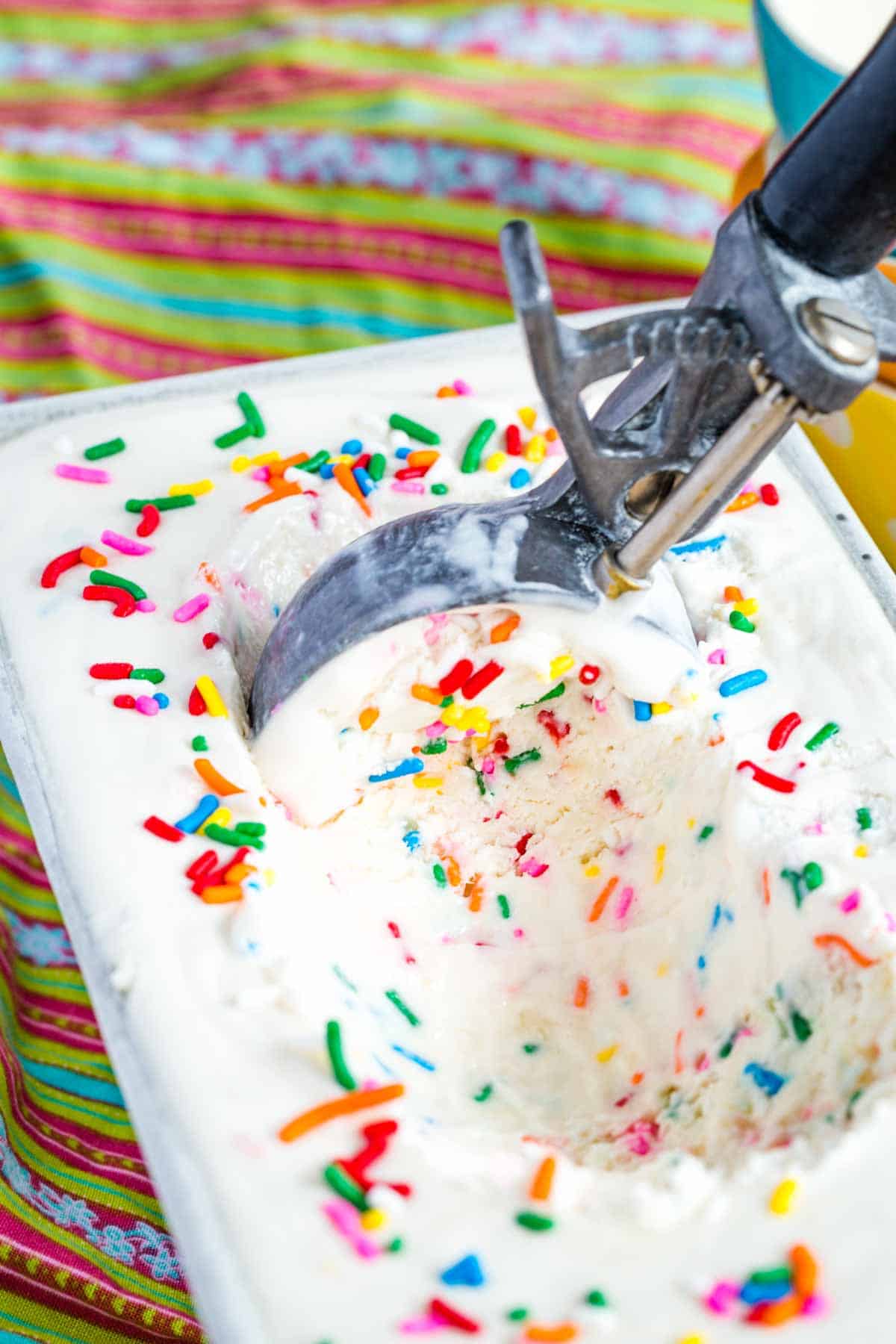 Enjoy a scoop with
A celebration will be complete if you have some funfetti ice cream with one of these gluten free birthday cake recipes: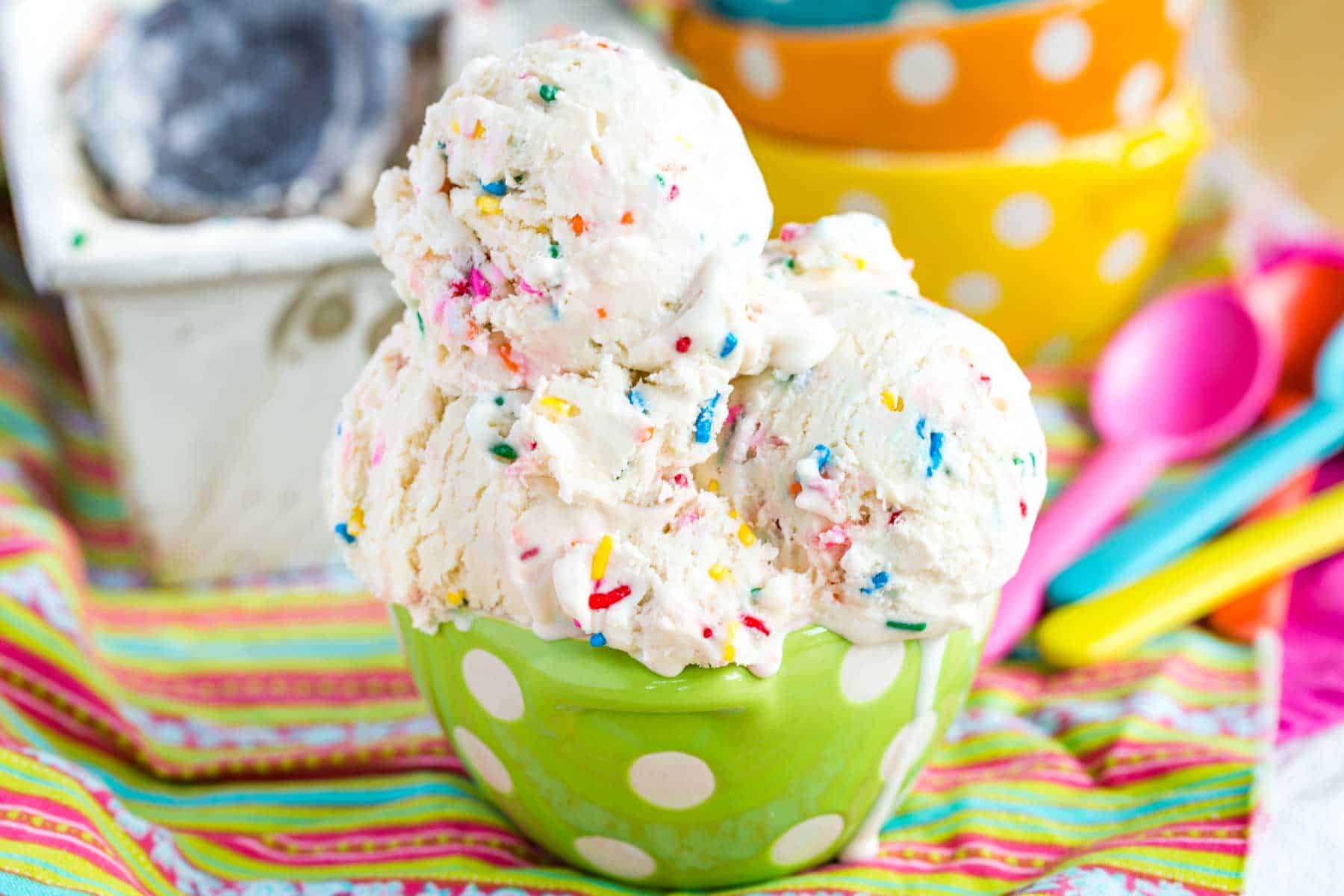 More no-churn ice cream recipes
I hope you'll leave a comment and give it a FIVE STAR rating or share a review on Pinterest or photo on Instagram!
Tag me @cupcakekalechip and use #cupcakesandkalechips!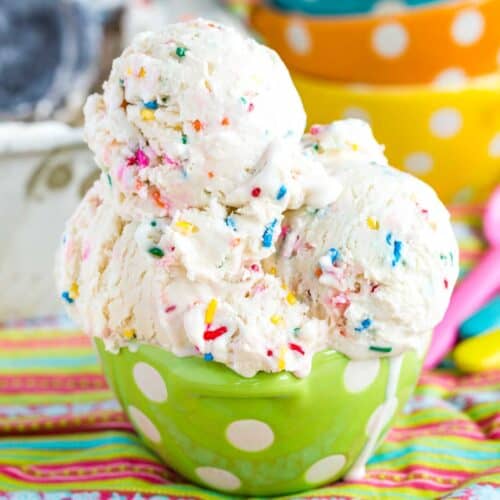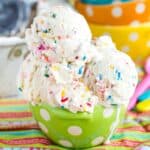 Print Recipe
No-Churn Birthday Cake Ice Cream
You don't need a box of cake mix or an ice cream maker to enjoy a frozen treat that tastes like cake batter. No-Churn Birthday Cake Ice Cream is cool and creamy, buttery and rich, with vanilla flavor and plenty of rainbow sprinkles.
Ingredients
For the ice cream cake:
2

cups

heavy whipping cream,

well chilled

2

teaspoons

vanilla extract

¼

teaspoon

salt

14

oz.

sweetened condensed milk

2

Tablespoons

unsalted butter,

melted and cooled

1/2

cup

rainbow sprinkles
Instructions
Place a large bowl and beaters or whisk attachment into the freezer to chill for about 10 minutes.

Combine the heavy cream, vanilla, and salt in the chilled bowl, and using the whisk attachment of a stand mixer or hand mixer, whip the cream to stiff peaks.

Carefully pour the sweetened condensed milk and melted butter into the bowl, then gently fold into the whipped cream. Then quickly and gently fold in the sprinkles.

Transfer the ice cream into a container you can freeze. Cover tightly and freeze for several hours, or until firm.
Nutrition
Serving:
1
serving (about 1/2 cup)
|
Calories:
217
kcal
|
Carbohydrates:
19
g
|
Protein:
3
g
|
Fat:
15
g
|
Saturated Fat:
9
g
|
Cholesterol:
53
mg
|
Sodium:
79
mg
|
Potassium:
114
mg
|
Sugar:
18
g
|
Vitamin A:
545
IU
|
Vitamin C:
0.8
mg
|
Calcium:
90
mg
|
Iron:
0.1
mg
Enjoy!