This post may contain affiliate links. Read my disclosure policy.
Indulge in a slice (or two) of this easy Gluten Free Chocolate Cake, made two ways! Baked with gluten-free flour, this chocolatey cake recipe is ultra rich and decadent. Make it as a layer cake or in a pan, then smother it with homemade chocolate frosting!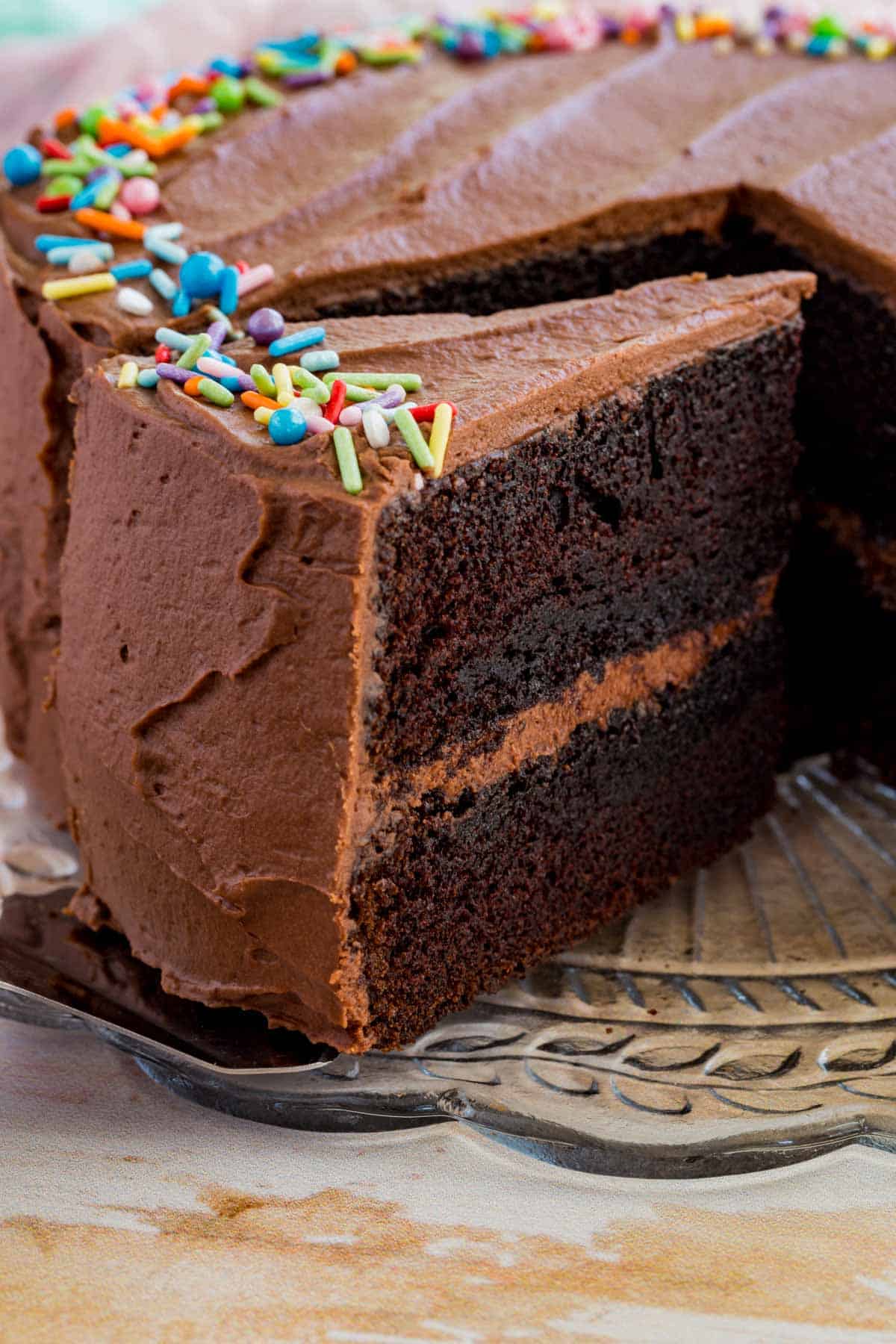 Fudgy Gluten-Free Chocolate Cake Recipe
Do you have a special occasion coming up? Or maybe you just have a hankering for something decadent? Well, I have you covered on both accounts. This recipe for ultra rich, fudgy chocolate cake is to die for!
I use Greek yogurt in my cake recipe, and the result is better than I ever could have imagined. Moist, dark, tender cake that practically melts in your mouth – after an explosion of cocoa flavor, that is. It's a full sensory experience (maybe even a spiritual experience) in cake form.
Best of all: this chocolatey cake is 100% gluten free! And it's made in one bowl. All around a perfect homemade chocolate cake that you can make into layers for birthdays and celebrations. (I've also included directions for making it in a pan when those cravings strike – you're welcome!)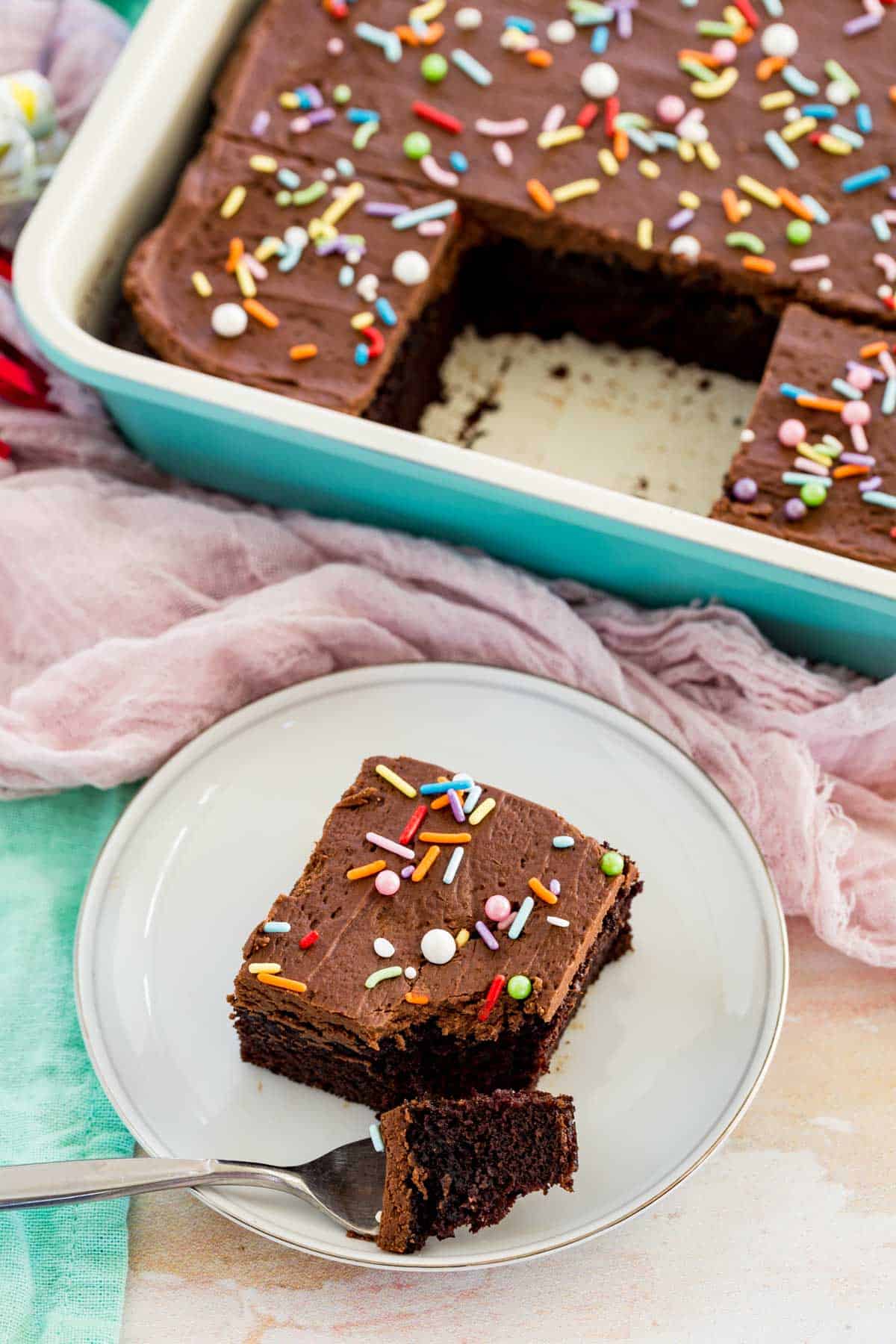 What You'll Need
Sugar: White granulated sugar is always the most reliable when baking.
Gluten Free Flour: This recipe calls for a 1-to-1 gluten-free flour blend. I recommend Bob's Red Mill 1-to-1 Baking Flour, as this is what I use. Bear in mind that different flour blends may produce different results when baking!
Cocoa Powder: Get a good quality cocoa powder so that the flavor really shines.
Leavening: Baking soda as well as baking powder.
Eggs: Three large eggs to bind the ingredients and give the cake a rich texture. Be sure to take them out of the fridge about half an hour before you start, to let them get to room temperature.
Milk: Regular, good ol' fashioned whole milk will do the trick.
Greek Yogurt: I include plain Greek yogurt in this cake recipe for an extra moist, chocolatey crumb. You don't really taste the tang, and it really adds something special to this chocolate cake!
Vegetable Oil: Also for moisture, oil keeps the crumb tender.
Vanilla Extract: Do your best to get your hands on the real deal. Pure vanilla extract offers a more natural flavor than imitation.
Instant Coffee: Optional. Adding a little coffee dissolved in water to the batter is an age-old trick to enhance the fudgy flavors of a chocolate cake.
Salt
Frosting: Any buttercream frosting you prefer. I double down on the chocolate, and frost my cake with my favorite Chocolate Frosting.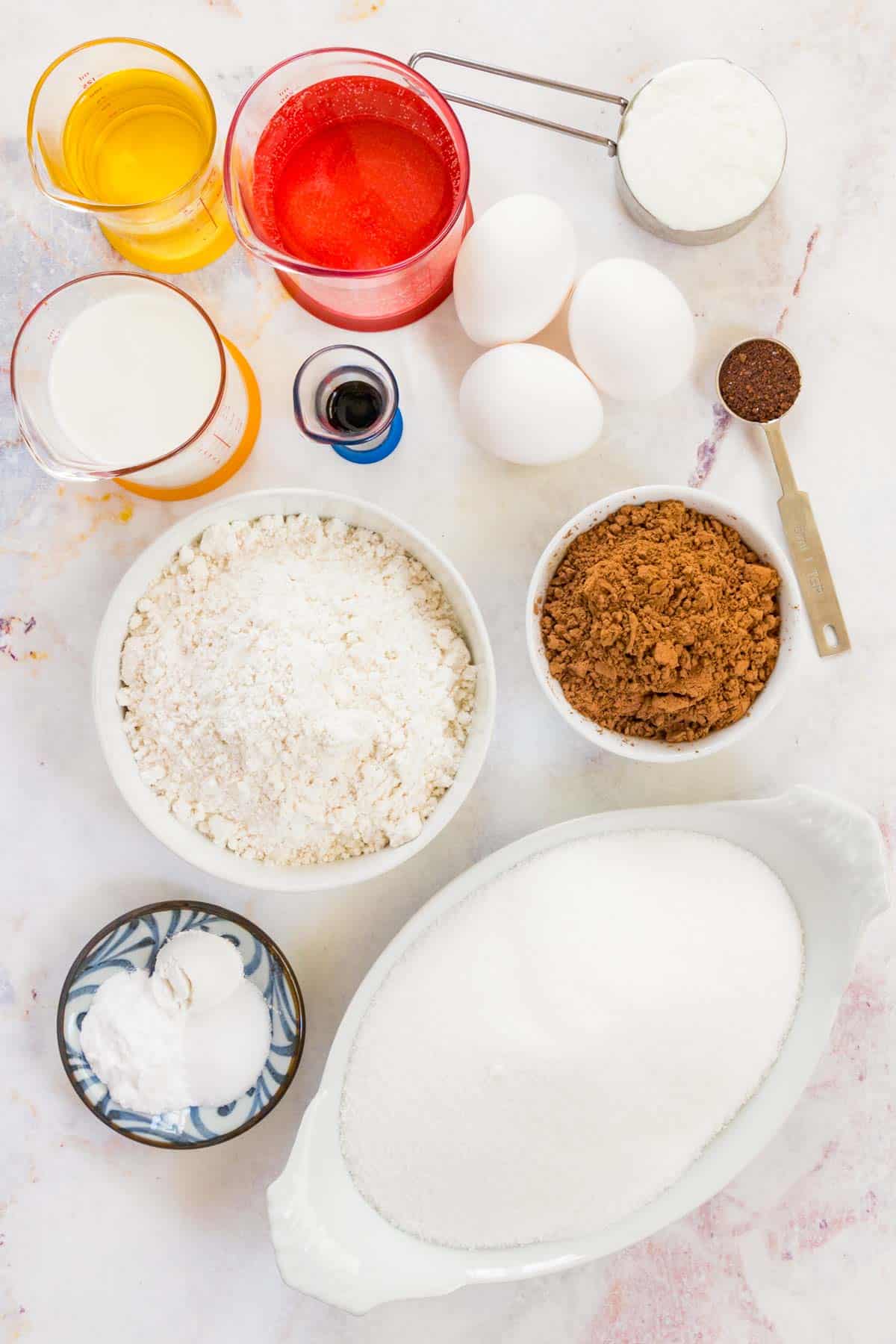 How to Make Gluten-Free Chocolate Cake
This gluten-free cake recipe can be made as a layer cake or snack cake-style in one pan. Before you begin, preheat the oven to 350°F, and prepare either two 8-inch round cake pans or one 9×13-inch baking pan to set aside.
Next, here's how to make this gorgeous chocolate cake two ways, using just one bowl:
Make the Batter: Combine the dry ingredients, and then in the same bowl whisk in the wet ingredients until combined. If you're adding coffee to your cake, dissolve the instant coffee in some warm water and then stir this into the batter.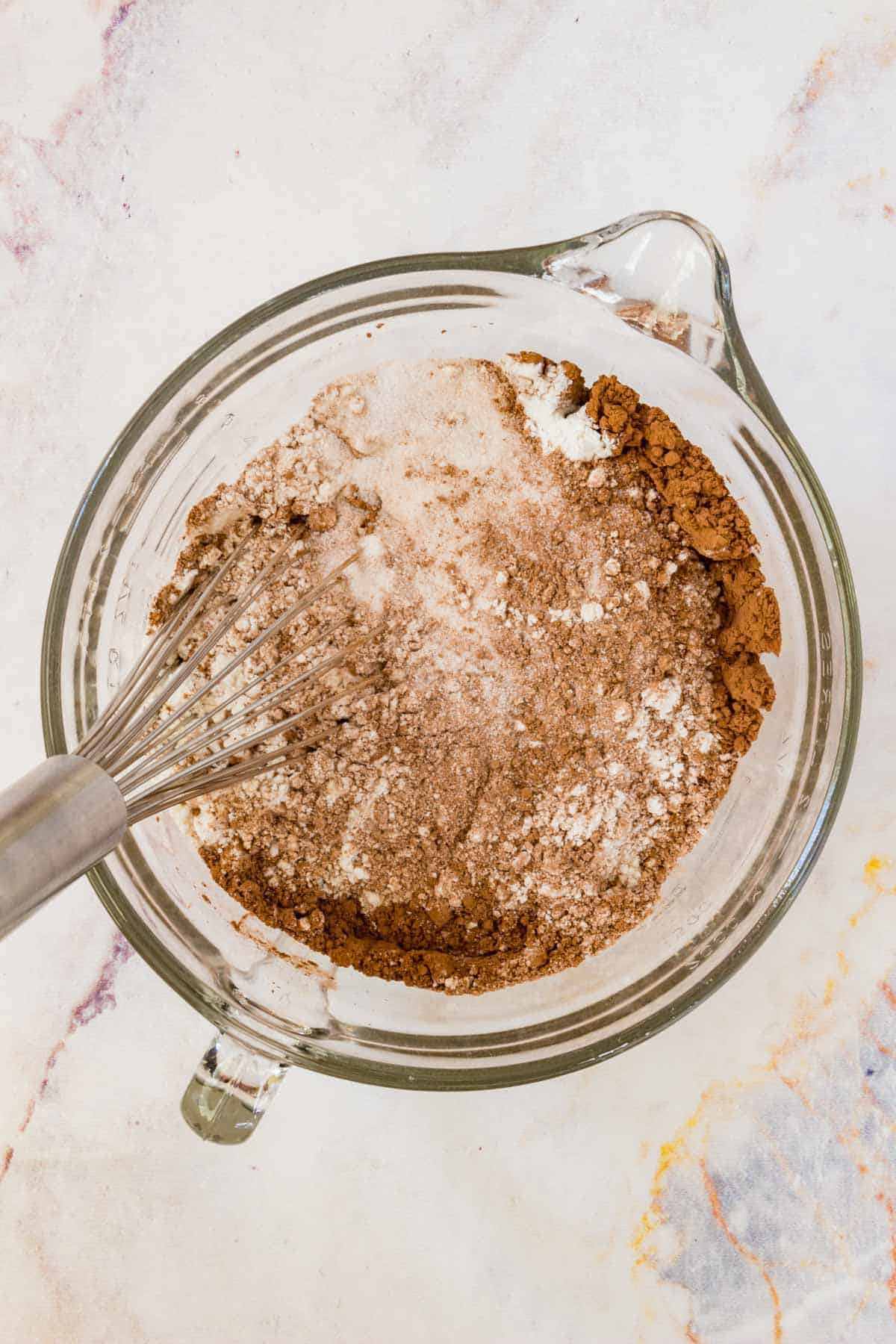 Make a Snack Cake: To make a single-layer cake, pour the batter into your rectangular baking pan. Bake the cake for about 35-45 minutes in the oven, then remove it and leave it to cool in the pan before frosting.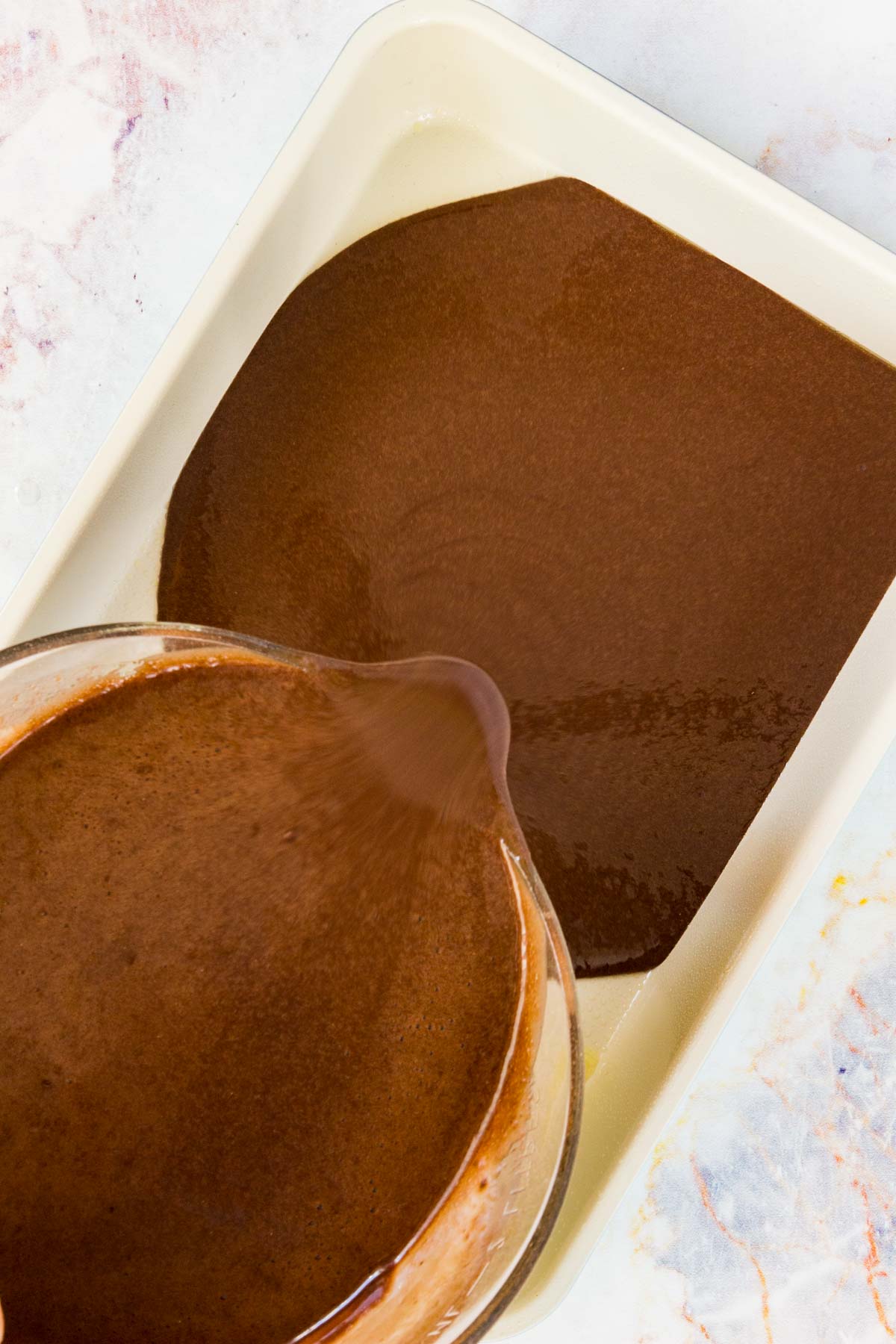 Make a Layer Cake: Divide the batter between the two round cake pans. Two cakes will take slightly more time in the oven, between 40-50 minutes. Once they're done and a toothpick stuck into the middle of the cakes comes out clean, let the cakes cool in the pan for a bit before inverting them onto a wire rack to finish cooling.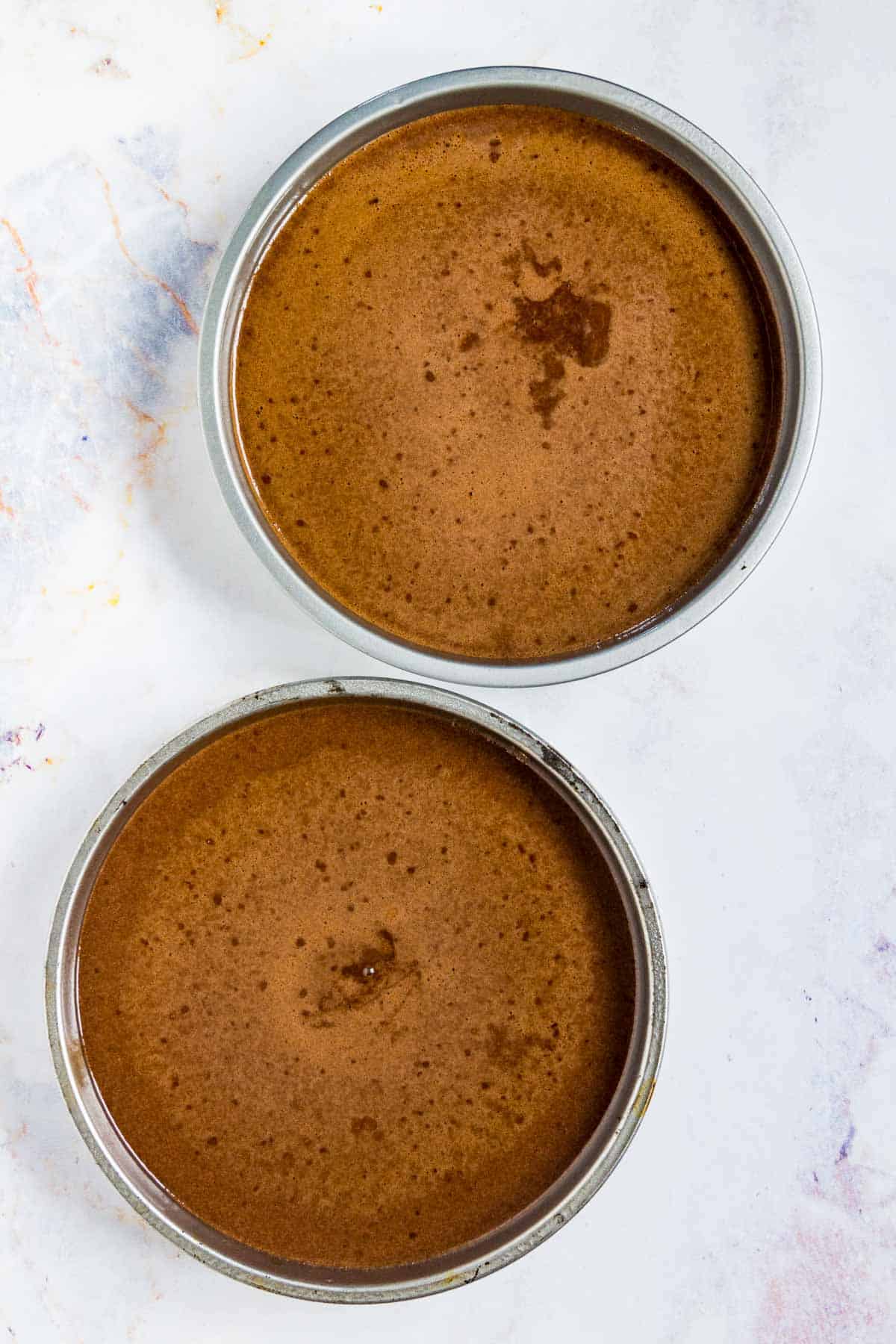 Frost the Cake: Once your cake (or cakes) have cooled completely, it's time to frost! Whip up a batch of your favorite frosting and get decorating.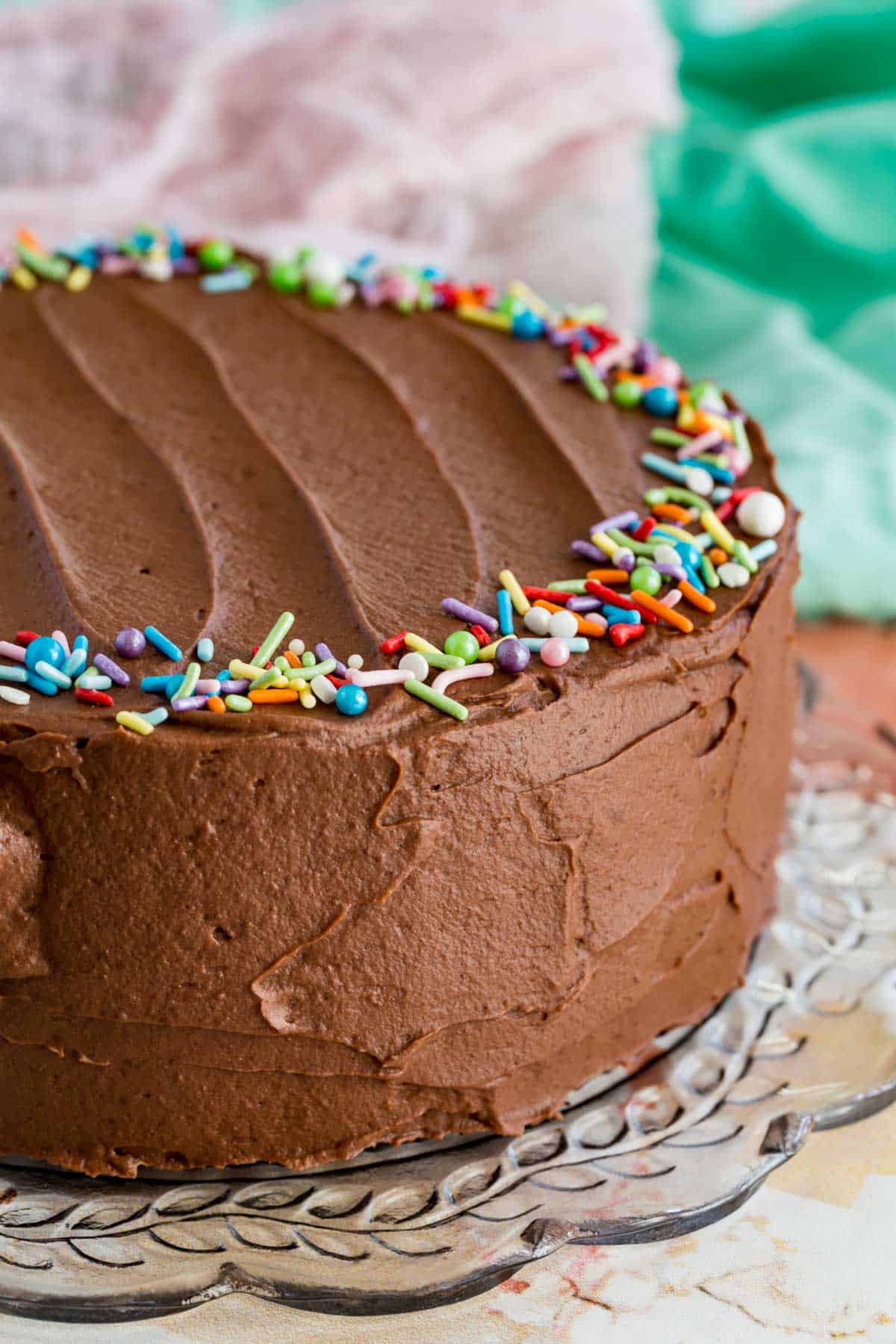 Can I Make Cupcakes Instead?
You can absolutely turn this recipe into equally indulgent Gluten Free Chocolate Cupcakes instead! Cupcakes are perfect for birthdays and larger crowds. Head over to the post for the full recipe, in the meantime here's a quick overview:
Preheat the oven and line your cupcake pan.
Make the batter as directed.
Fill the cupcake liners about ⅔ of the way full with batter.
Bake for 20-25 minutes, until the cupcakes pass the toothpick test.
Leave the cupcakes to cool in the pan, and then pop them out onto a wire rack to cool completely before frosting.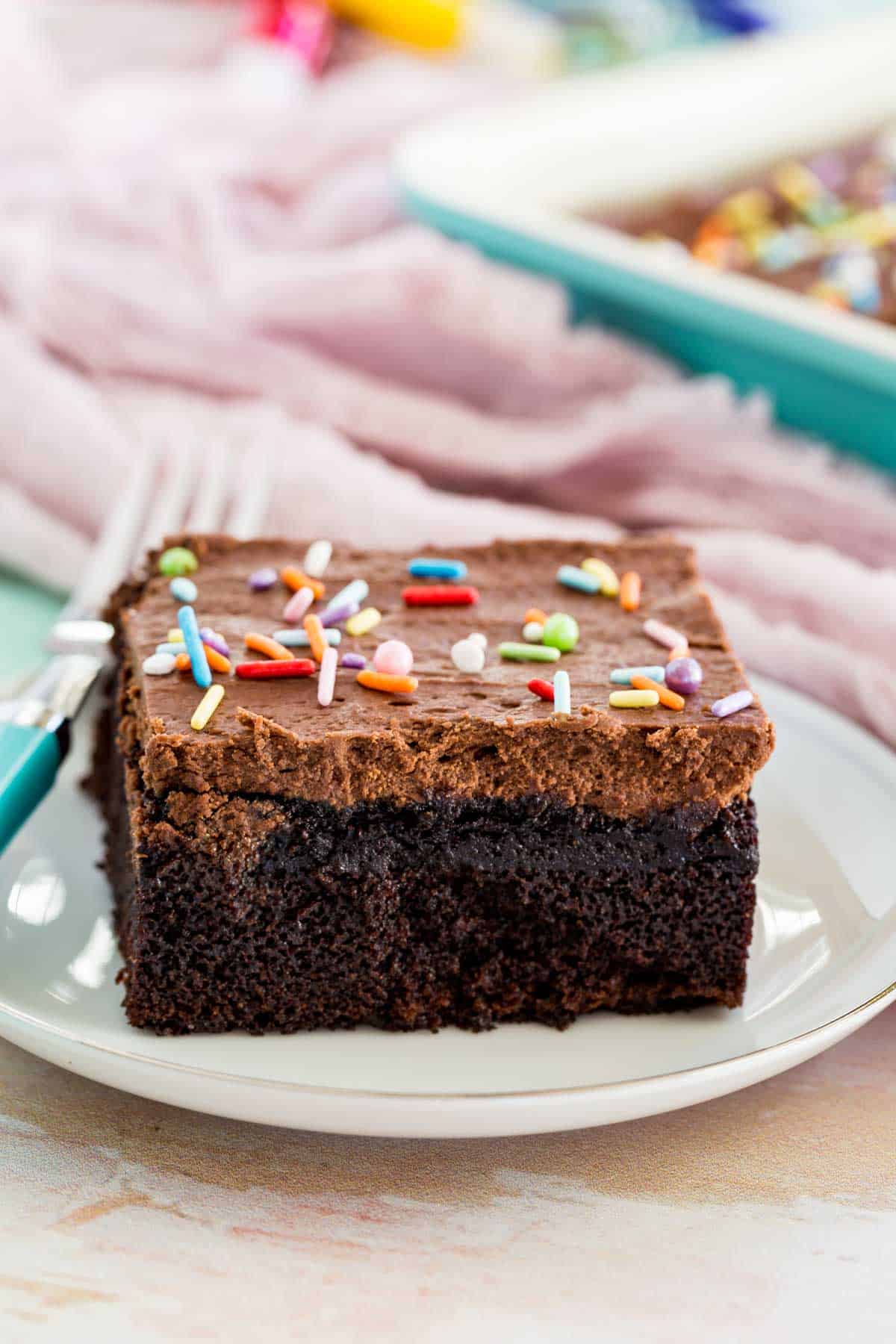 Tips for the Best Results
Why Is My Cake Cracking?: If you notice cracks forming in the top of your chocolate cake, this could be a sign that your oven is too hot. Not all ovens are created equal, so keep an eye and adjust the heat as needed for best results.
Don't Over-Mix the Batter: Over-mixing the cake batter can lead to changes in texture, and can also cause the cake to sink after baking. To ensure a rich yet fluffy cake, mix your ingredients until they're just combined, and don't get too whisk-happy!
Use Your Favorite Frosting. While chocolate on chocolate is pretty epic, you can always use Vanilla Buttercream or Cream Cheese Frosting.
Topping Ideas
I'm never one to resist the urge to top my gluten-free chocolate cake with rainbow sprinkles. It puts an instant smile on everyone's faces! If you're after something a bit more understated, try topping your frosted cake with swirls of buttercream, fresh berries, or a sprinkle of toasted coconut.
Or you can go really over-the-top and use it to make Reese's Poke Cake. And it never hurts to serve it with a scoop of No-Churn Cookies and Cream Ice Cream!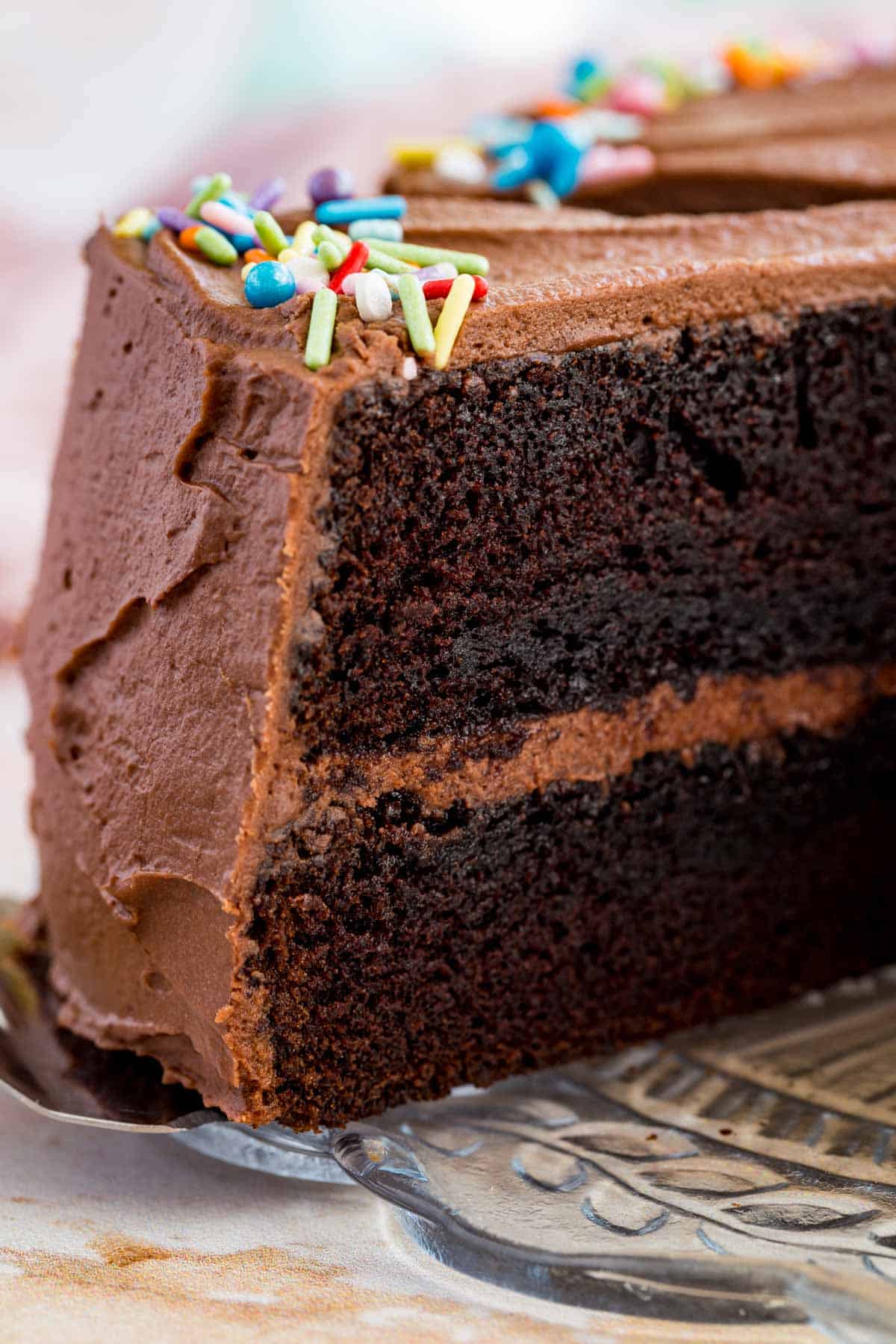 How to Store Extras
Frosted chocolate cake can be stored airtight on the counter for up to 2 days. Longer than that, and it's best to store it in the fridge. Store leftover cake in a container and keep it in the fridge for up to 4 days.
If the cake is unfrosted, it can be kept at room temperature. Make sure the cake is completely cool, and then store it in an airtight container or wrap it tightly in plastic wrap. It will keep on the counter for 2-3 days.
Does This Cake Freeze Well?
This cake freezes well, unfrosted or frosted! To freeze the unfrosted cake, let the cake cool completely and then wrap it tightly in plastic wrap. Allow the cake to thaw to room temperature again before you frost it.
Frosted cake can also be frozen. The frosting may sweat a little upon thawing, but don't let that deter you. It's still just as fudgy and delicious!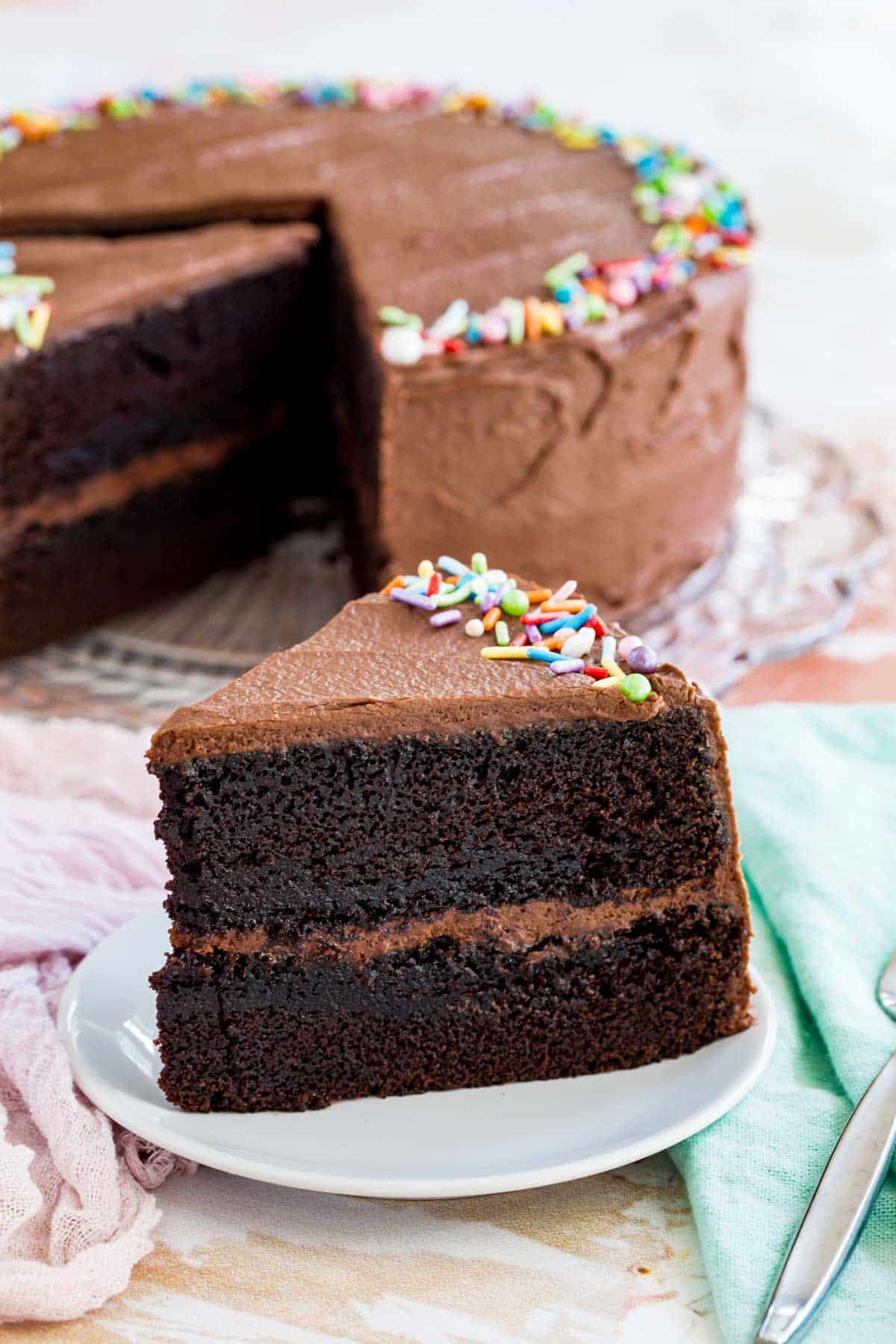 More Chocolatey Gluten-Free Dessert Ideas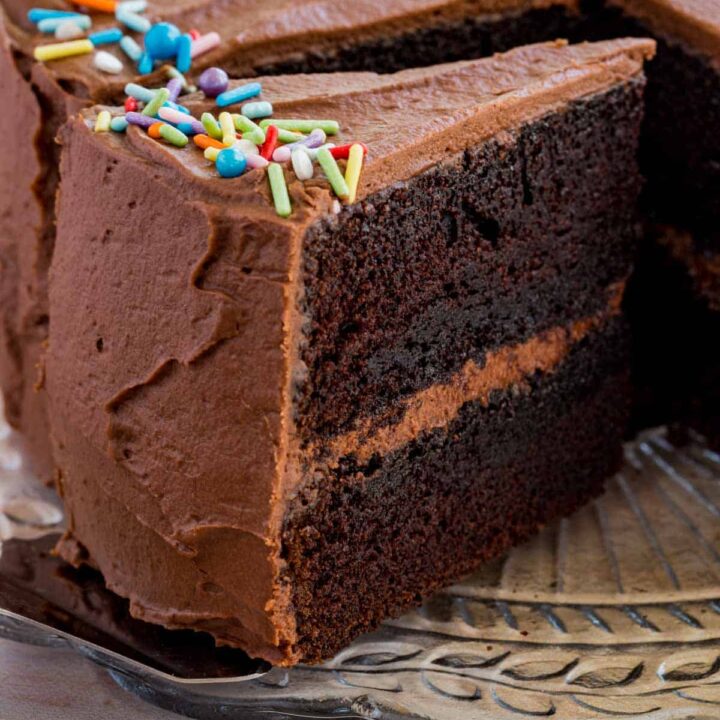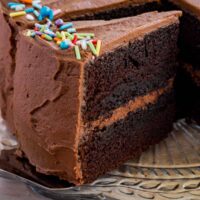 Gluten Free Chocolate Cake
Easy, decadent gluten-free chocolate cake made two ways! Make this chocolatey cake recipe as a layer cake or in a pan, smothered in homemade chocolate frosting!
Ingredients
2

cups

granulated sugar

1 3/4

cups

gluten free 1-to-1 flour

(recommended; Bob's Red Mill 1-to-1 Baking Flour)

3/4

cup

cocoa powder

2

tsp

baking soda

1

tsp

baking powder

1

tsp

salt

3

large

eggs

at room temperature

2/3

cup

milk

1/3

cup

plain Greek yogurt

1/2

cup

vegetable oil

2

tsp

vanilla extract

1

tsp

instant coffee

(optional)

1

cup

hot water

chocolate frosting

(try my Easy Homemade Chocolate Frosting!)
Instructions
​​Preheat the oven to 350°F. Spray a 9×13-inch baking pan with nonstick spray or line two 8-inch round cake pans with rounds of parchment paper and spray with nonstick cooking spray. Set aside.

Add the sugar, gluten free flour, cocoa powder, baking soda, baking powder, and salt to a large mixing bowl and whisk to combine.

Add the eggs, milk, yogurt, oil, and vanilla extract and whisk together until fully combined.

Dissolve the instant coffee, if using, in the hot water and stir into the batter.

Pour the batter into the prepared rectangular baking pan and bake at 350°F for 35-45 minutes until a toothpick can be inserted and comes out with a few moist crumbs. Or divide between the two 8-inch round pans and bake for 40-50 minutes until a toothpick can be inserted and comes out with a few moist crumbs.

Remove the cake from the oven and place on a cooling rack. For the rectangular pan, allow it to cool completely in the pan before frosting. For the round pans, cool the cake in the pans for about 10 minutes. Run a butter knife around the edge and turn the cakes out of the pans to cool completely on the racks before frosting.
Nutrition Facts
Gluten Free Chocolate Cake
Amount Per Serving
Calories 233
Calories from Fat 81
% Daily Value*
Fat 9g14%
Cholesterol 36mg12%
Sodium 304mg13%
Potassium 117mg3%
Carbohydrates 38g13%
Protein 4g8%
Vitamin A 63IU1%
Vitamin C 1mg1%
Calcium 48mg5%
Iron 1mg6%
* Percent Daily Values are based on a 2000 calorie diet.
Categories: