This post may contain affiliate links. Read my disclosure policy.
Indulge a little with these easy Gluten-Free Chocolate Donuts, covered in a decadent chocolate glaze. This is a 30-minute, double chocolate, homemade donut recipe that's perfect to make as a breakfast treat, or for dessert!
Want more gluten-free donuts? Try these Air Fryer Donuts or these Gluten Free Apple Cider Donuts!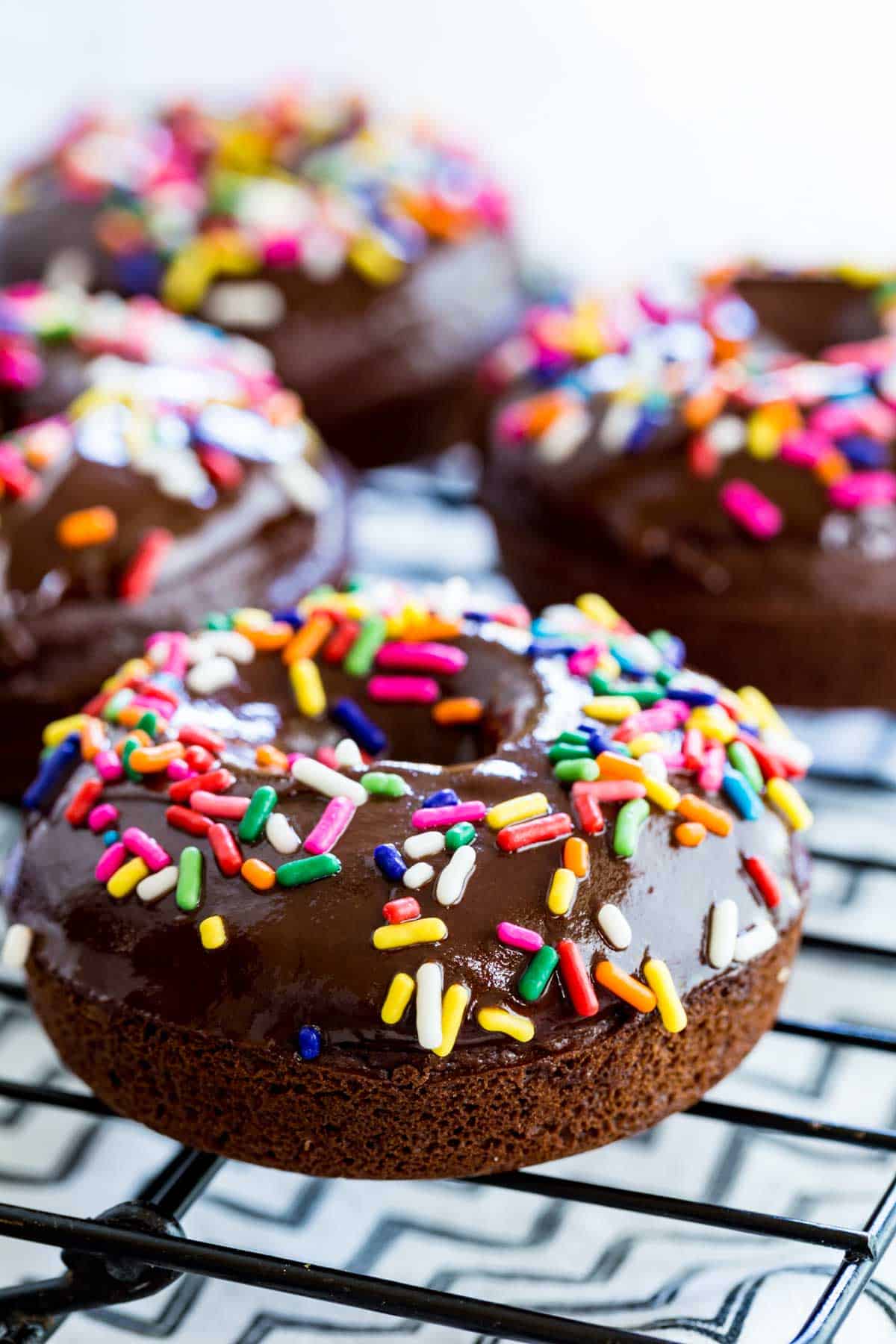 These Gluten-Free Donuts are a Double Chocolate Delight!
Is it acceptable to embrace chocolate cake for breakfast? Luckily, this double chocolate donut recipe might just be the next best thing! These donuts are just the right amount of sweet. And I'm pretty sure that any naysayers just haven't indulged in a fresh, homemade chocolate donut first thing in the morning yet!
These gluten-free donuts are one of my favorite treats that I can make in under 30 minutes. They're soft, cakey, fudgy, and covered in an equally decadent chocolate glaze. Double the chocolate = double the joy, right? Enjoy these baked donuts with coffee at breakfast, as a snack, or as an easy dessert. They're so easy to make, I just know you're gonna love them!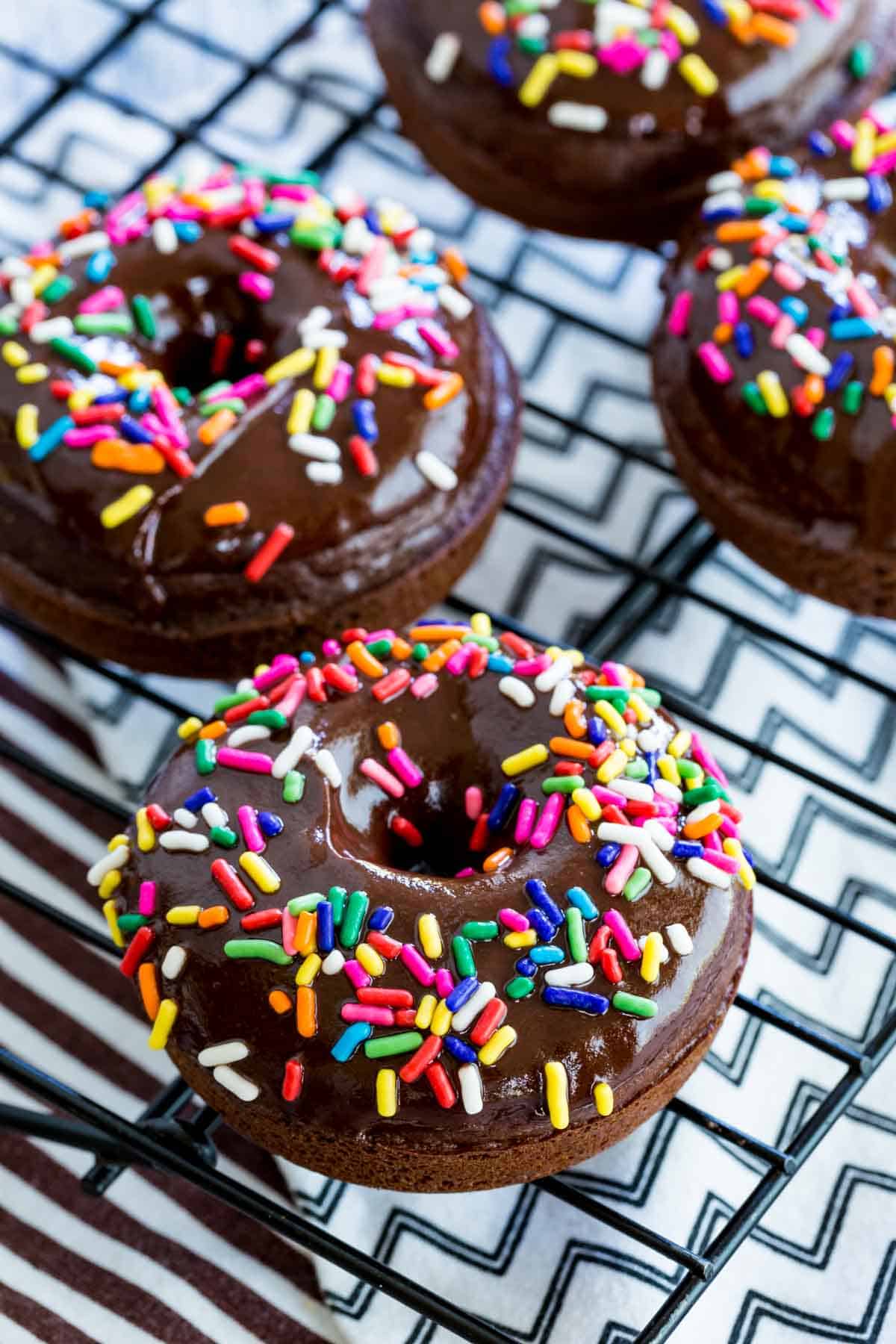 What You'll Need
Even though they're gluten-free, there's nothing fancy about the ingredients for these easy chocolate donuts. Here's what you'll need for the donut dough as well as the chocolate glaze:
For the Gluten-Free Chocolate Donuts
Gluten Free Flour: I use Bob's Red Mill 1-to-1 Baking Flour.
Light Brown Sugar: Just the right amount of caramelized flavor.
Cocoa Powder: You can use your choice of regular or dark cocoa powder.
Baking Powder: For leavening.
Oil: Vegetable, canola, or another neutral oil to bring moisture to the dough.
Vanilla: Pure vanilla extract gives these donuts the most natural vanilla flavor.
Salt
Milk
Egg
For the Chocolate Glaze
Semi-Sweet Chocolate Chips: The higher cocoa content in semi-sweet chocolate means less sweetness and a smooth consistency when melted.
Butter: Unsalted butter for the best results.
Light Corn Syrup: Adding corn syrup helps the glaze to coat better, and keeps the donuts softer, longer. It also prevents clumping! You can also try substituting honey or brown rice syrup.
Rainbow Sprinkles: Optional, but also sort of obligatory!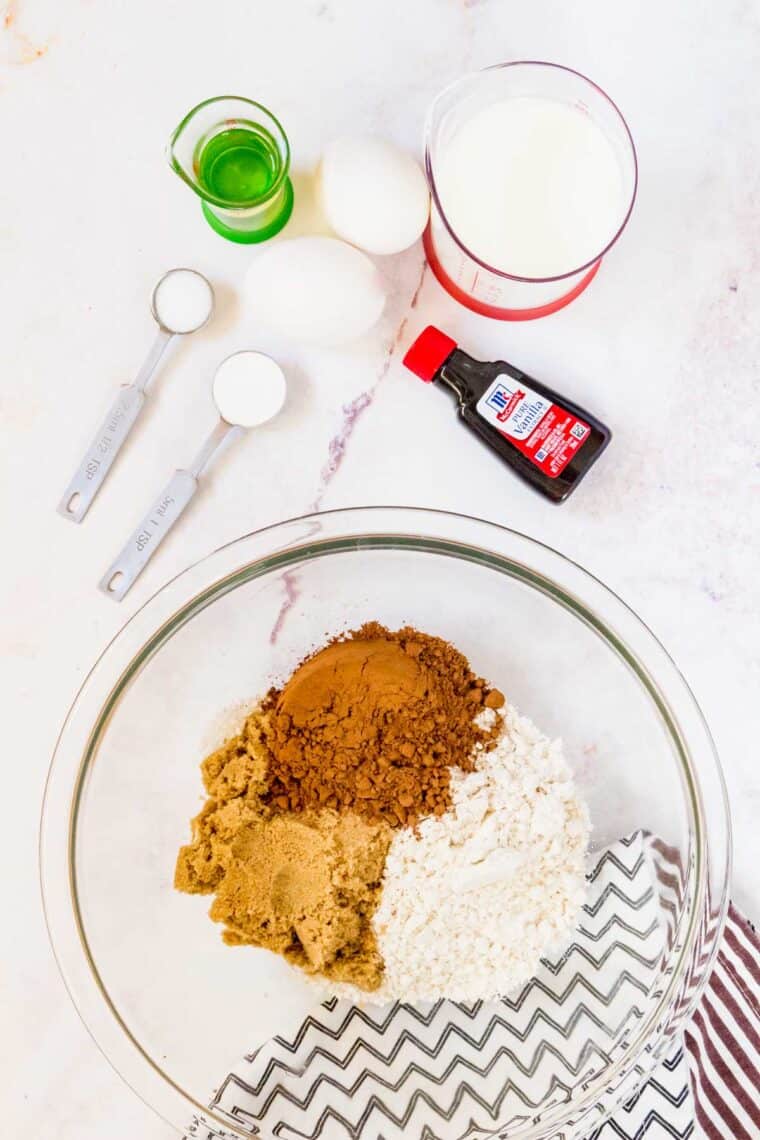 How to Make Gluten-Free Chocolate Donuts with Chocolate Glaze
Prepare to be amazed by how easy it is to make donuts from scratch! Here's how you can make your own perfect gluten-free chocolate donuts, plus the glaze, in under 30 minutes:
Make the Donut Batter: First, combine the dry ingredients, including the flour and cocoa powder, in a large bowl. Add the wet ingredients into the bowl with the flour mixture. Whisk until you have a smooth batter.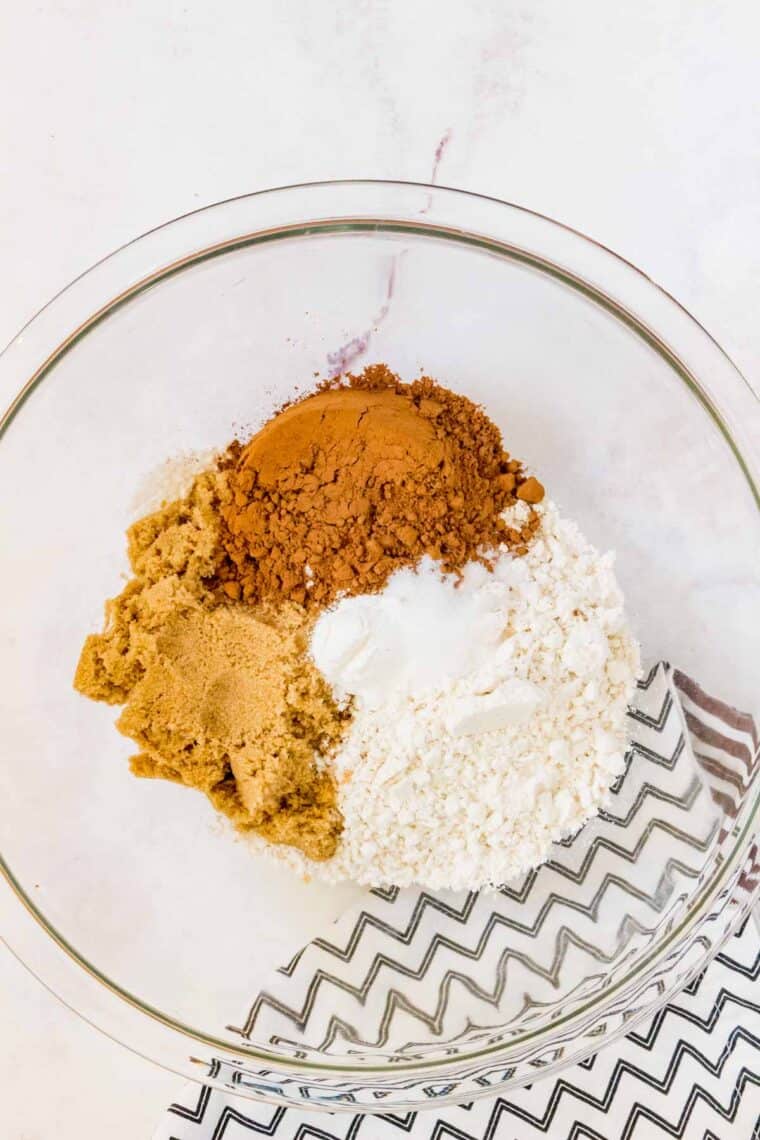 Fill the Donut Pan: Carefully pour the batter into a greased standard-sized donut pan. Most pans will hold 6 donuts, so you may need to work in batches!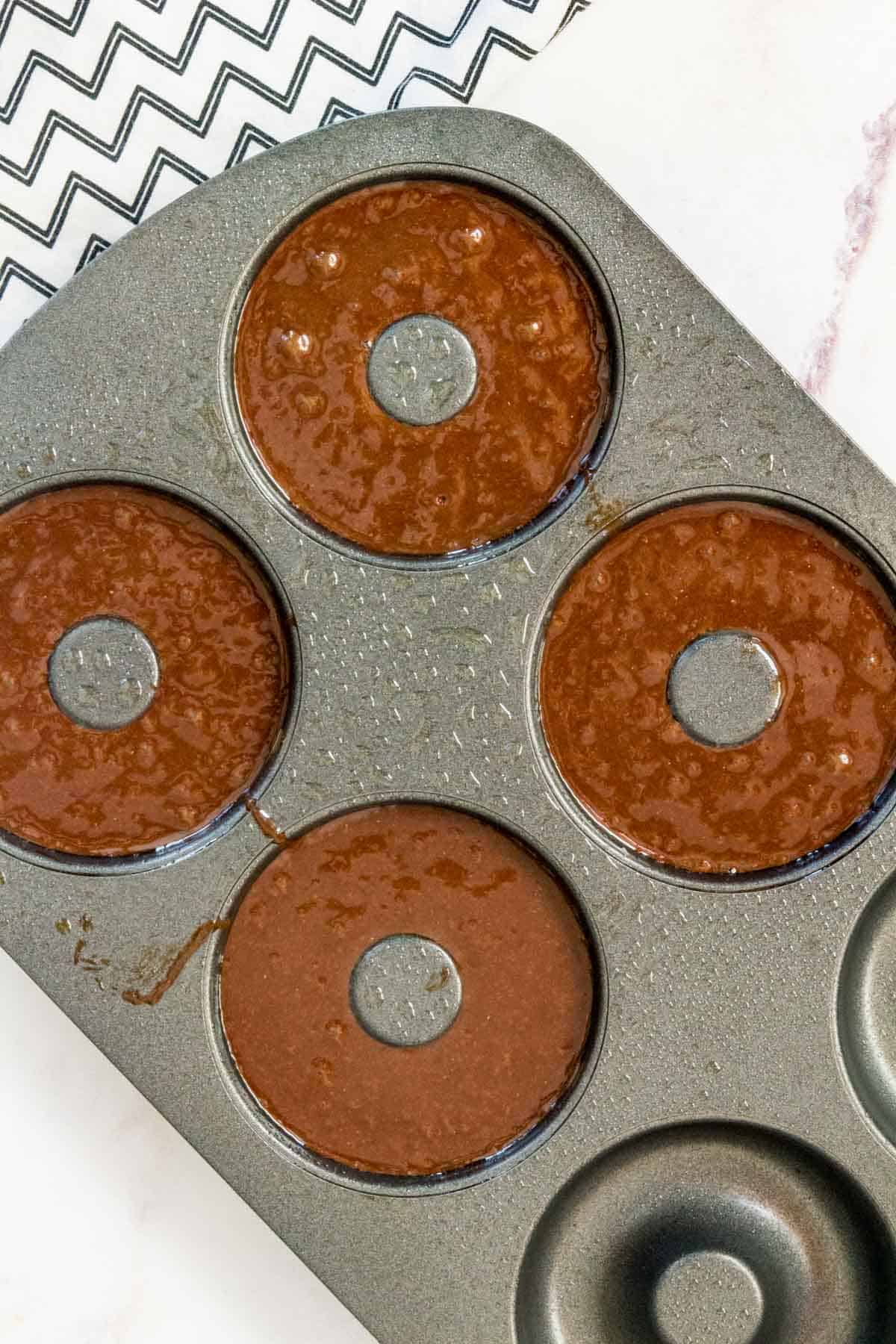 Bake: Pop the donuts into a preheated oven. Once they're finished baking, leave them to cool completely before glazing.
Make the Chocolate Glaze: While the donuts are cooling, microwave the chocolate chips, butter, and corn syrup in bursts, stirring until melted (you can also do this using a double boiler if you'd prefer). Add in a spoonful of hot water at a time until the glaze is a smooth, thick texture.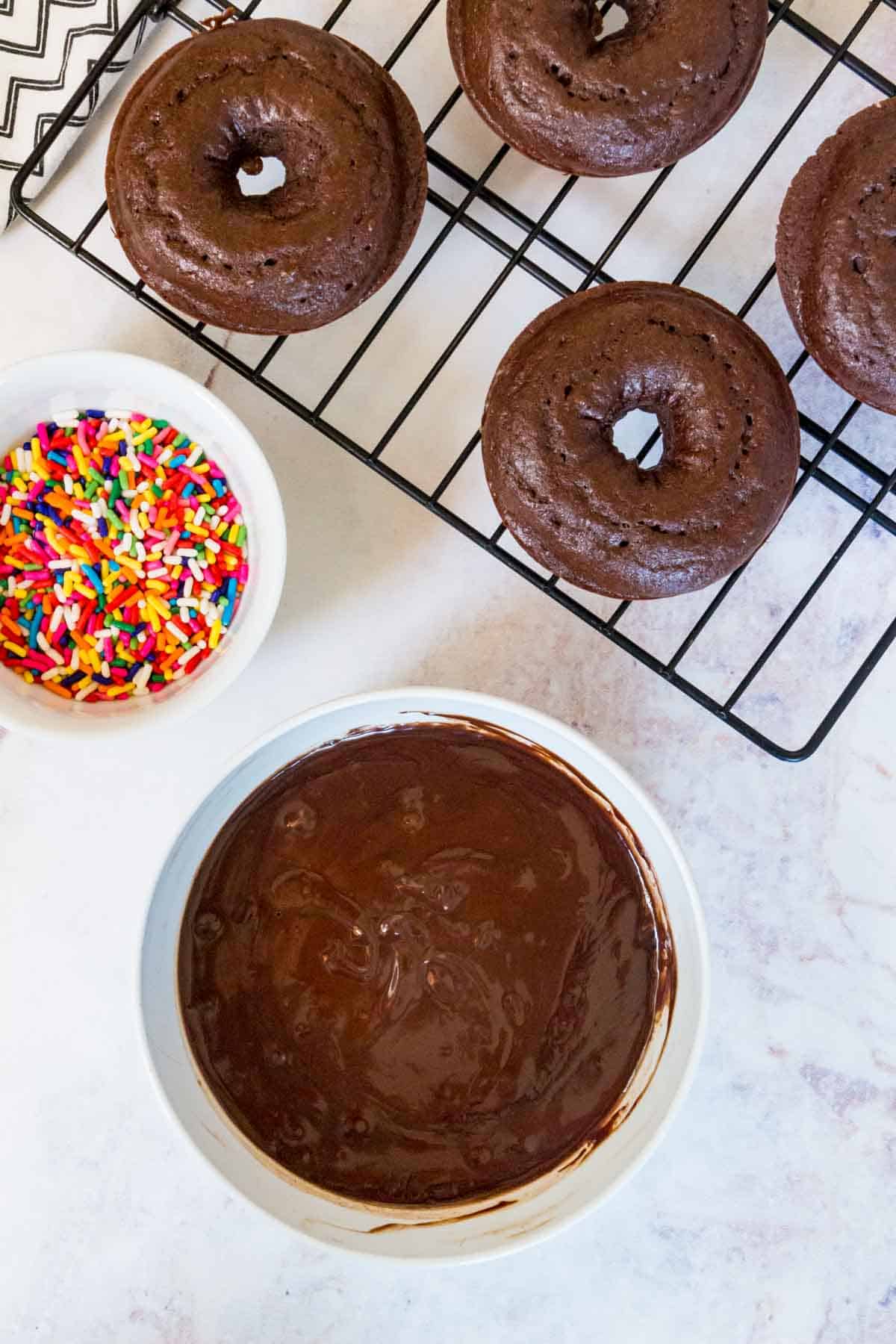 Glaze the Donuts: Gently dip the top of each donut into the glaze, and place the glazed donuts back on the wire rack. Top them with rainbow sprinkles if you'd like (who doesn't love a donut with sprinkles?), leave them to set, and enjoy!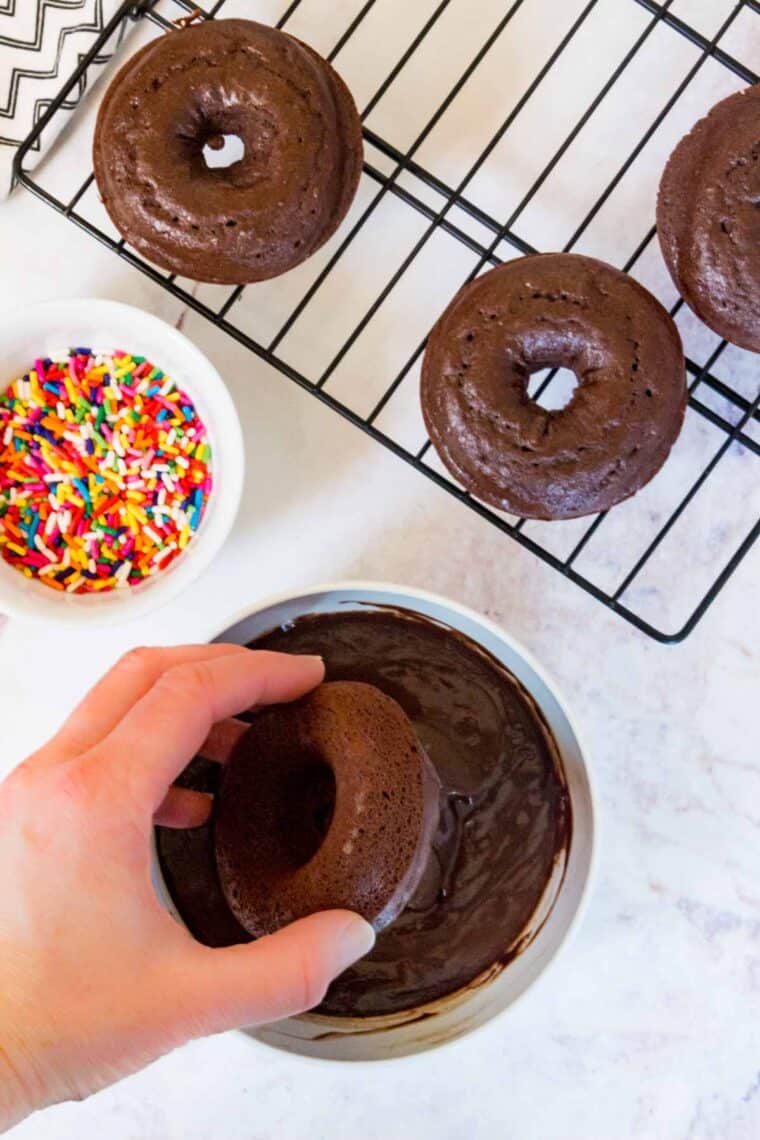 Can I Make These Without a Donut Pan?
Of course, these donuts turn out best in a donut pan. And if you're a donut fan, it's a relatively inexpensive kitchen tool to invest in! However, if you don't have a donut pan handy, there are options to make these homemade donuts without one:
Use a Muffin Pan: Use foil to form centers about 1" in diameter to place in the middle of the muffin wells. Make sure they're tall enough to account for the dough expanding! The shapes won't be perfect, but they'll do. Note that the baking time will be slightly longer when using a muffin pan, so begin by adding a couple minutes at a time, checking until they're cooked through.
Make Donut Holes: You can fill a mini muffin tray with donut batter and then bake for a few minutes to make donut holes instead. Check them after about 5 minutes and go from there!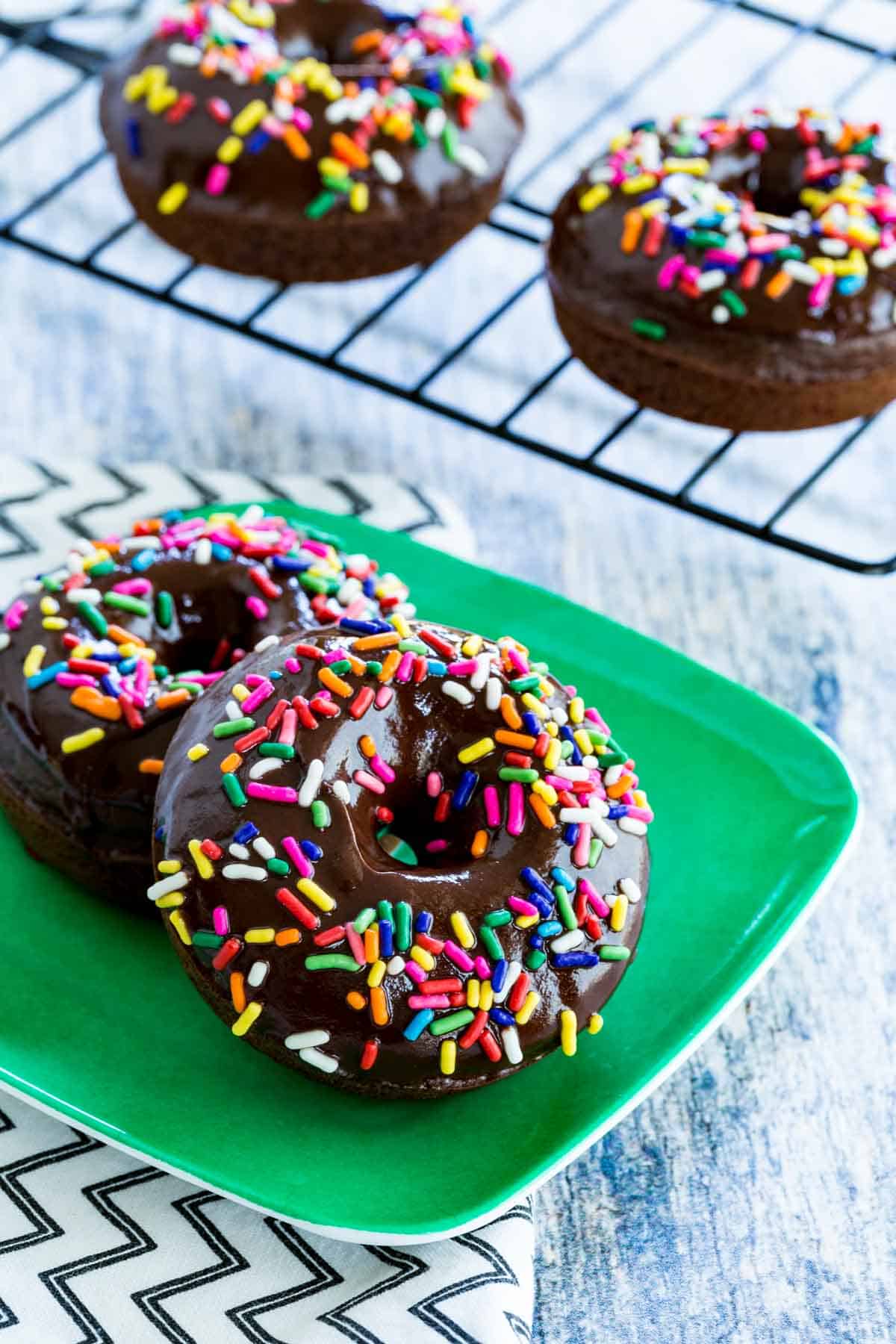 Tips for Success
Measure the Flour Correctly: Too much flour is the number one culprit when it comes to donuts that turn out tough and chewy. Make sure you're measuring correctly by spooning the gluten-free flour into the measuring cup (instead of using the cup to scoop directly out of the bag), and then using a knife to level off the flour.
Pipe the Batter into the Pan: To help keep things tidy while filling the donut pan, use a piping bag or large ziplock bag with the corner snipped to pipe the donut batter into the pan. Perfect for even donuts and quick, easy clean up!
Let the Donuts Cool Before Glazing: This is key! The glaze will melt if the donuts are coated too soon after baking.
Time the Glaze Right: Try not to make the glaze too far in advance, as it tends to harden up a bit the longer it sits.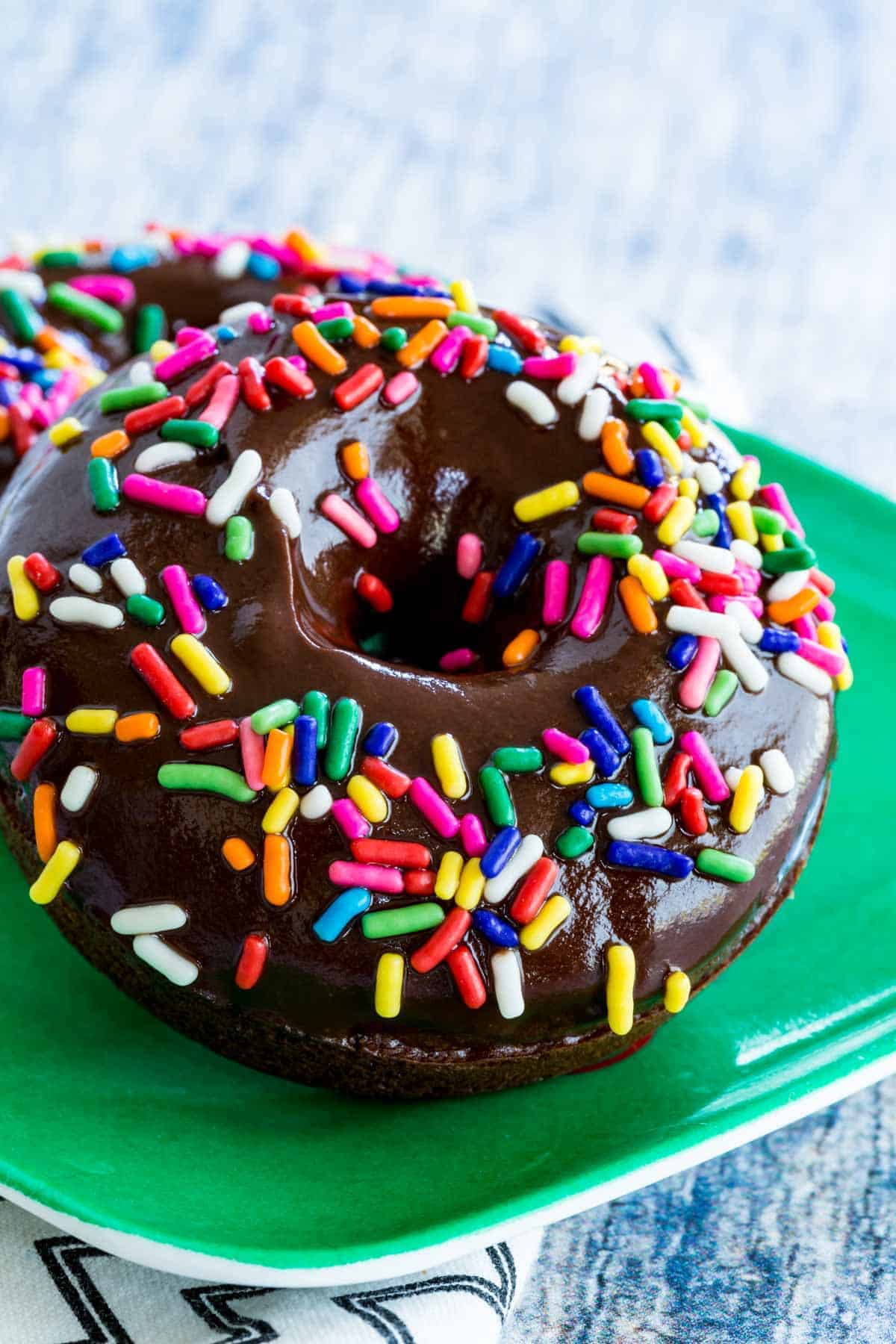 Topping Ideas
These chocolate donuts are super versatile! Depending on how you like your donuts, you can try out a whole bunch of topping ideas. Here are some suggestions for easy donut decorating:
Peppermint Icing (and crushed peppermint candies)
Toffee bits
Cinnamon sugar
Shaved chocolate
Powdered sugar
Crushed nuts (walnuts, pecans, peanuts, hazelnuts)
Nonpareils
Chopped pistachios
Caramel or while chocolate drizzle
Crushed pretzels
Crushed cookies or Graham cracker crumbs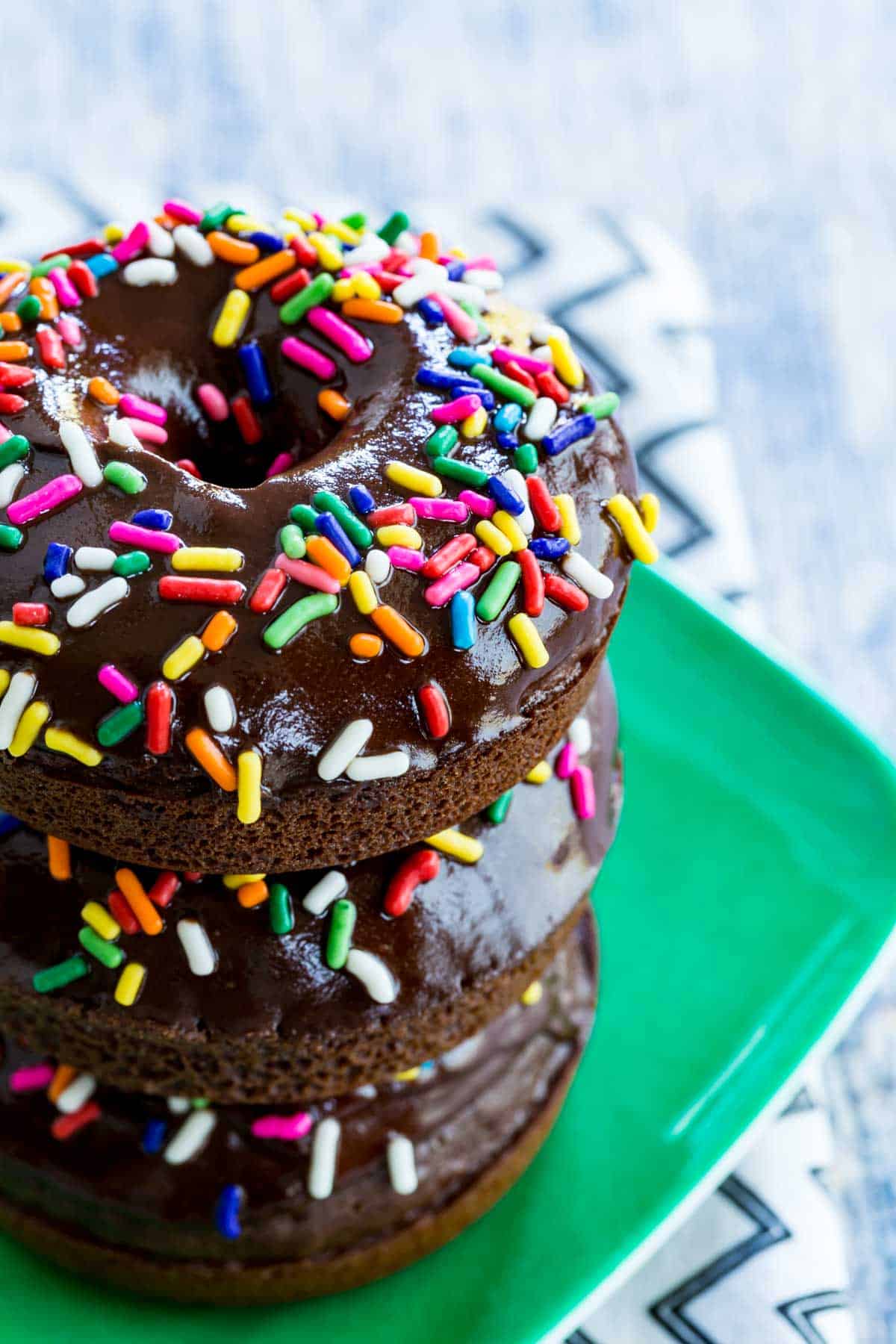 How to Store Homemade Donuts
Store leftover glazed or unglazed donuts in an airtight container at room temperature. If you'd like to extend the shelf life of your donuts, they also freeze extremely well. See below!
Can I Freeze These?
Yes! For best results, I recommend freezing these donuts after they're baked and before they're glazed. They'll keep for up to 3 months if stored properly.
To freeze, let the donuts cool completely and then pre-freeze them in a single layer on a baking sheet. Once they're frozen solid, seal them in a freezer bag or airtight container and place them back in the freezer until you're ready to enjoy them. Defrost the donuts overnight in the fridge, or in the microwave before serving.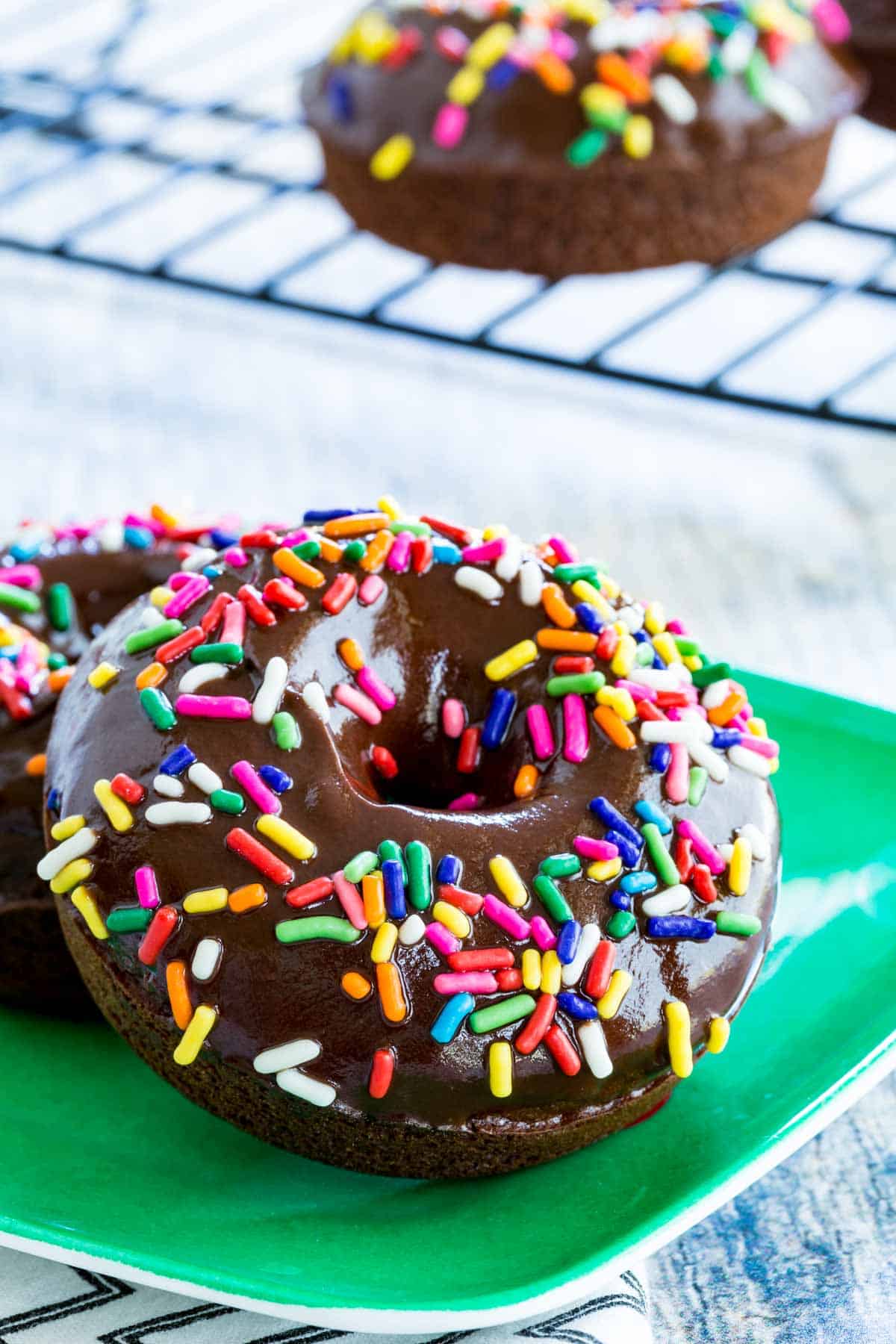 Don't forget these items
Brianne Recommends
GLUTEN FREE FLOUR – for this recipe I recommend Bob's Red Mill 1-to-1 Baking Blend. You can try others, but this is my go-to for these baked donuts.
RAINBOW SPRINKLES – not all of them are gluten free so be sure that yours are.
DONUT PANS – if you want to make your favorite holey treat, the right pan is the best way, and they come in a two pack so you don't have to bake in batches.
COOLING RACKS – so you have somewhere to set your donuts as they cool and to let the glaze set.
Last updated on June 9, 2023 6:13 pm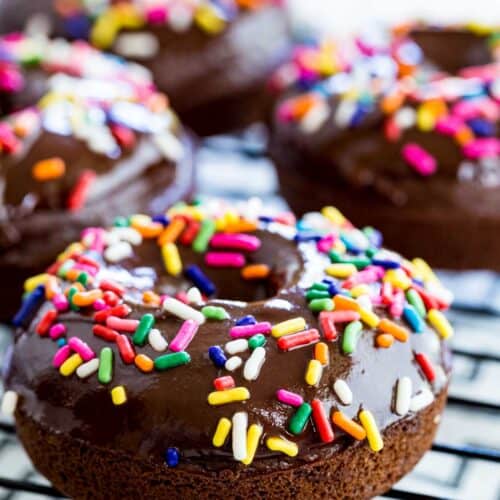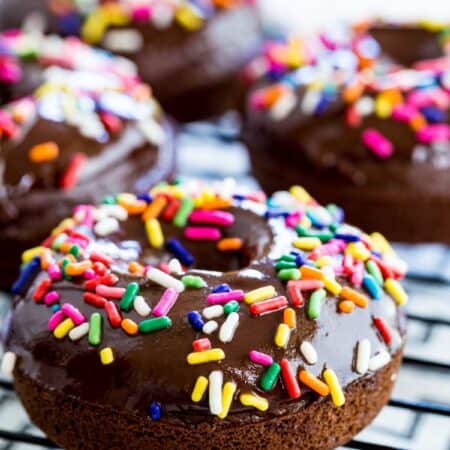 Gluten Free Chocolate Donuts
These easy Gluten-Free Chocolate Donuts are covered in a decadent chocolate glaze and so delicious. An easy recipe for homemade donuts, ready in 30 minutes!
Ingredients
For the Gluten Free Chocolate Donuts:
1

cup

1:1 gluten free flour

(recommended: Bob's Red Mill 1-to-1 Baking Flour)

1/2

cup

light brown sugar

1/3

cup

cocoa powder

1

teaspoon

baking powder

1/2

teaspoon

salt

1/2

cup

whole milk

2

Tablespoons

vegetable or canola oil,

or another neutral oil

1

large egg

1

teaspoon

vanilla extract
For the Chocolate Glaze:
1/2

cup

semi-sweet chocolate chips

2

Tablespoons

unsalted butter

2

teaspoons

light corn syrup

2-3

teaspoons

hot water

rainbow sprinkles, optional
Instructions
For the Gluten Free Chocolate Donuts:
Preheat oven to 375°F. Spray a standard sized donut pan with nonstick cooking spray. This recipe makes 8 donuts, so you may need to use two pans or work in batches.

In a large bowl, combine the gluten free flour, brown sugar, cocoa powder, baking powder, and salt. Whisk together until combined. Then add the milk, oil, egg, and vanilla extract and whisk to form a smooth batter.

Divide the batter between 8 wells of a donut pan, approximately 1/4 cup in each. You do not want to cover the middle that forms the donut hole. Tap the pan on the counter to help release some of the air bubbles.

Bake for 12-15 minutes or until toothpick comes out clean in the center. Allow donuts to cool in the pan for 5-10 minutes before turning out onto a wire rack to cool completely.
For the Chocolate Glaze:
Combine the chocolate chips, butter, and corn syrup in a microwave-safe bowl. Microwave on medium (50%) powder for 20 seconds and stir, repeating the 20 second intervals and stirring until the chocolate chips are melted. Stir in 1 teaspoon hot water, adding more until smooth but still thick.

Dip the tops of the donuts into the glaze and place on a cooling rack. Sprinkle with rinbow sprinkles, if desired. Let set for at least 5 minutes before enjoying. You may have extra glaze.
Notes
If you will be serving the donuts at a later time, keep unglazed or glazed donuts in an airtight container. The donuts alone freeze extremely well.
Nutrition Facts
Gluten Free Chocolate Donuts
Amount Per Serving (1 donut)
Calories 258
Calories from Fat 117
% Daily Value*
Fat 13g20%
Cholesterol 30mg10%
Sodium 168mg7%
Potassium 217mg6%
Carbohydrates 36g12%
Protein 4g8%
Vitamin A 147IU3%
Calcium 76mg8%
Iron 2mg11%
* Percent Daily Values are based on a 2000 calorie diet.
Categories:
More Quick & Easy Breakfast Ideas