This post may contain affiliate links. Read my disclosure policy.
Soft, irresistible Gluten Free Apple Cider Donuts are the ultimate sweet cinnamon-y treat, made with real applesauce for pure apple flavor, gluten-free flours, and fresh cider. Enjoy these homemade donuts with a hot cup of coffee whenever you're craving a cozy taste of fall!
Love these donuts for breakfast? Then you must make Gluten Free Apple Cider Donut Cake for dessert!
Soft Apple Cider Donuts With Cinnamon Sugar
If you've ever been apple picking, you know that aside from the bounty of apples that comes with it, there's one more MAJOR perk of raiding the local orchard. Fresh, unfiltered apple cider, right from the source. And in this house, a fresh jug of apple cider means donuts. Naturally.
I love these baked apple cider donuts for so many reasons. First and foremost, this recipe is gluten-free, so no one needs to miss out on cider donut season around here. Secondly, these homemade donuts are ready in under 30 minutes! Of course, then you have the irresistible texture: perfectly tender, fluffy, and moist on the inside, crunchy and sugar-crusted on the outside.
These donuts would have apple flavor coming out of their ears, if they had ears. Instead, they pretty much radiate apple cinnamon warmth.
This is a simple, healthier recipe for authentic cider donuts made with real apples, gluten-free and oat flours, and a mouthwatering coating of cinnamon sugar. Unsweetened applesauce takes the place of butter in this homemade donut recipe, too, for a lighter sweet treat that's extra full of apple flavor!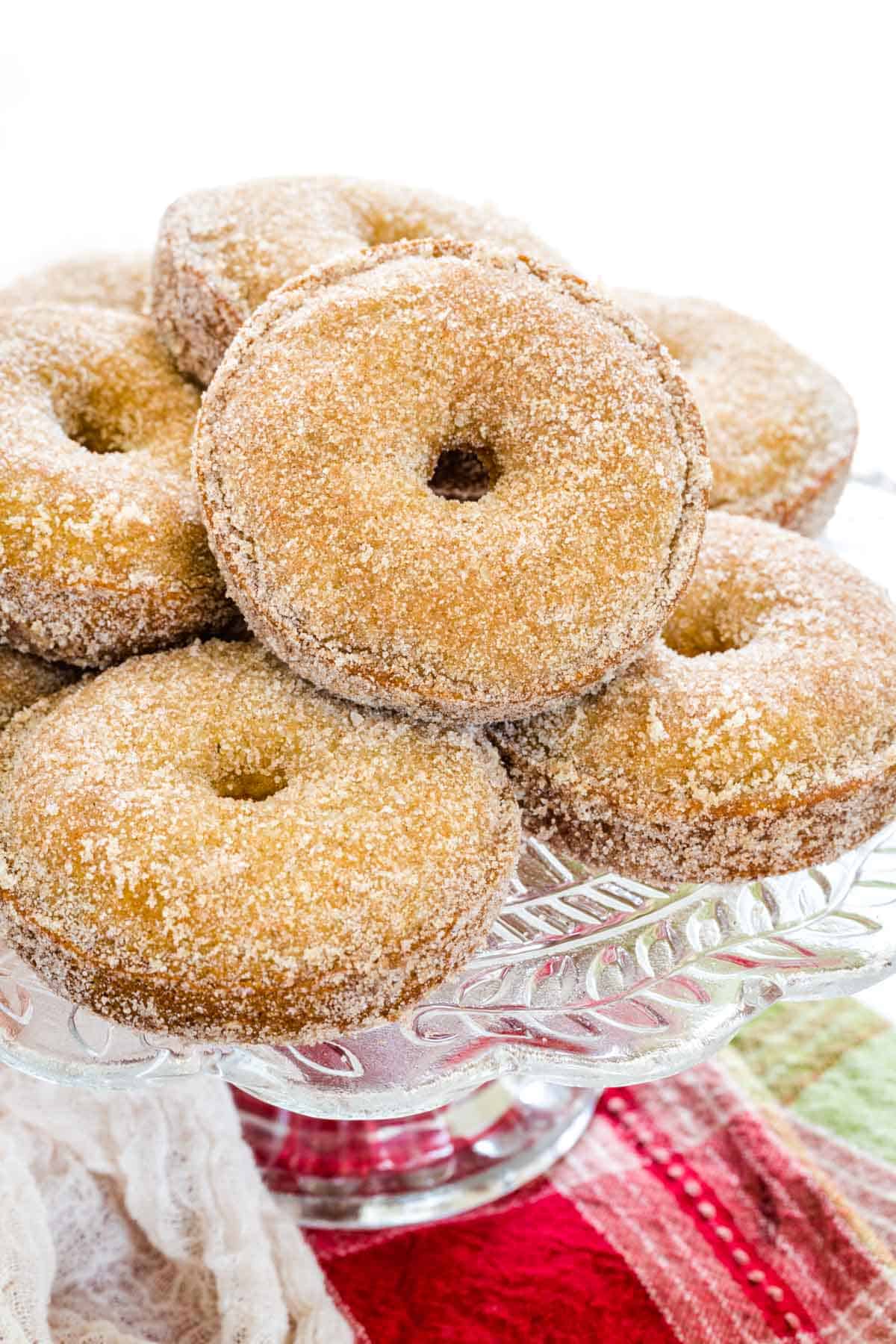 What You'll Need
These homemade apple cider donuts come together with a small list of ingredients, making them one of my go-to fall desserts. I've outlined what you'll need below for the donuts as well as the coating, with the full amounts available further on in the recipe card.
Gluten Free Flour: I recommend a 1:1 gluten free flour blend for this donut recipe, like Bob's Red Mill 1-to-1.
Oat Flour: Make sure to buy oat flour made with certified gluten free oats as needed. You can also make your own oat flour at home, by blitzing oats in a food processor until they reach a fine powder.
Granulated Sugar: Regular white granulated sugar is fine.
Baking Powder & Baking Soda: A combination of the two brings texture and lift to these donuts.
Cinnamon & Salt: Ground cinnamon for warm apple-cinnamon vibes, and salt to enhance the flavor.
Apple Cider: Pure apple cider is unmatched in these donuts, as it brings the most authentic apple flavor. If you're lucky enough to live in a state where apples grow, the best place to find fresh-pressed apple cider is at the apple orchards. I highly recommend using the real deal.
Applesauce: Applesauce works two-fold in these donuts. Not only does it bring out the flavor of the apple cider, but unsweetened applesauce is also a healthier replacement for butter and other fats in baking.
Oil: This recipe calls for vegetable oil or an alternative like canola, avocado, or safflower oil, to give the crumb extra moisture.
Egg: A single egg for richness and texture in the dough.
Vanilla Extract: Make sure you're using pure vanilla extract and not imitation vanilla, for the best possible quality of flavor.
Butter: Just a touch of melted butter, for brushing over the donuts and to help the cinnamon coating stick.
Cinnamon Sugar: For coating the donuts. This is simple to make with a combination of ground cinnamon mixed into granulated sugar.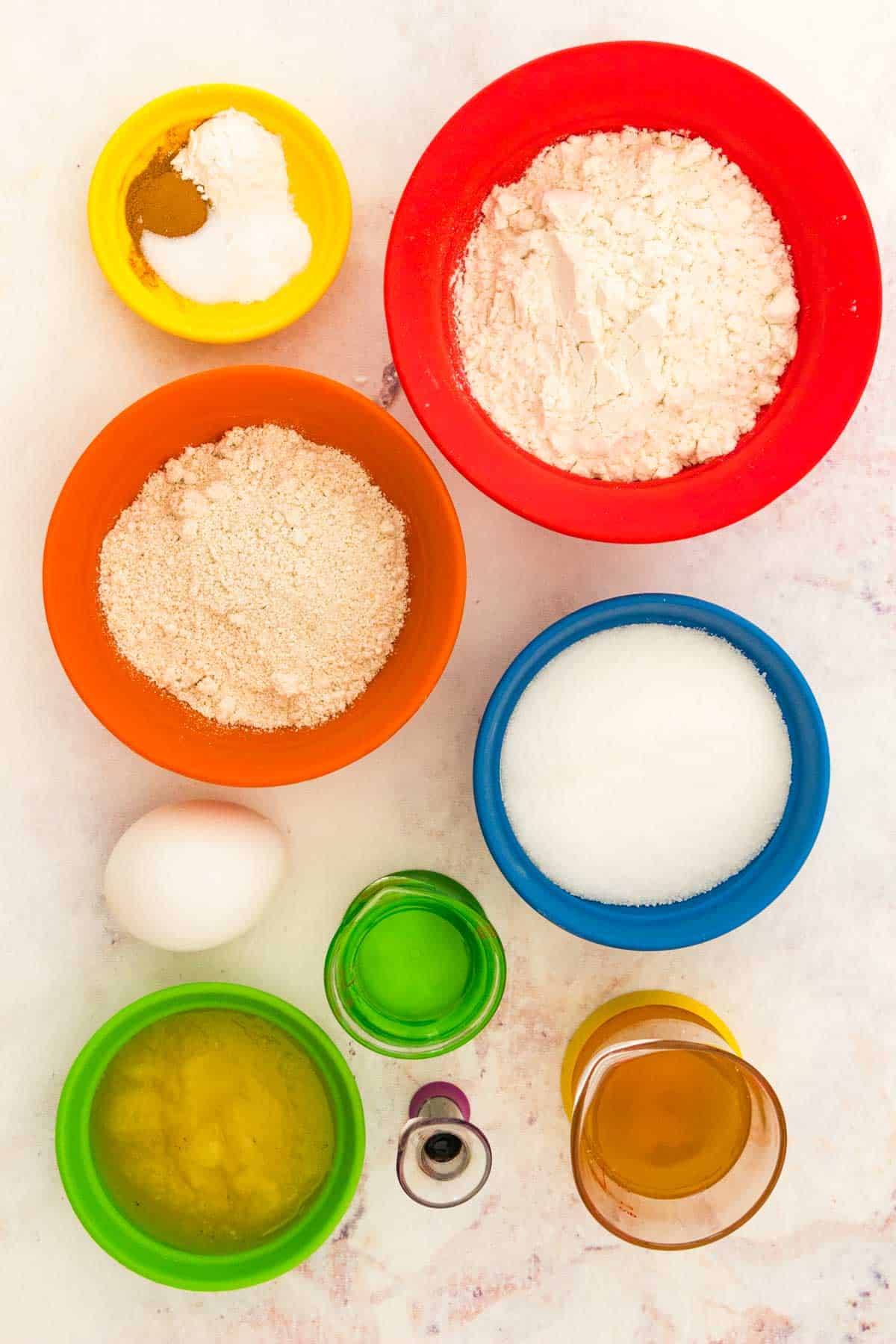 Can I Use Apple Juice Instead of Cider?
First choice is always to use real apple cider whenever you can. However, if you're in a pinch and desperate for apple donuts (understandable), it is fine to use unsweetened apple juice as a substitution. Do note that the flavor won't be quite the same, though.
Also, I say unsweetened here, as the extra sugar in sweetened apple juice will make these donuts overly sweet. If you do use sweetened apple juice, aim to reduce the amount of granulated sugar in the recipe, just to be safe.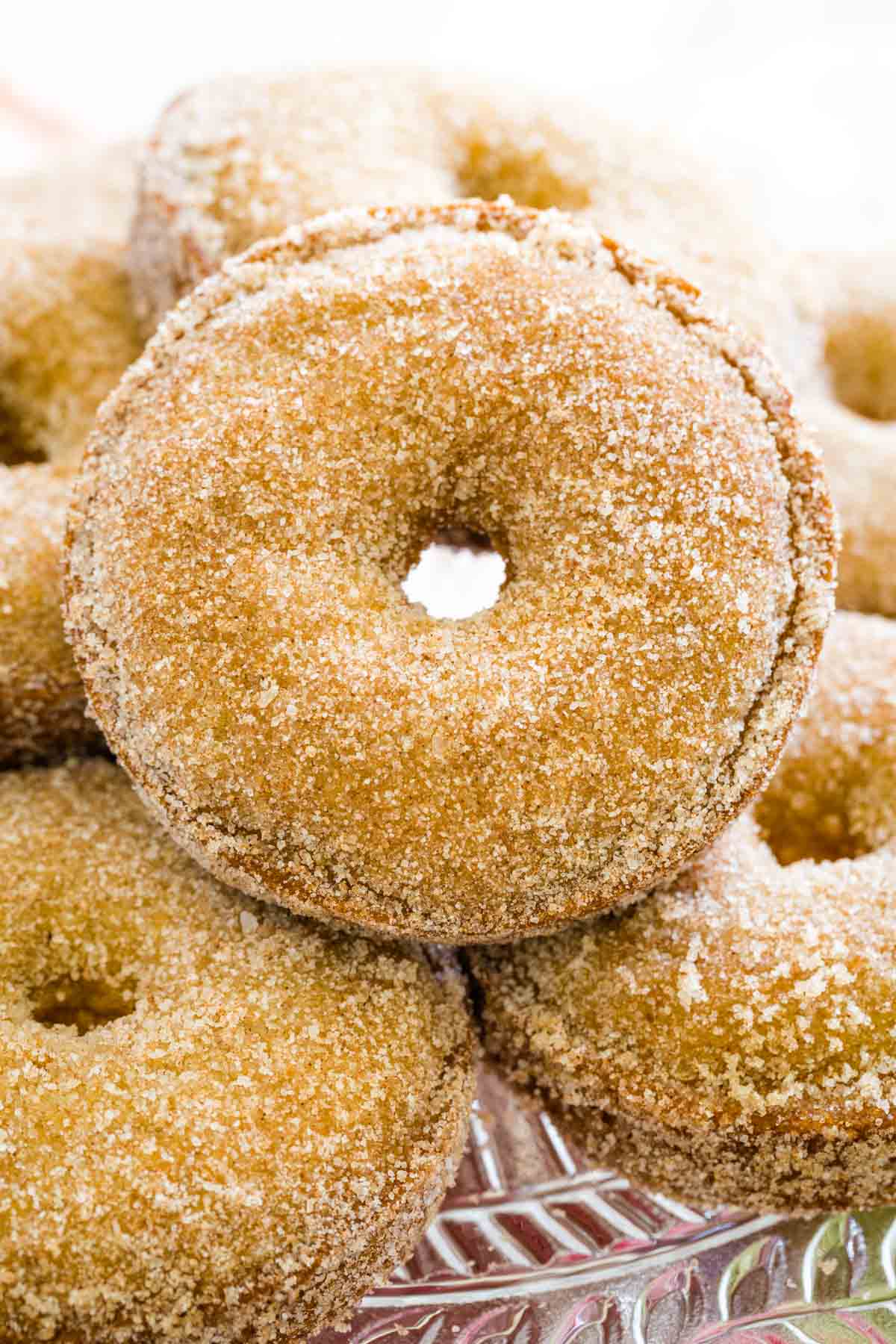 How to Make Gluten-Free Cider Donuts
While your oven is preheating, give two donut pans a coating of nonstick spray. I use two standard-sized 6-well donut pans, but you can use whatever size you have on hand, and work in batches if you need to. Next, let's make some donuts:
Make the Donut Batter: First, in a large bowl, sift together the flour and dry ingredients to break apart any clumps. In a second bowl, whisk together the apple cider and wet ingredients. Pour the wet ingredients into the dry ingredients, and give the batter a whisk until the two are just combined. Emphasis on just, here – be careful to not over mix!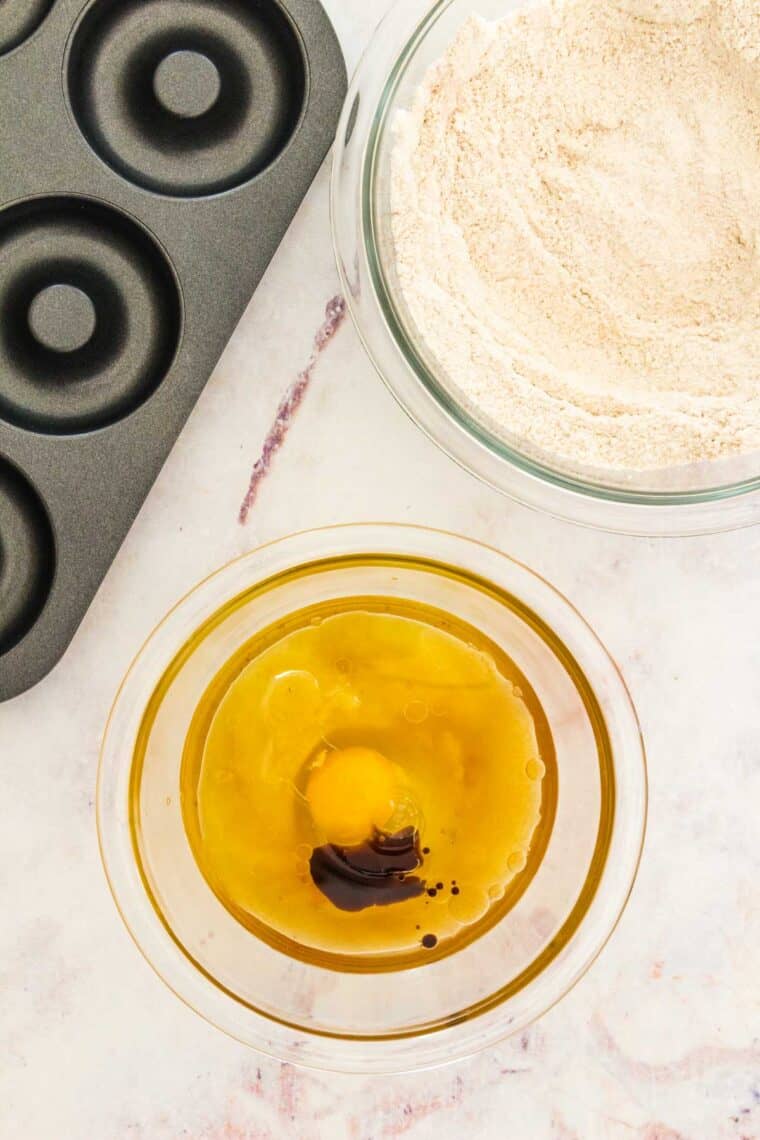 Fill the Pan: Distribute the batter evenly between the wells of your greased donut pans. This recipe should yield about 10-12 donuts, depending on how thick you'd like them to be. Whatever you do, you don't want to fill them over the middle point that forms the donut hole! Lastly, once the batter is in the pans, give each pan a light tap against the counter to release any air bubbles.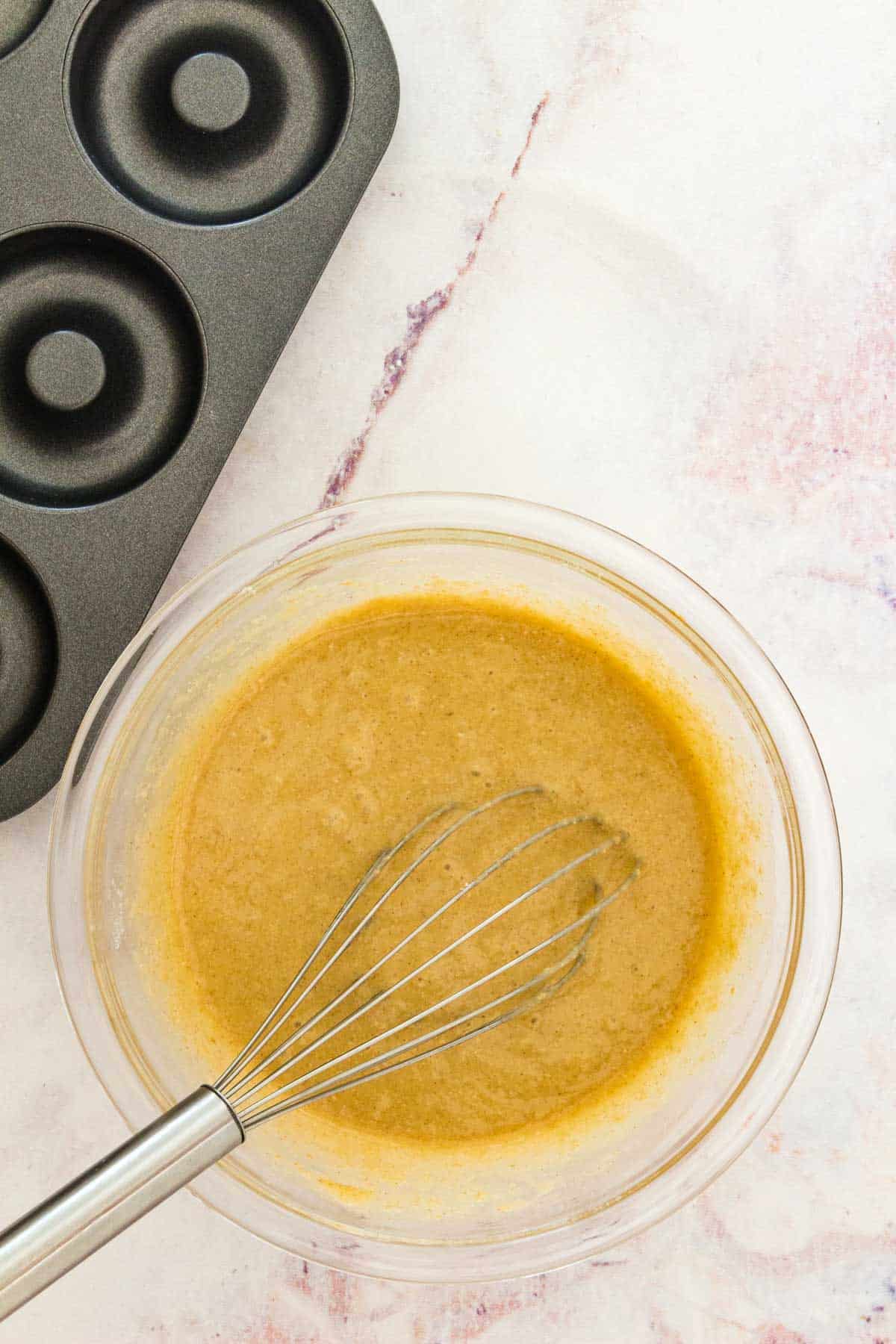 Bake: Place your donut pans into the preheated oven. After about 10-15 minutes, the donuts should be puffed up and golden, and a toothpick inserted into the thickest part should come out clean. Give the donuts a few minutes to cool in the pan before moving them over to a wire rack.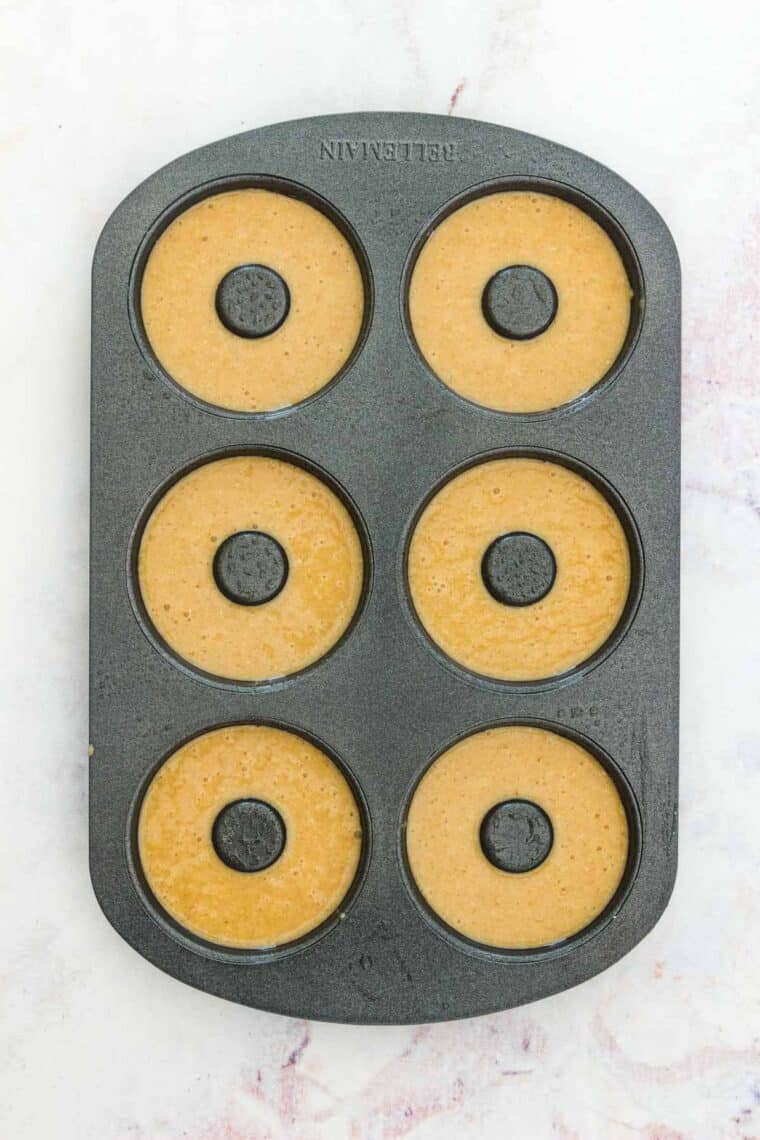 Coat in Cinnamon Sugar: While the donuts are cooling, stir some cinnamon into the sugar for the topping. When ready, lightly brush the donuts with melted butter and dip them into the cinnamon sugar. Really let them roll around in it, so that they're coated on all sides. Then, all that's left is to get your pot of coffee or tea brewing, and serve!
Tips and Tricks
These apple cider donuts are so quick and easy, you should have no problem making them at home. Here are some quick tips to ensure that these come out 100% perfect every time:
Make Your Own Oat Flour: It's easy to make your own oat flour to use in this donut recipe. Simply place your certified oats into a blender or food processor and pulse them until a fine powder forms.
For Thicker Donuts: If you're after a thicker, more puffed-up donut, aim to fill only 10-11 wells of your donut pan. This will result in a bit more batter in each well, meaning higher-risen donuts.
Substitute the Cinnamon: It often comes as a shock to me to know that some people loathe cinnamon (I mean, it's cinnamon, really?!). But to each their own! If you happen to dislike the flavor of cinnamon, swap it out for an alternative like cardamom instead.
Try a Different Coating: If you don't want to use the cinnamon sugar, you can leave them plain, give them a light dusting of powdered sugar, or try the maple glaze in this Gluten Free Pumpkin Bread recipe.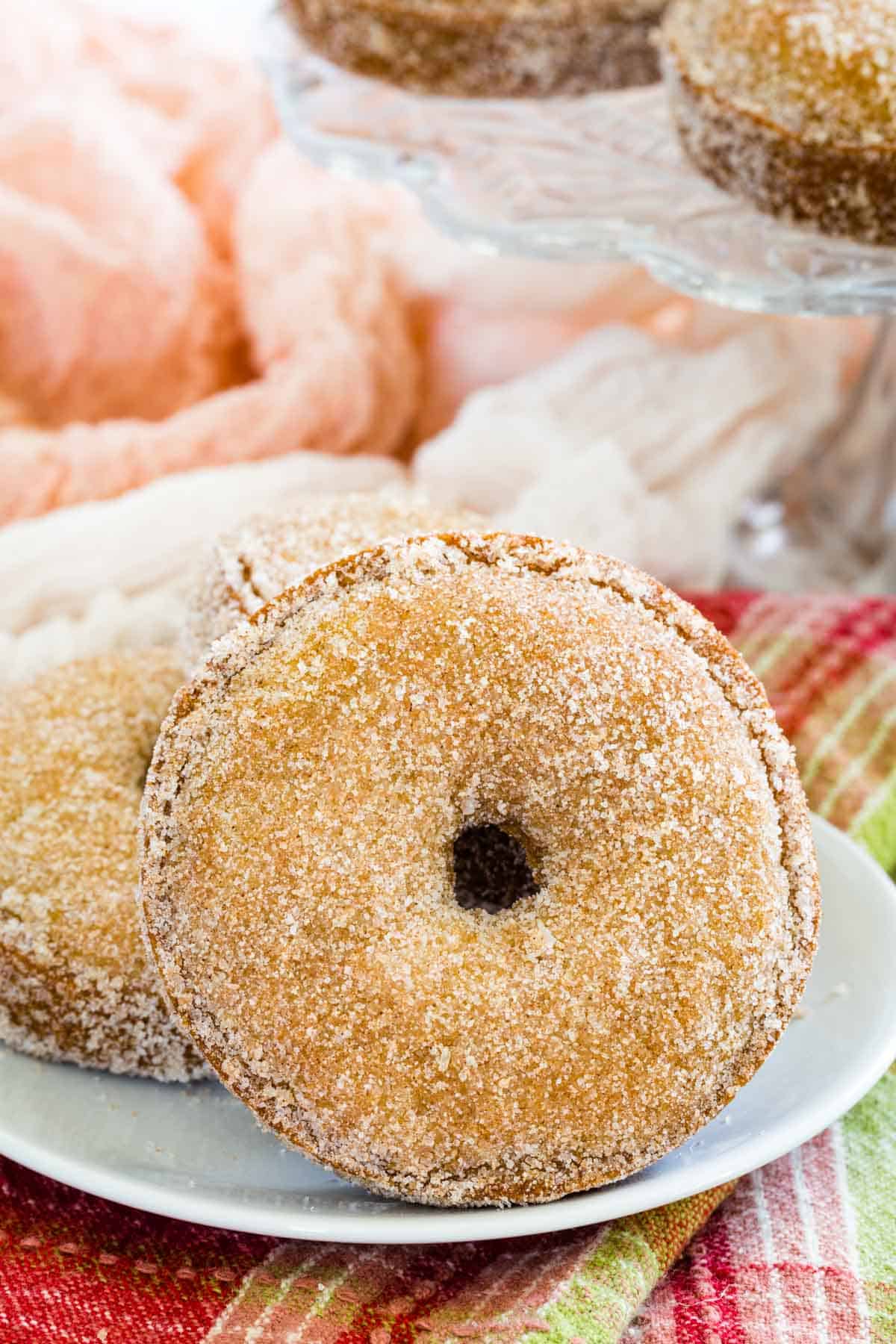 Make It a Meal
A fresh baked donut is one of my favorite sugar fixes. Nothing is more tempting than one of these gluten free apple cider donuts on a cozy fall day, paired with a hot cup of coffee or tea. If you're looking to serve these donuts as part of a larger meal though, here are my suggestions: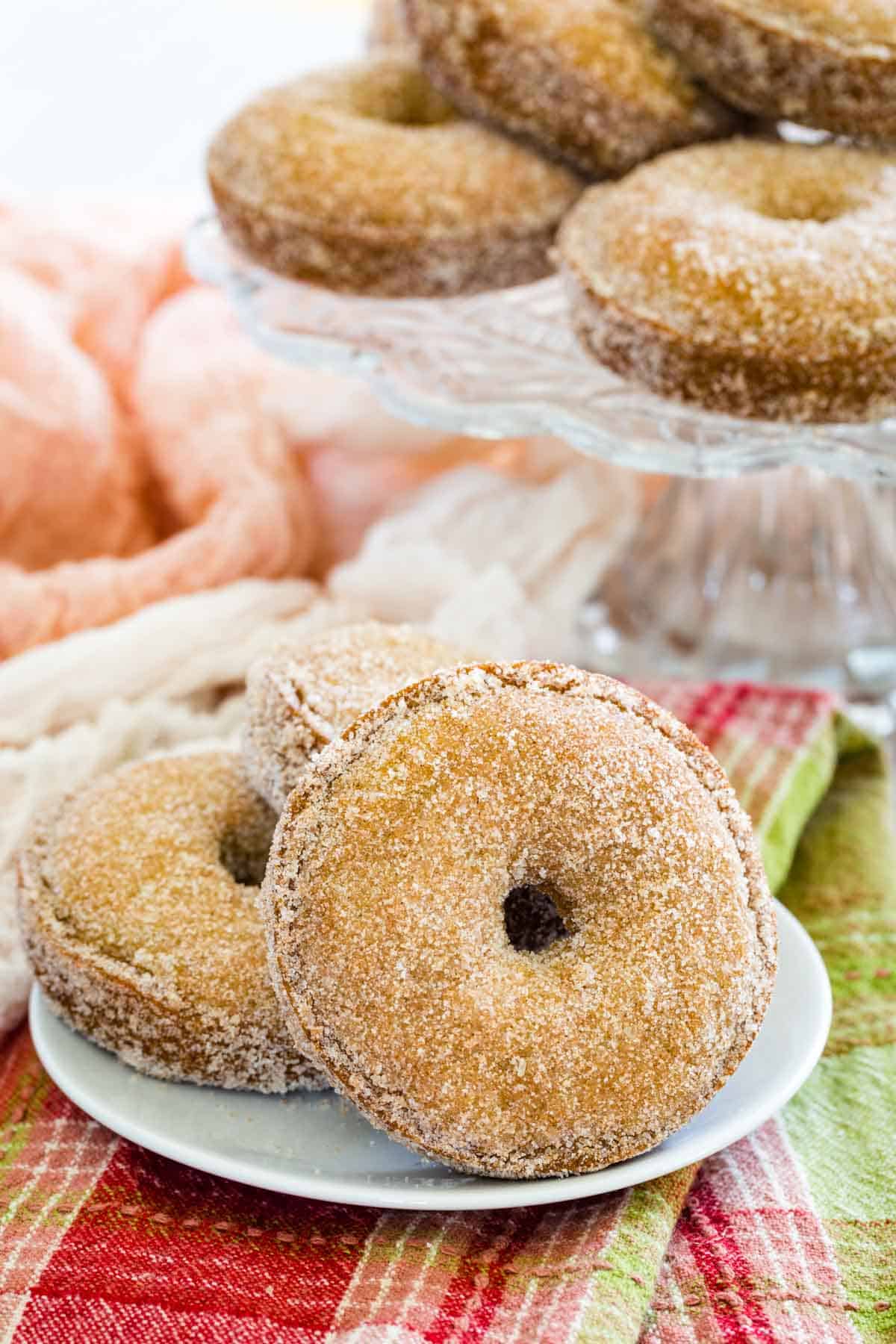 How to Store Extras
Store homemade donuts airtight in a resealable bag or airtight container. They can be kept at room temperature for a day or two, ready to zap in the microwave for quick warming. You can also store your apple cider donuts in the fridge for up to one week, or freeze them for even longer storage, see the next section.
Do These Freeze Well?
These apple cider donuts freeze very well as a longer-term storage solution. Try to freeze the donuts on the day you make them – this way they'll be the freshest when thawed.
To freeze the donuts, wrap the cooled donuts individually in plastic wrap and then place them in an airtight container or freezer bag. They can be stored for up to 3 months. Thaw the frozen donuts on the counter overnight, or you can also defrost them in the microwave for about 20 seconds.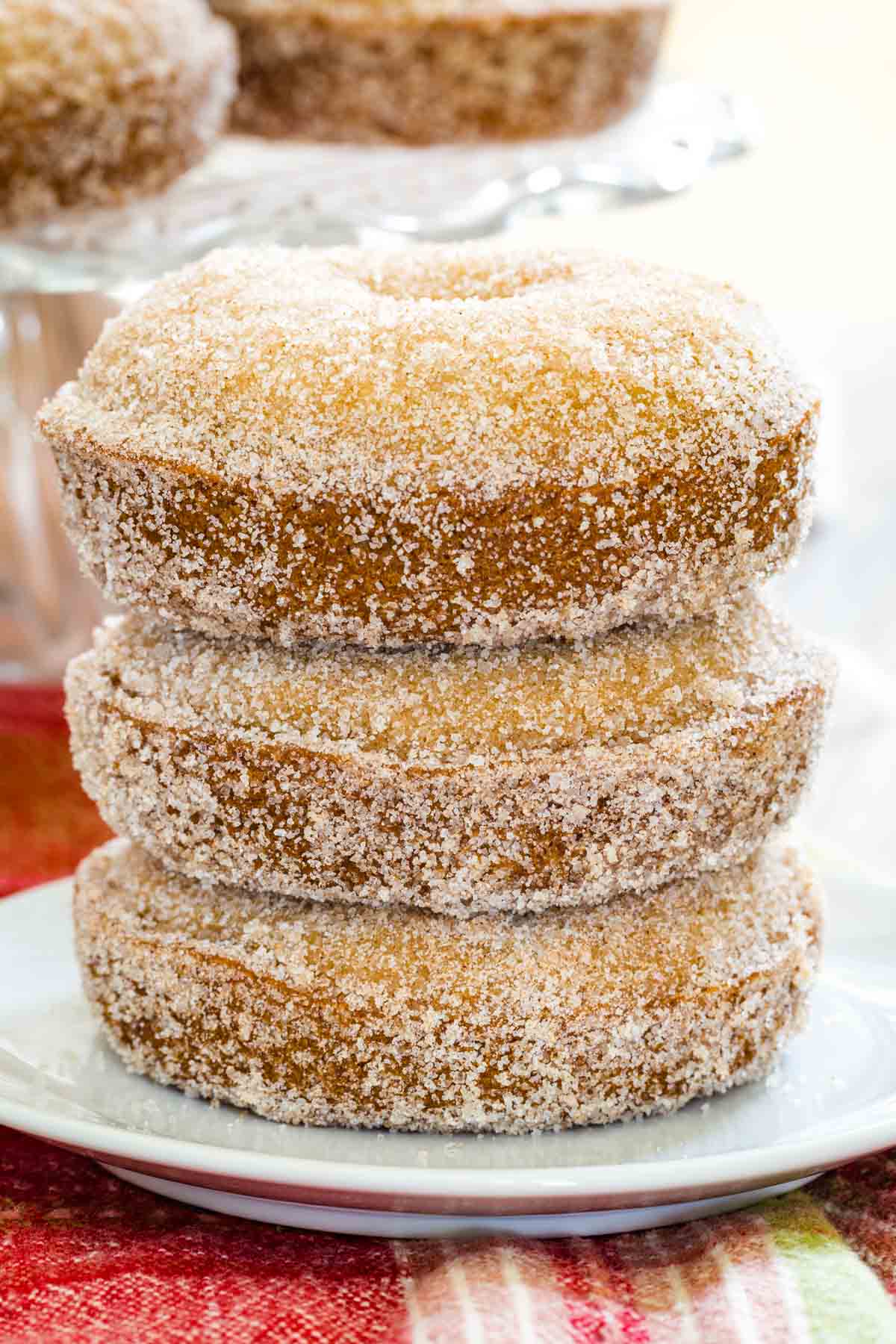 Shop the Recipe
Once you get your hands on a donut pan, you'll be ready to bake these irresistible Apple Cider Donuts, plus all the gluten free donuts your heart desires. I have this 2-Pack of Donut Pans from Bellemain so that I can bake the full batch of 10-12 donuts at one time. The non-stick surface means that with a light coat of cooking spray, they slide out like a dream.
$18.99
in stock
as of Dec 7, 2023 1:58 am
Last updated on Dec 7, 2023 1:58 am
More Crave-Worthy Gluten Free Donuts to Try
Now I know you are ready to make baked donuts all the time. So here are some recipes you'll enjoy: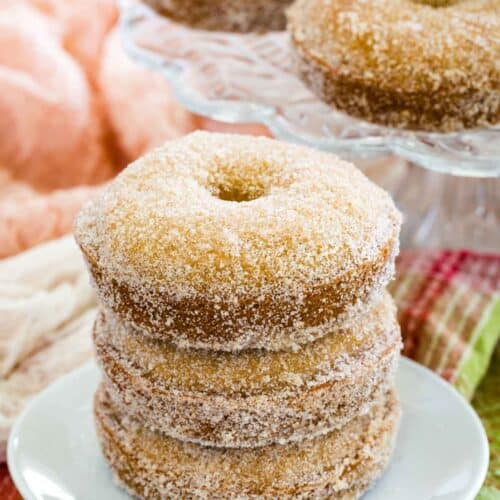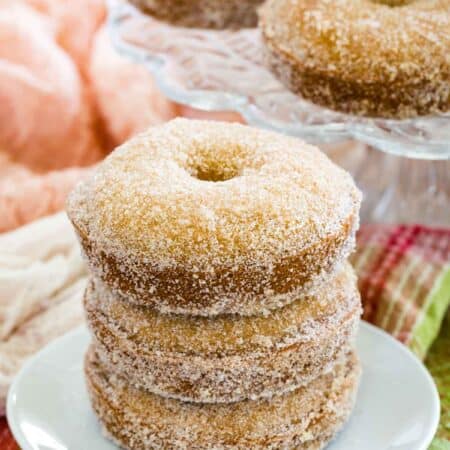 Gluten Free Apple Cider Donuts
Soft, homemade Gluten Free Apple Cider Donuts are the ultimate sugary treat made with gluten-free flour and dusted with cinnamon sugar. These homemade donuts and a hot cup of coffee are a cozy taste of fall!
Ingredients
For the Donuts:
1

cup

1:1 gluten free flour

(I recommend Bob's Red Mill 1-to-1)

1/2

cup

oat flour

certified gluten free, if needed

1/2

cup

granulated sugar

1

tsp

baking powder

1/2

tsp

baking soda

1/2

tsp

cinnamon

1/8

tsp

salt

1/3

cup

apple cider

1/4

cup

unsweetened applesauce

1/4

cup

vegetable oil

such as canola, avocado, or safflower

1

large

egg

3/4

tsp

vanilla extract
For the topping:
4

tbsp

unsalted butter

melted

1/2

cup

granulated sugar

1

tsp

cinnamon
Instructions
Preheat the oven to 350°F. Spray two standard-sized donut pans with nonstick cooking spray.

Into a large mixing bowl, sift together the flour, sugar, cinnamon, baking powder, baking soda, and salt.

In another bowl, combine the apple cider, applesauce, oil, eggs, and vanilla extract. Whisk together until combined.

Add the wet ingredients to the dry and whisk until just combined. Be careful not to overmix.

Divide the batter between 10-12 wells of a donut pan, approximately 1/4 cup in each. You do not want to cover the middle that forms the donut hole. Tap the pan on the counter to help release some of the air bubbles.

Bake for 10-15 minutes or until a toothpick comes out clean in the center. Allow donuts to cool in the pan for 5-10 minutes before turning them out onto a wire rack.

While it cools, mix the sugar and cinnamon together for the topping.

Brush the donuts with melted butter, roll in the cinnamon sugar, coating all sides as best as possible.

Serve warm or at room temperature.
Notes
You can buy oat flour or make it by pulsing oats in a blender until it forms a fine powder.
Recipe makes 11-12 donuts. If you make only 10 or 11, they will puff up higher in the pan.
Nutrition Facts
Gluten Free Apple Cider Donuts
Amount Per Serving
Calories 245
Calories from Fat 108
% Daily Value*
Fat 12g18%
Cholesterol 31mg10%
Sodium 94mg4%
Potassium 86mg2%
Carbohydrates 35g12%
Protein 3g6%
Vitamin A 170IU3%
Vitamin C 0.1mg0%
Calcium 37mg4%
Iron 1mg6%
* Percent Daily Values are based on a 2000 calorie diet.