This post may contain affiliate links. Read my disclosure policy.
Mixed Berry Baked Oatmeal is an easy and healthy breakfast recipe bursting with your favorite fresh berries! This oatmeal bake has only a few ingredients and you can put it together in minutes for a holiday gluten free brunch dish. Or bake it ahead to meal prep breakfasts you can reheat all week.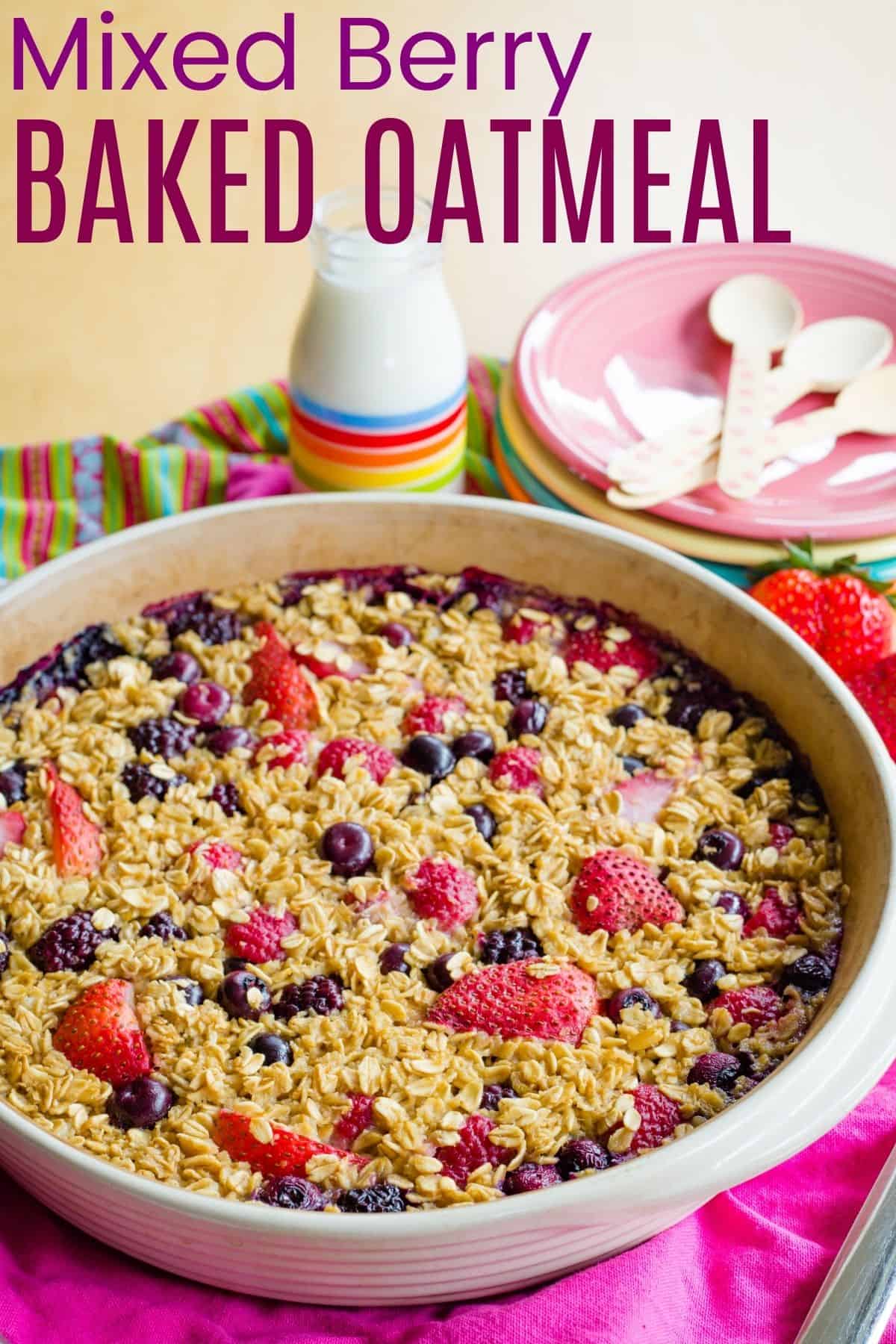 We all have to admit, there are plenty of things that should have been left in the eighties. I'm talking about big hair shellacked into place with aerosol hairspray, tight-rolled jeans with multiple pairs of multi-colored socks, and, you know, Jazzercise.
Do you know what should not have been left behind in the day-glow decade?
My Little Pony!
Those adorable colorful ponies with flowing manes and tails and cute designs on their hindquarters are back. These are literally the days that I do still kinda wish I had a girl. Not that boys can't play with ponies, but my boys are the boy-est boys of all boys. If I so much as suggest a princess movie or a book with a girl as the main character, you'd think I was telling them to take up window-washing as a hobby.
But I am loving all of the fun My Little Pony toys and other fun stuff you see everywhere now. And I love that a whole new generation gets to enjoy them too!
About the My Little Pony Baking Book cookbook
And who better to take inspiration from the prettiest ponies in the land to create fun and tasty treats than Christi Johnstone from the blog Love From the Oven, where she shares all sorts of fun and delicious goodies.
Christi is taking you on a trip to Sugarcube Corner and baking up all sorts of beautiful and colorful creations inspired by the magic of My Little Pony. And she encourages you to get in the kitchen and make these sweet treats with your kiddos. The book starts off with pointers for parents to get kids in the kitchen and safety rules for the kids. Plus there are plenty of baking basics for beginners from tips for measuring, tricks for decorating, and all kinds of information on ingredients and equipment.
The My Little Pony Baking Book is filled with fun and easy desserts. Whether you are looking for an activity to do with the kids on a Saturday or over summer vacation or they want to start creating on their own in the kitchen. Or maybe you are working together on planning a pony-themed rainbow birthday party. From Chocolate Dream Pie to Peanut Butter Candy Cookies, Lemon Cake with Lemon Glaze to Out-of-this-World Brownies, Pinata Cupcakes to a towering rainbow-colored Magic Mix Cake.
And there are also breakfast and healthier snack options, like granola bars, muffins, cornbread. And then there's this easy baked oatmeal with fruit.
Mixed Berry Oatmeal Bake
With only a handful of ingredients and a few minutes of work, you can have breakfast for the week or brunch for a crowd. Sweet and bursting with berries, but packed with whole grain oats and naturally gluten free, you can't go wrong with this make-ahead dish. And you probably have most of the ingredients you need in your refrigerator and pantry.
Then just stop by the grocery store or farmers market to pick up your favorite berry, or use a mix of strawberries, blueberries, blackberries, or raspberries (or all of the above) for a colorful and flavorful dish.
Ingredients
Old-fashioned oats – NOT instant or quick oats
Baking powder
Salt
Milk
Maple syrup – I always recommend using real maple syrup, not pancake syrup
Egg
Vanilla
Berries – strawberries, blueberries, blackberries, raspberries, or a mix of all of your favorite berries
Directions
Preheat oven to 375°F and spray a 2-quart baking pan with nonstick cooking spray.
Wash and dry berries, and cut larger berries.
Combine oats, baking powder, and salt in a bowl and mix to combine.
Add milk, syrup, egg, and vanilla and mix well.
Stir in berries.
Pour mixture into prepared baking dish.
Bake 20-25 minutes and cool for 10 minutes prior to serving.
Serve in a bowl and top individual servings with milk, if desired.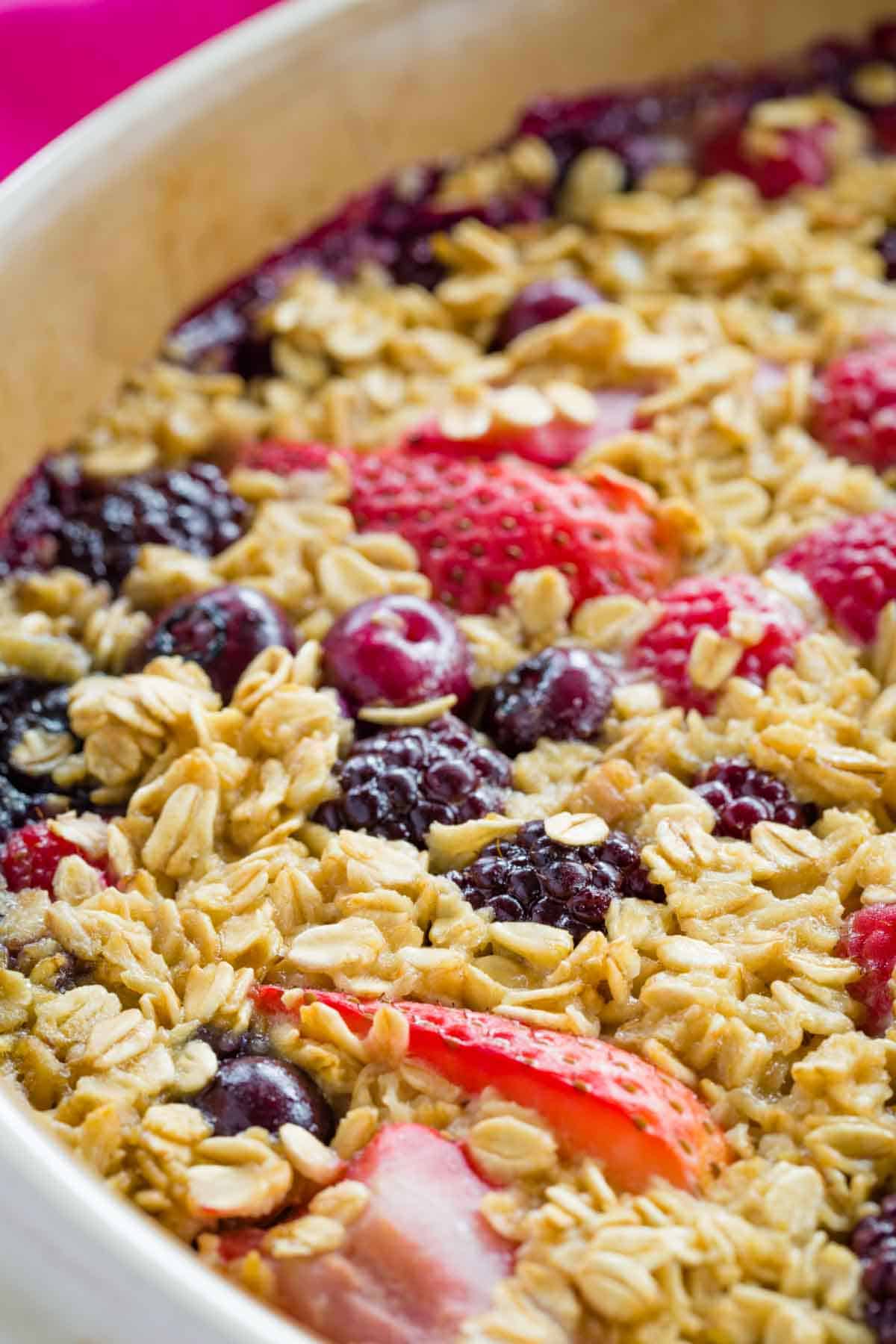 Frequently asked questions about baked oatmeal
Can you make this recipe ahead of time?
Yes, this baked oatmeal recipe can be made ahead of time. If you are planning to serve it for a larger gathering, you can bake it the day before. Just pull it out of the oven a few minutes before it is completely set. Then just before serving you can pop the entire baking dish in the oven to heat it through. Again you'll preheat the oven to 350°F. Then heat it up for about 10-15 minutes, depending on whether it is cold or if you have let it come to room temperature.
It will also last in the fridge all week. So bake it up over the weekend. Then each morning you can scoop a serving into a bowl and heat it up for a minute or two in the microwave. Drizzle it with a little milk or even an extra bit of maple syrup. You'll have a warm, cozy breakfast even on busy mornings. You can keep in in the refrigerator for up to 5 or 6 days.
Is baked oatmeal healthy?
Oats are a whole grain and a great way to get insoluble fiber in your diet. This is shown to reduce cholesterol and blood sugar and helps with digestion. They have high levels of many vitamins and minerals. And, among many other health benefits, they are very filling and can help promote weight loss.
Berries are also rich in antioxidants and fiber and have their own set of health benefits. One might be concerned about sugar. However, this recipe is sweetened only with a small amount of pure maple syrup. While it does add calories, it is better than refined white sugar. Just be sure to consume it in moderation.
Is oatmeal gluten free?
Gluten Free Disclaimer: I am not a medical professional. This information is solely based on my research and personal experience, and I provide it as a courtesy to my readers. Please consult your doctor or medical professional for any questions as it relates to your needs, particularly if you have celiac disease or a severe gluten allergy or intolerance. Products, manufacturing facilities, and ingredients change frequently, so you should always contact the manufacturer for the latest information.
Oats are not a gluten-containing grain. The grains that contain gluten are wheat, barley, and rye. However, oats are often grown in fields where one of those grains had previously been grown, or near where they are currently growing. Also, oats are often processed in a facility that also handles wheat, barley, or rye.
Therefore, those with celiac disease or a severe intolerance typically cannot consume most oats commercially available. Those folks will want to ensure they purchase certified gluten free oats to make this gluten free baked oatmeal. And in some cases, they are still sensitive to those oats. So always be sure to speak with your doctor if you are unsure about whether you can eat oats.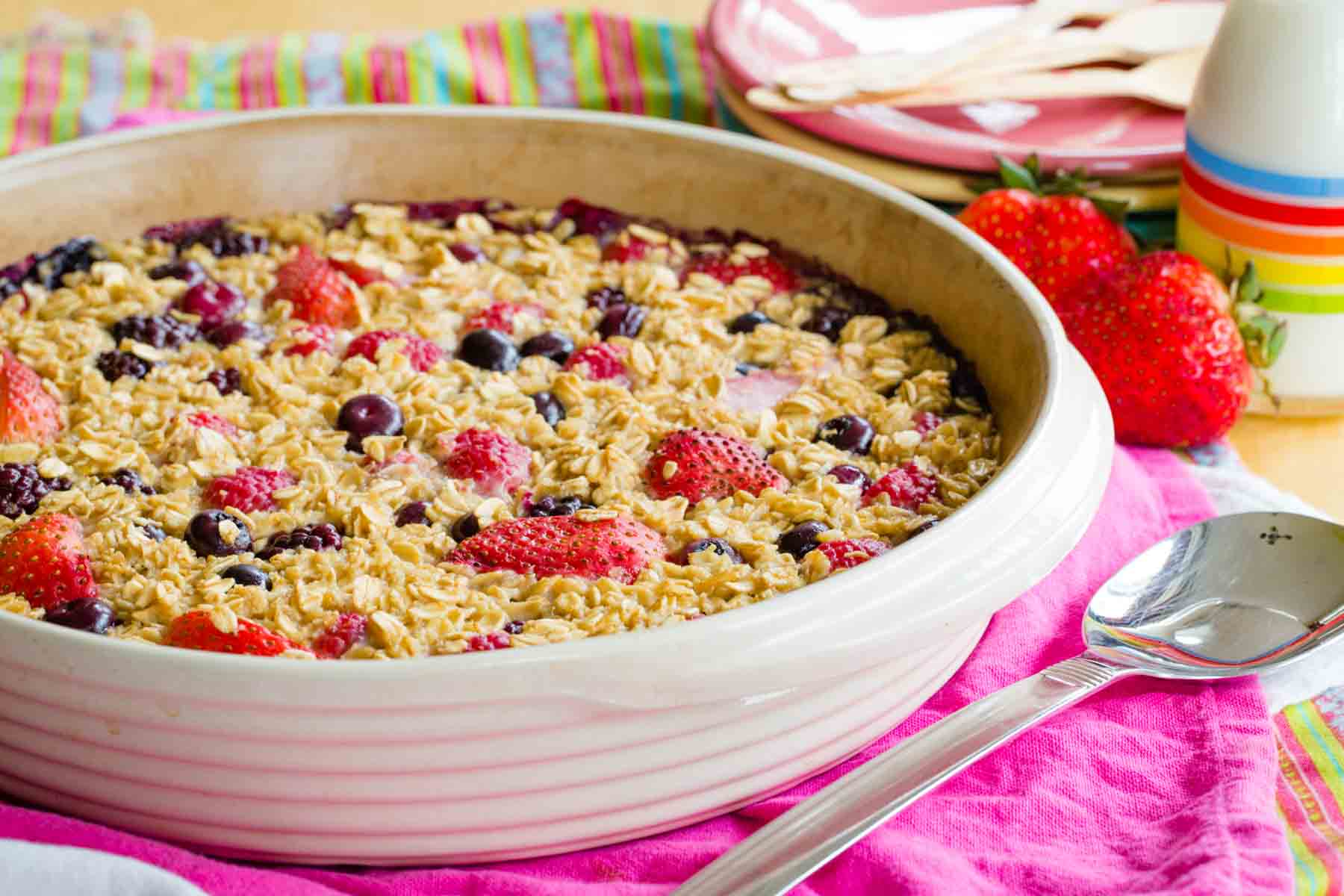 More rainbow treats to make with the kids
Mixed Berry Baked Oatmeal Recipe
I hope you'll leave a comment and give it a FIVE STAR rating or share a review on Pinterest or photo on Instagram!
Tag me @cupcakekalechip and use #cupcakesandkalechips!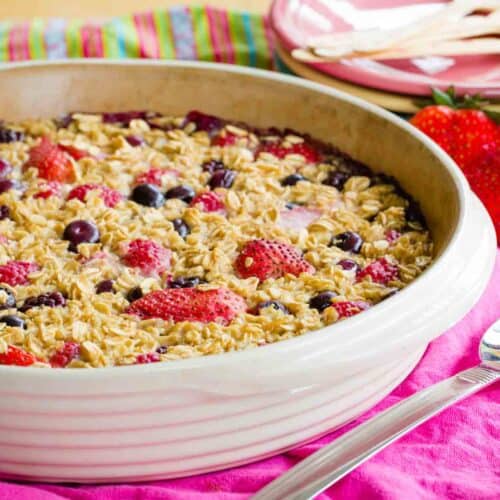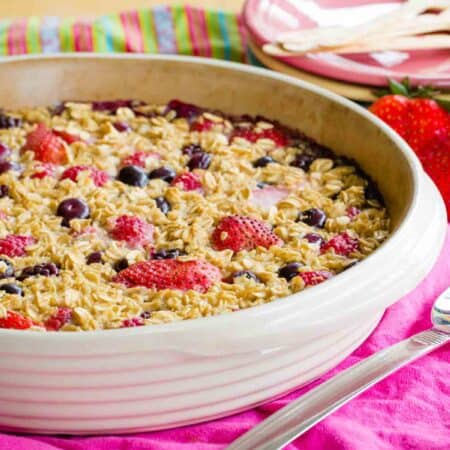 Mixed Berry Baked Oatmeal
An easy recipe that will make your breakfast and brunch dreams come true! Filled with your favorite fresh berries, you can put it together in minutes for a holiday or special occasion, or bake it ahead and reheat it for breakfasts all week!
Ingredients
2

cups

old-fashioned rolled oats

1 1/2

teaspoons

baking powder

1/2

teaspoon

salt

1 1/2

cups

milk

1/4

cup

real maple syrup

1

large egg,

beaten

2

teaspoons

vanilla extract

2

cups

mixed berries,

washed, dried and cut
Instructions
Preheat oven to 375°F. Spray a 2-quart baking pan with nonstick cooking spray. Set aside.

In a medium bowl, combine oats, baking powder, and salt. Mix well to combine.

Add milk, syrup, egg, and vanilla. Mix well to combine. Gently stir in berries.

Pour mixture into prepared baking pan and bake 20-25 minutes.

Cool for 10 minutes prior to serving.

If desired, serve in a bowl and top individual servings with milk.
Nutrition Facts
Mixed Berry Baked Oatmeal
Amount Per Serving (1 serving)
Calories 140
Calories from Fat 27
% Daily Value*
Fat 3g5%
Cholesterol 21mg7%
Sodium 158mg7%
Potassium 233mg7%
Carbohydrates 25g8%
Protein 4g8%
Vitamin A 80IU2%
Vitamin C 0.8mg1%
Calcium 101mg10%
Iron 1mg6%
* Percent Daily Values are based on a 2000 calorie diet.
Categories:
Enjoy!