This post may contain affiliate links. Read my disclosure policy.
Good Morning!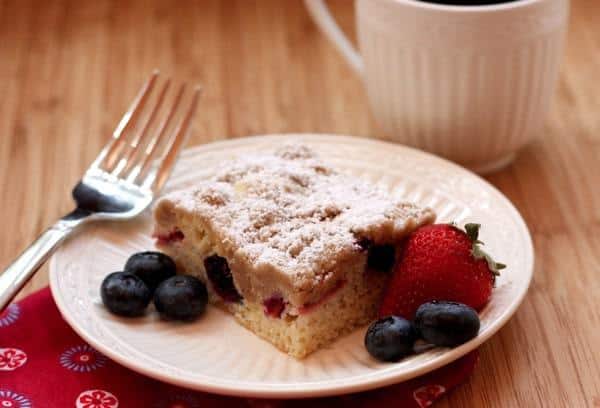 And Happy 4th of July!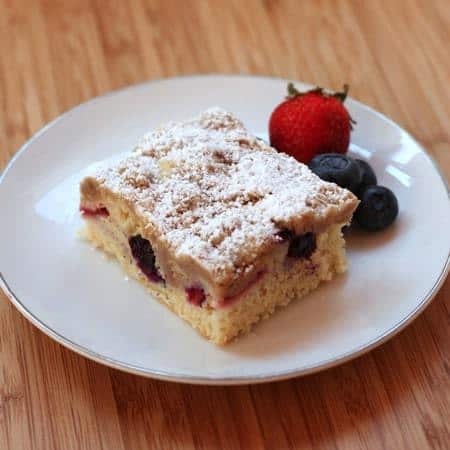 I am sorry that you don't have a piece of this for your holiday breakfast.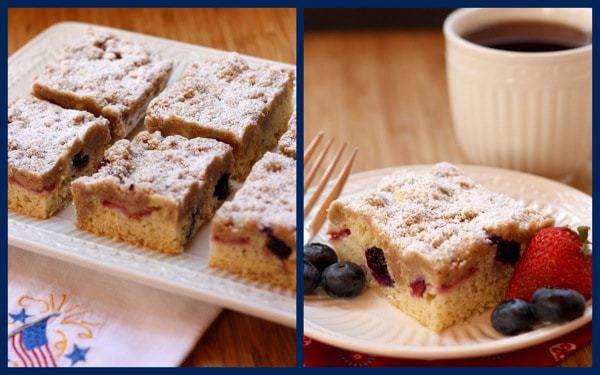 Truth be told, I am sorry I don't have a piece of it, myself. It was actually devoured weeks ago.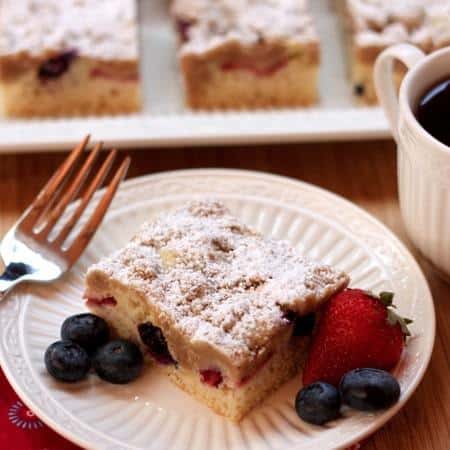 So a little about the role crumb cake has played in my life. When I was little, I remember my mom always buying the Entenmann's Crumb Cake for breakfast, usually as a treat on a Saturday or a Sunday. Our other special breakfast was Pillsbury Cinnamon Rolls – oh man, I haven't had one of those in ages. And they used to have ones with orange frosting. Mmmm, I can smell them now.
But I digress. Crumb Cake. Whenever a slice of the Entenmann's crumb cake was cut and removed from the pan, some crumbs would fall off. I was known to stick my little fingers in the box and grab the stray crumbs. Then I discovered what I guess is considered New York-style crumb cake. Meaning – would you like a little cake with your massive pile of crumbs? The bagel shop down the street makes some really amazing crumbs with a small layer of cake supporting them, as does the bagel shop by my mom's. My stepfather's usual Sunday routine is to go pick up a bagel and egg sandwich for himself, bagels for anyone who is around, and a big slab of the crumb cake for my mom. Wheat allergy be darned, if there is some of that stuff lying around, you can forget it. You might as well call it Crack Cake. Hmm, maybe the powdery, white substance generally sprinkled over the top isn't confectioners sugar after all…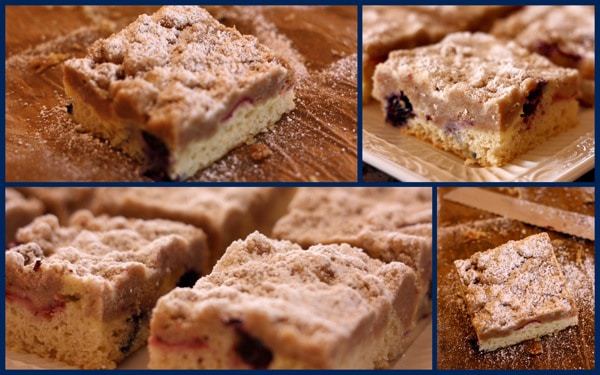 Several years ago, I found Martha Stewart's recipe for New York Crumb Cake and made it for my family for Christmas. It disappeared so fast, I can't even tell you. I have made it a number of times since then, always with the same result. Then a couple of months ago, I had the idea of adding cream cheese and berries. I also tried doubling the crumbs, because, well, duh! But between the 47 3 sticks of butter, the moisture from the berries, and the gooeyness of the cream cheese, the middle never really set up, and the edges were done and would soon start getting dry. When I brought it to a brunch, along with these muffins, I could only bring the edges. Of course, the ladies all loved it as-is, but about half of the cake was a pile of mush in a tupperware in my fridge. (Umm, yeah, I may have had a piece of that. Salmonella – whatever!)
So while you won't have this for your July 4th breakfast this year, I still thought it would be fun to share for the Holiday Recipe Club. The Holiday Recipe Club is a blog hop centered around holiday recipes, and trying to inspire people to come up with something different than their usual holiday fare. So each month, participants are given a list of a few ingredients. They must then come up with a holiday recipe that contains at least one of the ingredients. At the bottom of this post, you'll find links to all of the other participants.
For the 4th of July, our ingredients to choose from were Blueberries, BBQ Sauce, and Whipped Cream. I have been thinking about fancying up the Martha Stewart Crumb Cake recipe for awhile, and this was just the time – blueberries as a required ingredient, patriotic color scheme, and my crumb-cake-loving family all visiting just a couple of weeks before it was time to post. Plus, this isn't one of those star-spangled red, white & blue desserts that really only seem appropriate on one of the actual patriotic holidays. This is wonderful any day. Oh, and I am sure it would not be awful topped with another one of this month's ingredients – and no, I don't mean the BBQ sauce.
So put that can of cinnamon rolls back in the fridge, and make some of this crumb cake. It may take a little more time, but your kitchen will smell just as good, and the results are well worth it. Your kids, parents, spouse, cousins, friends will love you just as much as I love my mom when I saw the Entenmann's box or smelled the Pillsbury cinnamon rolls. Maybe more.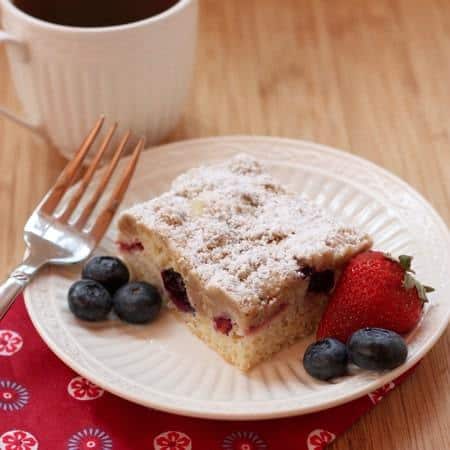 What did your mom or dad make as a special breakfast when you were a kid? What do you make for your children?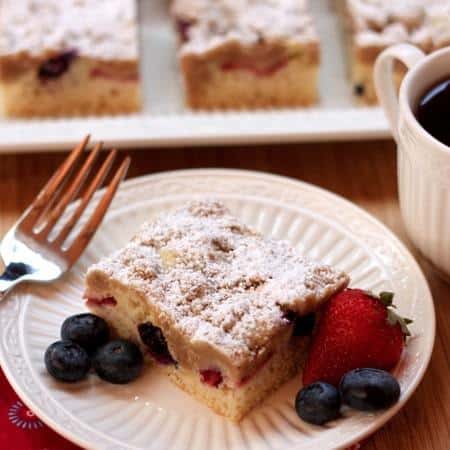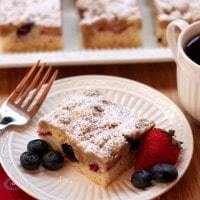 Red, White & Blueberry Crumb Cake
Ingredients
For the crumb topping:
2 1/2

c

all-purpose flour

1

c

packed light-brown sugar

1 1/2

t

ground cinnamon

1

cup

unsalted butter, melted and cooled

(2 sticks)
For the cream cheese layer:
4

oz.

regular or light cream cheese

at room temperature

1

egg yolk

1/4

c

powdered sugar

1/2

t

vanilla
For the berry layer:
1

t

flour

1/2

c

blueberries

1/2

c

sliced strawberries
For the cake:
2

tablespoons

canola oil

1 1/2

c

all-purpose flour

1/2

c

granulated sugar

2 1/2

t

baking powder

1/2

t

salt

1

large egg

1/2

c

milk

2

t

pure vanilla extract
<br>
Confectioners' sugar

for dusting
Instructions
For the crumb topping:
In a medium bowl, combine the 2 1/2 c flour, brown sugar, and cinnamon.

Pour melted butter over the flour mixture, and toss together until large crumbs form.

Set aside.
For the cream cheese layer:
Combine all of the ingredients in a small bowl and stir until smooth.

Set aside.
For the berry layer:
Toss the blueberries with the flour, and set both the blueberries and sliced strawberries aside.
For the cake:
Preheat oven to 325°F.

Spray a 9x13 in. pan with cooking spray or line with parchment paper. Set aside.

In a medium bowl, sift together 1 1/2 cups flour, granulated sugar, baking powder, and salt.

In a separate bowl, whisk together egg, milk, canola oil, and vanilla.

Using a rubber spatula, fold dry ingredients into the wet ingredients.

Spread batter into the prepared pan (batter will be thick).

Spread the cream cheese mixture over the batter.

Distribute the strawberry slices and blueberries over the cream cheese layer.

Sprinkle crumb mixture over the berries, leaving some large chunks.

Bake for 20-25 minutes, or until set in the middle.

Cool completely in the pan, and dust with confectioners' sugar.

Cut with a serrated knife.
Enjoy!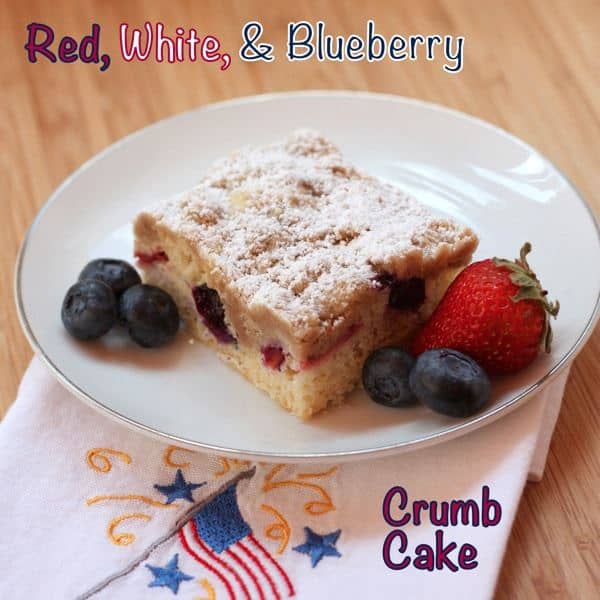 Make sure you check out the other 4th of July recipes with Blueberries, BBQ Sauce, and Whipped from from the Holiday Recipe Club!

'); // ]]> This recipe was shared with: