This post may contain affiliate links. Read my disclosure policy.
This scrumptious gluten free Red White and Blueberry Crumb Cake tastes just as incredible as your house smells as it bakes! This patriotic breakfast coffee cake with red strawberries and juicy blueberries is perfect for the Fourth of July, but can also be enjoyed any day!
Scrumptious Red White and Blue Breakfast Cake
Years ago, I found Martha Stewart's recipe for New York Crumb Cake and made it for my family for the holidays. The house smelled amazing and it disappeared so fast, I can't even tell you. I've made my gluten-free version a number of times since then, always to the same end!
This time I've added a cream cheese layer along with juicy red strawberries and plump, ripe blueberries for the ultimate summertime dessert. The color scheme of this crumb cake happens to be super fitting for 4th of July celebrations. While it isn't one of those star-spangled red, white, and blue desserts that really only seem appropriate on patriotic holidays, this blueberry crumb cake is still great at Fourth of July cookouts.
My crumb-cake-loving family always gobbles it up. This runs in the family. When I was little, my mom would buy Entenmann's Crumb Cake for breakfast, usually as a weekend treat. I was known to stick my little fingers in the box and grab the stray crumbs! I still do with this crumb cake, and luckily there's plenty of crumbs to go around.
Is Crumb Cake the Same As Coffee Cake?
Similar, but not the same! So what's the difference between a crumb cake and a coffee cake? While the cake layers are a lot alike, the difference lies mainly in the streusel/crumb topping. Coffee cakes have less, while a crumb cake has a thicker layer of crumbs.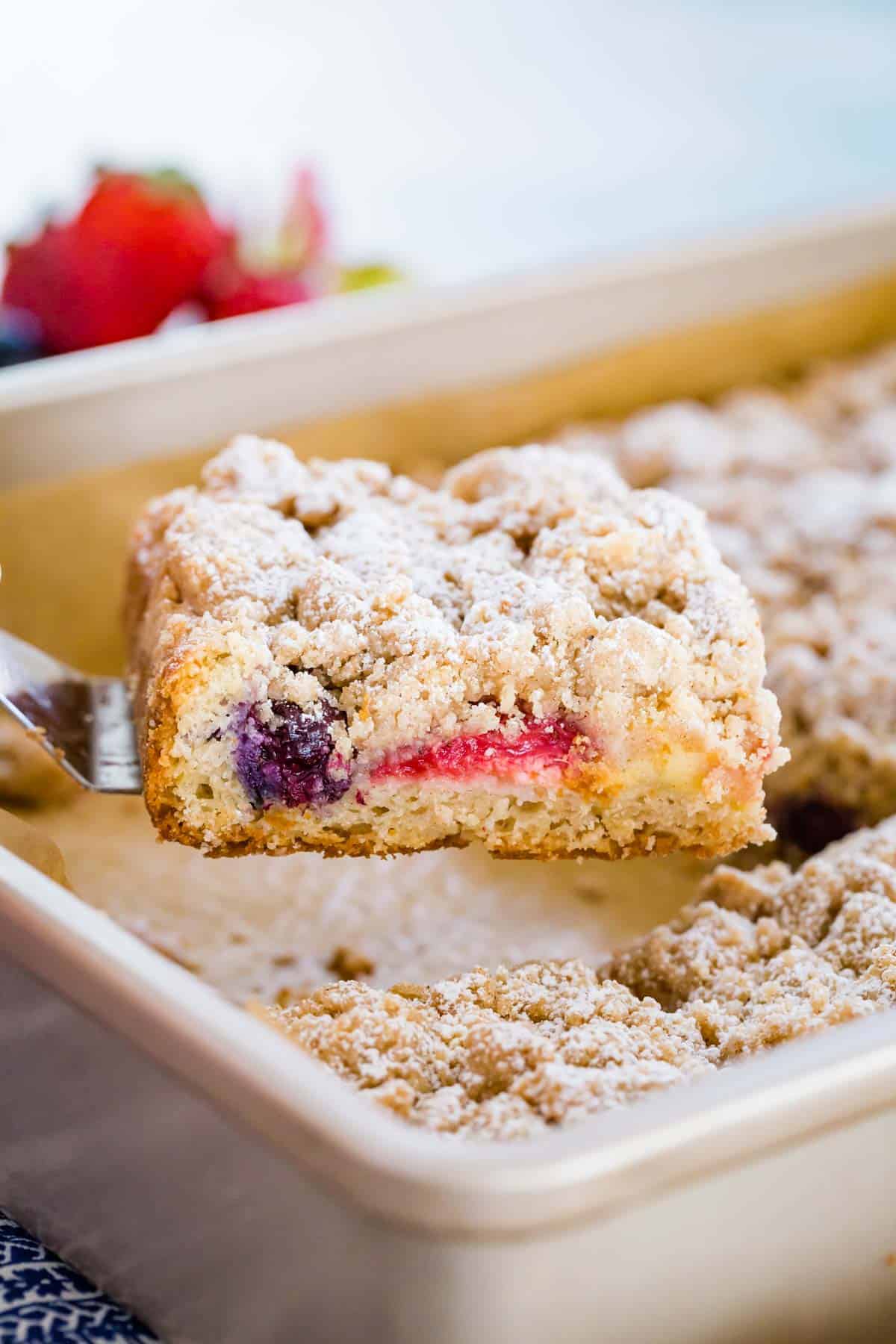 What You'll Need
This crumb cake comes together in four easy layers: a tender cake followed by a moist cream cheese layer, a berry layer, and crumb topping. Here are the ingredients you'll need (below is an overview, don't forget to check the recipe card for full amounts!):
For the Crumb Topping:
Gluten Free Flour: I recommend using a 1:1 gluten free flour blend, like the one from Bob's Red Mill. You'll need it for the crumb, the berries, and the cake!
Brown Sugar: I use light brown sugar in my crumb, but you can use dark brown sugar if you prefer a more caramelized flavor.
Cinnamon: A couple teaspoons of ground cinnamon brings a delicious warmth to the streusel.
Butter: Unsalted butter that's been melted and cooled.
For the Cream Cheese and Berry Layer:
Cream Cheese: Regular or light cream cheese, your choice! Remember to take it out of the fridge ahead of time so that it can come to room temperature.
Egg Yolk: One egg yolk lends just the right amount of richness to the cream cheese layer.
Powdered Sugar: It wouldn't be a sweet cream cheese without a little sugar! Powdered sugar blends into a smooth texture. Save some for dusting the finished cake!
Vanilla Extract: For the most natural flavor use pure vanilla extract, as opposed to imitation vanilla.
Blueberries and Strawberries: Rinse and dry your berries, and then cut the strawberries into slices. You'll toss the blueberries in some flour to keep them from bleeding their color!
For the Cake:
Oil: Canola oil, or another neutral-flavored oil gives the cake extra moisture and tenderness.
Gluten Free Flour
Sugar: I use regular granulated sugar for a crumb cake with a lighter color and flavor.
Baking Powder: For leavening.
Salt
Egg
Milk: I use whole milk, but you could also make this recipe with skim, or a dairy alternative like oat milk.
Vanilla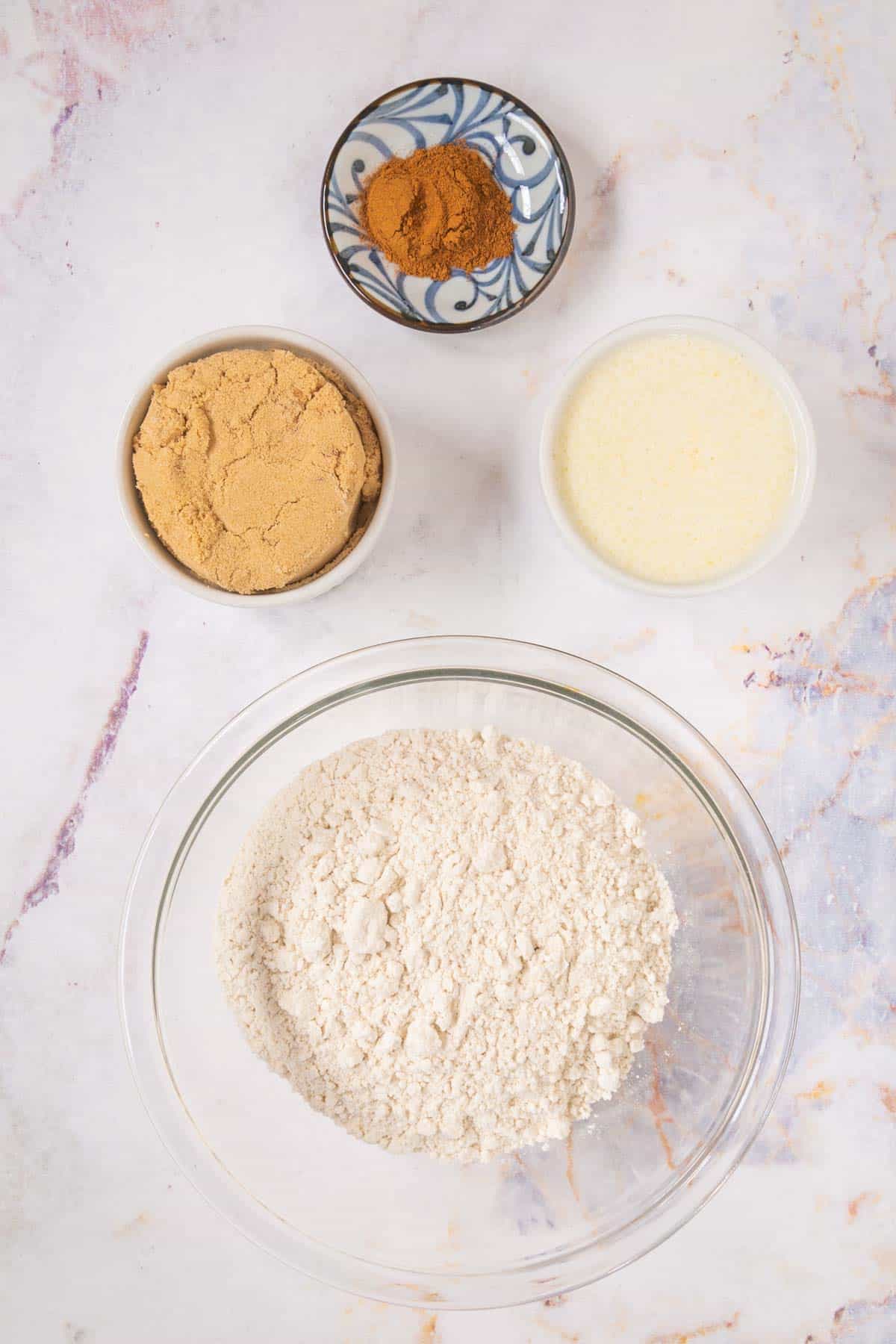 How to Make Red White and Blueberry Crumb Cake
Have a 9×13-inch baking pan greased and ready, and your oven preheated. It's time to make some crumb cake!
Make the Crumb Topping: Whisk together the flour, sugar, and cinnamon, then pour in the melted butter. Cut the butter into the flour mixture until you have large, chunky crumbs, then set aside.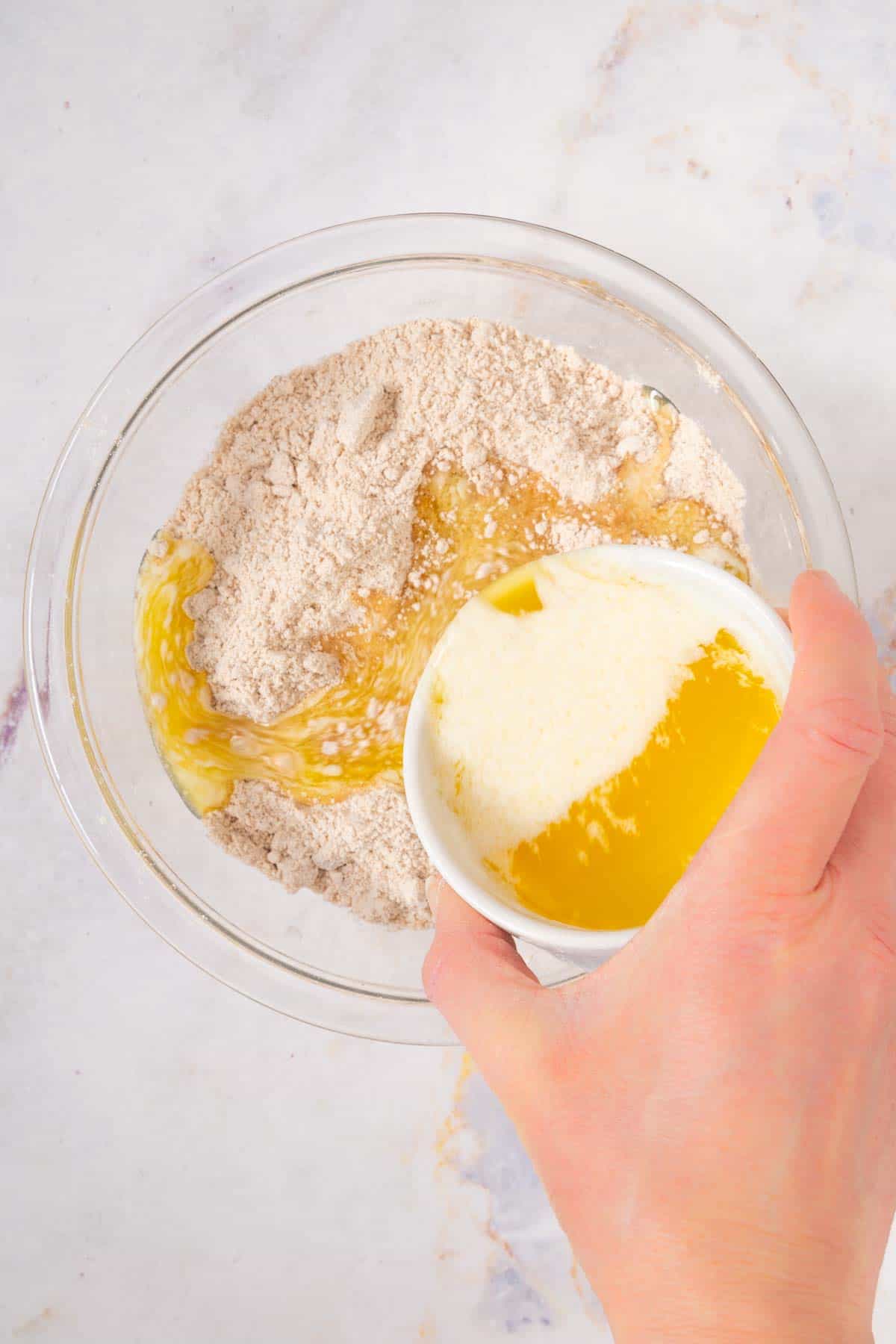 Prepare the Cream Cheese and Berries: Combine all the sweet cream cheese ingredients together in a bowl until smooth. Toss your blueberries in a bit of flour and set them aside for now.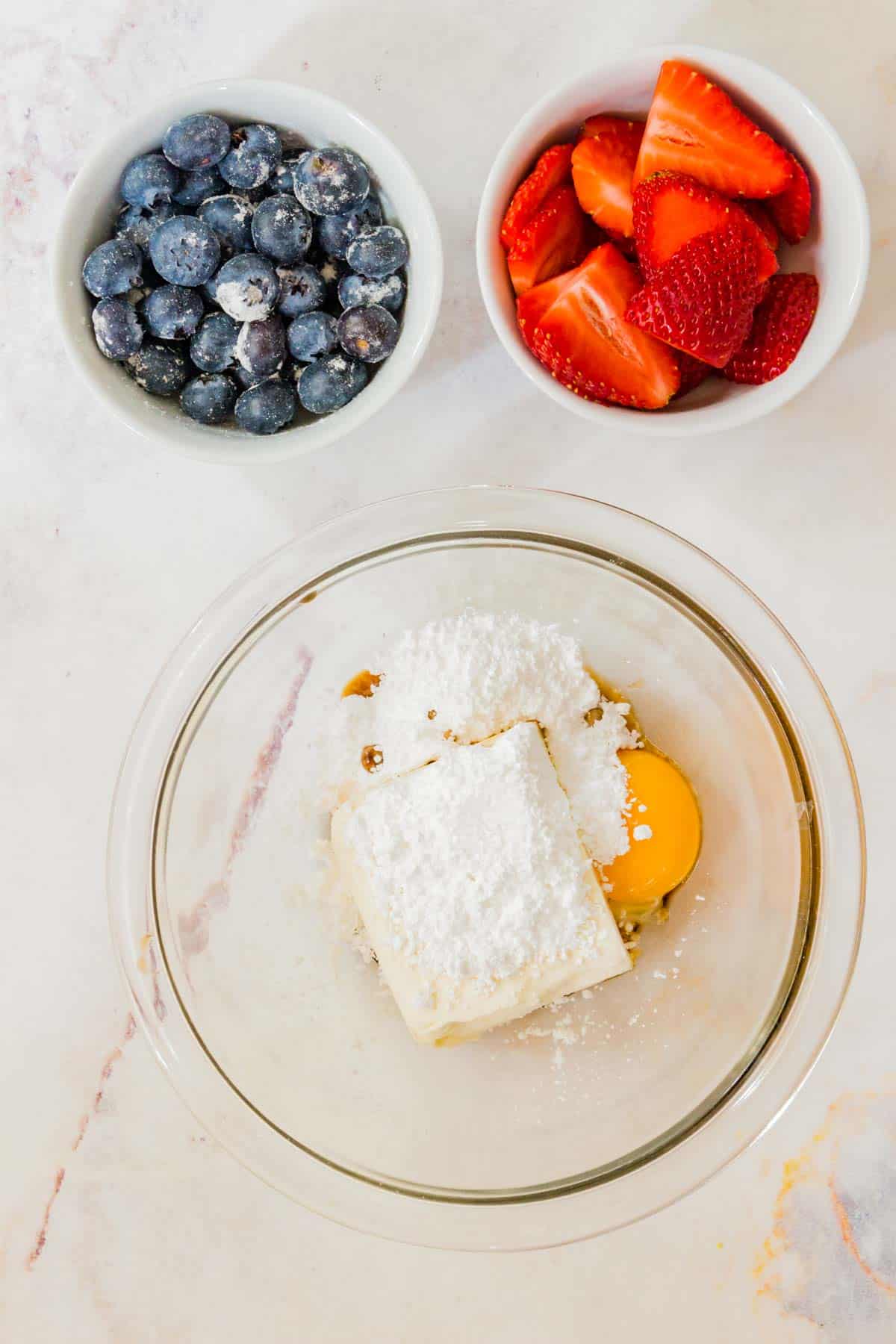 Make the Cake Batter: Combine the flour and dry ingredients, and the wet ingredients separately. Add the flour mixture into the wet ingredients, this should form a thick batter that can then be spread into the bottom of your prepared baking pan.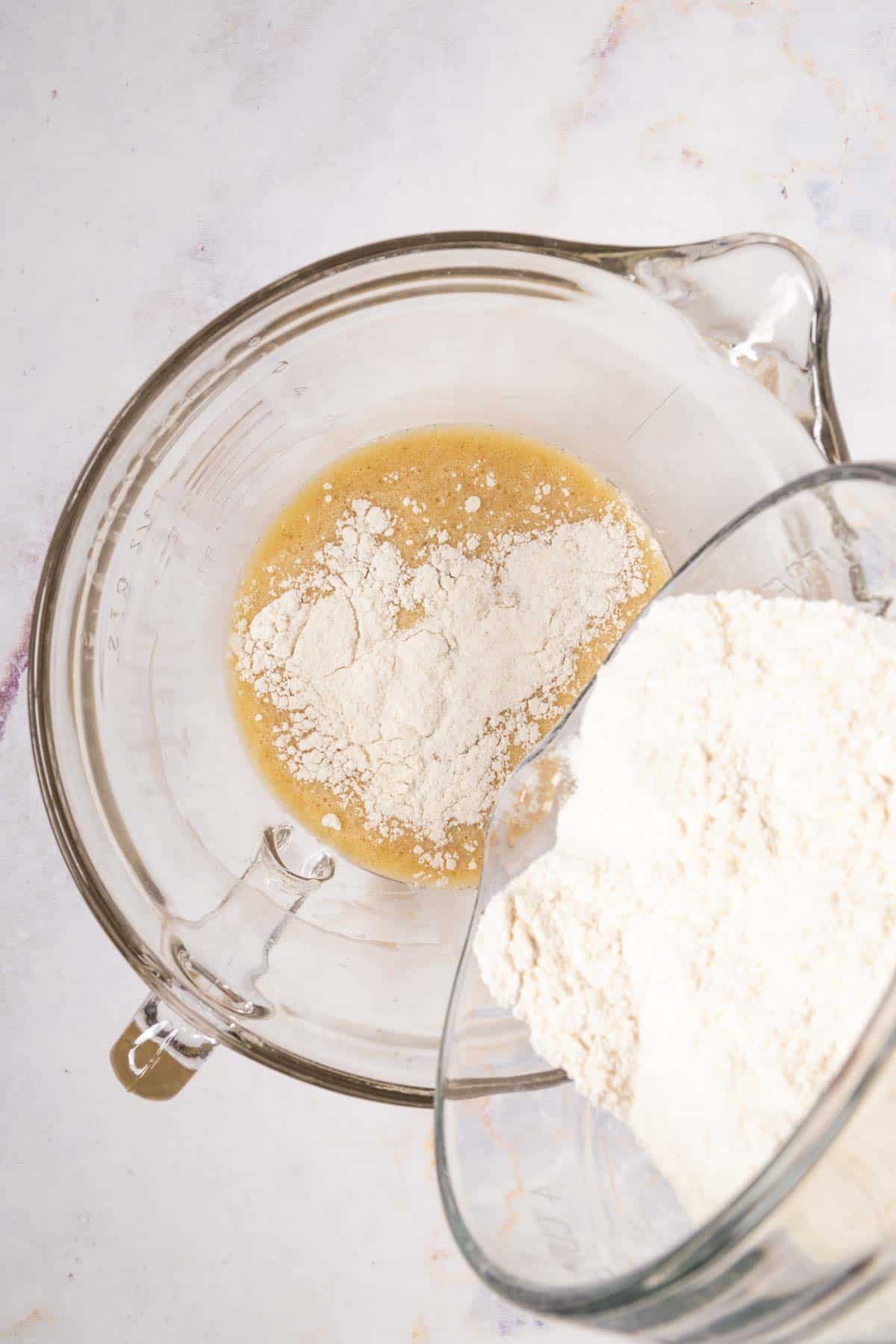 Assemble: Smooth a layer of cream cheese mixture over the batter. Follow this up by scattering the strawberry slices and blueberries over top. Lastly, sprinkle on the crumb topping. Don't worry if some chunks are larger than others – that's the point!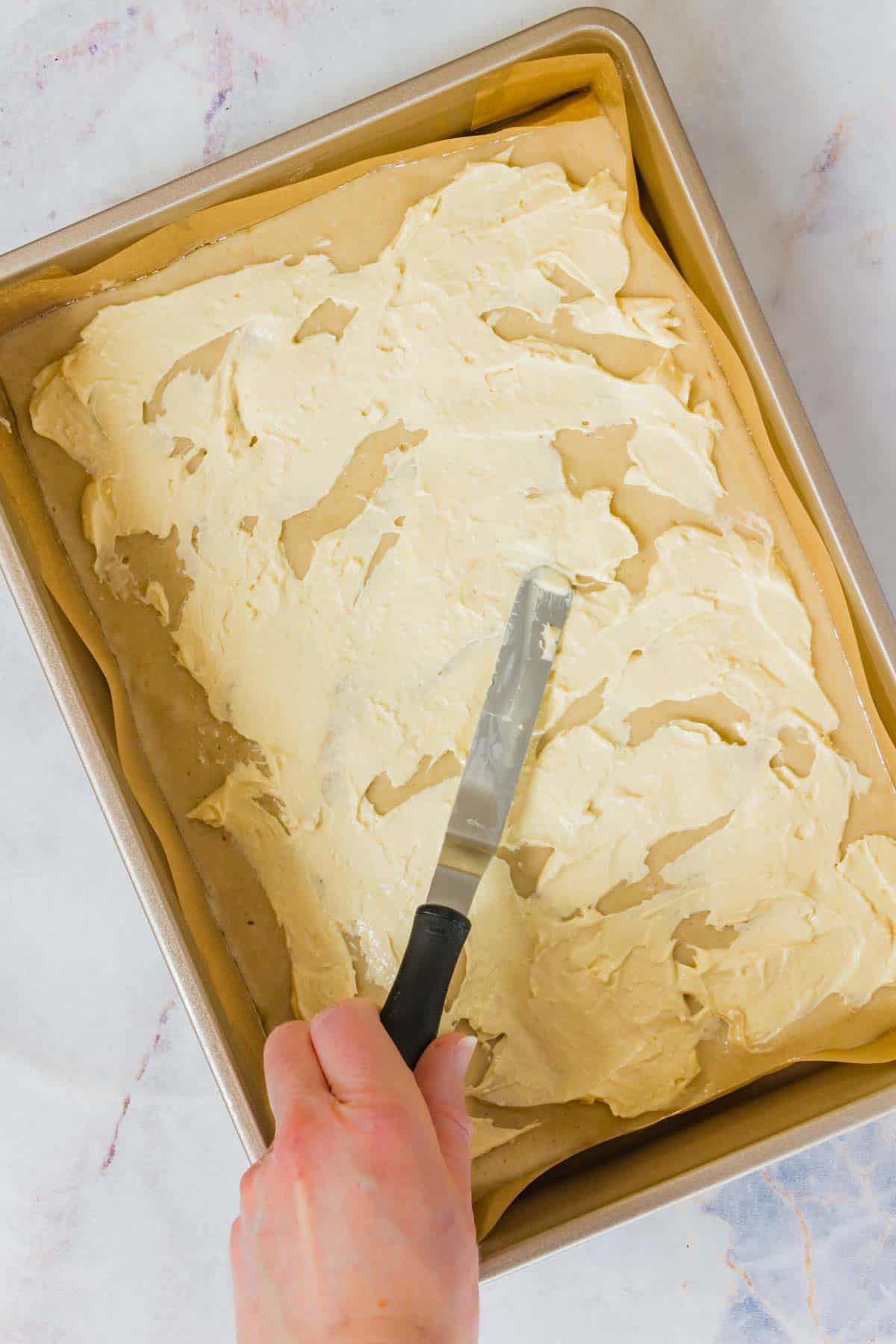 Bake: Bake the crumb cake in a 325°F, rotating the pan about 10 minutes into the baking time. The cake is done when a toothpick stuck into the center comes out clean. Once the cake is out of the oven, leave it to cool completely before dusting with powdered sugar.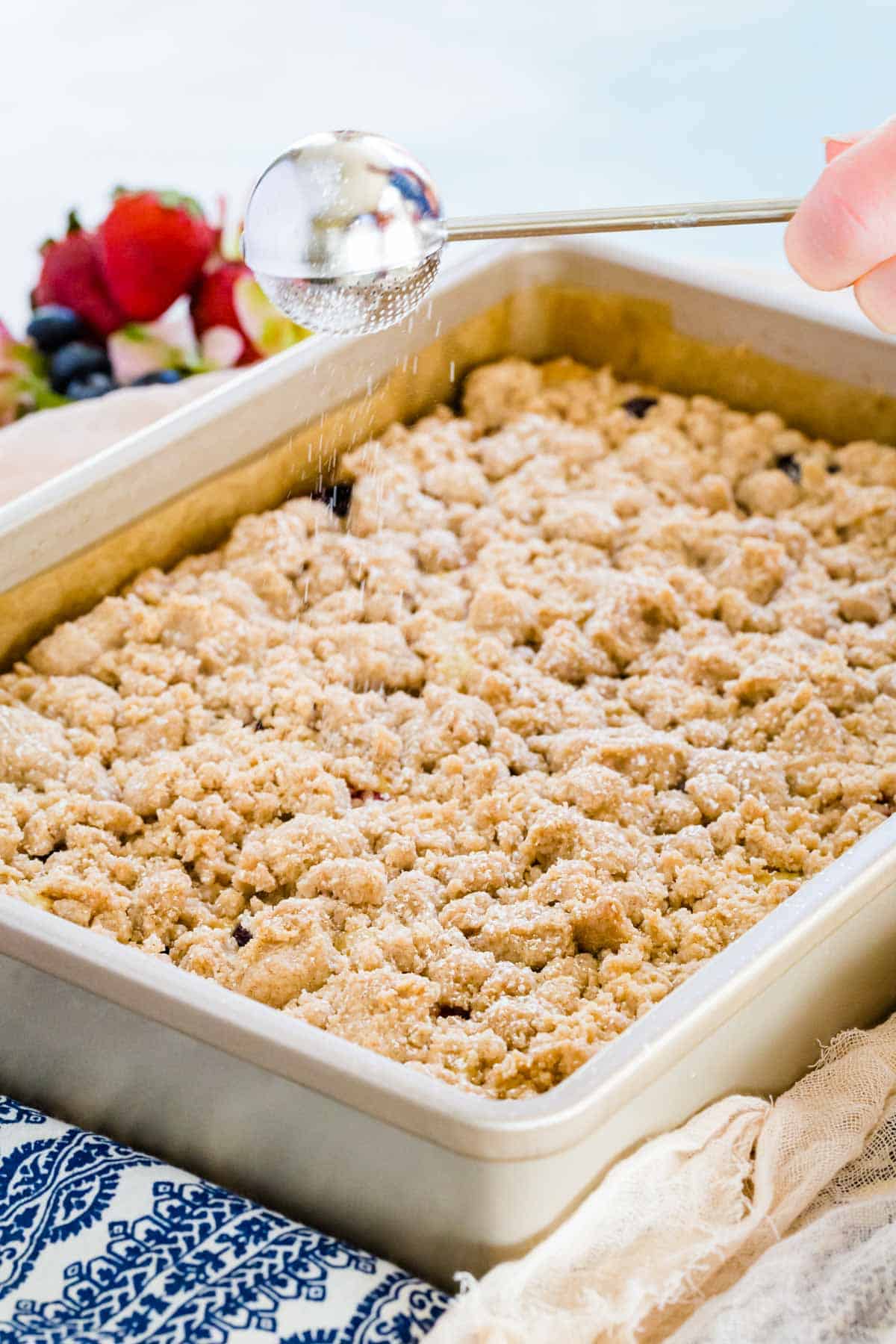 Tips for Success
Whether you're making this cake for a patriotic extravaganza, or just a sweet snack in the morning, here are some tips for best results:
Use Parchment Paper: If you'd like to remove the cake from the pan after you bake it, go the parchment paper route. Line the pan with parchment paper before assembling the cake, using metal clips to keep the paper from shifting. Once the cake is cool, unclip the parchment paper and use it to lift the whole slab from the pan for slicing.
Fresh or Frozen Berries?: This crumb cake will work with fresh or frozen blueberries and strawberries. If using frozen, add the berries into the cake without thawing, and bake them straight from frozen.
Don't Over Mix: Like almost all cake recipes, don't over mix the batter! This is the number one mistake that leads to a dense, tough cake. Fold in the blueberries and give the batter only a couple of turns with a spatula, until the ingredients are just combined.
Cut With a Serrated Knife: When slicing your crumb cake, use a serrated knife for smooth, clean cuts.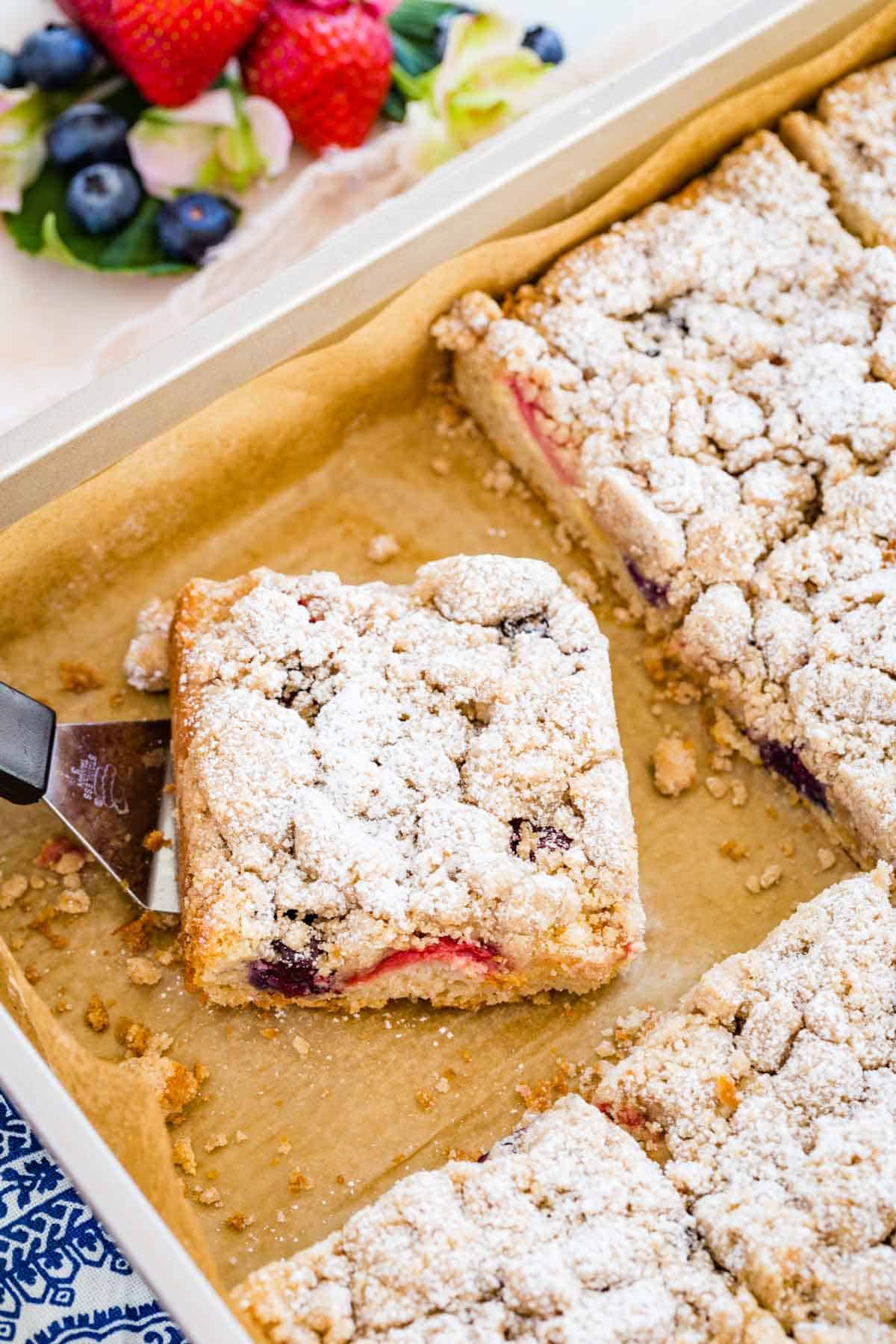 Make It a Meal
This cake makes a wonderful addition to Fourth of July celebrations. After you've enjoyed a juicy burger between Gluten Free Hamburger Buns or a Buffalo, Blue Cheese, and Bacon Hot Dog, why not enjoy a slice of crumb cake topped with whipped cream for dessert? Serve this cake in a cookout spread next to other easy summer recipes:
Any other time of the year, this crumb cake is just as delicious for breakfast or as a sweet snack alongside a cup of coffee or tea.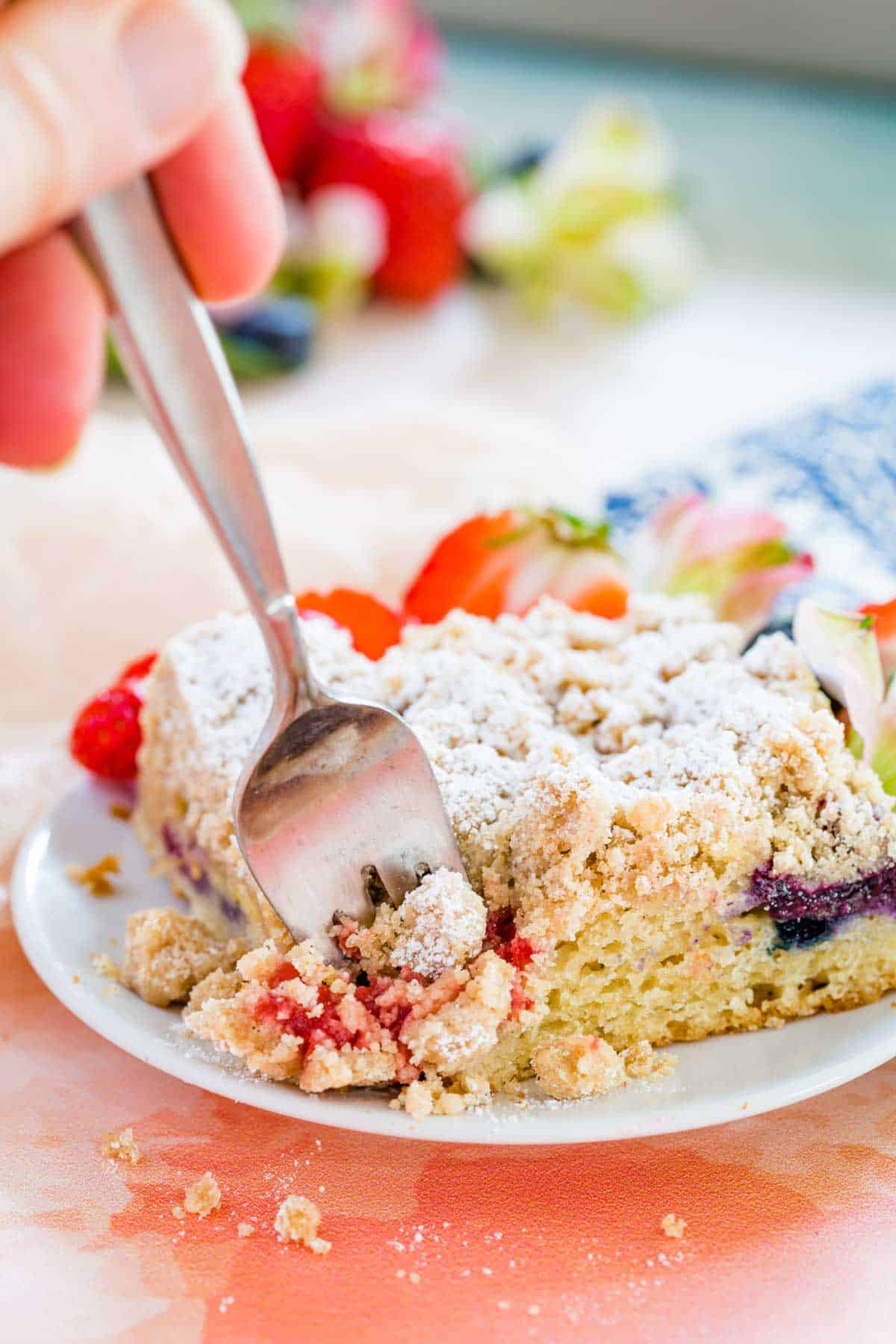 Storing and Reheating Extras
Crumb cake will keep fresh when wrapped or stored airtight at room temperature for 3 days, or you can keep it in the fridge for up to 5 days. Reheating isn't necessary, but you can always pop a cake slice in the microwave for a few seconds to warm it a little!
Can I Freeze This?
I love making two of these blueberry crumb cakes, one to serve and one to freeze! Wrap the cake with plastic wrap, followed by a layer of foil, and store it in the freezer for up to 2 months.
Thaw the cake on the counter before serving. I like to give mine an extra dusting of powdered sugar!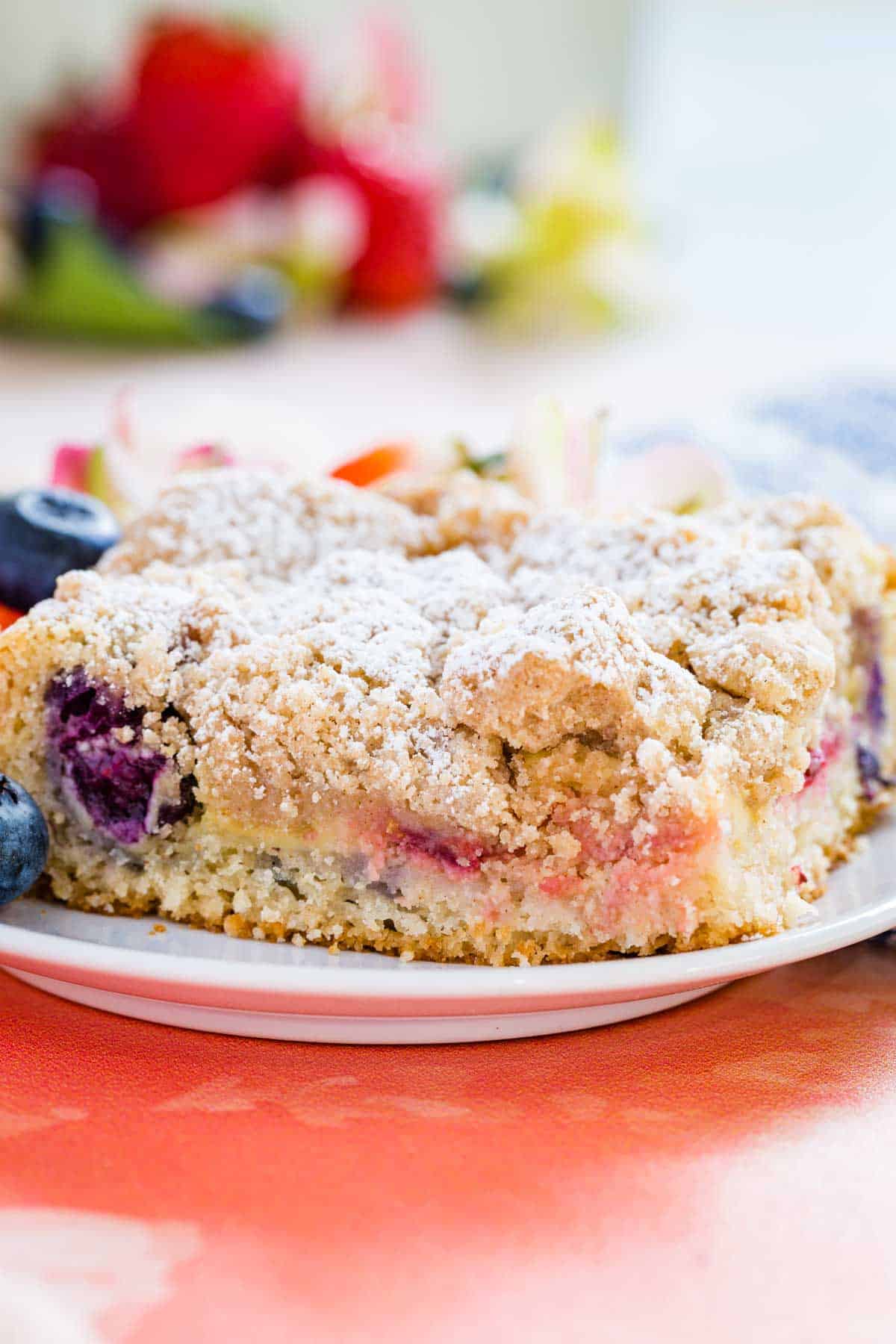 Shop the Recipe
Brianne Recommends
BAKING PAN: Make sure you have a good 9×13-inch baking pan. I love the one from OXO.
PARCHMENT PAPER: It is critical to get the cake out of the pan easily, but you'll need to hold it in place with chip clips because the batter is thick and sticky.
DUSTING WAND: I love this little tool for dusting powdered sugar or cocoa powder on different treats.
Last updated on Dec 2, 2023 11:46 am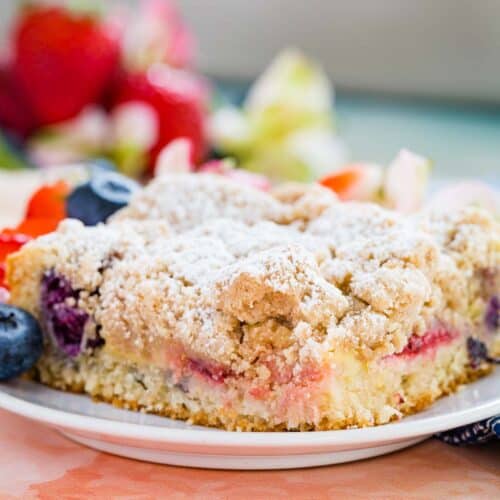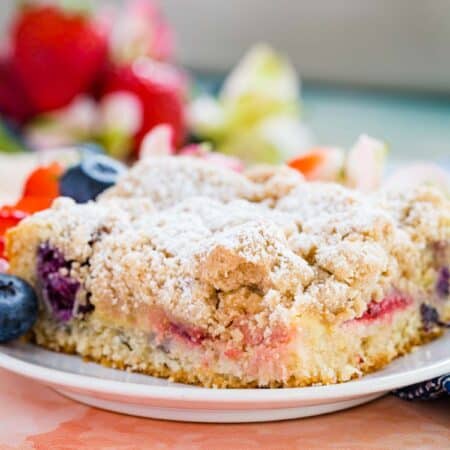 Red White and Blueberry Crumb Cake
This patriotic Red White and Blueberry Crumb Cake is a moist and tender, gluten free breakfast cake topped with a rich cream cheese layer, juicy berries, and a sugary sweet crumb.
Ingredients
For the crumb topping:
2 1/2

cups

1:1 gluten free flour

1

cup

light-brown sugar

packed

2

tsp

ground cinnamon

3/4

cup

unsalted butter

(1 1/2 sticks), melted and cooled
For the cream cheese layer:
4

oz

cream cheese

regular or light, at room temperature

1

egg yolk

1/4

cup

powdered sugar

1/2

tsp

pure vanilla extract
For the berry layer:
1

tsp

1:1 gluten free flour

1/2

cup

blueberries

rinsed and dried

1/2

cup

strawberries

sliced
For the cake:
2

tbsp

canola oil

1 1/2

cups

1:1 gluten free flour

1/2

cup

granulated sugar

2 1/2

tsp

baking powder

1/2

tsp

salt

1

large egg

1/2

cup

milk

2

tsp

pure vanilla extract

Powdered sugar for dusting
Instructions
For the crumb topping:
In a medium bowl, blend together the 2 1/2 cups of flour, light brown sugar, and cinnamon with a fork.

Pour melted butter over the flour mixture, and toss together gently with the fork until large crumbs form. Don't break up the crumbs. Set aside.
For the cake:
Preheat the oven to 325°F. Spray a 9×13 inch baking pan with cooking spray or line with parchment paper. Use clips to attach the parchment to the side of the pan so it doesn't shift. Set aside.

For the cream cheese mixture, combine all of the ingredients in a small bowl and stir until smooth. Then in a separate small bowl, toss the blueberries with the 1 teaspoon of flour and set aside.

In a medium bowl, sift or whisk together the 1 1/2 cups of flour, granulated sugar, baking powder, and salt.

In a separate bowl, whisk together the egg, milk, canola oil, and vanilla.

Add the dry ingredients into the wet ingredients and fold together with a rubber spatula.

Spread batter in an even layer in the prepared pan (batter will be thick).

Spread the cream cheese mixture over the batter.

Distribute the strawberry slices and blueberries over the cream cheese layer.

Sprinkle crumb mixture over the batter, leaving some large chunks.

Bake for 10 minutes, rotate the pan and bake for another 20-25 minutes, or until a toothpick or cake tester inserted in the middle comes out clean.

Cool completely in the pan, and dust with powdered sugar.

If you prefer, use the parchment paper to gently lift the cake out of the pan. You can also leave it in the pan. Cut with a serrated knife.
Nutrition Facts
Red White and Blueberry Crumb Cake
Amount Per Serving
Calories 358
Calories from Fat 153
% Daily Value*
Fat 17g26%
Cholesterol 61mg20%
Sodium 110mg5%
Potassium 155mg4%
Carbohydrates 48g16%
Protein 5g10%
Vitamin A 492IU10%
Vitamin C 3mg4%
Calcium 68mg7%
Iron 2mg11%
* Percent Daily Values are based on a 2000 calorie diet.
Categories:
More Easy Breakfast Cakes to Enjoy