This post may contain affiliate links. Read my disclosure policy.
My easy Gluten Free Lemon Pound Cake recipe is sure to brighten your day. Greek yogurt keeps it moist and tender, and don't forget the glaze that adds an extra burst of bright citrus. It is simple to make, and you'll be ready to enjoy a slice of this lemony loaf as a breakfast quick bread or lovely dessert.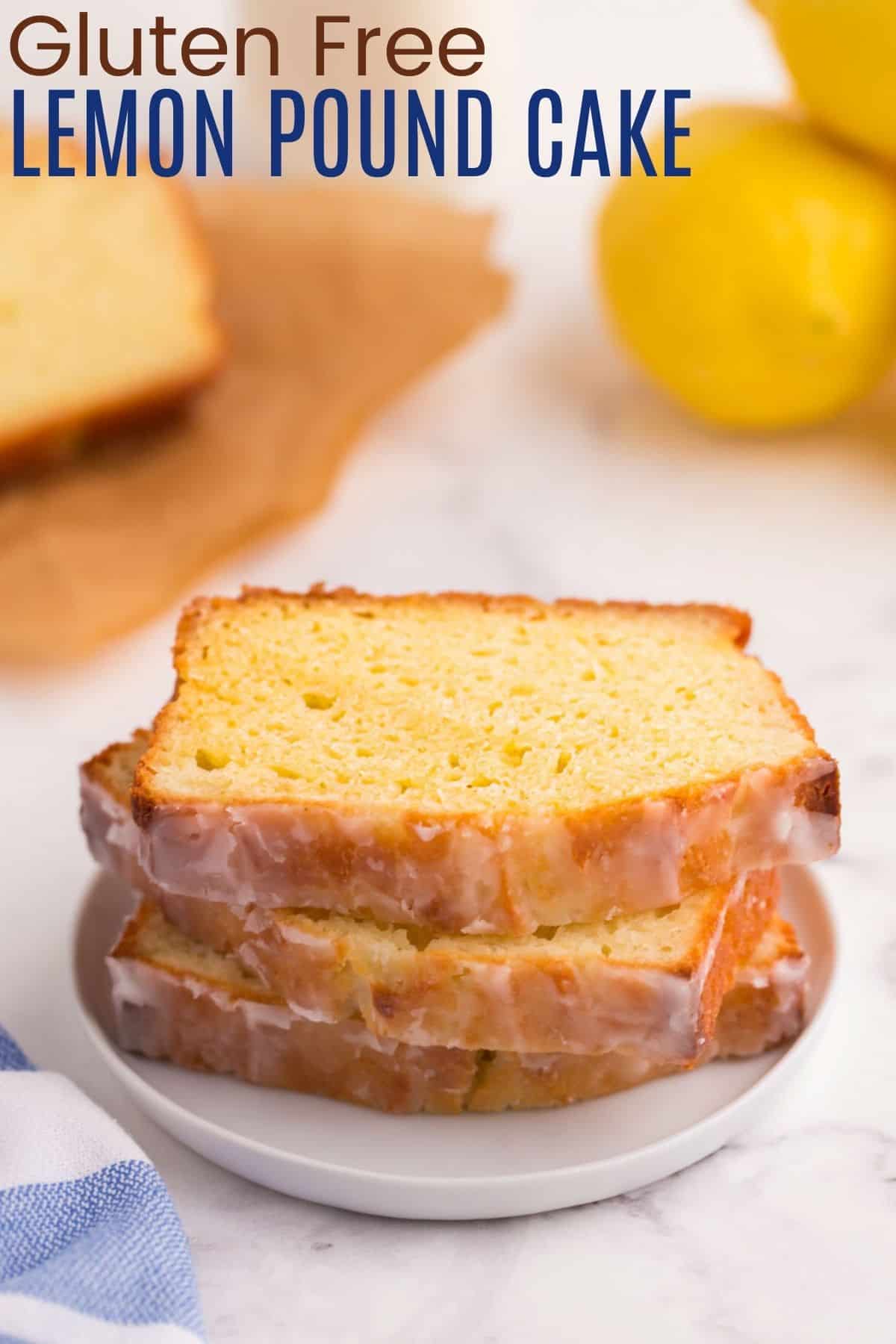 Moist Gluten Free Lemon Pound Cake
You can admit it. Ever since you had to go gluten free, you've had the occasion where you've walked into Starbucks (or really any other bakery or coffee shop) and wished you could order one of the treats in the glass display case.
One of the treats that has often called my name as I order my cold brew is the Starbucks Lemon Loaf. It just looks so perfectly light and fresh and tender.
One day, as I was staring longingly through the glass, I remembered that years ago, a lovely blogger named Stacey From Bake Eat Repeat shared a Lemon Yogurt Bread recipe on my site.
By the time they called me to the counter to pick up my coffee, I knew I had to head into the kitchen. It was now time to transform that recipe into a Gluten Free Lemon Loaf.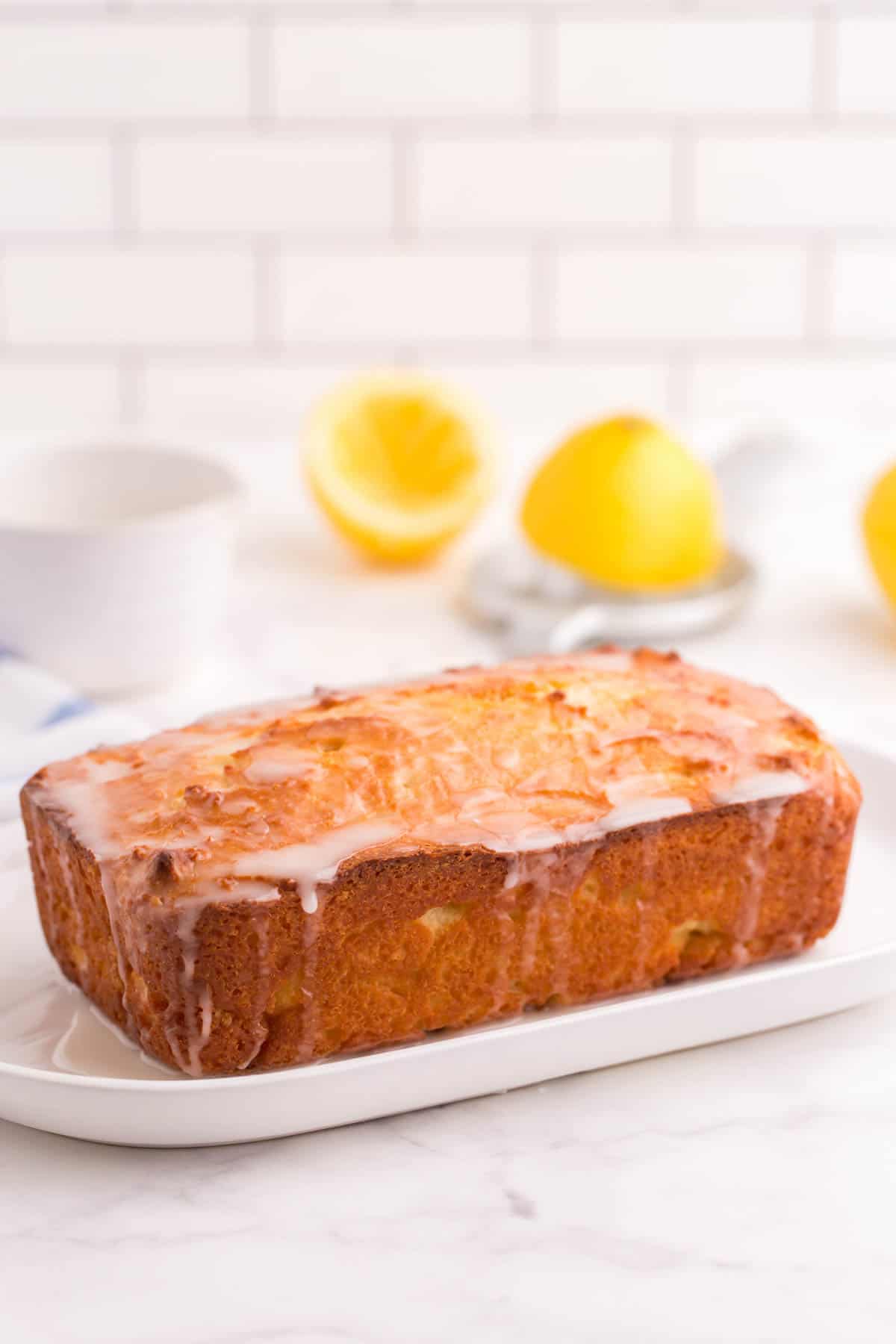 Why this Recipe Works
Years ago, gluten free baking seemed like a daunting task that could only be tackled by professional bakers. Or even chemists with their fancy scales and such. Without calculating specific ratios and weighing down to the gram, you would end up with a gummy, inedible mess that was a waste of a lot of pricey ingredients.
Luckily in recent years, many brands of 1-to-1 gluten free baking blends have come on to the market. These have just the right mix of flours and starches, plus usually a bit of xanthan gum. So you can directly substitute them in many recipes and end up with wonderful results.
Quick breads, like my gluten free banana bread, are one of the types of recipes that produces the best outcome when using a 1:1 gluten free all-purpose flour. And it works well in this recipe too, so you'll end up with a nice, fluffy loaf.
Gluten free baked goods can sometimes be on the dry side. The use of Greek yogurt in this gluten free lemon pound cake recipe helps keep it moist with a nice, tender crumb. And as an added bonus, it adds a little protein which even helps give the lemon pound cake a little more structure and not be as crumbly as some gluten free breads and cakes.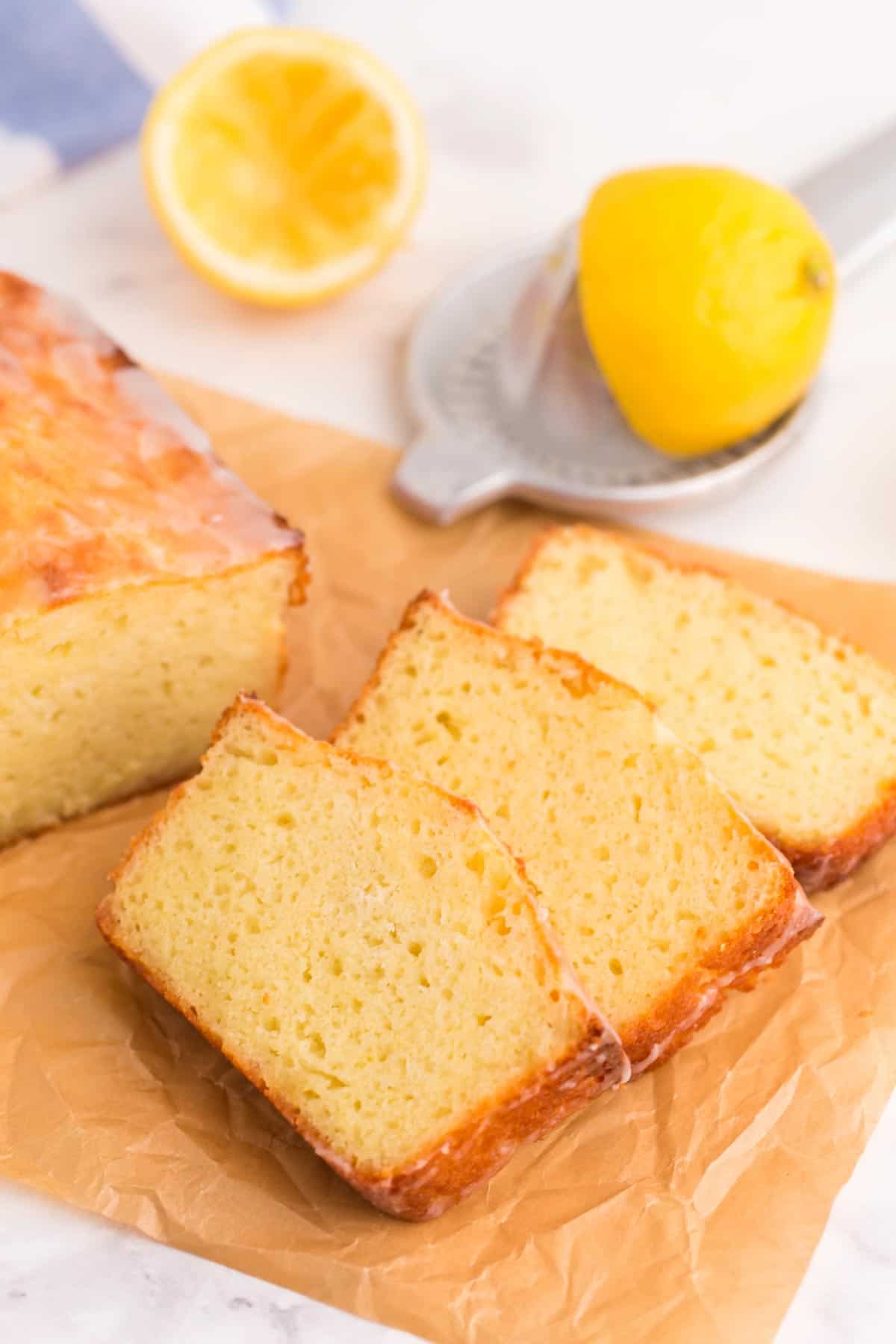 Ingredients
Once you've gotten your favorite gluten free flour blend, the other ingredients are pretty simple. But they all come together to add bright flavors to this lovely lemon bread.
Don't forget the glaze! It adds that extra zesty burst of citrus and even a bit more moisture and sweetness.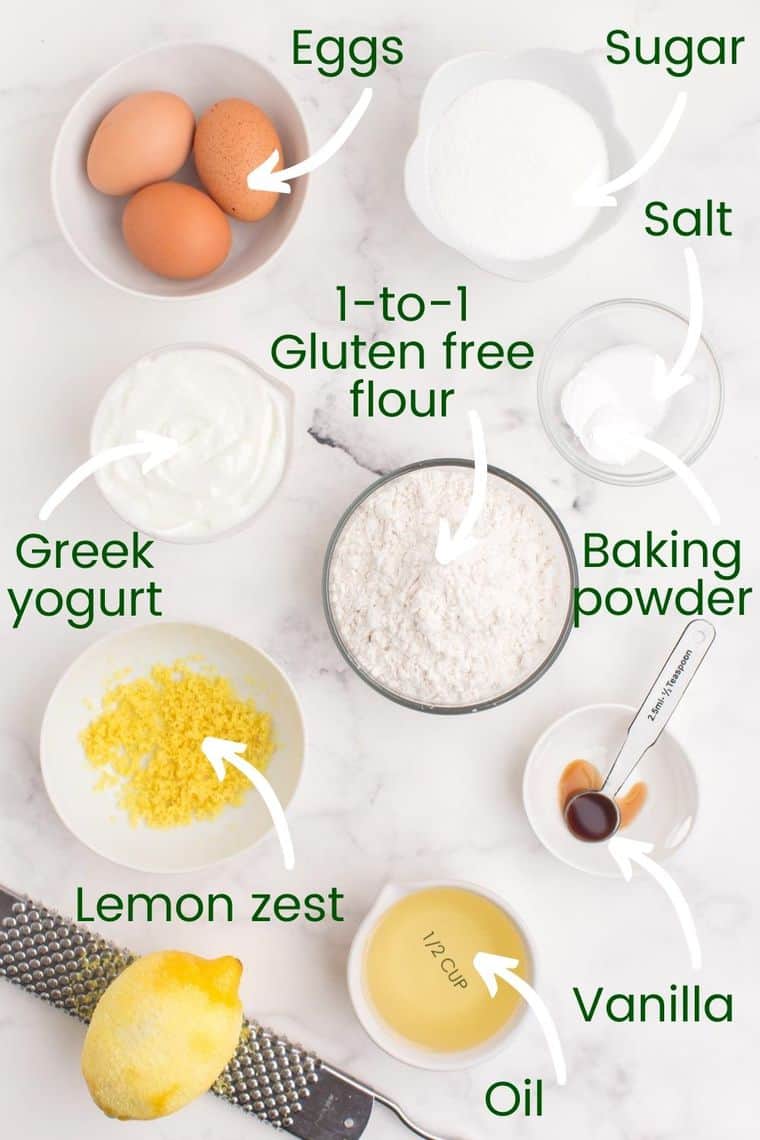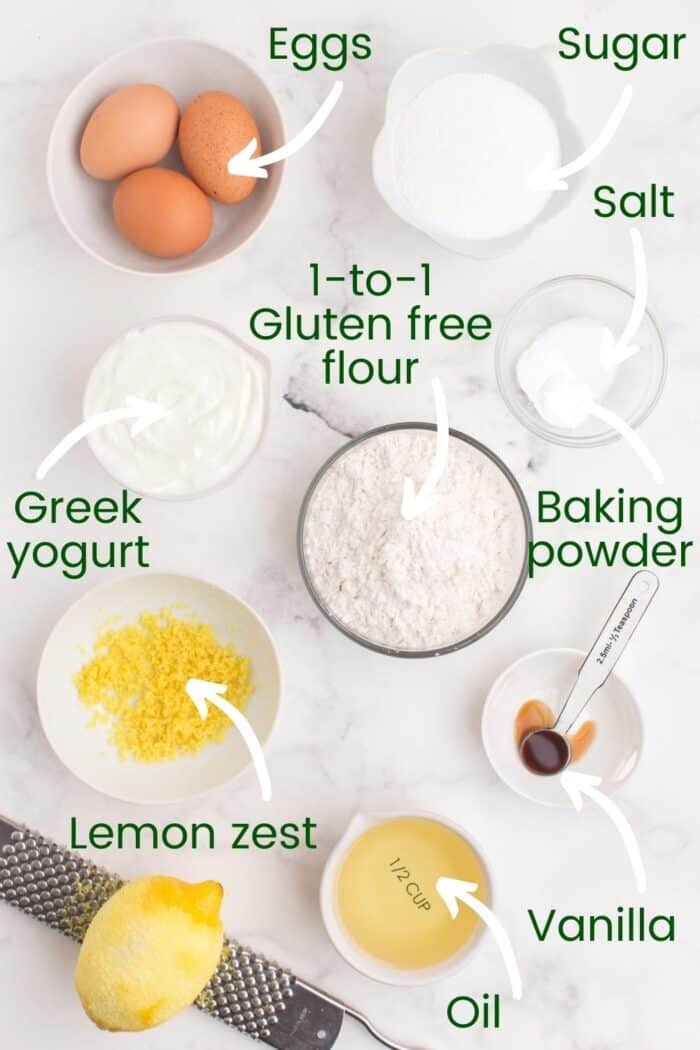 For the lemon pound cake:
Lemon zest: Unlike many lemon pound cake recipes that use lemon extract, this one uses just lemon zest. You get that pure lemon flavor without that harshness you can sometimes get from using an extract.
Granulated sugar: Of course, sugar sweetens up this lemon loaf. But it is also key to bring out that lemon flavor. You see, you'll rub your lemon zest together with the sugar to release the natural oils and the pure essence of the lemon.
Flour: You'll need 1 1/2 cups of your favorite gluten-free flour. You can make your own or buy a bag (I usually use Bob's Red Mill or Cup 4 Cup). But be sure it is a 1-to-1 all-purpose or baking blend that you can use in a 1:1 ratio for regular flour. These usually contain xanthan gum, not just flours and starches.
Baking Powder: To make sure it turns out fluffy and not dense.
Salt: Just a bit enhances the sweetness.
Greek yogurt: As mentioned, this really brings moistness to the pound cake. Use plain yogurt, rather than flavored yogurt.
Eggs: It is always best to bring them to room temperature.
Vanilla: Just a bit really brings out the sweet lemony flavor.
Oil: This recipe was originally made with melted coconut oil for its health benefits and the hint of coconut flavor that compliments the lemon. But you can also use any neutral oil, such as vegetable or canola.
For the lemon glaze:
Powdered sugar: The basis for any good sweet drizzle.
Lemon juice: Don't toss that lemon after you zest it. You'll need the juice to make the glaze.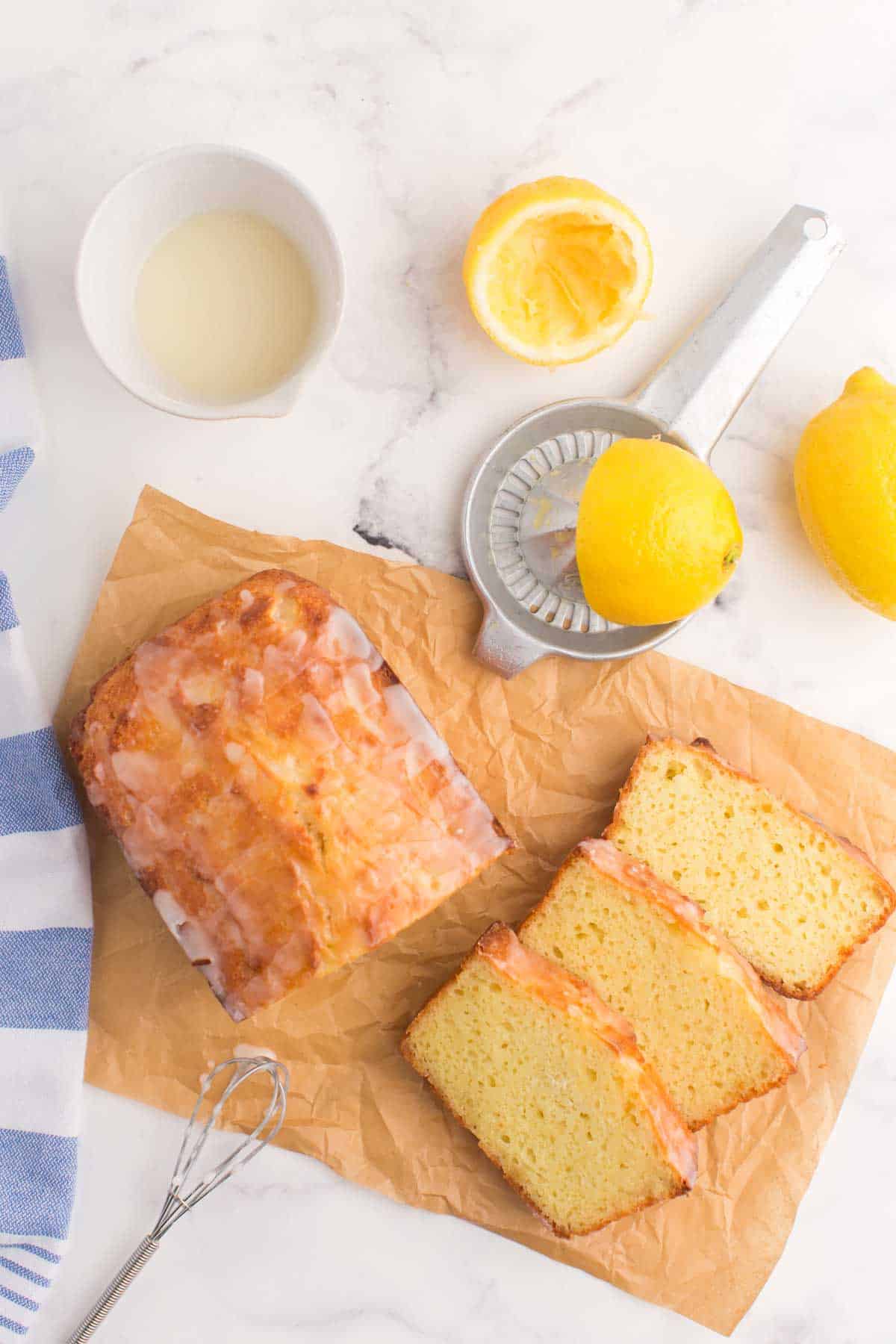 How to Make a Gluten Free Lemon Loaf From Scratch
Making this loaf cake is really quick and easy. It is perfect for even a beginner gluten free baker. Like most standard baking recipes, you'll mix the dry ingredients, mix the wet ingredients, and fold them together. You don't even have to get out the mixer. Let's get into it!
Prep the Oven and Loaf Pan. Before you get started, go ahead and preheat the oven to 350°F. Then spray a 9×5-inch loaf pan with nonstick cooking spray.
Release the Lemon Flavor. In a large mixing bowl, rub the lemon zest and sugar together between your fingers until you smell the aromas and the sugar starts to turn a light yellow color.
Combine the Dry Ingredients. Add the flour, baking powder, and salt to the sugar mixture and whisk it all together.
Combine the Wet Ingredients. Whisk together the yogurt, eggs, and vanilla extract, in a small bowl, then slowly mix in the oil.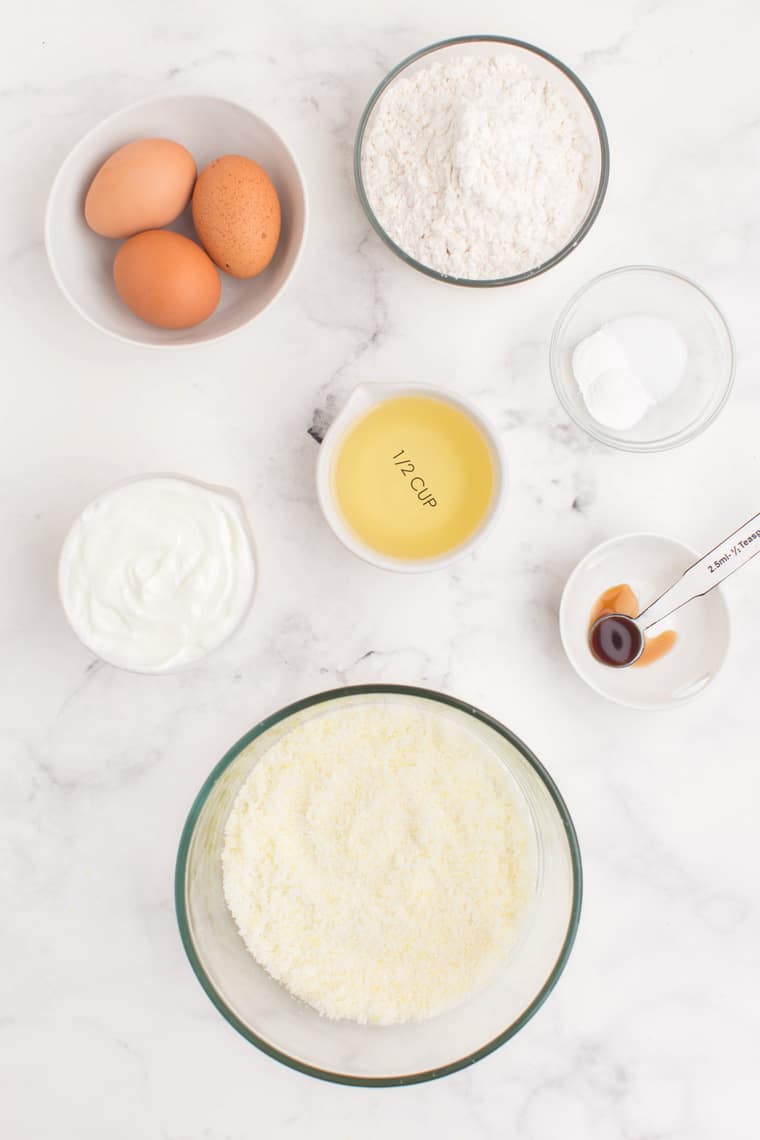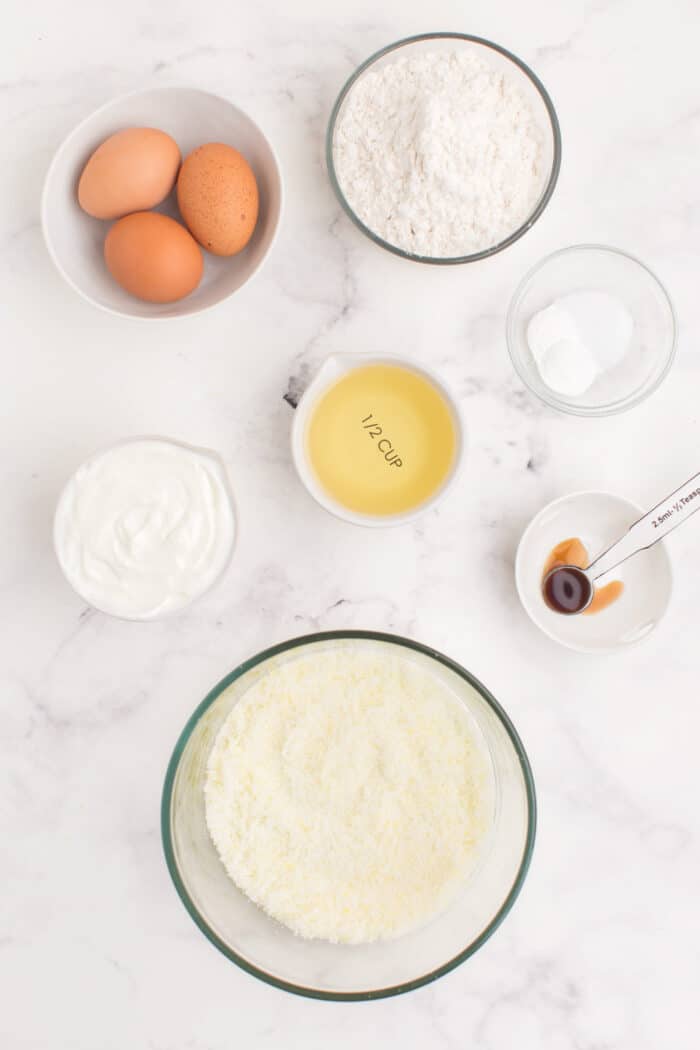 Add the Wet Ingredients to the Dry. Pour the wet mixture into the dry mixture and stir together until it is just combined.
Fill, Bake, and Cool. Transfer the batter to the loaf pan and use a spatula to smooth the top. Bake at 350°F for 50-55 minutes, or until a toothpick inserted in the middle comes out clean. Cool in the pan for 5-10 minutes before removing from the pan to cool completely on a wire rack.
Glaze and Enjoy! While it is cooling, whisk together the powdered sugar and lemon juice to make a glaze that is thin enough to drizzle. Pour over the cake, then cut yourself a slice!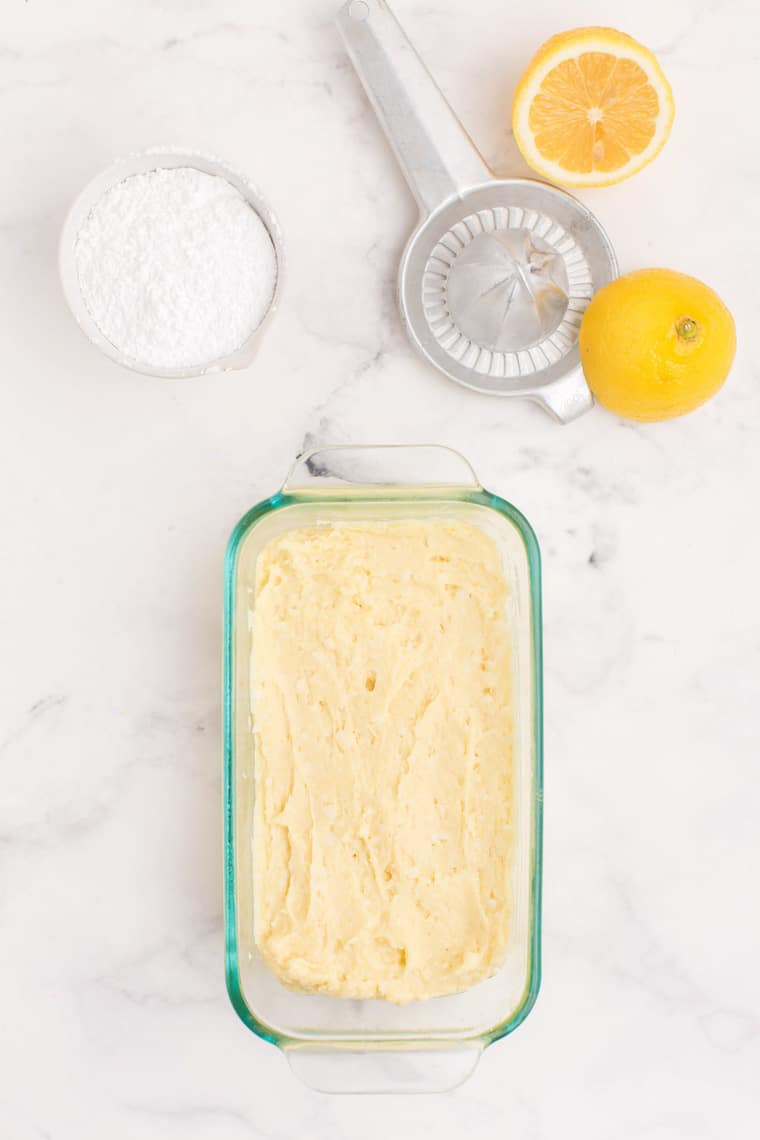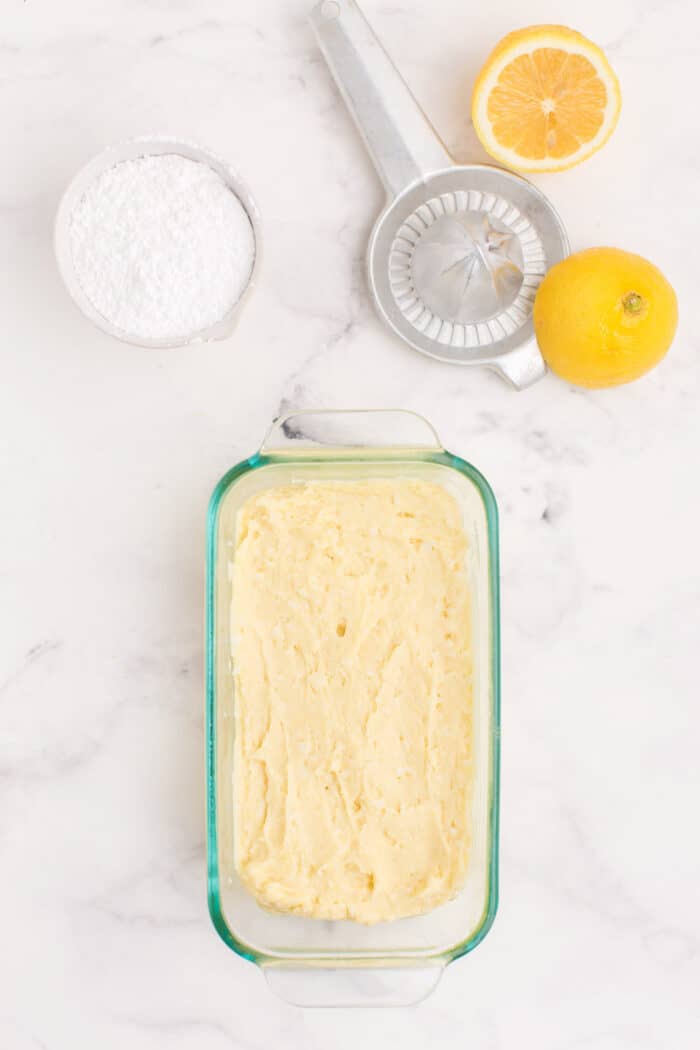 The hardest part will be trying to stop yourself from digging in as those luscious aromas fill your kitchen. But trust me, give it time to cool so you can slather it with that glaze.
Tips for Success
There are a couple of important tips I'd like to share here, to help you get the best results when making this recipe! Read on, and enjoy!
Measure Your Flour Correctly
It's important to measure your gluten-free flour by spooning it into your measuring cup and then leveling it off. The reason for this is that if you scoop flour out of the bag with your measuring cup, you may pack it in tightly. The same goes for pouring it into the cup. We want to avoid packing the flour in or piling it up. Just spoon it in until the correct amount is in the measuring cup, and then use a knife to level it off.
Don't Over Mix the Batter
Usually, over mixing has to do with developing the gluten too much in your cake batter. So why does it matter in a gluten-free baking?
The problem with over mixing batters like this is that you can accidentally work too much extra air into the mixture. The lemon loaf may start to rice and get puffy, but then in will sink in the middle. That is why I recommend putting down the whisk after you've blended the wet and dry ingredients separately, and use a spatula or wooden spoon to gently fold them together.
Don't Overbake the Gluten Free Lemon Pound Cake
Since gluten free baked goods can sometimes be dry, you don't want to make the problem worse by baking it too long. You may want to check it a few minutes early and take it out if the toothpick comes out mostly clean with just a few small crumbs attached.
The same goes for letting it cool too long in the pan. The heat of the pan will carry over into the loaf. It does need 5-10 minutes in the pan so that it isn't too fragile. But after that, carefully turn it out onto a wire rack to cool completely.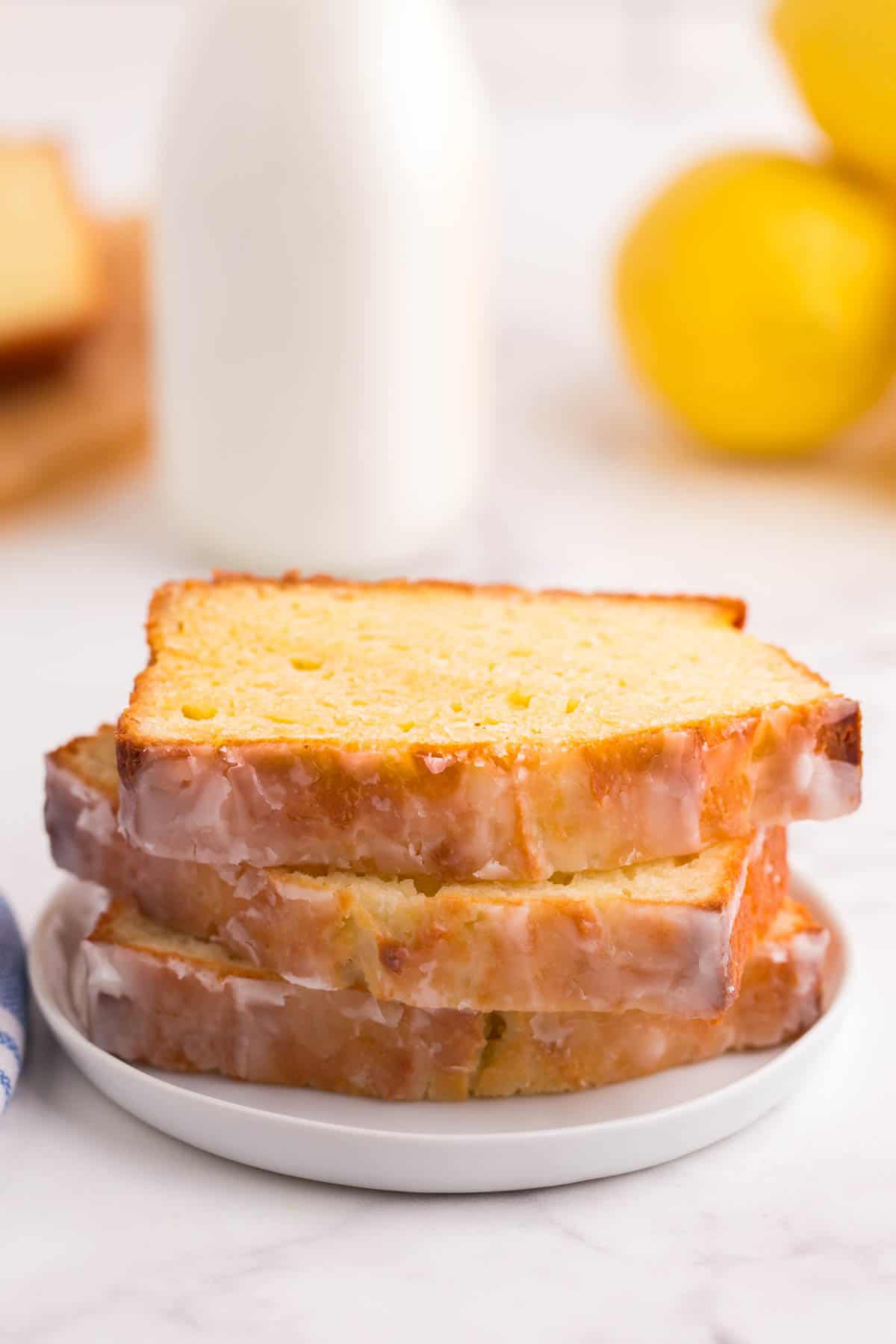 How do you store pound cake?
The lemon loaf will stay fresh for 3-4 days if you store it in and airtight container or wrapped tightly with plastic wrap. No need to refrigerate, it'll be just fine at room temperature. Though keeping it in the refrigerator may make it last a little longer.
Can you freeze a gluten free lemon loaf?
Yes, this recipe does freeze well! If you are freezing an entire loaf, I recommend leaving it unglazed and wrapping it very tightly with plastic wrap. Then place the wrapped pound cake inside a plastic freezer storage bag or airtight container. When sealed well, it will be safe to eat for a very long time, but will have the best texture and flavor if you enjoy it within 2 months.
You can also wrap one of a few slices together and freeze them that way so you can always a a gluten free treat on had to grab when your sweet tooth calls.
What do you serve with lemon bread?
Breakfast
For your morning meal, grab a bowl of Waldorf Fruit Salad and pour yourself a Copycat Starbucks Protein Blended Cold Brew to enjoy with your lemon bread.
Brunch
Whether it is Easter, Mother's Day, or just Sunday, make this part of your brunch menu with Ham Asparagus Egg Muffins and Spinach Salad with Strawberries and Avocado.
Dessert
While a slice of lemon pound cake on its own is perfect, it never hurts to add a scoop of Vanilla Cheesecake Ice Cream, some Fresh Blueberry Sauce or even Baked Strawberries.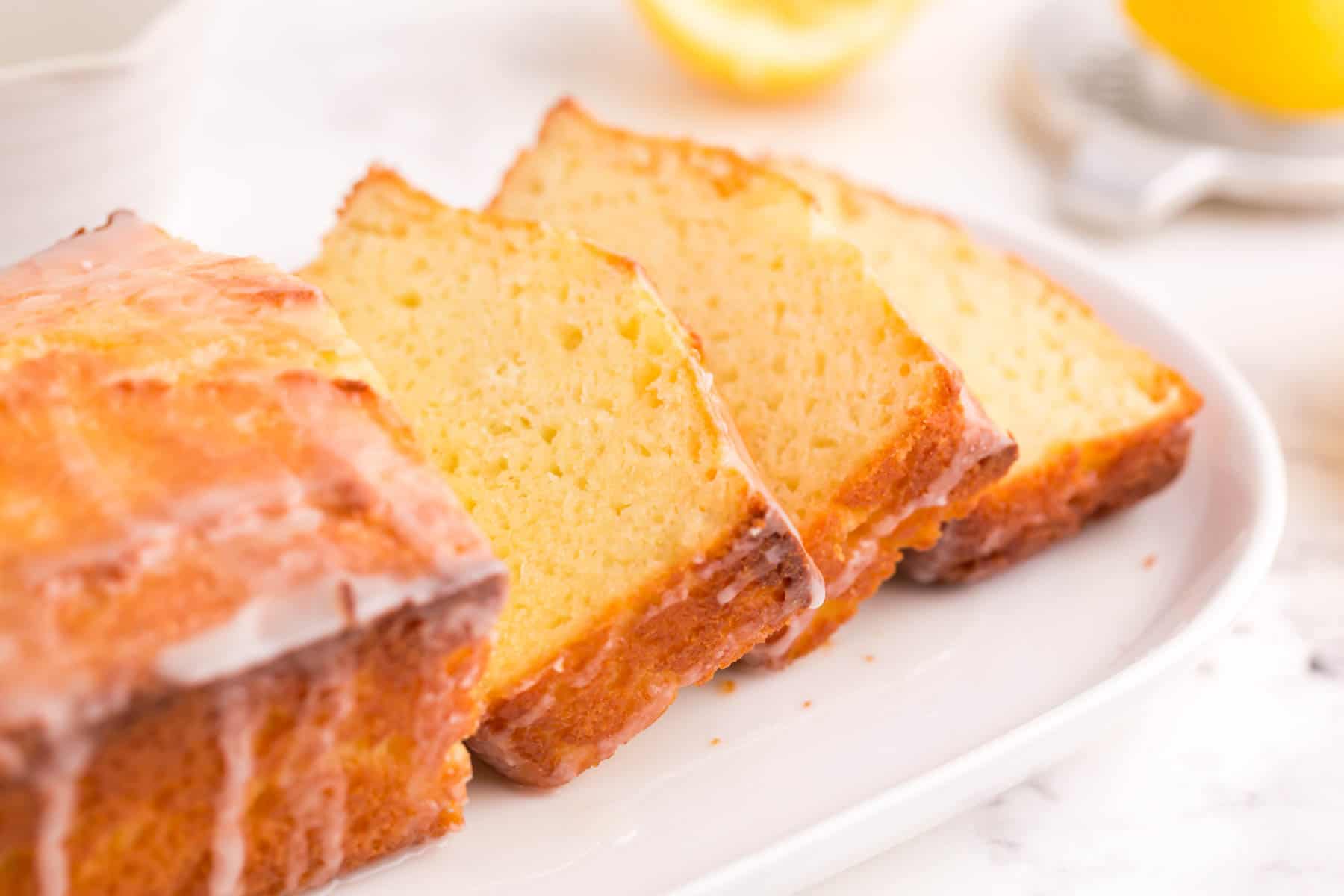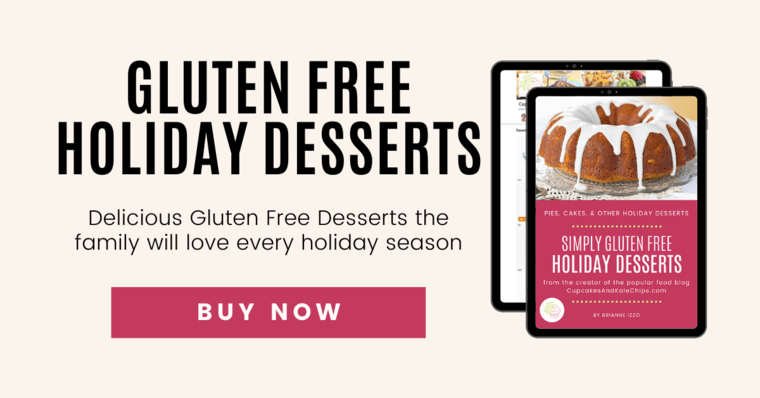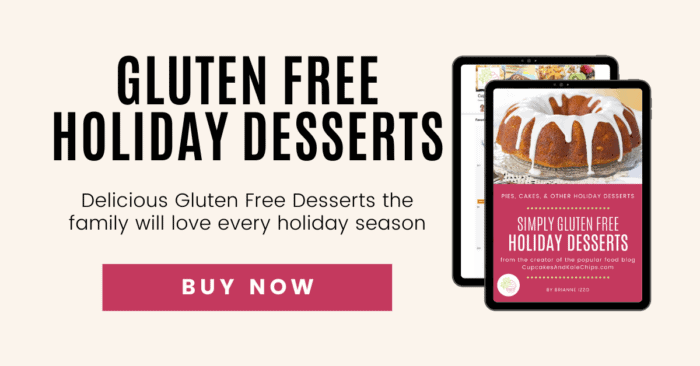 More gluten free desserts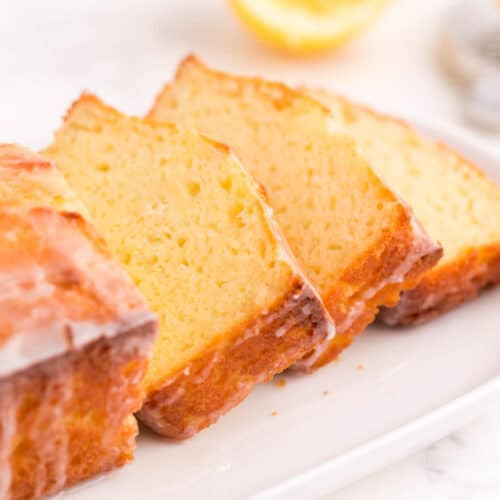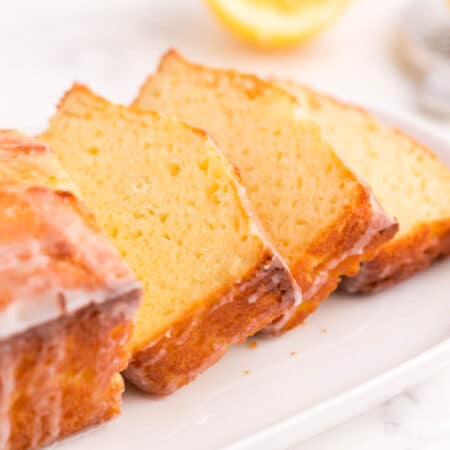 Gluten Free Lemon Pound Cake
A bright and tender lemon loaf made with Greek yogurt to keep it moist, plus a lemony glaze for an extra burst of citrus flavor.
Ingredients
For the bread:
1/2

cup

granulated sugar

2

teaspoons

lemon zest

(zest of one lemon)

1 1/2

cups

1-to-1 gluten free baking flour or all-purpose blend

(recommended: Bob's Red Mill or Cup 4 Cup)

2

teaspoons

baking powder

1/2

teaspoon

salt

1

cup

plain Greek yogurt

3

large

eggs

1/2

teaspoon

vanilla

1/2

cup

vegetable or canola oil,

or coconut oil (melted and cooled)
For the glaze:
1

cup

powdered sugar

2-3

tablespoons

lemon juice
Instructions
Preheat the oven to 350°F. Lightly spray a 9×5 inch loaf pan with nonstick cooking spray and set aside.

In a large bowl, combine the granulated sugar and lemon zest, rubbing the zest into the sugar with your fingers until it is fragrant and a light yellow color.

Add the gluten free flour, baking powder and salt to the sugar mixture and whisk together until well blended.

In a small bowl, whisk together the yogurt, eggs and vanilla. While still whisking, slowly add the oil, whisking until combined.

Add the wet ingredients to the dry and stir with a spatula or wooden spoon until just combined.

Pour the batter into the prepared loaf pan and smooth the top.

Bake for 50-55 minutes until a toothpick inserted in the center comes out clean. Allow to cool in the pan for 5-10 minutes and then remove to a wire rack to cool completely.

In a small bowl, whisk together the powdered sugar and lemon juice until smooth. Start with 2 tablespoons of lemon juice and add more as needed until it's thin enough to drizzle, up to 3 tablespoons.

Spoon the lemon glaze over top of the cooled bread and allow to set. Store at room temperature in an airtight container, or wrapped in plastic wrap for 3-4 days.
Nutrition Facts
Gluten Free Lemon Pound Cake
Amount Per Serving (1 slice)
Calories 233
Calories from Fat 99
% Daily Value*
Fat 11g17%
Cholesterol 48mg16%
Sodium 123mg5%
Potassium 88mg3%
Carbohydrates 31g10%
Protein 5g10%
Vitamin A 79IU2%
Vitamin C 1mg1%
Calcium 69mg7%
Iron 1mg6%
* Percent Daily Values are based on a 2000 calorie diet.
Categories: