This post may contain affiliate links. Read my disclosure policy.
Strawberry Mango Avocado Salad is a delightfully fresh mix of sweet and tangy with healthy and satisfying. Topped with goat cheese, pine nuts, and a creamy citrus dressing, it is perfect as a light lunch or side dish. Or add your favorite protein to make it a meal.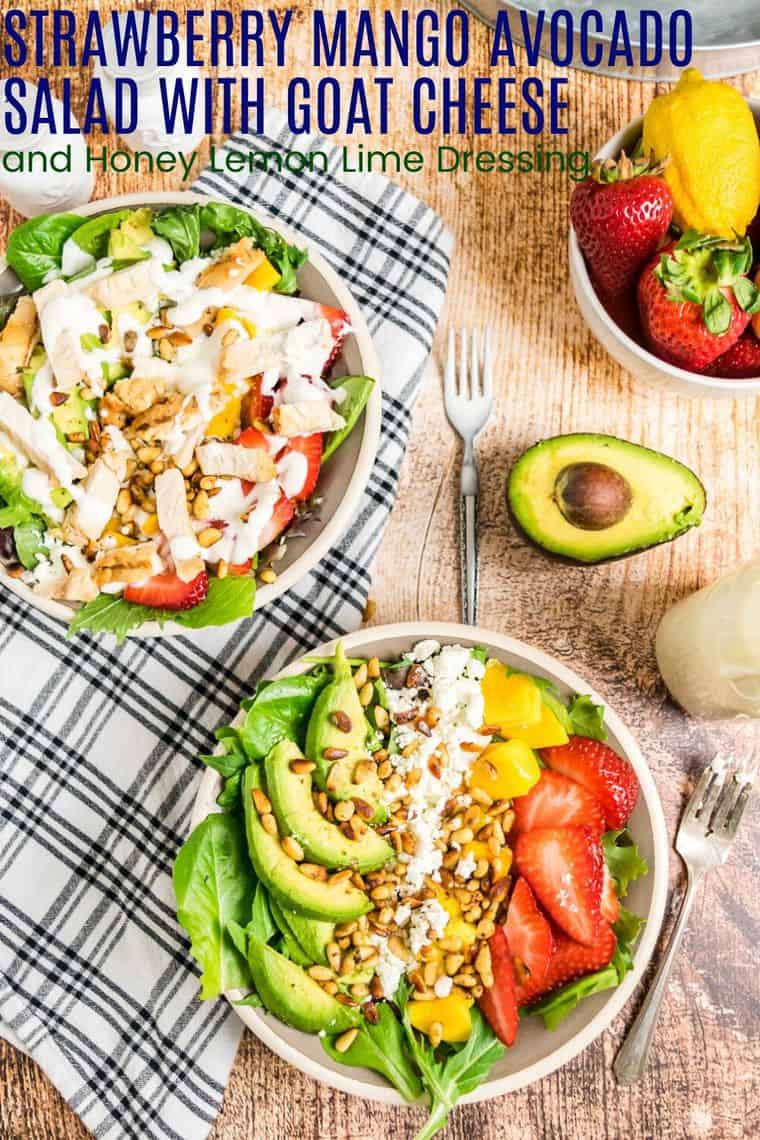 Who else loves kitchen gadgets?
And while getting into the kitchen to cook and bake with them, is fun, I always start with considering the thought process behind the design of each tool. I start to use them, and think about how they made a previously frustrating task into something so quick and easy. And some times much more fun!
While this Mango Strawberry Salad can easily be made with basics like a knife and a bowl and a spoon, I love making it because it gives me the opportunity to play with some of my favorites tools in the kitchen.
You can take the girl out of engineering, but you can't take the engineer out of the girl.
Nor can you take away my ongoing obsession with salads topped with fruit, cheese, nuts, and a super-flavorful dressing…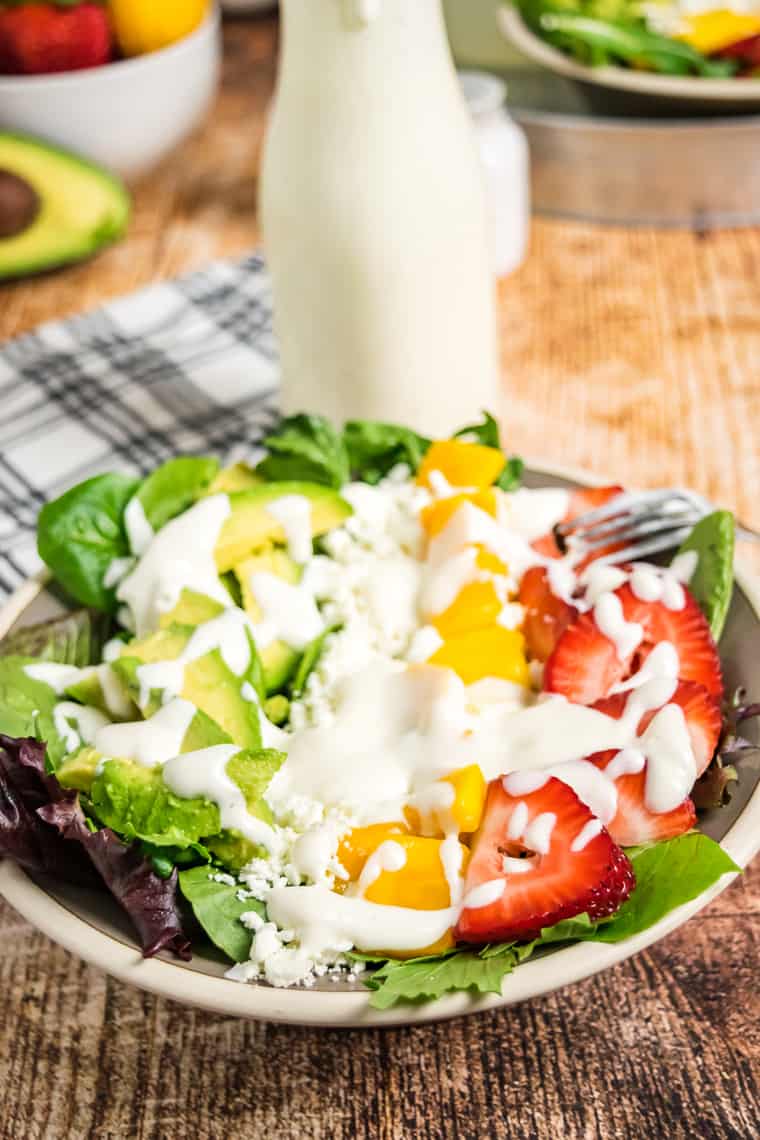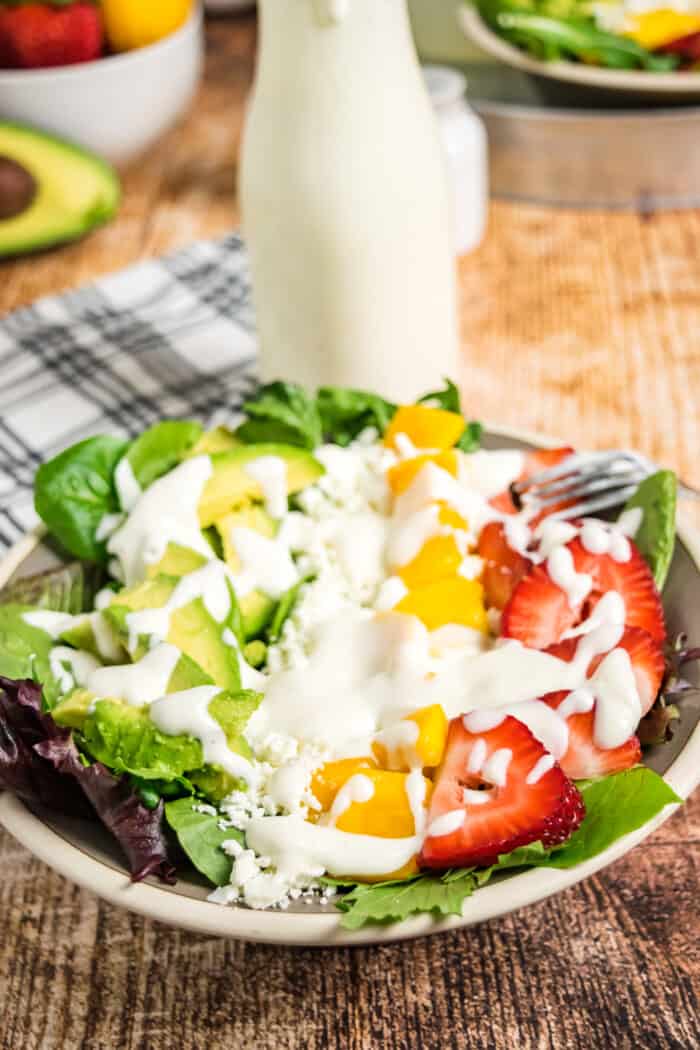 Mango Strawberry Avocado Salad with Goat Cheese and Pine Nuts
Whether you are in the depths of winter and dreaming about warmer days or enjoying all those warmer days have to offer, the bright fruit colors in this salad recipe evoke thoughts of spring and summer. The light, sweet and tart citrus salad dressing brings a little zing to freshen the rich creaminess of the goat cheese and avocado. And pine nuts are a perfect choice for a bit of crunch. Serve as a side dish or add your favorite meat, seafood, or vegetarian protein on top for a satisfying dinner, or enjoy one as a light al fresco lunch.
Here is a brief overview so you can see just how easy it is to make. Scroll down to the printable recipe card for the full quantities and details.
But don't skip my PRO TIPS below!
What You'll Need
Mixed baby greens
I love to use mixed greens or baby green in this salad. They are light and tender, and sometimes have a bit of peppery flavor that pairs nicely with the sweetness of the fruit. You could also go with a butter or leaf lettuce or even romaine or baby spinach, ich like this Strawberry Spinach Salad.
Just be sure to wash your greens and get rid of any excess moisture with a salad spinner. before putting it into bowls
Strawberries
Sliced strawberries add bright red and juicy, freshness. Removing the green leaves and the white, bitter hull of the strawberry will ensure you get the best color and flavor for your salad.
I love using a strawberry huller to take out all the stuff you don't want without removing or wasting the good parts of the strawberry. Press it into the top of the strawberry, push the little button, and it spits out the guts.
Pro tip – if your strawberries have big leaves, rip them off first so you don't get bits of leaves and stem stuck to the berries. Also, ones that have started to get a bit soft don't work as well. But in general, the design is just brilliant!
Mango
Slices or chunks of mango give it that sweet tropical flavor and they pair so well with strawberries. I love mangoes but they can be a bit tricky to peel and cut.
That's why a mango splitter is one of my favorite kitchen tools. A mango pit is so large and the fruit clings to it. There is almost no way to avoid leaving behind so much of that sweet, sunny fruit unless you use one of these. Then just use a spoon or the edge of a glass to scrape the flesh out of the skin.
Avocado
Avocado adds rich creaminess to the bright flavors of the strawberry mango salad. It also makes it more satisfying and adds a good dose of healthy fats.
A 3-in-1 avocado tool makes short work of cutting the avocado in half, removing the pit, slicing it, and removing the skin. For so long I would use the technique of banging the blade of a kitchen knife into the avocado pit and twisting to remove it. It's effective but dangerous. This tool grabs the pit and makes it easy to pull out without the risk of a visit to the ER.
Goat cheese
You can buy a log of goat cheese or get it already rumbled in a container. And yes, just crumbling the goat cheese on the salad is simple and perfectly fine. However, if you really want to dress it up, it also looks nice to lay some slices right on top.
If you don't like goat cheese, feta or blue cheese are great alternatives. Shredded cheddar or Monterey jack are always options, though not my favorite on this particular salad.
Pine nuts
Pine nuts always taste best when lightly toasted. I recommend heating a small pan over low to medium heat, adding the pine nuts and tossing around for a few minutes just until they are golden brown and start to smell nutty.
If you don't love pine nuts, you can always try pecans, walnuts, or slivered almonds.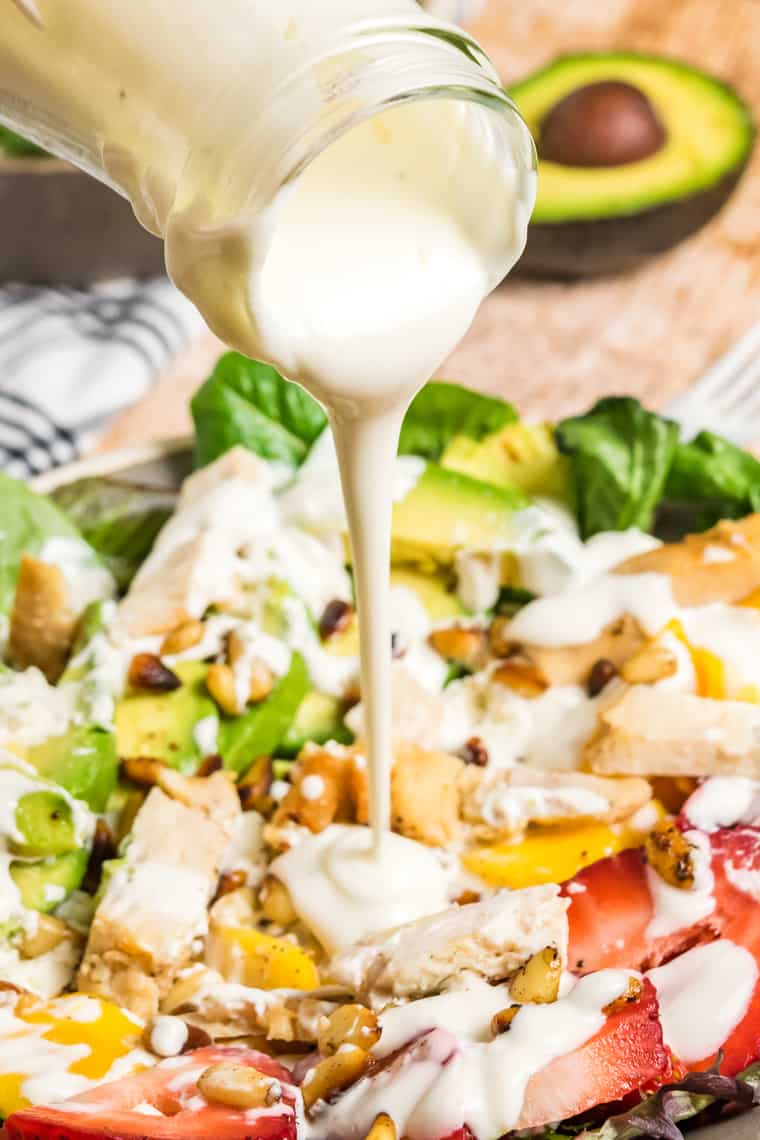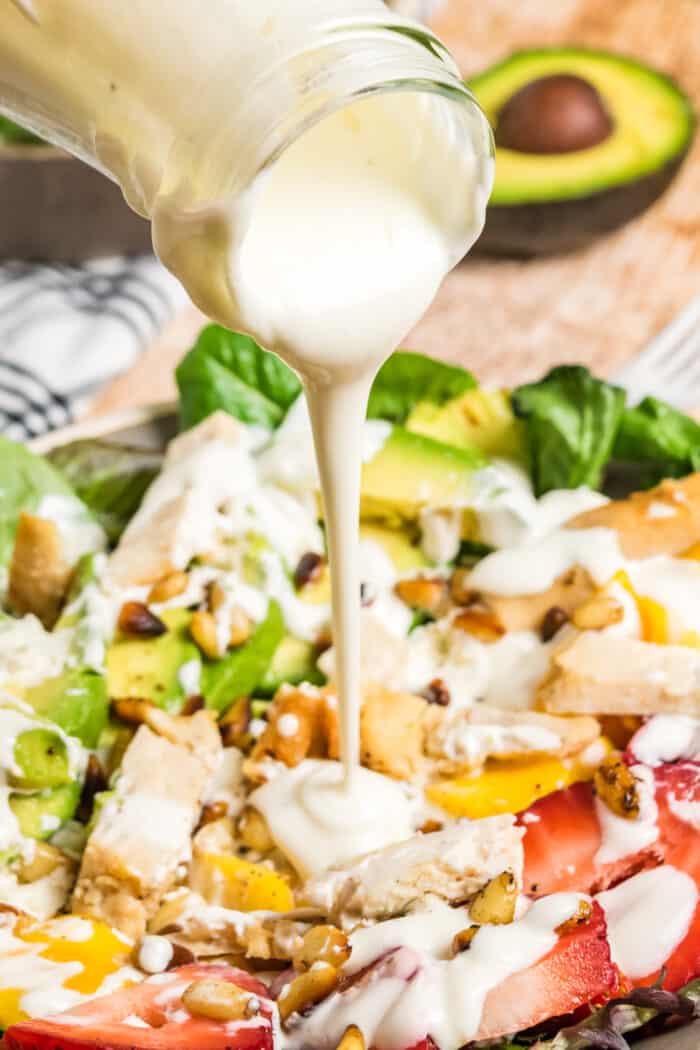 Creamy Lemon Lime Dressing
This easy Greek Yogurt Honey Lemon Lime Dressing is the perfect sweet and tangy contrast to this salad. You only need a few ingredients:
Combine everything in a bowl, jar, or this super cool Salad Dressing Shaker and give it a stir or shake. I honestly use the shaker container from OXO all the time. On a weekly basis, I am making my Creamy Balsamic Dressing or one of my other favorites, which you can also use on this salad.
Other salad dressing options
I do love how the lemon lime salad dressing pairs with this salad. But if you want to try something different, I recommend these: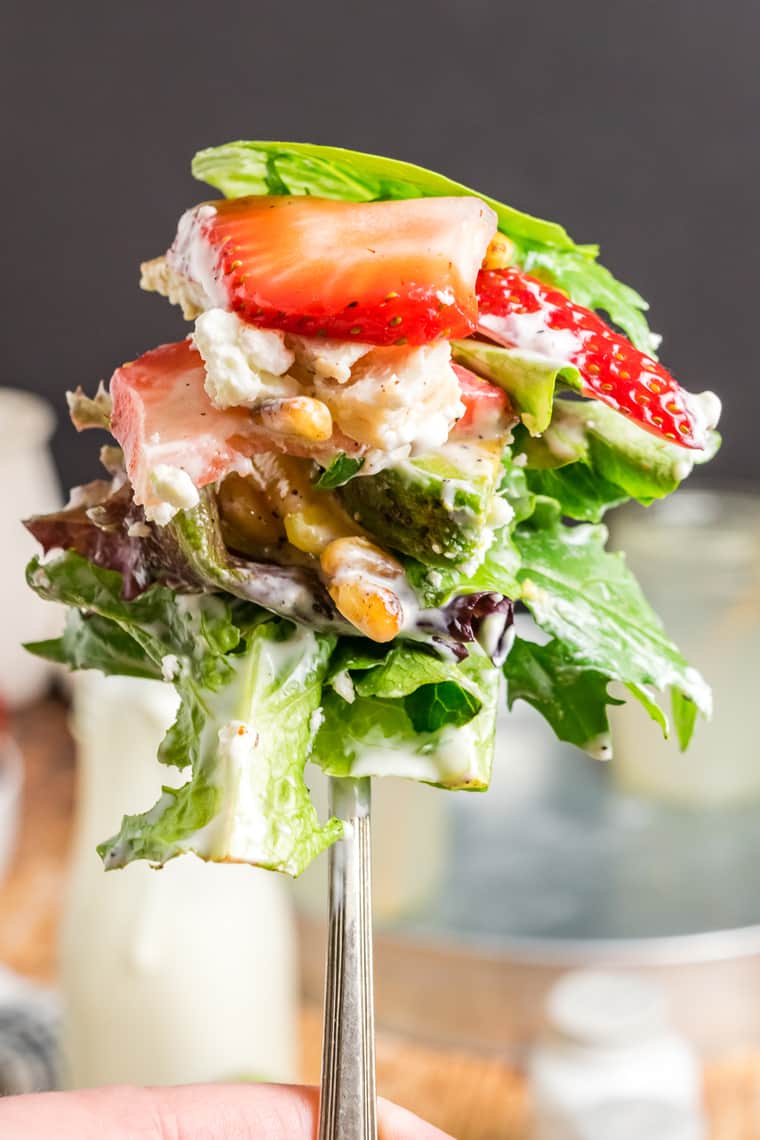 Assembling the salad
You can make one big bowl or individual bowls and really keep it as simple or as fancy as you like.
Fill the bowl with greens, then you have the option to scatter the ingredients over the top, or create nice rows.
Drizzle over the dressing or serve it tossed – that's your call!
And check out my recommendations below to turn this light salad into a meal!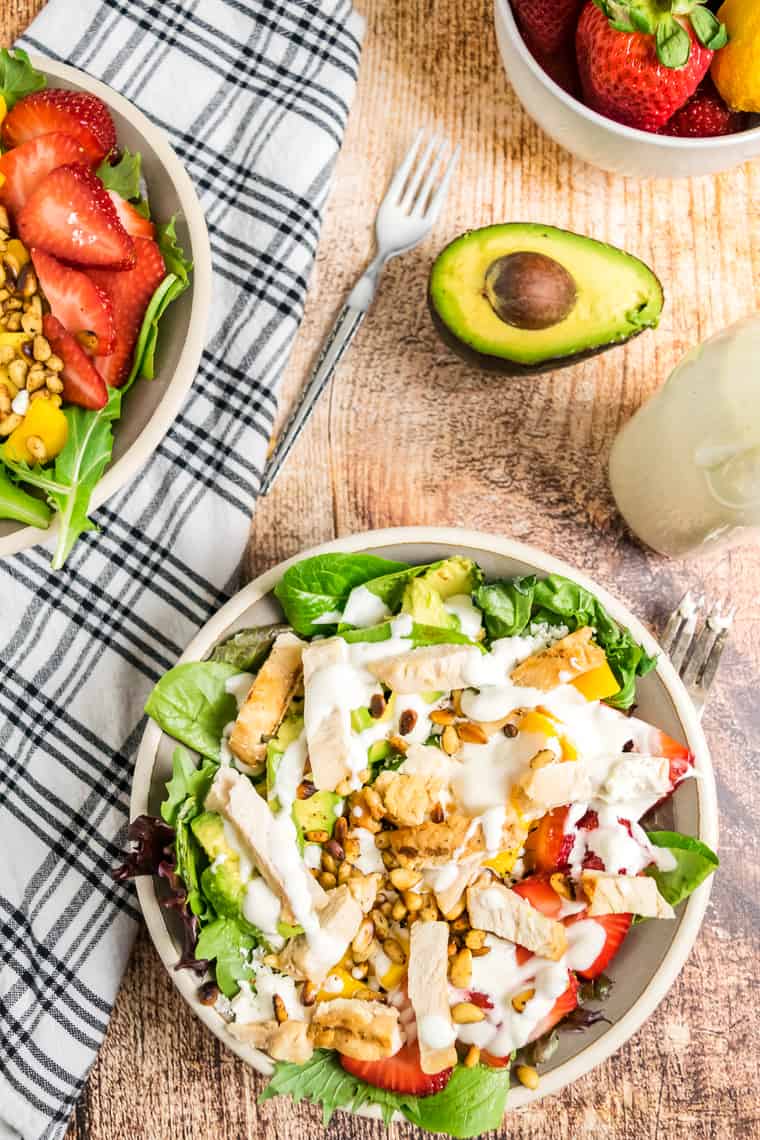 Make it a meal
While this strawberry salad is delicious and fairly satisfying on its own. it makes a great side dish. And if you want to satisfy some bigger appetites, you can top it with chicken steak, shrimp and more. Or pair it with a soup, sandwich, bread, or another side dish.
Serve it with
Top it with
Add a side dish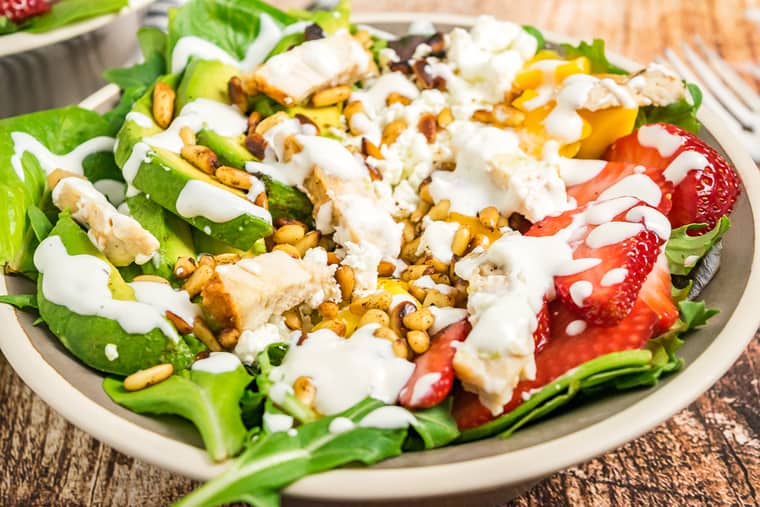 More salad recipes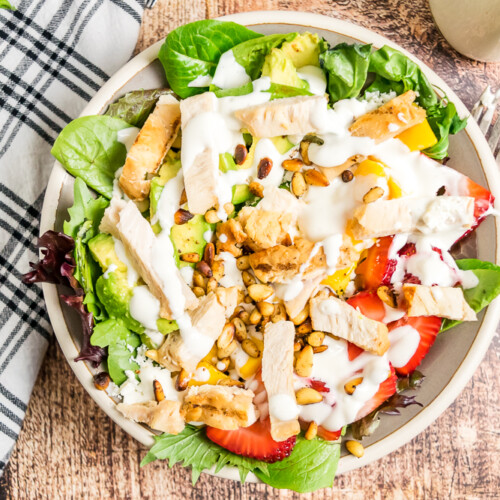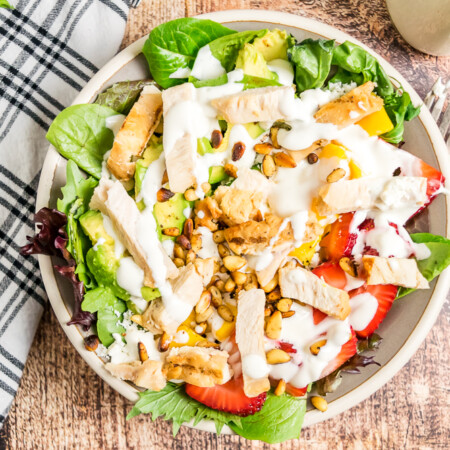 Strawberry Mango Avocado Salad
A light and refreshing mix of sweet and tangy, creamy and crunchy, healthy and satisfying make this a perfect spring or summer salad. This salad serves four as a side dish, and two as a main dish. Double it to make four main dish salads and feel free to add grilled chicken to make it a complete meal.
Servings:
4
as a side, 2 as a main dish
Ingredients
For the Creamy Greek Yogurt Honey Lemon Lime Salad Dressing
For the salad
2

Tablespoons

pine nuts

One 5-6 oz. bag of mixed baby greens

spring greens, or your favorite salad mix

1

cup

sliced strawberries

Half

of a

mango,

peeled and thinly sliced

Half

of an

avocado,

removed from the shell and thinly sliced

4

oz.

goat cheese,

crumbled or cut into about 8 slices

grilled chicken, shrimp, steak, beans, etc.,

optional
Instructions
For the Creamy Greek Yogurt Honey Lemon Lime Salad Dressing
Combine all of the ingredients in a bottle, jar, or another sealed container, or a bowl, and shake or whisk until thoroughly combined.

Adjust seasoning with salt and pepper, to taste.
For the salad
Place the pine nuts in a small skillet over medium low heat and gently toast, tossing occasionally, until lightly golden and giving off a nutty aroma. Be careful not to burn them.

Divide the salad greens between 2-4 plates or bowls (depending on whether you are serving this salad as a main dish or a side dish).

Divide the strawberry slices, mango slices, and avocado between the dishes. Top with the goat cheese and pine nuts. Drizzle with the Creamy Greek Yogurt Honey Lemon Lime Salad Dressing.

Add your protein of choice, if desired to make it a main dish.
Nutrition Facts
Strawberry Mango Avocado Salad
Amount Per Serving
Calories 157
Calories from Fat 99
% Daily Value*
Fat 11g17%
Cholesterol 13mg4%
Sodium 117mg5%
Potassium 158mg5%
Carbohydrates 7g2%
Protein 7g14%
Vitamin A 778IU16%
Vitamin C 32mg39%
Calcium 55mg6%
Iron 1mg6%
* Percent Daily Values are based on a 2000 calorie diet.
Categories:
Enjoy!