This post may contain affiliate links. Read my disclosure policy.
Strawberry Wedge Salad with Bacon and Blue Cheese has a burst of sweet, juicy seasonal berries to add a summer flavor to the classic wedge salad recipe, and a homemade blue cheese dressing made with Greek yogurt lightens it up. Throw a steak on the grill and forget the steakhouse price tag when you make this easy salad recipe.
Strawberry Wedge Salad with Bacon and Blue Cheese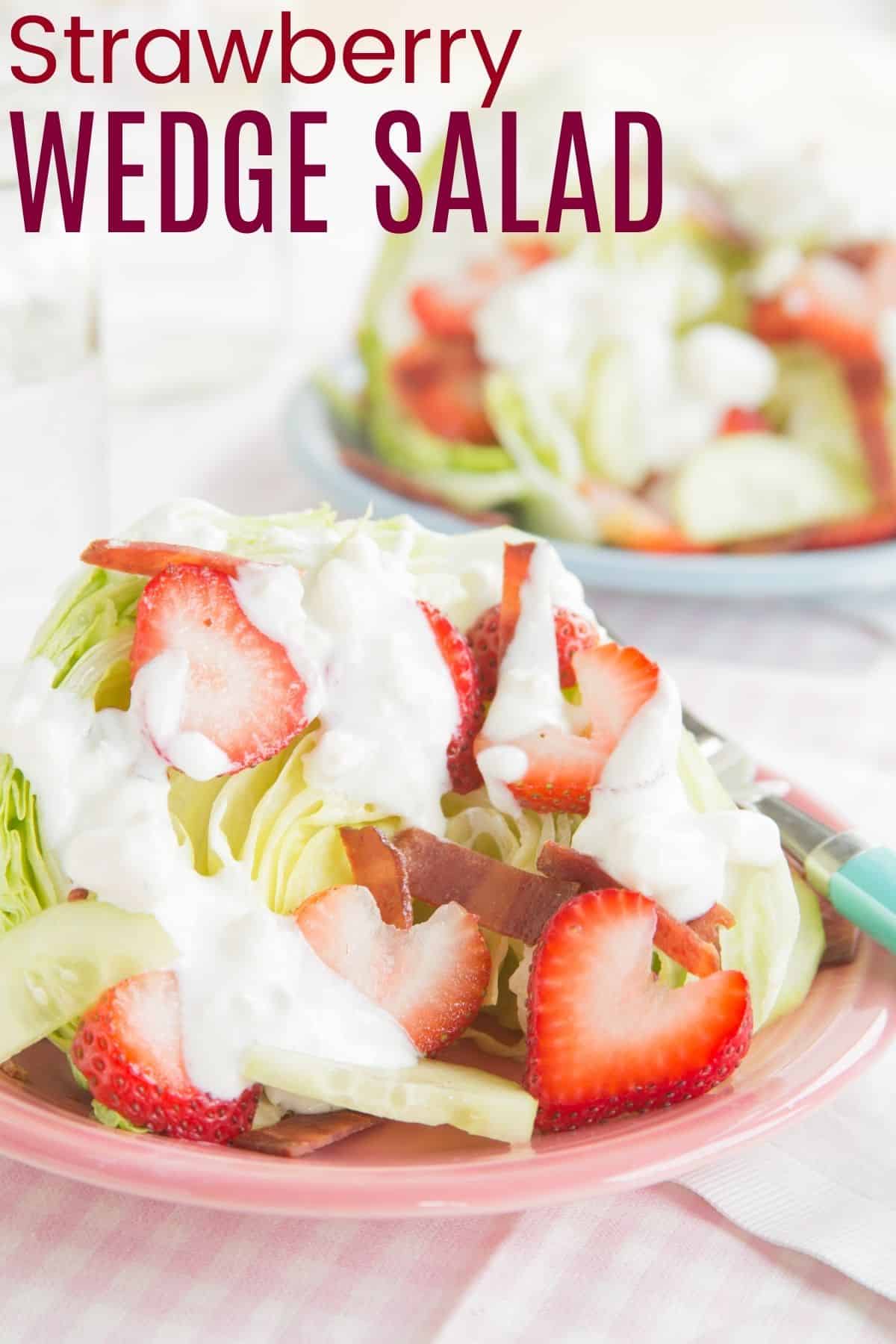 If you kids share a bedroom – well, wow! Just wow! You know those kids who will sleep in strollers, crash on the couch watching TV if they are really tired, pass out in the car on long rides – yep, not my kids. You know where they sleep? In their beds. Alone. In the dark. So whenever they have to share a room, it's pretty much an epic disaster. This weekend at my mom's was no exception.
Of course there were the usual giggle-fests that occur as soon as there is a flicker of sunlight in the morning. Then we had Little Dude sleeping on a mattress on a floor for the first time, since he is now too big for the Pack & Play. So every night he had to roam around the room, throw a tantrum because I put up a gate since I didn't want him to roam headfirst right down the stairs, have me adjust his blankets and re-tuck Elmo in with him and adjust his car book ten times, run to the gate and scream, then make me come back upstairs before he finally would lay down and let me rub his back before he would finally settle down. Naturally all of this would induce laughter and encourage the big brother to provoke these antics in order to further delay falling asleep even more, since seriously, you have never seen anyone fight sleep until you've seen The Bug.
After all of this laughter, The Bug had to pee. Oh wait, I forgot to mention that The Bug had been wearing nighttime training pants mainly because he was too dang lazy to get his butt out of bed in the middle of the night to go to the bathroom. Well, has only been sleeping without them for a couple of weeks, so obviously I need to be supportive and encouraging of him "listening to his body" and going to the bathroom. But remember that aforementioned gate? So yeah, if he has to pee, I have to come get him out of the room. Which not only would be completely necessary right at the exact moment Little Dude was about to fall asleep, thus restarting the entire process, but also inevitably at about 5 or 6am. Do you think Little Dude slept through this? No, of course not.
So I'd try to settle them down, attempt to crawl back into bed or get on the computer and do some work or go for a run, and they would start the "Let's See How Loud I Can Make My Brother Scream" game.
Awesome.
Then let's add on to this that we had a weekend of beach, fro yo, outdoor festival, boardwalk, going out for dinner, and an utter lack of napping, meaning overtired kids going to bed later than usual, which, because of kiddie sleep math obviously leads to them waking up earlier than usual. By night five, my mom couldn't understand why I was starting the bedtime routine so early at 7pm, which I might add is their normal bedtime at home.
Ummmm, perhaps because they don't actually go to sleep till at least an hour after I start the process! And perhaps because I've been up since The Bug beckoned me at 5:30 am, Little Dude went into meltdown mode and wouldn't fall back to sleep, so I took him for a run in order to let everyone else in the house sleep because mama doesn't need sleep, right?!
And none of this has anything to do with salad except for the fact that were were so busy and I was so tired from this weekend and had no posts ready to go for today, and these were the fastest photos for me to edit and the easiest recipe for me to write up…
I am obsessed with both wedge salads and salads with fruit, so I thought I would combine the two in this Strawberry Wedge Salad with Bacon and Blue Cheese.
Now I tend to opt for salad greens that pack a little more nutritional value than iceberg, but nothing else gives that crunch factor in this type of salad. Plus the lettuce is really the vehicle for all of the other amazing flavors. You've got the classic salty smoky bacon and fresh cucumbers. No wedge is complete in my book without creamy and tangy blue cheese, but I made it healthier by using my Greek Yogurt Blue Cheese Dressing. Then, to change things up and add a sweet element that perfectly complements all of the other flavors – strawberries!
The Hubby really only eats salads because I make them, not because they are his favorite thing to eat, but this one he really enjoyed, as did my boys. And of course I devoured my share! There's a lot of flavor going on, but without being a salad that is complex to prepare. I love an interesting salad, but I don't want to take forever preparing all of the different components. All I had to do here was toss some bacon in the oven, and while it crisped up, I quickly stirred together the dressing and sliced the berries and cukes. A few quick slices through a head of iceberg lettuce and then all you have to do is pile it all on a plate. Serve it as a side dish to a grilled steak, or top it with some chicken slices for a dinner salad. This is a salad you will enjoy all summer long!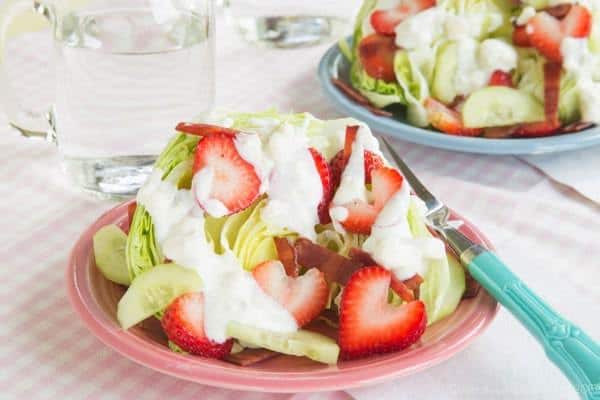 Any tricks for having your kids sleep in a room together?
Get Cupcakes & Kale Chips delivered to your Inbox! Every Friday you'll see all of the Yummy Eats & Tasty Sweets from the week. Sign up HERE.
Strawberry, Bacon and Blue Cheese Wedge Salad
A light and fresh twist on a classic salad for an easy and healthy summer recipe.
Ingredients
1

head

iceberg lettuce

4

slices

bacon

cooked and crumbled (I used turkey bacon)

1

cup

sliced cucumbers

1

cup

sliced strawberries

Greek Yogurt Blue Cheese Dressing

or your favorite
Instructions
Remove any wilted outer leaved of the lettuce and cut the head into quarters. Slice off the hard core and, if desired, cut each wedge in half to form eighths. Place one quarter or two eighths on each plate.

Top each with about one slice crumbled bacon, one quarter cup cucumbers, and one quarter cup strawberries.

Drizzle each wedge with about two tablespoons of the dressing, or as much as you like.
Nutrition Facts
Strawberry, Bacon and Blue Cheese Wedge Salad
Amount Per Serving (1 g)
Calories 126
Calories from Fat 81
% Daily Value*
Fat 9g14%
Cholesterol 14mg5%
Sodium 160mg7%
Potassium 333mg10%
Carbohydrates 7g2%
Protein 4g8%
Vitamin A 700IU14%
Vitamin C 26mg32%
Calcium 35mg4%
Iron 0.9mg5%
* Percent Daily Values are based on a 2000 calorie diet.
Categories:
Here are some more of my favorite salads…
And a few from my friends…