This post may contain affiliate links. Read my disclosure policy.
These 45+ Dinner Salad Recipes are more than just a pile of lettuce. With veggies, protein, and tons of toppings, you can have totally satisfying salads for dinner. Whether you want it topped with chicken, beef, or seafood, or prefer a plant-based option, you'll find a delicious meal in this collection.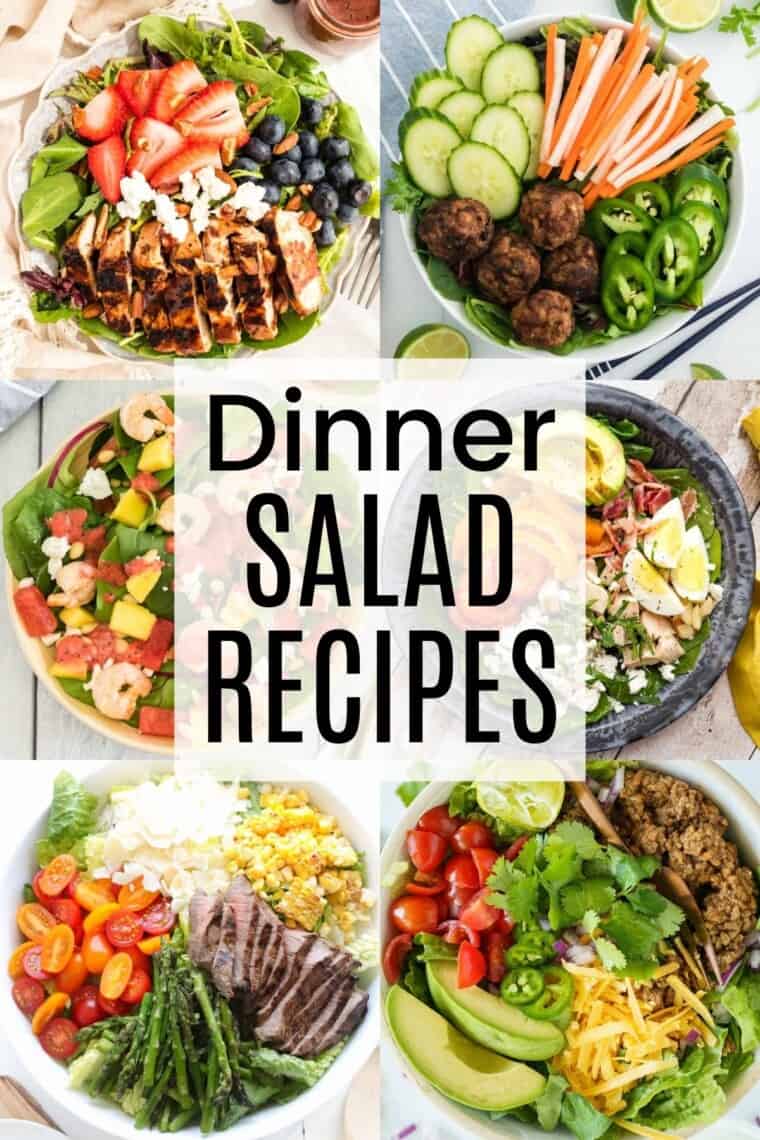 Are salads healthy for dinner?
Salads can be a very healthy dinner option. It's a great way to pack in multiple servings of a rainbow of vegetables at one meal, including plenty of leafy greens. This gives you fiber and a wide variety of nutrients. You can choose toppings that provide even more vitamins and minerals, and even some superfoods. And from chicken to beef, seafood to beans, and more, you have plenty of options to add protein.
However, especially when you order a salad at a restaurant, it's easy to end up with gigantic portions of calorie-dense or even unhealthy toppings. Not to mention that they are often doused in heavy dressings.
That's the benefit of making dinner salads at home. You control both the quantity and quality of the ingredients, and you can easily adjust the amount of each of the toppings to fit into your lifestyle or nutrition goals. It's also easy to swap out or leave off a topping if you need gluten free, low carb, or meatless options. And homemade salad dressings can be made light and healthy too.
Satisfying Salads for Dinner
Even healthy dinner salad recipes can be a delicious meal that satisfies anyone, whether you are looking for something light, or need to refuel after a busy day or intense workout.
If you want a hearty salad with meat like chicken or turkey, beef or pork, prefer seafood, or even want a vegetarian meal, there are dinner salads for everyone in this sollection!
CLICK ON THE TITLES TO GET THE RECIPES
Key to finding gluten free recipes:
GF – gluten free recipe
GFO – recipe with gluten free option
Chicken Salad Recipes
Juicy marinated chicken, fresh berries, goat cheese, crunchy pecans, and an easy homemade vinaigrette salad dressing, it's a healthy packed with flavor.
An update on the classic Cobb salad with the traditional chicken, bacon, avocado, and egg, but it adds the bright flavors of strawberries and oranges, plus poppyseed dressing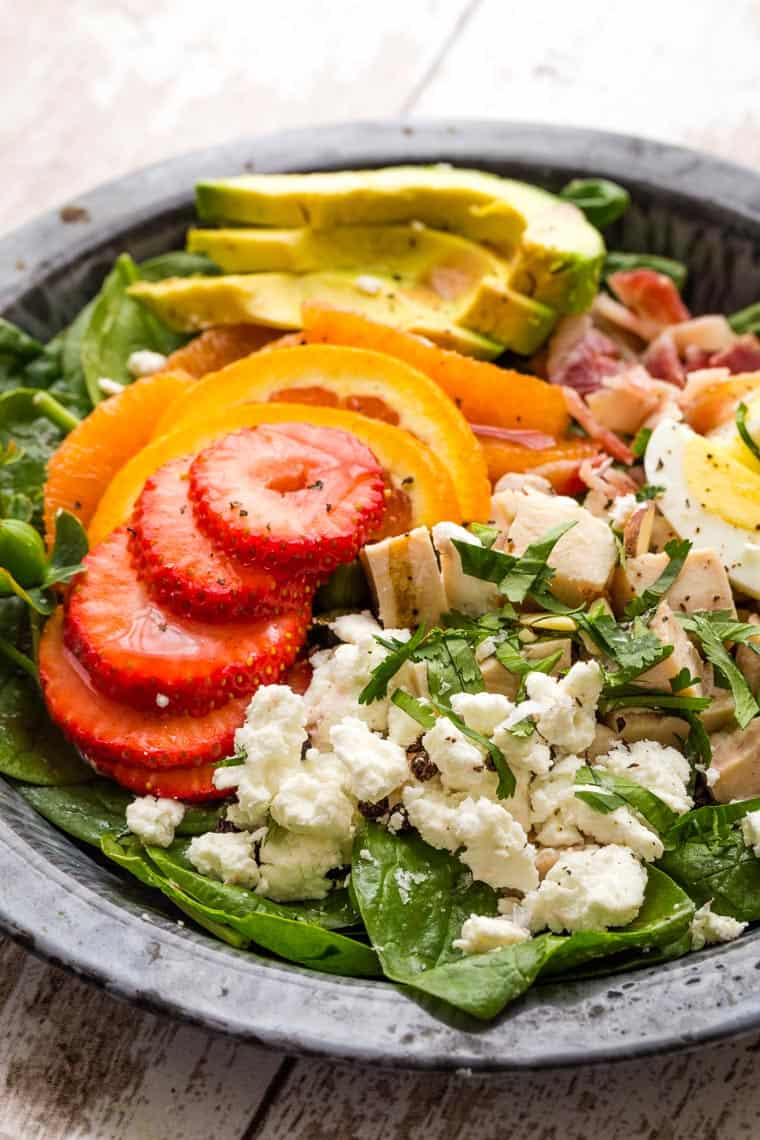 One of everyone's favorite dinner salads with romaine lettuce tossed in a creamy light Caesar dressing made with Greek yogurt and plenty of grilled chicken.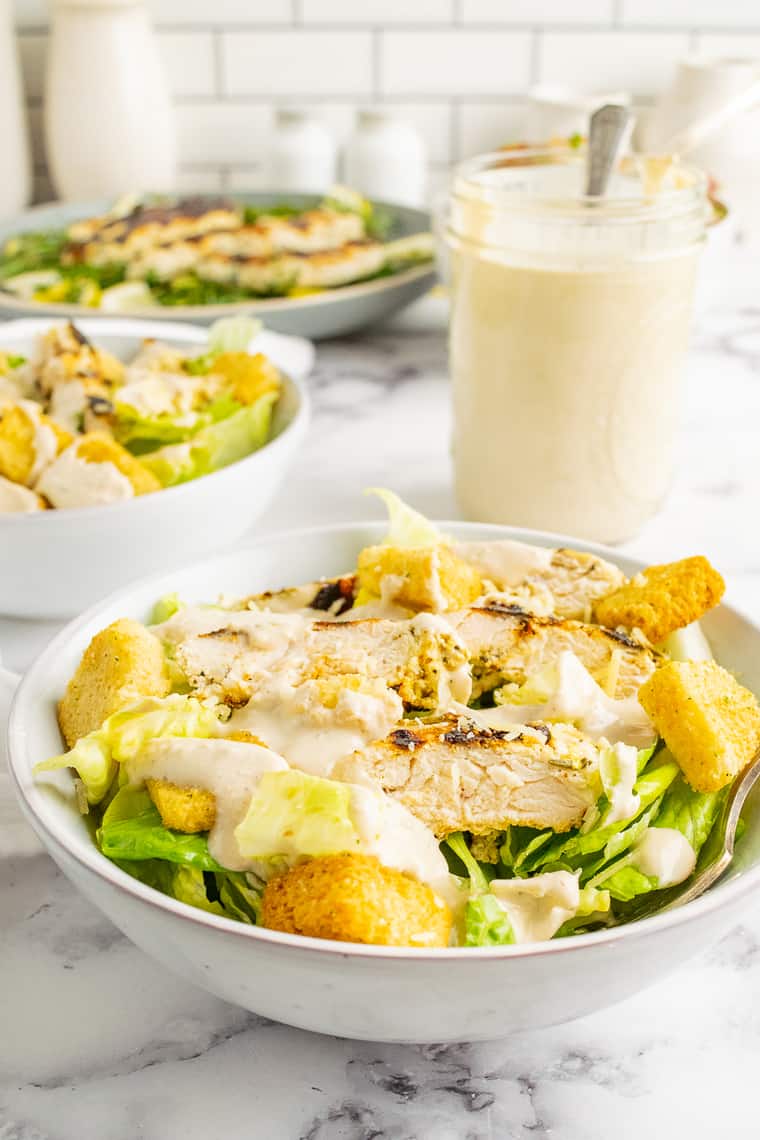 There's not much better than firing up the grill and inviting friends over for a party, especially when you can combine fresh ingredients with amazing grilled toppings and let everyone customize a satisfying dinner salad.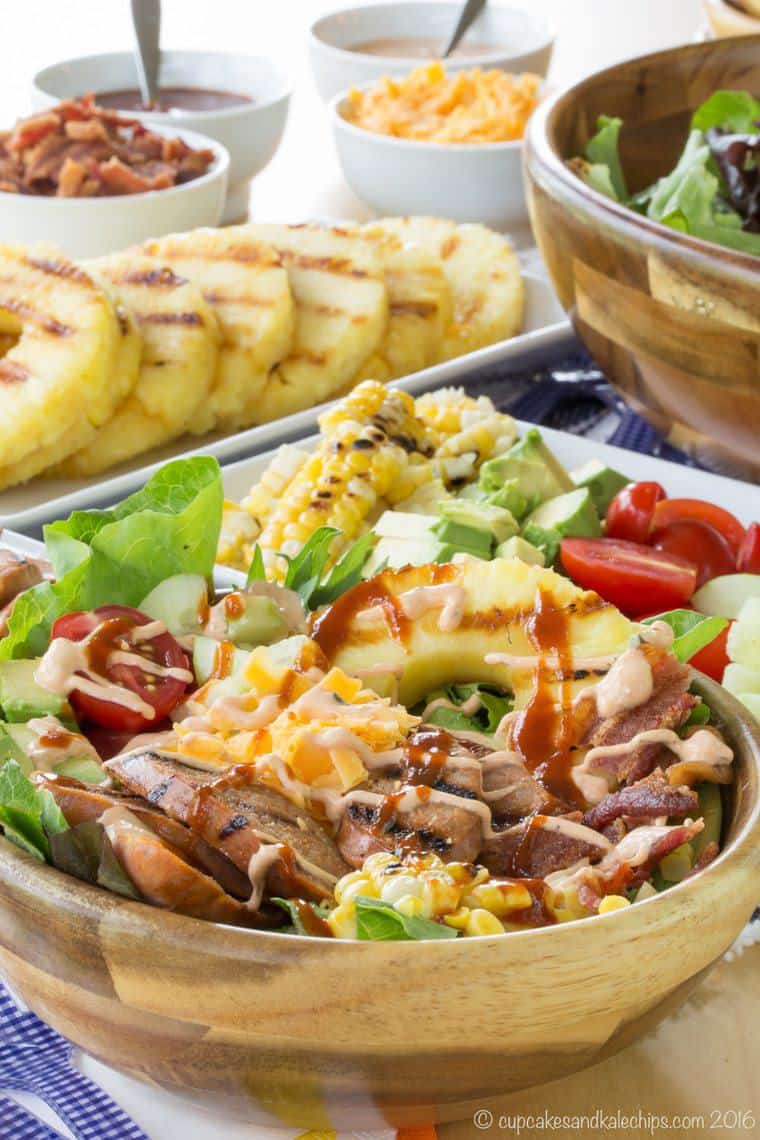 A satisfying and fresh chicken salad featuring the best late summer produce.
More Salads with Chicken
Beef and Steak Salad Recipes
So fresh and satisfying with tender slices of steak atop a bed of crisp lettuce and juicy tomatoes, finished off with the perfect charred flavor of lightly grilled corn and asparagus.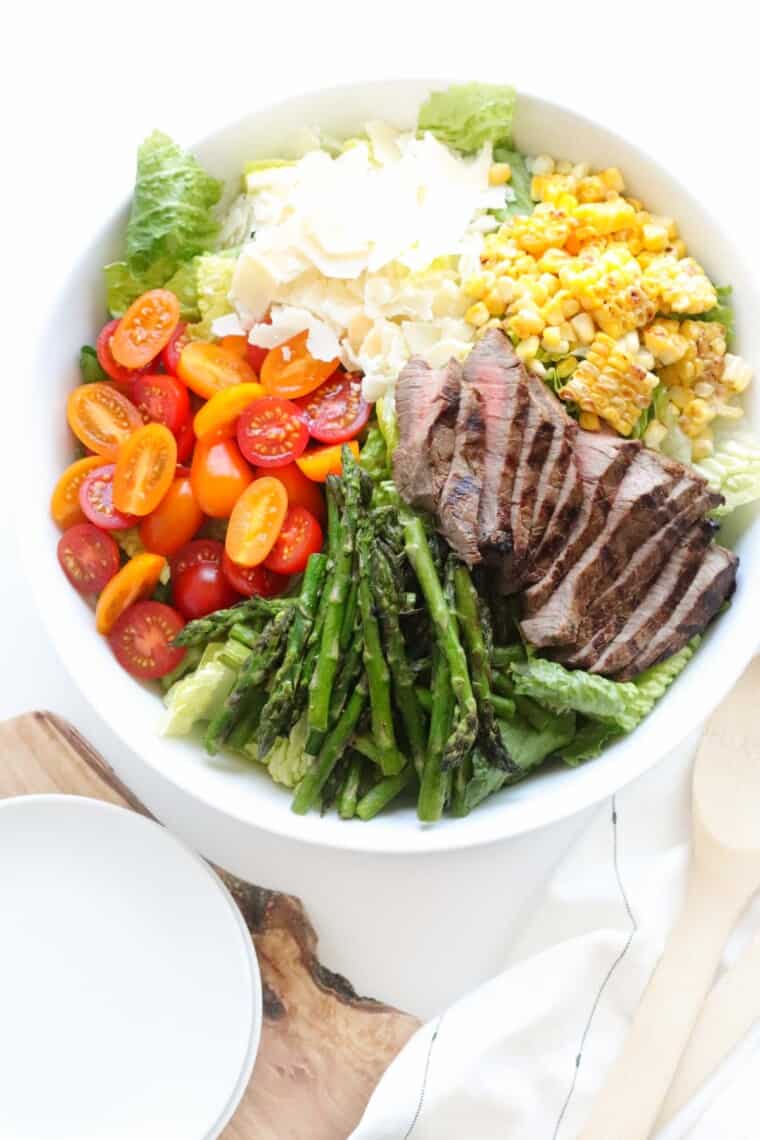 Filled with fresh greens, colorful veggies, hearty taco-flavored meat, cheese, and sour cream, you'll love this fast family dinner, and each person can use their favorite toppings
Grilled steak with sweet slices of mango, juicy tomatoes, and rich and creamy Avocado Ranch Dressing is a hearty diner salad recipe that makes a satisfying meal for even the biggest appetites.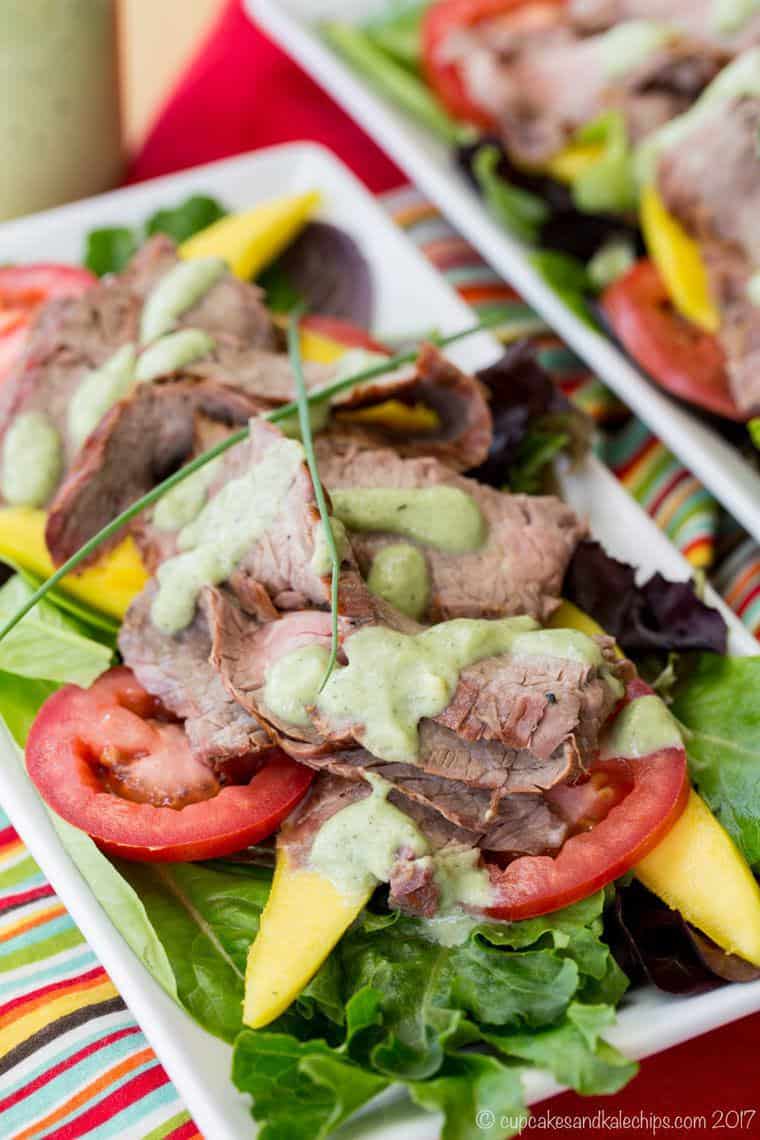 Covered with any leftover grilled steak, sautéed mushrooms, slightly melty cheese, toasted pecans, and a Fig Balsamic Vinaigrette, this is definitely a salad for dinner that truly makes a meal.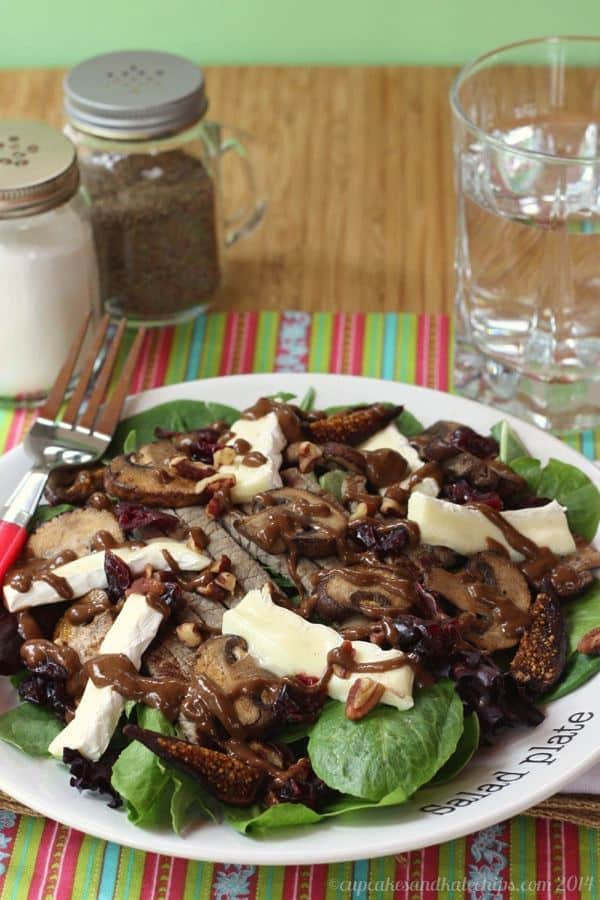 More Salads with Beef
Pork and Turkey Salad Recipes
Traditional Banh Mi ingredients (minus the actual Banh Mi, or bread, itself) including pork meatballs and quick pickled veggies are piled on a bed of lettuce to make a flavor-packed, light, and gluten free way to enjoy the flavors of the classic street food.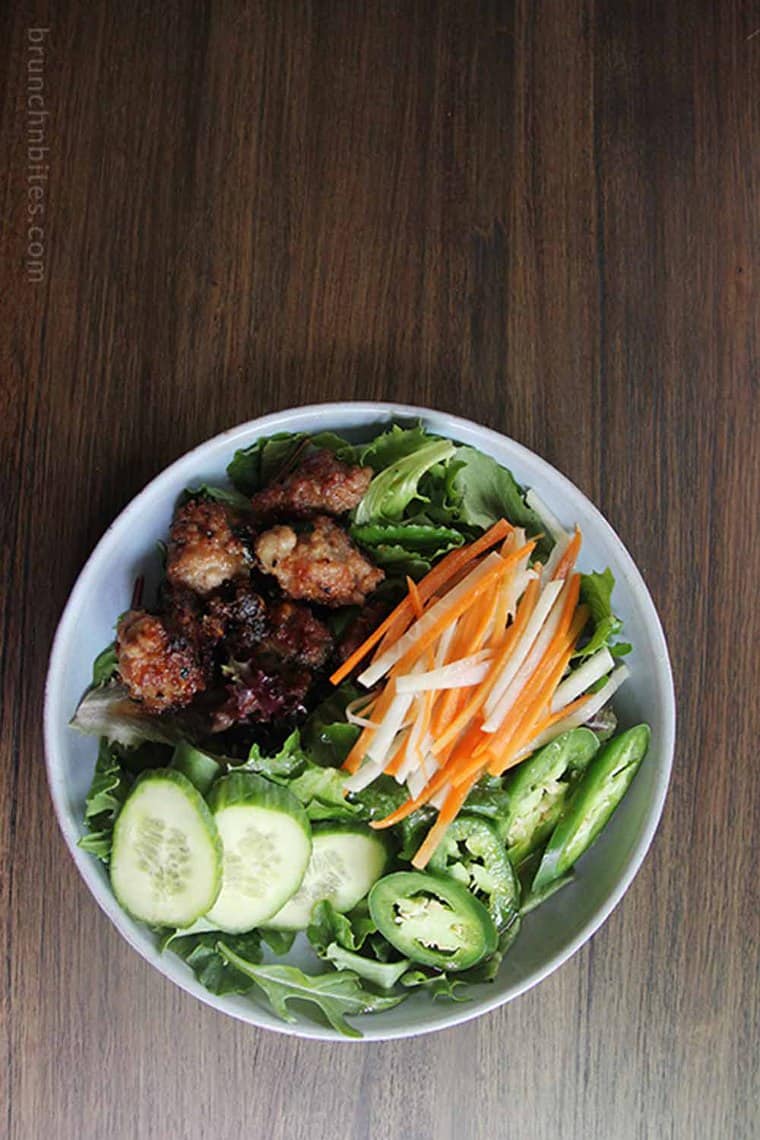 The classic Cobb Salad is updated with fresh, local, seasonal ingredients like corn, cheddar cheese, and Creamy Maple Dijon Dressing.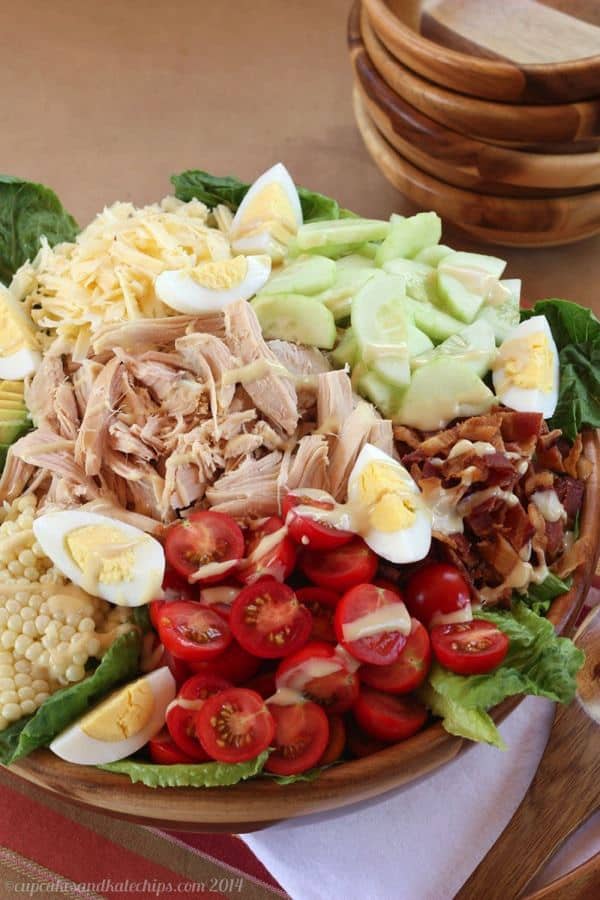 Top Romaine hearts with crispy prosciutto, mozzarella, parmesan, and a light and easy Creamy Balsamic Dressing for a tasty twist on the classic with favorite flavors from Italy.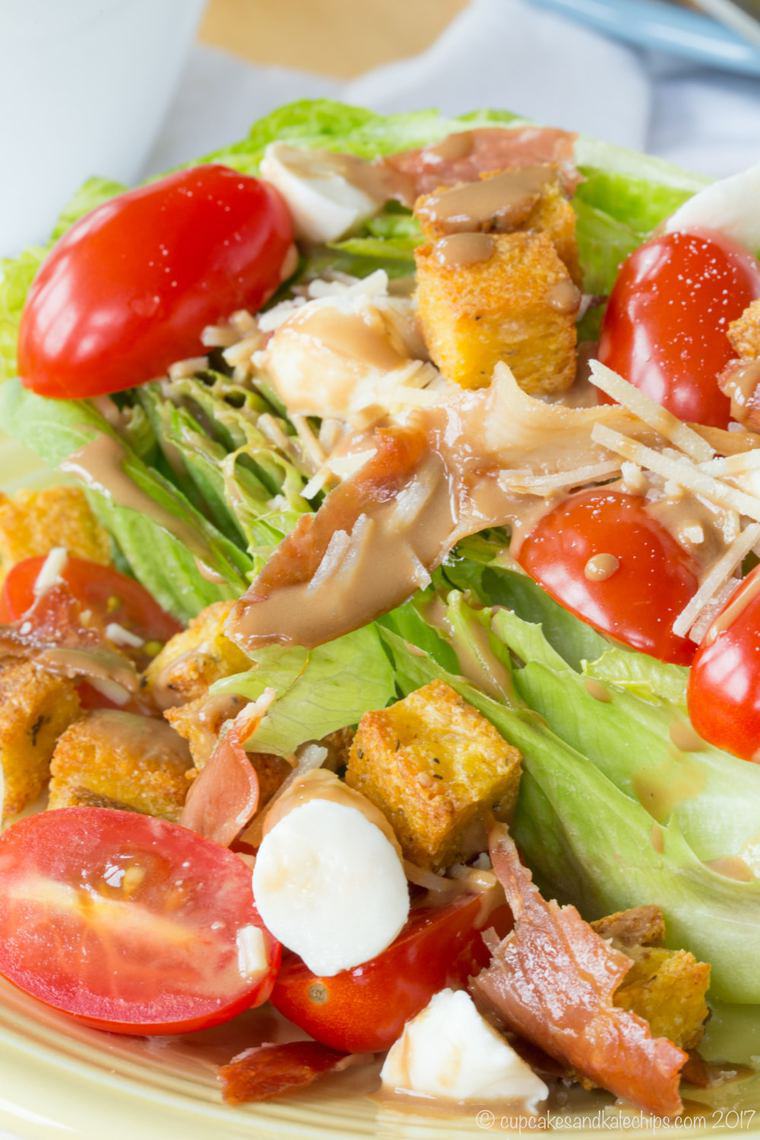 Make it on a plate or pack it in a Mason jar, this salad has a simple vinaigrette with feta cheese, pine nuts, deli turkey, roasted red peppers, olives, cucumbers, and Romaine lettuce for everything you could want in a satisfying dinner salad.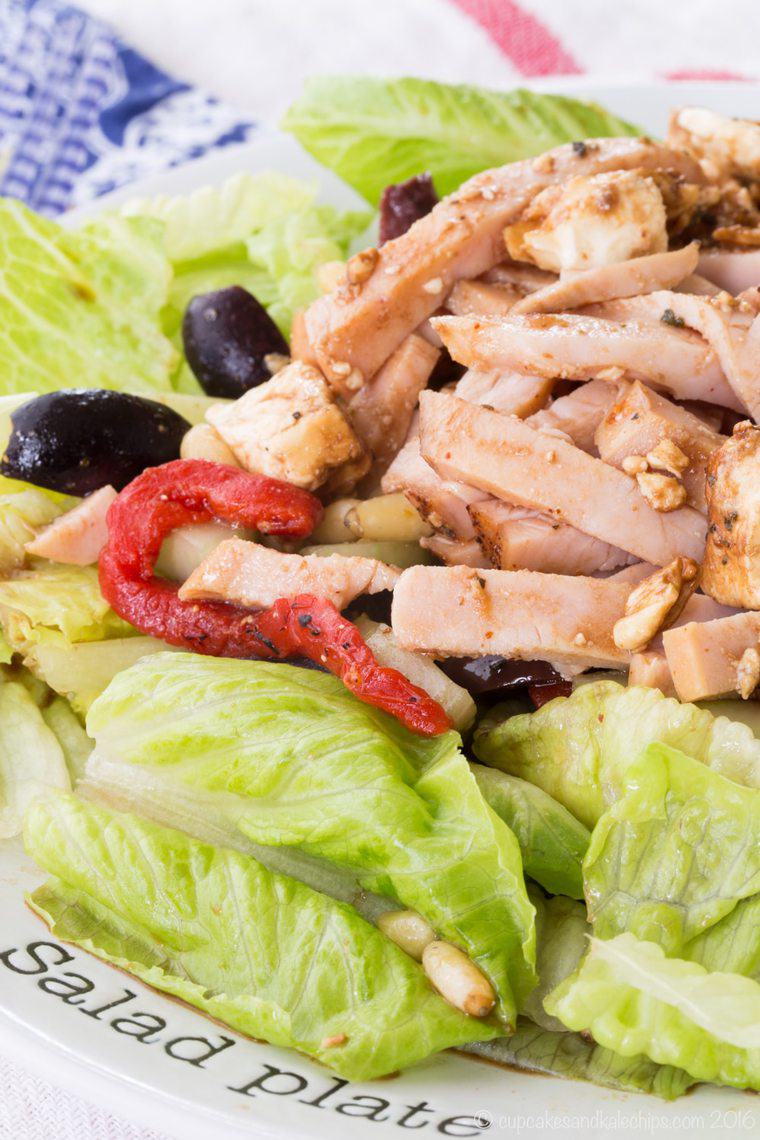 Not all dinner salads are for the summer, like this one with autumn favorites including roast turkey, apples, sweet potatoes, and Cranberry Balsamic Vinaigrette.
More Salads with Meat
Seafood and Shrimp Salad Recipes
Fresh, flavorful, and filling with a bit of a Mexican twist from the addition of grilled corn, Cotija cheese, and a spicy Cilantro Lime Ranch Dressing.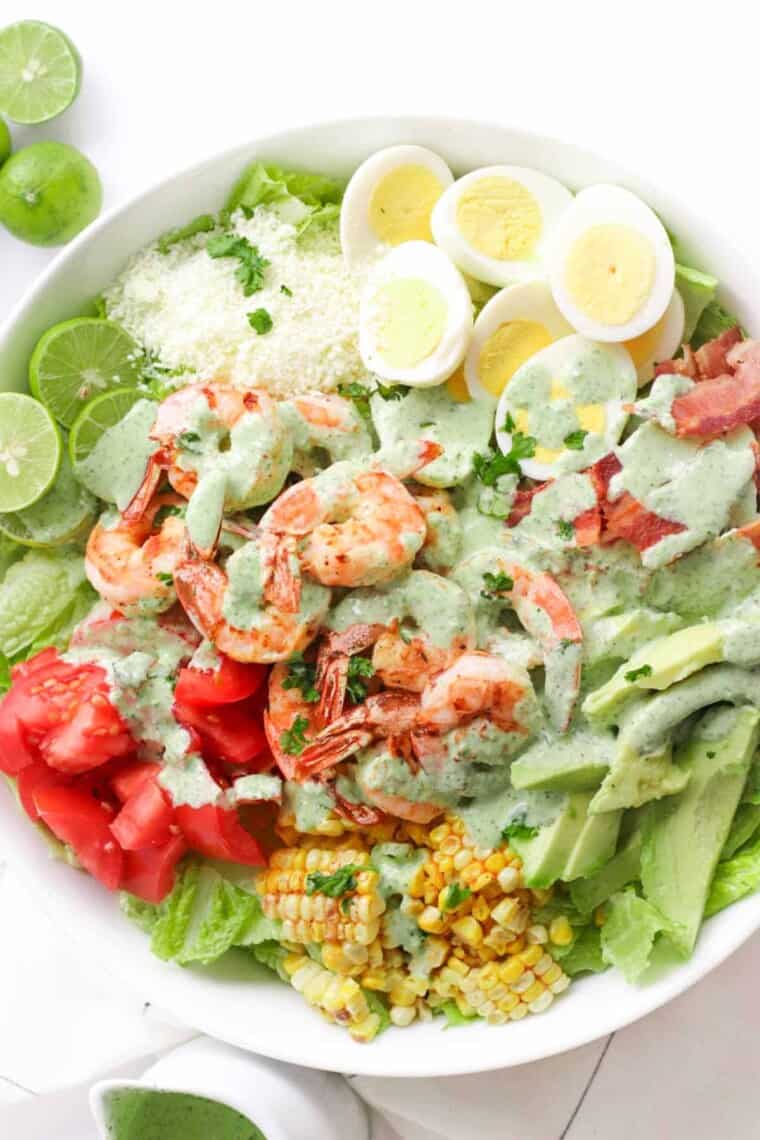 It's the perfect summer dinner recipe with its combination of seafood, vegetables, and let's not forget the cheese, avocado, and, of course, bacon.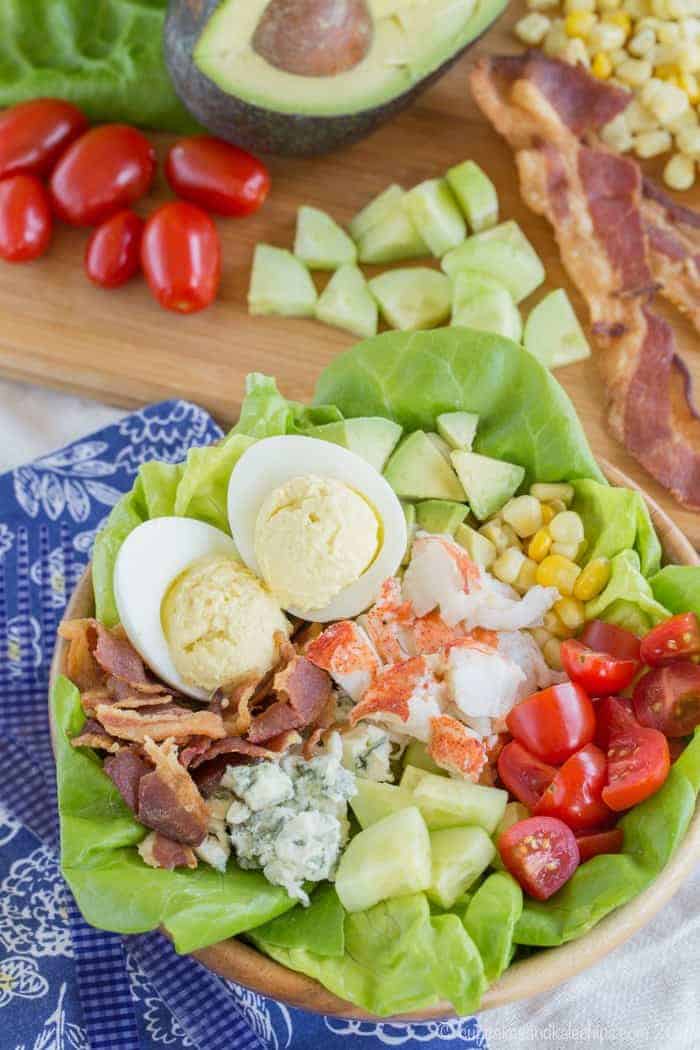 You'll love the succulent shrimp paired with fresh fruit, tangy goat cheese, and a zingy Strawberry Lime Poppyseed Vinaigrette.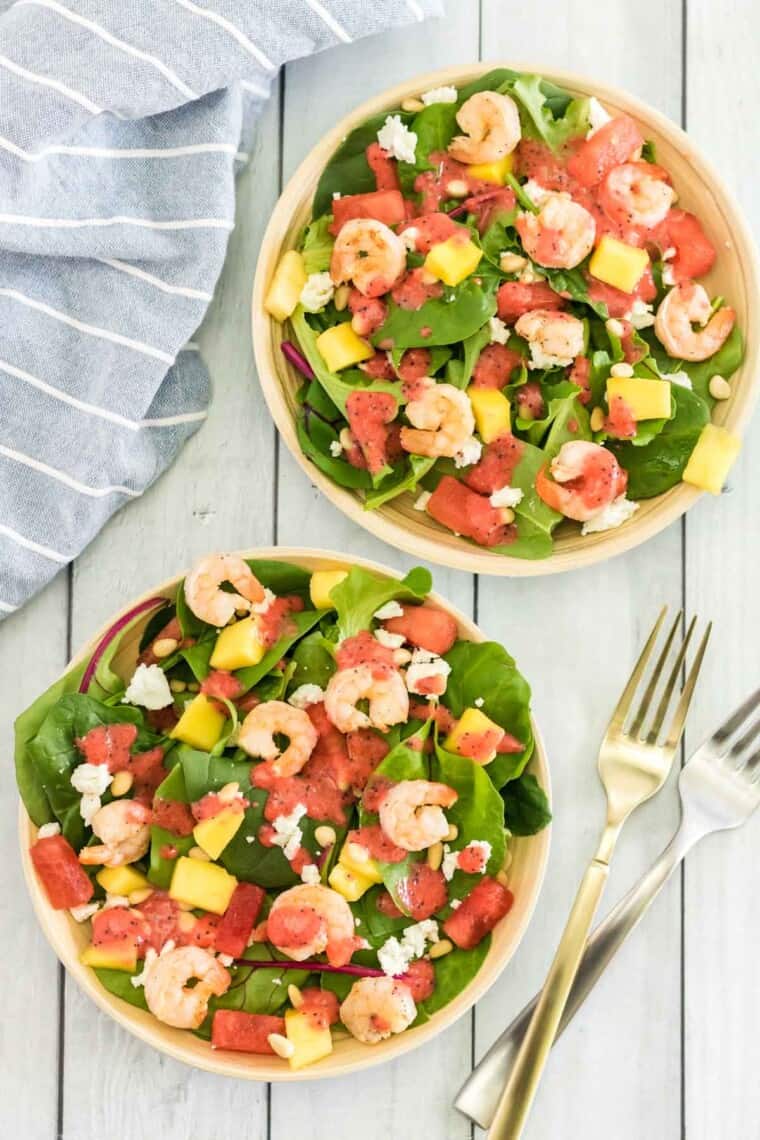 More Seafood Salads
Vegetarian Dinner Salads
This light and lovely salad with blue cheese, glazed walnuts, blue cheese, and a creamy sherry dressing is easy, fresh, and delicious, and you can enjoy it as-is or add your favorite protein.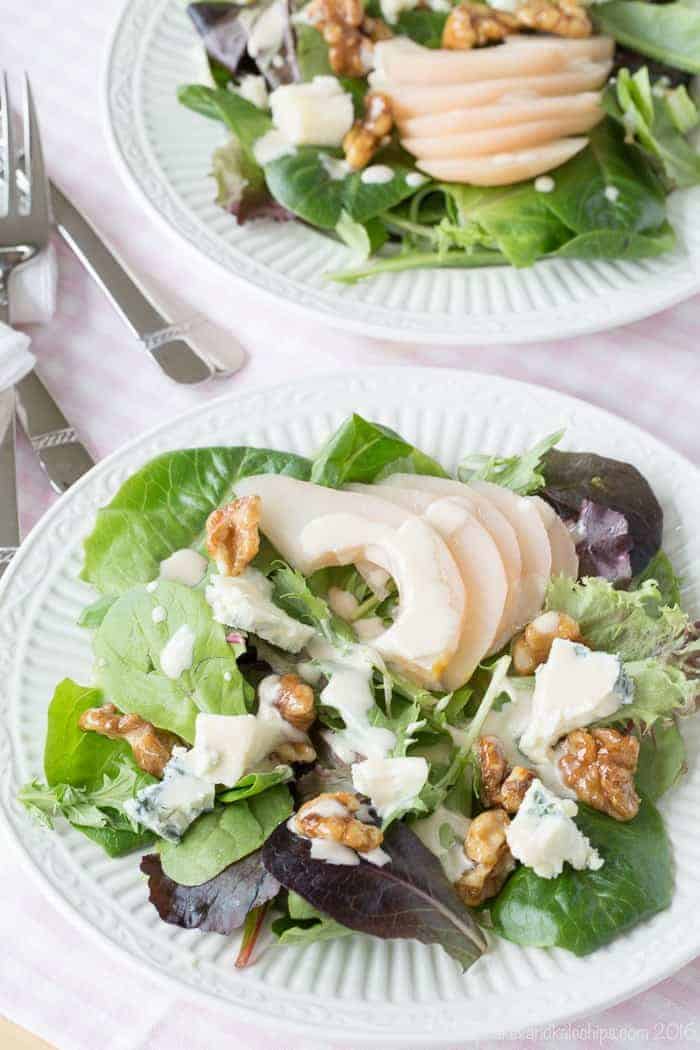 Topped with goat cheese, pine nuts, and a creamy citrus dressing, it is a delightfully fresh mix of sweet and tangy with healthy and satisfying.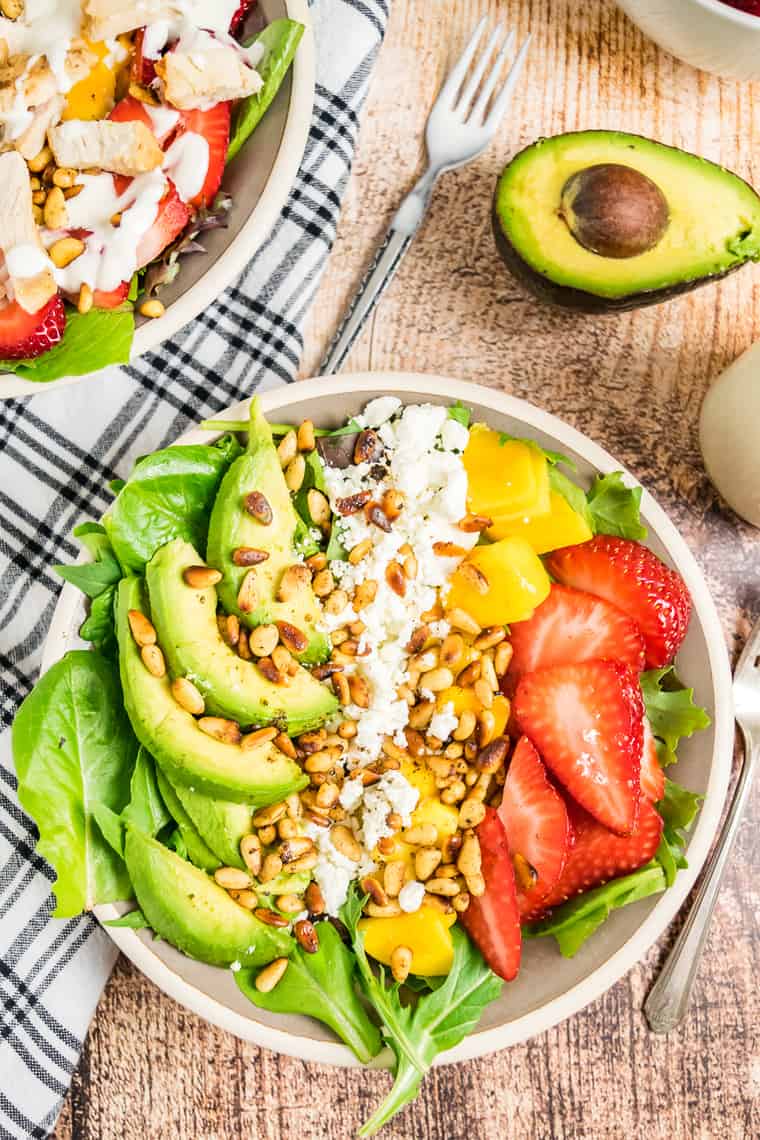 More Meatless Dinner Salad Recipes