This post may contain affiliate links. Read my disclosure policy.
Lobster Cobb Salad is a deliciously light and fresh warm weather dinner. It's the perfect summer dinner recipe with its combination of seafood, vegetables, and let's not forget the cheese, avocado, and, of course, bacon!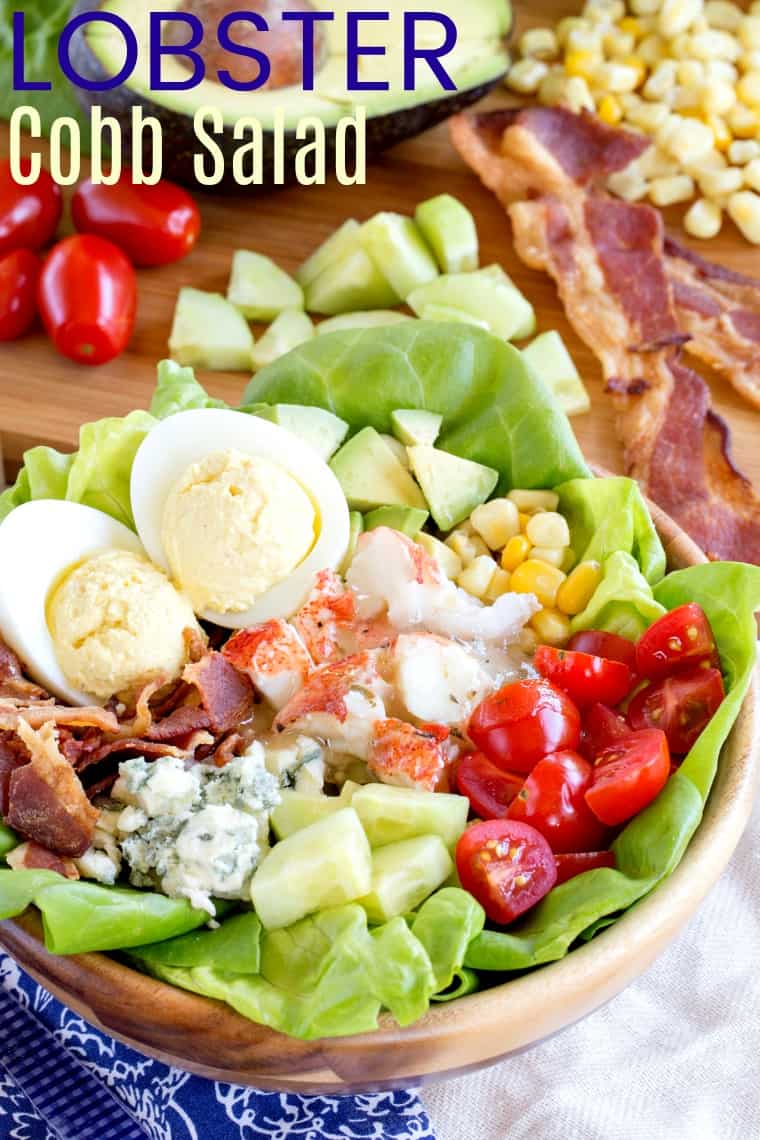 Originally published on Apr 26, 2016
Did you ever go to a restaurant, one that maybe you weren't even super excited about visiting, but it just happened to be there and convenient? Maybe you were in the mall during the holiday season and everyone was getting tired and cranky and hungry, and there was no wait, so you just went?
So you go, you look at the menu, your order something, you start to mindlessly stab at it with your fork, and then all of a sudden it's like choirs of angels are singing and a light shines down upon you, and you no longer hear the noise or see the chaos around you.
You just begin to taste this magical amalgamation of flavors and textures. Let's not forget that it's stunning to behold, too. And for just a minute, there is peace and calm, and all is good with the world.
Then you reach the bottom of your bowl and that moment of a blissful zen-like existence is over and it's back to the real world. This is all hypothetical, of course.
OK, it's not. It happened. And you guys, I've been daydreaming about that meal for months. We have not made it back to the restaurant, and, despite eating it in December, it's just one of those recipes that felt summer-ish to me, so I waited. And waited.
Finally, I knew it was time. Time to recreate the salad…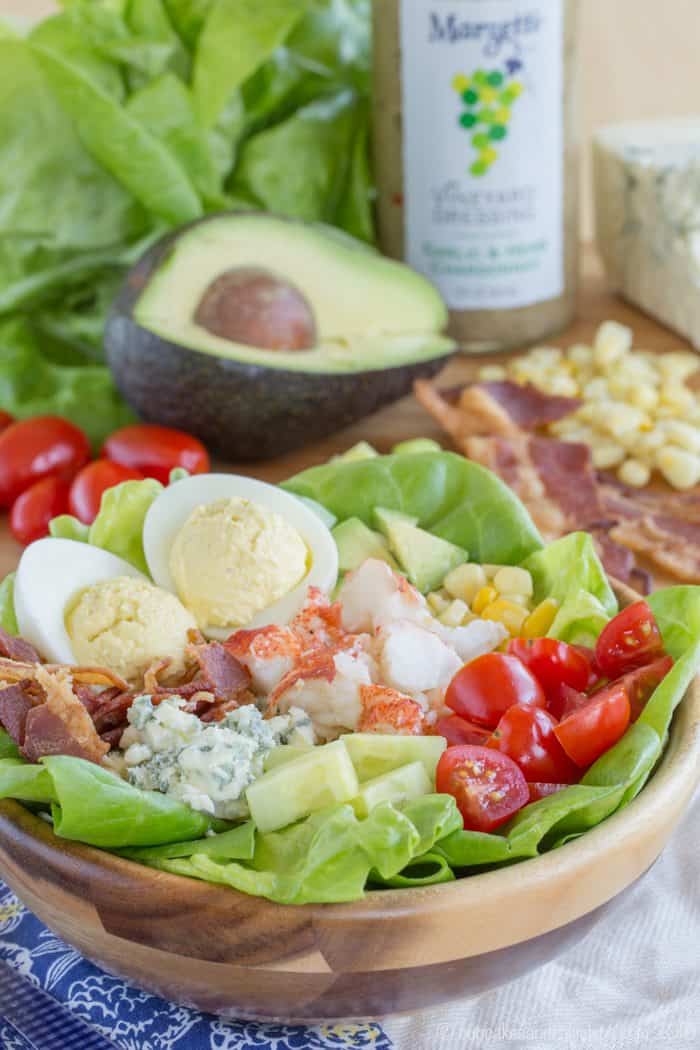 Cobb-Style Lobster Salad Recipe
The Cobb Salad is named after Robert Cobb, the owner of the Brown Derby restaurant in Hollywood. It was created in 1937 when he entered the kitchen very hungry one night and pulled out whatever was in the refrigerator. The hearty salad was so delicious he had to put it on the menu and it became an instant hit.
It differs from a Chef Salad in that the Chef's Salad typically doesn't contain avocado and has a mixture of deli meats, just like I used when I turned the basic idea into a Chef Salad on a Stick Appetizer or tucked into some Chef Salad Lettuce Wraps.
This Cobb-Style Lobster Salad recipe is a sophisticated, yet simple twist that adds a fresher, summery flair to this salad. Lobster tail makes this salad taste and feel luxurious. But a little goes a long way when paired with fresh greens and veggies, smoky bacon, rich avocado, tangy blue cheese, and a quick and easy deviled egg. Experience this foodie bliss any time you like.
What is in Cobb Salad?
Cobb salad typically contains chicken, bacon, avocado, hard boiled eggs, blue cheese, and tomatoes on a bed of lettuce. It is typically dressed with a red wine vinaigrette.
However, there are many variations on the Cobb Salad. In this Cobb Salad with Lobster, there are a few swaps and additions for this summertime version of the traditional recipe.
What You'll Need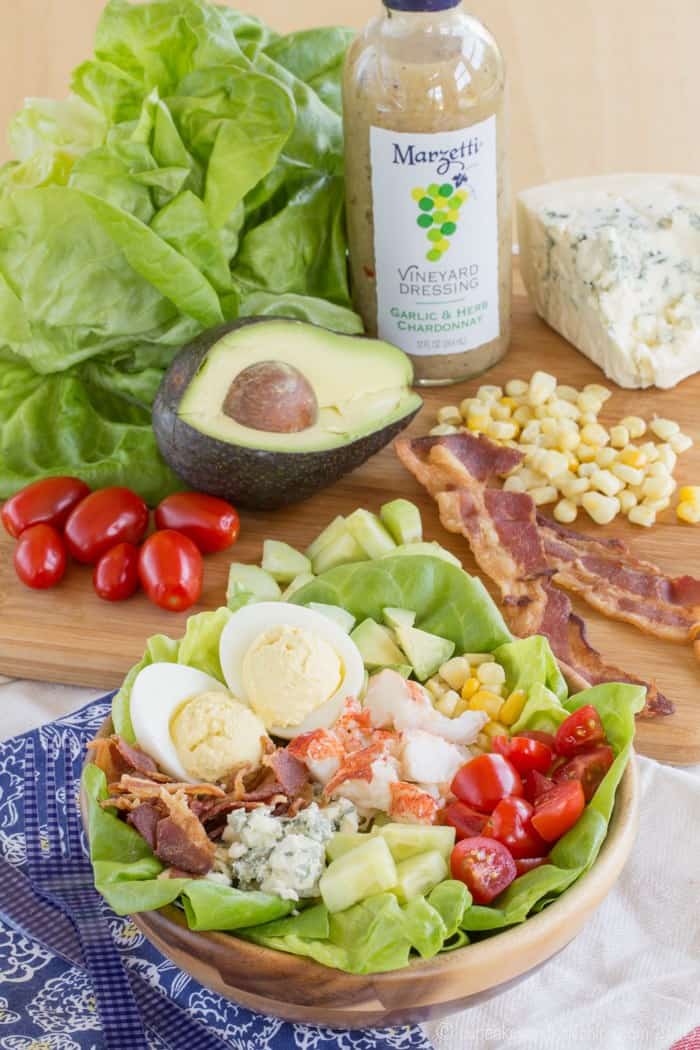 FAQs
Is Cobb Salad gluten free?
Yes, all of the ingredients in Cobb salad are or can be gluten free. If you are using a store-bought dressing, just check the label and ingredients to ensure it is gluten free.
Blue cheese used to be a concern as it was made with yeast that was grown on bread. This is typically not the case anymore, but if you are sensitive to it, you can always substitute crumbled goat cheese.
Is there corn in Cobb Salad?
Cobb salad typically does not contain corn. However, it is in this recipe to give it a bit more summery flavor. You can omit it if you would like to keep it low carb and keto.
Is Cobb Salad healthy?
This probably doesn't come as a shock, but with the bacon, avocado, cheese, and eggs, this is a bit heavier of a salad. However, it does make a satisfying full meal. So just watch the quantities of each that you use, and it can certainly be healthier than ordering it in a restaurant.
Do you have to use lobster?
No! A more budget-friendly seafood option is to use shrimp. Or if someone doesn't like or is allergic to shellfish, keep it classic with lemon herb grilled chicken or leftover rotisserie chicken.
Have any more questions about Lobster Cobb Salad? Leave me a comment and I'll be sure to add them to the list!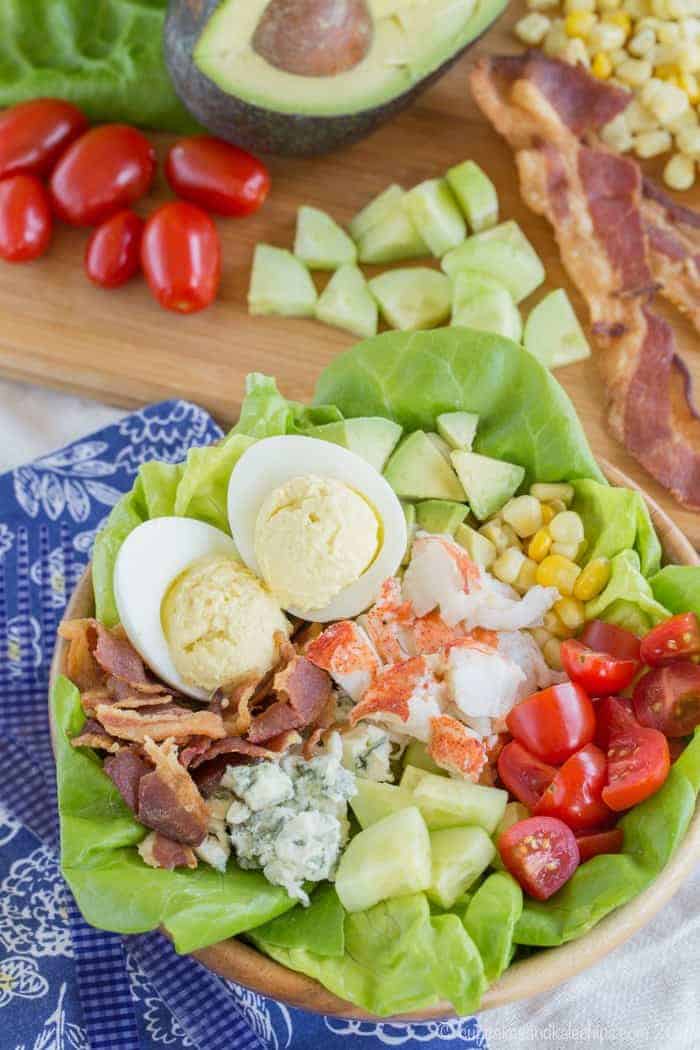 What to serve with Lobster Cobb Salad
Herbes de Provence Baked Sweet Potato Fries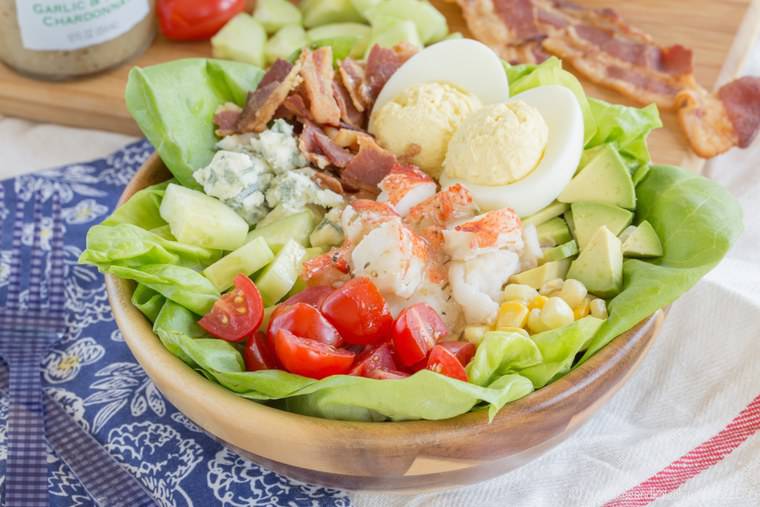 Cobb Salad with Lobster Recipe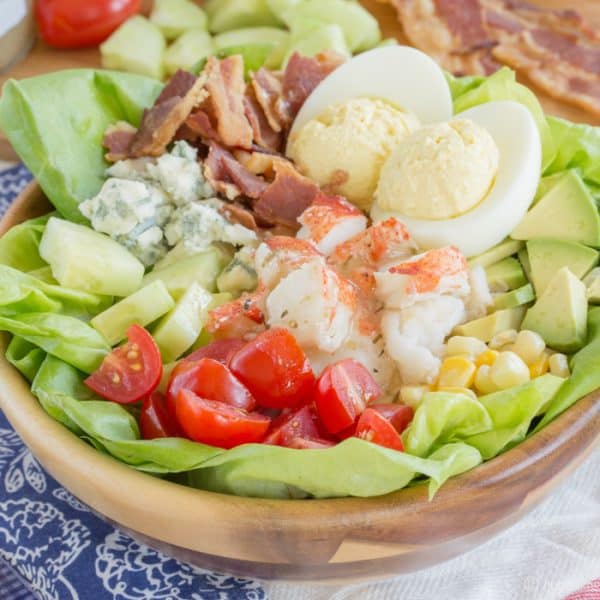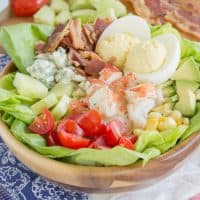 Lobster Cobb Salad
A simple way to add a little flair to the classic Cobb salad recipe with tons of flavor and texture.
Ingredients
4

eggs

hard boiled and halved

2

Tablespoons

Greek yogurt

or mayo

1

teaspoon

prepared yellow mustard

salt and pepper

2

lobster tails

1/2

tsp

olive oil

or a garlic and herb or champagne vinaigrette salad dressing

1

head

butter lettuce

1

cup

sliced cucumber

1

cup

halved or quartered grape tomatoes

1

cup

thawed frozen corn

drained canned corn, or fresh from cut from the cob

1/2

cup

chopped avocado

1/2

cup

crumbled blue cheese

8

slices

bacon,

cooked and crumbled

8

Tablespoons

store bought or homemade garlic and herb or champagne vinaigrette salad dressing,

or to taste
Instructions
In a small bowl, combine the yolks from the hard boiled eggs, Greek yogurt, and mustard. Stir until creamy, breaking up yolks with a fork. Season to taste with salt and pepper, and spoon the yolk mixture into the halved egg whites. Store in the refrigerator until needed.

Preheat your oven to 450°F.

Cut lobster tails in half lengthwise and brush each half with 1/2 teaspoon olive oil or 1/2 teaspoon vinaigrette salad dressing. Bake cut side up for about 6-8 minutes or until the internal temperature reaches 145°F. Set aside to cool.

Divide the lettuce, cucumbers, tomatoes, corn, avocado, blue cheese, and bacon between four bowls.

Remove the lobster from the shells, cut each half of a lobster tail into chunks and top each salad with the meat from half of a lobster tail.

Top each salad with two hard boiled egg halves and drizzle with 1-2 tablespoons of your choice of salad dressing
Nutrition Facts
Lobster Cobb Salad
Amount Per Serving (1 g)
Calories 399
Calories from Fat 252
% Daily Value*
Fat 28g43%
Cholesterol 245mg82%
Sodium 746mg31%
Potassium 616mg18%
Carbohydrates 14g5%
Protein 23g46%
Vitamin A 2065IU41%
Vitamin C 10.6mg13%
Calcium 171mg17%
Iron 2.1mg12%
* Percent Daily Values are based on a 2000 calorie diet.
Categories:
Enjoy!