This post may contain affiliate links. Read my disclosure policy.
Gluten Free Cornbread has a little extra fall flavor with the addition of apple butter. Tender and slightly sweet, it will be the perfect addition to an autumn dinner or holiday meal. You only need one bowl to stir a few basic ingredients together so you can bake this easy corn bread recipe.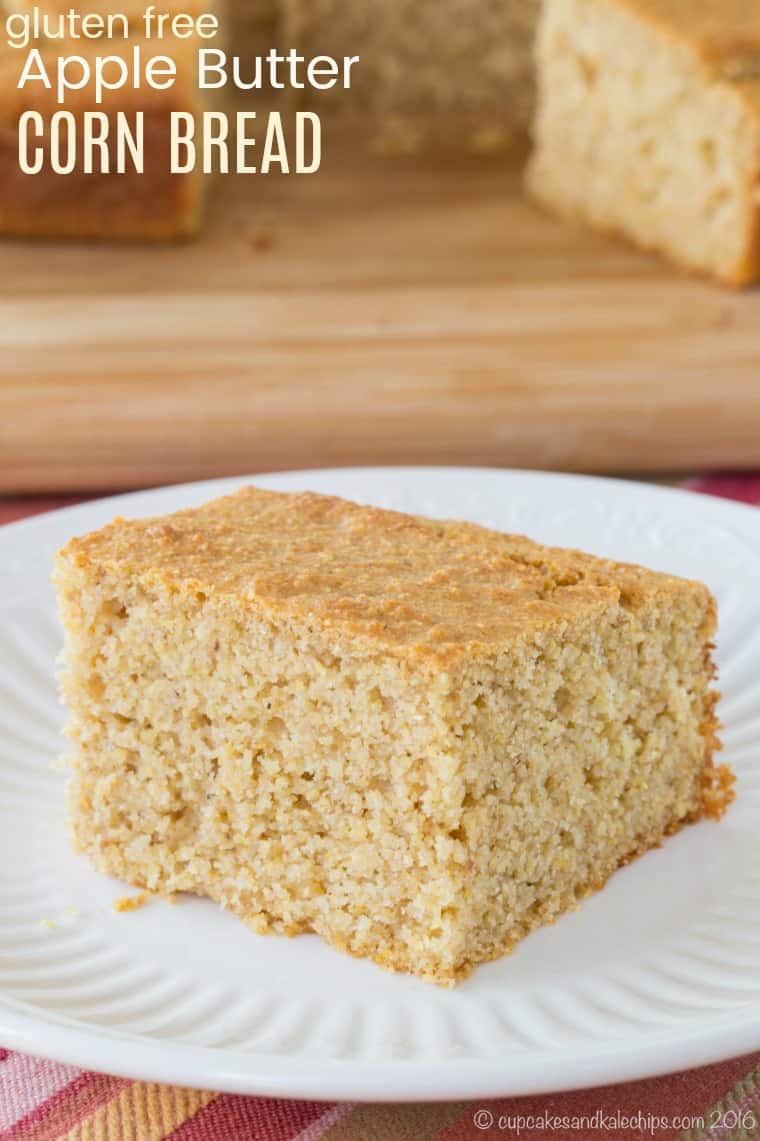 I have some weird eating habits, and one of them revolves around cornbread. No matter what meal I am eating, if I have cornbread in some form or another, I have to eat it last. I love it so much that I want to wait until I've finished my meal so that I can savor every morsel. That hint of sweetness almost makes it like a dessert. Or pre-dessert, perhaps, for this sweet-tooth gal.
No joke. We go out for barbecue and the meal comes with a corn muffin, and I eat it after I've swallowed my last bites of pulled pork and baked beans. We go out for Mexican and I wait until the end of the meal to savor the little pile of corn spoon bread. I make a big pot of the World's Best Chili, and I don't eat my corn bread until I've had my last spoonful.
Of course, even though I did write much of this in the present tense, the sad thing is that I can't remember the last time I had corn bread. Since going gluten free after finding out about my wheat allergy, I haven't been able to enjoy the crumbly, corny goodness that I used to love. That is, until now…
Is cornbread gluten free?
Typically the cornbread you would get at a restaurant or store is not gluten free, and most recipes and box mixes aren't either. That's why I can no longer enjoy the cornbread and corn muffins I used to love so much.
It was time to come up with an easy gluten free cornbread recipe!
After finishing a blogger's Thanksgiving (i.e. the pre-Thanksgiving meal many of us inevitably make in October so that we can share some new recipes ideas with you through the month of November), A few weeks ago I saw this recipe for One Bowl Vegan Pumpkin Cornbread from Simply Quinoa, and then I saw the jar of apple butter in my fridge that sounded like a good idea to pick up from the farmers market, but is not getting eaten as fast as I thought it would. I knew this would be the perfect swap for the pumpkin in Alyssa's recipe.
I made a few other changes to ingredients, taking the "vegan" out of her vegan corn bread by sticking with a regular egg and using butter instead of olive oil because I just adore a buttery flavor in my corn bread, and using oat flour instead of quinoa flour. Cornmeal, the key ingredient in cornbread, is gluten free, but most recipes also call for all-purpose flour to keep the texture light and tender. This recipe uses oat flour and almond meal as the gluten free flour instead.
But I did not remove the "one bowl" feature because that's one thing that makes this recipe so amazing.
One-Bowl Gluten Free Cornbread Recipe
Just because you can't have gluten doesn't mean you can't experience the crumbly, corny goodness of a thick, just slightly sweet piece of cornbread. And even if you aren't gluten free, you'll love the fall flavors in this easy recipe.
Just a few simple ingredients, one bowl, and about 20 minutes in the oven, and you'll be enjoying one of your new favorite gluten free recipes.
Here is a brief overview so you can see just how easy it is to make. Scroll down to the printable recipe card for the full quantities and details.
But don't skip my PRO TIPS below!
What You'll Need
Cornmeal – if you have celiac disease or are highly-sensitive to cross-contamination, be sure to read the labels carefully as some cornmeal is processed in a shared facility or on shared equipment with wheat.
Oat flour – you can buy oat flour or just take regular old fashioned oats (certified gluten free oats, if needed) and grind it up in a blender until you have a fine flour.
Almond meal
Baking powder – again, be sure it is gluten free, if necessary.
Kosher salt
Egg
Milk
Apple butter – apple butter is similar to applesauce, only it is allowed to cook longer, giving it time to caramelize and develop a deeper, sweeter flavor and darker color.
Honey
Melted butter
To make the oat flour, a regular blender will work just fine. I do love my Blendtec blender, though. I am a Blendtec ambassador, and should you make any purchases through that link, I will receive a small commission, but that also means you can use the code CUPCAKESANDKALECHIPS to receive 20% off.
You can grease your baking pan, but I recommend lining it with parchment paper to make it easier to remove and slice.
Directions
Preheat the oven to 425°F and line an 8 inch square pan with parchment paper.
In a bowl, whisk together cornmeal, oat flour, almond flour, baking powder, and salt.
Add an egg, milk, apple butter, honey, and melted butter, stirring until just combined.
Pour the batter into the prepared pan.
About 20 minutes later you have a kitchen that smells amazing as you are pulling a pan of lovely golden goodness out of the oven.
Cool for about 10 minutes in the pan, then use the parchment to lift it out of the pan to cool completely on a wire rack.
What does cornbread go with?
Chili
Everybody loves cornbread with chili, like
Barbecue
Personally, it's the thing I need to complete a barbecue meal, so bake a pan when you make
Just don't forget the Maple Dijon Apple Cole Slaw!
Soup
It's also nice with soup, such as
Thanksgiving Feast
Cornbread also makes a great side dish for Thanksgiving. If you are having a small gathering, you can easily make is with
Then use the leftovers to make Cranberry BBQ Turkey Stuffed Sweet Potatoes with cornbread crumbs on top.
Christmas Dinner
Or enjoy it with your Christmas meal, like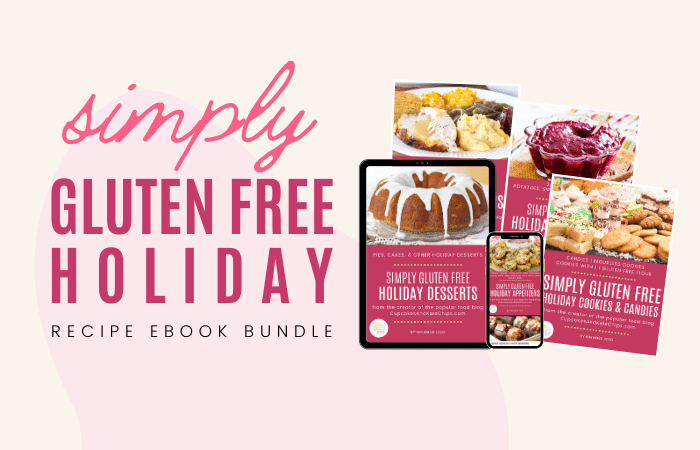 More gluten free quick breads and muffins
More gluten recipes using cornmeal
Apple Butter Gluten Free Corn Bread
An easy cornbread recipe made in one bowl with just a hint of sweetness and fall flavor.
Ingredients
1¼

cups

cornmeal

½

cup

oat flour

can be made from grinding oats in a blender until a fine powder. Use gluten free if necessary

½

cup

almond meal

1

tablespoon

baking powder

½

teaspoon

kosher salt

1

large

egg

1

cup

milk

¼

cup

apple butter

2

tablespoons

honey

2

tablespoons

melted butter
Instructions
Preheat the oven to 425ºF and line an 8×8 inch baking pan with parchment paper.

In a large mixing bowl, whisk together the corn meal, oat flour, almond meal, baking powder, and salt.

Add the egg, milk, apple butter, honey, and butter, and stir to combine. Do not over mix.

Pour batter into the prepared baking pan and spread evenly with a spatula.

Bake for 20-25 minutes, until golden brown and a toothpick or cake tester inserted into the center comes out clean.

Remove from the oven and place the pan on a wire rack. Let cool for about ten minutes, then use the parchment paper to lift the cornbread out of the pan and onto a wire rack.

Cool completely and slice into squares.
Nutrition Facts
Apple Butter Gluten Free Corn Bread
Amount Per Serving (1 slice)
Calories 123
Calories from Fat 36
% Daily Value*
Fat 4g6%
Cholesterol 16mg5%
Sodium 99mg4%
Potassium 158mg5%
Carbohydrates 17g6%
Protein 3g6%
Vitamin A 75IU2%
Calcium 62mg6%
Iron 0.8mg4%
* Percent Daily Values are based on a 2000 calorie diet.
Enjoy!