Chicken Corn Chowder
Disclosure: This post may contain affiliate links. Cupcakes & Kale Chips is a participant in the Amazon Services LLC Associates Program, an affiliate advertising program designed to provide a means for us to earn fees by linking to Amazon.com and affiliated sites.
Who wants to do loads and loads of dishes when you can make your meal (or appetizer or dessert) in one pot? No need when you can make a hearty and comforting, but still light and healthy Chicken Corn Chowder.
Chicken Corn Chowder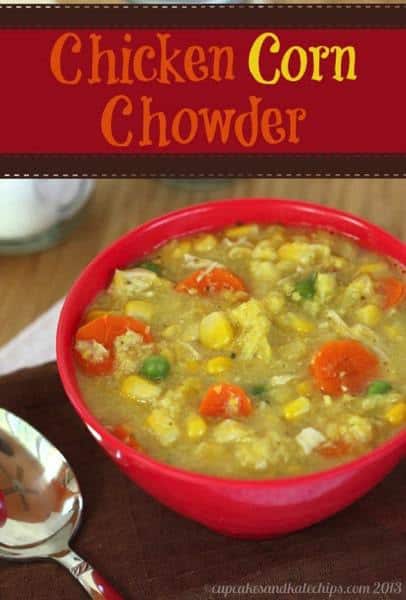 I sort of have a cookbook problem. I guess this isn't an unusual problem amongst the foodie crowd, but I have, oh, about a bazillion cookbooks. You know how some people buy t-shirts or shot glasses or something like that wherever they travel? I buy cookbooks. I have cookbooks from London, Charleston, Vermont, New Orleans, Hawaii, the list goes on and on. I tell myself I'll make the recipes to remind myself of a meal we had or a style of cooking that we enjoyed on one of our vacations. Rarely happens.
Then there are those that I see on the clearance shelves in Barnes & Noble that ohmygoodnessthisissocoolandonlyfivebucksImushhaveit!!!! And there they sit.
Because when I need a recipe, am I really going to page through cookbook after cookbook after cookbook when there is that amazingly wonderful thing called Google? And a whole lot of awesome bloggers and other electronic resources out there? I mean, it is fun to page through cookbooks, but with two kids, a house, a husband and a blog keeping me busy, ain't nobody got time for that!
This recipe is actually from one of my cookbooks. Remember when Oprah was on one of her four hundred sixty seven different diets and she had that personal chef Rosie? Well, Oprah and Rosie published a cookbook. This is from that book. The only recipe I make from that book. Only it's not really from the book anymore. I've been making it for years, but honestly I don't think I ever made it in its original form.
Really, this soup couldn't be easier – cook up onion and corn in some chicken broth, puree it in a blender (sorry, does that break the one pot rule? Then use an immersion blender if you have one), then add chicken and peas and carrots or whatever veggies you like. The original recipe recommends fresh corn, but I honestly think I have only ever used frozen. You can use fresh or frozen peas and carrots, pick up a rotisserie chicken from the grocery store, or use leftovers when you roast a bird or cook up a bunch of breasts.
This has been a favorite of my family for a long time, and as soon as the weather starts to cool down, a batch of Chicken Corn Chowder must be made. It is hearty and comforting, with a creamy texture, but no cream, which keeps it a bit lighter and healthier.
And now whenever I need MY Chicken Corn Chowder recipe, I don't need the cookbook anymore. I can just go to the internet 😉
Do you still reference cookbooks, or do you primarily use the internet?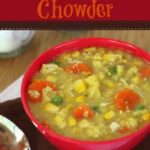 Print Recipe
Chicken Corn Chowder
An easy and healthier version of this classic hearty and comforting soup.
Ingredients
1

Tablespoon

olive oil

1

cup

onion,

chopped

6

cups

frozen or fresh corn kernels

4

cups

chicken broth or stock

1

Tablespoon

fresh sage

chopped or 1 teaspoon dried sage

1

teaspoon

fresh thyme

or 1/4 teaspoon dried thyme leaves

2

cups

chopped cooked chicken

1

cups

fresh or frozen sliced carrots

1/2

cup

frozen peas

salt and pepper
Instructions
Heat oil in a large, heavy saucepan over medium heat

Add the onion and a pinch of salt and pepper, and saute for about 5 minutes, until translucent.

Add 4 cups of corn, sage, and thyme, and saute for 4-5 minutes to start to soften the corn.

Add 2 cups of chicken stock and cook about 15-20 minutes to soften the corn.

Transfer the entire mixture to a blender or use an immersion blender and puree until smooth.

Return the puree to the saucepan over medium-low heat, and add the remaining 2 cups stock, 2 c corn, chicken, peas and carrots.

Bring to a simmer and cook for another 10-20 minutes, until heated through and carrots are tender (time will depend on whether you used fresh or frozen carrots).
Nutrition
Serving:
1
cup
|
Calories:
227
kcal
|
Carbohydrates:
34
g
|
Protein:
11
g
|
Fat:
7
g
|
Saturated Fat:
2
g
|
Cholesterol:
21
mg
|
Sodium:
468
mg
|
Potassium:
614
mg
|
Fiber:
5
g
|
Sugar:
2
g
|
Vitamin A:
2794
IU
|
Vitamin C:
24
mg
|
Calcium:
32
mg
|
Iron:
2
mg
Enjoy!
I think soups like these make fabulous one-pot meals…
And here are all of the One Pot Wonders from my Sunday Supper friends:
"Take the chill off" Chilis, Soups, and Starters