This post may contain affiliate links. Read my disclosure policy.
This Lemon Herb Slow Cooker Roast Chicken recipe is an easy way to enjoy a delicious dinner with all the flavors from roasting it in the oven. But when it is roasted in a crockpot, you can keep your kitchen cool while you make a flavorful, healthy chicken dinner. Fancy enough for a Sunday meal or dinner guests, yet simple enough to become one of your favorite crock pot recipes for busy weeknights too!

I've got to be honest with you. I have a "Black Thumb". I cannot be trusted with plants. I swear, the minute they get close to me, they keel over. But as a foodie and a mom, I want a garden.
I love the flavor that fresh herbs bring to dishes, but I really only buy herbs when I am planning a recipe that specifically calls for them. So it's rare that I spontaneously toss in a sprig of thyme or handful of parsley, or finish off a dish with some chiffonade of basil.
This really is a shame because not only are herbs delicious, but they also make food photos look even better.
What's a gal to do? Enlist her kids and uber-geek hubby to get the Aerogarden going again. With LED lights and a computer that controls the lights and tells you when to add water and nutrients, maybe I can even keep these alive!
Then I will always have an assortment to add to this slow cooker roast chicken recipe. Because one of the best things about it is that you can use any herbs you have and love!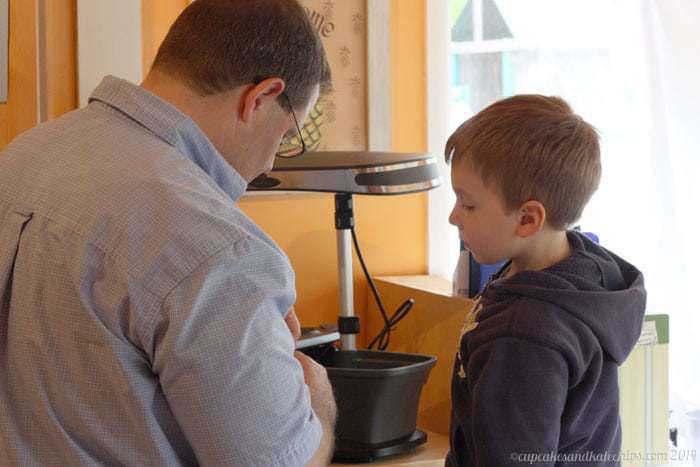 Lemon Herb Crockpot Roast Chicken Recipe
Whether you are harvesting your herb garden or using up leftover packages and bunches of parsley and thyme and rosemary and sage from this grocery store, a roasted chicken dinner doesn't get much easier than this.
In fact, it's so easy it almost seems embarrassing to post as a recipe. Really, all I do is season the bird with salt and pepper, chuck a bunch of flavorful and aromatic stuff that I have lying around inside or around the chicken, and turn on the slow cooker. Hours later, my whole house smells like roast chicken. The flavors and aromas of the lemon and onion and herbs permeate the meat and make it incredibly delicious.
Now I will be honest, if you like crispy skin, this isn't the method for you. But crispy or not, I remove the skin anyway, so this is perfect for me.
Here is a brief overview so you can see just how easy it is to make. Scroll down to the printable recipe card for the full quantities and details.
But don't skip my PRO TIPS below!
What You'll Need
Directions
Place the chicken in your slow cooker.
Squeeze the lemons over the chicken and season inside and out with salt and pepper.
Place the squeezed lemon halved, chunks of onion, and herbs inside and around the chicken.
Cover and cook on low for 6-8 hours, or until fully cooked through.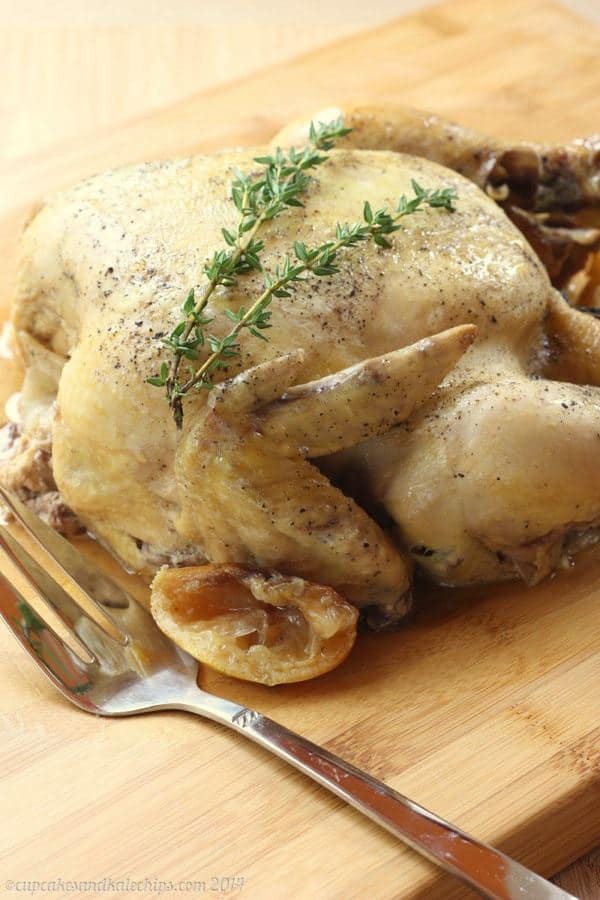 FAQs
As simple as it is, there are some questions I commonly get about roasting a whole chicken in a slow cooker.
Can you really put a whole chicken in a crockpot?
Yes, you can as long as you have one that is large enough. I usually make a 5 to 7 pound bird, and it fits in my oval-shaped 6-quart slow cooker.
Do you need to add any liquid?
No, the juices from the chicken are enough to keep it moist.
What kind of herbs do you use?
I like to use lots of thyme and rosemary, but pretty much anything will do. This time I also had a few sprigs of leftover sage and parsley, so those went in, too. In a pinch, you can even use dried herbs. Because of the long cooking time, they will absorb moisture and have an opportunity to flavor the chicken.
How do you know it is done?
The meat should fall off the bone and juices run clear. If you have a meat thermometer or your crockpot has a built-in thermometer, cook until the breast reached an internal temperature of 165°F.
I use the Hamilton Beach 6-Quart Set & Forget Slow Cooker. It is large enough to fit a whole chicken or even a really big batch of my favorite chili recipe. It also has a lockable lid, so you can completely seal in the juices, even if your chicken is a bit large. And with the thermometer, you can set it to cook to the desired temperature versus just going by time so you are guaranteed to have a fully cooked but still super moist roast chicken.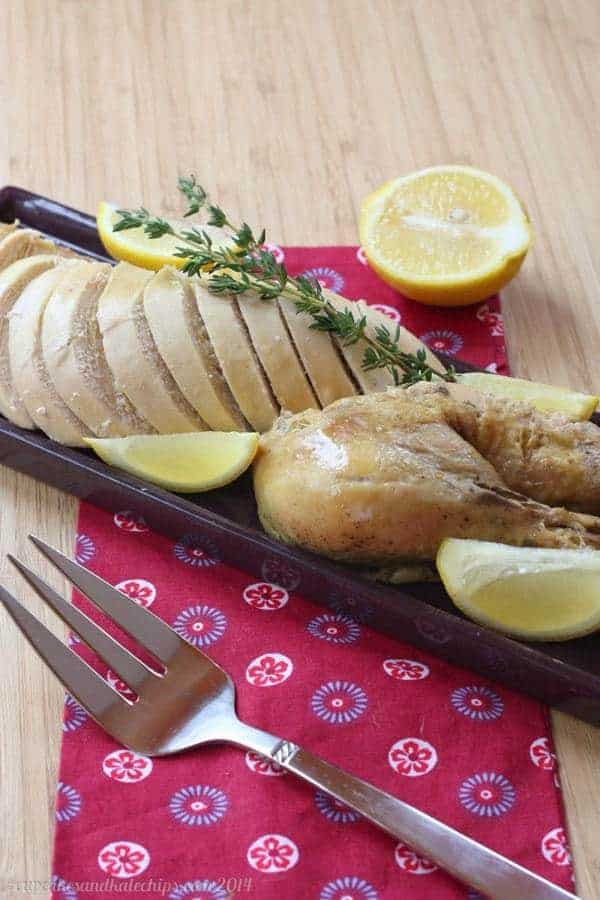 Make it a meal
Crockpot roast chicken makes dinner a breeze at any time of the year. Just pair it with your favorite side dishes. All of these meals are gluten free, but since this roasted chicken recipe is also low carb and paleo, you can make keto dinners too!
In the summer
In the fall
In the spring
In the winter
Keto-friendly
And if you have any leftovers, you can use it to top one of these salads:
Or one of these leftover rotisserie chicken recipes. My favorite is this Costco Copycat Tzatziki Chicken Salad!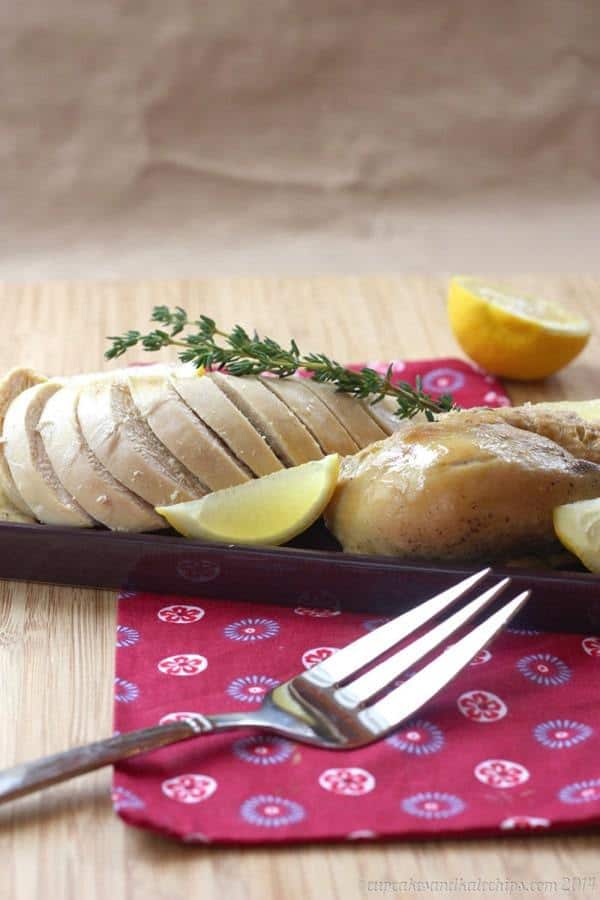 More chicken recipes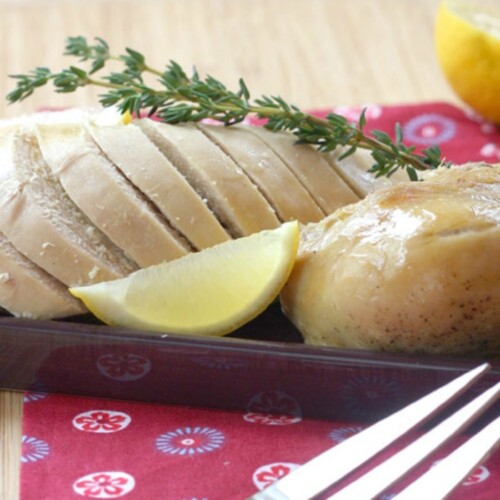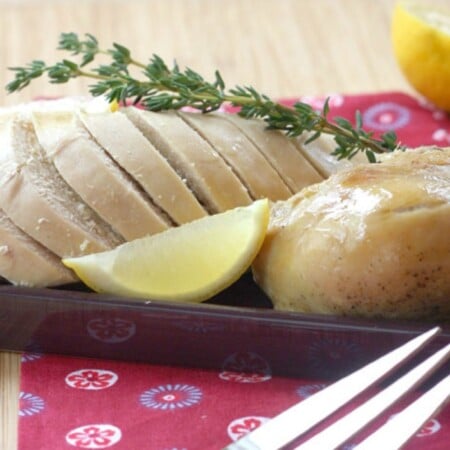 Lemon Herb Slow Cooker Roast Chicken
Grab a few handfuls of any herbs you have on hand to make this simple, flavorful and healthy Lemon Herb Slow Cooker Roast Chicken.
Ingredients
One 5-7 pound chicken

two lemons

halved

1-2

teaspoons

kosher salt

One medium onion

peeled and quartered

One large handful fresh herbs

I like parsley, thyme, rosemary and sage
Instructions
Remove the giblets and place the chicken in your slow cooker. Squeeze one lemon over the chicken, and save the squeezed lemon to place in the slow cooker.

Season liberally, inside and out, with the salt and pepper.

Place the lemons, onion and herbs inside the chicken. If it cannot fit, you can place some of the lemon and onion around the chicken.

Cover and cook on low for 6-8 hours, or until fully cooked through. You do not have to add any liquid to the slow cooker.
Categories:
Enjoy!