This post may contain affiliate links. Read my disclosure policy.
Make it easy to stick with your healthy lifestyle even on busy nights with these Quick and Easy Keto Dinner Recipes. With over 40 delicious ideas, you can stick to the keto lifestyle while still making low carb family meals everyone will enjoy. And they are all gluten free, too!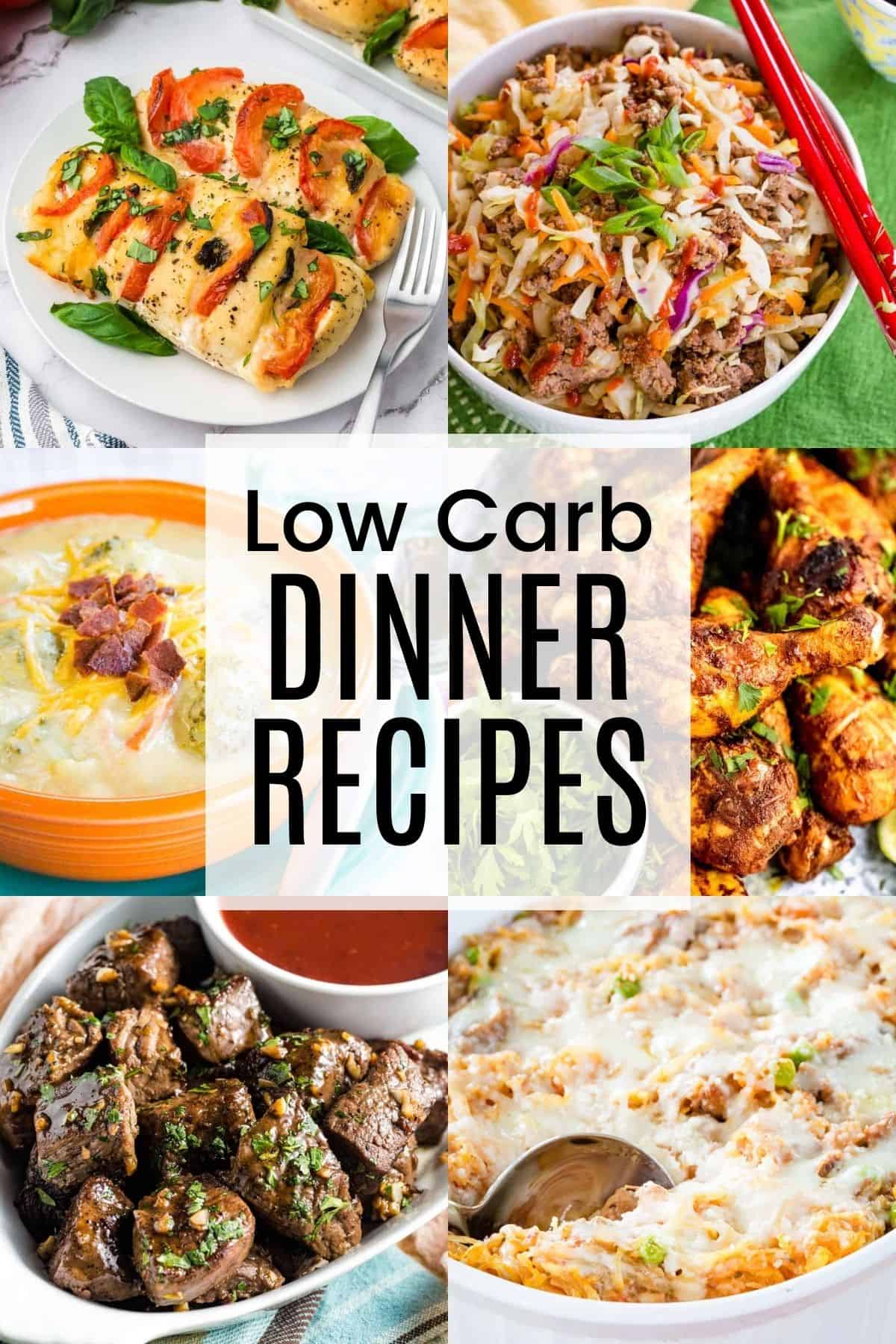 Quick and Easy Keto Dinner Recipes
If you have started a low carb or keto diet for weight loss, to manage certain medical conditions, or for some of its other possible benefits, you always need new ideas. And these low carb recipes need to fit into your busy life.
This means that they have to be dinners the whole family will love as-is. Or flexible enough that you can easily add another side dish for family members that aren't cutting carbs. That way you won't have to make every member of the family a different meal.
You'll find over forty low carb dinner recipes right here to get you started. See how to make eight of them right here in this video, then keep scrolling to get all the recipes.
But first, let's get a little background on the low carb and keto lifestyle.
What is a low carb diet?
Typical recommendations are to get 45-65% of your calories per day from carbohydrates. This is about 225-325 grams per day based on a 2000 calorie diet. There are different low carb diets that allow for different carb levels and different ratios of the three macronutrients, carbs, protein, and fat. In general, though, most low carb diets have a limit of 20 to 60 grams of carbs per day.
You'll need to research and evaluate the different low carb and keto diet options and discuss your plans with your doctor. These are simply some low carb recipe ideas once you've gotten started on this new lifestyle.
What foods should you avoid on a low carb diet?
Obviously, sugar is the first item to avoid on a low carb diet.
You'll also be drastically cutting or eliminating grains and products made from grains, including rice, bread, oatmeal, and pasta.
Beans will only be consumed in limited quantities if at all, depending on your carb limits.
You'll need to limit fruits, especially those higher in natural sugars and lower in fiber.
Some starchy vegetables will also have to be reduced or removed from your diet. This includes potatoes, sweet potatoes, and even large amounts of carrots and winter squash.
What can you eat on a keto diet?
Despite eliminating or cutting down on high carb foods, there are still plenty of options left.
Meat and seafood is always a great low carb choice.
Most vegetables are low in carbs, especially lettuce and other greens, cruciferous vegetables like broccoli and cauliflower, and summer squash.
Instead of pasta, it's easy and delicious to cook spaghetti squash or zoodles to have with your favorite sauce.
Some fruits are lower in carbs and high in fiber, such as berries. These can be eaten in controlled amounts.
Dairy products like cheese, milk, and yogurt are great options. Just watch for added sugar in low-fat products or those with added flavors.
Nuts can also be a great choice but watch your portion sizes.
If you are really craving sweets, there are natural sweeteners like stevia and Swerve, which is an erythritol sweetener that is great for baking.
Low Carb Dinner Ideas for Family Meals
If you are wondering, "What can I eat for dinner on a keto diet?" There are lots of answers right here for you!
40+ Low Carb and Keto Dinner Ideas for Busy Weeknights
These easy keto and low carb dinner recipes are delicious, healthy meals for busy nights. You are sure to find some new ideas the entire family will love!
If that's not enough, my friend Carolyn from the blog All Day I Dream About Food has a number of amazing keto cookbooks. I've shared some of the recipes from her cookbooks right here on the blog, and I love them all. In fact, in the list above you'll some of her keto dinner recipes like Chicken Enchilada Skillet and Stuffed Pepper Soup. Her recipes are so good that these are definitely worth picking up if you need more low carb dinner ideas!
Last updated on September 21, 2023 3:21 pm