This post may contain affiliate links. Read my disclosure policy.
Try this easy Thai Larb Chicken made from savory ground chicken stir-fried with hot fresh chilies, flavorful fish sauce, lime juice, and herbs, served over cold, crisp lettuce cups. Enjoy this quick, one-pan Thai larb gai as a satisfying healthy meal or gluten-free appetizer.
If you love healthy, homemade Thai-style recipes like these chicken lettuce wraps, try my quick and easy Asian Beef Lettuce Wraps, too.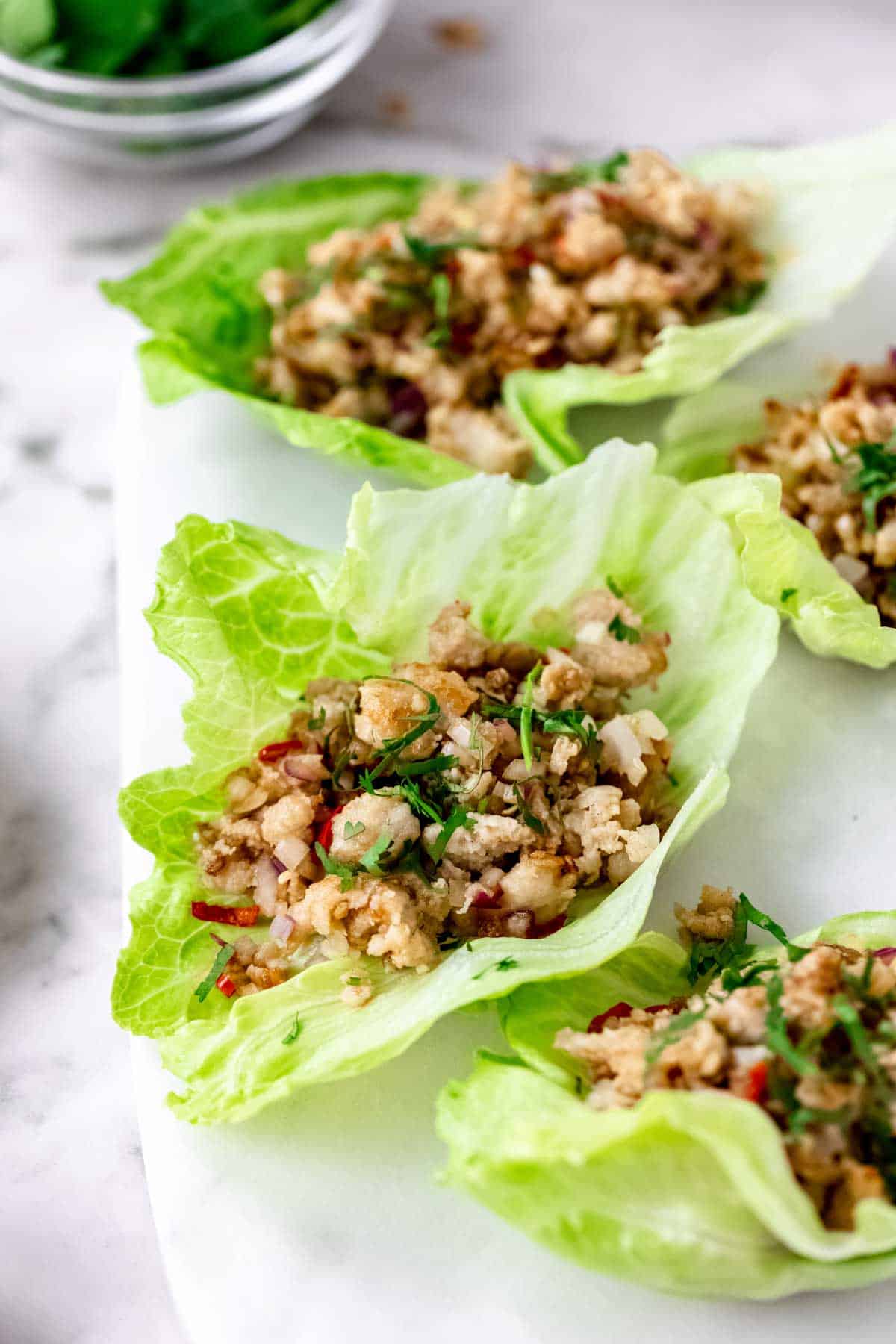 Easy Thai Chicken Lettuce Wraps (Larb Gai)
This recipe for Thai larb chicken lettuce wraps is a fun, customizable gluten-free meal that's jam-packed with East Asian-inspired flavor.
Larb chicken, or Larb Gai, is an easy Thai recipe that you can make in one skillet using lean ground chicken and a handful of ingredients. Serve the warm, spicy chicken mixture over fresh cold lettuce leaves, plus your favorite garnishes, including fresh herbs and veggies.
These lettuce wraps are make-ahead friendly and adaptable to feed a crowd. Double the recipe, and keep leftovers for another meal. Thai larb chicken is a healthy, low-carb dinner idea that our family goes crazy for!
What Is Larb Gai?
Larb is a type of Asian salad popular in Laos and Northern Thailand, featuring hot-sour stir-fried ground meat served over crispy cold lettuce. The meat is cooked in a spicy, tangy combination of Thai chilies, fish sauce, zesty lime, plus fresh herbs. Larb Gai, also called Laab Gai, is a variation made with chicken.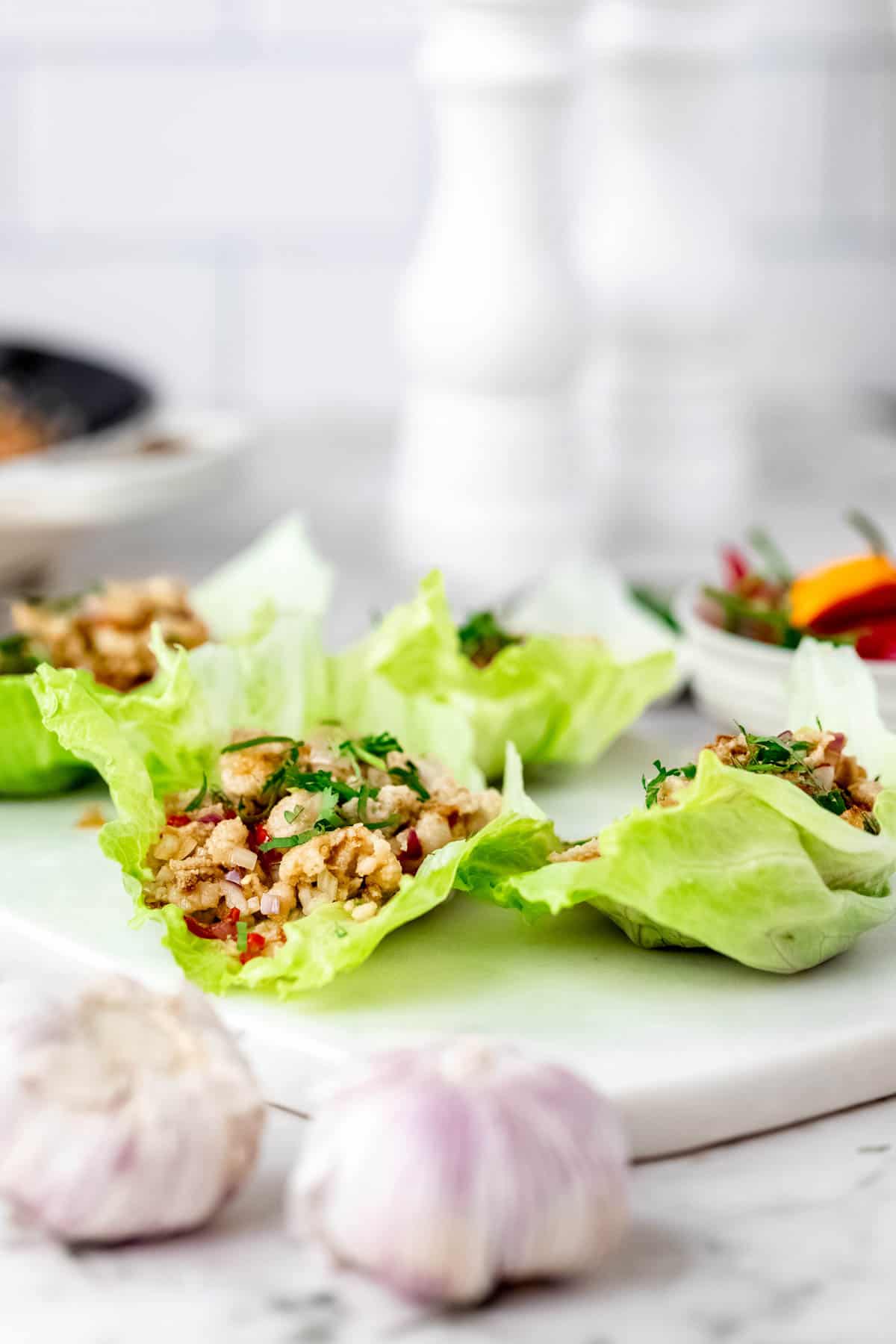 Why You'll Love This Recipe
Larb gai (larb chicken) is a crowd-pleasing dinner or appetizer that I'm definitely adding to my regular rotation all year long. Here's why you'll love it, too:
One pan. The juicy, spicy chicken filling for your lettuce cups comes together all in one skillet, for quick and easy clean-up.
Delicious flavors. The flavors are simple and bold at the same time. We love the tasty contrast between the tender, warm chicken, and cool, crisp, fresh lettuce. It's also super easy to customize this recipe to suit your family's tastes (more on this later).
Healthy and gluten-free. Larb gai is a flavorful, easy meal with lots of lean protein and healthy veggies. It's low in carbs, low in fat, and also gluten-free.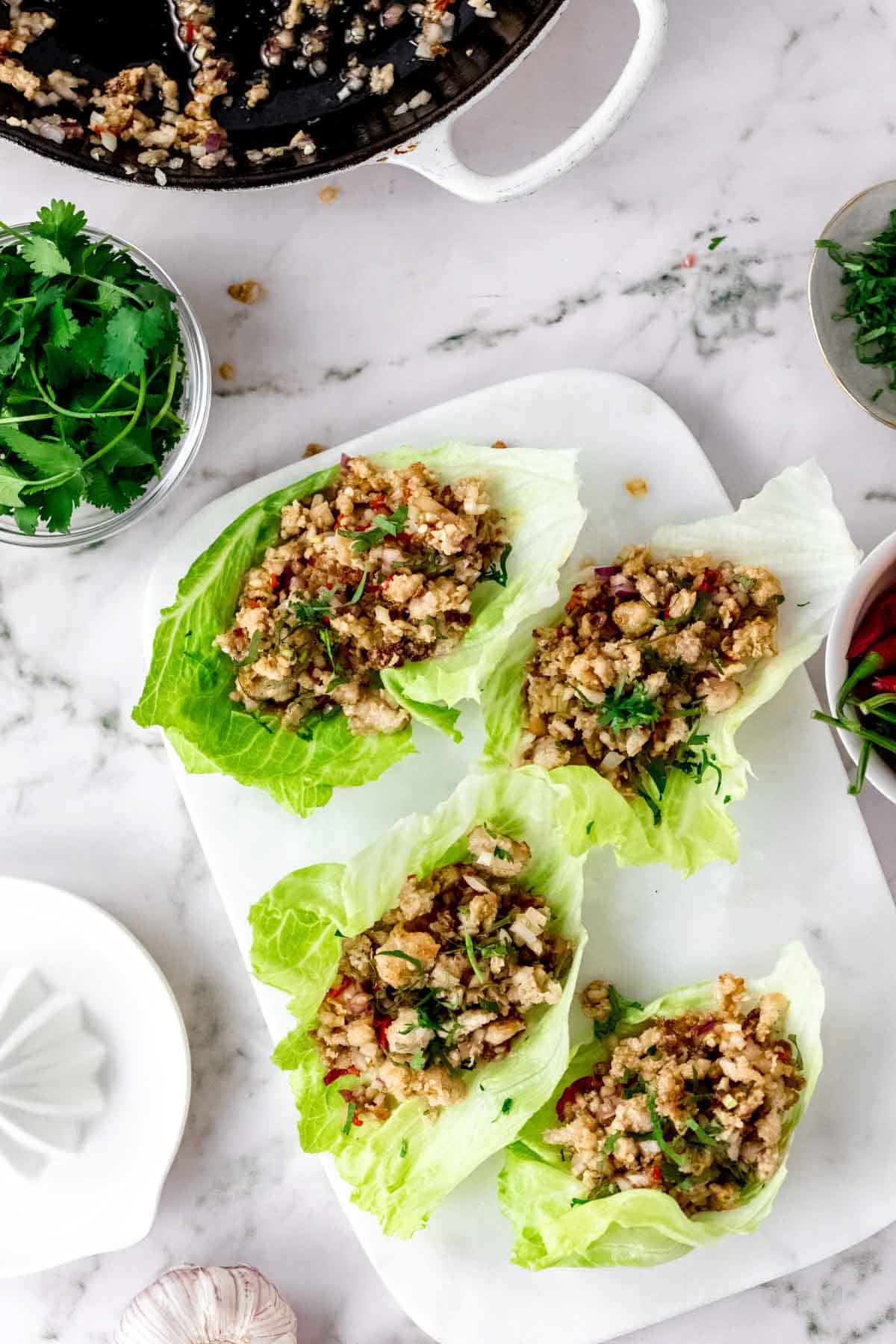 What You'll Need
Let's have a quick look at the ingredients you'll need to make Thai larb chicken at home. Remember to refer to the recipe card below the post for the full ingredients list and recipe details.
Cooking Oil: I use coconut oil, but any neutral or mild-flavored oil is fine.
Ground Chicken: This larb recipe uses ground chicken, but ground beef, pork, or even ground turkey or lamb can also be used. Minced mushrooms are another option if you'd like to make it vegetarian. See further on in the post for more larb variations.
Shallots and Red Onion: Use a combination of diced mild shallots and red onion for extra flavor.
Garlic: Make sure to use a fresh garlic clove, finely minced.
Chilies: Also minced. Traditionally larb is made with Thai chili peppers (also called bird's eye chilies), however, you can use whichever chili variety is easiest to find in your area. Jalapeño or Fresno chilies work well. In a pinch, substitute red pepper flakes.
Fish Sauce: This is an umami-rich East Asian condiment found in many Thai dishes. And don't worry, it won't make your salad fishy! You'll often find fish sauce in the same aisle as soy sauce in most grocery stores, or in Asian supermarkets.
Lime: Use freshly squeezed lime. Bottled lime juice just isn't the same.
Soy Sauce: To make this recipe gluten-free, I substitute low-sodium soy sauce with tamari or coconut aminos (see Is Soy Sauce Gluten Free?).
Lettuce: Use any kind of lettuce with cup-shaped leaves, like iceberg or Boston bibb.
Herbs: Adding freshly chopped mint leaves or cilantro freshens up the dish at the end.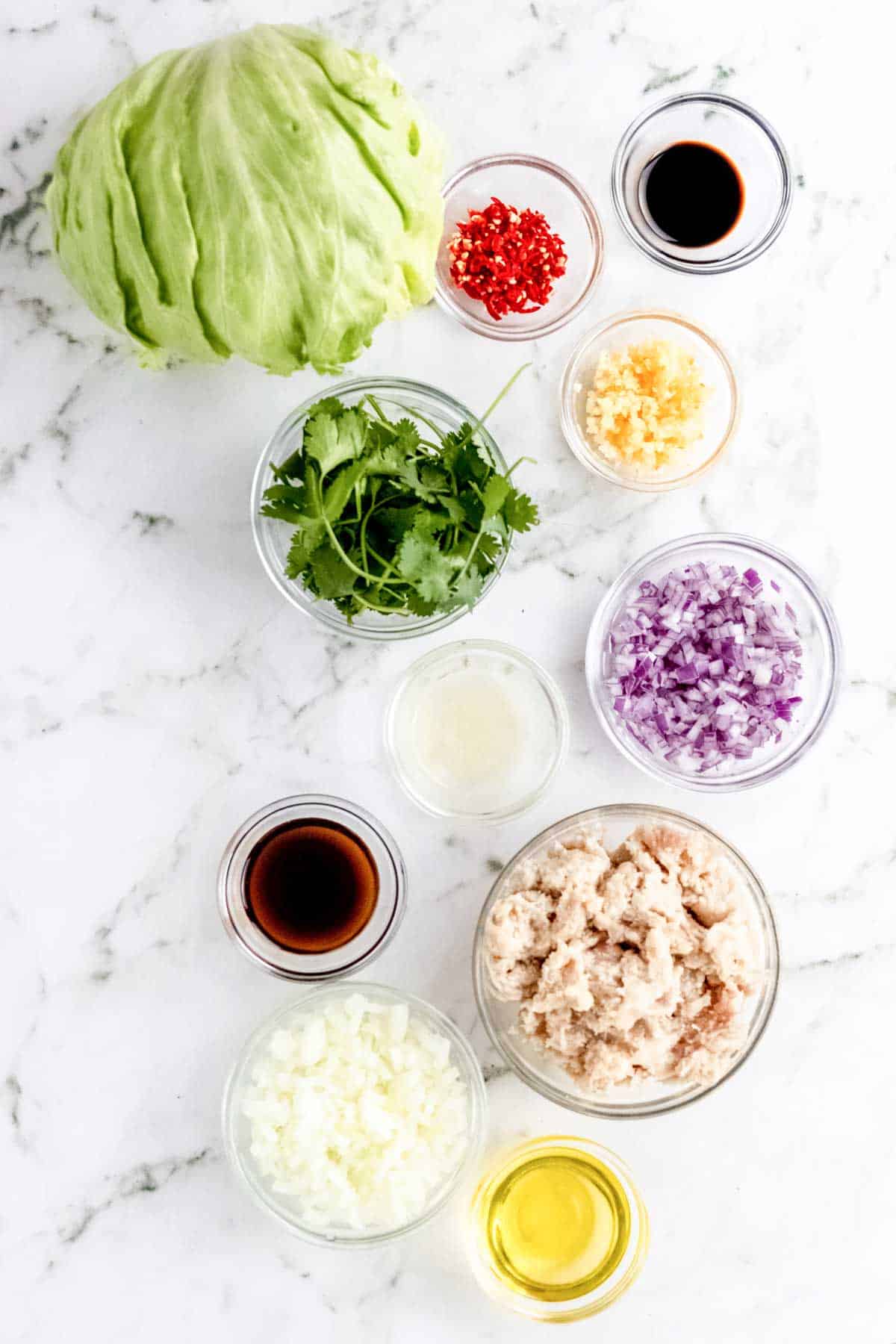 What Can I Use if I Don't Have Fish Sauce?
Fish sauce is handy to have if you're a fan of Asian cuisine, as it brings loads of umami flavor to all sorts of recipes, from Thai lettuce wraps to Thai Style Ribs and Pumpkin Thai Curry Udon. If you don't have fish sauce, however, you can simply add an extra spoonful of soy sauce or tamari in its place. It's also used in such a small quantity in this recipe that you can skip it altogether if needed.
Another important thing to note is that not all fish sauce is gluten-free. While there are many gluten-free fish sauces out there, some brands contain wheat extracts. Always check the labels to be sure.
Last updated on September 30, 2023 1:11 am
How to Make Thai Larb Chicken Lettuce Wraps
Making homemade Thai larb chicken couldn't be easier. It's a simple, 3-step recipe that comes together in one pan:
Cook the Chicken: First, sauté the ground chicken in a large skillet or a wok with a bit of cooking oil. Break up the chicken as it browns.
Sauté the Aromatics: Next, push the browned chicken to one side. Add a bit more oil to the pan, and add the onions, garlic, and chilies.
Combine: Cook the veggies for about 30 seconds, until fragrant, then stir everything together with fish sauce, lime juice, and tamari. Finally, sprinkle over some fresh mint or cilantro just before serving. Gather your lettuce and toppings, and dig in!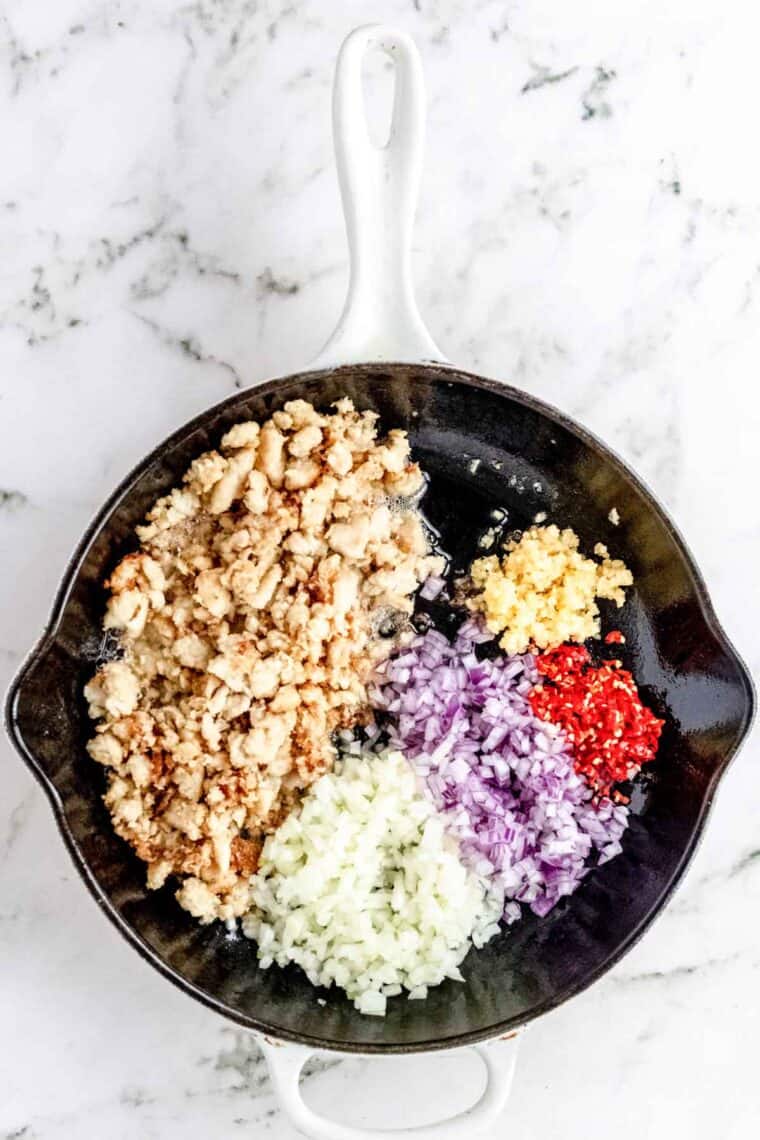 Tips for Success
The simplicity of this Thai larb chicken is one of the many reasons I love Asian cuisine. If you have a skillet and 10 minutes, you can make this recipe! Here are some bonus tips for the best Thai chicken lettuce wraps:
Use ground chicken breasts if you prefer a leaner dish. Chicken thighs are also great in terms of flavor, but they're fattier.
Don't overcook the ground chicken. Keep a close eye on the chicken mince in the pan. Ground meat tends to cook quickly, and the chicken will become dry and lose its flavor if overcooked.
Adapt the spiciness. You can add more or fewer chilies to taste or omit them altogether depending on how spicy you like your chicken.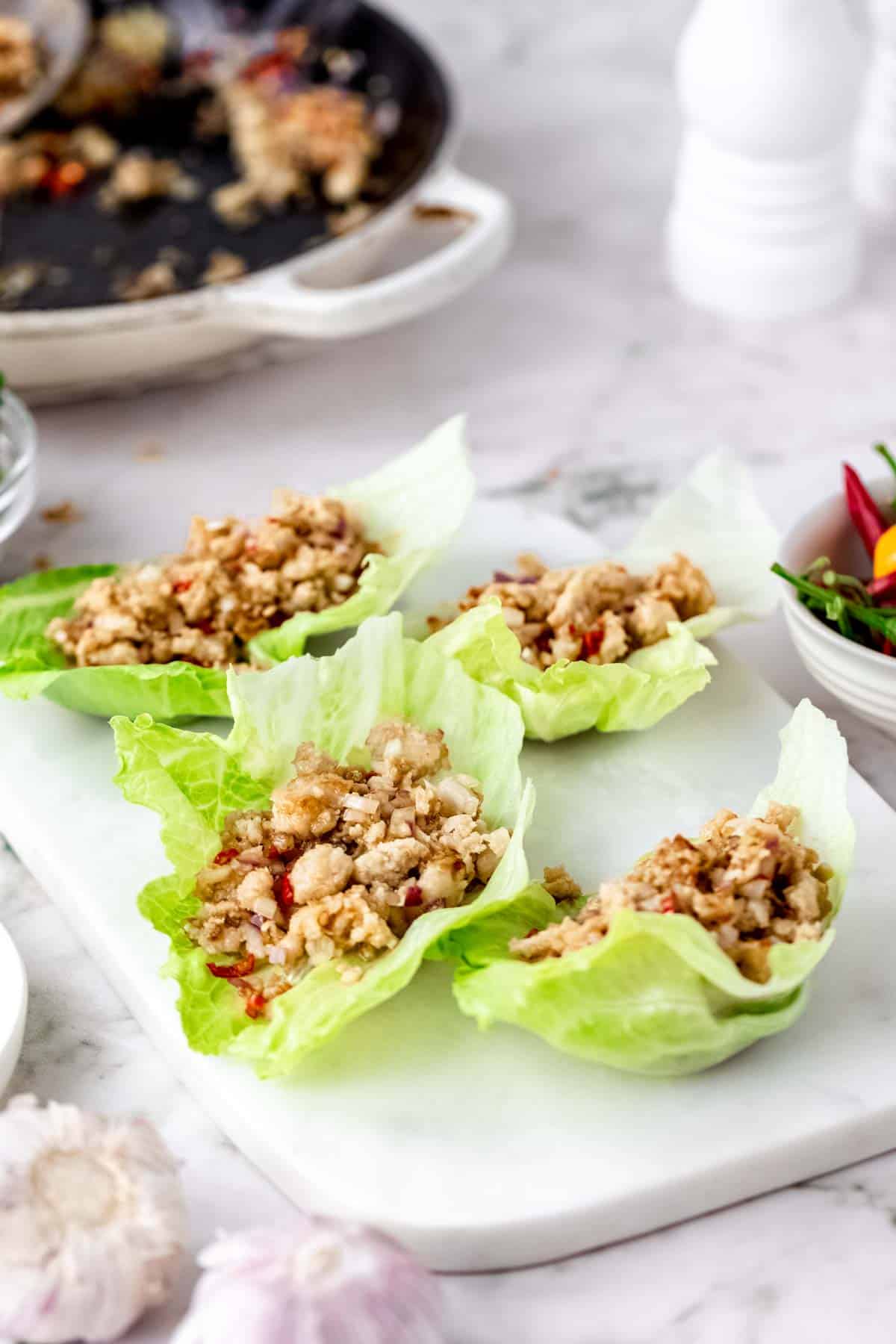 Toppings and Variations
The beauty of easy Thai-style recipes like this larb chicken is in how easy they are to customize. You can really make this recipe your own. Here are some ideas:
Different Protein: You can also make this recipe with ground pork (larb moo) or ground beef (laab neua).
Vegetarian: Replace ground chicken with chopped mushrooms, crumbled firm tofu, or plant-based mince.
Sauces: For even more flavor, drizzle your lettuce wraps with Thai Peanut Sauce, homemade Gluten-Free Teriyaki Sauce, or Bang Bang Sauce.
Cabbage: You can bulk up the chicken mixture with cabbage or coleslaw (and then serve it on its own, like a Thai version of my Egg Roll In a Bowl).
Garnishes: Serve larb with toppings like julienne carrots and cucumbers, radishes, scallions, limes, and your favorite chili sauce, like sriracha.
Toasted Rice: Traditional larb gai includes what's known as khao khua, a type of Thai toasted rice powder that's used to thicken the filling and add a nutty flavor to the dish. I leave it out of this recipe, but you can make your own khao khua by slowly toasting sticky rice in a dry skillet, then grinding it into a fine powder using a food processor or spice grinder.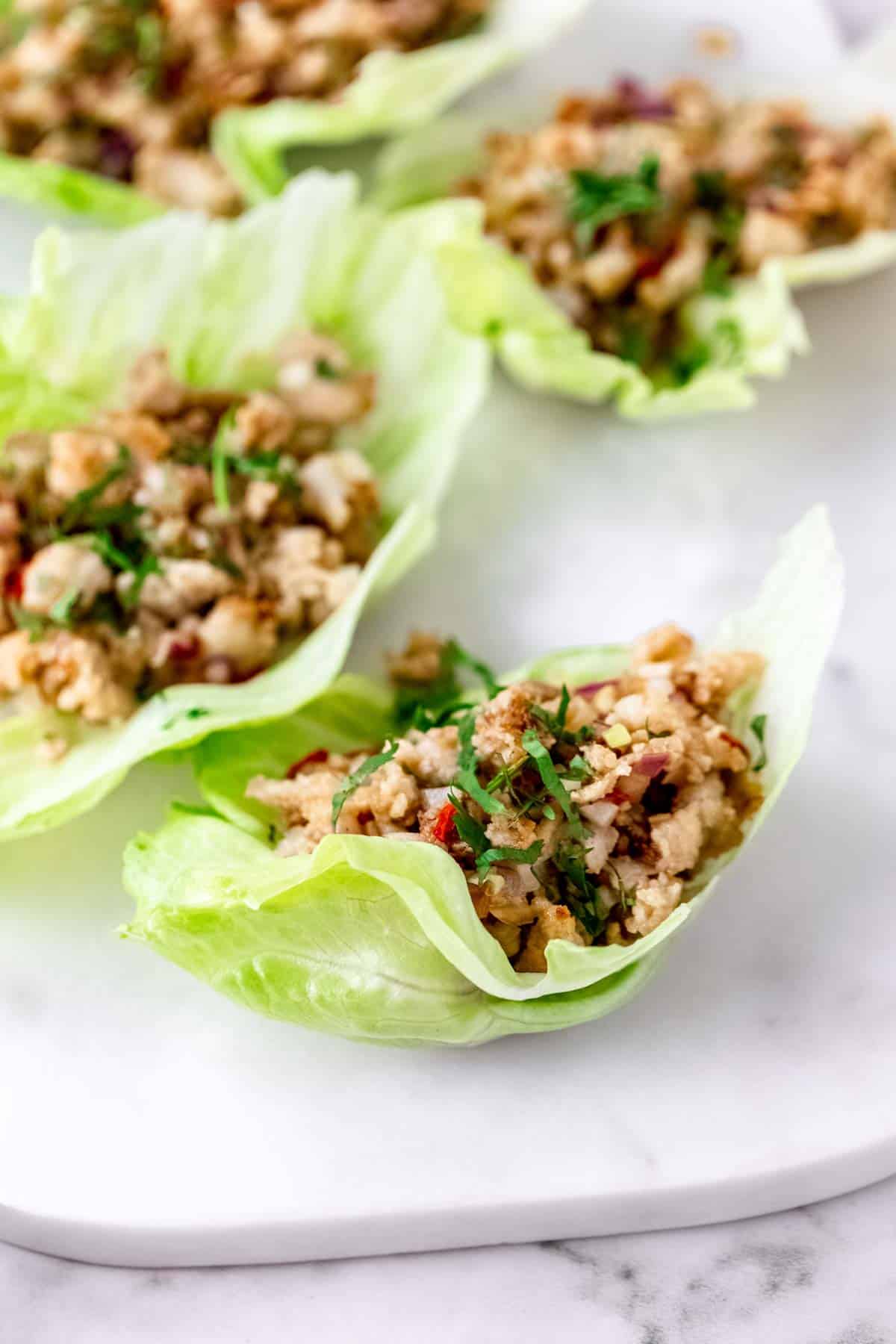 Make It a Meal
We serve this larb recipe tucked into crisp lettuce cups as a healthy dinner or appetizer with easy garnishes. I'll serve it with julienned carrots for crunch, extra limes for a hit of acid, and the fresh herbaceousness of chopped cilantro.
For an easy dinner, serve Thai larb chicken with a side of Brown Rice or White Rice. It also pairs great with Cauliflower Rice for a low-carb option. You can also turn your lettuce wraps into a full salad instead, piling on crunchy veggies like sliced carrots, radishes, and cucumbers, and sprinkling over more fresh herbs.
As an appetizer, I'll set out this spicy Thai chicken filling next to prepped lettuce cups, along with our favorite toppings and sauces (see above). They're great to serve next to these mini Thai Sliders or even Gluten Free Bao Buns, as they share many of the same garnishes!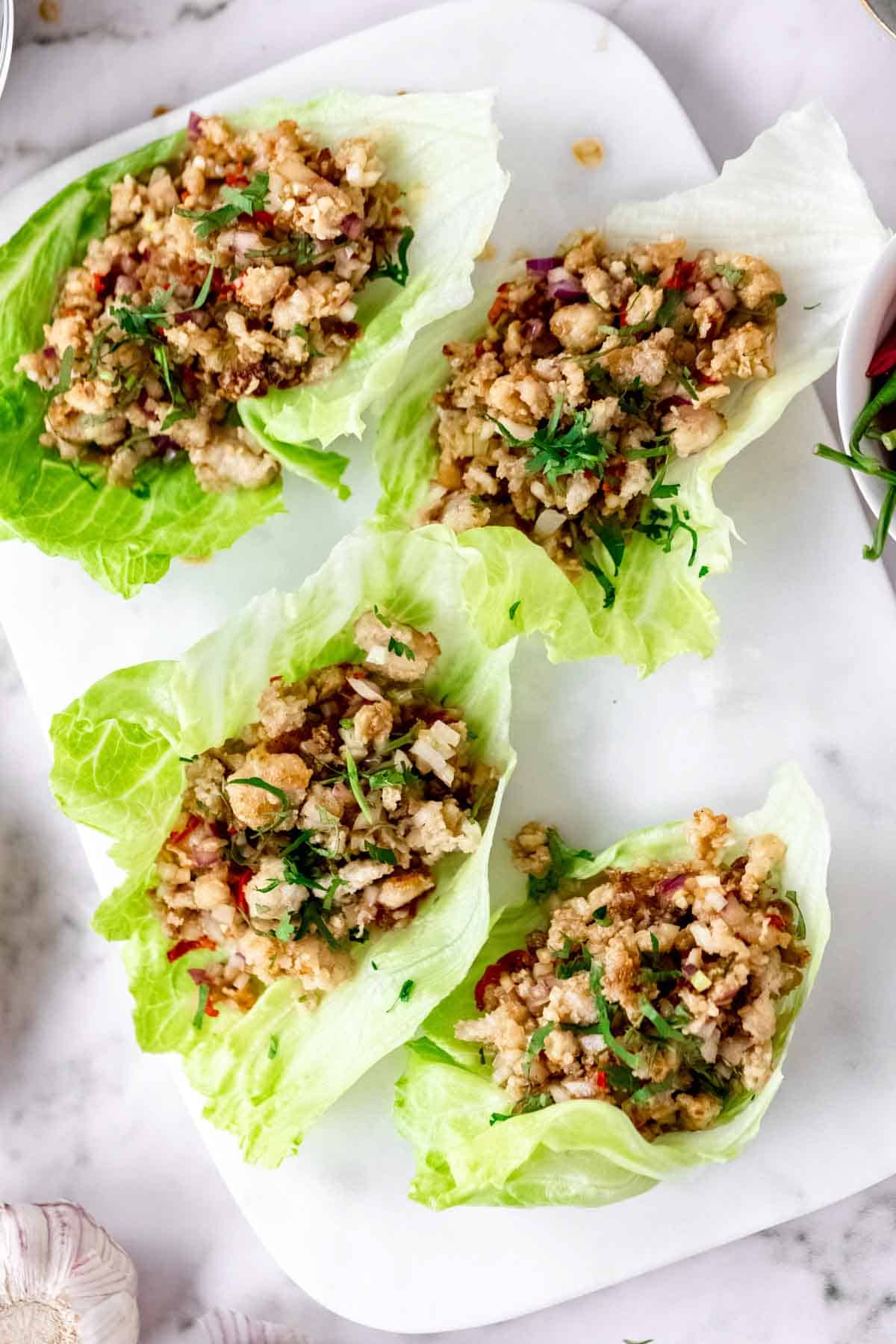 How to Store Leftovers
Store any leftover larb chicken airtight in the fridge for up to 3 days. I recommend storing the lettuce cups separately to prevent them from wilting. You can enjoy your leftover ground chicken cold, or reheat it in a skillet on the stovetop until it's warmed through.
Can I Freeze Thai Larb Chicken?
Thai larb chicken mince freezes well. Transfer the cooked, cooled chicken to an airtight, freezer-safe container or resealable bag, and freeze it for up to 3 months. Thaw the frozen chicken in the fridge overnight before reheating.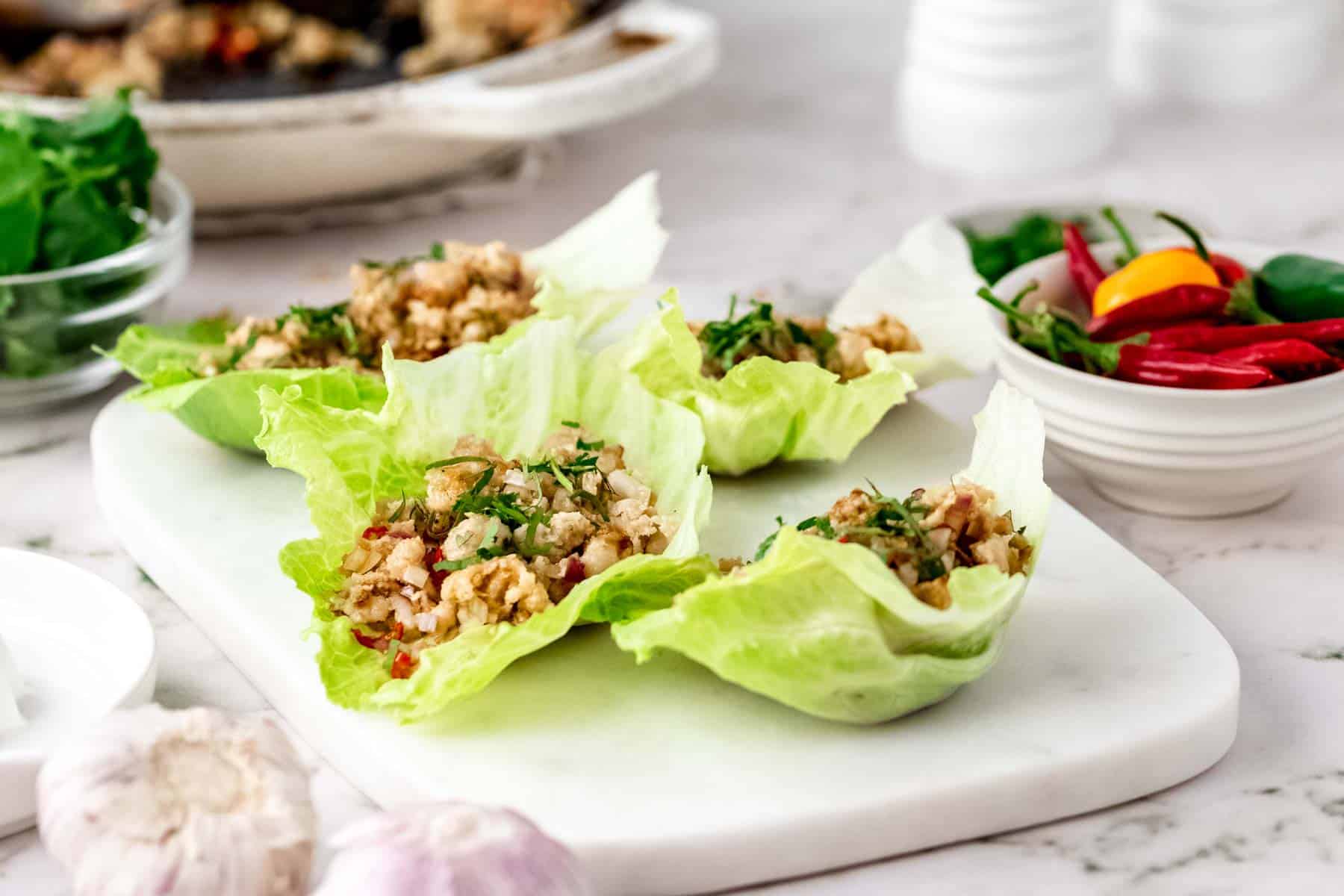 More Asian-Inspired Recipes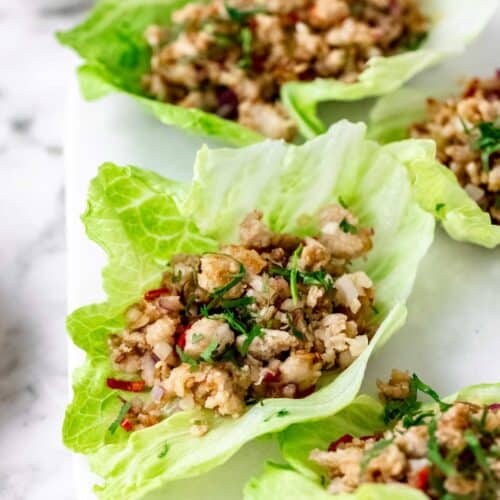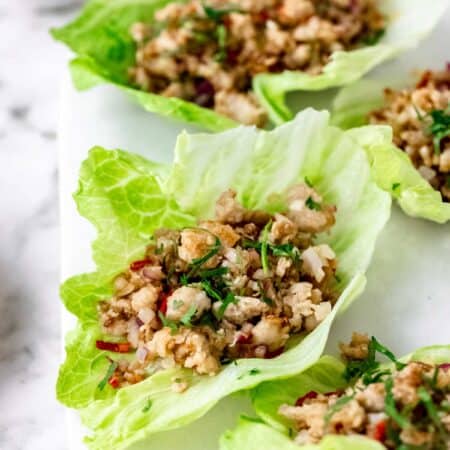 Thai Larb Chicken Lettuce Cups
Thai Larb Chicken Lettuce Wraps are a healthy meal or easy appetizer made from savory ground chicken stir-fried with fresh chilies, fish sauce, lime juice, and herbs, served over cold, crisp lettuce cups.
Ingredients
1 1/2

tablespoons

cooking oil

1/2

pound

ground chicken breast

2

shallots

, diced

1/4

red onion

, diced

1

clove

garlic

, very finely minced

fresh chilies

, minced (Jalapeño or Fresno, to taste)

1

tablespoon

fish sauce

1/2

lime

, juiced

1

teaspoon

low-sodium soy sauce

, tamari, or coconut aminos

1

head

iceberg lettuce

, leaves separated into "cups"

fresh cilantro

or mint, chopped, for garnish
Instructions
Heat a wok or large sauté pan over high heat. When hot, swirl in 1 tablespoon of the oil and add the chicken. Use your spatula to break up the meat and spread out over the surface of the pan. Cook until browned, about 3 minutes.

Push the ground chicken to one side of the pan and swirl in the remaining 1/2 tablespoon of oil. To the oil, add the shallots, red onion, garlic, and fresh chiles and sauté the aromatics until fragrant, about 30 seconds. Add the fish sauce, lime juice, and soy sauce.

Serve with lettuce cups and herbs.
Notes
I used coconut oil as my cooking oil, and I served the chicken lettuce cups with cilantro, limes, julienned carrots, and brown rice. I also substituted tamari for the soy sauce to make it gluten-free.
Nutrition Facts
Thai Larb Chicken Lettuce Cups
Amount Per Serving
Calories 164
Calories from Fat 90
% Daily Value*
Fat 10g15%
Cholesterol 49mg16%
Sodium 487mg20%
Potassium 565mg16%
Carbohydrates 8g3%
Protein 12g24%
Vitamin A 682IU14%
Vitamin C 8mg10%
Calcium 40mg4%
Iron 1mg6%
* Percent Daily Values are based on a 2000 calorie diet.
Categories: