This post may contain affiliate links. Read my disclosure policy.
Thai Larb Chicken Lettuce Cups feature warm chicken stir fried with fish sauce, spicy fresh chiles and lime juice on top of cold, crisp lettuce cups. They make easy gluten free appetizers or a delicious and filling healthy meal.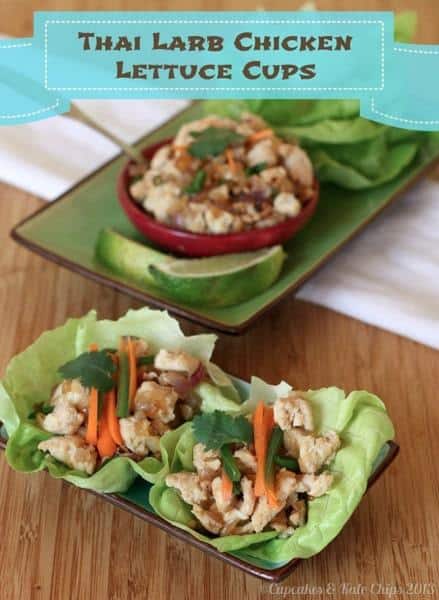 Disclosure: I was provided with a copy of Steamy Kitchen's Healthy Asian Favorites for my review. All opinions are my own. Also, there are affiliate links in this post, meaning that if you click and make a purchase, the cost to you is the same, but I will receive a few pennies. I use the money to help maintain this website and to bring you new recipes!
It's gettin' steamy in here… and I've got Thai Larb Chicken Lettuce Cups for a Steamy Kitchen #SundaySupper!! Not only that, my Sunday Supper friends and I have 20 copies of [amazon_textlink asin='1607742705′ text='Steamy Kitchen's Healthy Asian Favorites' template='ProductLink' store='cupkalchi-20′ marketplace='US' link_id='82061054-e67f-11e7-a7b5-efc5bf8cc551′] to give away TONIGHT!!
Gonna be honest, when Isabel announced the event, I am probably the only member of the Sunday Supper crew who actually hadn't heard of Jaden Hair or her website, Steamy Kitchen. I know! Who am I?! But right around the same time as the event was announced, I saw some other bloggers sharing recipes from her new cookbook, and I saw the recipes that we could share for this event, and instantly Jaden had a new fan and follower. These recipes are totally my style – full of flavor and nutritious, real food ingredients, but without excess fat, and naturally gluten free. Just simple, good, delicious food. This is why, other than occasionally going to our local Thai restaurant, I really only eat Asian food that I cook at home.
When I received the cookbook, I was completely hooked. First, after an introduction by The Pioneer Woman herself, the first thing you see in the cookbook is a two page spread of photos of Jaden and her family. THIS is who she is cooking for. I could totally relate, as can many of us, as I cook for my family, not for my blog. The blog just comes out of the food I make for my family. Then as I dug in further, so many recipes jumped out that I want to make – Quinoa Salad with Avocado and Peas, Chicken-Mango Lettuce Cups, Cauliflower "Steaks", Passionfruit Mimosas…  Should I go on?!
If these sound as amazing to you as they do to me, you need a copy of this cook book. But, wait till tomorrow to buy it, because below you can find out how you can win one of 20 copies that the #SundaySupper crew is giving away. Make sure you visit all of the blogs listed at the bottom of this post to check out the amazing recipes they are sharing, and to gain another entry.
Out of the recipes we could choose to share, I was immediately drawn to the Thai Larb Chicken Lettuce Cups, since they would fit in perfect with my current gestational diabetes diet – lots of protein and veggies, low in carbs. PERFECT!
Thai Larb Chicken Lettuce Cups
This is a fun, interactive, and customizable gluten free appetizer or meal. Just cook up the chicken mixture, put it into a bowl, stack up some lettuce leaves, and make a little plate of add-ons and garnishes. I used julienned carrots for crunch, limes for a hit of acid, and some fresh herbaciousness from cilantro. Then everybody can put their lettuce cups together as they wish. And actually, since we were making it a meal, I made a little brown rice for wrapping in the cups, or just eating with the chicken, as The Bug did. Plus, the Thai Larb chicken lettuce cups recipe is easy to make ahead and then reheat at dinnertime. Jaden knows just how to satisfy all the the time and taste needs of a busy family!!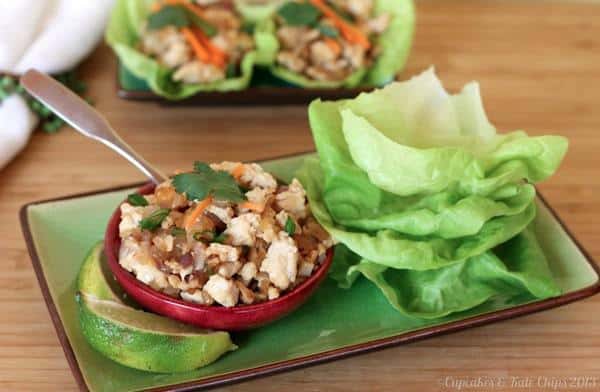 I just adore the Thai Larb Chicken Lettuce Cups. The Hubby and The Big did, too. Well, The Bug wouldn't eat the lettuce, because, you know, he'll only eat leafy greens if they are cooked, chopped, and mixed into eggs. But he was all over the chicken. The flavors are so simple and bold at the same time, with contrasts in taste, texture and temperature with the tender, salty, warm chicken, and the cool, crisp, fresh lettuce. I doubled the recipe, since it was dinner for us, and not an appetizer, and we polished it off! I can see myself making Thai Larb chicken cups again and again! Although I think I need to get going on some of the other recipes in the book, too!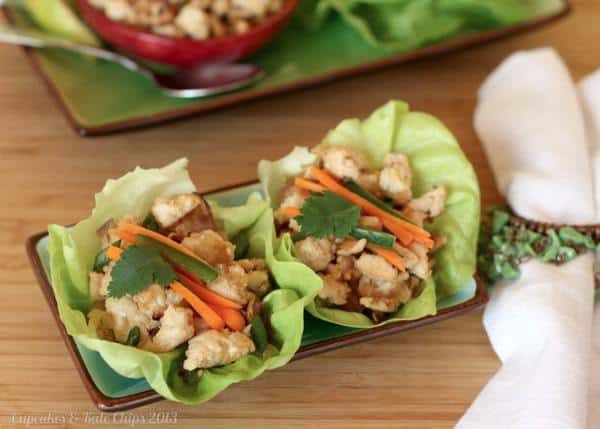 If you want to check out more of Jaden's delicious recipes, you can follow Steamy Kitchen on  Facebook, Twitter, and Pinterest.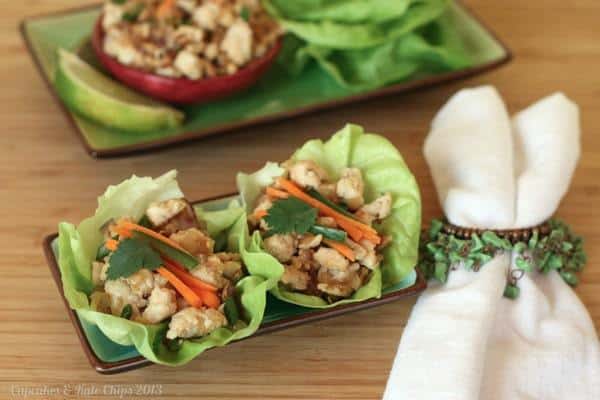 Join the Sunday Supper Team along with Jaden Hair this Sunday at 7pm Eastern Time on Twitter, just follow the #SundaySupper hashtag. We are giving away 20 copies of Steamy Kitchen's Healthy Asian Favorites Cookbook. You don't want to miss this week's #SundaySupper Event!
What is your favorite Asian dish?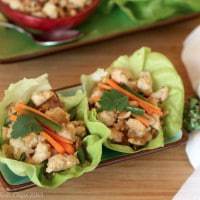 Thai Larb Chicken Lettuce Cups
Jaden's headnote excerpt: Larb is an Asian salad that's considered the national dish of Laos. It features a sour and spicy warm stir-fried meat on top of cold, crisp lettuce. The dressing is made of fish sauce, spicy fresh chiles, and fresh lime juice. Fresh mint leaves provide a refreshing finish. On the list of my favorite sounds would be the crisp snap crunch of super-cold lettuce as you peel off the layers, one by one. Use iceberg, Boston bibb, or any kind of lettuce that has cup-shaped leaves for this recipe. Keep the lettuce refrigerated until ready to eat.
Ingredients
1 1/2

tablespoons

cooking oil

1/2

pound

ground chicken breast

2

shallots

diced

1/4

red onion

diced

1

clove

garlic

very finely minced

Minced fresh chiles

Jalapeño or Fresno (amount up 
to you)

1

tablespoon

fish sauce

1/2

lime

juiced

1

teaspoon

low-sodium soy sauce,

tamari, or coconut aminos

1

head iceberg lettuce

leaves separated into "cups"

1

handful of cilantro and/or mint

cut into chiffonade
Instructions
Heat a wok or large sauté pan over high heat. When hot, swirl in 1 tablespoon of the oil and add the chicken. Use your spatula to break up the meat and spread out over the surface of the pan. Cook until browned, about 3 minutes.

Push the ground chicken to one side of the pan and swirl in the remaining 1/2 tablespoon of oil. To the oil, add the shallots, red onion, garlic, and fresh chiles and sauté the aromatics until fragrant, about 30 seconds. Add the fish sauce, lime juice, and soy sauce.

Serve with lettuce cups and herbs.
Notes
I used coconut oil as my cooking oil, and I served the chicken lettuce cups with cilantro, limes, julienned carrots, and brown rice. I also substituted tamari for the soy sauce to make it gluten free.
Categories:
Enjoy!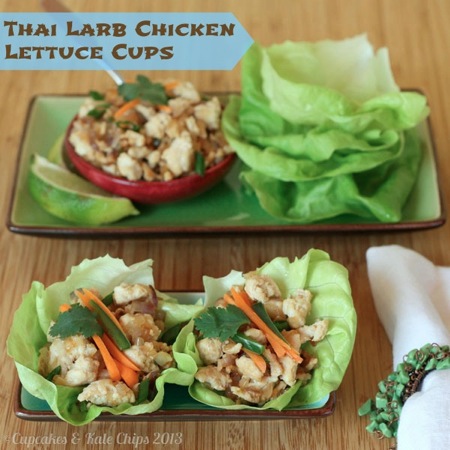 Here is the list of #SundaySupper Contributors who will be giving away a copy of Steamy Kitchen's Healthy Asian Favorites Cookbook and the recipes they will be sharing:
Tofu-Mushroom Miso Soup 
Crispy Rice Patties
Thai Larb Chicken Lettuce Cups

Miso Cod
Sake Steamed Mussels
Salmon Honey Teriyaki
Korean Beef Bites
Mapo Tofu
Mango Brulee
We are sharing more Steamy Kitchen inspired recipes. The following Sunday Supper Contributors are joining us with some of their favorite recipes from the Steamy Kitchen website:

Follow me!