This post may contain affiliate links. Read my disclosure policy.
Fresh and easy Asian Beef Lettuce Wraps are one of my family's favorite recipes, made from spicy ground beef and broccoli. Less than thirty minutes and basic ingredients are all that's needed for this healthy dinner idea (or fun appetizer) with bold Asian flavors!
Easy Beef and Broccoli Lettuce Wraps
Growing up, my mom had staple recipes that used ingredients we always seemed to have around – canned potatoes or veggies, cream of whatever soup. You know, those gourmet classics from the 1980s! And one thing we always, ALWAYS had in our fridge or freezer was ground beef.
Mom never ran out of ways to use ground beef. Whether it was Ground Beef Tacos, Meatballs, or Shepherd's Pie, sometimes she had a plan, and other times she improvised.
Well, I guess mom taught me well. Recently, in a moment of desperation and with a fridge full of odds and ends, out came this Asian lettuce wraps recipe.
Like my Egg Roll in a Bowl, these lettuce wraps are made with ground beef for a light and easy meal that we can endlessly customize. We gobbled them up, and even the kids got into filling their lettuce cups with juicy Asian beef.
Why You'll Love This Recipe
Here's why these beefy lettuce wraps are almost guaranteed to become your new go-to meal:
Fresh and flavorful. Prepare to drool over the savory, spicy, meaty flavors of the Asian beef in this recipe. Paired with the fresh lettuce crunch? So good.
Healthy and low-carb. Lean ground beef and nutrient-rich broccoli make this one of my family's favorite healthy meals. This Asian lettuce wrap recipe is light while being super satisfying, and made with healthy ingredients.
Easy to make. It takes under half an hour to make these simple yet nutritious and delicious lettuce wraps.
Uses up leftovers. If you have a bit of rice leftover form another meal, you can use it up, as well as any veggies. I often use broccoli, but you can use any that you have in the fridge.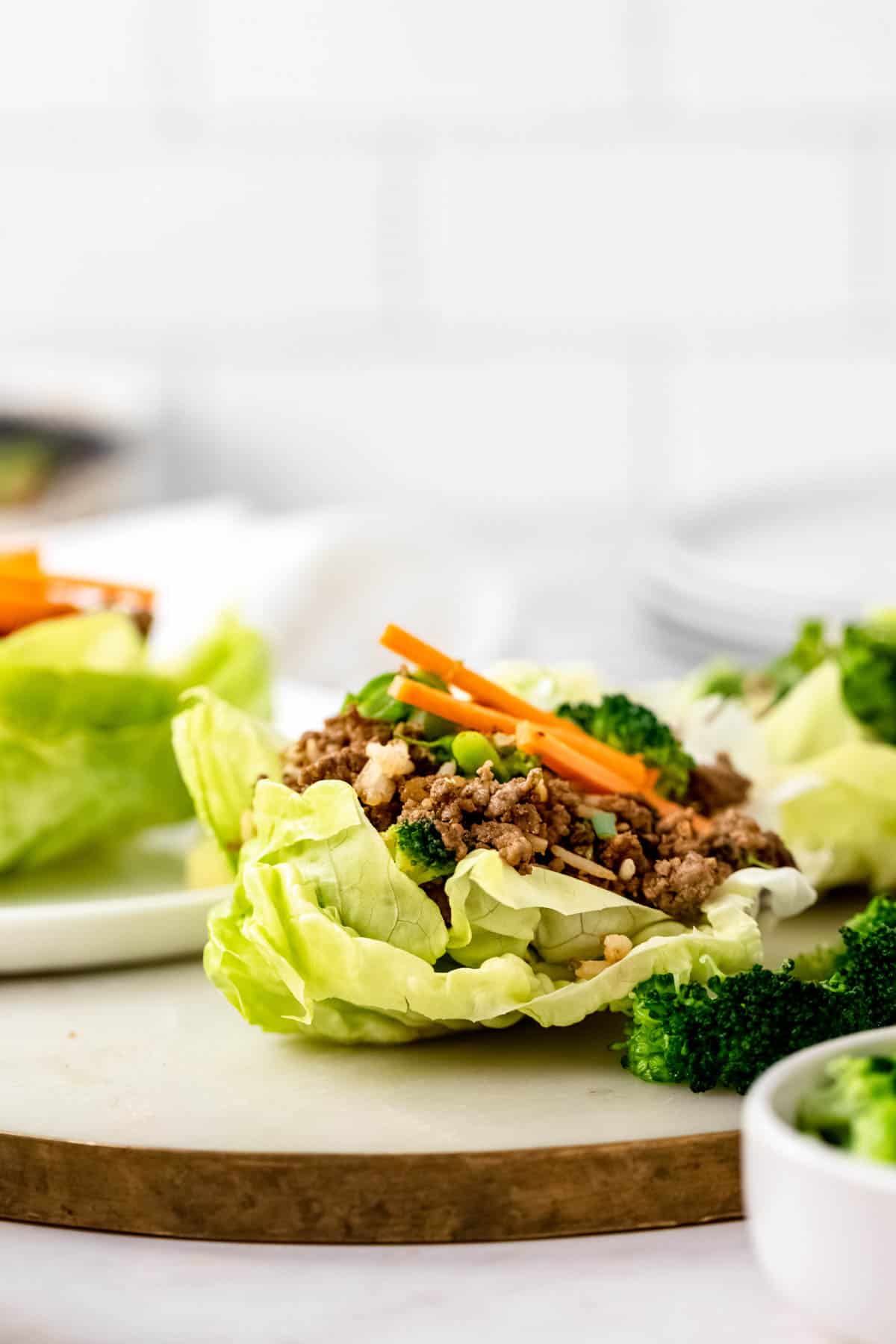 What You'll Need
Asian Beef and Broccoli Lettuce Wraps are a staple in our house because not only do my boys love them, but I pretty much always have all of the ingredients in my kitchen. It's also super easy to switch things up when I have other ingredients on hand!
Below is an overview of the basic ingredients, with the full amounts available in the recipe card:
Oil: You'll need coconut oil or vegetable oil for sautéing the filling ingredients.
Scallions: Or any kind of onion, sliced thinly. With scallions or spring onions, I use the white portion in the beef filling and save the green slices for a garnish.
Garlic and Ginger: Fresh aromatics that bring Asian flavor to the ground beef in this recipe, along with Crushed Red Pepper Flakes.
Ground Beef: I prefer to use leaner ground beef as it has just enough fat to make it flavorful, but not so much as to make the beef extra greasy.
Rice: I include cooked white rice or brown rice to bulk up the beef filling. My rice cooker doesn't do well with making small batches, so these Asian lettuce wraps are a great way to use up leftover rice!
Broccoli: Make sure that you cook your broccoli beforehand. You can steam it or sauté it, or use leftover Roasted Broccoli or Air Fryer Broccoli if you have it. Chop it up into small florets.
Soy Sauce and Sesame Oil: For that signature umami, Asian-style flavor. If you're making your lettuce wraps gluten-free, use gluten-free soy sauce or tamari.
Lettuce Leaves: Pick up a head of sturdy lettuce from the store (see below) and separate the leaves to make lettuce "cups".
Carrots: I love to use julienne carrots to garnish my Asian lettuce wraps. See further on for more delicious garnish and topping ideas!
What Lettuce Is Best for Wraps?
The best lettuce for these wraps is a sturdy variety, like Boston, iceberg, gem, bibb, or romaine lettuce. These leaves hold up well when filled, and they won't wilt or break. Cabbage leaves are another good option.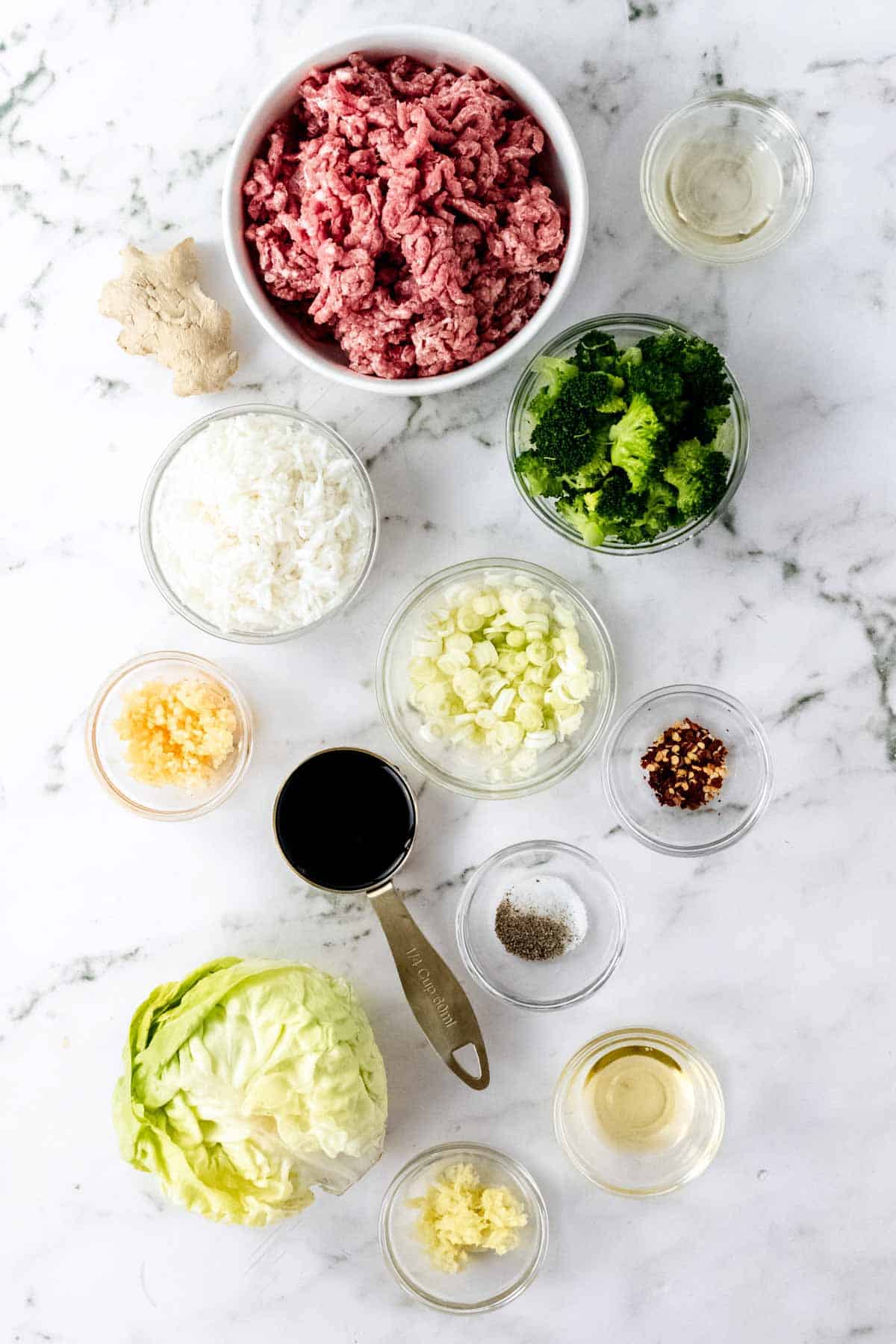 How to Make Asian Lettuce Wraps
These Asian lettuce wraps are a flavorful dinner or gluten-free appetizer that takes less than thirty minutes to whip up. Here's how to prepare the spicy beef filling:
Cook the Onion: First, sauté the scallion in a skillet with oil, then stir in the garlic and ginger.
Add Beef: Next, add the ground beef to the pan, along with the red pepper. Season with salt and pepper, and use a wooden spoon to break up the beef as it cooks. Don't forget to drain the excess grease once the beef is browned.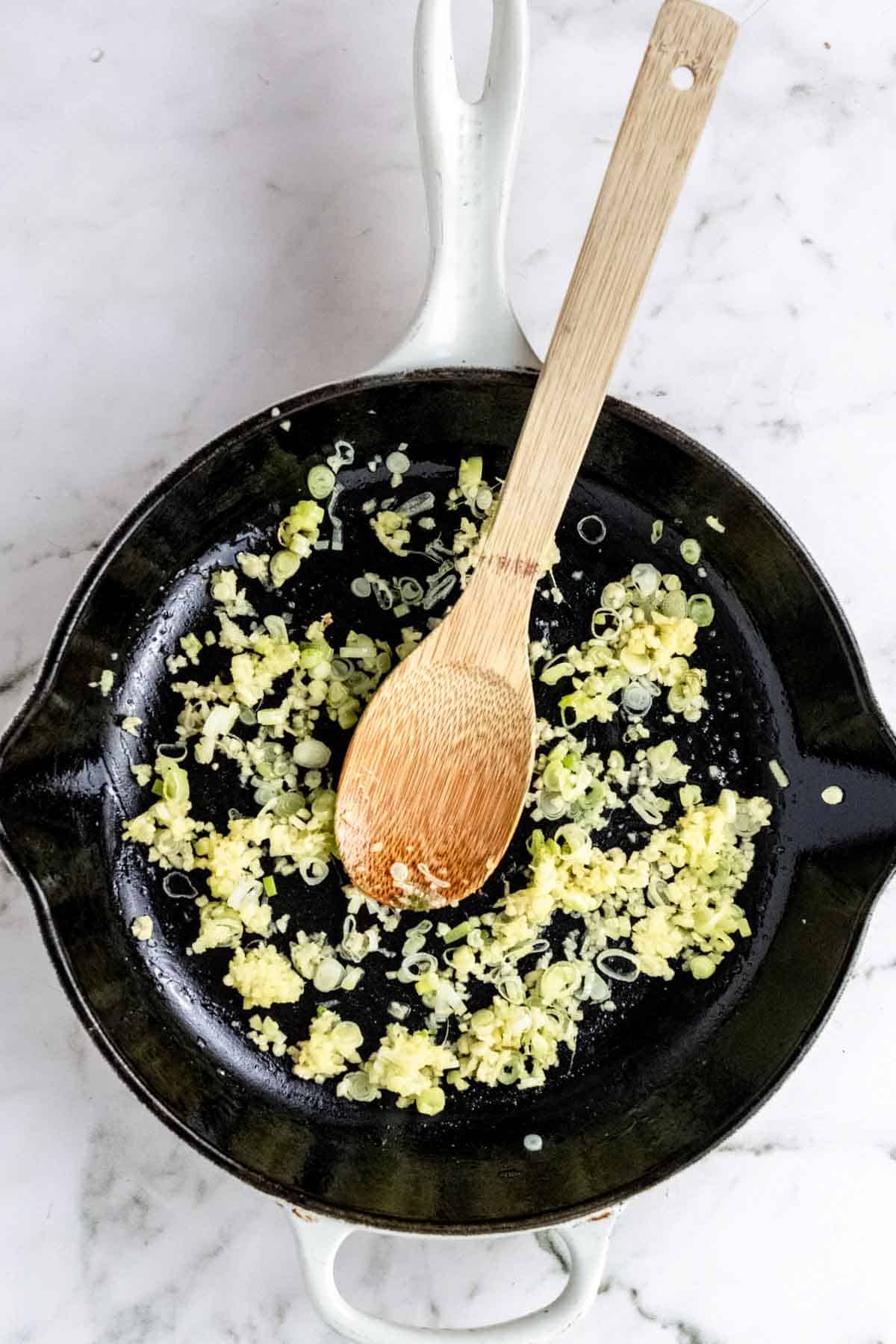 Add Rice and Broccoli: Finally, stir in the rice as well as the broccoli florets to cook through. Sprinkle in some soy sauce, then cook the beef mixture for a bit longer, until the rice crisps up.
Serve: Spoon your Asian beef into lettuce cups, garnish with green onions, and top them with julienne carrots. Then, dig in! See below for more easy variations and lettuce wrap topping ideas.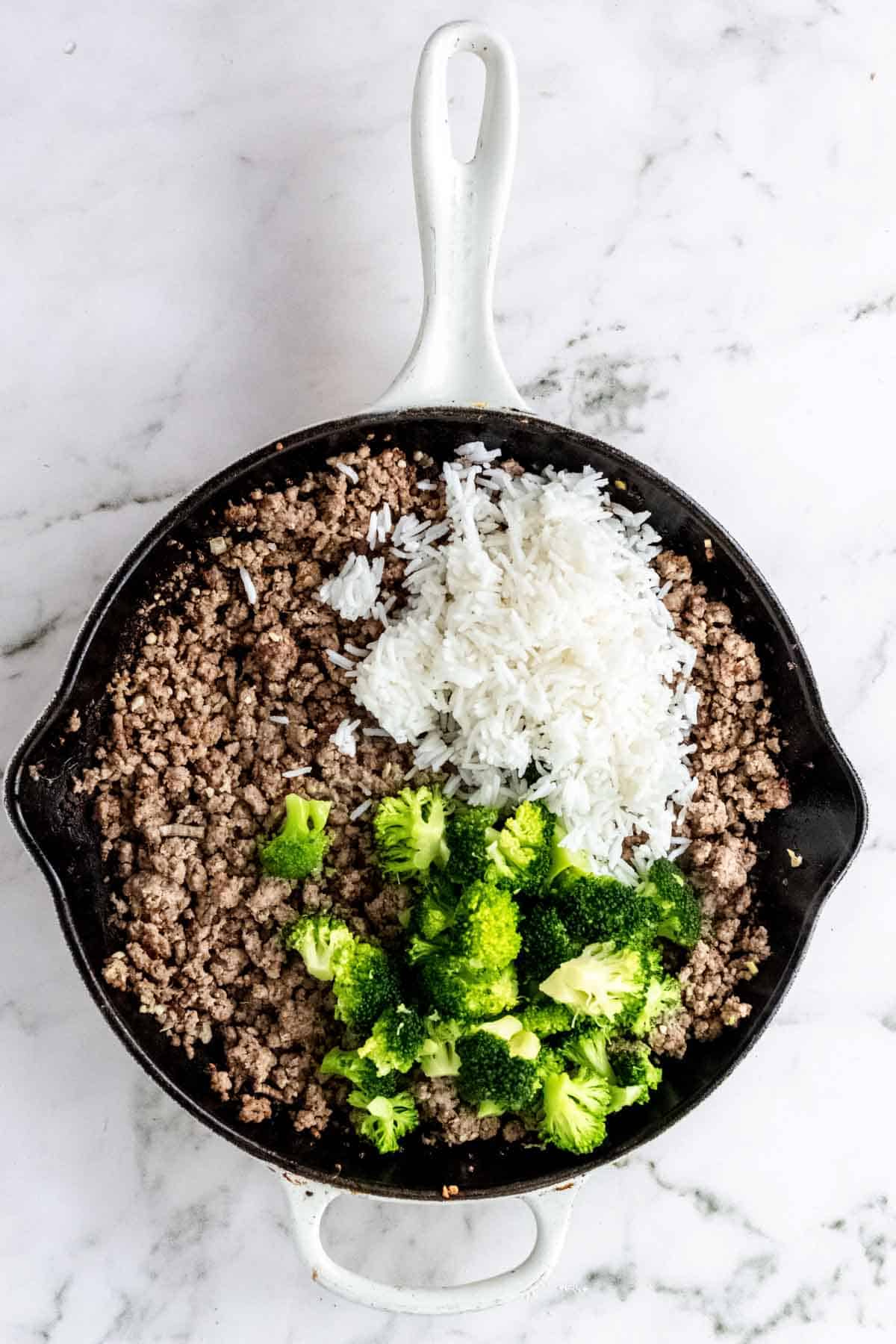 Tips for Success
Here are some helpful tips for making the juiciest, most flavorful Asian beef lettuce wraps:
Use high-quality beef. Ground beef is the main component of this recipe, so make it count. Quality meat will have better flavor for the best beef lettuce wraps. Good choices to look for are ground sirloin or ground round (or ask your local butcher).
Don't overcook the meat. Overcooking the beef can make it dry, so make sure to keep an eye on it while it cooks.
Go easy on the soy sauce. It's always easier to add than to take away! Add the soy sauce to the beef a little at a time, to avoid a sodium overload.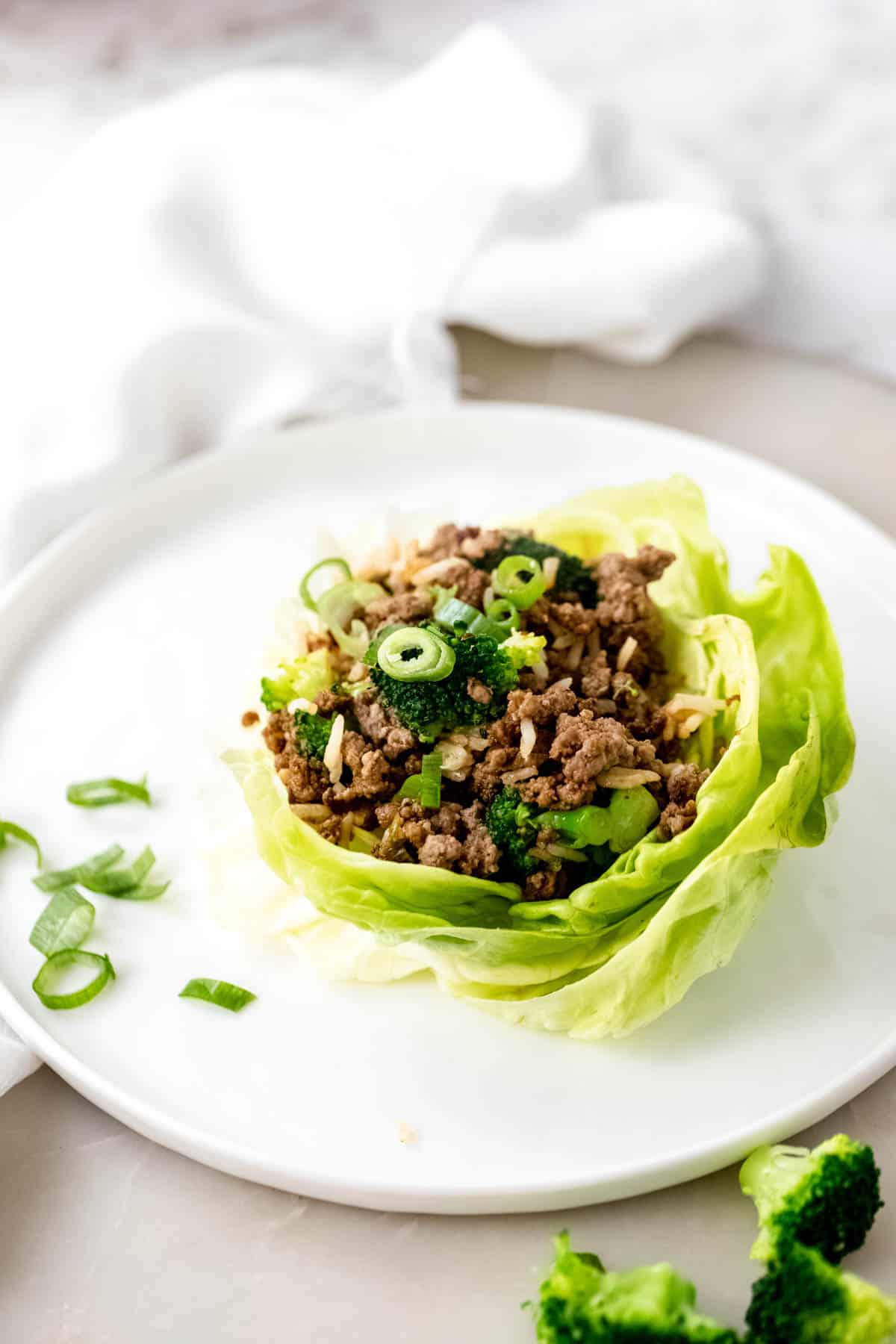 Toppings and Variations
The beauty of these Asian lettuce wraps is that you can add any leftover veggies you have on hand to the filling, or even thaw a frozen stir fry mix. You can change up the spices and flavors to suit. The same goes for toppings! There are so many possibilities.
Try these other tasty toppings and lettuce wrap variation ideas:
More Veggies: Top your wraps with sliced red onions, shredded cabbage, or radishes. Or swap the broccoli for sauteed mushrooms or zucchini or roasted cauliflower.
Substitute Rice: Swap out the rice with quinoa. Or, add cauliflower rice or additional diced veggies (carrots, more broccoli, etc.) if you're looking for a lower-carb option.
Add Sauce: Drizzle your lettuce wraps with homemade Gluten-Free Teriyaki Sauce or Bang Bang Sauce.
Herbs: Add herbs like Thai basil, tarragon, and chili flakes into the beef mixture, or sprinkle them over top of the wraps once they're assembled.
Chicken Lettuce Wraps: In place of ground beef, use ground chicken or ground turkey meat to make chicken or turkey lettuce wraps. (Or, try my Instant Pot Teriyaki Chicken Lettuce Wraps!)
Thai Lettuce Wraps: Add lemongrass, chili, a drizzle of Peanut Sauce, and a squeeze of lime to give these Asian beef lettuce wraps a Thai-style flair.
Vegetarian Lettuce Wraps: Use minced tofu or another plant-based alternative to make this recipe as vegetarian or vegan lettuce wraps.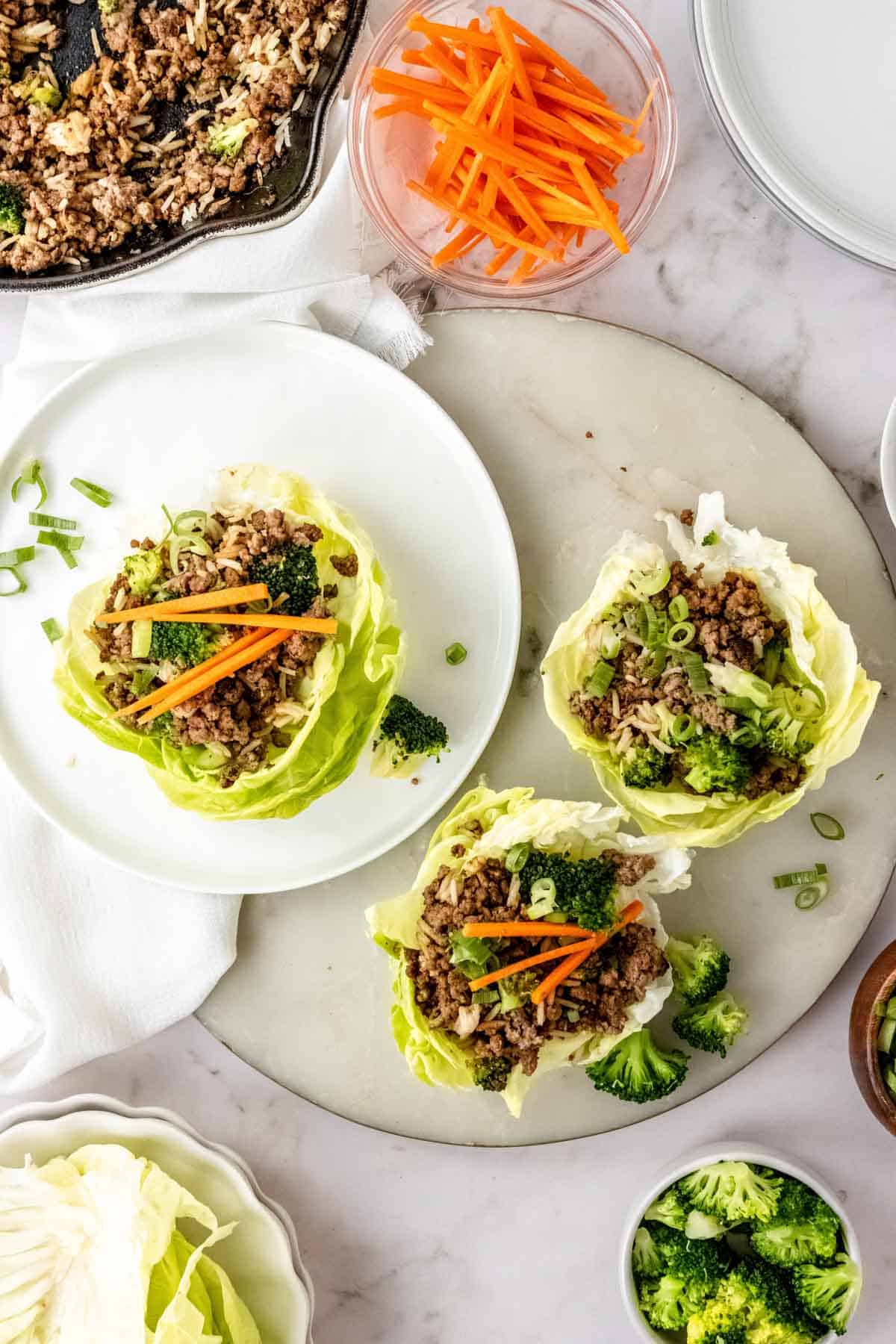 Storing and Reheating Leftovers
Refrigerate any leftover ground beef and rice mixture within 2 hours from when it was cooked. Store the beef airtight and reheat it within a day or two. Leftover lettuce cups can also be refrigerated and used within a couple of days.
To reheat the beef, either warm it in the microwave or return it to a skillet on the stovetop over medium heat, stirring often until it's hot throughout.
Can I Freeze Leftover Ground Beef?
Yes! The ground beef mixture can be prepared ahead and frozen. Simply store it in an airtight, freezer-safe bag or container, and keep it frozen for up to 3-4 months. Defrost the beef in the fridge overnight before reheating and serving.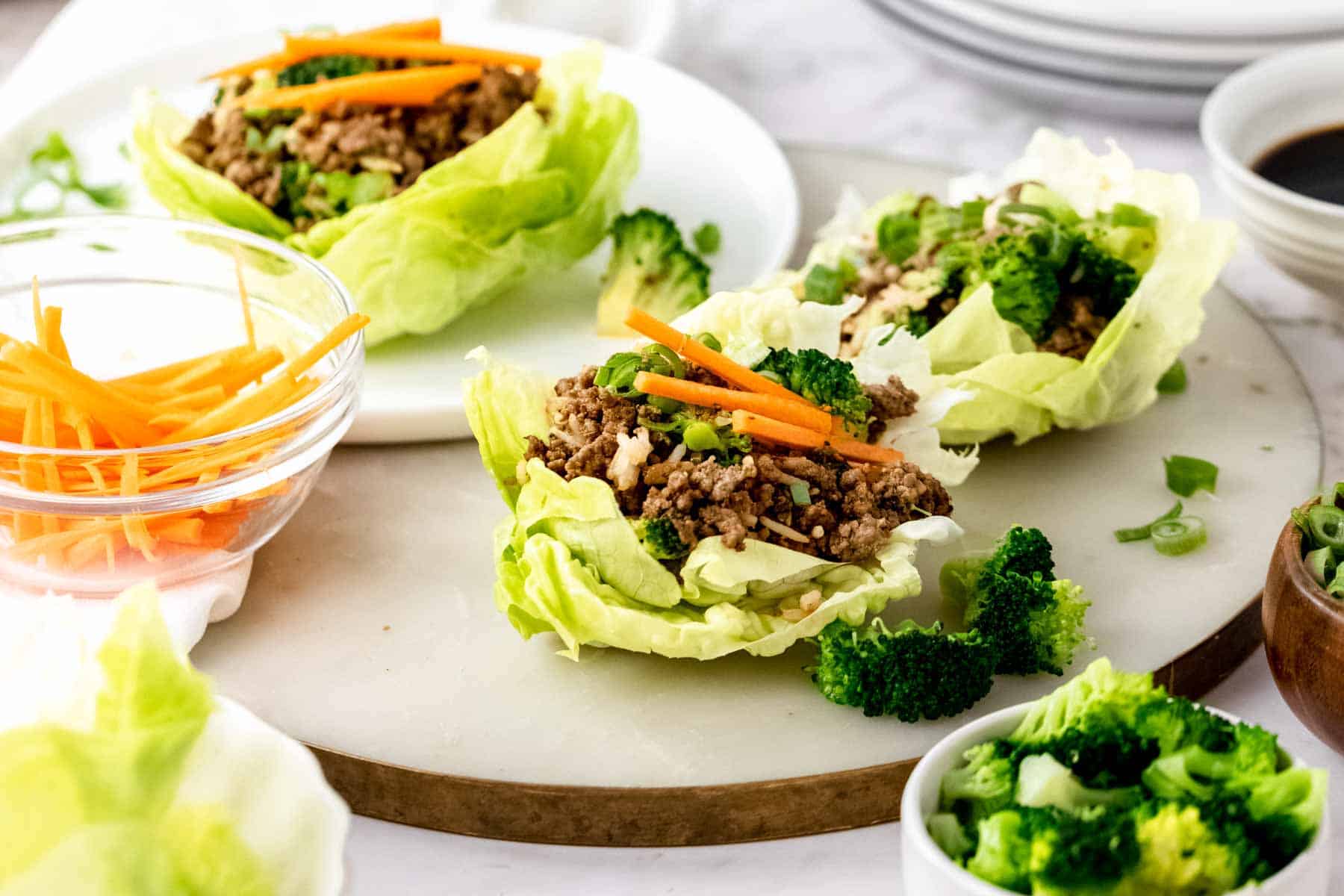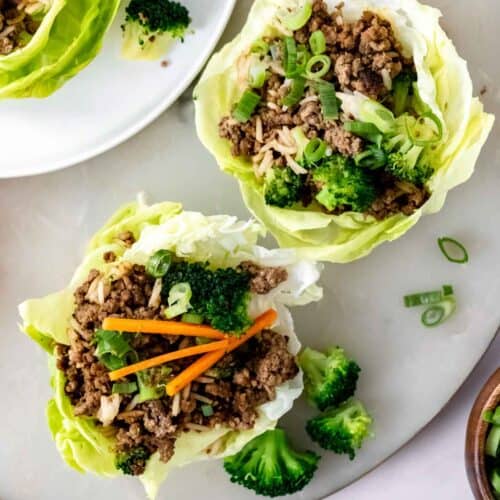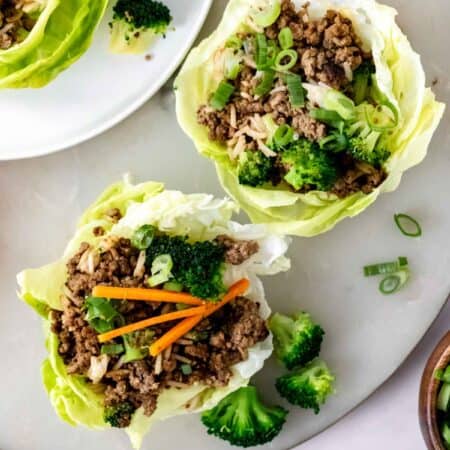 Asian Beef Lettuce Wraps
Asian Beef Lettuce Wraps are gluten-free and so easy to make! Less than thirty minutes and basic ingredients are all that's needed for this healthy dinner idea (or fun appetizer) with bold Asian flavors.
Ingredients
1

teaspoon

coconut

olive, or vegetable oil

2

scallions

white portion thinly sliced, green portion reserved for garnish, if desired

1

clove

garlic

crushed or minced

1

Tablespoon

grated fresh ginger

1-1 ¼

lbs

lean ground beef

1/4

teaspoon

crushed red pepper flakes

pinch

of salt and pepper

1

cup

leftover cooked brown or white rice

2

cups

cooked broccoli

cut into small florets

¼

cup

soy sauce

or tamari for gluten free

1

teaspoon

sesame oil

Leaves

of Butter

Boston or Bibb lettuce

Optional shredded or julienned carrot for garnish
Instructions
Heat oil in a large skillet over medium heat.

Add the scallion and saute for 2-3 minutes until starting to soften. Add the garlic and ginger, and saute for another for 30 second to 1 minute, or until fragrant.

Add the ground beef, red pepper, and salt and pepper. Break up beef while cooking, and cook until browned and cooked through. Drain any excess grease.

Add the rice and broccoli, heat through, then add the soy sauce. Cook for 5-8 minutes, stirring only occasionally to allow the rice and broccoli to crisp up a bit in spots.

Serve in lettuce cups, garnishing with green portions of the scallions and carrots, if desired.
More Healthy Ground Beef Recipes