This post may contain affiliate links. Read my disclosure policy.
Simple, healthy, and delicious, these Easy Instant Pot Ground Beef Tacos are perfect for a busy lunch or dinner. Everyone will love this family-friendly meal!
Want more tacos? Try Slow Cooker Chicken Tacos and Fish Stick Tacos!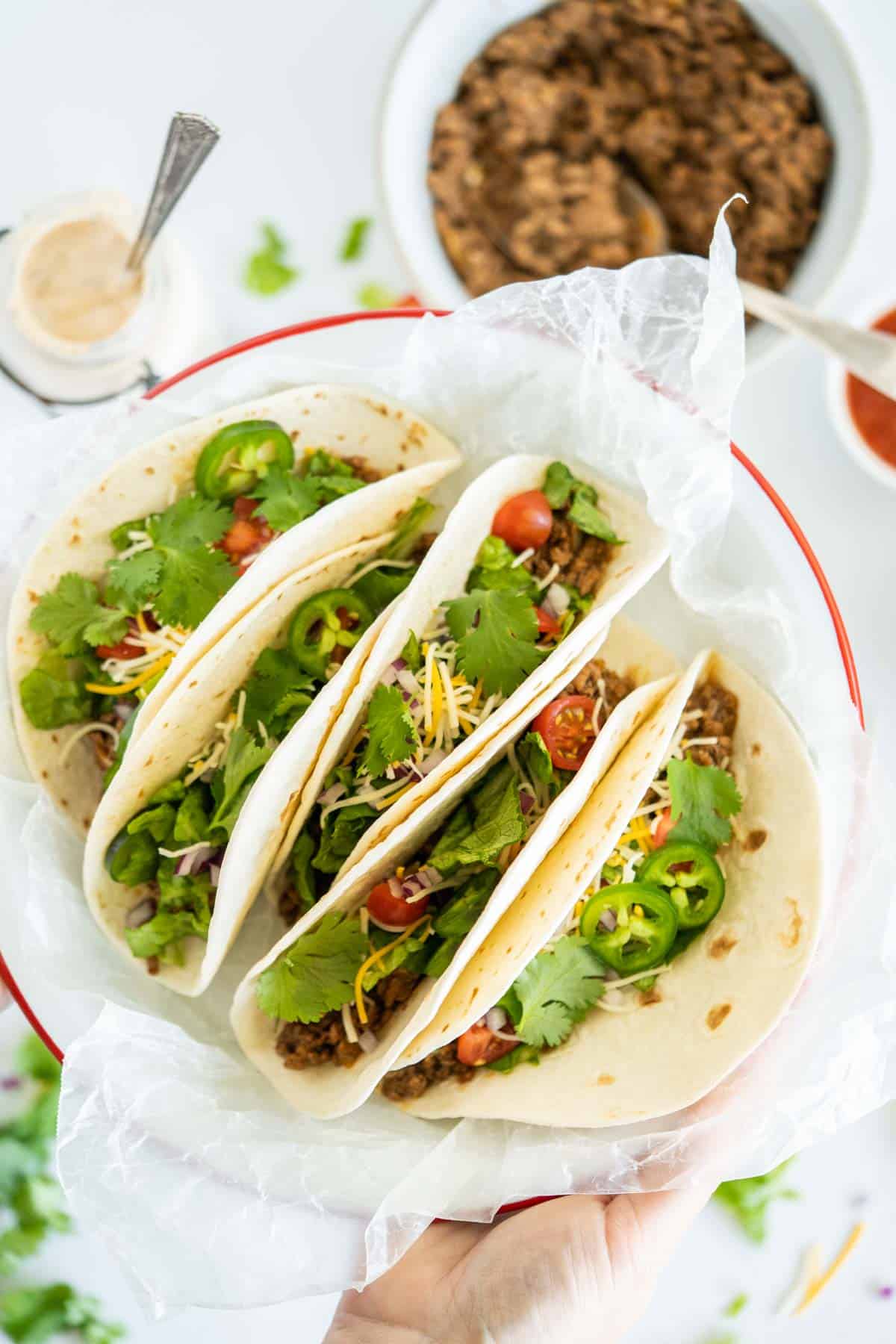 Easiest Ever Instant Pot Tacos
It seems like tacos are one meal that everyone is always in the mood for. And by making the taco meat in your Instant Pot, with a flavorful blend of homemade taco seasoning, you've got a seriously perfect dinner headed your way. It's fast, good for you, and super easy to make!
This is a great recipe for meal prepping as well. You can make the entire batch and then serve it for lunches throughout the week. Just microwave the individual portion, or heat it in a small covered saucepan, and you can make tacos on the fly!
If you don't have an Instant Pot, this recipe also works on the stovetop! All you have to do is brown the meat in a skillet first, breaking it into pieces with a spatula. Then add the remaining ingredients and simmer gently for about ten minutes.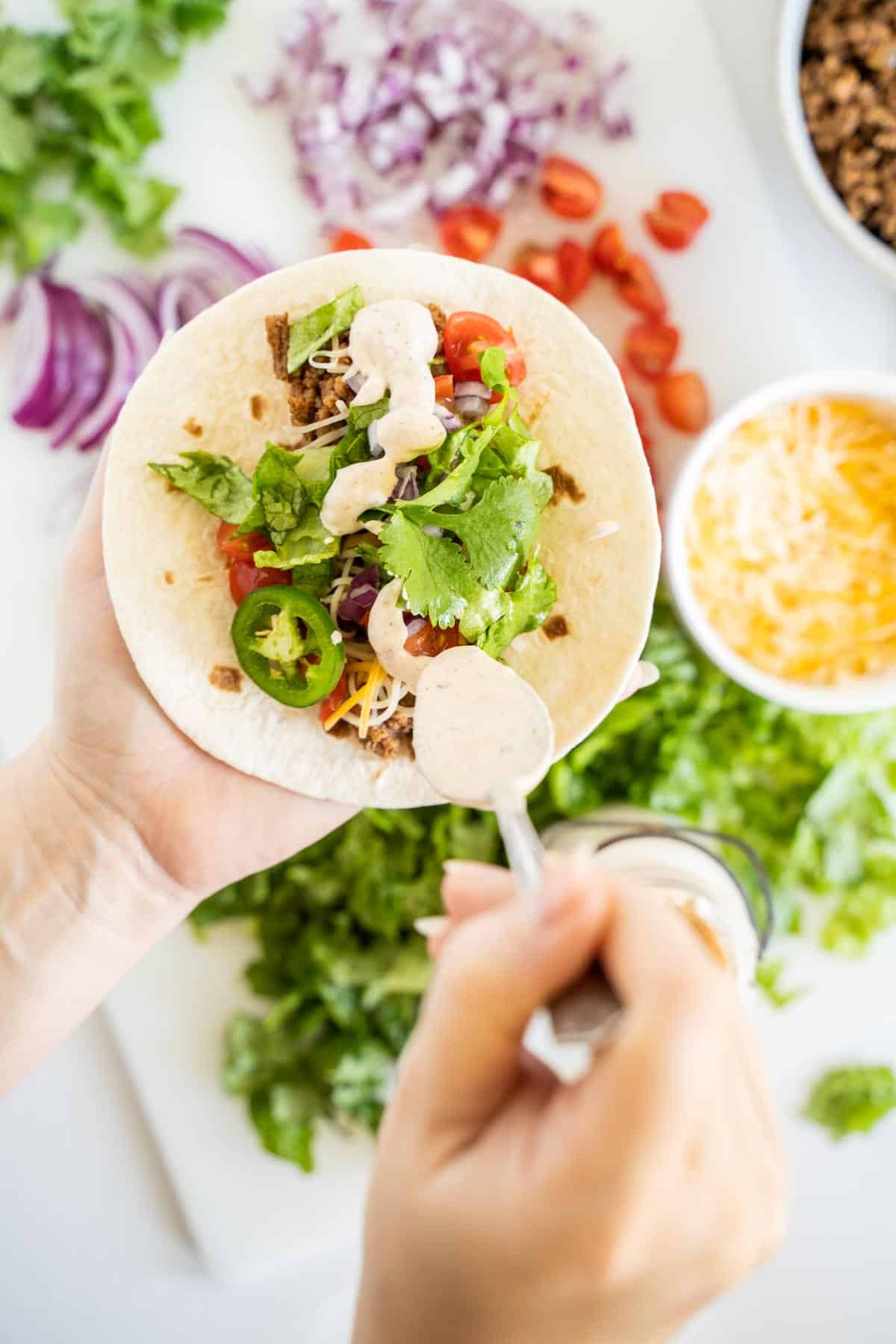 What You'll Need
Have you ever made your own taco seasoning? You have to try it! This recipe only includes enough spices for the two pounds of meat, but you could double it or even triple it and save the extra!
Ground Beef: You'll need 2 pounds of 85% lean ground beef. This makes eight ⅔ cup servings. If needed or preferred, you can also use 90% or 93% lean ground beef.
Onion: I like to add one yellow onion, peeled and chopped, to my taco meat. You can substitute any type of onion that you like.
Garlic: Crush or press the fresh garlic so that you don't end up with large chunks.
Chili Powder and Cumin: Chili powder and cumin both tend to be somewhat mild, so I use a whole tablespoon of each. You can add more or less, if you'd like!
Oregano: You'll need two teaspoons of dried oregano for Instant Pot tacos.
Salt & Pepper
Cayenne Pepper: For a tiny bit of heat, add ¼ teaspoon of cayenne pepper; this can also be omitted or replaced with paprika.
Tomato Paste: You can use it from a can or a tube. Be sure not to use tomato sauce, which is much less concentrated.
Water: This keeps your meat moist and just slightly saucy/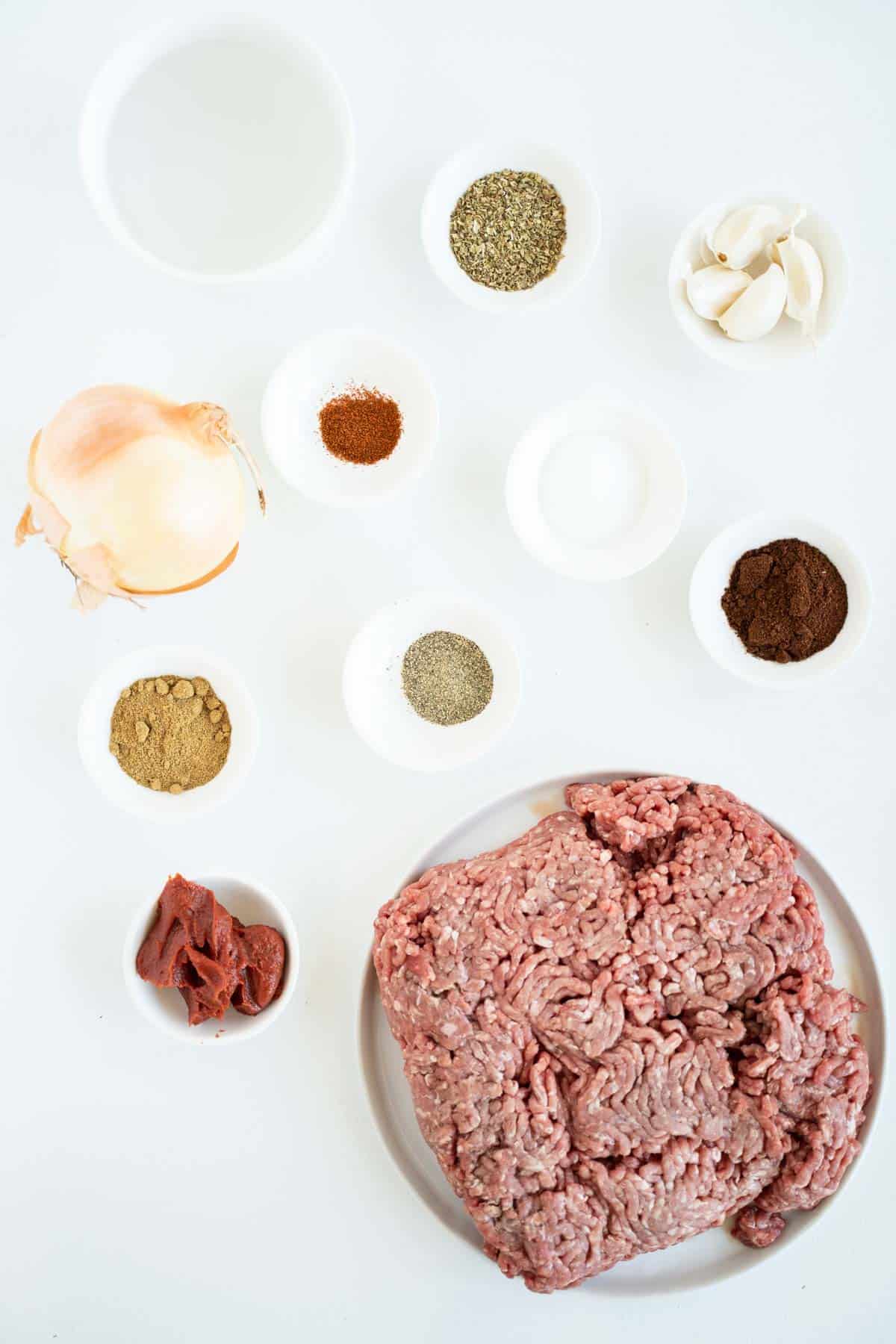 Can I Use Frozen Ground Beef?
Yes, you can! An awesome thing about using an Instant Pot is that it makes cooking frozen beef super easy. You'll need 2 one-pound frozen blocks of ground beef (I don't recommend using larger frozen amounts). Just increase the cooking time to twenty minutes, but keep everything else the same!
How to Make Taco Meat in the Instant Pot
Honestly, there is not going to be an easier recipe on the Internet than this. It's so simple and so fast – it's just the best!
Add Ingredients to Pot: Simply place all of the ingredients for the ground beef taco meat into your Instant Pot. There's no need to stir or anything.
Cook Taco Meat: Put the lid on the Instant Pot, and set it to "Sealing." Cook on "Manual, High Pressure" for 8 minutes. Once it's finished, carefully release the valve.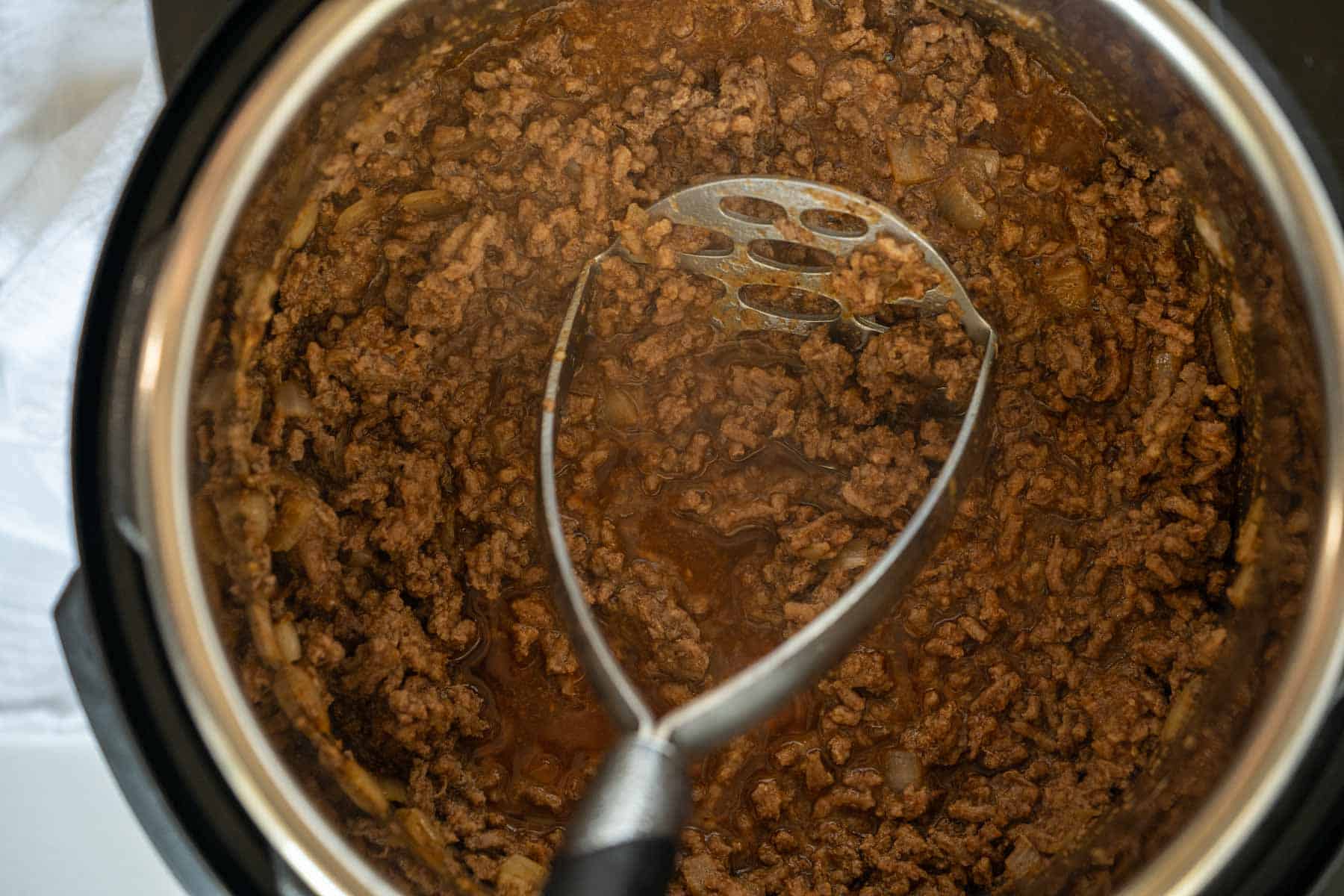 Thicken Sauce (Optional): If you want to thicken the sauce a bit, turn the Instant Pot on "Sauté" and let it cook for a couple minutes, stirring frequently. Some of the liquid will evaporate, leaving a thicker sauce.
Assembling Your Tacos & Adding Toppings
To assemble your tacos, I think it's easiest to set up a buffet-style or family-style table, with all of the toppings and a platter of tortillas (or shells, or lettuce wraps) ready to go! Speaking of toppings, I've collected a list of amazing topping ideas here, for inspiration!
Sour Cream or Creamy Southwestern Dressing
Chopped Tomato
Sautéed Peppers, Mushrooms, and/or Onions
Shredded or Chopped Lettuce
Sliced Black Olives
Salsa or Mango Avocado Salsa
Diced Red Onion
Sliced Jalapeño
Avocado Cubes
Shredded Cheese
Queso Dip (drizzled on top)
Popcorn Shrimp (surf 'n' turf tacos!)
Chopped Cilantro
Having a party?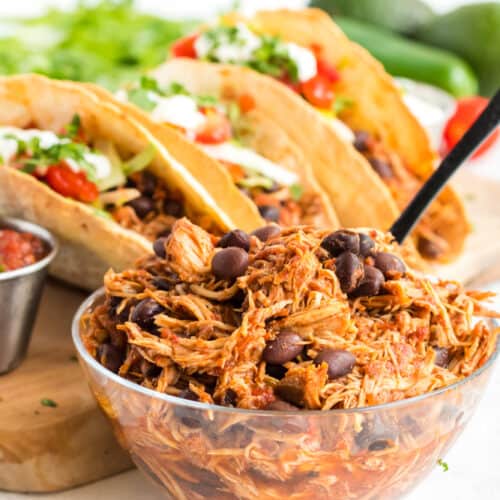 Make a slow cooker full of Crockpot Mexican Chicken to set up a big taco bar! Then guests can choose whether they prefer beef or chicken.
What to Serve with Tacos
Favorite Tex Mex Side Dishes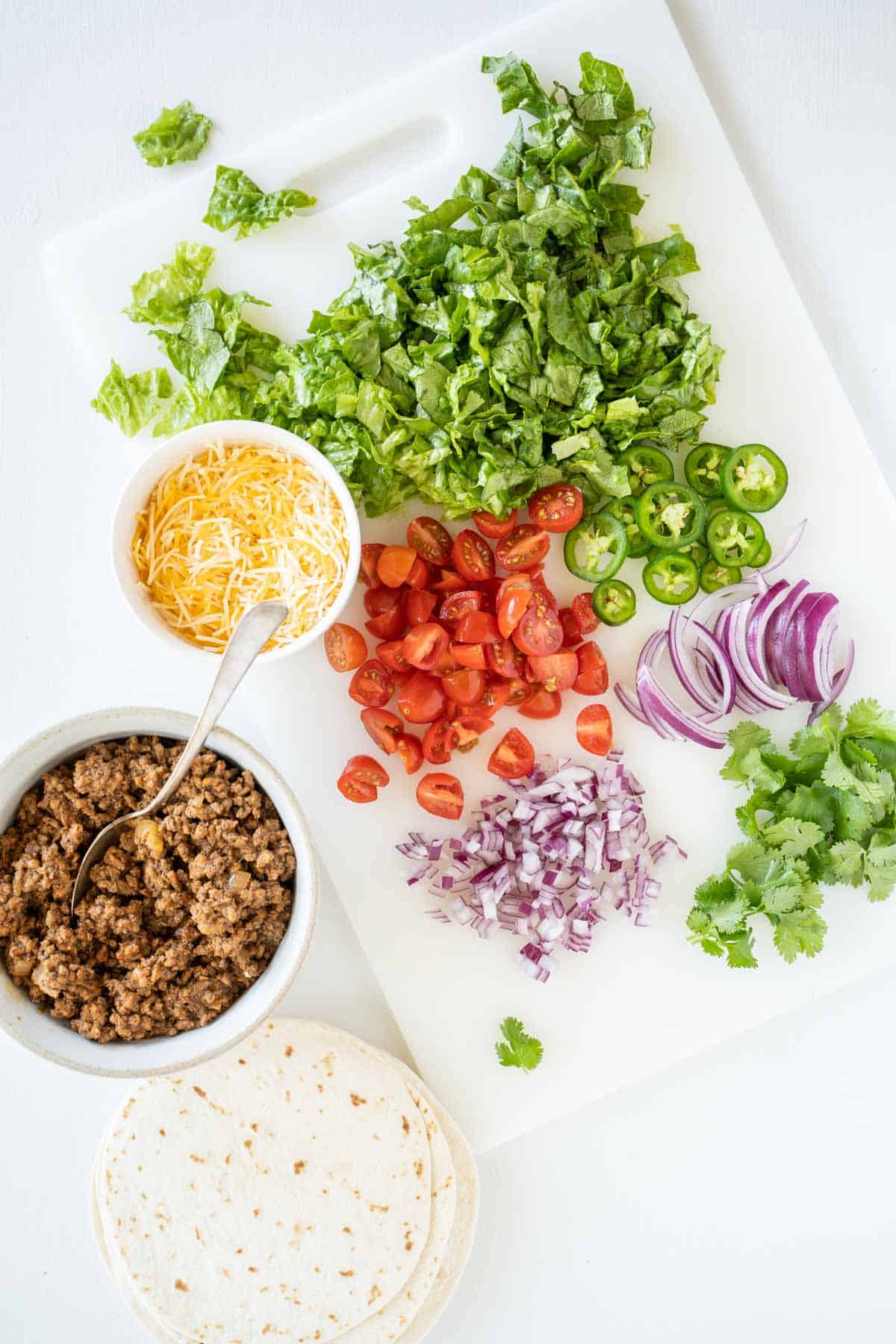 Tips for Success
This versatile recipe has a lot going for it! Check out these extra tips for making and using this easy, flavorful meat.
Keep it Keto: This recipe is actually keto-friendly as written, so if you watch the toppings and wraps you use, it can be a wonderfully easy and satisfying keto meal. Lettuce wraps are a fantastic keto taco shell! Some people love raw collard leaves, too.
Try Grassfed: If you're not exactly a fan of grassfed beef, but you want to give it more of a try, this is a great recipe for that! Grassfed beef can sometimes be on the tough side, and have a stronger taste, but the Instant Pot does a great job of tenderizing, and the taco spices work perfectly with the hearty taste!
Make It a Bowl: If you'd like, try serving this delicious taco meat over cauliflower rice, white rice, or yellow rice for a delicious "burrito bowl" entree.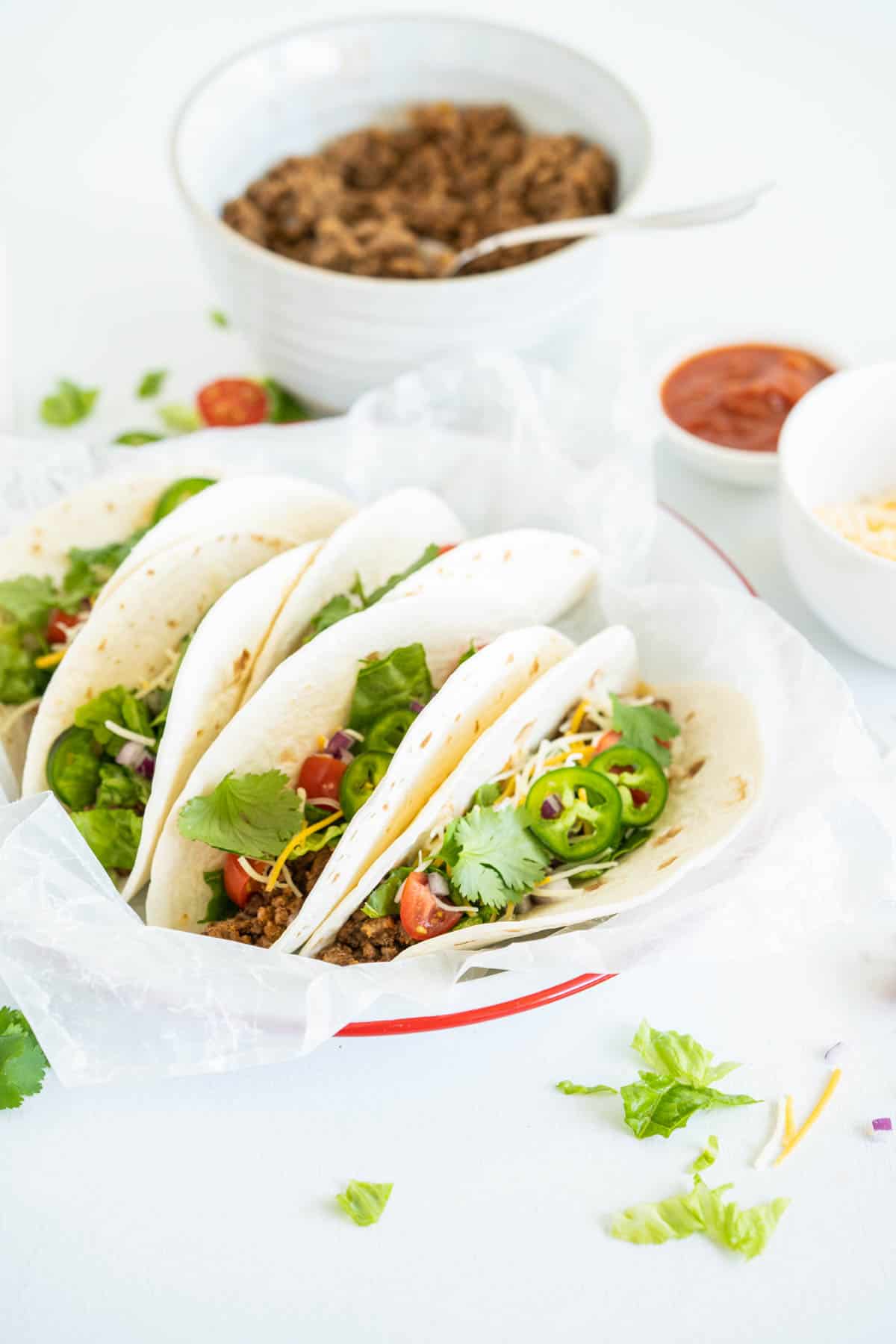 How to Store and Reheat Leftovers
As mentioned, this is a great recipe for making in advance and enjoying throughout the week. Here's how to go about storage:
To Refrigerate: You can keep leftover taco meat for up to 4 days in the fridge, as long as you store it properly. I recommend using airtight food storage containers, or zip-top freezer bags.
To Reheat: Take out your desired portion and place it in a covered saucepan. Reheat on low, adding a tablespoon or so of water if it seems dry.
Can I Freeze Extra Taco Meat?
For sure! Freezing extra taco meat is a wonderful way to prep some extra protein. It's easy to pull out of the freezer and reheat, so I like to make double batches and freeze half.
When it's time to use it, take the meat from the freezer and place it in a covered saucepan or skillet with a splash of water. Heat on low until heated through, stirring occasionally and adding more water if needed.
Got Leftovers?
Whether you only have a little and just want to make lunch the next day, or have enough to feed the entire family another meal, you can add this taco beef to:
Both recipes have single-serving options, or you can double or triple or quadruple the batch. Plus, change up the base and toppings to make it keto-friendly, paleo, and gluten free. You can even invite the vegetarians to the taco party by making some Pineapple Black Beans for them to create their bowls!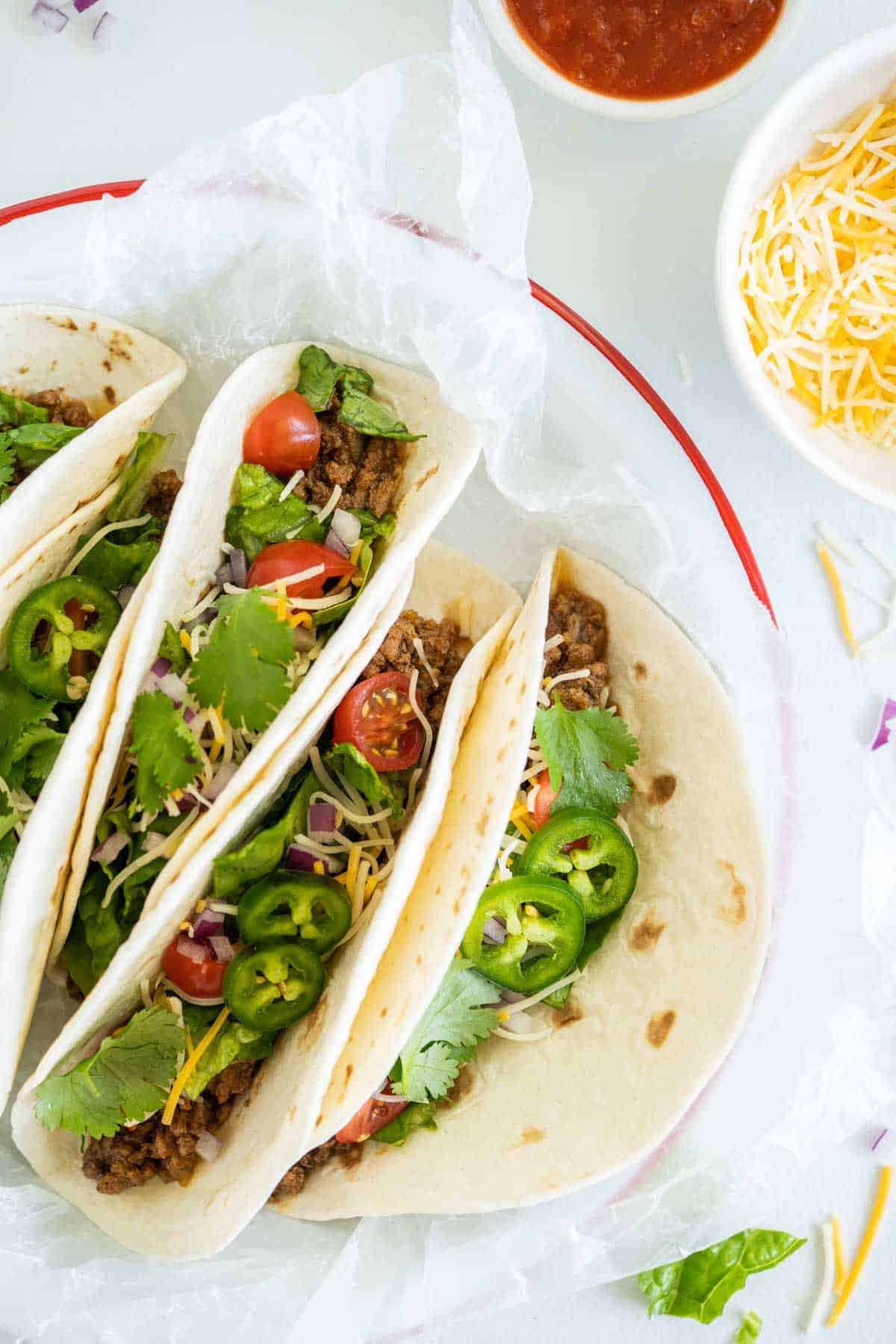 Brianne Recommends
Instant Pots are available now at a variety of price points. They all work basically the same, but some have added features like allowing you to control it from your smartphone.
While many people love a classic flour tortilla, you can easily find basic corn tortillas that are gluten free, or other options, like the Siete brand, that are grain free and low carb.
Easy Instant Pot Ground Beef Tacos
Simple, healthy and festive, these Easy Instant Pot Ground Beef Tacos are perfect for a busy lunch or dinner. Everyone will love this family-friendly meal!
Ingredients
For the Ground Beef Taco Meat
2

pounds

85% lean ground beef

(can use 90% or 93% lean if preferred)

1

yellow onion,

peeled and chopped

4

cloves

garlic,

crushed

2

teaspoons

dried oregano

1 1/2

teaspoons

salt

1

tablespoon

chili powder

1

tablespoon

cumin

1/2

teaspoon

black pepper

1/4

teaspoon

cayenne pepper

3

tablespoons

tomato paste

3/4

cup

water
Topping Ideas
Corn, flour, or low-carb tortillas or lettuce wraps

Chopped Romaine lettuce

Chopped tomato

Diced red onion

Fresh cilantro

Sliced jalapeno

Shredded cheese

Sour cream

Salsa
Instructions
Add ground beef, onion, garlic, dried oregano, salt chili powder, cumin, black pepper, cayenne pepper, tomato paste, and water to the Instant Pot (there's no need to stir). Put the lid on the Instant Pot and set it to "Sealing". Cook on "Manual, High Pressure" for 8 minutes. Once it's finished, carefully release the valve.

If you want to thicken the sauce a bit, turn the Instant Pot on "Sauté" and let it cook for a couple minutes, stirring frequently.

Serve in your preferred type of tortilla with your faborite toppings.
Notes
Nutrition facts apply to taco meat only.
Nutrition Facts
Easy Instant Pot Ground Beef Tacos
Amount Per Serving
Calories 272
Calories from Fat 153
% Daily Value*
Fat 17g26%
Cholesterol 77mg26%
Sodium 581mg24%
Potassium 493mg14%
Carbohydrates 6g2%
Protein 22g44%
Vitamin A 433IU9%
Vitamin C 4mg5%
Calcium 50mg5%
Iron 4mg22%
* Percent Daily Values are based on a 2000 calorie diet.
Categories:
More Instant Pot Recipes to Try
Want more easy and delicious weeknight meals to make in your pressure cooker? Give these a try!