This post may contain affiliate links. Read my disclosure policy.
Instant Pot Mushroom Risotto takes the extra effort out of making rich and delicious homemade risotto! This easy Instant Pot recipe features arborio rice cooked in a savory broth with wine, herbs, and earthy mushrooms, for a satisfying entree or side dish.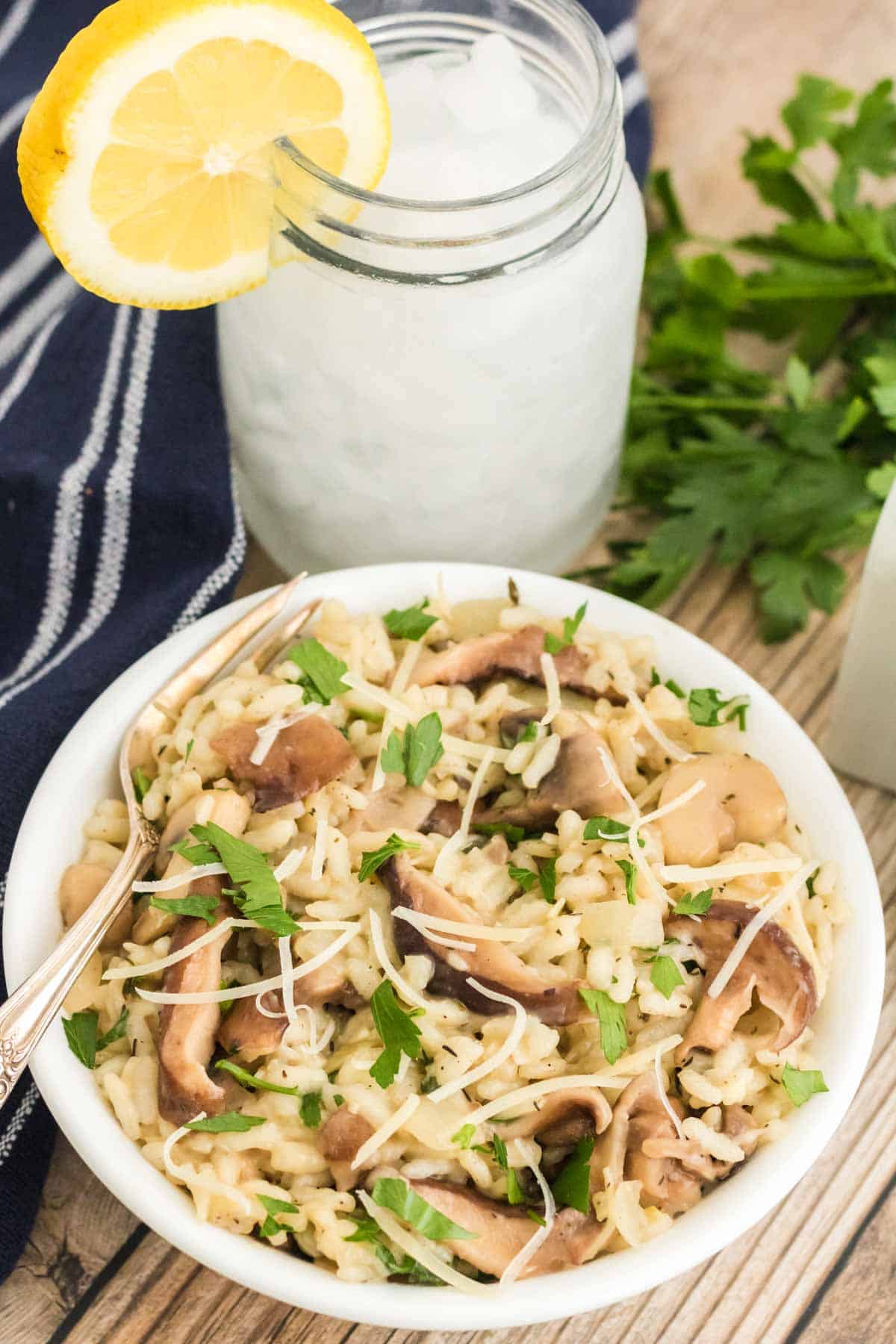 The Creamiest Instant Pot Mushroom Risotto
Hot on the heels of my Stovetop Mushroom Risotto, I'm sharing another easy method for making this classic Italian dish: the Instant Pot! This version is just as rich and creamy, but takes a more hands-free approach. This set-it-and-forget-it style of cooking is perfect for those extra-busy nights when you're craving something cozy, without having to tend to a pot on the stovetop.
Like my traditional recipe, this pressure cooker risotto is made with broth, white wine, herbs, and mushrooms for a satisfying meal that's full of savory, earthy flavor. The umami of the mushrooms and the tender chew of the rice shines through in every bite. It's a luxurious main or side dish that you can serve in any season.
If you're new to the world of pressure cooking, don't worry. This easy Instant Pot risotto is the best way to learn the ins and outs. It's a simple recipe that you can customize in tons of ways, from add-ins to flavors, and then some. Be sure to check out my easy variation ideas further down!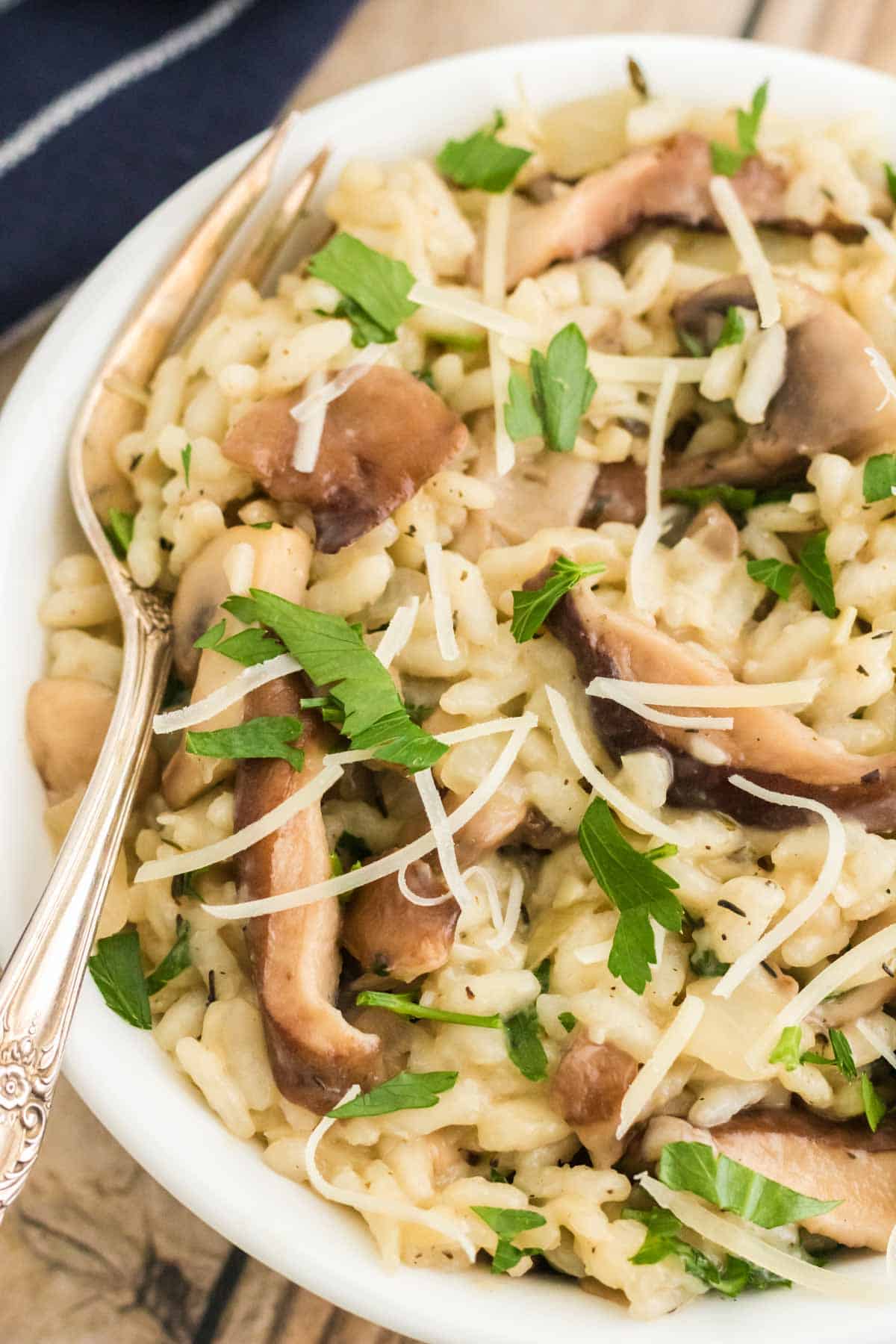 Why Make Risotto In the Instant Pot?
So, what is risotto? And what's so great about making it in the Instant Pot?
In case you're unfamiliar, risotto is a classic Italian dish made from starchy rice that's cooked in broth until tender and creamy. You'll find many recipes made with parmesan, white wine, butter, and aromatics like onions, along with add-ins like the mushrooms in this recipe.
Traditionally, risotto is a labor-intensive process that involves gradually adding the liquid to the rice a little at a time on the stovetop. It's totally worth it for the creamy end result, but sometimes there just aren't enough hours in an evening.
This brings us to why the Instant Pot is a modern miracle when it comes to homemade risotto:
It's hands-free. The Instant Pot is a hands-off method for making rich and creamy risotto. No hovering over a pot, painstakingly ladling more broth into the rice as the last round cooks off. The Instant Pot does the work!
So creamy. Pressure cooker risotto offers all the unbelievable flavor and creaminess of the stovetop version, with half the effort. 
Perfect for busy weeknights. Prepare a quick salad or side while the risotto cooks in the Instant Pot, for a well-rounded dinner that's on the table in no time.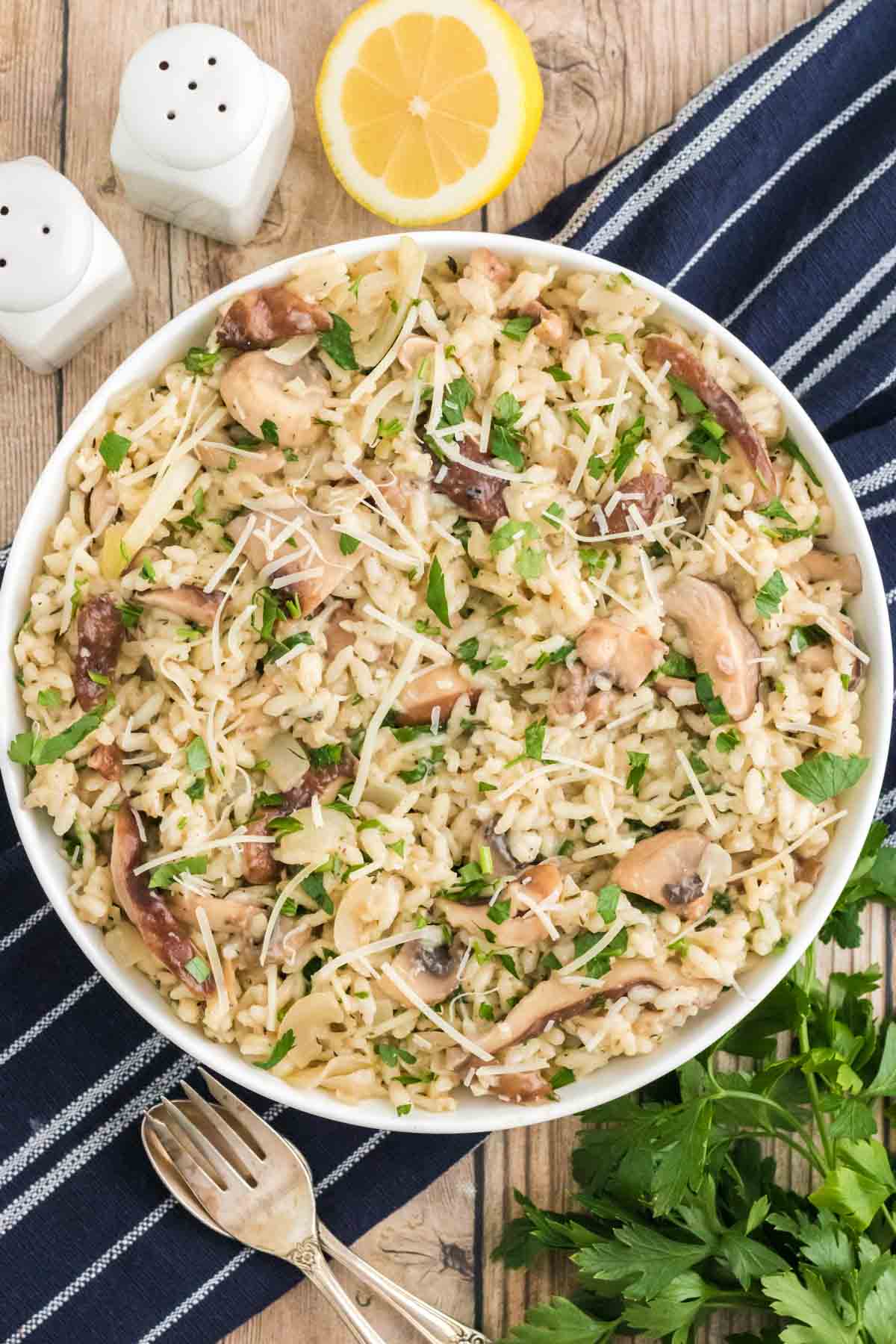 What You'll Need
You'll need risotto rice, and a handful of other basic ingredients to make this Instant Pot mushroom risotto. You'll find a short overview of what you'll need below, with the full ingredient amounts available in the recipe card:
Broth: You'll need your choice of low-sodium chicken broth or stock. You can also use vegetable broth if you're making a vegetarian or vegan risotto.
Butter: Unsalted is best.
Mushrooms: Use any variety or combination of mushrooms you'd like. Good options are white, cremini, and shitake, or you can make something more exotic like a wild mushroom risotto. Whichever mushrooms you choose, slice them up before you begin.
Onion and Garlic: Essential aromatics in recipes like soups and risottos! Onions and garlic sautéd in olive oil form the perfect flavor base.
Arborio Rice: This is the traditional risotto rice. It's a high-starch, short-grain rice you'll find in most grocery stores. Risotto rice is a bit different than regular rice – see below for details.
Thyme: Mushrooms and thyme are a flavor match made in heaven if you ask me. You can use dried or fresh thyme.
White Wine: Choose a dry white wine, such as a pinot grigio or chardonnay, that's good quality. You don't need to break the bank, but I find that better quality wine = better flavor in a risotto. Alternatively, additional stock can be used in place of wine if you'd prefer to cook without alcohol.
Lemon Juice: Trust me, you'll want to use freshly squeezed lemon juice here. Lemon brightens everything up and balances the richness of the dish with a bit of refreshing acidity.
Parmesan: Like the lemon juice, you're going to want fresh parmesan for this risotto. It makes a world of difference and it's worth the extra time it takes to grate the cheese fresh from the block. You can also use another sharp Italian cheese, like Pecorino or Parmagiano.
Salt and Pepper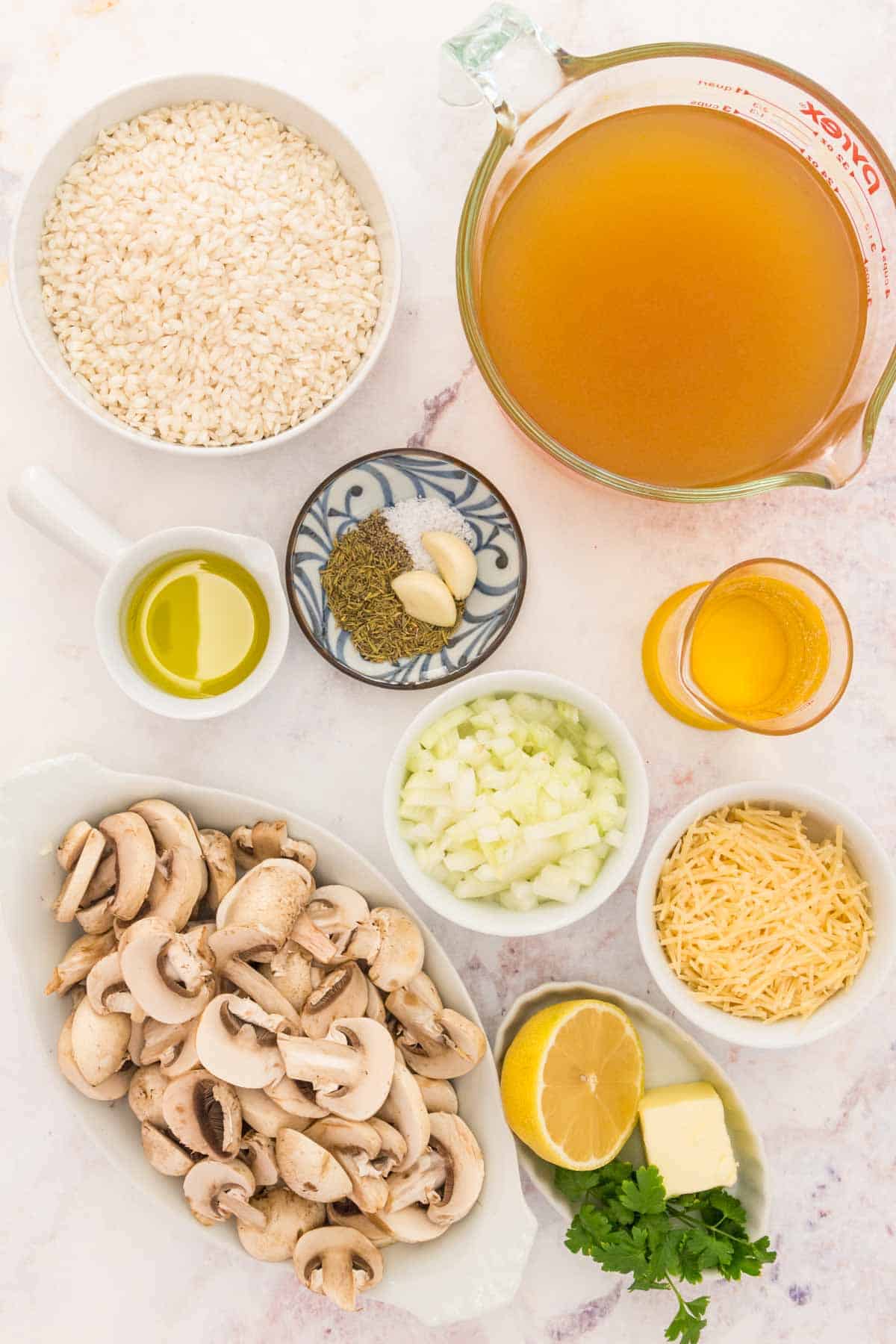 What Kind of Rice Is Used for Risotto?
Traditional risotto recipes call for Arborio rice or another starchy variety like Carnaroli and Vialone Nano. Risotto rice is different from regular rice in that these varieties cook up to be more firm and chewy, with a creamy consistency thanks to their high starch content.
Regular kinds of rice like basmati can be used to make risotto in a pinch, though the texture won't be nearly as creamy.
How to Make Mushroom Risotto in the Instant Pot
The Instant Pot is destined to become your new best friend once you've used it to make this insanely easy and tasty mushroom risotto. This is the perfect Instant pot recipe for beginners because it's so straightforward. Let's dive in:
Warm Up the Broth: To start, gently heat the broth over low heat on the stovetop.
Sauté: With the Instant Pot set to sauté, cook the mushrooms with a knob of melted butter for about 5 minutes. Transfer the softened mushrooms to a bowl and set it aside for now. Next, sauté the onion with a bit of olive oil, then add the garlic.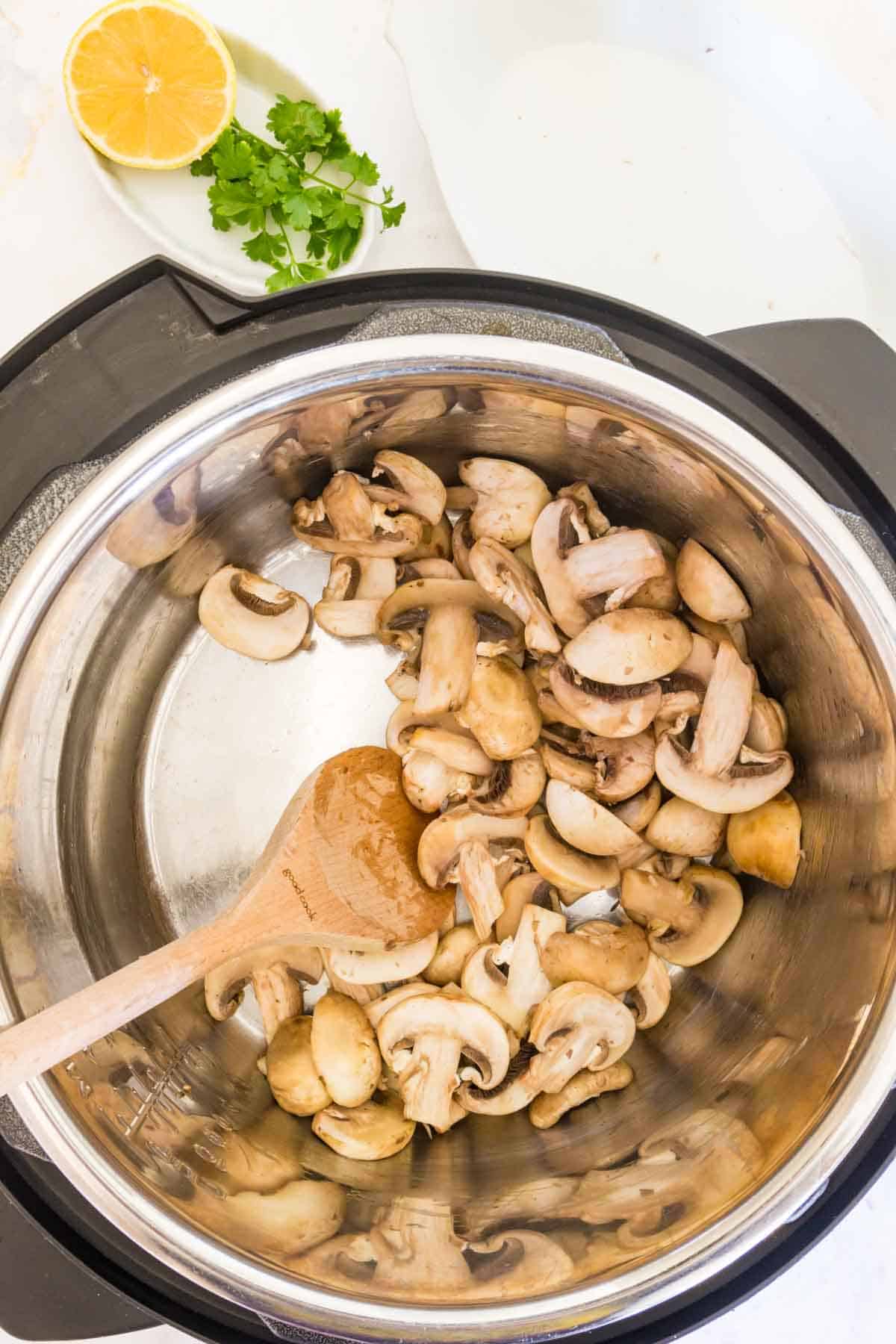 Add the Rice: After a minute or two, add your arborio rice into the Pot with the onions, and lightly cook to soften the ends of the grains.
Add Wine and Broth: Next, switch off the Instant Pot and add in a sprinkle of thyme, along with a generous glug of white wine to deglaze the bottom of the pot. You'll scrape and stir until almost all of the liquid has cooked off. Afterward, pour in the warmed broth.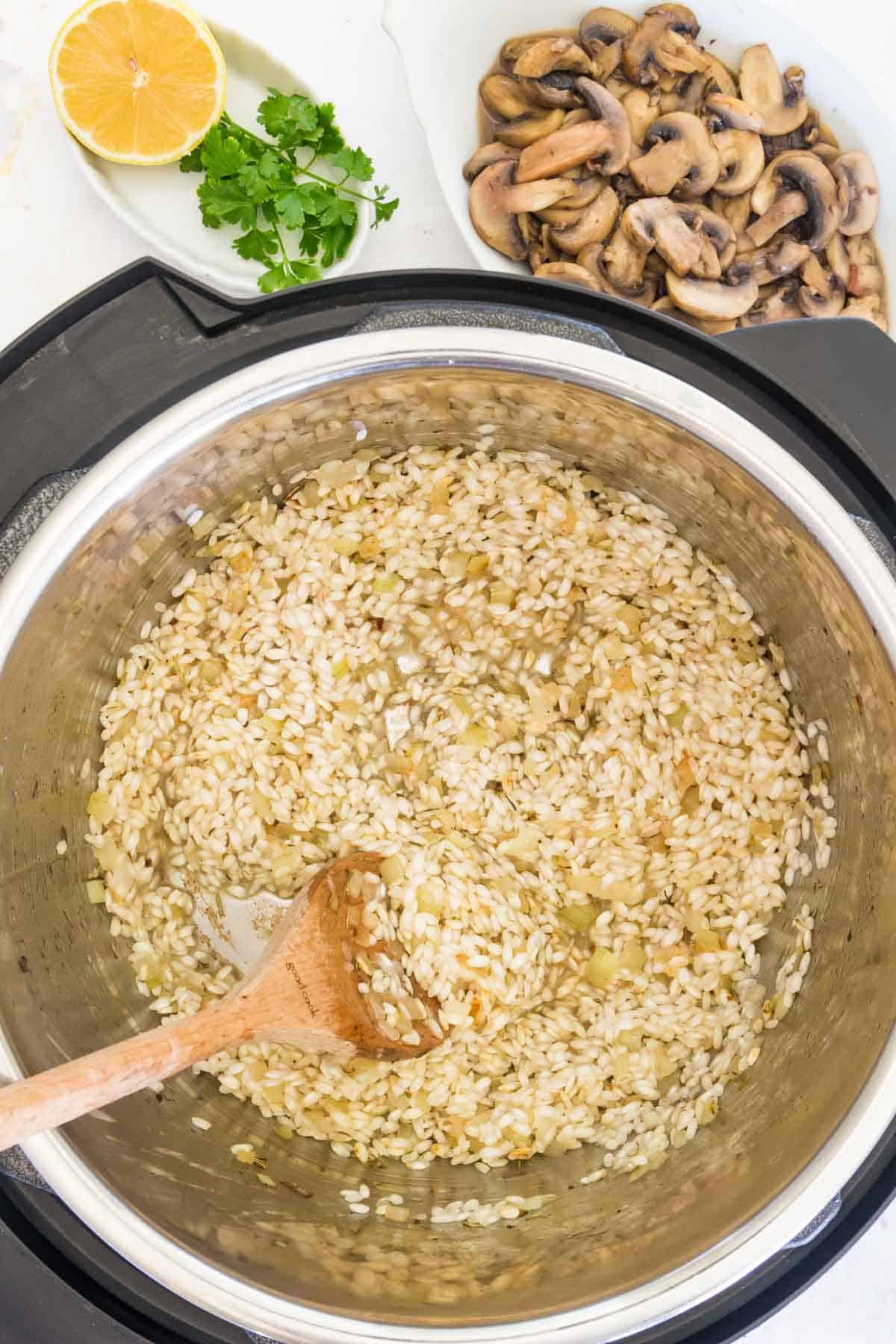 Cook: Seal the lid, and remember to check that the vent is closed before switching the IP to Manual (or High). Set it to cook for 6 minutes. The Instant Pot will take some additional time to come to pressure. After the cooking time is up, Quick-release the pressure.
Add Mushrooms: Finally, stir in the mushrooms you set aside earlier, along with a squeeze of lemon juice, freshly grated parmesan, and a few pinches of salt and pepper to taste.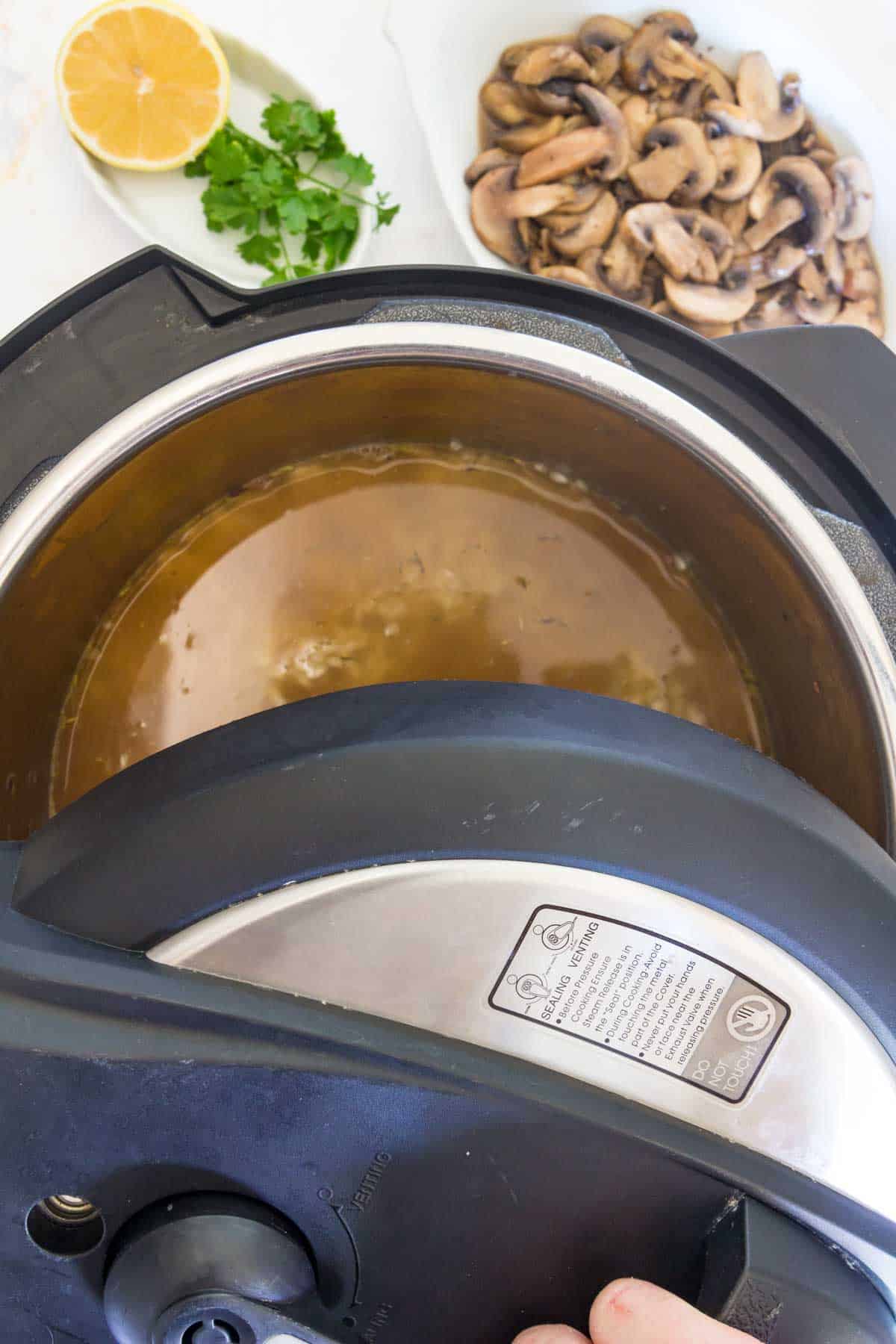 Serve: Serve your Instant Pot mushroom risotto right away, garnished with chopped parsley and more parmesan, if you'd like. See below for more easy serving ideas and variations!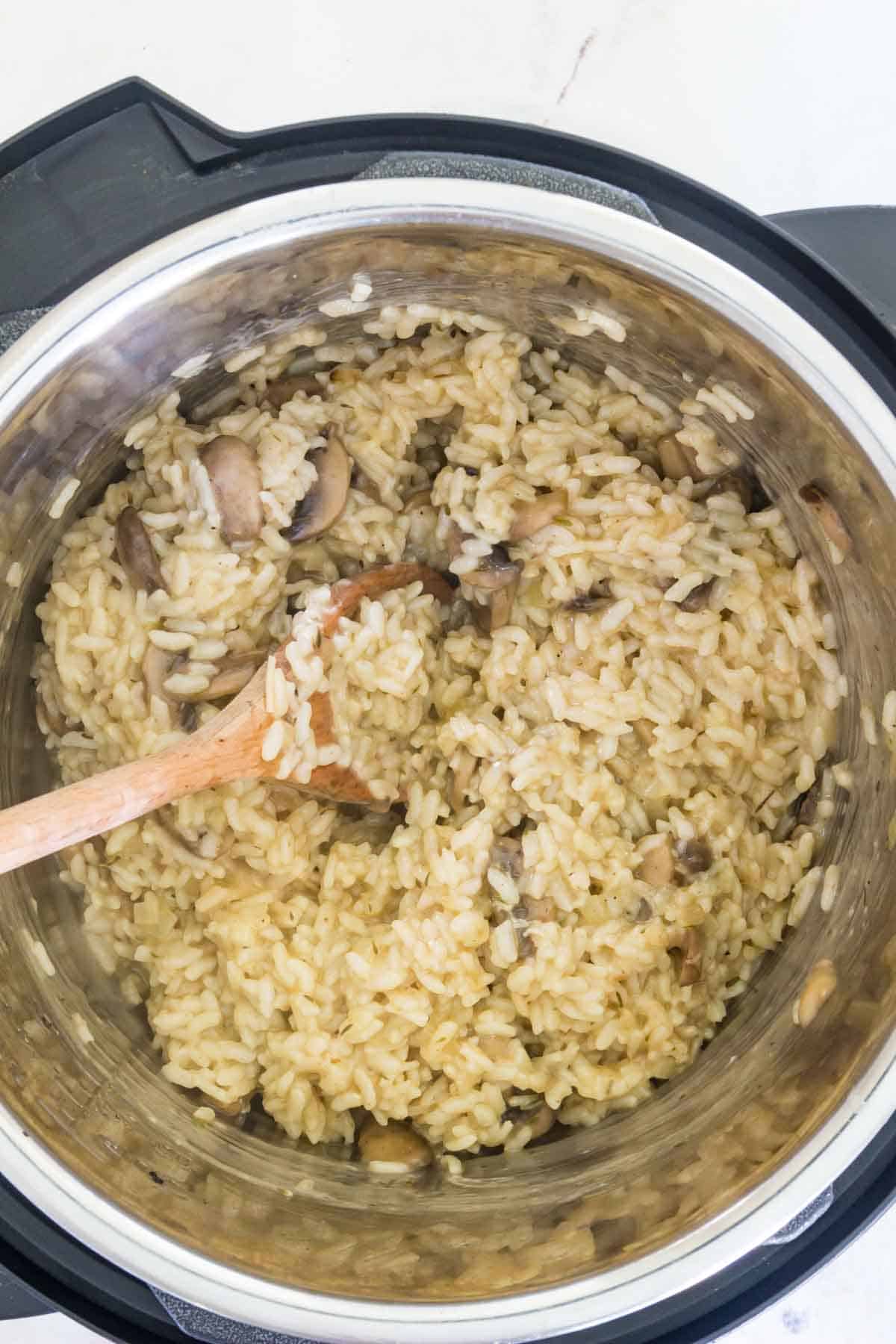 Tips for Success
This recipe takes a lot of the guesswork out of risotto-making. Still, here are some additional tips to keep in mind when making this mushroom risotto in the Instant Pot:
If you prefer a softer risotto, add more time. This recipe turns out a wonderfully al dente risotto with slight chew. If you'd rather a softer risotto, add an extra minute to the cooking time.
How to fix a runny risotto: If your risotto still looks a bit watery once you've quick-released the pressure, simply switch the Instant Pot back to Saute. Stir and cook off the last of the liquid before serving.
Is it safe to store and reheat leftover risotto? Yes, though most risotto is best served right away. I wouldn't recommend storing this mushroom risotto for longer than 1-2 days from when it's made. And as long as you heat it thoroughly, it's perfectly safe to reheat the next day. See below for more storage tips.
Risotto Variation Ideas
Looking to remix your homemade risotto? Or maybe mushrooms aren't your thing? The beauty of this Instant Pot risotto recipe is that you can leave the mushrooms out altogether, or replace them with any of your favorite add-ins. Here are some easy ideas to try:
Parmesan: Simply omit the mushrooms, and enjoy a classic parmesan risotto.
Saffron: Also called Risotto ​​Milanese, saffron risotto is the most famous version of risotto that you'll find in Italy. You can make it by leaving out the mushrooms and adding in saffron spice.
Vegetables: For another veggie variation, I'll sometimes use leftover Roasted Butternut Squash or Air Fryer Asparagus to make butternut squash risotto or asparagus risotto. Other good veggie add-ins are Air Fryer Zucchini, spinach, and green peas.
Shrimp: Make an easy seafood risotto by swapping the mushrooms for cooked shrimp or lobster.
Chicken: Add diced or shredded chicken to this risotto recipe for an extra boost of protein.
Herbs: Customize your risotto with additional fresh or dried herbs like basil, oregano, rosemary, or sage.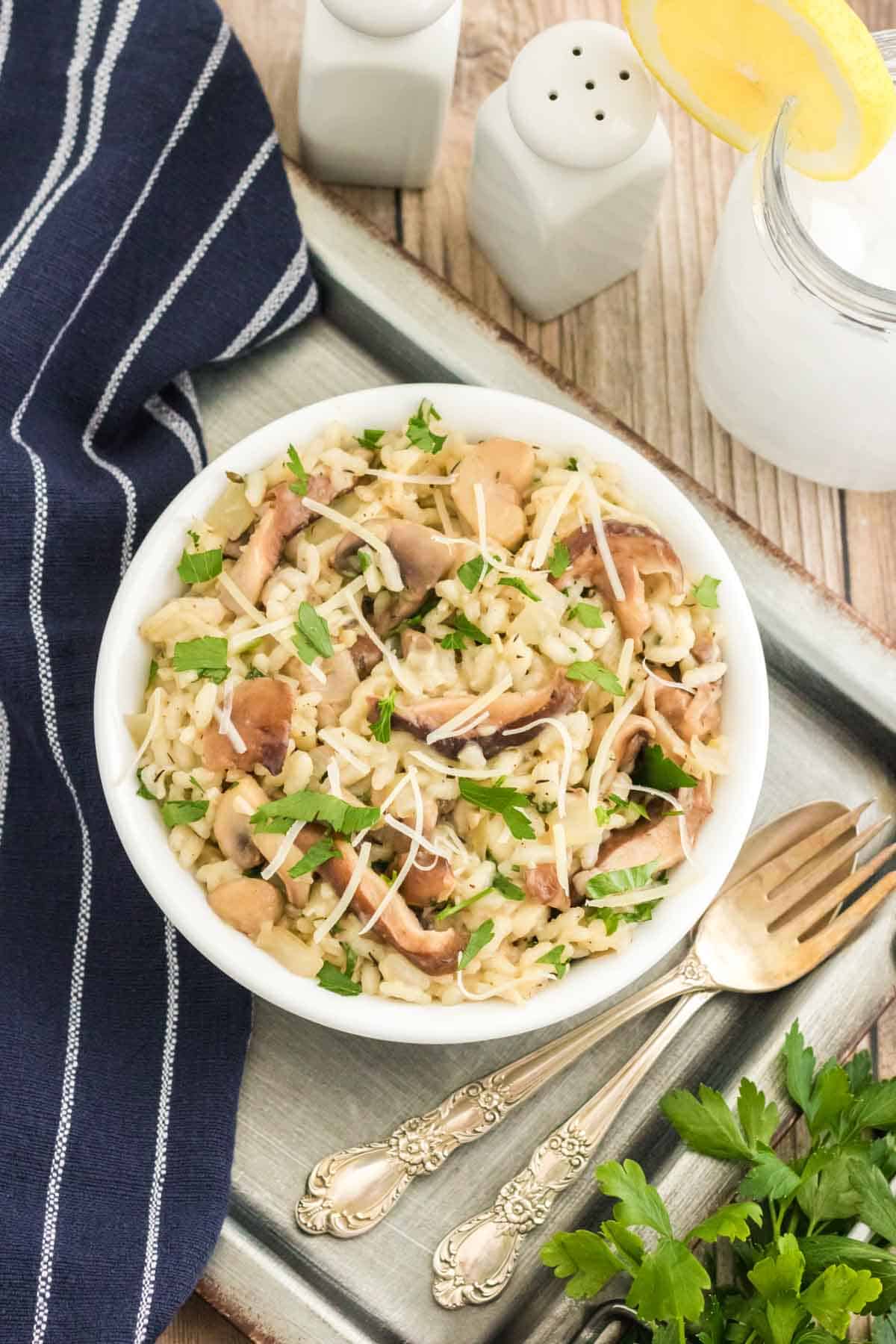 Make It a Meal
Mushroom risotto is delightfully rustic. Enjoy it as an entree or side dish, either for lunch or dinner, with more of your favorite homestyle dishes.
Turn this easy risotto into a satisfying, light meal served with a side of Italian Wedge Salad or Poached Pear Salad. For something a little heartier, pair your risotto with a side of fluffy, crusty homemade Gluten-Free Baguette, or Garlic Breadsticks. We love ours served with a tall glass of lemonade to wash everything down.
As a side, serve your mushroom risotto next to meaty mains like Rosemary Balsamic Flank Steak, Orange Saffron Grilled Chicken, or Gluten-Free Italian Meatballs.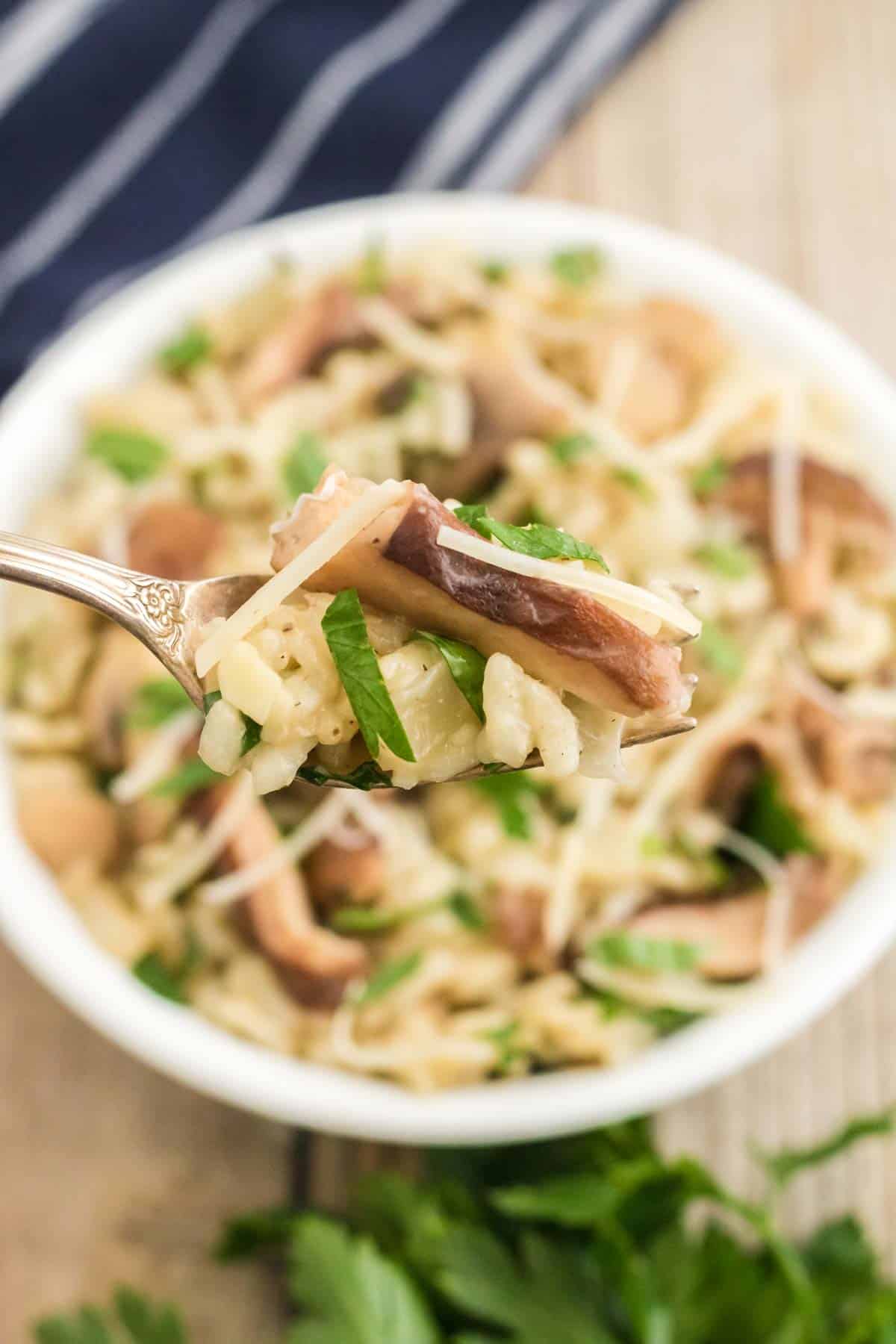 Storing and Reheating Leftover Risotto
Like most recipes that involve rice, be sure to store and refrigerate your IP risotto, airtight, within 2 hours of when it's made. You'll want to reheat and enjoy any leftovers within 1-2 days.
To preserve the creaminess of your risotto when reheating, add an additional spoonful or two of broth, and then warm it in the microwave in increments. You can also reheat this risotto on the stovetop, stirring often, until it's warmed through.
Can I Freeze Mushroom Risotto?
We hardly ever have enough leftover risotto to warrant freezing (it's just that good). This is just as well, as I don't recommend freezing risotto since the texture tends to change for the worse once it's defrosted.
However, if you're set on freezing your mushroom risotto, freeze it airtight and thaw and reheat it within 3 months for the best freshness.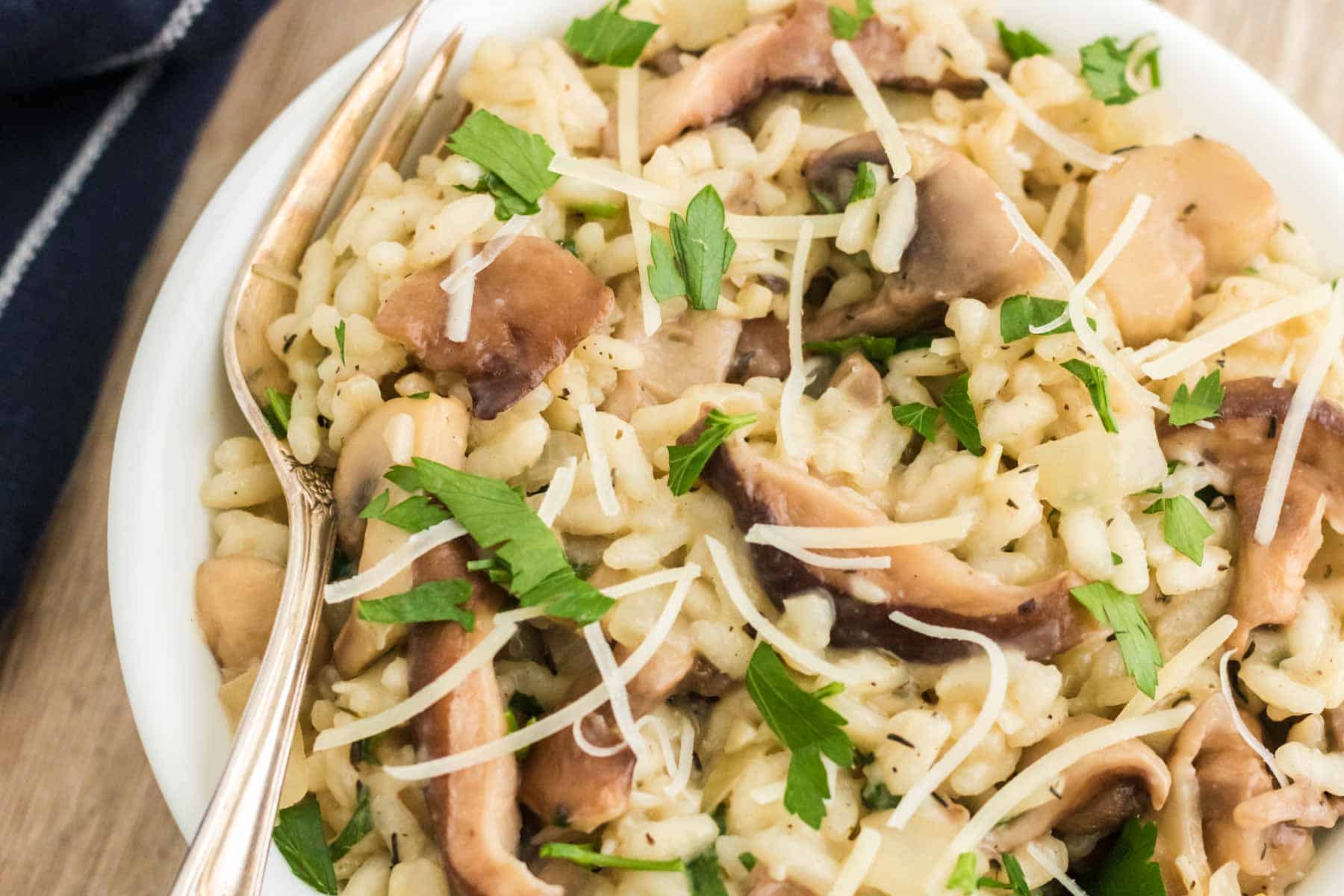 What Instant Pot Do I Need?
A 6-quart Instant Pot will be the perfect size to make this mushroom risotto. But you have several options in this size.
Last updated on September 26, 2023 6:44 pm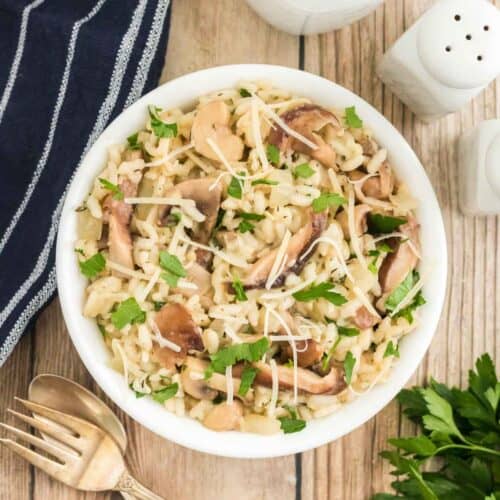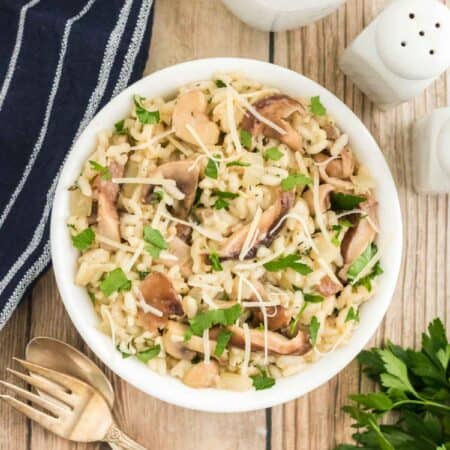 Instant Pot Mushroom Risotto
Instant Pot Mushroom Risotto is a hands-off method for making rich and creamy homemade risotto! An easy Instant Pot recipe for arborio rice cooked in broth with wine, herbs, and mushrooms, for a satisfying entree or side dish.
Ingredients
3

cups

low sodium chicken broth

or vegetable broth, as needed

2

Tablespoons

unsalted butter

8

oz.

sliced mushrooms

(about 3 cups), use your favorite variety or combination of white, cremini, and/or shitake

1

tablespoon

olive oil

1

small

yellow onion

or 1/2 of a medium onion, chopped

2

large

cloves garlic

, minced

1 1/2

cups

arborio rice

1

teaspoon

dried thyme

1/2

cup

dry white wine

(or additional chicken or vegetable broth broth)

2

tablespoons

fresh lemon juice

1/2

cup

shredded parmesan cheese

, plus additional for serving

Salt and pepper

, to taste

Fresh chopped parsley

, for garnish
Instructions
Heat the chicken broth in a saucepan on low heat.

In the meantime, set the Instant Pot to Saute. Melt the butter in the Instant Pot, and add the mushrooms. Stir and cook for about 5 minutes or until tender. Move the mushrooms to a bowl, cover, and set aside.

Add the olive oil to the Instant Pot. Add the chopped onion and cook until translucent, about 3-5 minutes. Add the garlic and stir until fragrant, about 1 minute.

Add the arborio rice to the Instant Pot and saute for 2 to 3 minutes until the ends of each grain are translucent while the centers remain opaque.

Turn off the Saute function. Stir in the dried thyme and white wine. Scrape to remove any stuck rice, then stir until most of the wine has evaporated.

Add the warmed broth. Place the lid on the Instant Pot and be sure the vent is closed. Set to Manual (High, if your pressure cooker has that setting) for 6 minutes. Allow it to come to pressure.

When the time is up, perform a Quick release. Then stir in the reserved mushrooms, lemon juice, and parmesan cheese. Season to taste with salt and pepper, if needed.

Serve immediately with fresh chopped parsley and additional parmesan cheese if desired.
Nutrition Facts
Instant Pot Mushroom Risotto
Amount Per Serving
Calories 330
Calories from Fat 81
% Daily Value*
Fat 9g14%
Cholesterol 16mg5%
Sodium 178mg7%
Potassium 359mg10%
Carbohydrates 48g16%
Protein 10g20%
Vitamin A 189IU4%
Vitamin C 6mg7%
Calcium 125mg13%
Iron 3mg17%
* Percent Daily Values are based on a 2000 calorie diet.
Categories:
More Easy Instant Pot Recipes