Italian Style Wedge Salad
Disclosure: This post may contain affiliate links. Cupcakes & Kale Chips is a participant in the Amazon Services LLC Associates Program, an affiliate advertising program designed to provide a means for us to earn fees by linking to Amazon.com and affiliated sites.
Wedge salad is a classic, as is the pairing of soup and salad. Give this traditional salad recipe an Italian-inspired twist and pair it with ProgressoTM Reduced Sodium Savory Chicken and Wild Rice Soup to upgrade your soup and salad dinner when you make Italian Style Wedge Salad.
Disclosure: This post is sponsored by ReganMillerJones, Inc and the General Mills Bell Institute of Health and Nutrition on behalf ofProgressoTM. I received free samples of the soup mentioned and was compensated for my time. 
Everyday I get all sorts of reminders on my various social media accounts of what happened on this day last year, and the year before, and the year before. Around this time last year we had just finished digging out from three feet of snow. Now I know this is a common occurrence in many parts of the country, but in the Washington, DC area, this was a huge deal and it took over a week for things to get back to normal. Well, as normal as possible given that we still had mountains of snow blocking sidewalks and intersections.

MY LATEST VIDEOS
Seeing these images made me feel somewhat comforted and hopeful. We haven't had much snow this year, and while we have had a few cold spells, we really haven't seen long and repeated cold snaps like we have the past few years. But I think this year I've also gotten a bit spoiled.
Last year I was churning out new recipes left and right, making all sorts of fabulous food for my family and to share with all of my readers. This year, if it gets even the least bit cold and windy, I want to stay all cozy in the warmth of my home instead of trekking out to the grocery store. I'm cobbling together dinners with random stuff I have in the fridge, freezer, and pantry. Scrambled eggs for dinner have happened quite a bit.
But the family isn't complaining because I always keep my fridge, freezer, and pantry sticked with essentials like lettuce, balsamic vinegar, cheese, and soup. By doing this, you can pull off some pretty fabulous meals, even taking the classic comfort food combo of soup and salad and making it extra wholesome and delicious…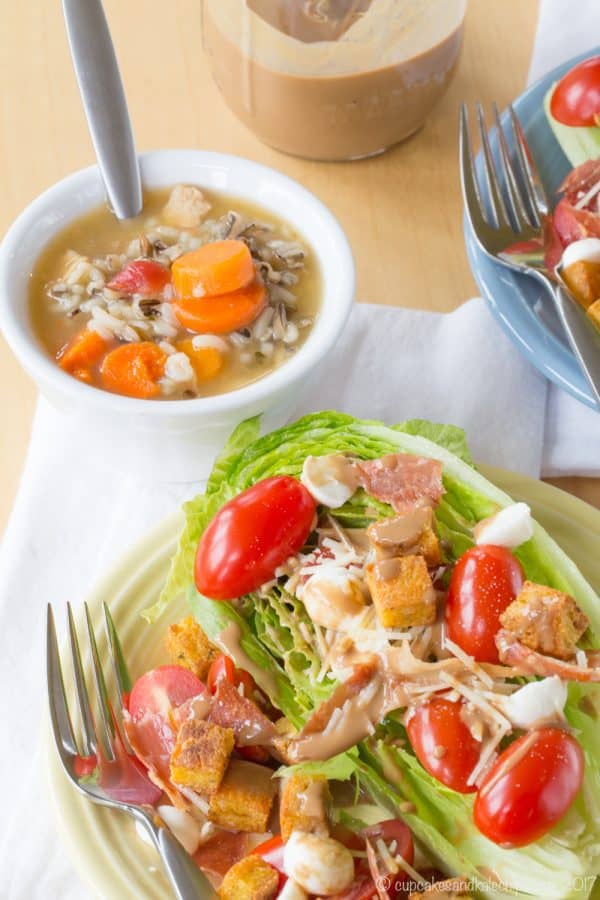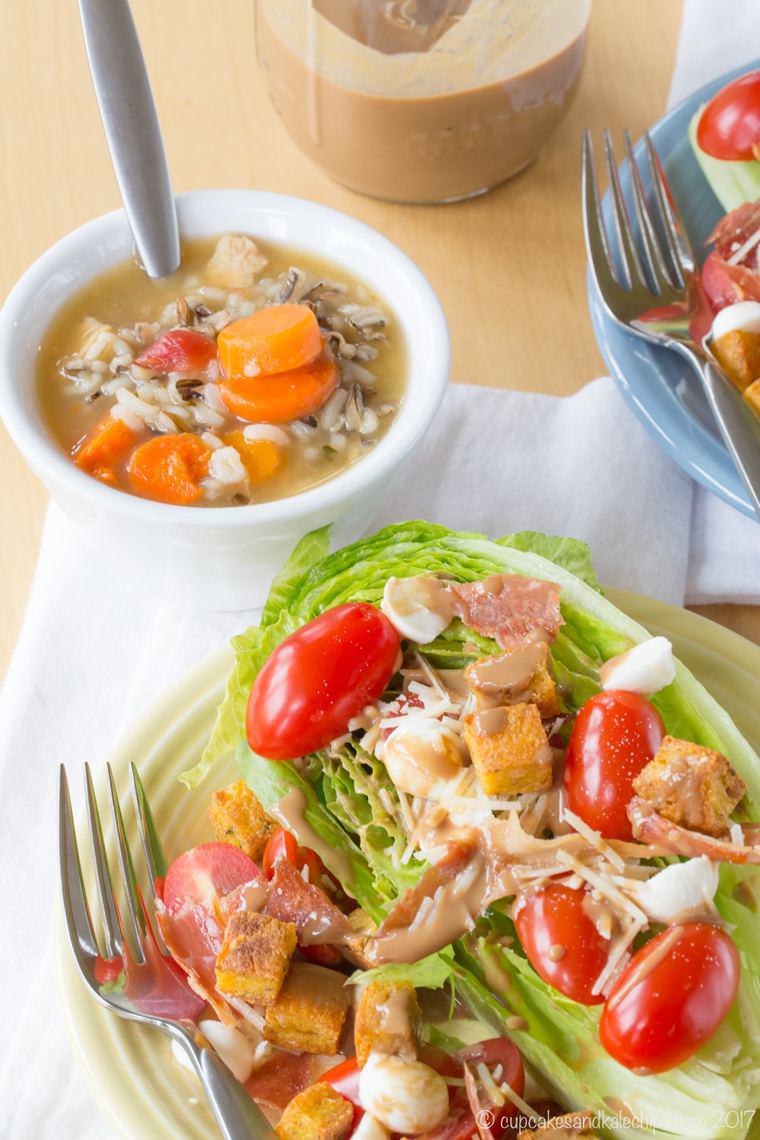 And when you pair this Italian-Style Wedge Salad with ProgressoTM Reduced Sodium Savory Chicken and Wild Rice Soup, you've done just that!
Everyone loves the traditional wedge salad loaded with blue cheese and bacon, but not only can you change up the classic in a totally tasty way with a few simple swaps, you can also make it a bit lighter, but still just as satisfying. This is especially true when you serve it with one of the soups from ProgressoTM, since soup served as part of your meal helps you feel full and eat less at that meal. So instead of weighing down your greens with a ton of heavy ingredients, you can lighten up that wedge and still be satisfied when you share a can of ProgressoTM soup along with your salad.
Instead of the usual iceberg, this wedge is made with Romaine hearts. Any Romaine hearts will do, but my local warehouse club sells hearts that are a bit shorter but with more dense leaves than the typical Romaine hearts, so I find they work well for this type of salad. I kept the tomatoes, but the bacon was swapped with a bit of crispy prosciutto, and instead of blue cheese, this Italian-Style Wedge Salad has mini mozzarella balls (or cut fresh mozzarella into small pieces) and a sprinkling of parmesan cheese. Finished off with a creamy balsamic vinaigrette that is made with Greek yogurt, and some naturally gluten free Italian Herb Parmesan Polenta Croutons, you have a salad that is filled with flavors and textures, and totally transform soup and salad into a veggie-packed, wholesome meal.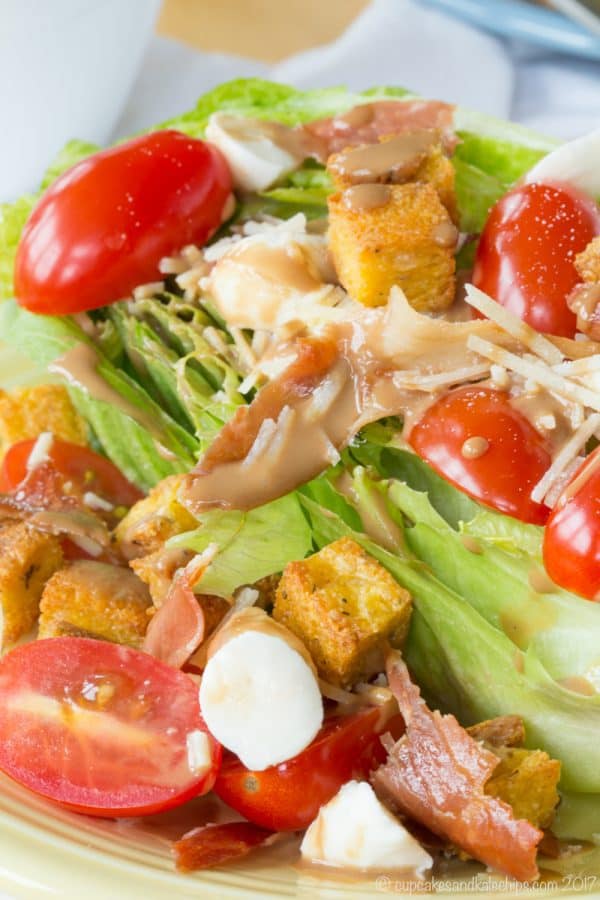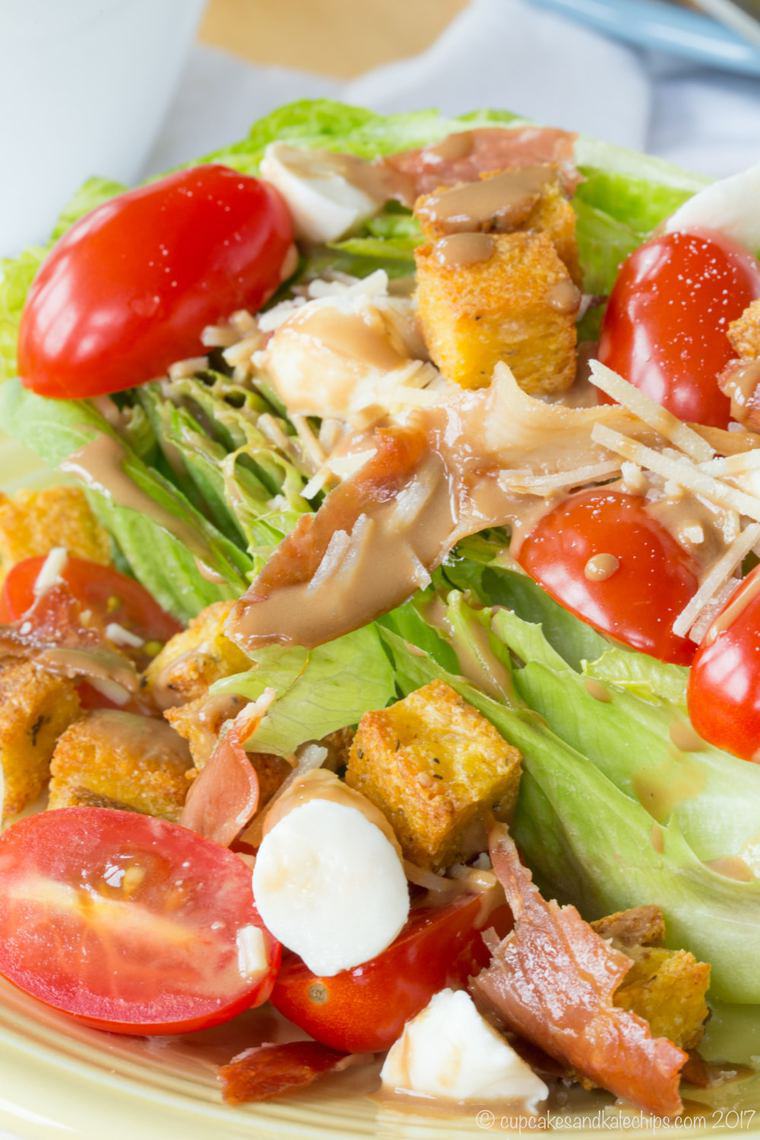 Speaking of gluten free, the Savory Chicken and Wild Rice Soup served with this salad is one of over twenty varieties of Progresso soup that are gluten free. You can also find options for everyone's favorite comforting chicken soup that are reduced sodium and light, as well as traditional hearty classics. And in all of their chicken soups, Progresso is now serving white meat chicken with no antibiotics ever, along with all of the other simple, high quality ingredients. That's a soup to get excited about!
Get more information about ProgressoTM soups and recipe ideas for how to #SoupYourWay by following them on Facebook, Pinterest, and Instagram, and learn more about the science behind healthy, wellness, and nutrition from the General Mills Bell Institute of Health and Nutrition by following them on Facebook, Instagram, LinkedIn, and YouTube.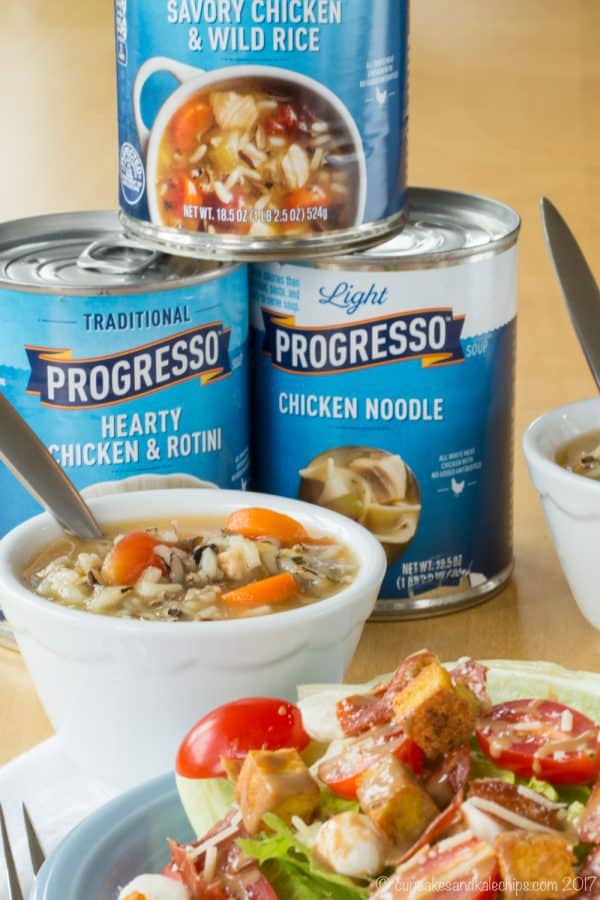 Here's more salads to pair with your favorite ProgressoTM soup…
How about some bread to go with your soup…
Or just jazz up the ProgressoTM Reduced Sodium Savory Chicken and Wild Rice Soup itself and make Mexican Chicken and Wild Rice Soup.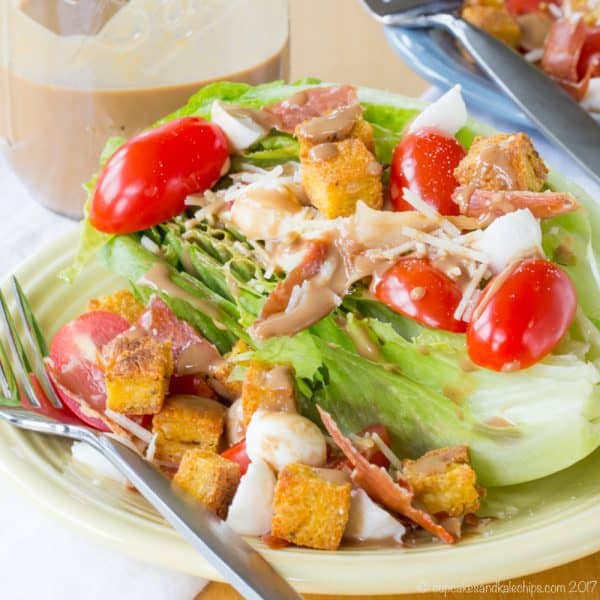 Want to chat with fellow foodies? Join my No-Fuss Food and Fun group on Facebook. Everyday we have fun topics, share recipes and ideas, ask and answer questions, and see all of my new Cupcakes & Kale Chips creations! If you'd like to check it out, you can request to join HERE.
For more yumminess from me and my foodie friends, keep up with me on…
Or sign up to have Cupcakes & Kale Chips delivered straight to your Inbox!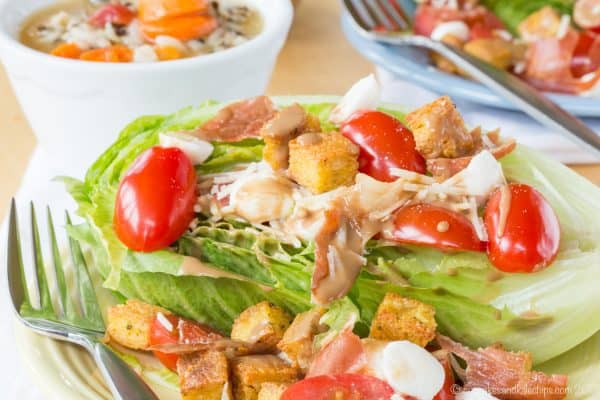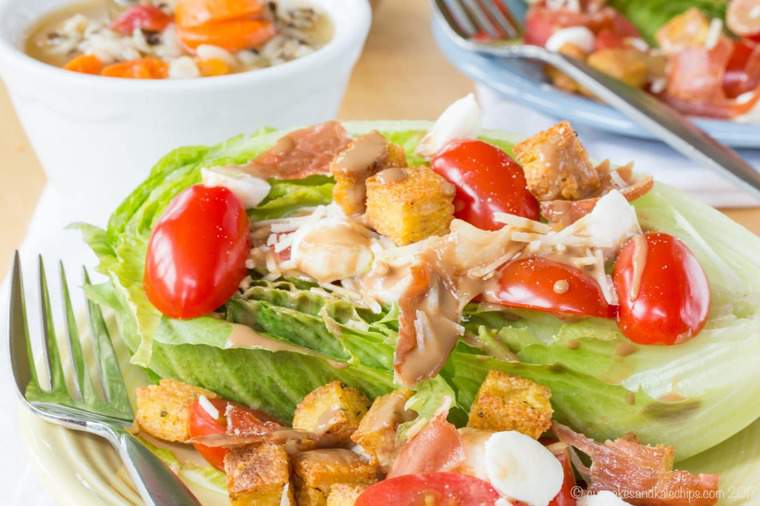 Here's the Italian-Style Wedge Salad recipe…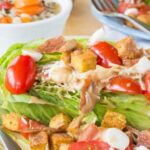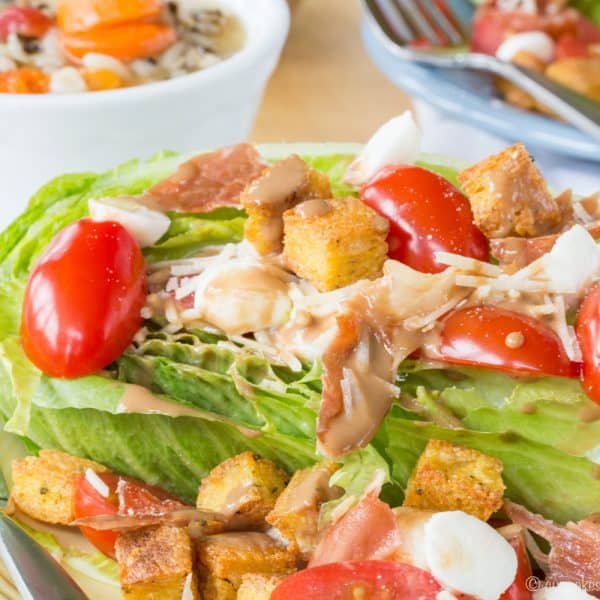 Italian-Style Wedge Salad
Upgrade the classic wedge salad recipe with some Italian-inspired ingredients
Keyword:
dinner salad, salad, wedge salad
Ingredients
For two salads:
1

slice

prosciutto

1

Romaine heart

cut in half lengthwise

1/2

cup

grape tomatoes

halved

1/4

cup

mini mozzarella cheese balls

1

Tablespoon

grated parmesan cheese

Italian Herb Parmesan Polenta Croutons

or your favorite homemade or store bought croutons
For the Creamy Balsamic Greek Yogurt Vinaigrette Dressing:
1/2

cup

plain Greek yogurt

1/4

cup

balsamic vinegar

2

Tablespoons

olive oil

1

Tablespoon

Dijon mustard

1

Tablespoon

honey

salt & pepper

to taste
Instructions
For the salad:
Prepare the crispy prosciutto by preheating your oven to 350°F, placing the prosciutto on a cooling rack which is set on top of a baking sheet, and baking for 6-8 minutes per side, or until crispy. Set aside on paper towels to drain. Alternatively, you could cook it in a pan on the stove top over medium low heat until crispy.

Place half of a Romaine heart on each of two plates. Top each with half of the tomatoes, mozzarella, and parmesan. Crumble half of a slice of prosciutto on each salad, drizzle with about a tablespoon or two of dressing, and top with a couple tablespoons of the

croutons

.
For the Creamy Balsamic Greek Yogurt Vinaigrette Dressing
Combine all ingredients in a bowl or jar and shake or whisk until combined and smooth. Adjust seasoning with salt and pepper.
Nutrition Facts
Italian-Style Wedge Salad
Amount Per Serving (1 g)
Calories 306
Calories from Fat 180
% Daily Value*
Total Fat 20g 31%
Cholesterol 12mg 4%
Sodium 196mg 8%
Potassium 263mg 8%
Total Carbohydrates 20g 7%
Protein 10g 20%
* Percent Daily Values are based on a 2000 calorie diet.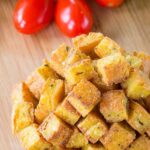 Italian Herb and Parmesan Polenta Croutons
A lightly seasoned crouton made from cornmeal that's an easy, gluten free way to top your salads.
Instructions
Whisk the cornmeal, water, and salt together in a medium saucepan, and place over medium to medium-high heat.

Bring to a boil, then cook, stirring almost constantly, for 15-20 minutes, or until the polenta is thick and sticky.

Stir in the cheese, garlic powder, and Italian seasoning.

Remove the polenta from the pot and place onto plastic wrap or in a baking dish sprayed with olive oil or cooking spray.

Shape into a rectangle, about ½ in. thick, wrap in plastic wrap, and place in the refrigerator until cooled.

Preheat your oven to 450°F.

Cut the polenta into ½ in. cubes, and place in a single layer, not touching, on a baking sheet coated with olive oil or cooking spray. Spray some more olive oil or cooking spray over the cubes.

Bake for 25-30 minutes, turning every 8-10 minutes, until browned and crispy.

Serve over your favorite salad.
Enjoy!

And if you love a good wedge, check out 12 Tasty Twists on the Classic Wedge Salad…