This post may contain affiliate links. Read my disclosure policy.
I've gotten you all addicted to (or at least intrigued by) cauliflower tots (tens of thousands of pins can't be wrong), so you knew it was only a matter of time before I gave you some new varieties. Here, you've got the cheese, the oregano, a bit of garlic – dunk them in some tomato sauce and you can call them pizza tots, but I'll call them Parmesan Mozzarella Baked Cauli-Tots.
Parmesan Mozzarella Baked Cauli-Tots (aka Pizza-Tots)
It was a momentous occasion a few weeks ago in our house – Baby Smiles had his first Cauli-Tot! Introducing new foods, teaching your kids to eat, and adjusting as their tastes evolve (or they just become stubborn 3 year olds) is such a fun, albeit sometimes frustrating, process. The Bug – the second a spoon came near his mouth, he was all over it. There was no turning back. I call him a human garbage disposal. The quantity of food he eats at 3 makes me very scared for when he is 16.
As a baby, he would pop broccoli and asparagus like it was candy. He is still pretty good about eating his veggies, but he has gotten a bit pickier, which is no surprise for any 3-year-old exerting their independence. He has never been a huge meat eater. He eats chicken and beef, but actually seems to prefer fish and shrimp and scallops. I think it is the effort of chewing, His goal is to get food into his mouth and down to his stomach as quickly as possible, but meat requires, you know, chewing. But he is a cheese- and carb-aholic. Given the choice, he would live on mac & cheese, grilled cheese and pizza. Oh, and chocolate and peanut butter. Clearly he is not given that choice 😉
Baby Smiles, on the other hand – total carnivore. Sure he'll chew on some bread, he eats his fruit and yogurt for breakfast, but put a plate in front of him that contains meat, veggies, and a carb (rice, potatoes, noodles), and it is the meat that disappears first. And I have to tell you that until two weeks ago, the kid had NO TEETH. Now he has two, and they aren't even in all the way. But he will totally pass on pasta or potatoes and totally put away steak or hamburger or chicken. Broccoli is totally not his favorite, but he will devour peas and carrots and cauliflower, and tonight he inhaled two plates of spaghetti squash with tomato sauce, ricotta, turkey sausage and mushrooms. The Bug wouldn't touch it.
Go figure!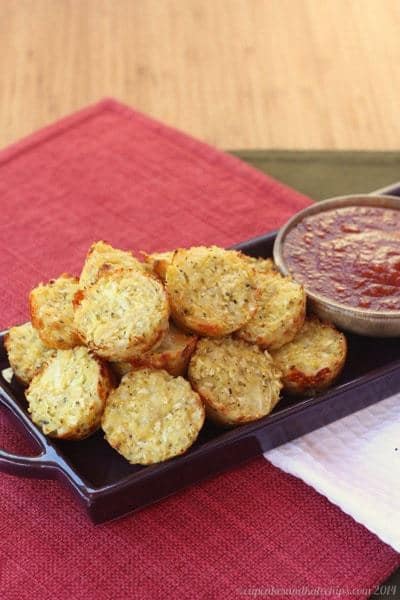 Baby Smiles was all over these Parmesan Mozzarella Cauli-Tots, though. The Bug, too, but he is yet to meet a tot he doesn't like (oh wait, I lied, he said the Mexican ones I am working on were too spicy, but the phase he is in now, he thinks toothpaste is too spicy). Parmesan and mozzarella are never a bad combination, then with a little Italian seasoning and some onion and garlic powder, these are a perfect side for something like my Super Simple Slow Cooker Steak Pizzaiola or Slow Cooker Tomato Veggie Sauce with Sausages or Paul's Make the Whole Crew Happy Meatballs, because then you can dunk them in the tomato sauce. See – PIZZA TOTS!
I also want to try dipping them in some Balsamic Ketchup! Yum!
One of the best things about Cauli-Tots, though, is, IF you have any left, they freeze and reheat well. They get a little a little crisper, and the cheese caramelizes a little more. I almost like them better when I make them early in the day and reheat them for dinner.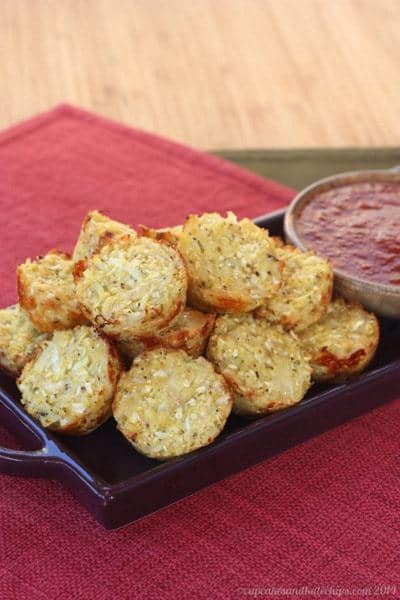 And if your kids are feeling all anti-cauliflower, remember – Pizza Tots. They're Pizza Tots! What kid doesn't eat something pizza-ish? (Argh, why did I think of that AFTER I finished editing my photos? I really don't feel like changing the text!)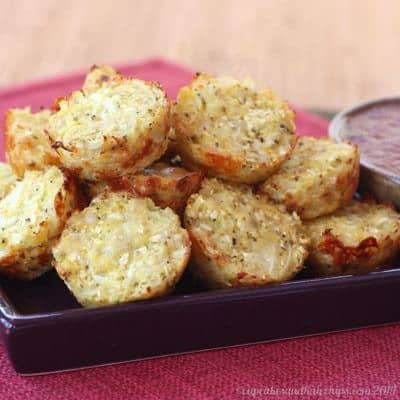 Are your kid carbaholics, fruit and veggie lovers, or total carnivores?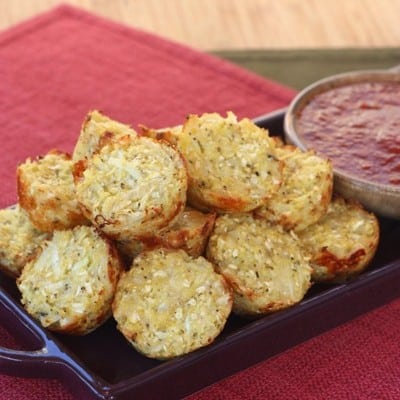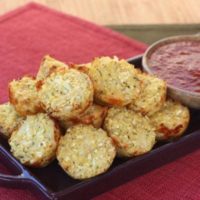 Parmesan Mozzarella Baked Cauli-Tots (aka Pizza-Tots)
Cheese, oregano, a bit of garlic - dunk them in some tomato sauce and tell your kids they are pizza tots!
Ingredients
3

cups

about half of a head shredded cauliflower (see Note)

2

oz.

about 1/2 cup shredded mozzarella cheese

1/4

cup

grated parmesan cheese

1

egg

¼

cup

cornmeal

ground oats and breadcrumbs will also work

1/2

tsp

kosher salt

a few grinds black pepper

1

tsp

dried Italian seasoning

or a combination of oregano, parsley, and basil

1/4

tsp

onion powder

1/4

tsp

garlic powder
Instructions
Preheat your oven to 400°F. Spray a mini muffin tin with oil or coking spray.

Place the shredded cauliflower in a kitchen towel and squeeze out the excess moisture.

Combine all of the ingredients in a large bowl, and mix together thoroughly.

Using a spoon or scoop, divide the mixture between the muffin cups and press down firmly into the cups.

Bake at 400°F for 15-20 minutes, or until golden brown.
Notes
I use the shredding blade on my food processor to shred the cauliflower. You can use the stems as well, not just the florets, since it is all being shredded and mixed together.
Categories:
Enjoy!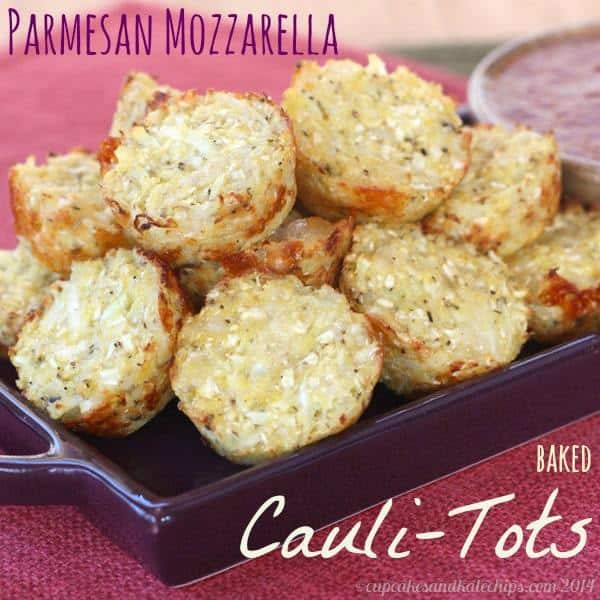 Need something else to give your kids their tots and fries fix?
And here are some from my friends…