This post may contain affiliate links. Read my disclosure policy.
Slow cooker steak pizzaiola is a fantastic and easy back to school crock pot recipe! It's a super simple family dinner that takes just a few pantry ingredients to make. Let it cook all day in the crock pot and come home to a hearty dinner.
Sometimes it's the random creations that become family favorites. This is one of them. And since it's been made and pinned and viewed so many times since it was originally posted, I thought it was due for a little photo update. If our have a roast or a London broil in your freezer, you can grab a few ingredients from your fridge and pantry, keep your kitchen cool, and still have a hearty dinner of Slow Cooker Steak Pizzaiola.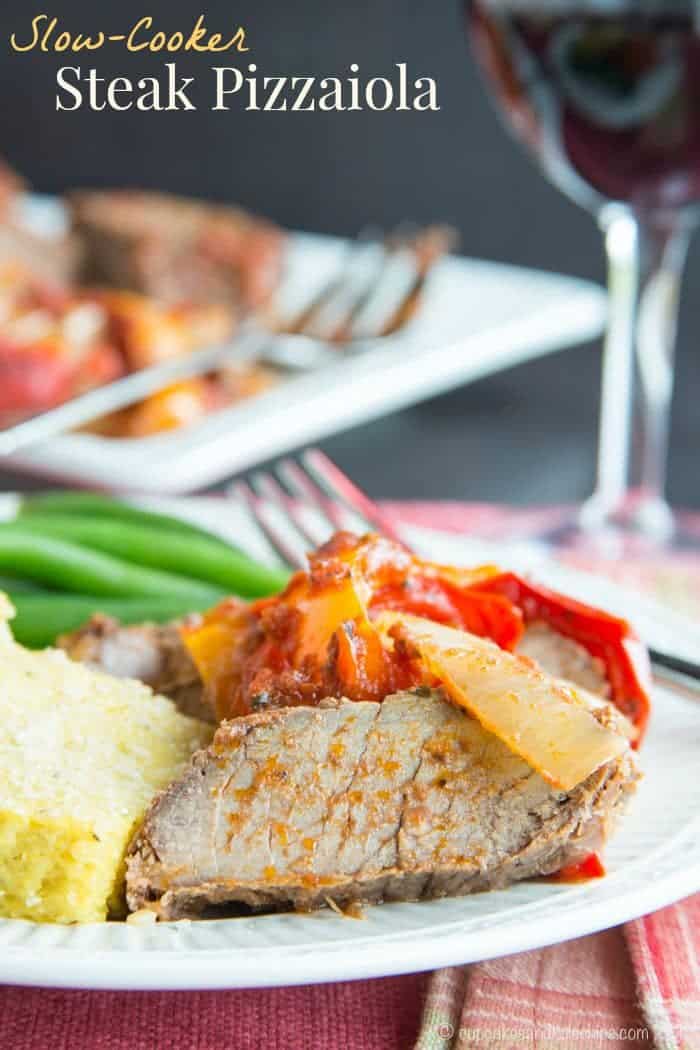 Originally posted on March 28, 2012. Updated with new photos on July 21st, 2015.
One thing that gets me really annoyed and upset is throwing away food. Yes, I know the whole, "there are starving children in Africa" thing, as my mom used to tell me. I suppose I am a bit ashamed to admit that my reasons are not all that altruistic. It really comes down to the fact that I am cheap, and I feel like throwing food in the trash is akin to tossing your dollar bills. So that is where this recipe came from. And I am not ashamed to admit this, because it was really, really good.
I've been trying to use up all of the stuff I have stashed in my freezer because it is in serious need of defrosting. And The Hubby had some pasta over the weekend, so we had half a jar of sauce that I didn't know how I was going to use, but didn't want it to get nasty and have to chuck it. So I took those two items, an onion from the pantry, and voila!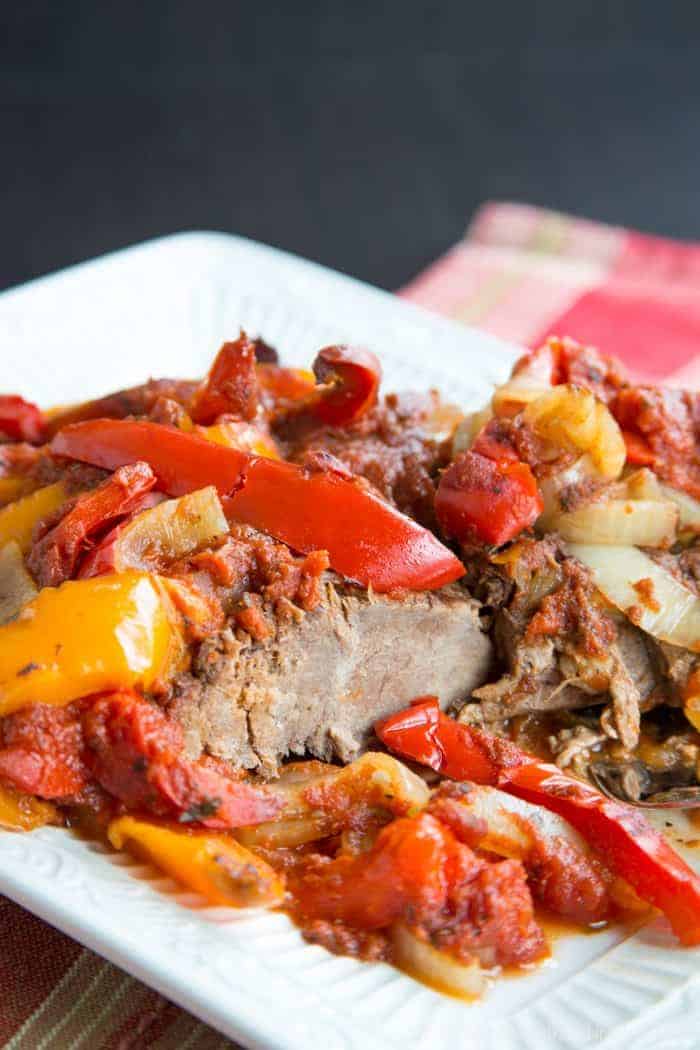 Slow cooker steak pizzaiola definitely isn't the prettiest meal I have ever made.
I actually put this photo up on Instagram as part of the March Foodie Photo Challenge (that day's category was "protein"), and was pleasantly surprised when someone commented about how delicious it looked.
Well, I don't know that I think it looked delicious, but it certainly tasted delicious.
The Bug was a little picky, but he tends to be that way with meat. Or anything that requires, you know, chewing, versus use a little mash and swallow. But The Hubby and I both had seconds. And The Bug was all over the Parmesan Polenta I made with it. I will be posting that recipe, and a little idea for any leftovers (once again, not wasting any food). But I am sure this would be great over pasta or potatoes, and maybe even just with some zucchini or eggplant, if you are watching the carbs. The Hubby even had some of the leftovers on a sandwich for lunch later in the week.
And one of the best things about this slow cooker steak pizzaiola – just toss everything in the crock pot, and walk away for the day. You'll come home to the house smelling good, and dinner pretty much ready. And I am definitely not going to be too prescriptive with amounts in this recipe – just get the size piece of meat you need, dump in whatever jarred or homemade sauce you have, and you are good to go.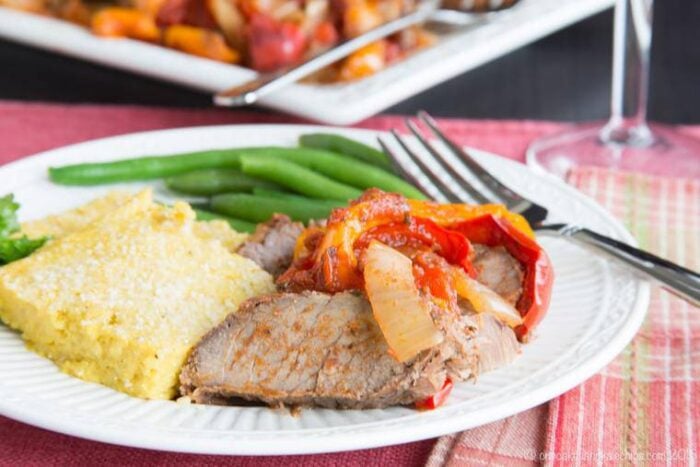 How do you like to use up leftovers?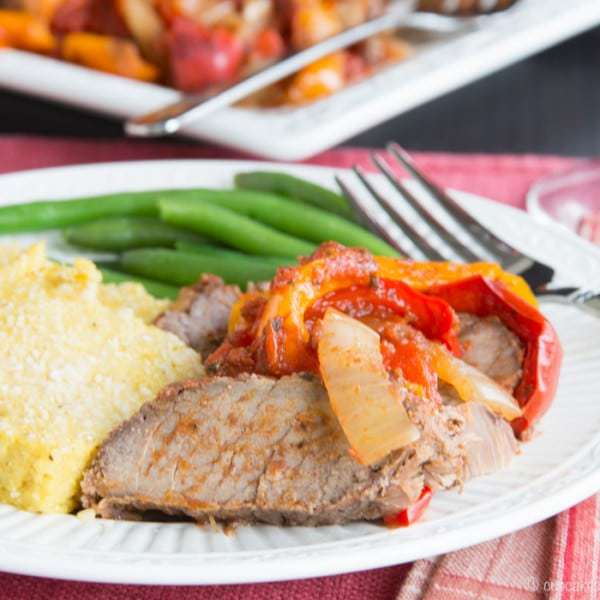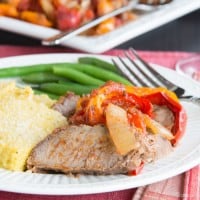 Super Simple Slow Cooker Steak Pizzaiola
A few pantry ingredients simmer all day in your slow cooker so that you can come home to a hearty and flavor-packed dinner. Serve it over polenta, pasta, potatoes, vegetables, or rice.
Ingredients
2

lb.

London Broil

1

medium

onion

sliced

1

bell pepper

red, yellow or orange, sliced

1 1/2

cups

pasta sauce

1/4

cup

water
Instructions
Season the London broil with salt and pepper and place in the slow cooker.

Cover with the onions and peppers, and pour the sauce and water over the meat and vegetables.

Cook on low for 6-8 hours. If you can, flip it around once or twice, so that the juices can soak in on all sides.

Serve over polenta, rice, pasta, potatoes, bread, or veggies of your choice.
Nutrition Facts
Super Simple Slow Cooker Steak Pizzaiola
Amount Per Serving (5 oz. steak)
Calories 223
Calories from Fat 45
% Daily Value*
Fat 5g8%
Cholesterol 92mg31%
Sodium 419mg17%
Potassium 835mg24%
Carbohydrates 6g2%
Protein 36g72%
Vitamin A 885IU18%
Vitamin C 30.9mg37%
Calcium 45mg5%
Iron 3.7mg21%
* Percent Daily Values are based on a 2000 calorie diet.
Categories:
Aside of the slow cooker steak pizzaiola, here are some more of my slow cooker favorites…
And a few from my friends…