BBQ Chicken Tostadas
Disclosure: This post may contain affiliate links. Cupcakes & Kale Chips is a participant in the Amazon Services LLC Associates Program, an affiliate advertising program designed to provide a means for us to earn fees by linking to Amazon.com and affiliated sites.
BBQ Chicken Tostadas are a simple meal the family will love, especially on busy nights. Pick up a rotisserie chicken from the store, use up leftovers, or even make a new batch in your slow cooker. Then just grab some barbecue sauce, cheese, and tortillas or tostada shells for a meal the family will love that comes together in minutes. This easy BBQ chicken tostada recipe is one of the best quick and easy dinner recipes for busy nights. Also, since you use corn tortillas, these barbecue chicken tostadas are also gluten free.


Guys, you know I always keep it real with you, and today is no exception.

MY LATEST VIDEOS
As a food blogger, it's pretty much impossible for me to look at a recipe from a cookbook or another website or blog and just make it as-is. The creative juices are always flowing, and somehow it is beyond me to leave well-enough alone.
So my food blogger tendencies make me a pretty crappy cookbook reviewer. But I have to tell you about the recipes I made (both as-is and with a few tweaks) from The Weeknight Dinner Cookbook written by my friend Mary of Barefeet in the Kitchen…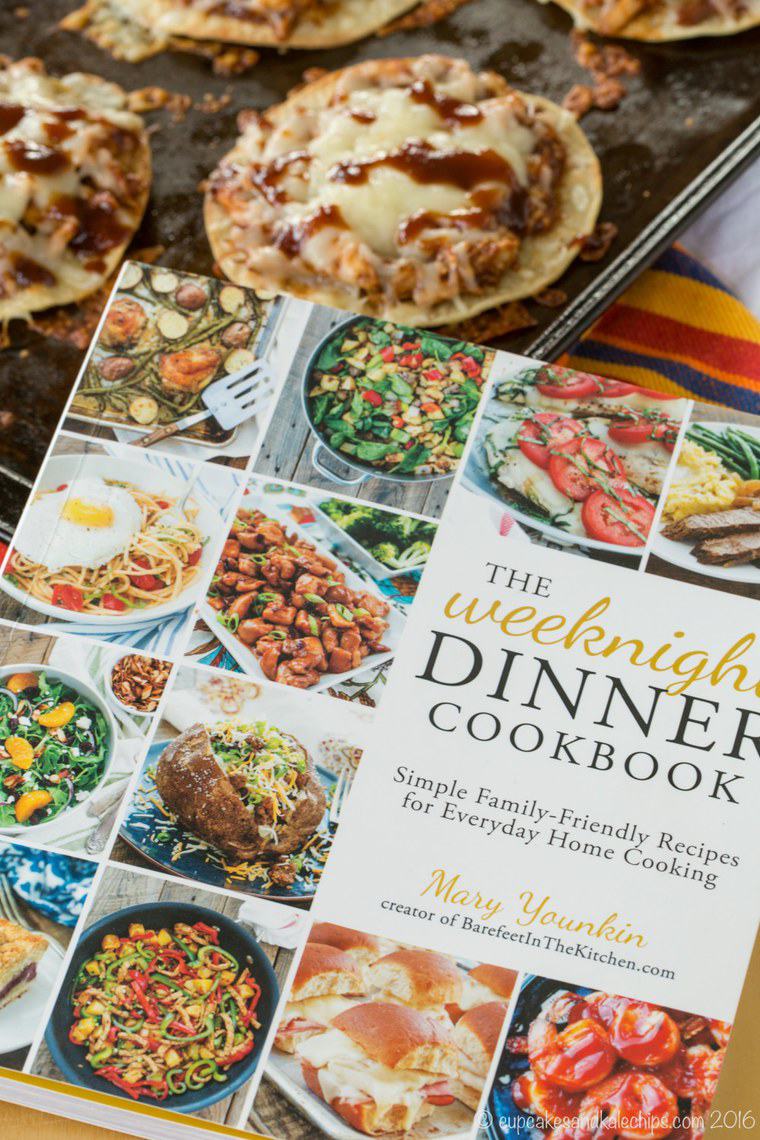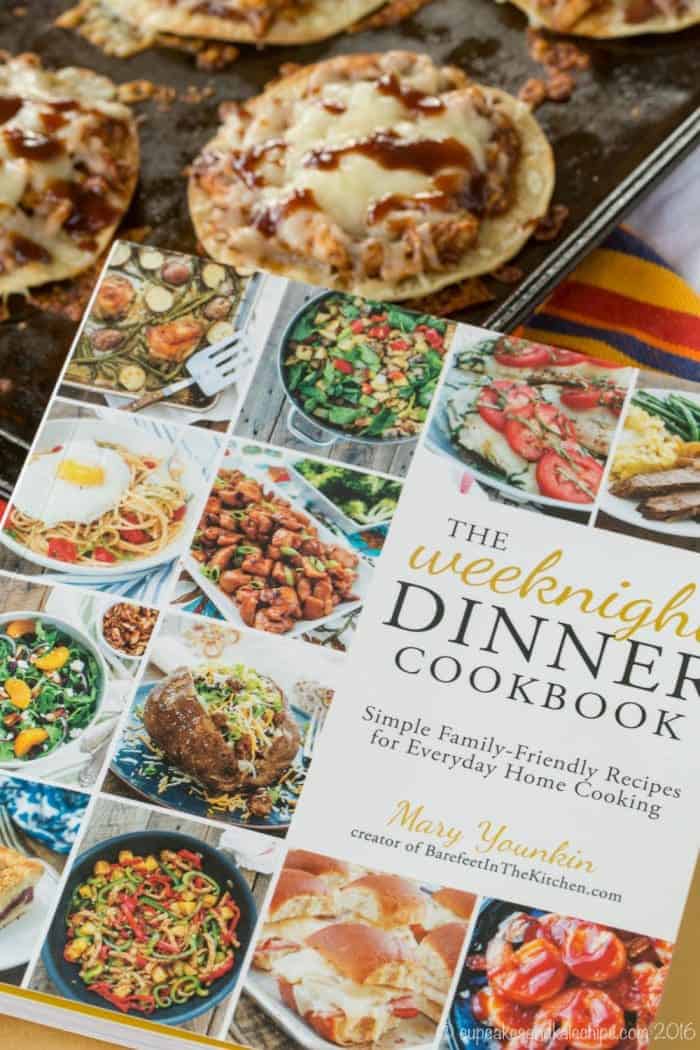 Why do I love The Weeknight Dinner Cookbook?
This cookbook is perfect for those crazy weeknights when you want to make a delicious and nutritious dinner for the family. But you have to work with the time you've got before heading out the door or tackling homework. And sometimes when you have no time, you also have to work with what you've got in the kitchen because you can't get to the store. I love that the recipes in The Weeknight Dinner Cookbook are incredible as written, but also can provide a jumping off point for wherever your inspiration takes you.
The chapters are broken down into how long it takes to prepare each recipe. There's even a chapter for recipes that only require a few minutes of hands-on time, and then they are left alone to bake, simmer, or slow cook. Plus it's got sides, staples, and simples sweets. One extra bonus with all of the recipes in the book as well as on Mary's site is that she gives gluten free options for everything, including flour substitutions in the baked goods!
What recipes are in The Weeknight Dinner Cookbook?
Guys, I have so many stickers and post-its for other recipes I will be trying soon. Everything from Sweet Chipotle Chicken Bites and Korean Beef with Quick Asian Pickles to Chicken Parmesan Meatloaf and Never-Fail Blondies (I'm thinking of adding white chocolate chips and toffee bits). I sent my mom the recipe for Cheesy Southwest Beef and Potato Skillet. She loves Tex Mex, and it's basically a kicked-up version of the Beef Potato Skillet Supper we have loved for years. There's a photo of every recipe, and they all look mouthwatering!
One recipe I did make as-is (well, almost), were her BBQ Chicken Tostadas…
How to Make BBQ Chicken Tostadas
Anything that combines barbecue sauce, chicken, and cheese is going to be a winner. These BBQ Chicken Tostadas were no exception. Shred some chicken, toss it in your favorite barbecue sauce, and pile it on the tostada shells (or corn tortillas crisped up in the oven). Then cover with cheese and bake. Before serving, just drizzle on some more barbecue sauce. It's as simple as that. And let me tell you, they will be eaten just as quickly as they were made!
BBQ Chicken Tostada Recipe Tips:
What to serve with BBQ Chicken Tostadas…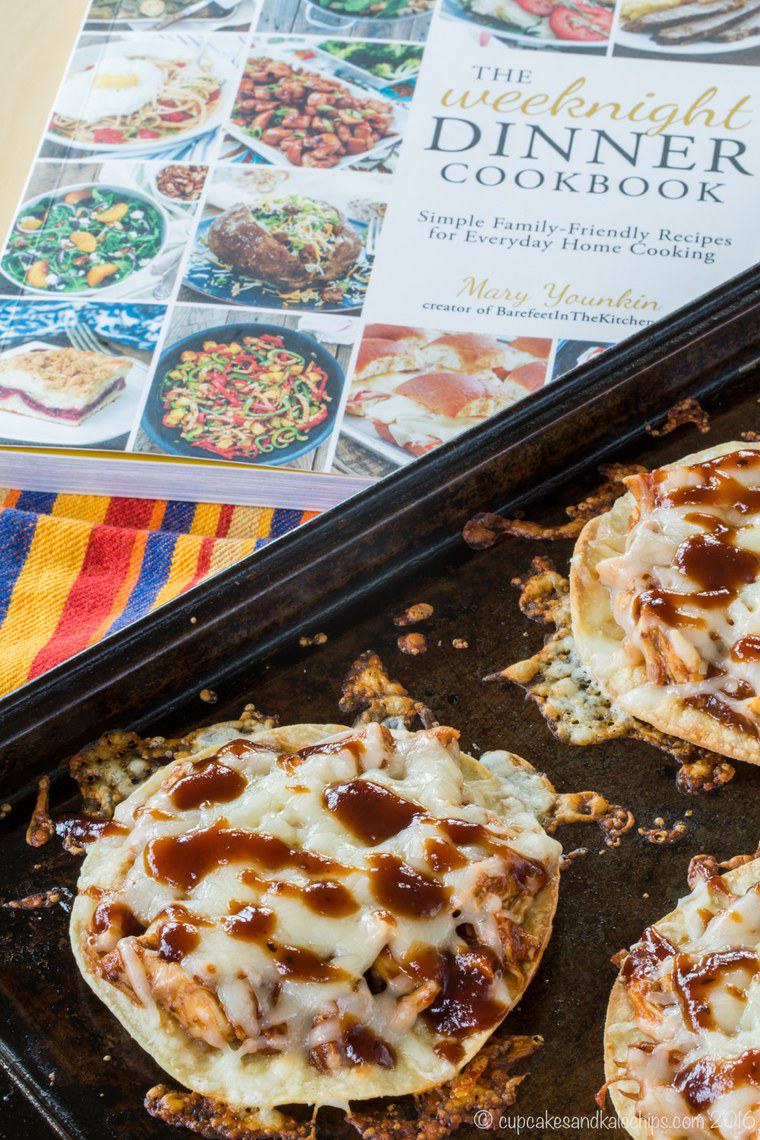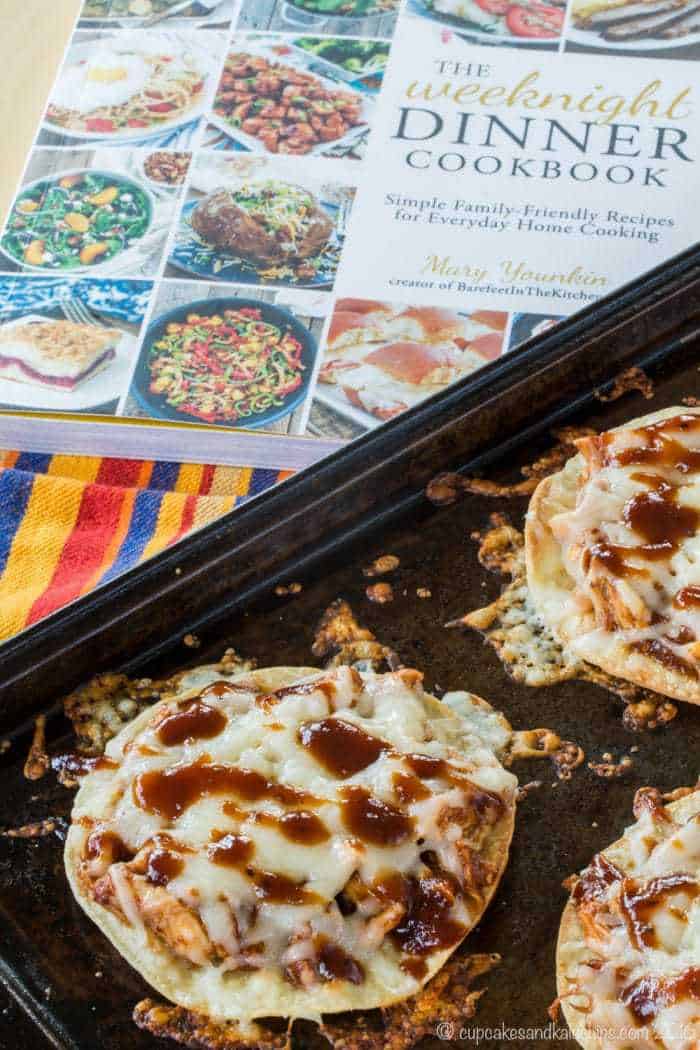 So make sure you head to the bookstore or Amazon to pick up your copy of The Weeknight Dinner Cookbook. You can read through it while you are munching on these BBQ Chicken Tostadas.
Here are some other awesome recipes I've made from my friends' cookbooks…
And some more recipes from The Weeknight Dinner Cookbook…
Let's not forget Mary has another cookbook, The Weekday Breakfasts & Lunches Cookbook. You have to try her Breakfast Tostada Stacks if you love these tostadas.
For more yumminess from me and my foodie friends, keep up with me on…
Or sign up to have Cupcakes & Kale Chips delivered straight to your Inbox!
Where can you get this cookbook?
Products from Amazon.com
‹
›
And then make this BBQ Chicken Tostadas recipe…
This recipe has been pinned hundreds of thousands of times. With reviews and photos everywhere on social media, you know this barbecue chicken tostada recipe is a winner. It's one of the fastest easy dinner recipes you'll ever make, and the entire family will love it. Shredded chicken, your favorite barbecue sauce and cheese, and tortillas plus a few minutes of prep time. What's not to love?!
I hope you'll leave a comment and give it a FIVE STAR rating or share a photo on this pin on Pinterest!

Print Recipe
BBQ Chicken Tostadas
Pick up a rotisserie chicken from the store, use up leftovers, or even make a new batch in your slow cooker to make this easy dinner recipe the family will love.
Ingredients
8

tostada shells

or 8 corn tortillas, brushed lightly with olive oil and baked for 3-5 minutes per side, until crispy

3

cups

cooked and shredded chicken

1 1/2

cups

of your favorite barbecue sauce,

divided

2

cups

shredded cheese

(Mary uses mozzarella in the cookbook, but I have also used cheddar, Monterey Jack, or a blend)

3

green onions,

very thinly sliced (optional)
Instructions
Preheat your oven to 350°F. Lay out the tostada shells (or baked tortillas) on two rimmed baking sheets.

Combine the chicken and 1 cup of the barbecue sauce in a small bowl, and stir to coat.

Divide the chicken between the tostada shells and top with the cheese (about ¼ cup on each).

Bake for 6 to 8 minutes, just until the cheese is melted.

Remove from the oven and drizzle with the remaining ½ cup barbecue sauce. Sprinkle with green onions, if desired.
Nutrition
Serving:
2
tostadas
|
Calories:
693
kcal
|
Carbohydrates:
66
g
|
Protein:
31
g
|
Fat:
33
g
|
Saturated Fat:
13
g
|
Cholesterol:
107
mg
|
Sodium:
1730
mg
|
Potassium:
554
mg
|
Fiber:
3
g
|
Sugar:
36
g
|
Vitamin A:
16.5
%
|
Vitamin C:
4.5
%
|
Calcium:
35.9
%
|
Iron:
13
%
Enjoy!