This post may contain affiliate links. Read my disclosure policy.
Homemade Gluten Free KFC Popcorn Chicken is a fun and easy meal or appetizer that the whole family goes crazy for! This gluten-free fried chicken recipe cooks up irresistibly juicy, crispy, and golden right in the comfort of your own kitchen.
This is one of our family's favorite chicken recipes, right up there with Crispy Gluten-Free Fried Chicken and Air Fryer Chicken Nuggets!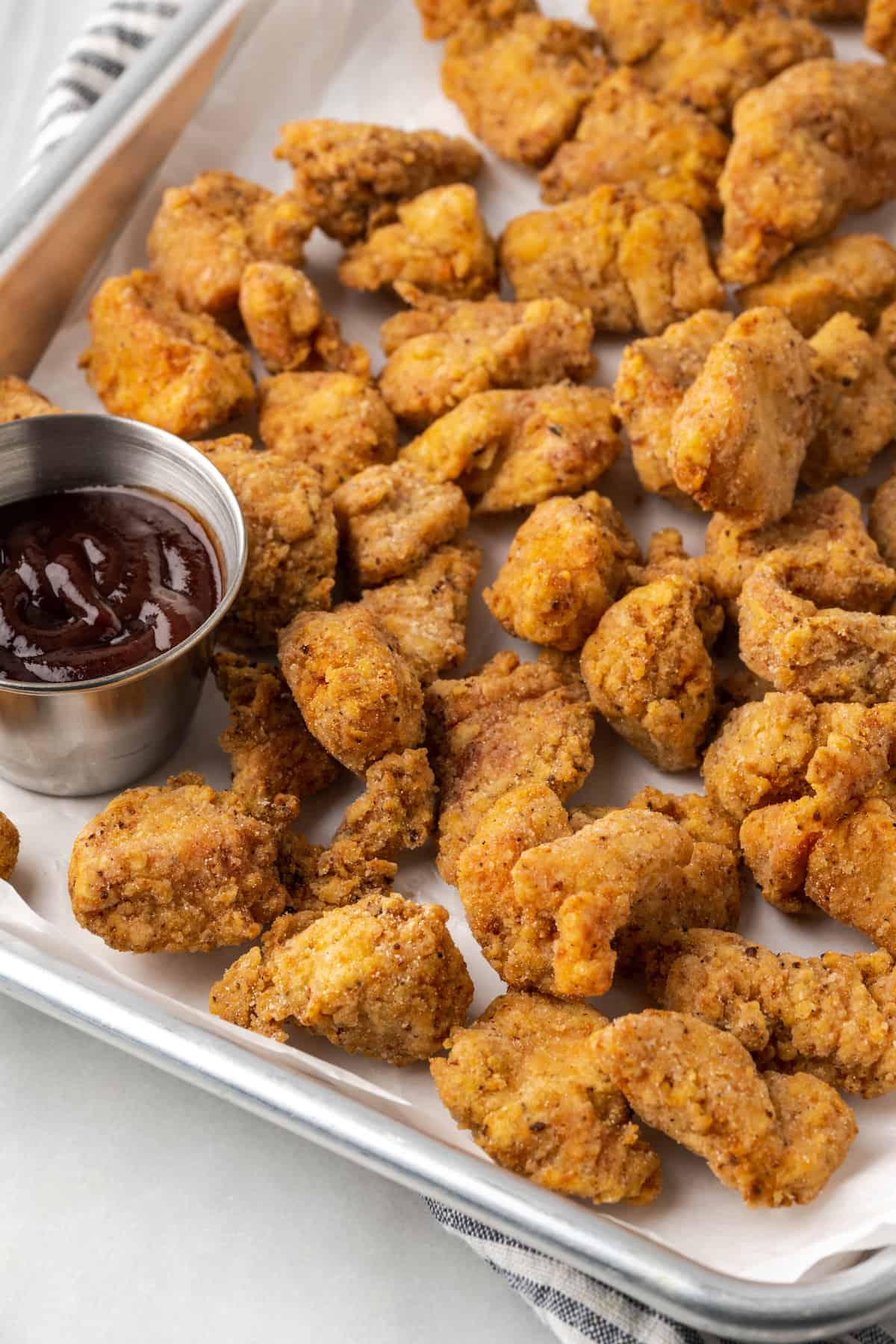 Extra Crispy Gluten-Free Popcorn Chicken Recipe
Craving something crispy, satisfying, and full of flavor? Heat up those skillets, because you're going to want to try this super easy recipe for gluten-free KFC popcorn chicken.
Juicy and tender on the inside, and ultra-crispy and seasoned on the outside, this popcorn chicken is 100% kid- and hubby-approved. We love dipping our popcorn chicken in Homemade BBQ Sauce, whether we're chowing these on any given weeknight or serving them up when we entertain.
These easy gluten-free chicken nuggets are the perfect way to indulge in your favorite fast food in a way that's healthy, homemade, and safe for gluten-free diets!
Why Is It Called Popcorn Chicken?
These crispy chunks of bite-sized chicken look a lot like pieces of popped popcorn, which is where popcorn chicken gets its name. They're also just small enough to eat by the handful!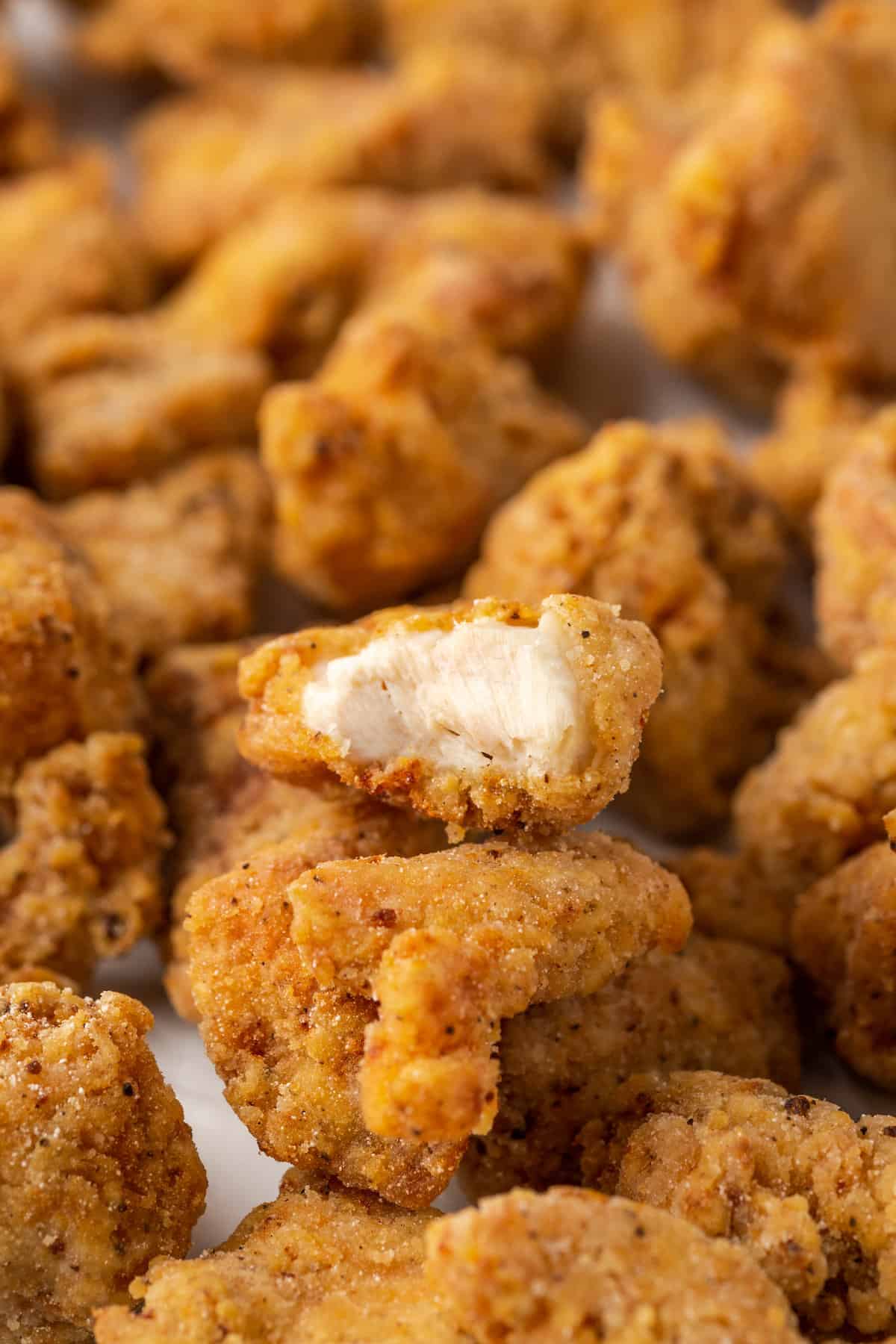 What You'll Need
This gluten-free KFC popcorn chicken comes together with just a few easy ingredients. Below is an overview, with the full amounts available in the recipe card:
Chicken: Boneless skinless chicken breasts are easiest to cut up into bite-sized pieces.
Gluten-Free Flour and Cornstarch: I use King Arthur Flour's gluten-free flour blend to make the gluten-free coating for the nuggets. Meanwhile, cornstarch helps the chicken fry up extra crispy, by absorbing excess moisture.
Seasoning: I season the flour with a combination of salt, sugar, both white and black pepper, paprika, and Complete Seasoning. Complete Seasoning is an all-purpose seasoning blend from the brand Badia that you can find in most spice aisles or in the Latin section. The combination of flavors makes this KFC popcorn chicken irresistible! In a pinch, a mixture of Italian seasoning, onion powder, and garlic powder can be substituted instead. 
Buttermilk and Dijon: For true KFC-style fried chicken, I whisk buttermilk and Dijon mustard into the egg wash. If you don't have buttermilk, you can use a homemade substitute, see below.
Eggs: You'll need two whole eggs for an egg wash.
Vegetable Oil: For frying.
What If I Don't Have Buttermilk?
If you don't have buttermilk, no worries. You can make your own buttermilk substitute by combining 1 tablespoon of white vinegar (or lemon juice) with enough milk to measure 1 cup. Let the mixture stand and curdle for 5 minutes, then give it a stir, and your homemade buttermilk is ready to use!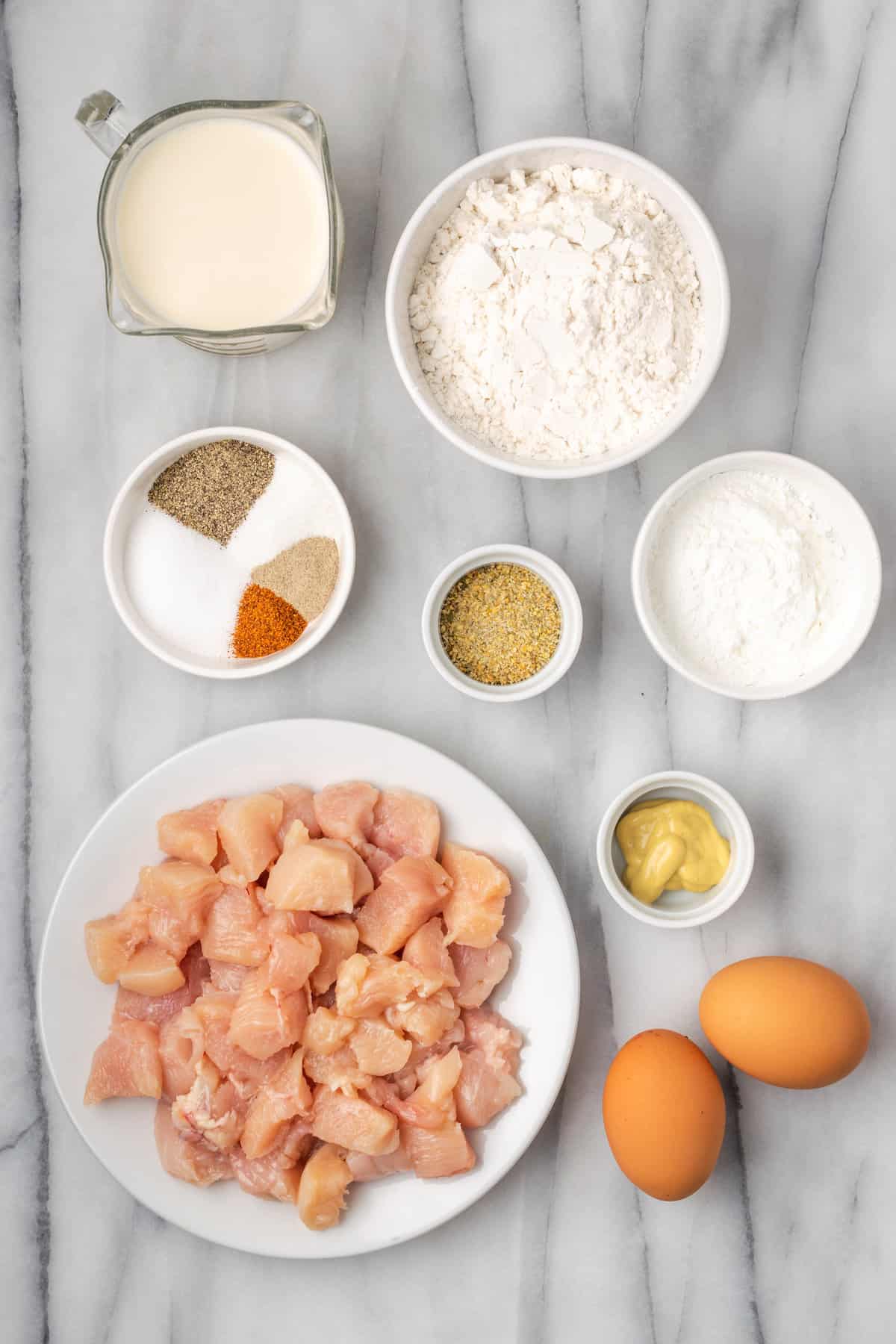 How to Make Gluten-Free KFC Popcorn Chicken
Here's how to prepare your own homemade gluten-free popcorn chicken:
Prepare the Chicken: Before you start, cut your chicken breasts into bite-sized pieces. This fried chicken recipe should yield around 48 nuggets.
Prepare the Breading: Next, whisk together the flour, cornstarch, and seasonings.
Make an Egg Wash: In a separate bowl, whisk together buttermilk with eggs, a bit of salt, paprika, and Dijon mustard.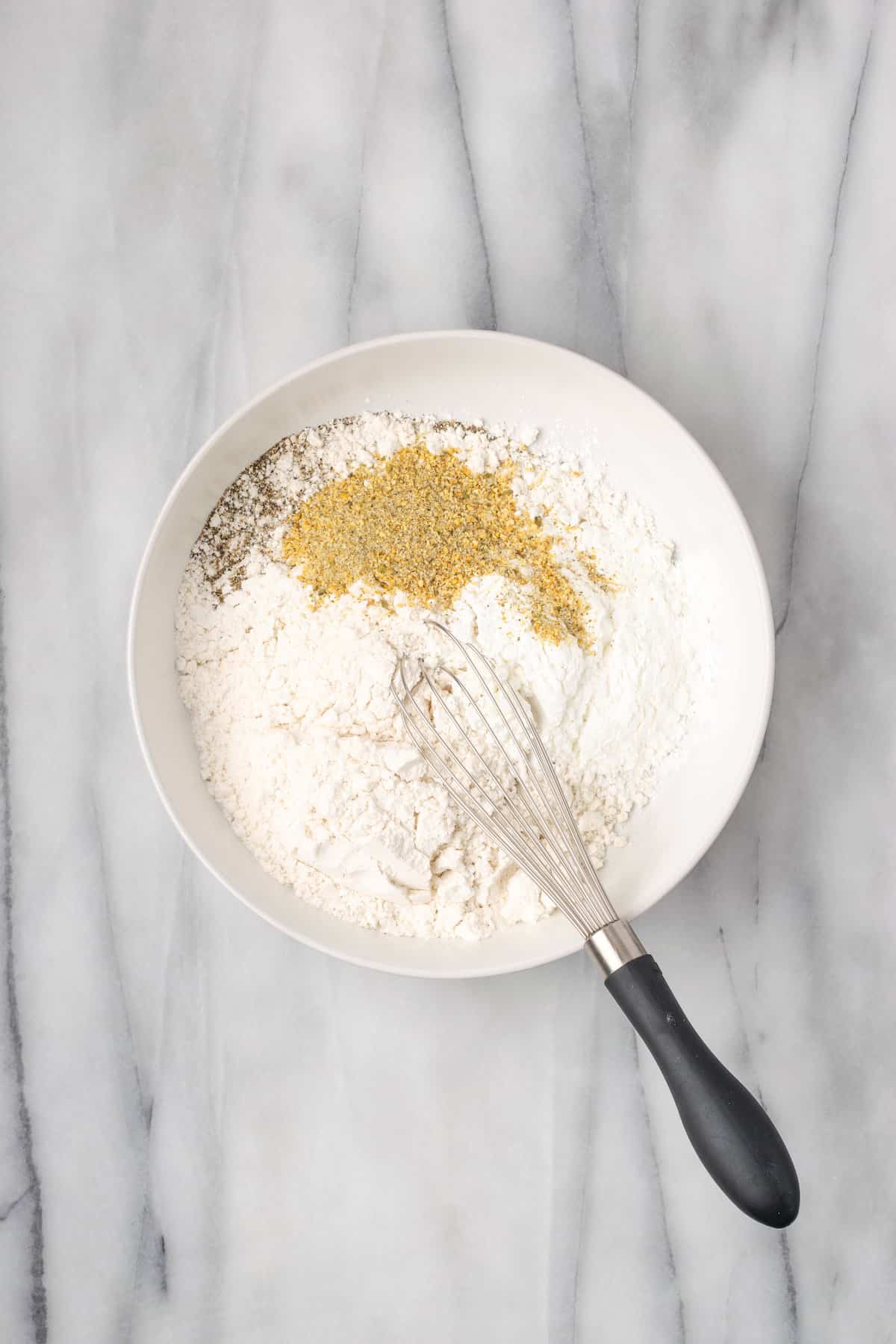 Coat the Chicken: Add the chicken to the egg wash to soak. Soaking allows the buttermilk to tenderize the chicken. After a few minutes, you'll transfer the chicken nuggets to the flour mixture and toss to coat. Place the breaded nuggets on a baking sheet.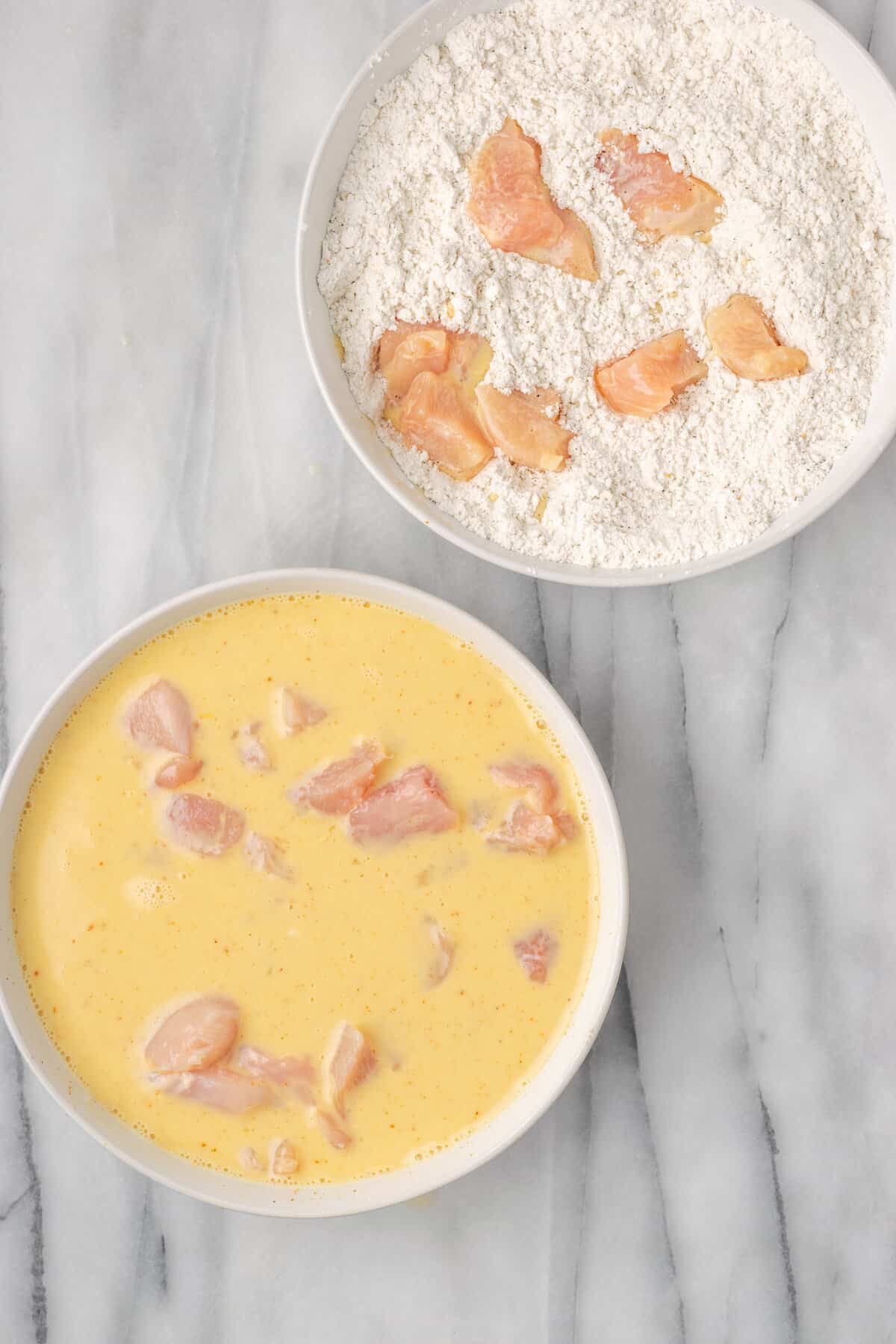 Cook: Working in batches, fry the chicken nuggets in a skillet filled with about 2 inches of hot oil. It should take about 4-5 minutes for the outside of the chicken to turn crispy and golden brown. Move the finished nuggets to a wire rack to drain.
Cool and Serve: Once your fried popcorn chicken has cooled a bit, give it a sprinkle with sea salt, then serve! See below for tasty ways to enjoy these homemade gluten-free nuggets.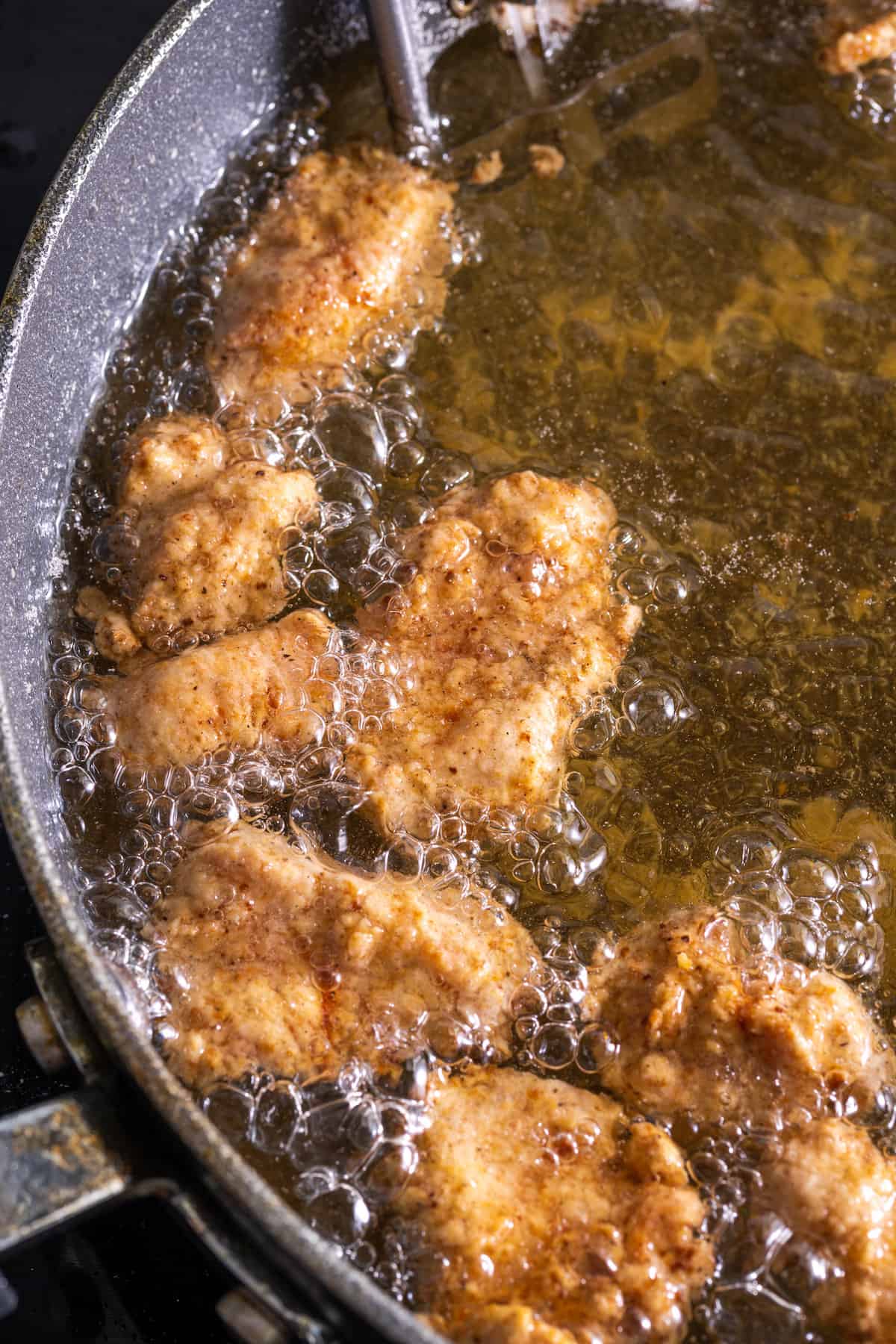 Tips for Success
Here are my tips and tricks for cooking up gluten-free fried chicken that's super crispy and so delicious:
Make sure the oil is at the right temperature. The vegetable oil should be at a hot 350ºF when the first piece of chicken hits it. If the oil isn't hot enough, the breading will soak up the oil and the chicken won't crisp up. A kitchen thermometer is the best way to check.
Test the oil temperature with a sprinkle of flour, not water. If you don't have a kitchen thermometer, you can test if the oil is hot enough by sprinkling in a bit of flour. If it sizzles, the oil is ready for frying. Don't use water, as this will spatter and can cause burns!
You may need to change the oil. In this case, finish the batch you're frying, let the oil cool off, and discard it in a heat-proof dish. Start the next batch once the new oil has come to temperature.
Drain the fried chicken on a wire rack, rather than on a paper towel to keep it extra crispy. Place a baking sheet underneath to catch the excess oil.
Don't leave your skillet unattended. Grease fires are no joke! Deep frying makes delicious food, but it's also a hazard, so it's important to pay attention while frying and not leave the stove unattended. Also, make sure that little hands and paws are safely away from the kitchen!
Your chicken is done cooking when the internal temperature reaches 165ºF.
Make spicy crispy nuggets. To give your gluten-free KFC popcorn chicken a spicy kick, whisk cayenne pepper, chipotle powder, or even Cajun blackened seasoning into the flour coating.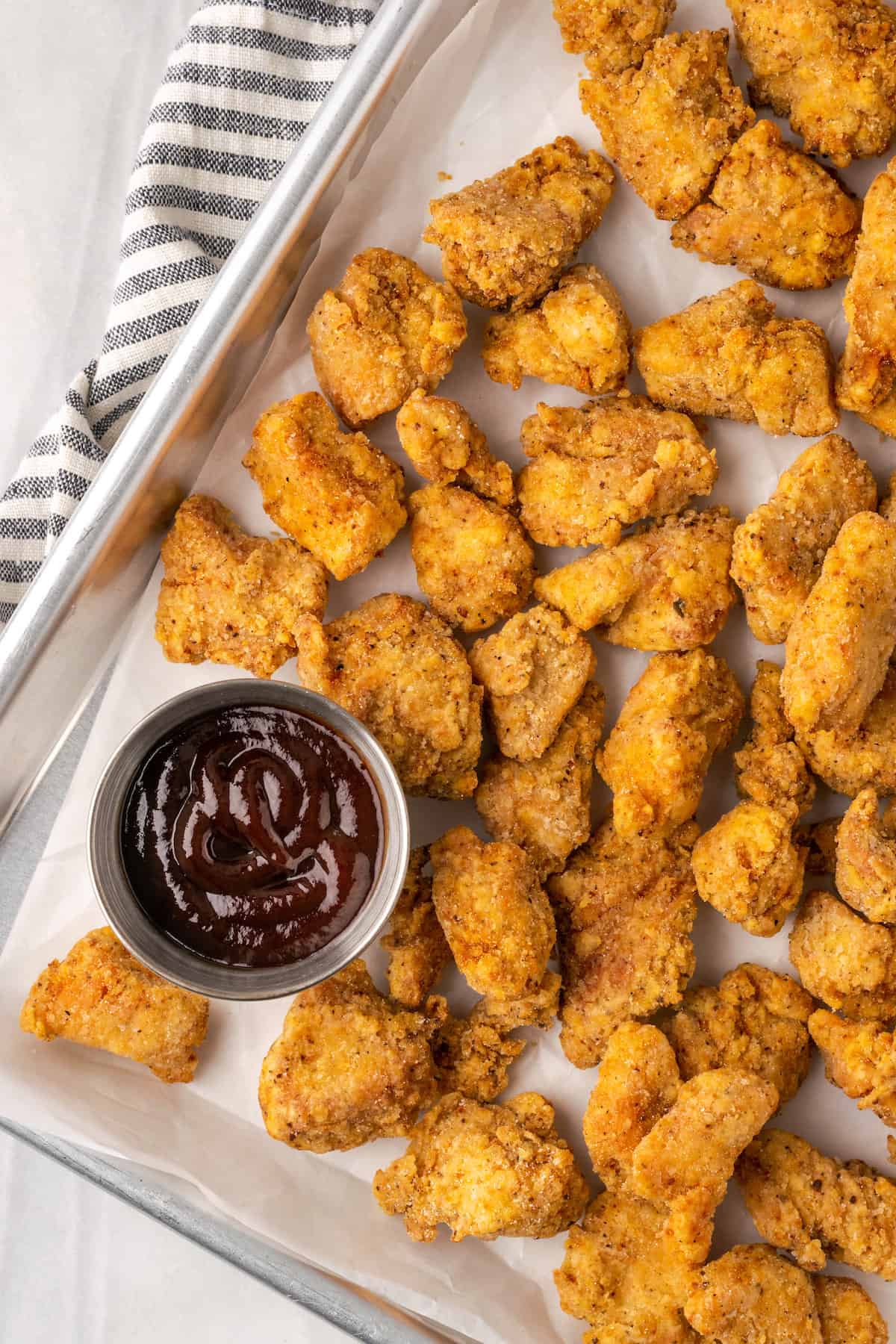 Make It a Meal
Every time I fry up this gluten-free popcorn chicken I'm inspired to go all out. We make Gluten-Free KFC Bowls with Mashed Potatoes and brown gravy for a fun family dinner. It's the best healthy alternative to fast food!
Another of our favorite ways to serve popcorn chicken is with Bourbon BBQ Sauce for dipping and a side of homemade Air Fryer French Fries or Gluten-Free Cornbread. For a lighter meal, serve your chicken nuggets with a veggie side of Sauteed Peas and Carrots or Balsamic Roasted Vegetables.
Popcorn chicken also makes an easy appetizer to serve at potlucks, parties, and on game day! Pair it with other football snacks like Air Fryer Gluten Free Pizza Rolls, Easy Gluten Free Pretzel Bites, and easy dipping sauces: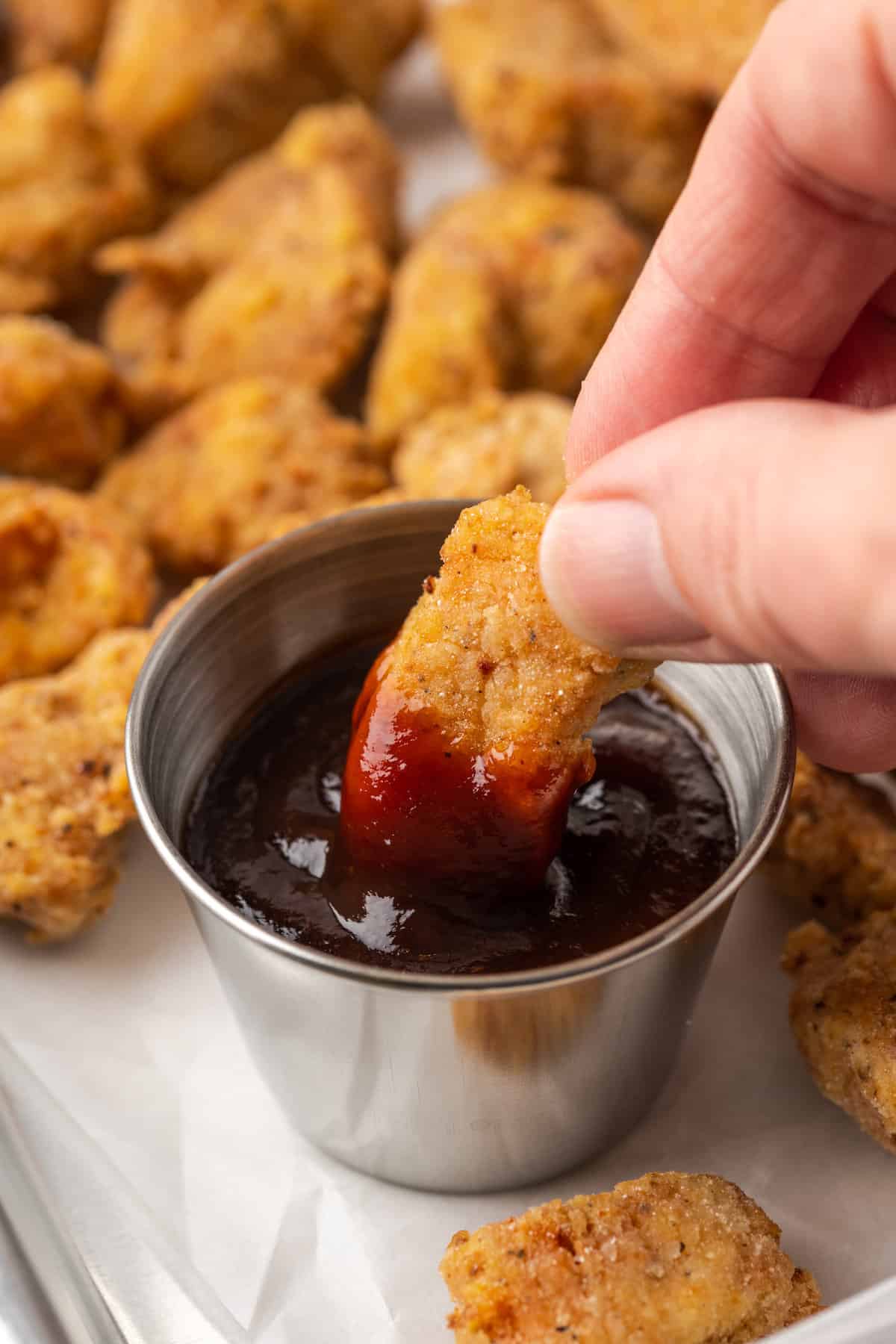 Storing and Reheating Gluten-Free Fried Chicken
Any leftover gluten-free popcorn chicken can be stored airtight in the fridge for up to 3 days. I prefer to reheat this chicken in the air fryer or in the oven, so it has the chance to get nice and crispy again.
Can I Freeze Popcorn Chicken?
Yes! Gluten-free popcorn chicken is freezer-friendly. I like to pre-freeze the cooked and cooled nuggets on a baking sheet before transferring them to a freezer bag or container to freeze. Keep your popcorn chicken frozen for up to 3 months, and defrost it in the fridge before you reheat it.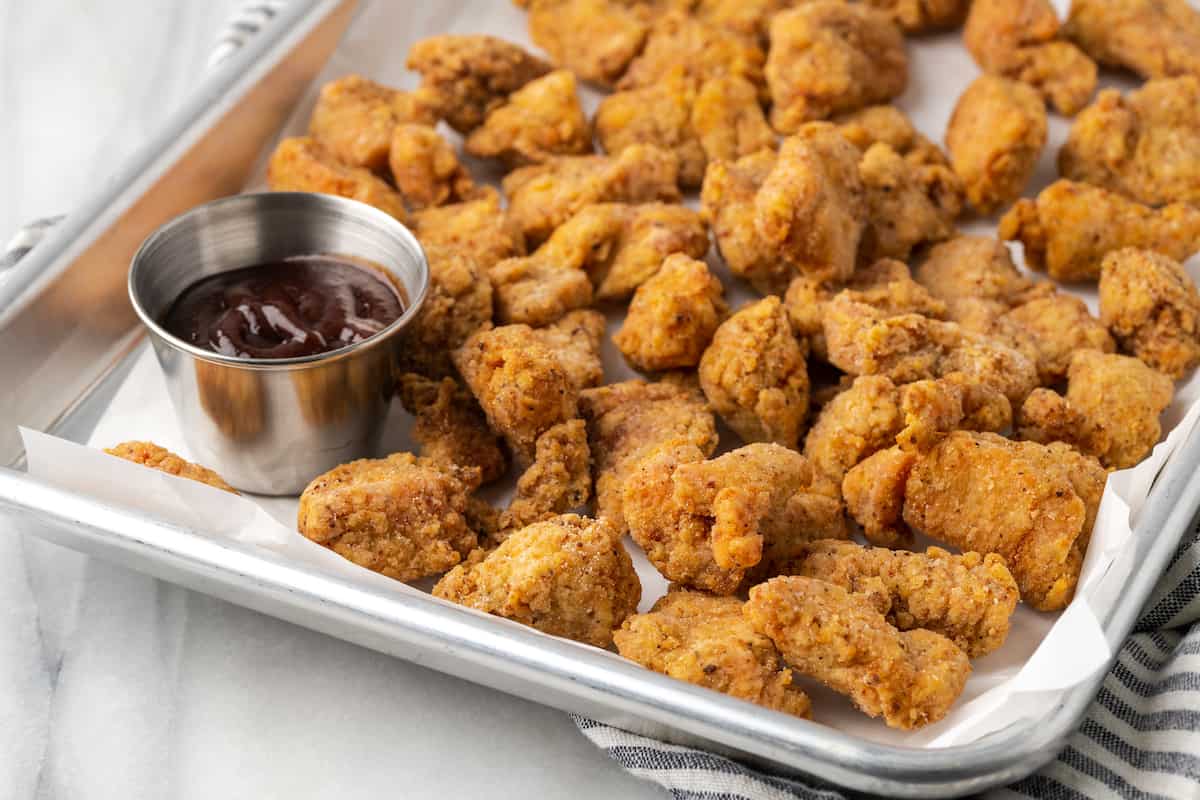 Things You'll Need
FLOUR: This recipe should work well with most all-purpose gluten free flour blends, but I used King Arthur Flour.
SEASONING: Badia Complete Seasoning is a gluten free blend that has all the spices you need in one bottle.
THERMOMETER: You'll need a heat-safe thermometer to ensure your oil is hot enough.
WIRE RACKS: Set your cooked chicken on these racks so any excess oil can drip off, keeping them nice and crisp.
Last updated on September 21, 2023 6:11 am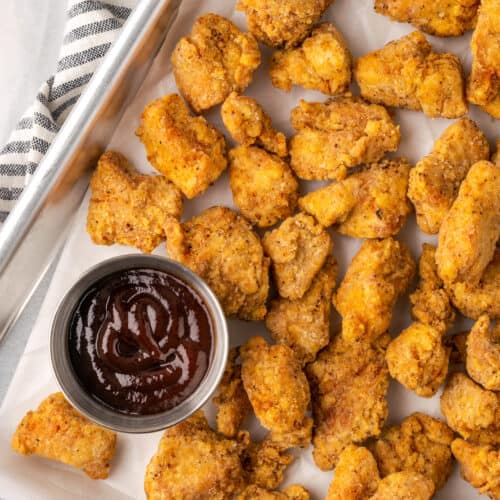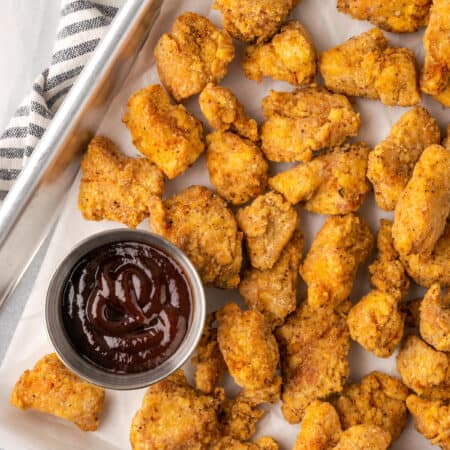 Gluten Free KFC Popcorn Chicken
Homemade Gluten Free KFC Popcorn Chicken cooks up irresistibly juicy, crispy, and golden! This gluten-free fried chicken recipe is a fun and easy meal or appetizer, perfect for dipping in your favorite BBQ sauce.
Servings:
6
servings (approx. 48 nuggets)
Ingredients
1

pound

Boneless Skinless Chicken Breasts

1

Cup

Gluten Free Flour Blend

(I used King Arthur brand)

1/4

Cup

Cornstarch

2

teaspoons

Salt

1

teaspoon

Sugar

1 1/2

teaspoon

Black Pepper

1/4

teaspoon

White Pepper

2

teaspoons

Complete Seasoning

(Badia Sazon Completa) or 1 teaspoon Italian seasoning, 1/2 teaspoon onion powder, and 1/2 teaspoon garlic powder

1/2

teaspoon

Paprika

1

Cup

Buttermilk

2

teaspoons

Dijon Mustard

2

Eggs

Vegetable Oil for frying
Instructions
Cut chicken breast into 1⁄2 inch thick strips. Then cut each strip into 2-3 bite sized pieces. You should be able to cut about 48 nuggets from one pound of chicken breasts.

In a large bowl, combine gluten free flour, cornstarch, half of the salt, sugar, black pepper, white pepper and complete seasoning. Whisk together until it's well mixed.

In a second bowl, combine buttermilk, remaining salt, paprika, dijon mustard and 2 eggs. Whisk together until it's well mixed.

Place the chicken pieces in the milk mixture and let them soak for 5 minutes.

Then move the chicken pieces a few at a time into the flour mixture. Toss the nuggets to coat, pressing them into the flour to get a nice thick coating. Shake off any excess and move the nuggets to a baking sheet.

Pour about 2 inches of vegetable oil into a large skillet. Heat the oil to 350 degrees.

Place a cooling rack on a baking sheet to drain the cooked nuggets.

Drop about 10 nuggets into the hot oil. Cook for approximately 4-5 minutes or until they are golden brown and the internal temperature reaches 165 degrees. Continue frying the remaining nuggets in batches until all have been fried.

Remove cooked nuggets to a cooling rack. Sprinkle with a little salt to taste.
Notes
Store leftover nuggets in an airtight container in the refrigerator for up to 3 days. Reheat in the oven or in an air fryer for the best texture.
For the crispiest chicken, drain on a wire rack over a baking sheet. Placing fried nuggets on paper towels to drain will make them soggy.
Nutrition Facts
Gluten Free KFC Popcorn Chicken
Amount Per Serving
Calories 224
Calories from Fat 45
% Daily Value*
Fat 5g8%
Cholesterol 107mg36%
Sodium 1065mg44%
Potassium 367mg10%
Carbohydrates 23g8%
Protein 21g42%
Vitamin A 254IU5%
Vitamin C 1mg1%
Calcium 76mg8%
Iron 1mg6%
* Percent Daily Values are based on a 2000 calorie diet.
More Family-Favorite Chicken Recipes