This post may contain affiliate links. Read my disclosure policy.
Prosciutto-Wrapped Chicken Tenders are the perfect recipe to bring something simple yet special to any holiday or occasion, especially when you pair them with Erath wines. With only three ingredients, you can pop them in the oven or air fryer for a quick but elegant dinner with a glass of Pinot Noir. Or serve them on a platter with a selection of your favorite dipping sauces as you share appetizers and a bottle of Pinot Gris with friends. This gluten free and low carb dish will be loved by all!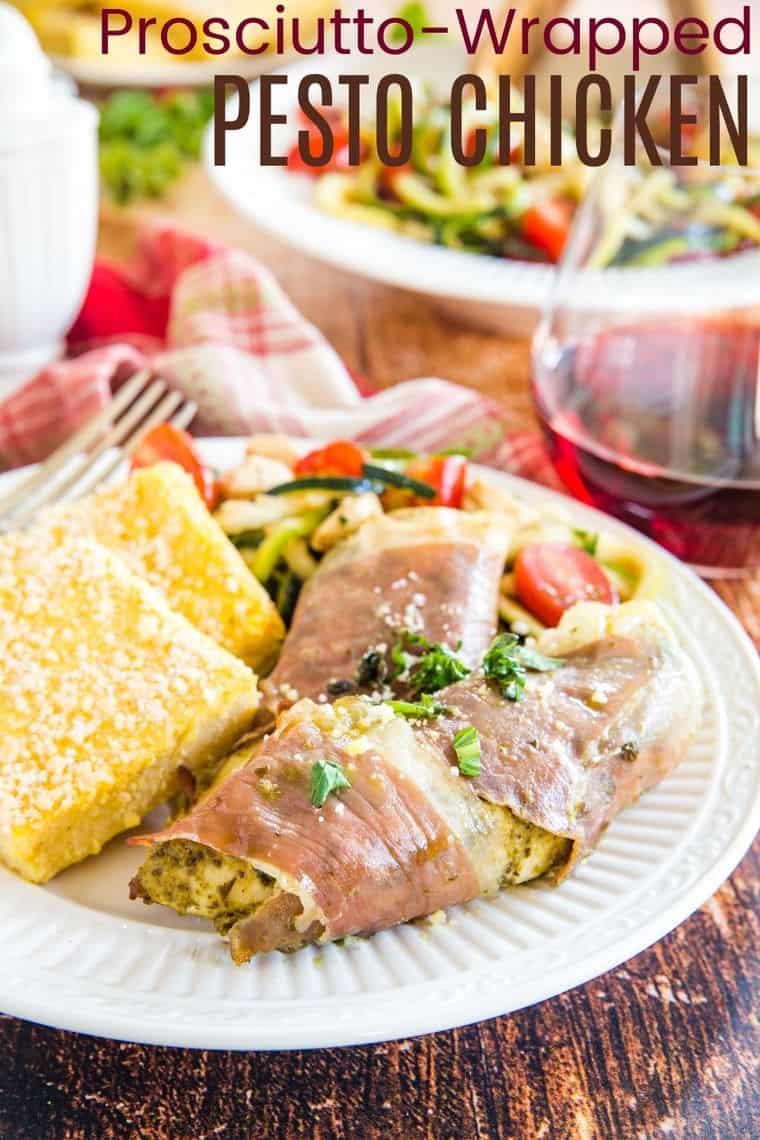 Disclaimer: This post is sponsored by Erath Wines. As always, all opinions are my own.
For many years and many holidays, I would spend weeks planning a menu, hours grocery shopping, and days cooking and baking and preparing the food.
While there is a satisfaction that comes with creating an epic holiday feast, in recent years I've tried to simplify. Instead of working hard on my own for hours on end, I've tried to slow down and focus on the little joys of the season and the people I love.
But that doesn't mean I am going to give up enjoying delicious food paired with amazing wines.
The types of dishes you'll find me making are like this Prosciutto-Wrapped Pesto Chicken recipe. It uses simple ingredients that I often have in my pantry and fridge. But those few items pack a big, bold flavor!
And it's a recipe that can do triple duty as a meal to serve to my family on a busy weeknight, for guests I invite over for a holiday dinner party, or to snack on as part of an appetizer platter.
Plus it pairs perfectly with the Erath wines that I can find right in my local store!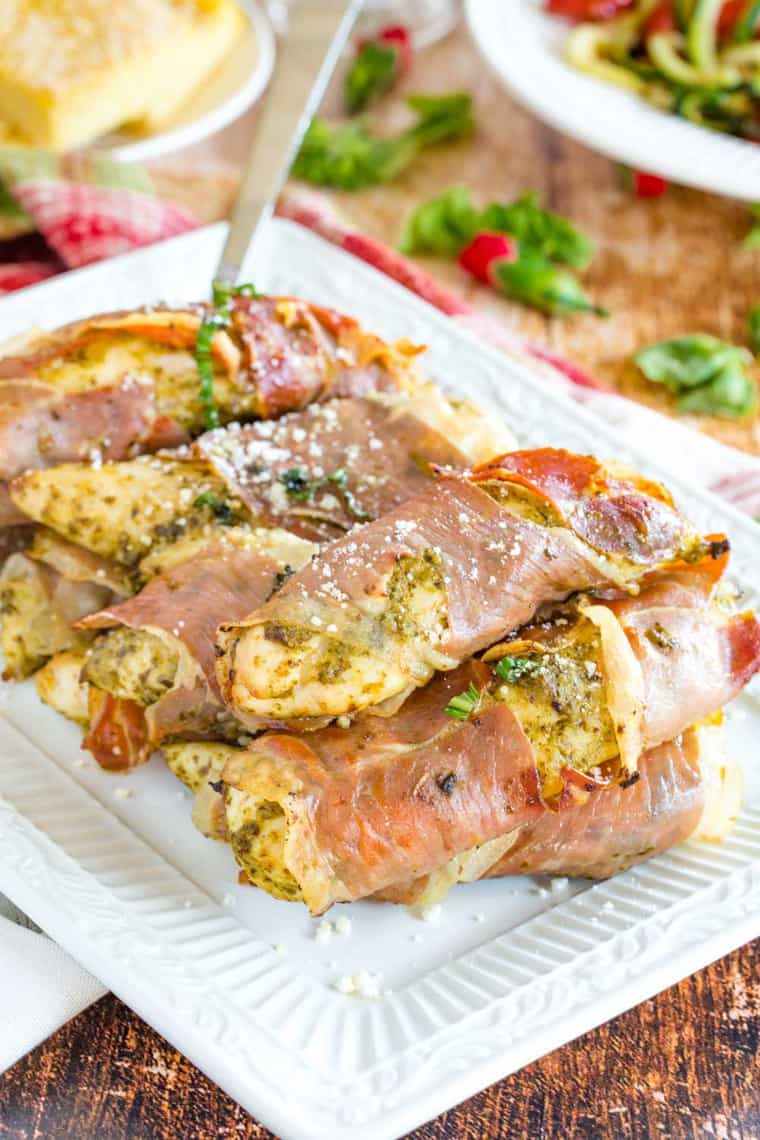 Prosciutto-Wrapped Chicken Tenders
You only need three main ingredients plus salt and pepper to make this easy pesto chicken recipe. Chicken tenders are coated in pesto to infuse the fresh and bold flavors of garlic and basil. Next, they are wrapped in the slices of prosciutto for a crispy, salty bite. Then you have the choice of baking them in the oven or popping them in your air fryer.
Either way, you end up with a flavorful dish that you can serve as a quick weeknight dinner, an elegant meal, or as a party appetizer.
What You'll Need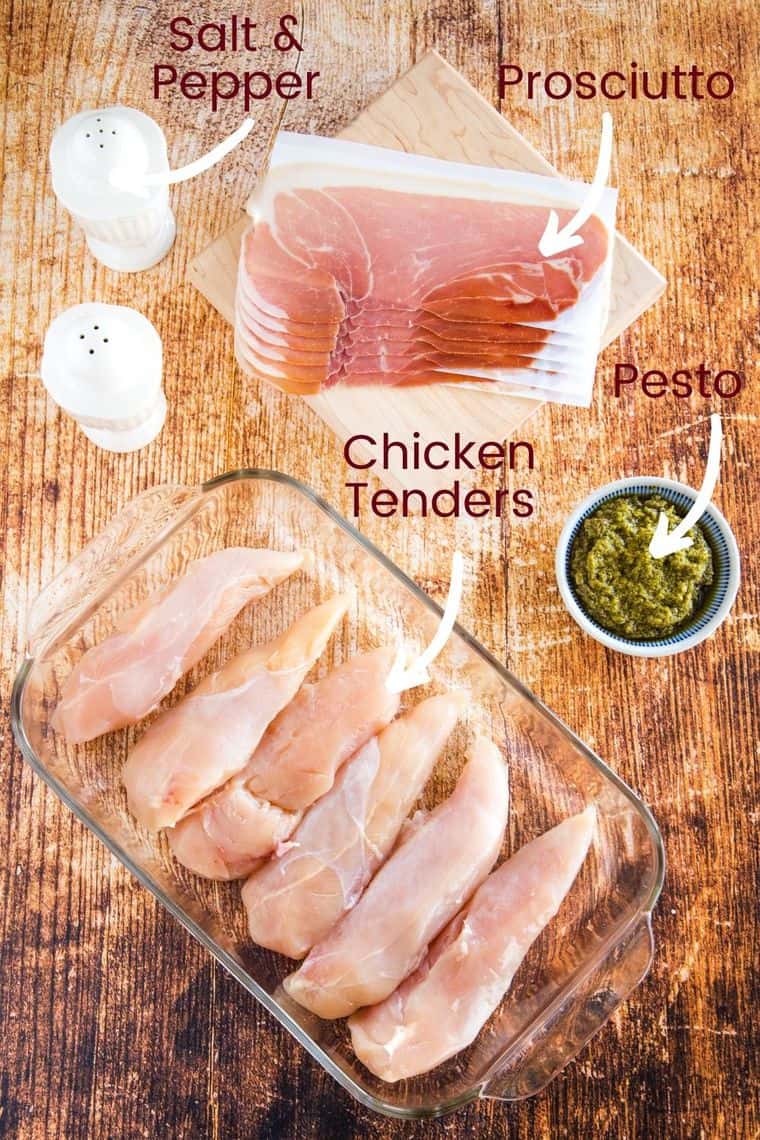 Chicken tenders – one package usually has six to eight tenders depending on how big they are
Salt and pepper – always season your chicken on all sides
Pesto – use your favorite brand of pesto in a jar or container from the grocery store, or a homemade pesto.
Prosciutto – you'll need about 4 ounces, just be sure it is sliced very thin.
Just season the chicken with salt and pepper, coat thoroughly with the pesto, and wrap each one with a slice or two of prosciutto. And cook one of two ways.
How to make baked chicken tenders
After preparing the chicken tenders, place them on a baking sheet. Bake at 425°F for 15-20 minutes, flipping once.
How to make air fryer chicken tenders
Preheat the air fryer to 400°F. Place the prosciutto-wrapped chicken in the basket and air fry at 400°F for 10 minutes.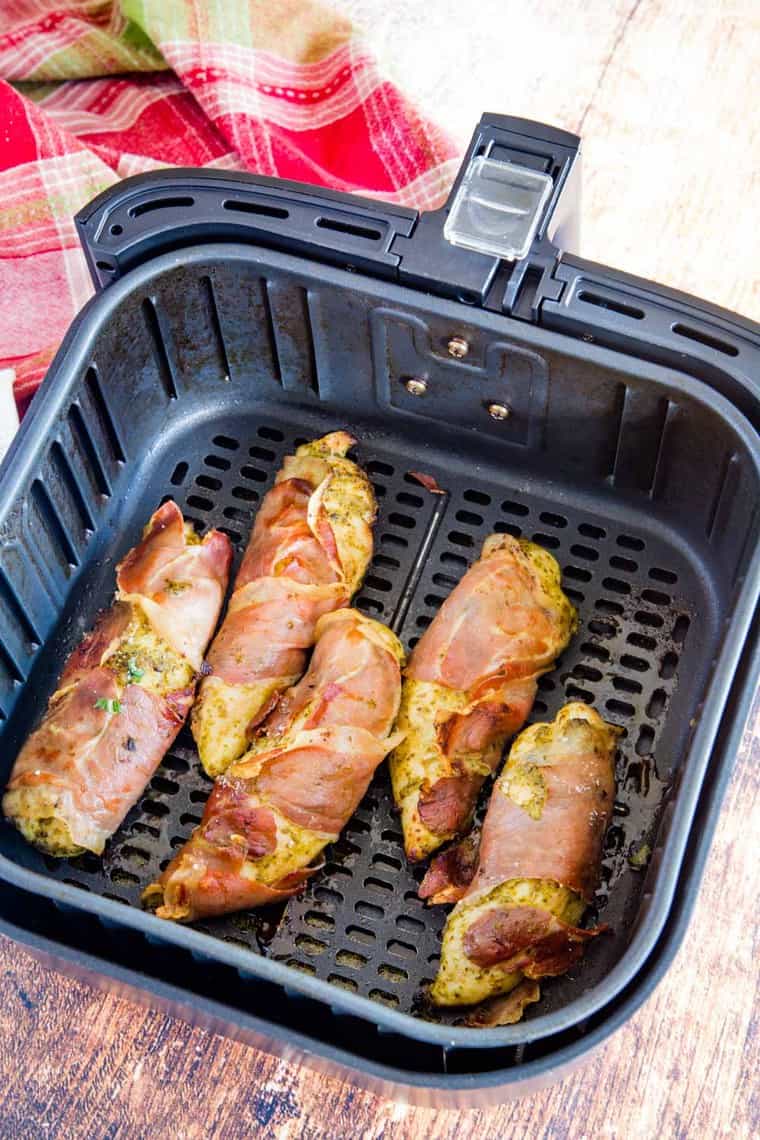 Now you can serve them as a meal with your favorite side dishes. Or add them to a party spread with all of your favorite appetizers and charcuterie boards.
Just don't forget the Erath wines…
About Erath Wines
Erath Wines was founded in 1965 in the hills of Dundee, Oregon. You may be familiar with Erath Pinot Noir and Pinot Gris as they are available in many local grocery stores or liquor stores. But you may not know that it is the #1 Seling Premium Pinot in Oregon. Or that they have a wide selection of wines exclusively for sale on their website, like the La Nuit Magique Pinot Noir or Willakia Pinot Noir.
Their Oregon Pinot Noir is smooth with dark stone fruit flavors and aromas. And the Oregon Pinot Gris is crisp and fruity, with a prominent pear flavor. Both are versatile and easy to pair with many holiday dishes and will please a variety of palettes.
While you can find these locally, you can also add a bottle to your cart when you pick up some of their Erath.com exclusives. Use the promo code ROAST to save 10% on your purchase!
Recipe Tips and FAQs
How do I know the chicken is done?
You can cut into the chicken to ensure that there is no pink remaining. However, if you want to keep them whole, I recommend using an instant-read thermometer to make sure the internal temperature is 165°F.
How much prosciutto-wrapped chicken can I put in the air fryer at once?
Depending on the size of the tenders, you can put in about 5 or 6 tenders at once. You want to ensure that you leave some space between them so that they don't stick together and can get nice and crispy.
Can I double the recipe?
Yes, you can double it. As long as you spread out the chicken tenders, you can bake them all on one sheet pan at the same time. But you will need to cook them in three or four batches in the air fryer to prevent overcrowding.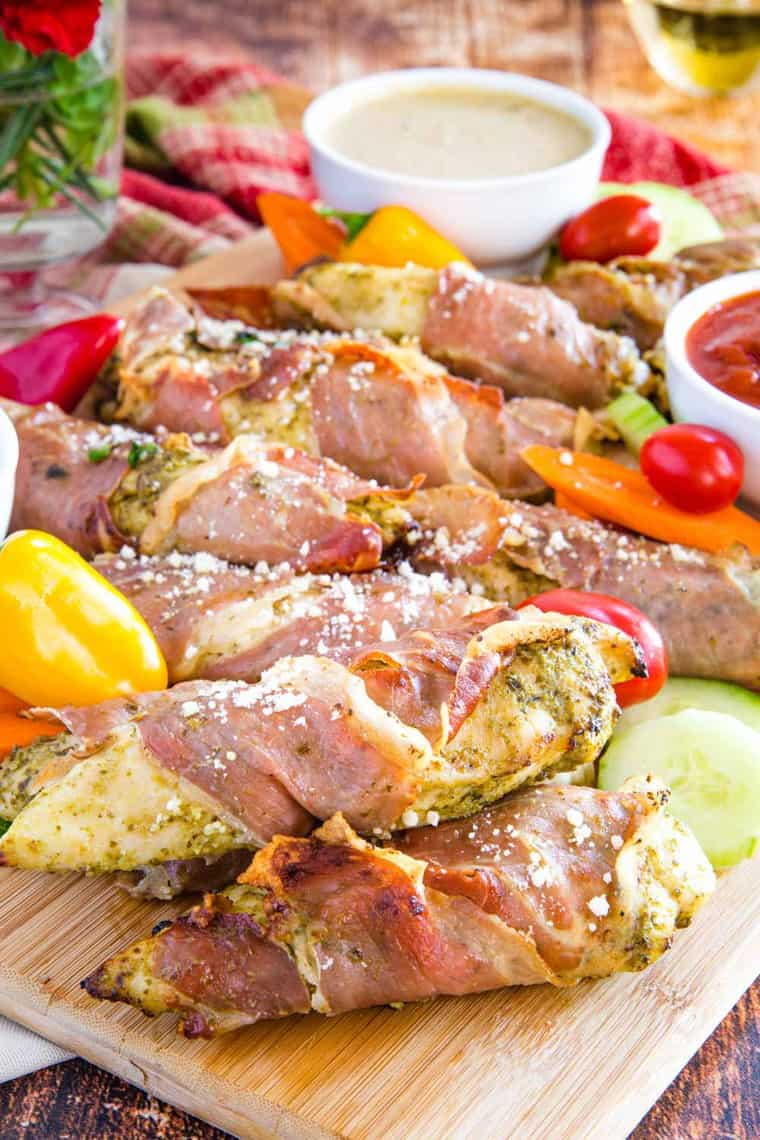 Make it a Meal
For dinner
And pair it with Erath Pinot Noir!
For a party appetizer
Serve it with some delicious dips like:
Or the Creamy Pesto Dip or Balsamic Barbecue Sauce in the recipe below.
And pair it with Erath Pinot Gris!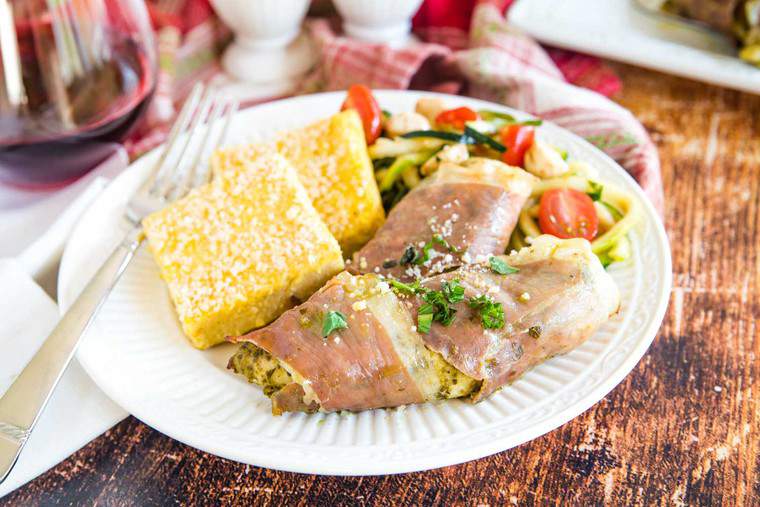 More festive appetizers
More chicken tenders recipes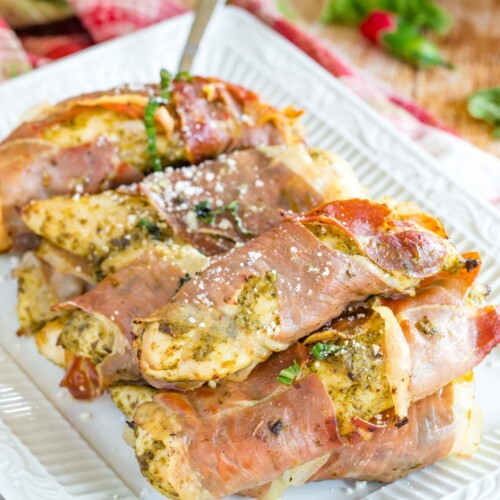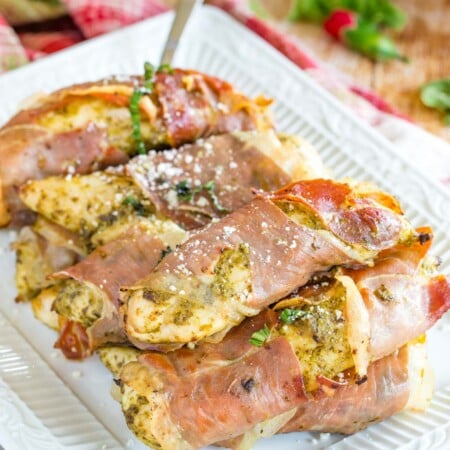 Prosciutto-Wrapped Pesto Chicken Tenders
Ingredients
For the Chicken Tenders
1-1 1/2

lbs.

raw chicken tenders

1/2

teaspoon

salt

1/4

teaspoon

pepper

1/4

cup

prepared pesto

4

oz.

(about 8 slices) thinly sliced prosciutto

Grated parmesan and thinly sliced basil for garnish,

if desired

Dips or sauces such as marinara, balsamic barbecue, creamy pesto, or additional pesto,

if desired
For the Balsamic Barbecue Sauce
For the Creamy Pesto Dip
1/2

cup

plain Greek yogurt

2

Tablespoons

prepared pesto

1

Tablespoon

balsamic vinegar

pinch

salt
Instructions
For the Chicken Tenders
Preheat the oven to 425°F and lightly coat a baking sheet with cooking spray or olive oil. Or preheat air fryer to 400°F.

Place chicken tenders in a bowl or shallow dish. Season with salt and pepper. Drop pesto over the chicken and toss around to coat the chicken thoroughly.

Wrap each tender in one or two slices of prosciutto and place on the baking sheet or in the air fryer basket. If air frying, you may need to do it in two batches, depending on the size of the chicken tenders. Do not crowd the basket.

Bake for 15-20 minutes, flipping after about 8 minutes, or until the prosciutto is crispy and the internal temperature of the chicken is 165°F. Or fry at 400°F for 10 minutes, flipping once.

Serve as a main dish garnished with grated parmesan or sliced basil, if desired. Or set on a platter with dips and sauces as an appetizer.
For the Balsamic Barbecue Sauce
In a small saucepan, whisk all of the ingredients together. Bring to a simmer over medium-low heat, and simmer for several minutes until thickened.

Cool and store in the refrigerator.
For the Creamy Pesto Dip
Combine all of the ingredients in a small bowl and stir to combine.

Store covered in the refrigerator.
Notes
Nutrition information only includes the chicken tenders, not the dips.
Nutrition Facts
Prosciutto-Wrapped Pesto Chicken Tenders
Amount Per Serving (2 tenders (approximately))
Calories 372
Calories from Fat 189
% Daily Value*
Fat 21g32%
Cholesterol 129mg43%
Sodium 821mg34%
Potassium 685mg20%
Carbohydrates 2g1%
Protein 40g80%
Vitamin A 364IU7%
Vitamin C 2mg2%
Calcium 33mg3%
Iron 1mg6%
* Percent Daily Values are based on a 2000 calorie diet.