Balsamic Ketchup
Disclosure: This post may contain affiliate links. Cupcakes & Kale Chips is a participant in the Amazon Services LLC Associates Program, an affiliate advertising program designed to provide a means for us to earn fees by linking to Amazon.com and affiliated sites.
Balsamic Ketchup is a rich and savory version of your favorite condiment. This homemade ketchup recipe adds something special to burgers, fries, and more, but without adding any extra sugar. Plus it is vegan, gluten free, and paleo. In just minutes you can make Balsamic Vinegar Ketchup.
My kid is a very good eater, there are some times that he is very picky.  Except when you cover something in some sort of sauce, or give him a little "dip dip."  Sometimes it is soy or teriyaki sauce, other times salsa or barbecue sauce, and occasionally even balsamic vinegar.  But, like most kids, ketchup is the condiment of choice.  So when I really want to get him to eat something, even something he previously turned his nose at, I squirt on a bit of ketchup.

MY LATEST VIDEOS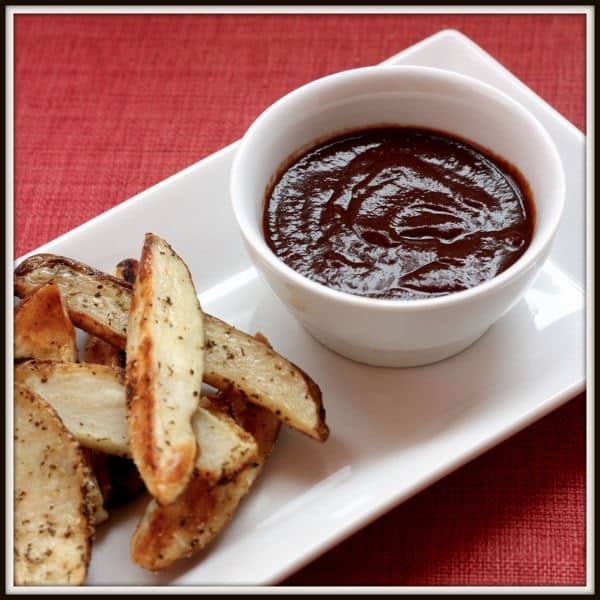 I was so excited when I saw a recipe for homemade ketchup at Fix Me a Snack.  Just tomato paste, vinegar, and spices.  I don't even add the maple syrup, because I think it makes it weirdly sweet.  So basically, this makes it a vegetable!  Lycopene – yay!!  And while I try to have The Bug eat food that he can recognize for what it is, and try not to do too much "hiding," if I can sneak in a few extra veggies here or there, I am all for it.
I will share my twist on "regular" ketchup the next time I make it, since I have changed it up from the original version I saw, based on our preferences.  But this time, I am jazzing it up a bit – Balsamic Ketchup.  I've put this in meatloaf (sharing that recipe next week) and burgers (that one needs a little more work – amazingly delicious, but they fell apart), dipped oven fries, sweet tater tots, and cornmeal crusted asparagus (all of these recipes are coming, too), and squirted it on a tasty fritatta that I made with some leftover roasted veggies (yep, you guessed it, there recipes will also be shared with you).  So, as you can see, lots of yumminess is on its way, but I figured I'd give you this staple first.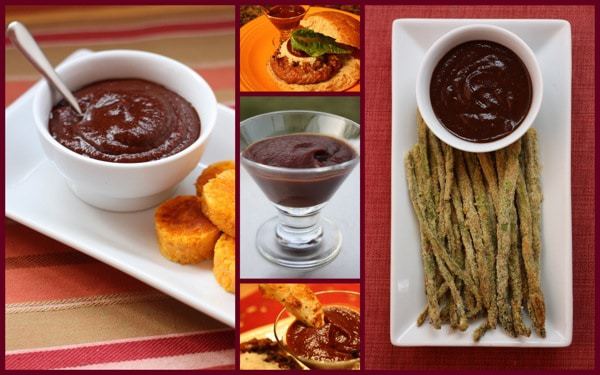 And, of course, this is TOTALLY Bug Approved!!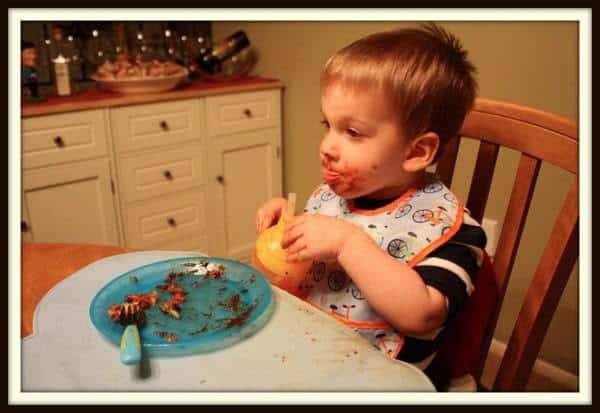 Try this, and let me know if you come up with any other ways to use it.
 What is your favorite condiment?  Are you kids "dippers"?
For more yumminess from me and my foodie friends, keep up with me on…
Or sign up to have Cupcakes & Kale Chips delivered straight to your Inbox!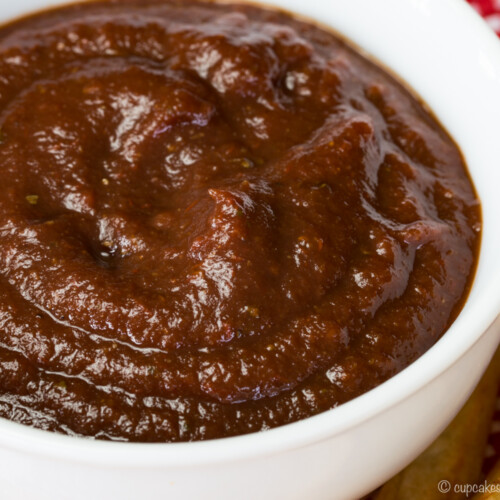 Print Recipe
Balsamic Ketchup
A rich and savory condiment that adds something special to burgers, fries, and more. In minutes you can make this Balsamic Ketchup recipe. Gluten free, grain free, low carb, and vegan
Ingredients
12

oz

tomato paste

1

cup

balsamic vinegar

1/2

teaspoon

salt

1

teaspoon

dried oregano

1/2

tsp

dried basil

1/8

teaspoon

pepper

1

teaspoon

mustard powder

1/4

tsp

garlic powder
Instructions
Combine all of the ingredients in a small bowl, and mix well.
Notes
You can also cut this recipe in half and use on of the small 6 oz. cans of tomato paste, if you don't want so much. But store it in a cleaned out ketchup or mustard bottle, and it will keep in the fridge for months. We LOVE balsamic vinegar, but if you think this might be too strong for you, then you can cut the amount and add in a little water to get the consistency you want. But the flavor does mellow as it sits. Recipe yields about 1 cup of balsamic ketchup.
Nutrition
Serving:
1
Tablespoon
|
Calories:
32
kcal
|
Carbohydrates:
6
g
|
Protein:
1
g
|
Sodium:
244
mg
|
Potassium:
233
mg
|
Sugar:
4
g
|
Vitamin A:
6.5
%
|
Vitamin C:
5.6
%
|
Calcium:
1.4
%
|
Iron:
4.5
%
Adapted from Fix Me a Snack Homemade Ketchup
Enjoy!