This post may contain affiliate links. Read my disclosure policy.
Balsamic Ketchup is a rich and savory version of your favorite condiment that you can make in minutes. This homemade ketchup recipe with a burst of balsamic vinegar flavor adds something special to burgers, fries, and more. No added sugar, plus it is vegan, gluten free, and paleo.
Originally published on Apr 26, 2012
My kid is a very good eater, but there are some times that he is very picky. Except when you cover something in some sort of sauce, or give him a little "dip dip." Sometimes it is teriyaki sauce or barbecue sauce, other times it is Ranch dip or salsa.
But, like most kids, ketchup is the condiment of choice. So when I really want to get him to eat something, even something he previously turned his nose at, I squirt on a bit of ketchup.
Not in the mood for egg muffins? Add ketchup.
Doesn't want to eat roasted vegetables? Add ketchup.
Refuses cheesy quinoa? You got it! Add ketchup.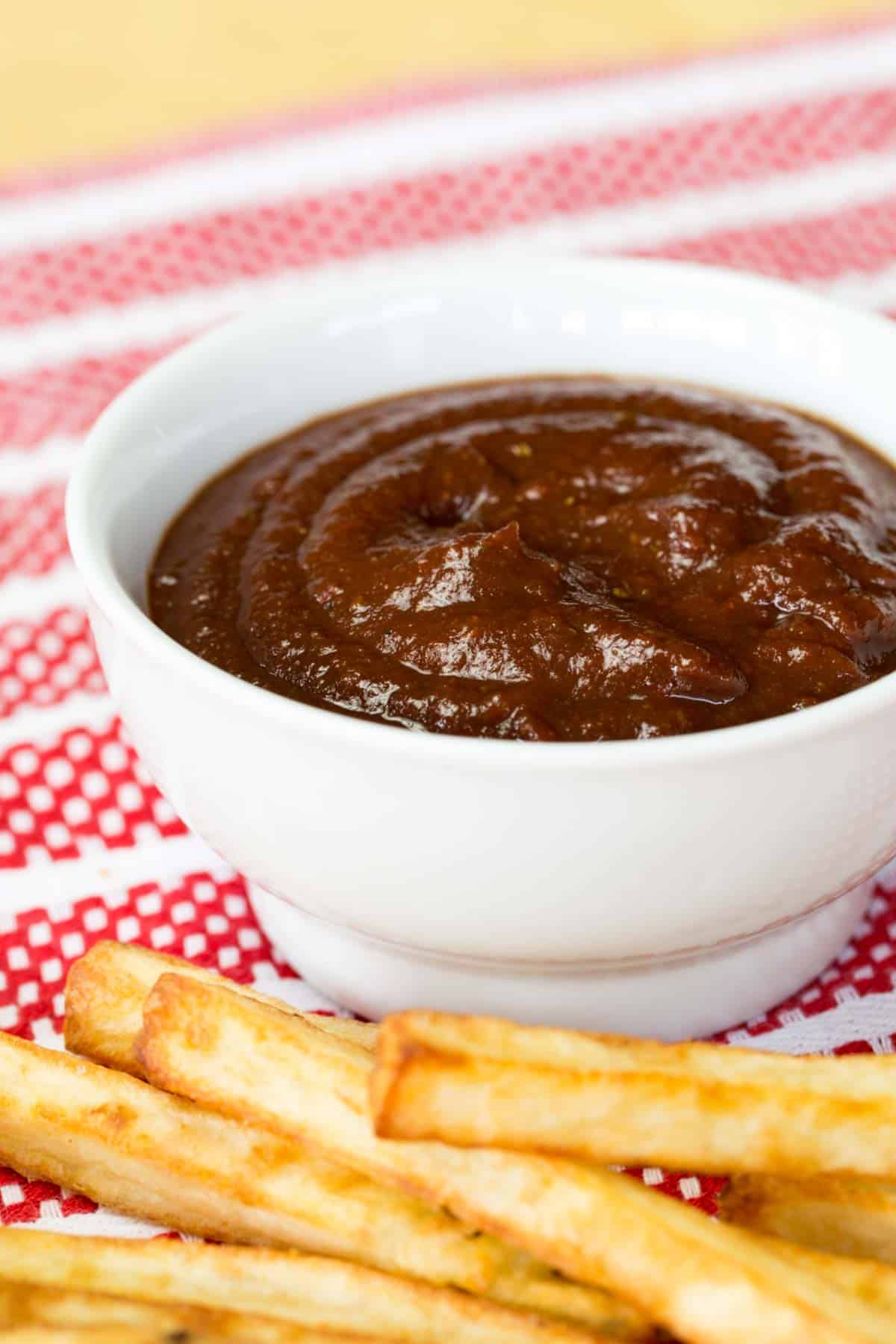 How to Make Balsamic Ketchup
All you have to do to make balsamic ketchup is combine the ingredients in a bowl and stir until smooth! It takes five minutes and no cooking required.
What is in Balsamic Ketchup?
Tomato paste
Balsamic vinegar
Dry mustard powder
Dried oregano
Dried basil
Salt
Garlic powder
Pepper
How do you store homemade ketchup? How long does it last?
I often transfer the ketchup to an old plastic ketchup or mustard bottle that I've washed out. Or you can store it in a mason jar, squeeze bottle, or another airtight container. Then store it in the refrigerator. It will last up to a couple of months.
Pro tips:
We LOVE balsamic vinegar, but if you think this might be too strong for you, then you can cut the amount and add in a little water to get the consistency you want. But the flavor does mellow as it sits.
As mentioned, it can be stored for quite a long time in the fridge.
However, if this is too large of a batch for you, you can easily cut it in half by using one of the small 6 ounce cans of tomato paste.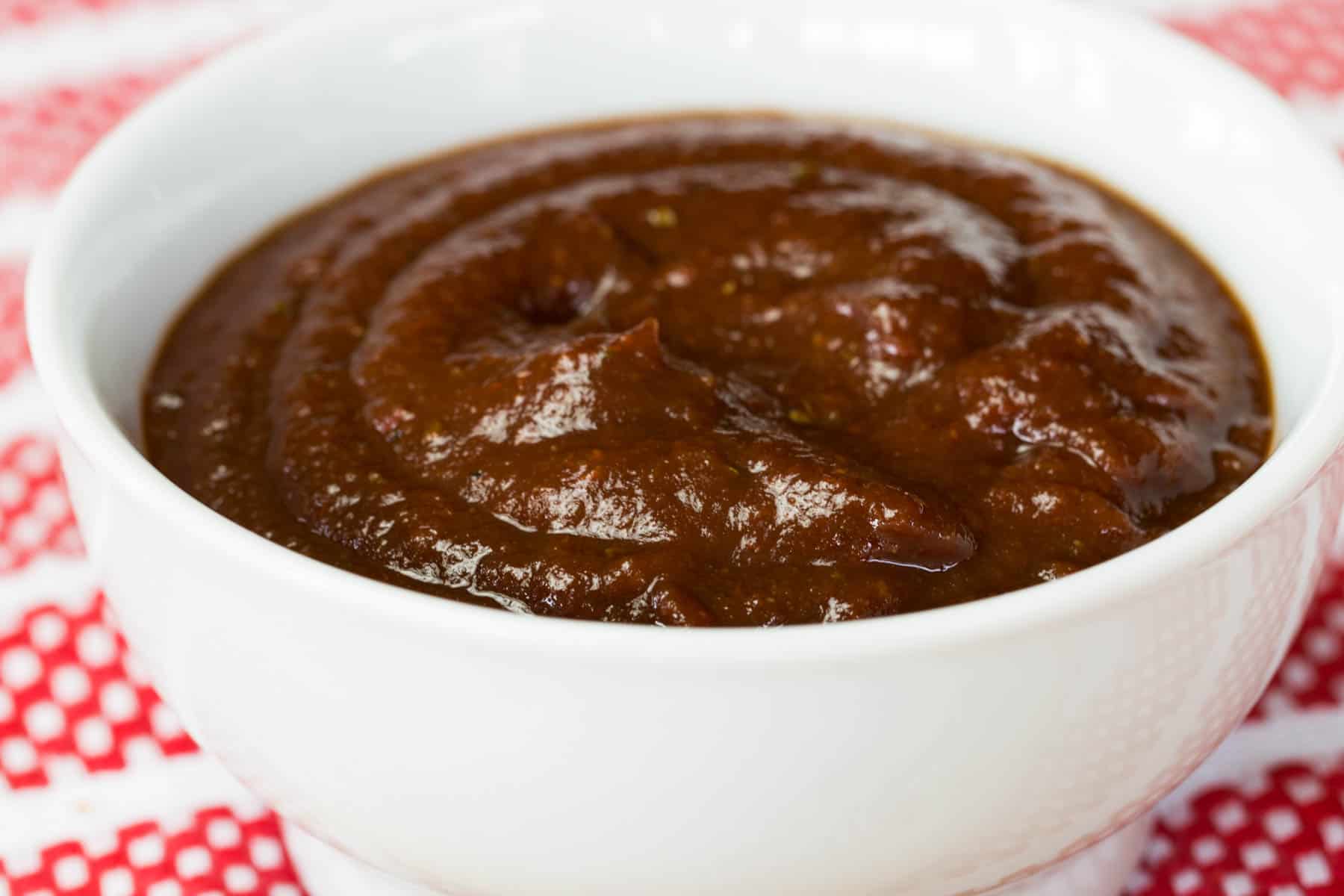 Is balsamic ketchup gluten free? Is it paleo and low carb?
None of the ingredients in this recipe contain gluten. There is also no added sugar.
Always be sure to use brands of herbs and spices that do not use fillers that may contain gluten, such as McCormick.
And check the brand of balsamic vinegar you are using. A few inexpensive brands use caramel coloring, which may be a hidden source of sugar and gluten.
While it is sugar-free and relatively low in carbs compared to commercial ketchup, it would probably not be considered keto-friendly. However, the carbs do come just from the fiber and natural sugars present in tomatoes.
Is balsamic ketchup vegan?
Yes, it is vegan. It does not contain any ingredients of animal origin.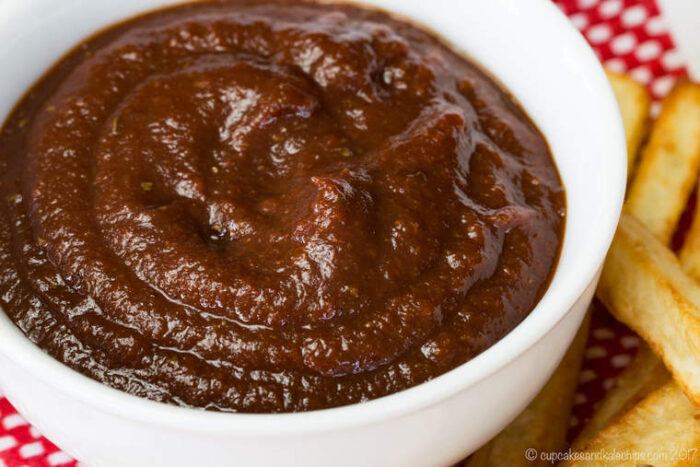 What can you dip in Balsamic Ketchup?
What other types of gourmet ketchup can you make?
Balsamic Ketchup
Add an extra burst of rich umami flavor to everyone's favorite condiment. The addition of balsamic vinegar makes it tangy and savory. Plus there is no added sugar, so it's practically a serving of veggies!
I hope you'll leave a comment and give it a FIVE STAR rating or share a photo on Pinterest!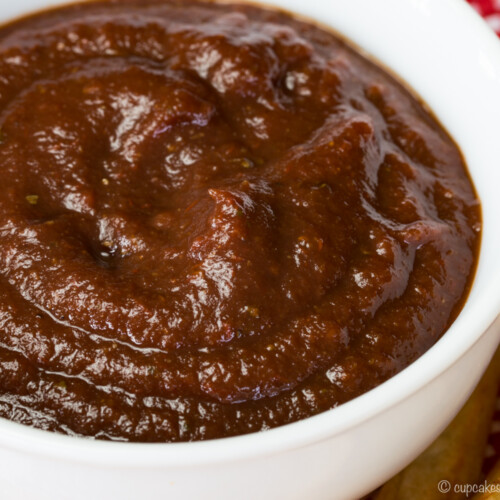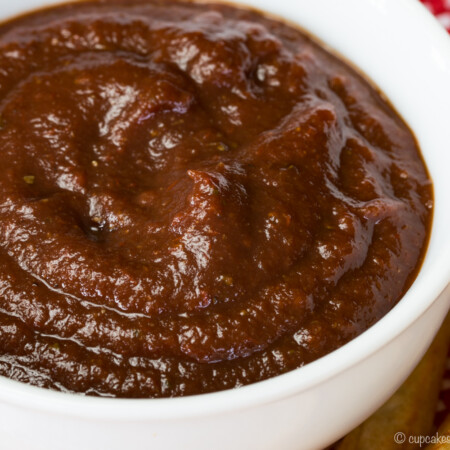 Balsamic Ketchup
A rich and savory condiment that adds something special to burgers, fries, and more. In minutes you can make this Balsamic Ketchup recipe. Gluten free, grain free, low carb, and vegan.
Ingredients
12

oz.

tomato paste

(one 12 oz. can or two 6 oz. cans)

1

cup

balsamic vinegar

(you can use less and make up the difference with water if this is too vinegary for you)

1

teaspoon

mustard powder

1

teaspoon

dried oregano

1/2

teaspoon

dried basil

1/2

teaspoon

salt

1/4

teaspoon

garlic powder

1/8

teaspoon

pepper
Instructions
Combine all of the ingredients in a small bowl, and mix well.
Notes
You can also cut this recipe in half and use one of the small 6 oz. cans of tomato paste, if you don't want so much. But store it in a cleaned out ketchup or mustard bottle, and it will keep in the fridge for months.
Recipe yields about 1 cup of balsamic ketchup.
Nutrition Facts
Balsamic Ketchup
Amount Per Serving (1 Tablespoon)
Calories 32
% Daily Value*
Sodium 244mg10%
Potassium 233mg7%
Carbohydrates 6g2%
Protein 1g2%
Vitamin A 325IU7%
Vitamin C 4.6mg6%
Calcium 14mg1%
Iron 0.8mg4%
* Percent Daily Values are based on a 2000 calorie diet.
Categories:
Enjoy!
For more yumminess from me and my foodie friends, keep up with me on…
Or sign up to have Cupcakes & Kale Chips delivered straight to your Inbox!