This post may contain affiliate links. Read my disclosure policy.
Broccoli Ham and Cheese Egg Muffin Cups are a great make-ahead breakfast that is even freezer-friendly for meal prep. This low carb and gluten free egg muffins recipe is also easy and versatile. Customize mini crustless quiche with your favorite veggies, meats, and cheese!
The other day I was looking at an old video of my oldest son as a baby shoveling yogurt into his mouth without bothering to use any utensils. I was the proud mama gushing about how great it was that he was figuring out how to feed himself, even if he was still struggling with the spoon. I was laughing that I would have a big mess to clean up, but it didn't matter because it was all part of the learning experience.
Fast forward and hands are still used as utensils. And I am still cleaning messes, but with two much older boys. Not babies. And I'm not gushing or laughing anymore.
But sometimes I have to just choose my battles. And trust me, with two small boys, fork usage is often the least of my concerns for a peaceful meal.
So you can imagine how thrilled the kids were when I told them that I was making egg muffins and they were acceptable finger food.
That made the kids happy, but mama was thrilled that it was an easy breakfast for dinner with plenty of leftovers for something fast and healthy on a busy morning.
Not only are these a great make-ahead breakfast, but they are versatile too. You can pretty much stick with the given ratio of ingredients, but use whatever meats or veggies or cheese you have in your fridge.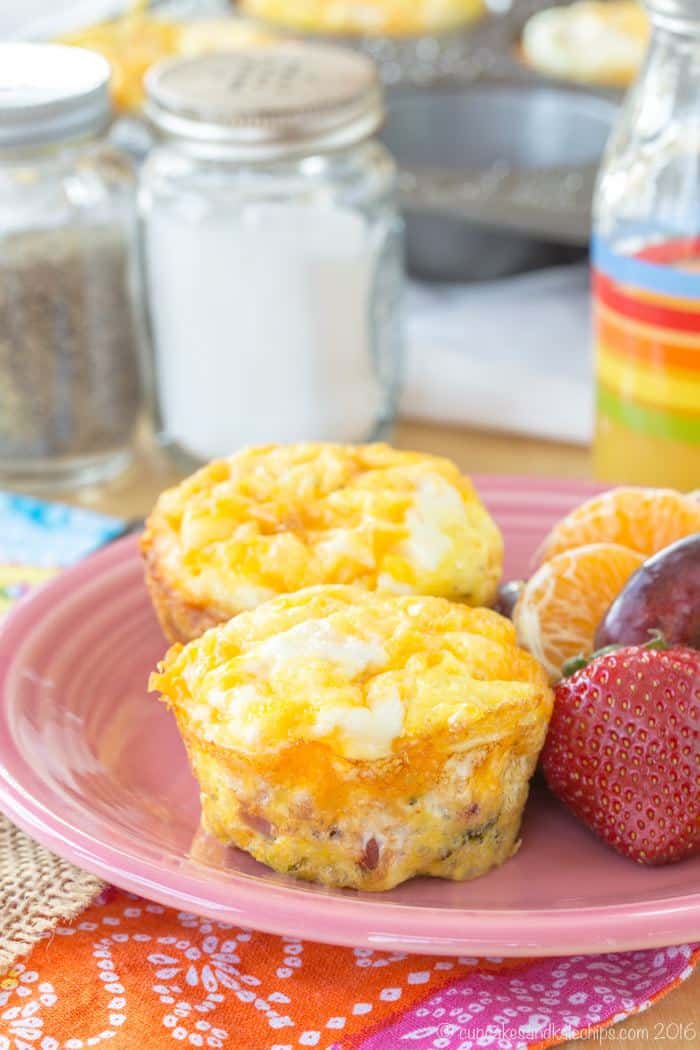 Broccoli Ham and Cheese Egg Muffin Cups
Broccoli, Ham and Cheese Egg Muffins are as tasty as a broccoli ham and cheese omelet, but in a much cuter package. Plus it's a package that is totally acceptable to pick up and eat with your hands. And you aren't "scrambling" to make multiple omelets to get on the table at the same time for each member of the family.
Here is a brief overview so you can see just how easy it is to make. Scroll down to the printable recipe card for the full quantities and details.
But don't skip my PRO TIPS below!
What is in egg muffins?
What else do you need?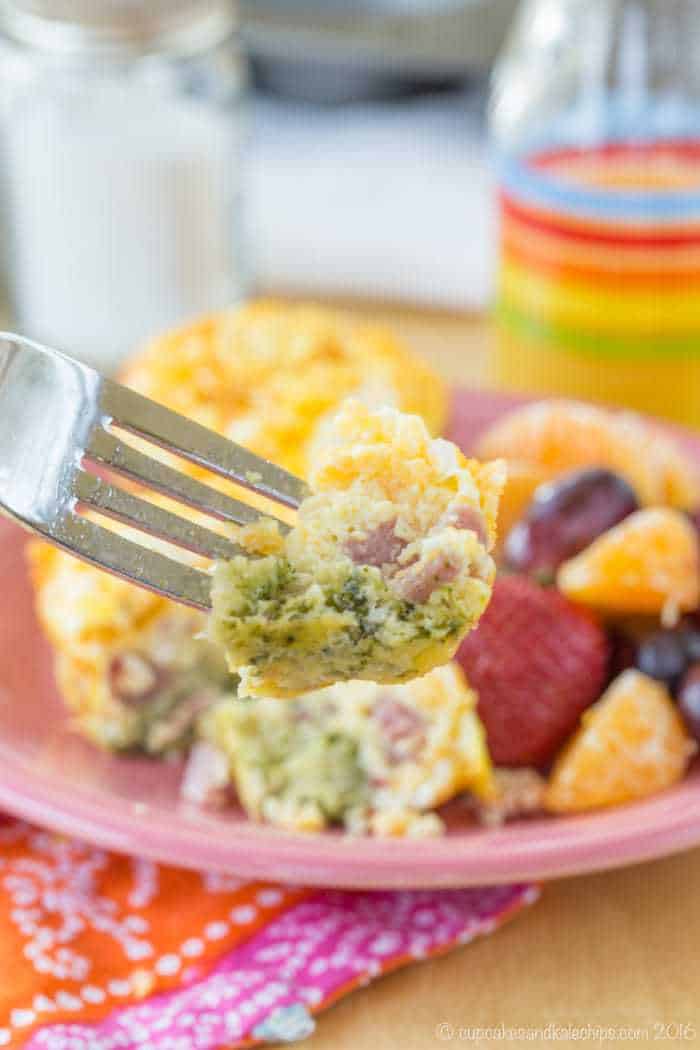 How do you make egg muffins?
Preheat your oven and spray your muffin pan with cooking spray. Silicone muffin cups (either the individual ones or the pans) are also convenient for making these because they pop out easily.
Prepare your fillings – chop your ham, cook and chop your broccoli, and shred your cheese.
Divide the fillings between twelve muffin cups.
Whisk together eggs and seasonings.
Pour this mixture into the muffin pan or silicone cupcake liners.
Bake until cooked through and golden.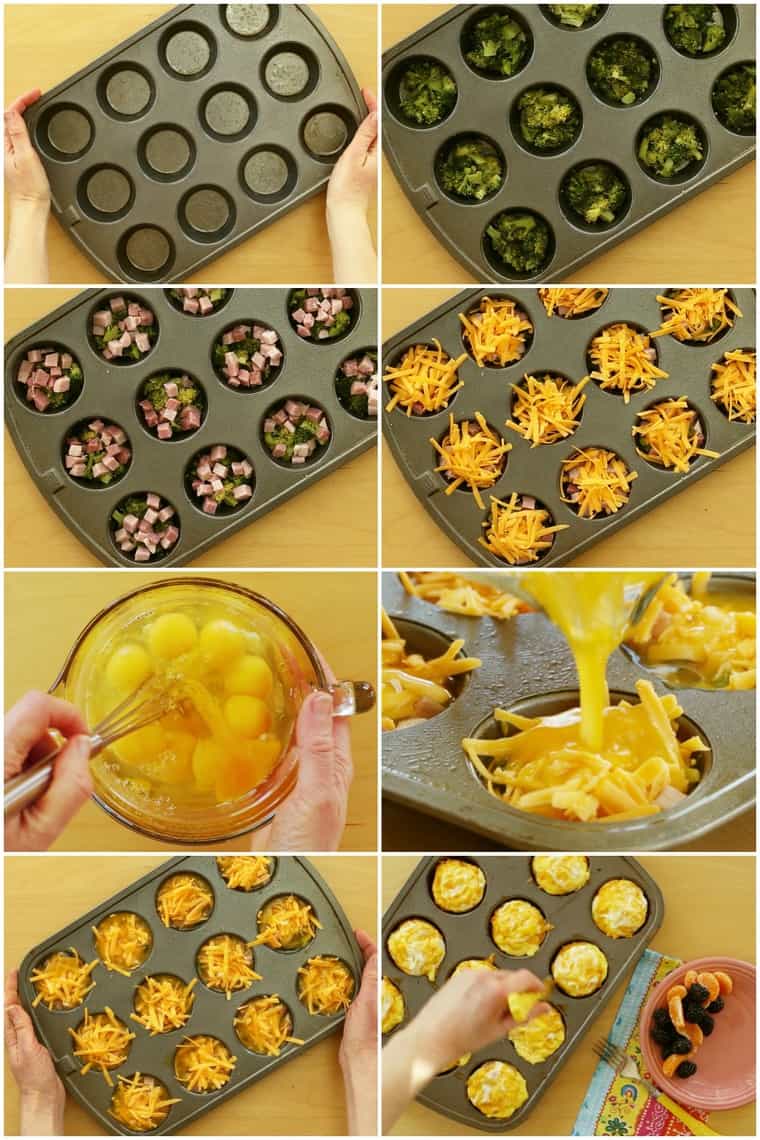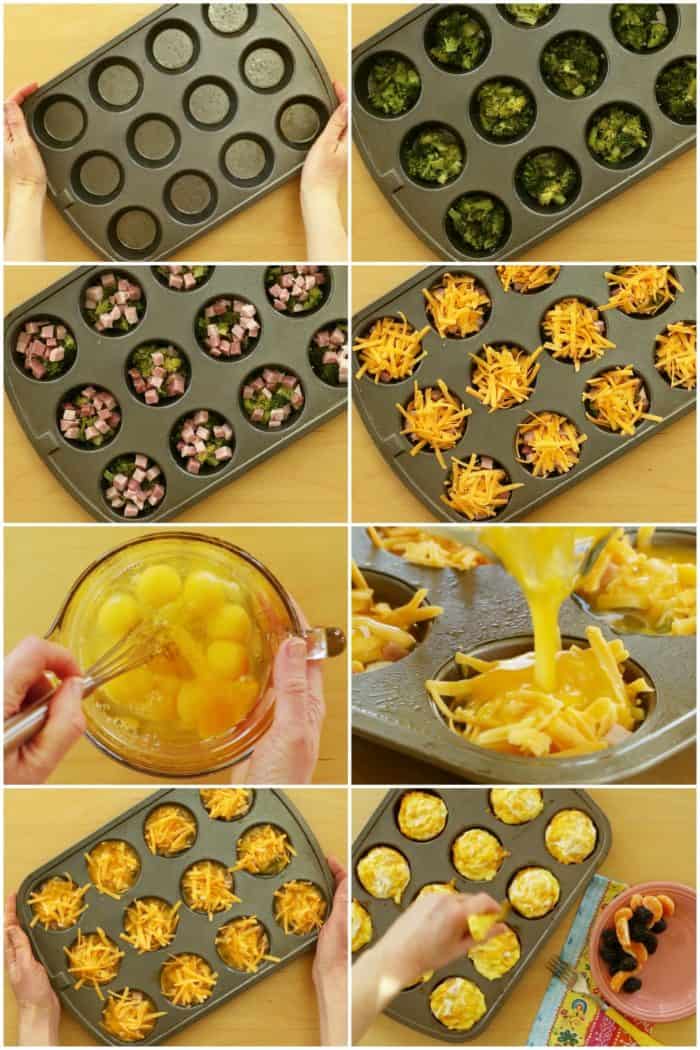 Can you make egg muffins in advance?
Yes, Broccoli Ham and Cheese Egg Muffins (or really any egg muffin recipe) are especially convenient because you can make a bunch at a time and keep them in the fridge for the week.
Can you freeze them?
You can even pop them in the freezer for when you need a quick breakfast on your way out the door on busy mornings. Just cool them completely and carefully place them in a freezer storage bag or another airtight container.
How do you thaw and reheat egg muffin cups?
I recommend thawing overnight, then just heating them up briefly in the morning. But you can heat them from frozen, just cook on medium or 50% power on your microwave.
And actually, we tend to be breakfast for dinner folks. So I was able to make these handheld edibles in advance for when we needed dinner to be ready fast on a busy night.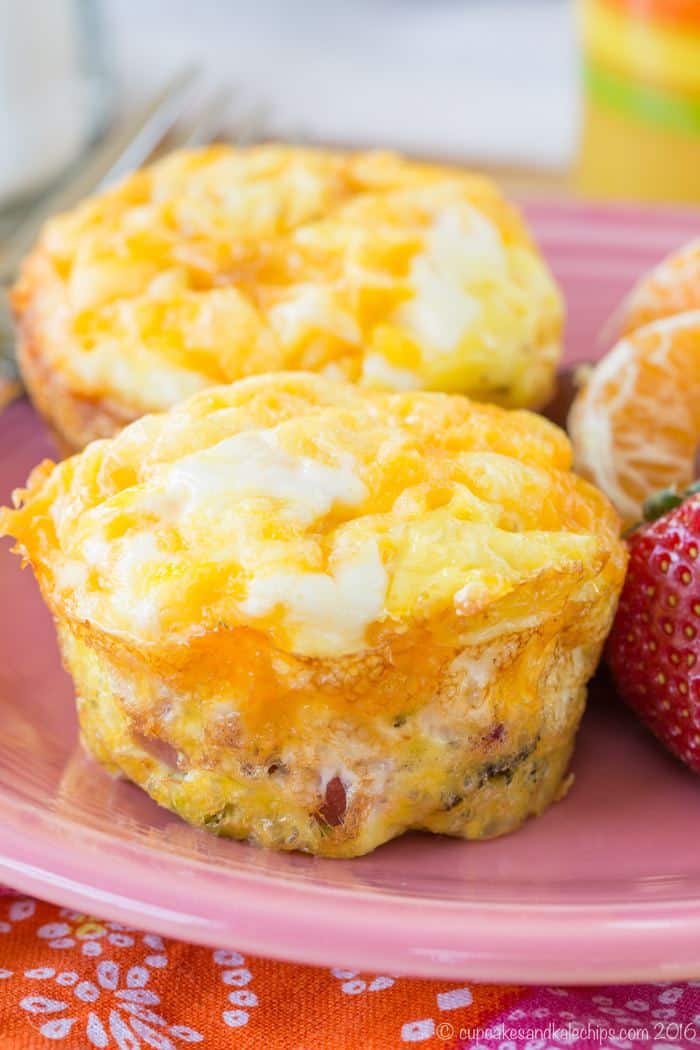 Are egg muffins gluten free? Are they low carb?
Gluten Free Disclaimer: I am not a medical professional. This information is solely based on my research and personal experience, and I provide it as a courtesy to my readers. Please consult your doctor or medical professional for any questions as it relates to your needs, particularly if you have celiac disease or a severe gluten allergy or intolerance. Products, manufacturing facilities, and ingredients change frequently, so you should always contact the manufacturer for the latest information.
As long as you ensure your ham or other fillings are gluten free, then yes, egg muffins make a great gluten free breakfast recipe.
This recipe is also low carb. However, if you add things like potatoes or sweet potatoes, then they would not be keto-friendly. So it's all a matter of choosing your fillings based on your dietary needs and preferences.
If you choose to leave out the meat or cheese, you can even make them vegetarian or dairy-free.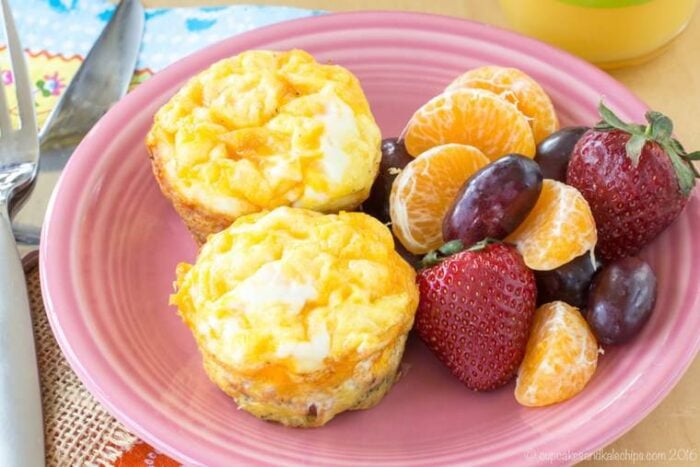 What can you make with leftover ham?
These egg muffins are perfect for using up leftover ham, but here are a few other ideas.
What else can you put in egg muffins?
The possibilities are endless. You can really use any meats, cheese, veggies, potatoes, or whatever else you have on hand. But here are a few of my favorite combinations.
Broccoli Ham and Cheese Egg Muffins Cups Recipe
This egg muffin cups recipe is super easy. They are a great make-ahead breakfast (and even freezer-friendly them!) for busy mornings, or even a simple brunch, or brinner! Use whatever meat and vegetables you have on hand to customize to your tastes. Plus they are gluten free, low carb, and keto-friendly. And let's not forget totally kid-friendly too.
I hope you'll leave a comment and give it a FIVE STAR rating or share a review on Pinterest or photo on Instagram!
Tag me @cupcakekalechip and use #cupcakesandkalechips!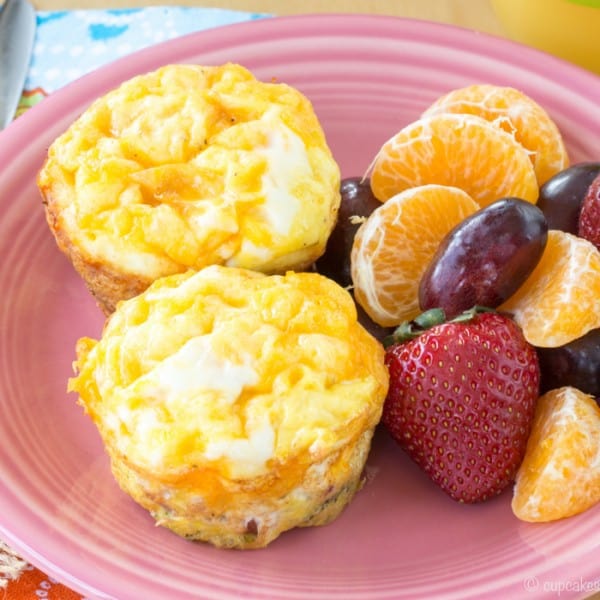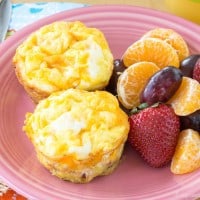 Broccoli, Ham and Cheese Egg Muffins
An easy recipe you can make ahead (and even freeze!) for breakfast on-the-go or a simple brinner!
Instructions
Preheat your oven to 350°F and coat a 12-cup muffin tin with nonstick cooking spray.

Divide the broccoli and ham between the cups in the muffin tin. Top each with a slightly heaping tablespoon of cheddar cheese.

Crack the eggs into a large bowl, add the dry mustard, kosher salt, and pepper, and lightly beat.

Divide the egg mixture evenly between the muffin cups. You'll need about 1/4 cup of the egg mixture for each one, but it is easier to add about half of that at a time and let it soak down into the cups.

Bake for 20-25 minutes, or until eggs are set and top is lightly golden brown.
Nutrition Facts
Broccoli, Ham and Cheese Egg Muffins
Amount Per Serving (1 muffin)
Calories 115
Calories from Fat 63
% Daily Value*
Fat 7g11%
Cholesterol 178mg59%
Sodium 442mg18%
Potassium 105mg3%
Carbohydrates 1g0%
Protein 9g18%
Vitamin A 405IU8%
Vitamin C 10.1mg12%
Calcium 98mg10%
Iron 1mg6%
* Percent Daily Values are based on a 2000 calorie diet.
Enjoy! Originally published on Apr 10, 2016.