This post may contain affiliate links. Read my disclosure policy.
Eggs aren't just for breakfast anymore, and a hamburger isn't just for dinner! Bacon Cheeseburger Crustless Quiche is made with ground beef, bacon, and cheese, plus your favorite burger toppings. This satisfying and delicious recipe is extra quick and easy, plus gluten free and keto-friendly. Everyone will be begging for seconds when you serve this low carb quiche recipe for breakfast, brunch, or my favorite, brinner.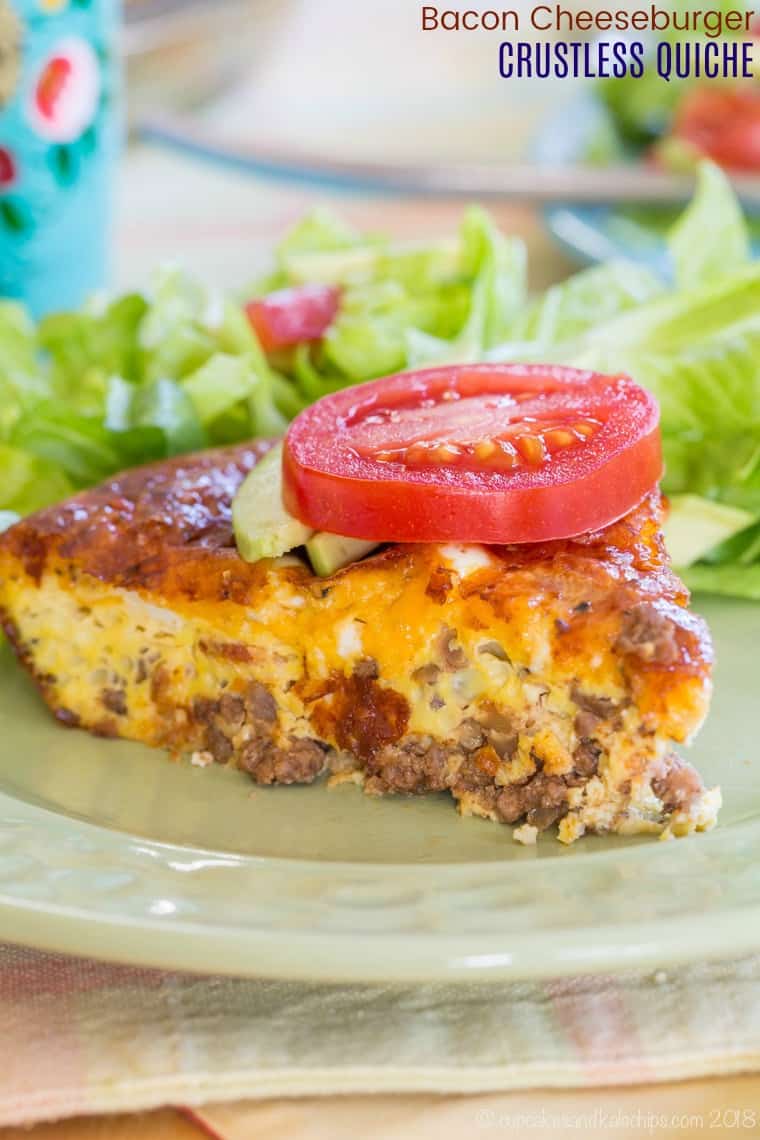 Originally published on Mar 14, 2018.
Bacon Cheeseburger Crustless
Quiche Recipe
Of course, you have eggs and gooey cheese, but when you sink your teeth into meaty bits of beefy burger and ketchup and crumbled bacon, this hamburger quiche has so much more flavor than any egg dish you've tried before. And without a crust, not only is it super easy to make, but it is also gluten free and keto-friendly. Makes a perfect low carb breakfast, brunch, or brinner, but you can also serve it with a toasted burger bun or fries.
When The Hubby and I first started dating, he was on the Atkins Diet. So yeah, man food, that was pretty much it. Beef, bacon, eggs, cheese. Heck, even low carb beer. He stuck with it for a while, and this sugar- and bread-loving gal was supportive.
Sure, our first date was for ice cream. But he was trying to "woo" me and he knew of my addiction. Can't blame a guy for breaking his diet all in the name of love. Lucky for him, it worked.
But after that, when we cooked together, it was often Grilled Flank Steak or grilled chicken breasts and a salad.
Then I wanted to go to Panera and dunk a big hunk of bread in my black bean soup on pretty much a weekly basis. And, you know, it was summer. Ice cream was pretty much a necessity. And wine. There was definitely wine. Oh well, I guess I was a bad influence.
Maybe I just needed to learn how to make more low carb dishes earlier on in our relationship. Like quiche. Quiche? Yes, quiche. A nice, manly, keto quiche. Trust me, it's a thing.
Frittata vs crustless quiche
A quiche is a savory baked egg custard dish. This means the eggs are typically mixed with milk or cream, and fillings like meats, vegetables, or cheese are added. And most often this mixture is poured into a crust before baking. To make it gluten free and low carb, you can forego the crust entirely.
The lack of crust is what makes some people confuse crustless quiche with a frittata. However, a frittata differs from quiche in that it is more like an omelet with no milk added. You start by cooking the eggs partially in a pan on the stove, top it with your add-ins, and then finish it in the oven. So the overall cooking time is really just minutes, while a quiche usually needs at least 30 minutes in the oven, and sometimes more if it has a crust.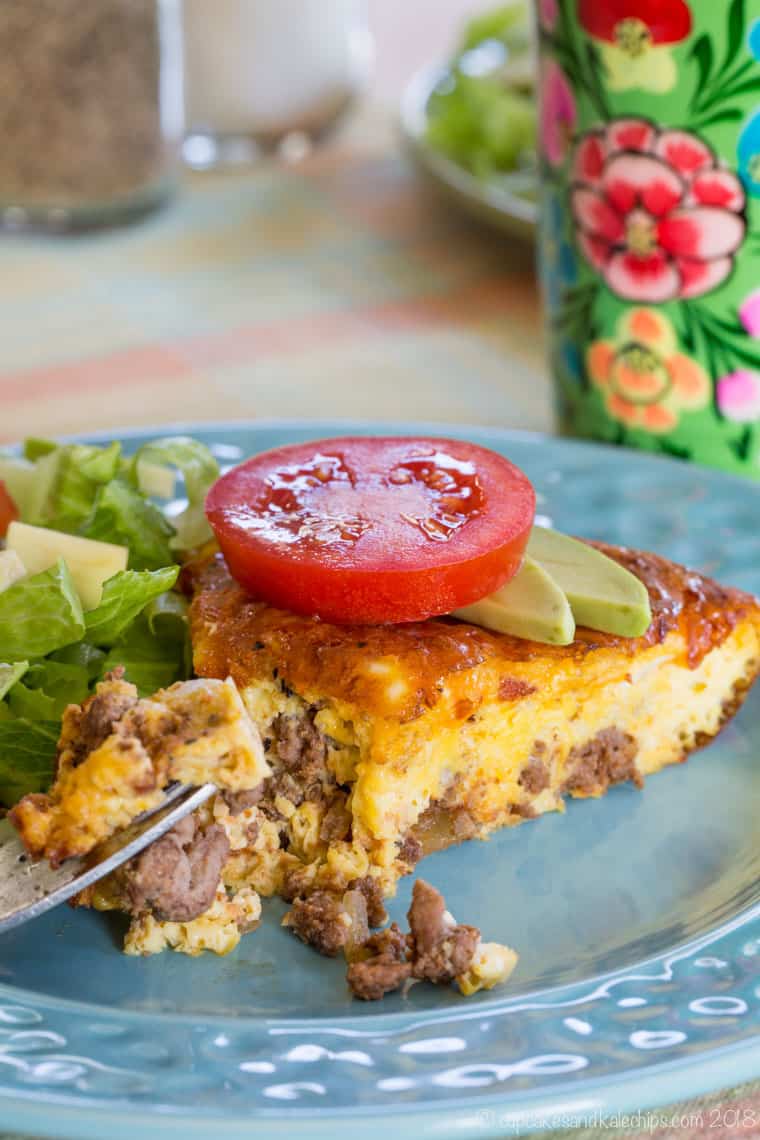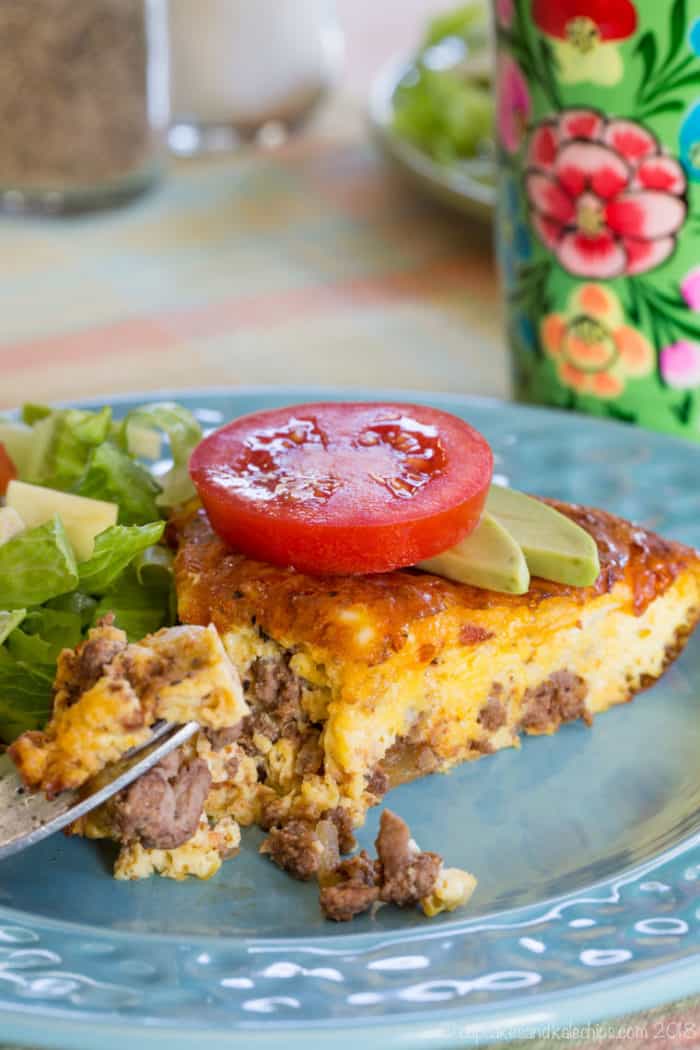 Bacon Cheeseburger Keto Quiche Recipe
When you add a flavorful ground beef mixture plus bacon and cheese to your eggs, you transform what some might consider a dainty little brunch dish into a truly hearty and satisfying meal. Plus, when you skip the crust, you also skip out on a lot of the work and a lot of the carbs. It's truly the easiest way to make a gluten free quiche recipe versus trying to make a gluten free crust.
Ingredients
Eggs
Milk
Salt and pepper
Dry mustard
Bacon
Onion
Ground beef
Ketchup
Worcestershire sauce
Cheddar cheese
Directions
Whisk together eggs, milk, salt, pepper, and dry mustard and set aside.
Cook bacon in a pan until crispy and set aside.
Saute onion in the remaining bacon grease. Add ground beef and until browned.
Stir in Worcestershire sauce and ketchup.
Spread the meat mixture in a glass pie plate, and top with bacon and shredded cheese.
Pour the egg mixture evenly over everything.
Bake at 400°F for about thirty minutes.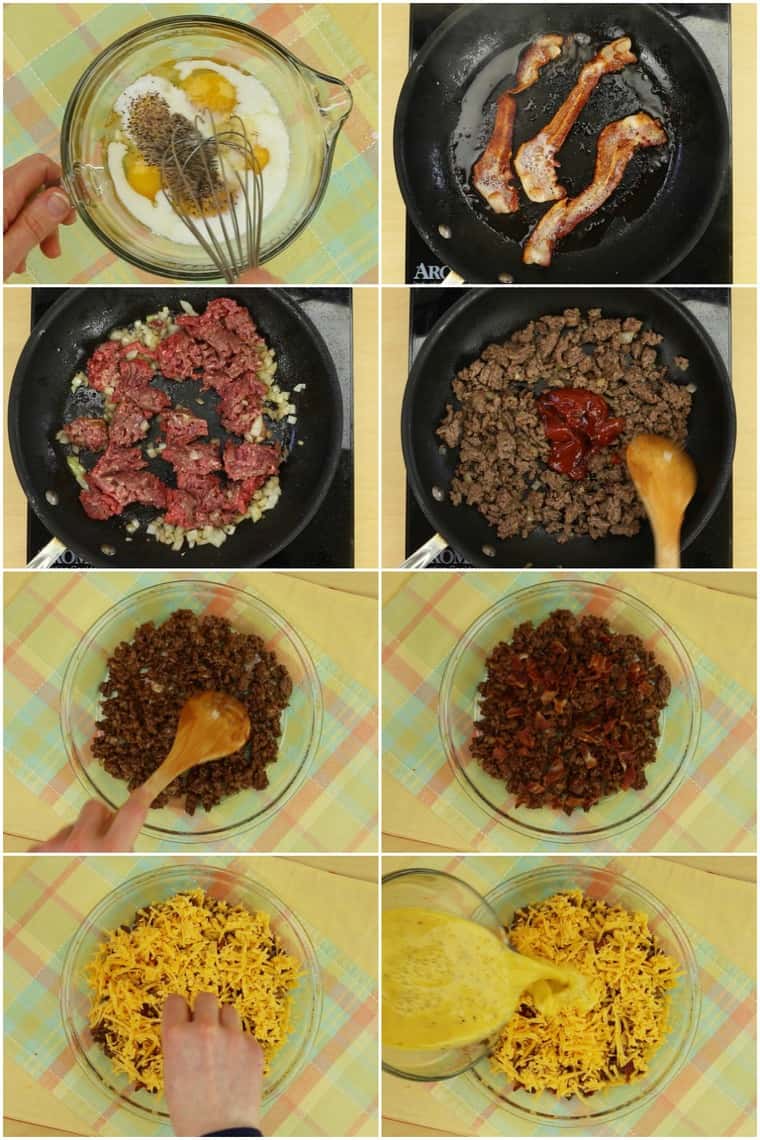 Brianne's recipe pro tips
This crustless quiche has only about 200 calories and 3 grams of carbs in one slice (about one-eighth of the quiche). This will vary slightly depending on what type of milk you choose, as well as the brand of ketchup, and other ingredients. By making it without a crust, you are not only making it gluten free and keto, but also foregoing an additional 100 calories and nearly 15 grams of carbs per slice.
Flavor tip
Dry mustard, also known as mustard powder, is my secret ingredient in any quiche recipe or especially recipes with cheddar cheese where I just want to give that sharp cheese flavor or those eggs some pop.
Reduced sugar and keto tips
For no added sugar, you can also buy sugar-free ketchup or use my homemade ketchup recipe that has no sugar.
With the small amount of Worcestershire sauce used in this recipe, it is still low carb. However, if you are concerned about making this a truly keto quiche, you can skip the Worcestershire (it just enhances the beefy flavor) or add coconut aminos.
Make ahead and reheating tips
Yes, while a traditional quiche runs the risk of the crust getting soggy if you chill or freeze it and then reheat it, this gluten free quiche does not have that problem. It is perfect for meal prep because you can make it over the weekend and reheat a slice in the microwave ad you need it. Or freeze individual slices or even the entire thing and reheat, again, in the microwave, or place the full quiche back in the oven. And truthfully, it is eve good cold or at room temperature.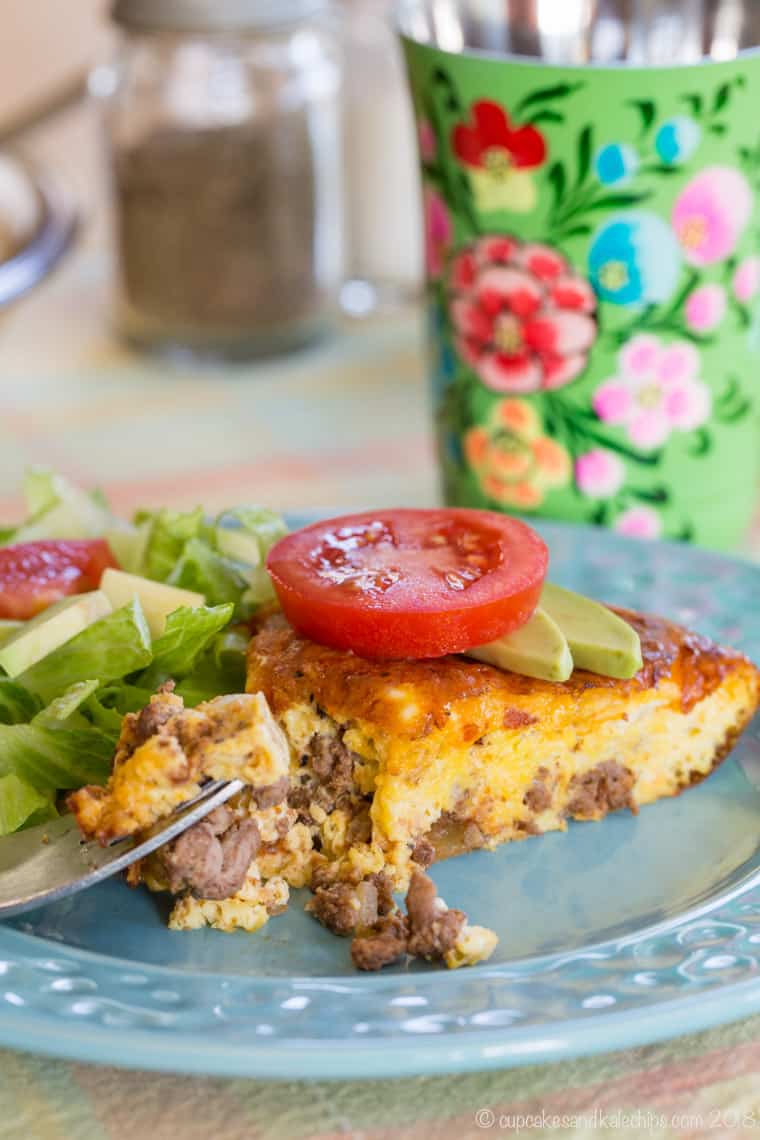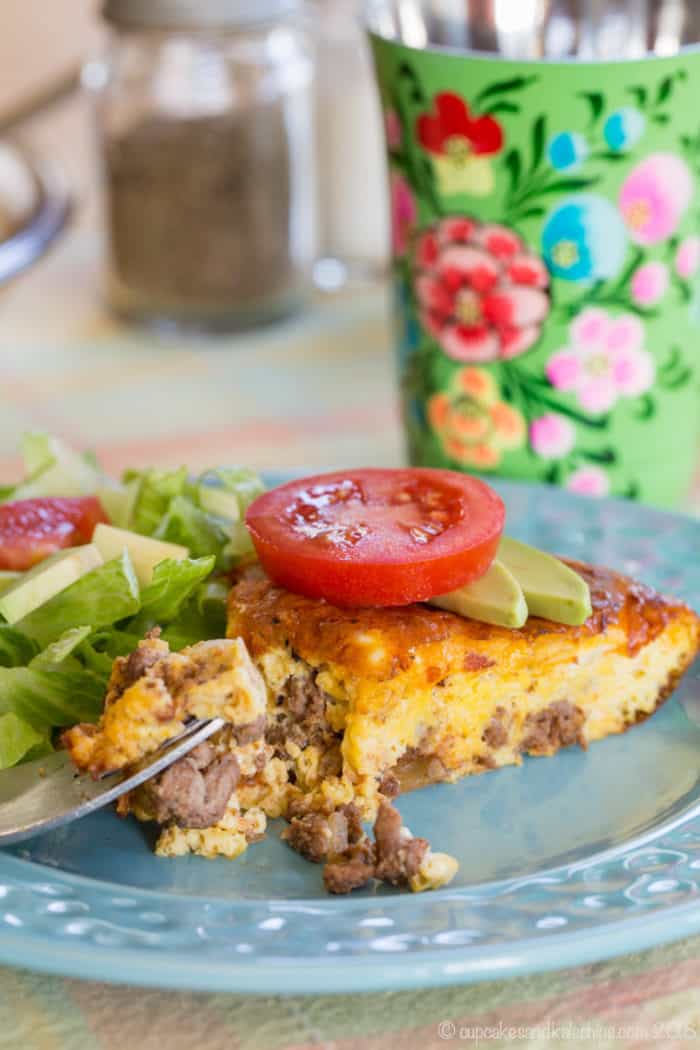 Side dishes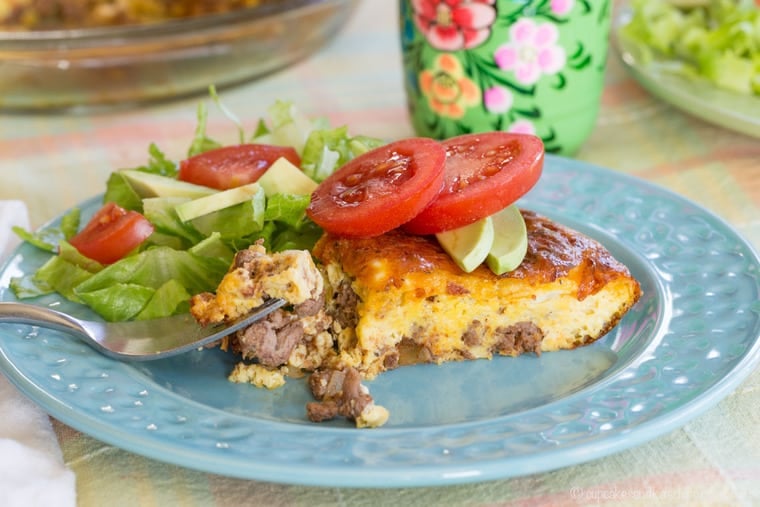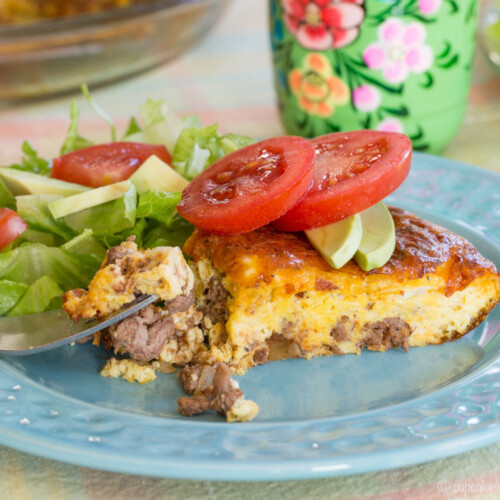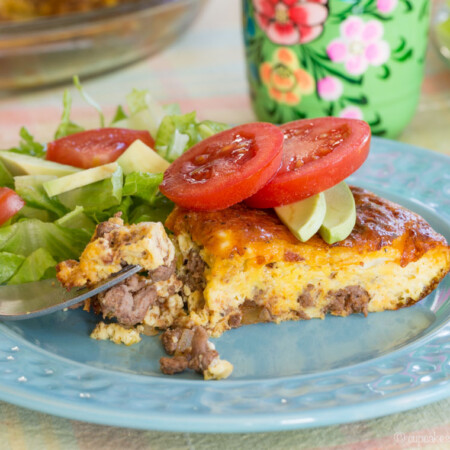 Bacon Cheeseburger Crustless Quiche
With bits of burger, pockets of cheese, and of course, bacon, everyone will be asking for a second or third slice.
Ingredients
3

slices

bacon,

cooked until crisp

1

teaspoon

oil or reserved bacon grease

half

of a medium onion,

chopped

1/2

pound

lean ground beef

3

Tablespoons

ketchup

1

Tablespoon

Worcestershire Sauce

6

eggs

1/2

cup

milk

1/2

teaspoon

kosher salt

1/2

teaspoon

freshly ground black pepper

1/2

teaspoon

dry mustard

1

cup

shredded cheddar cheese

Additional ketchup,

tomatoes, avocado, lettuce, or other burger toppings for serving
Instructions
Preheat the oven to 400°F, and coat a 9-inch glass pie plate with oil or coking spray.

Heat the oil or bacon grease in a skillet over medium heat. Add the onion and a pinch of salt and pepper, and saute for several minutes until soft and translucent.

Add the ground beef and cook until fully browned, breaking it up as it cooks. Drain off any excess grease.

Remove from the heat and stir in the ketchup and Worcestershire sauce.

Transfer to the meat mixture to the prepared pie plate, and top with the bacon and shredded cheddar cheese.

Whisk together the eggs, milk, salt, pepper, and dry mustard, and pour over the meat and cheese in the pie plate.

Bake for 30-35 minutes, or until egg is cooked through and top is browned.
Nutrition Facts
Bacon Cheeseburger Crustless Quiche
Amount Per Serving
Calories 197
Calories from Fat 117
% Daily Value*
Fat 13g20%
Cholesterol 161mg54%
Sodium 432mg18%
Potassium 229mg7%
Carbohydrates 3g1%
Protein 15g30%
Vitamin A 365IU7%
Vitamin C 0.5mg1%
Calcium 143mg14%
Iron 1.5mg8%
* Percent Daily Values are based on a 2000 calorie diet.
Categories:
Enjoy!
More keto egg recipes