This post may contain affiliate links. Read my disclosure policy.
Filled with vegetables and protein, this tasty meal makes an easy, healthy, low carb and gluten free breakfast, brunch, or my favorite, breakfast for dinner. It's "brinner"time when you whip up a mouthwatering Turkey Sausage, Broccoli and Tomato Crustless Quiche.
Turkey Sausage, Broccoli and Tomato Crustless Quiche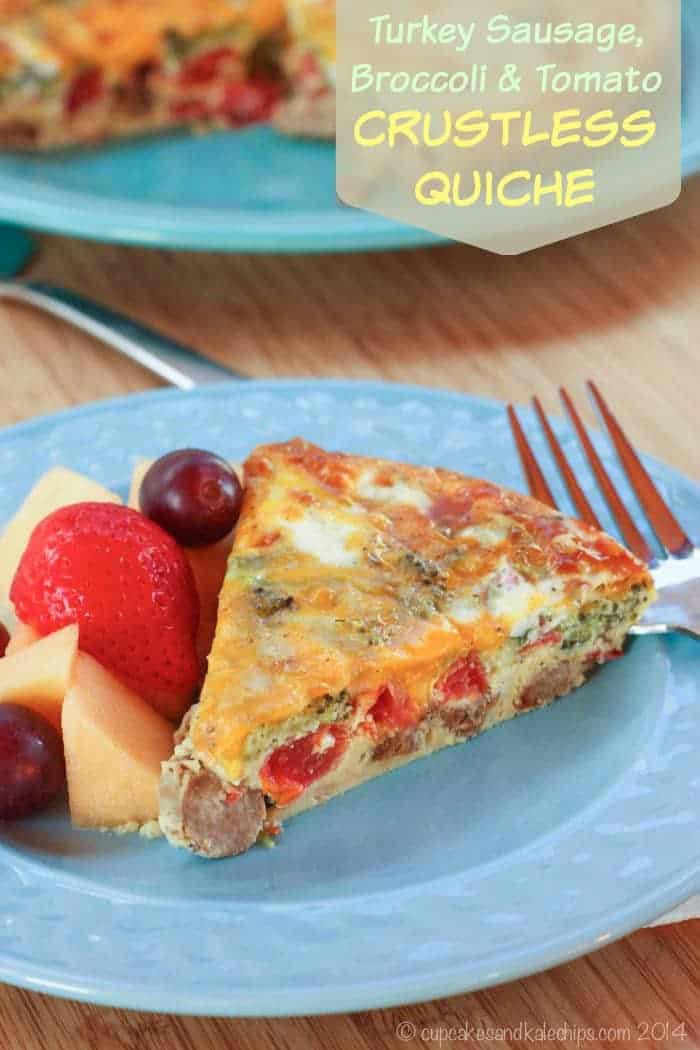 Diabetes is a word that has been part of my vocabulary since I was probably about four years old, when my grandfather was diagnosed with Type 2 diabetes. At that age, all it really meant to me was that he stopped drinking beer, started taking a nightly walk, and used the little pink packet to sweeten his coffee. He didn't eat sweets on a regular basis, unless they were sugar-free, but on holidays or birthdays, he would always have whatever dessert was there, and then just check his sugar in the morning. Potato chips were his go-to snack, since they weren't sweet, I never heard him utter a word about carbs, and he just kept taking his meds. The man is now 87 years old, and while he is starting to show his age now, he fortunately has not spent his later years withering away. I'm not sure if he is just lucky, or if there was more to his "management" of the disease that I didn't see, but this is clearly not the optimal way to live with diabetes, especially with all of the research and information we have now versus even just thirty years ago when he was diagnosed. So because of his approach, or my perception of his approach, I certainly didn't have a firsthand understanding of what it truly meant to live with diabetes and manage it well.
That was until I was 30 weeks pregnant with King Stuff, and I got the phone call that I was diagnosed with gestational diabetes. When I failed the 1-hour screening by only one point, I was pretty much in denial, but the results of the 3-hour test put the writing on the wall. I would be spending the rest of my pregnancy on a strict nutritional plan that involved counting carbs and protein, and testing my blood four times a day. While I was able to control my blood sugar pretty easily with my diet and regular exercise (as much as anyone in their third trimester can manage), living with diabetes for only ten weeks gave me firsthand understanding of what nearly 30 million Americans deal with on an everyday basis for the rest of their lives. And made me all too aware that, due to my family history and this temporary bout with the disease, I need to do everything I can to focus on my personal habits to help prevent it, since there may be genetic and other factors that put me at a higher risk for Type 2 diabetes in the long term.
That is why I am honored to partner with ASweetLife and a fabulous group of bloggers to bring attention to this disease and those that are living their lives with it during November, which is Diabetes Awareness Month. I'm sure most of us know somebody with diabetes, and anything we can do to bring awareness to the disease, both to the seriousness of the management and potential consequences for those already affected by it, as well prevention by addressing the factors that we can control, like diet and exercise is important for the health of ourselves, our families, and our nation.
I hope you'll help spread the word, and in return, ASweetLife has a fabulous giveaway for you to enter, and I have a pretty darn fabulous recipe…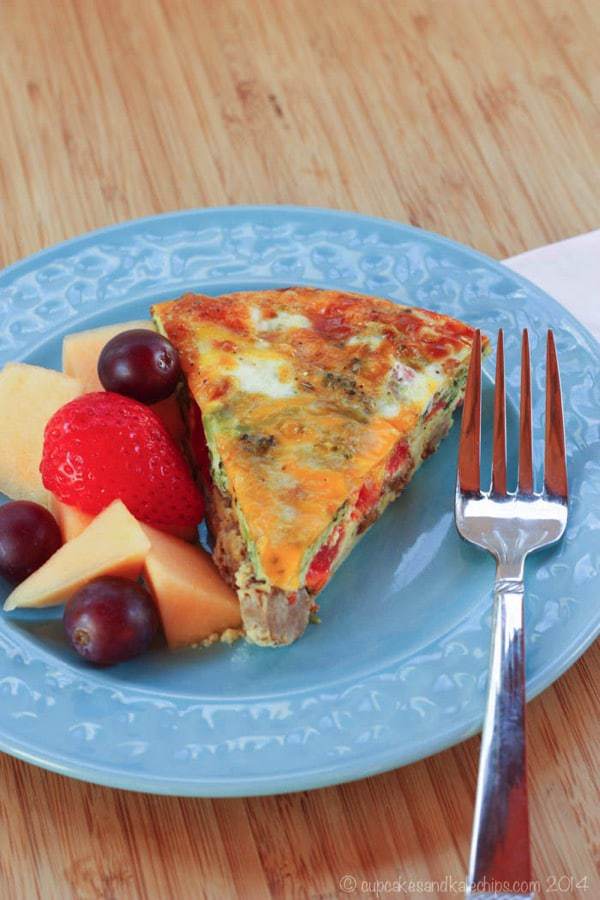 Turkey Sausage, Broccoli and Tomato Crustless Quiche is one of those meals that earns me the title of Queen of Leftovers, at least according to The Hubby. We've always got eggs and cheese, and we had some bits of broccoli, plus tomatoes that were starting to get a little soft and weren't really salad-worthy anymore. So I just cooked up some sausage I had in the fridge, and there you go, a super tasty and healthy dinner that the entire family enjoyed. Just add a big salad or a small amount of fruit, if you have to watch your carbs. See, low carb and gluten free doesn't have to be complicated. Real, wholesome ingredients packed with nutrition. It's a great approach to food for anyone, whether you have diabetes or not.
Speaking of making healthy meals for your family, ASweetLife is thrilled to be teaming up with Cupcakes & Kale Chips and Magimix by Robot-Coupe to promote home cooking.
As we all know, fast food is an unhealthy trap. The more we cook ourselves, the more control we have over what goes into our bodies. To make that home cooking easier and more fun, we're giving away a Magimix 12 cup food processor!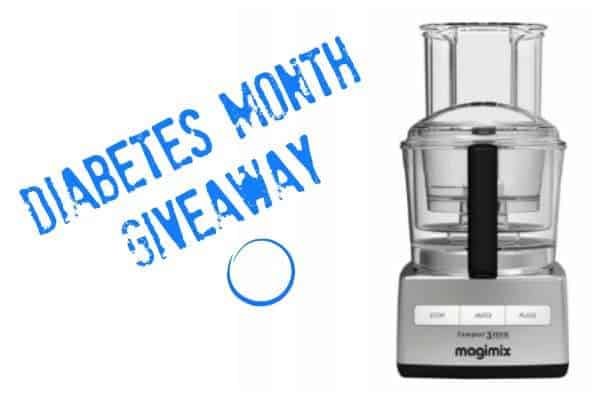 Magimix by Robot-Coupe invented the first food processor for home cooks. The Magimix by Robot-Coupe Food Processor is now found in more than 60 countries and is known worldwide as an indisputable kitchen essential. The original, it continues to be favored by top chefs, culinary schools, food writers and dedicated home cooks. Protected by numerous patents, all Magimix by Robot-Coupe Food Processors are still fully manufactured and handmade in Burgundy, France and as of Fall 2012, feature a new 30 year warranty. Find out more about the Magimix by Robot-Coupe by following them on Facebook and Twitter.
Enter now for a chance to win this fantastic prize, the 3200XL 12-Cup Food Processor in Brushed Chrome. It's a great tool that makes healthy cooking both easy and fun. Winner will be chosen on November 10th.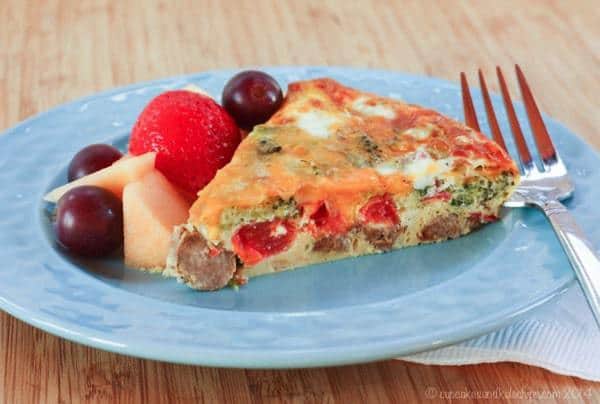 How has diabetes touched your life? 
Head on over to A Sweet Life to get the full recipe. While you are there, check out the other recipes from my blogger friends and be sure to enter that awesome giveaway!
Here are some more of my low carb recipes…
And here are the fabulous recipes my friends are sharing with A Sweet Life…
And lots more egg recipes here…
Follow Brianne @ Cupcakes & Kale Chips's board Eggs Protein Power on Pinterest.
Enjoy!