This post may contain affiliate links. Read my disclosure policy.
Frozen Oatmeal Cups are an easy make-ahead breakfast recipe that is a total time-saver for busy mornings. Perfect for meal prep, the kids can customize them with their favorite fruit and nut toppings! Delicious, healthy, and gluten-free, these are homemade freezer meals for breakfast that the whole family will love.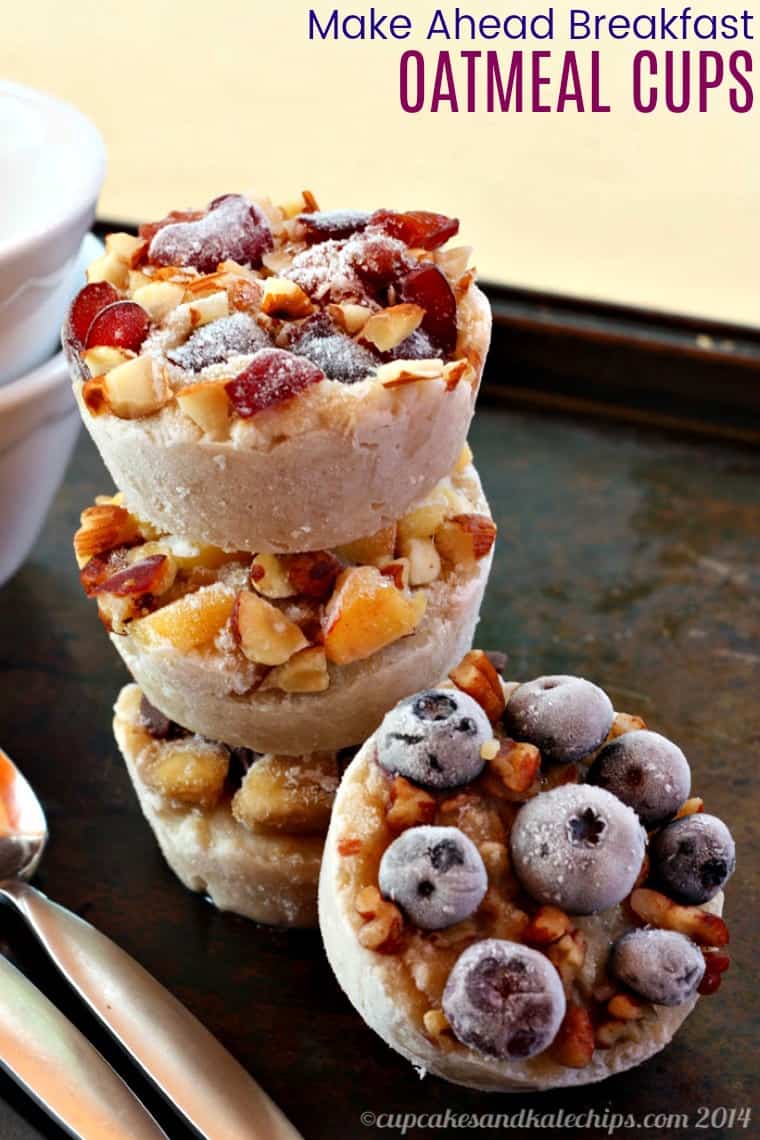 Note: Originally published Aug 28, 2014.
We all know how hectic mornings can be. Especially school mornings when every adult and kid in the house is running in different directions getting showered and dressed, gathering homework and lunches, and trying to get off to school and work in time.
But it is those exact mornings when you want to make sure the kids get out the door with a wholesome breakfast in their bellies. They have a busy day ahead and need that fuel! Heck, parents do too.
Oatmeal is one of the best healthy breakfast foods. Oats have a ton of vitamins and minerals, including B vitamins and a high amount of iron. But perhaps most importantly, oatmeal is packed with fiber. Not only is this good for your cholesterol and blood sugar, but it also keeps you full and satisfied.
Plus oatmeal is a blank slate perfect for adding other ingredients that not only make them taste more delicious but also add even more good-for-you ingredients.
What can you put on oatmeal?
Overnight oats are an option for a meal prep breakfast recipe, and I love something like Pineapple Banana Overnight Oats. But everyone enjoys cold oatmeal, so they want it hot.
Here's the kicker. I don't know about you, but I have experienced way too many oatmeal explosions in my day. Whether I make old-fashioned oats or quick oats, cook them on the stove or in the microwave, add a little liquid at a time or cook them in a giant bowl or pot, look away for a second and it's like molten lava spewing everywhere.
So here's the question for how to deal with that on a crazy busy morning…
Can you freeze cooked oatmeal?
Yes, the solution is Frozen Oatmeal Cups!
Make your favorite oatmeal in a large batch at a time when you can actually pay attention to preventing boil over. Add your favorite toppings and freeze it all in muffin cups. After they are frozen pop them out and into a plastic freezer storage bag until you need them.
Just take a few pucks out of the freezer the night before or in the morning, heat them up, and you have a cozy bowl of oatmeal without any oatmeal explosions.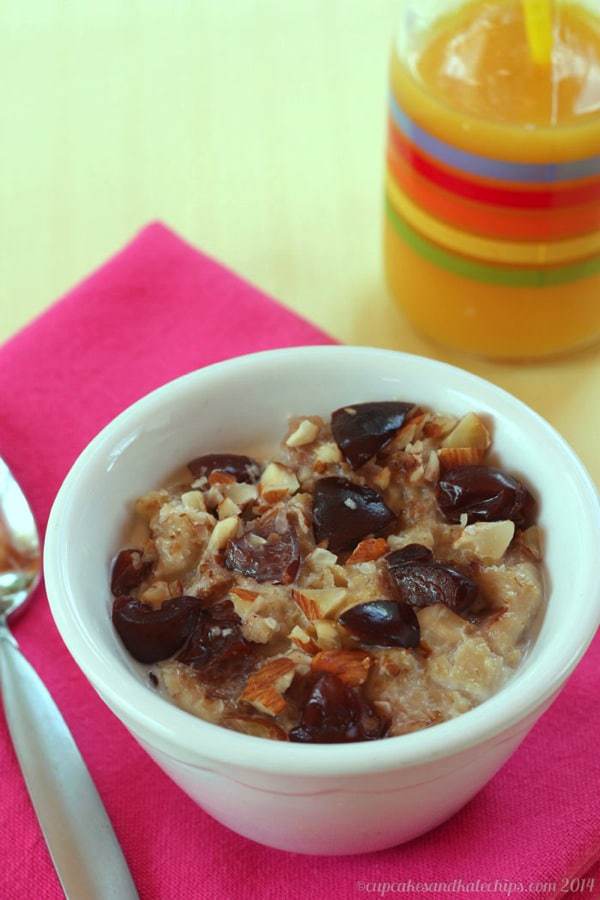 DIY Frozen Oatmeal Cups
These make-ahead oatmeal cups are a fun and fabulous way to bring a little creativity to breakfast. Even better, the (not-so) hard work is done ahead of time, not when you're trying to get everyone up, dressed, fed, and out the door.
And as an added bonus, if it's the end of summer and you have an abundance of fresh fruit, this is a great way to preserve it for a taste of summer in the winter months. You see, these frozen oatmeal cups can be kept frozen for at least 6 months!
When crazy days are right around the corner, you'll be glad you can just pull some make-ahead breakfast oatmeal cups from the freezer. They make the perfect tummy-warming breakfast for the kiddos.
What do you need for make-ahead oatmeal cups?
How to meal prep homemade freezer breakfast oatmeal:
Cook the oatmeal. Combine the oats, brown sugar, water, milk, and salt in a saucepan and bring to a boil. Cook several minutes to the desired consistency.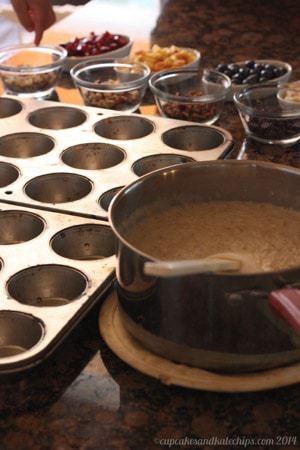 Choose your toppings. Set out bowls of chopped fresh fruit, frozen fruit, nuts,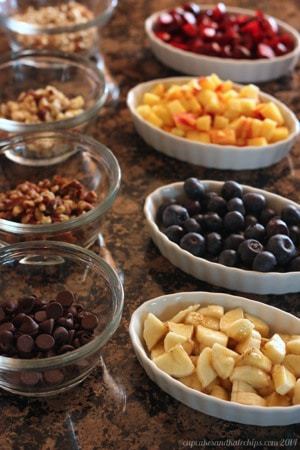 Customize the oatmeal cups. Divide the oatmeal between the muffin tins and sprinkle on the toppings in whatever combination you like.
BRIANNE'S PRO TIP: I didn't have any when I first photographed this recipe, but now I would use silicone muffin pans to make them easier to remove.
Freeze. Slide the muffin pans into the freezer. Once the oatmeal cups are frozen, pop them out of the tins and wrap them up in plastic wrap and place them in an airtight container or freezer storage bag. Store the oatmeal cups in the freezer.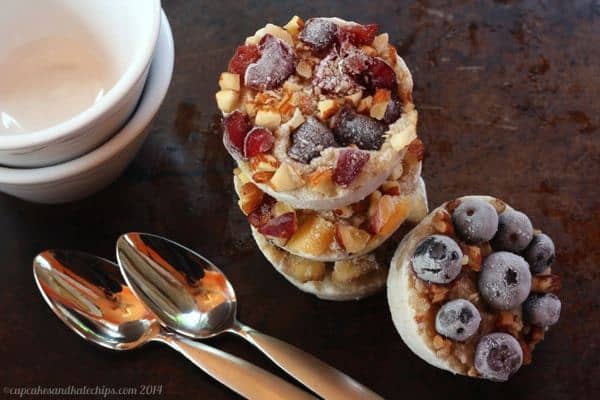 How to reheat freezer oatmeal:
If you are able to plan in advance, pull out one or two frozen oatmeal cups per person the night before and keep in the refrigerator.
Warm them up in the microwave for 1-2 minutes (longer if still frozen).
Splash on some milk if you like.
Grab some Waldorf Fruit Salad or a Blueberry Smoothie and breakfast is served, even on the busiest of mornings!
How long does frozen oatmeal last?
Stored in an airtight container or freezer storage bags, oatmeal can be frozen for up two 6 months. This is primarily for the quality to ensure you have the most delicious bowl of oatmeal. It will still be safe to eat beyond that time.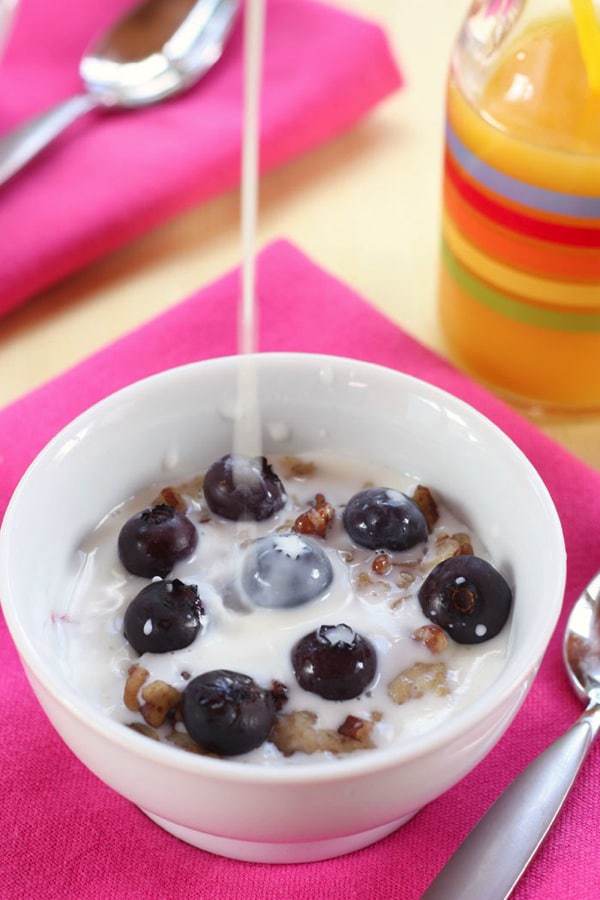 Brianne's Freezer Oatmeal Recipe Tips: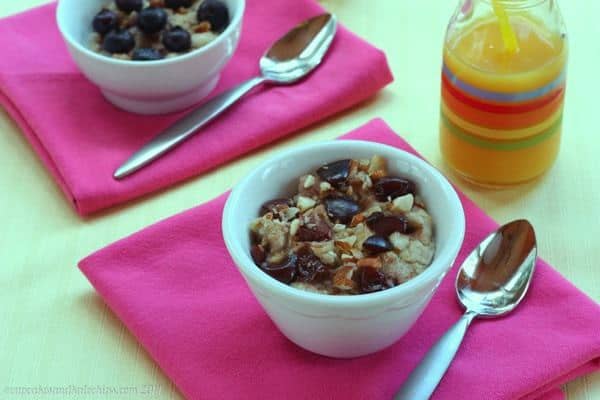 More ways to serve oatmeal
More make-ahead breakfast ideas
Make Ahead Breakfast Freezer Oatmeal Cups Recipe
These delicious, gluten-free frozen oatmeal cups are a meal prep breakfast that everyone in the family loves! An easy, kid-friendly recipe you can store in the freezer until you need a quick hot meal on a busy morning. The kids love that they get to customize their make-ahead breakfast with their favorite toppings. Mom loves having an easy, healthy, and quick freezer meal to serve.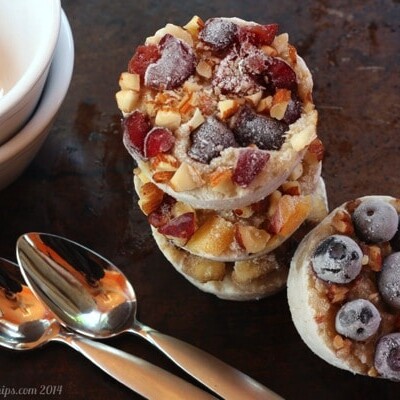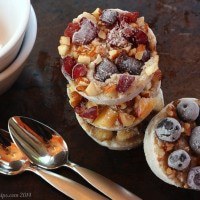 Make Ahead Freezer Oatmeal Cups
These delicious, gluten-free make ahead breakfast oatmeal cups are homemade freezer meals that everyone in the family loves! An easy, kid-friendly recipe!
Ingredients
3

cups

quick-cooking oats

(certified gluten free, if needed)

¼

cup

brown sugar

or coconut or demerara sugar, to taste

3

cups

water

3

cups

milk of choice

(dairy or non-dairy)

1

pinch

salt

Assorted chopped fruit

nuts, chocolate chips, or other toppings
Instructions
Combine the oats, sugar, water, milk, and salt in a large saucepan and bring to a boil.

Reduce heat to medium and cook for 2-3 minutes, or to desired consistency. Set aside to cool slightly.

Spray two 12-cup muffin tins with cooking spray or line with silicone muffin liners (or use a silicone muffin pan) and set out toppings in bowls.

Divide the cooked oatmeal between the muffin cups, and top each with desired toppings.

Cover with plastic wrap and place in the freezer for several hours, or until frozen.

Once frozen, pop out of the muffin tins, loosening with a butter knife or small spatula, if necessary and wrap in sandwich bags or plastic wrap.

Remove desired number of cups (one to three per serving) from the freezer the night before or day you plan to serve them.

Warm in the microwave for 1-2 minutes (longer if still frozen), and stir in a little more milk, if desired.
Notes
You can use old-fashioned rolled oats or steel cut oats, but follow the instructions on the package for cooking, substituting half of the water with milk.
Nutrition facts do not include toppings. It will vary on your choice and quantity of toppings.
Nutrition Facts
Make Ahead Freezer Oatmeal Cups
Amount Per Serving (1 cup)
Calories 58
Calories from Fat 9
% Daily Value*
Fat 1g2%
Cholesterol 1mg0%
Sodium 17mg1%
Potassium 83mg2%
Carbohydrates 11g4%
Protein 2g4%
Vitamin A 58IU1%
Calcium 44mg4%
Iron 1mg6%
* Percent Daily Values are based on a 2000 calorie diet.
Enjoy!