Creamy Greek Yogurt Maple Dijon Salad Dressing
Disclosure: This post may contain affiliate links. Cupcakes & Kale Chips is a participant in the Amazon Services LLC Associates Program, an affiliate advertising program designed to provide a means for us to earn fees by linking to Amazon.com and affiliated sites.
Creamy Greek Yogurt Maple Dijon Salad Dressing is slightly sweet, tangy, and full of flavor, with a smooth, rich texture, but lightened up by using Greek yogurt. It's wonderful for topping your salads, slathering on wraps or sandwiches, pouring over some chicken or turkey or dipping veggies. Making your own homemade salad dressing couldn't be easier, too, and then you know exactly what's in the bottle. And in this case, it's Organic Extra Virgin Olive Oil from Spectrum Naturals®, on whose behalf I am sharing this post. Read on to find out more about their products, and how you can save $3.00 on your next purchase and enter to win $500 in Spectrum Naturals® products in their Spectrum® Sundays Facebook Sweepstakes.
Creamy Greek Yogurt Maple Dijon Salad Dressing
I get into serious food ruts. And I'm not talking eating the same thing all week for lunch, or getting hooked on ALL THINGS PUMPKIN during October and November. I mean, like, years.
I have been eating oatmeal for breakfast nearly everyday for the past, oh, let's say about eight years. And it's not like I change it up. I used to eat it plain, with a little something to sweeten it up. For about ten months I was making Mexican Chocolate Oatmeal nonstop. EVERYDAY. Not kidding you. And then I had to explain to The Bug why he can't have chocolate cookies or candy for breakfast. #momoftheyear
When I was back in the corporate world, for the longest time my daily lunch was a salad, turkey sandwich and yogurt, then I moved on to a mini pita, veggies and hummus with yogurt. Snack was grapes and cottage cheese. I graduated from college twelve years ago, so clearly these weren't short-lived routines.
Since I've been a stay-at-home mom, salads have been the daily go-to for me, more often than not with fruit, and cheese, most frequently with this Greek Yogurt Blue Cheese Dressing (though I am known to switch out the cider vinegar for balsamic).
But move over blue cheese, there's a new dressing in town…
 Seriously, I could drink this Creamy Greek Yogurt Maple Dijon Salad Dressing (which is my other go-to lunch lately – smoothies – but that's for another time). Creamy dressings are awesome, but usually filled with extra calories and fat from who knows what kinds of ingredients – and really, who wants to have a big plate of salad and just use one measly tablespoon of dressing?! Especially when it tastes this amazing. So I love to substitute Greek yogurt for the mayo or whatever else they use to get that creaminess. Then I add just the right amount of olive oil, in this case 
Spectrum Naturals® Organic Extra Virgin Olive Oil
, to smooth out the flavor and texture.
Spectrum® has a
full line
of Expeller Pressed oils, from coconut oil to a non-GMO canola oil, even things like peanut, avocado, or grapeseed oil, and a line of vinegars. Most of their oils are non-GMO project verified. Their Organic Extra Virgin Olive Oil was perfect for this salad, since it has a nice, fruity flavor that did not overpower or compete with the other flavors in the dressing.
Do you want to try Spectrum® Olive Oil in this recipe, or some of their other products? Here is
$3.00 off
your next purchase to get your started. The coupon is valid through April 30, 2015, or until 10,000 downloads have been reached. The coupon expires 30 days from the date of download.
And you can even enter to win $500 in Spectrum® products with their
Spectrum® Sundays Facebook Sweepstakes
. The folks at Spectrum® know we all live busy lives, so they are encouraging us to take at least one day a week to share a meal or another activity with our family where we can enjoy each others' company, as this has been shown to have nutritional, social, and even academic benefits. So take some time with your family to enjoy Spectrum® Sundays!
It takes about three seconds to mix this up, no funky chemicals or weird ingredients. The Dijon gives it a bold pop of flavor, and the maple syrup adds that subtle, smoky sweetness. And you know a salad dressing is good when it gets a preschooler to devour a mountain of leafy greens!
What is the one thing you eat over and over and over?
Disclosure: This is a sponsored post written by me on behalf of Spectrum Naturals®.
Get Cupcakes & Kale Chips delivered to your Inbox! Every Friday you'll see all of the Yummy Eats & Tasty Sweets from the week. Sign up HERE.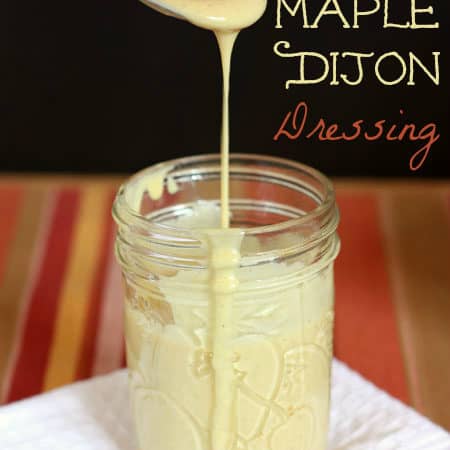 Print Recipe
Creamy Greek Yogurt Maple Dijon Salad Dressing
A slightly sweet, tangy salad dressing with a smooth, rich texture, lightened up with Greek yogurt.
Ingredients
1/4

cup

plain Greek yogurt

1/4

cup

Dijon mustard

1

Tablespoon

apple cider vinegar

or champagne vinegar

2

Tablespoons

real maple syrup

2

Tablespoon

Spectrum® Organic Extra Virgin Olive Oil

salt and pepper

to taste
Instructions
Place all ingredients in a bowl and whisk together, or in a bottle or jar with a lid and shake vigorously until thoroughly combined.
Notes
Will keep several days in the fridge.
Nutrition
Serving:
1
tablespoon
|
Calories:
55
kcal
|
Carbohydrates:
4
g
|
Protein:
1
g
|
Fat:
3
g
|
Sodium:
91
mg
|
Potassium:
21
mg
|
Sugar:
3
g
|
Vitamin C:
0.1
mg
|
Calcium:
18
mg
|
Iron:
0.1
mg
Enjoy!
Not a dijon fan? I've got some other salad dressing options for you…
And here's some from my friends…