Strawberry Lime Poppyseed Vinaigrette
Disclosure: This post may contain affiliate links. Cupcakes & Kale Chips is a participant in the Amazon Services LLC Associates Program, an affiliate advertising program designed to provide a means for us to earn fees by linking to Amazon.com and affiliated sites.
Strawberry lime poppyseed vinaigrette is a delicious, homemade gluten-free salad dressing. Made with fresh strawberries, this easy salad dressing recipe is made in a blender!
I had lots of ear infections as a kid.  Strangely, I almost looked forward to getting an ear infection, because I LOVED the "pink medicine", a.k.a. amoxicillin.  I know, I was a strange kid, but I wanted to suck that stuff up with a straw.  So somehow it doesn't bother me that this salad dressing kind of looks like that.  And we had lots of strawberries, so I have been using them in everything.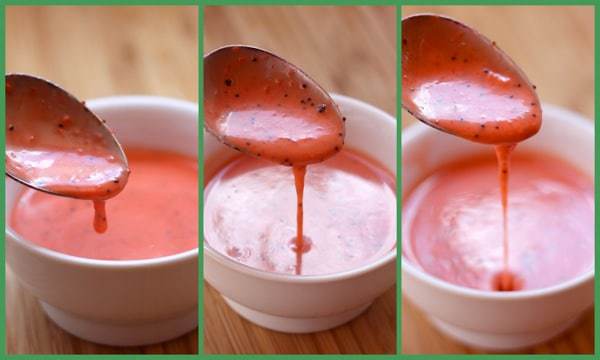 Truthfully, that is the main reason I added the poppy seeds.  So if having a salad dressing that looks like an antibiotic doesn't bother you, then you can leave it out.
I am so excited about winning a Ninja Blender from My Judy the Foodie for making smoothies, but for making salad dressings, I love my little Magic Bullet.  It is so easy to just drop in all of the ingredients and whiz it up.  It works great for these fruity dressings, or even just for regular vinaigrettes, because it emulsifies them really well.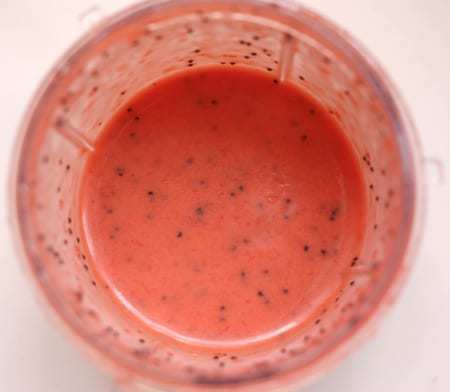 It is actually kind of pretty, right?!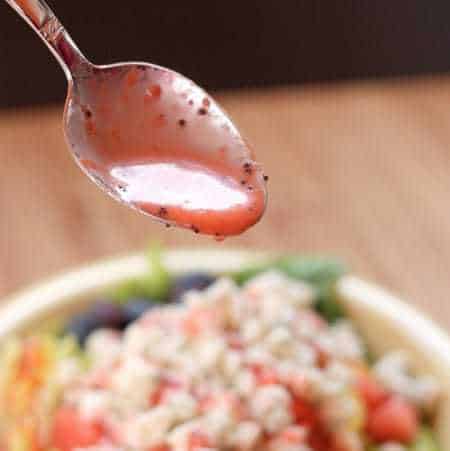 And here is a preview of some of the salads I used it on.  Those posts are coming soon!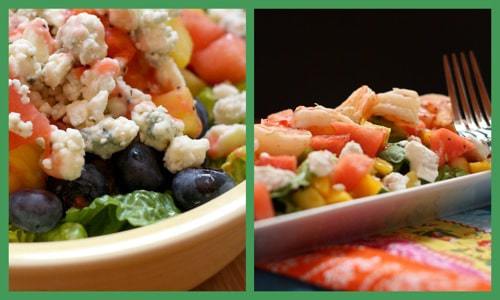 OK, I know this is a bizarre topic, but please tell me I am not the only wacko who wanted to drink a large glass of amoxicillin.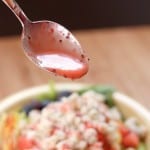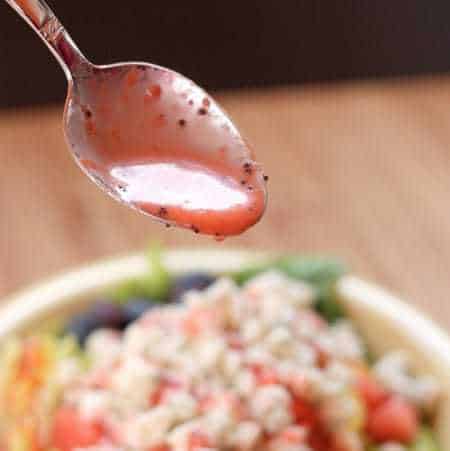 Strawberry Lime Poppyseed Vinaigrette
A simple sweet and tangy salad dressing perfect for summer.
Ingredients
1/4

c

chopped strawberries

1/4

c

lime juice

approx. 2 limes

1/4

c

olive oil

1

T

honey

or agave nectar for vegans

salt & pepper

to taste

1

t

poppy seeds
Instructions
Combine all of the ingredients except poppy seeds in a mini-blender or Magic Bullet, and blend till pureed and emulsified.

Stir in poppy seeds.
Adapted from my Blueberry Maple Balsamic Vinaigrette.
Enjoy!