This post may contain affiliate links. Read my disclosure policy.
Fig Balsamic Vinaigrette Salad Dressing is sweet and tangy, with a flavor that will complement salads and sandwiches. It only takes minutes to blend up this easy gluten-free salad dressing recipe.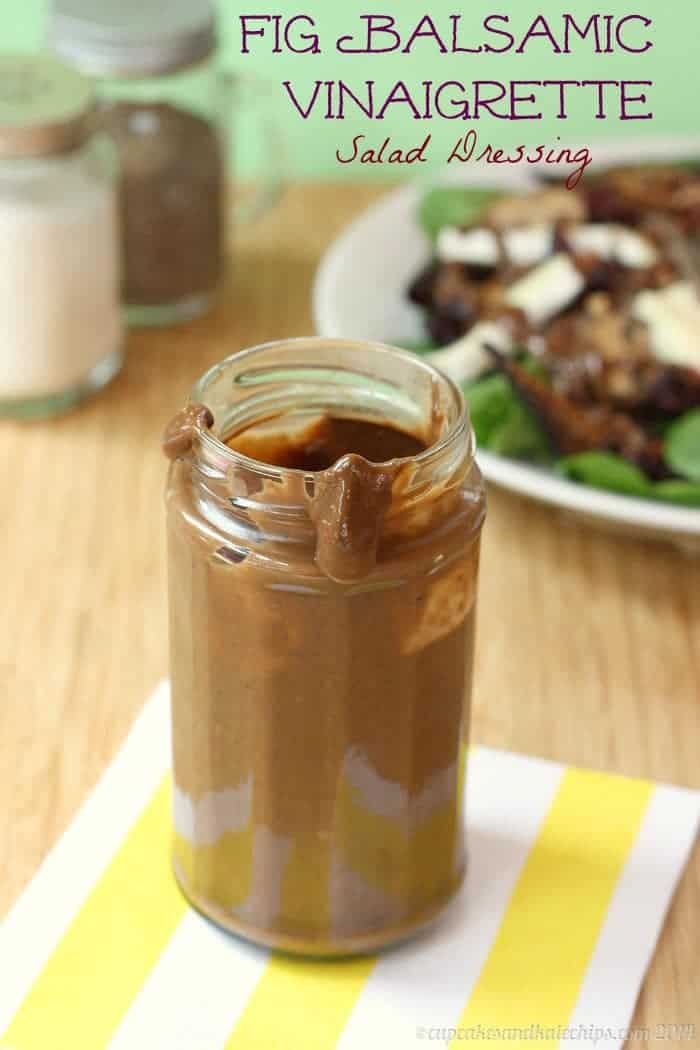 You guys, my baby is so not a baby any more. I mean, he'll always by MY baby, but he is not A baby. He doesn't really have the talking thing down yet, though he does find ways to communicate. Usually by whining. Yup, Baby Smiles is now what I like to call a Wendel Whiner. I mean, he is generally happy, but when he is not happy, well, he whines. When we are sitting at dinner and he decides he is thirsty and can't reach his cup, he whines. When he is alone in the den surrounded by mountains of toys and I am trying to make dinner, he whines. When he wakes up from his nap, he whines.
And while he may not have talking mastered, walking is a whole other story. And climbing. He is all about walking and climbing. Little dude struts, and I mean struts around the house, chest out, arms up, with a slight smile like he is "the s__t" and he knows it. Then he sees a chair or steps or a bench or a picnic table or a Power Wheels car, and he just has to climb. And when he reaches the pinnacle, he stands or sits there, looks around beaming, and he is not just "the s_t". He is "King S_t". I actually have quite clean mouth, but I have no other way to describe it. But he has earned his new nickname.
Baby Smiles is now King Stuff.
Till he falls off of whatever he just climbed on.
Then he whines. Wendel Whiner. But I'll stick with calling him King Stuff.
And what does any of this have to do with this gluten free, fig balsamic vinaigrette salad dressing?
Absolutely nothing, except that I felt the need to tell you all so that when I start referring to King Stuff, you don't think that Baby Smiles disappeared and some other kid replaced him.
I also felt the need to give this salad dressing a post of its own, as opposed to lumping it in with a salad recipe. It is definitely King Stuff.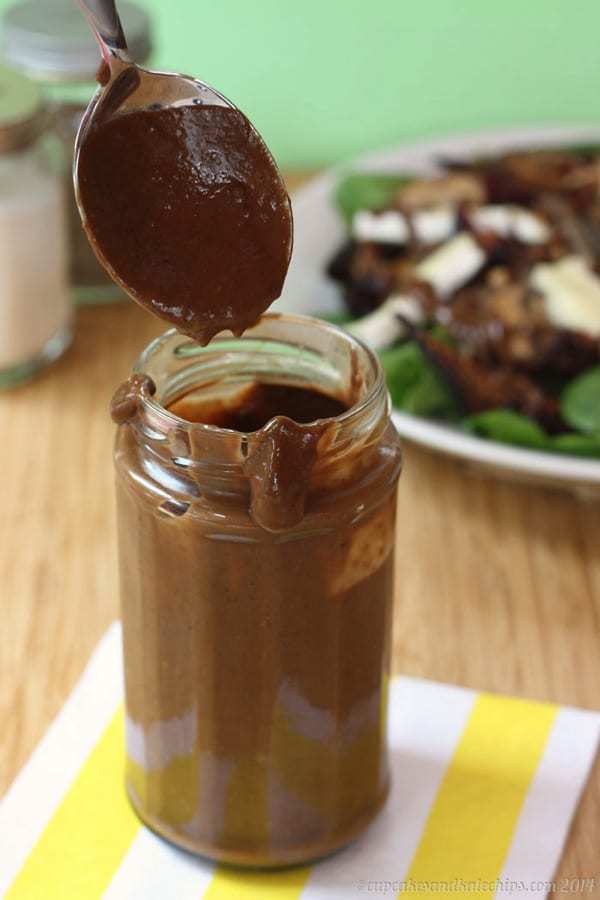 This Fig Balsamic Vinaigrette Salad Dressing is soooo good. Even The Hubby says it is sooo good. And when The Hubby makes any positive comments regarding fruit and vegetable-based dishes, trust me, you listen. He is not easily forthcoming with praise when a recipe does not involve meat or sugar.
It's sweet and tangy, and there are so many possibilities for salads for all seasons. I really can't wait to play around with it some more. Strawberries and goat cheese for the summer, butternut squash and cheddar in the fall. And that salad you see peeking at you in the corner of the photos – that one is good any time of the year, and I'll be sharing it with you later this week!
It is a little thick, which I like for tossing with salad greens so that it coats the lettuce, or for spreading on a sandwich (think roast beef, Brie and arugula on a baguette). You could also use it for dipping carrot sticks or cucumbers. But if you want to drizzle or pour, you may want to add a little extra balsamic vinegar or olive oil. Your call.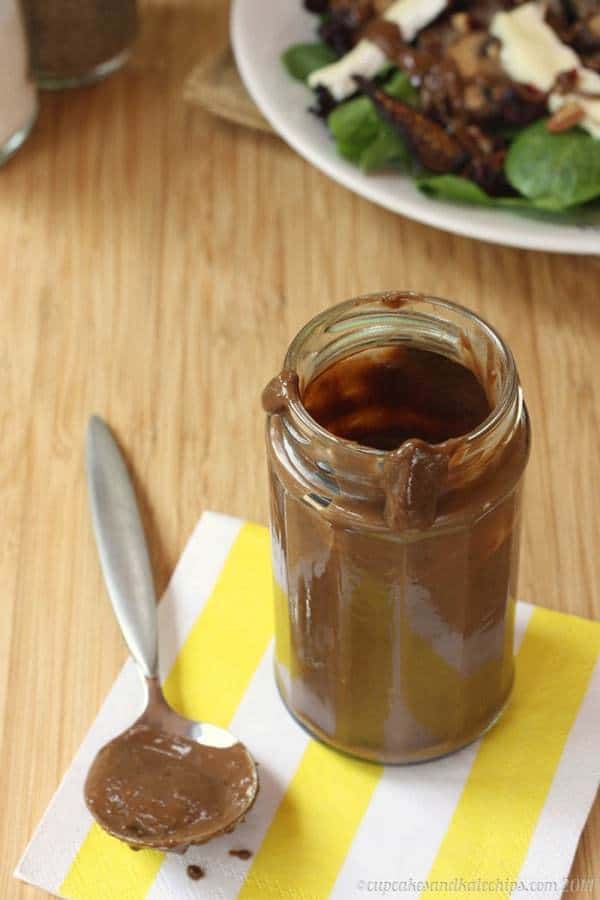 Do you have nicknames for your kids?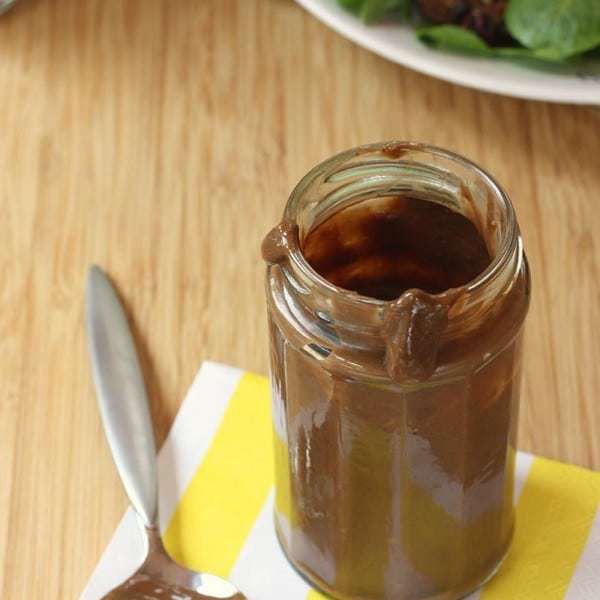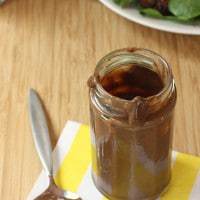 Fig Balsamic Vinaigrette Salad Dressing
It only takes a few minutes to blend up this sweet and tangy Fig Balsamic Vinaigrette Salad Dressing. Its flavor will complement salads and sandwiches with fruits and vegetables that are in season at all different times of the year.
Ingredients
1/4

cup

dried figs

1/2

cup

balsamic vinegar

1

tablespoon

Dijon mustard

¼

cup

olive oil

salt and pepper

to taste

An additional 1-2 Tablespoons of balsamic vinegar and/or olive oil if you prefer a thinner consistency.
Instructions
Combine the figs, balsamic vinegar, Dijon mustard, and olive oil in a blender and puree until smooth.

Season with salt and pepper to taste.

If you prefer a thinner, more pourable dressing, add another tablespoon or two of vinegar and/or oil and blend.
Nutrition Facts
Fig Balsamic Vinaigrette Salad Dressing
Amount Per Serving
Calories 173
Calories from Fat 126
% Daily Value*
Fat 14g22%
Sodium 50mg2%
Potassium 105mg3%
Carbohydrates 12g4%
Protein 1g2%
Vitamin A 4IU0%
Vitamin C 0.1mg0%
Calcium 26mg3%
Iron 1mg6%
* Percent Daily Values are based on a 2000 calorie diet.
Categories:
Like balsamic? You'll love these…
Plus a few from my friends…
Enjoy!