This post may contain affiliate links. Read my disclosure policy.
Enjoy extra crispy homemade Air Fryer Onion Rings made with tender sweet onions in a crunchy gluten free breading. Everyone goes a little crazy for this easy air fryer recipe! It's a favorite gluten free side dish or appetizer to serve up at parties or on game day.
Crispy Air-Fried Onion Rings
Whenever I'm planning party snacks or a game day menu, these air fryer onion rings are bound to make an appearance. Not only are they gluten-free (a given in this house) but they're also healthier than their deep-fried cousins, and just as tasty!
Now, don't get me wrong – I once loved a deep fried onion ring, with all its greasy, glorious sweet-and-salty crunchiness. But since going gluten-free, most batters from pubs and diners fall strictly into the "hard no" category. It was a travesty I wasn't about to let pass without a fight.
These homemade onion rings are my ode to classic diner onion rings, and boy do they do it justice! Tender sweet onions soaked and then dipped in a batter that's seasoned to perfection, cooked in the air fryer with all the crispiness, minus a bucket load of oil – homemade "fast food" doesn't get better than this!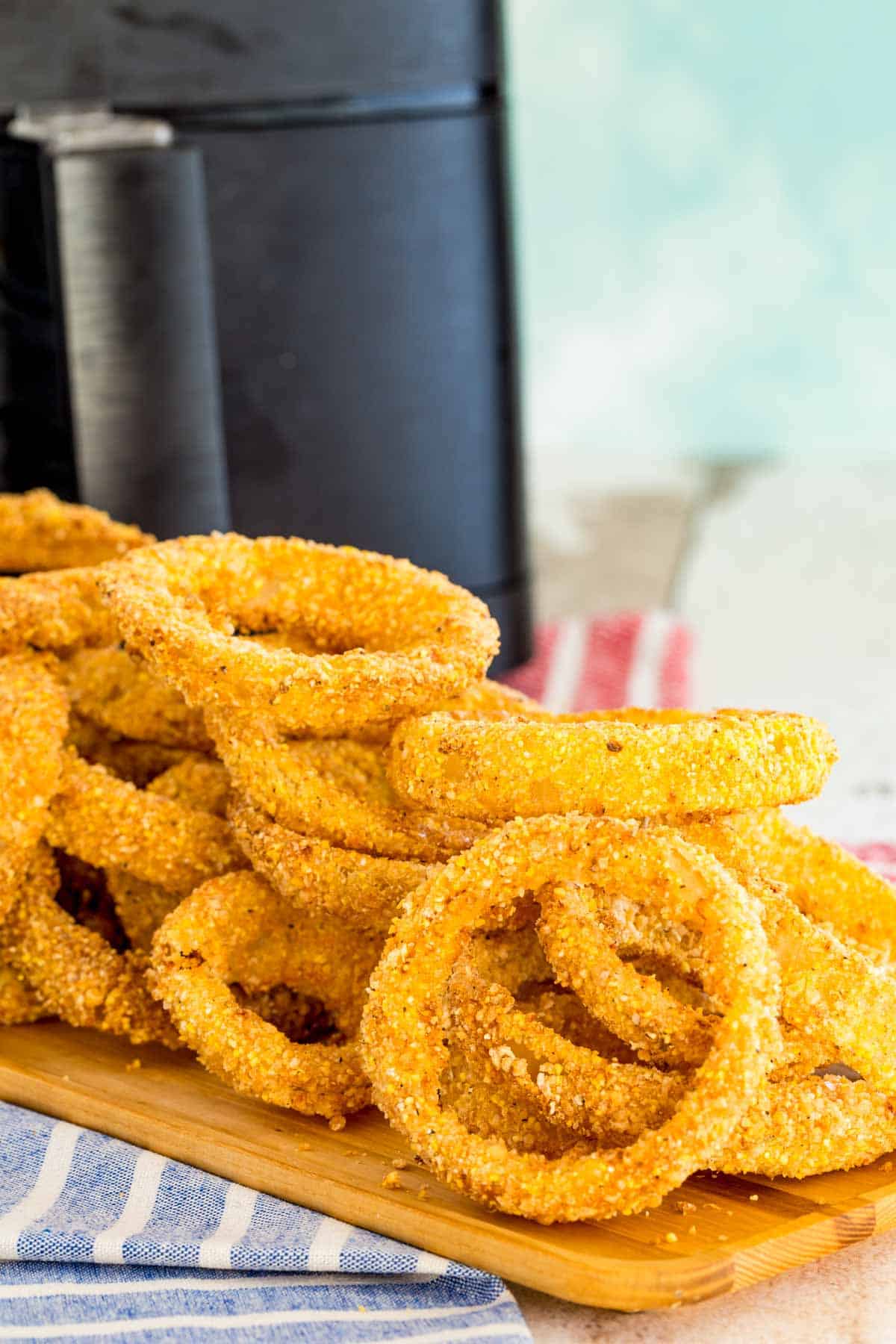 What You'll Need
Here's everything you'll need for the layers of coating that make these homemade onion rings the crispiest ever:
Onions: You'll need 1-2 large onions. I recommend Vidalia or Maui, or another sweet onion when making onion rings.
Milk & Greek Yogurt: I soak my onions in a mixture of whole milk and Plain Greek yogurt before starting. You can also use buttermilk if you prefer – this is to help the flour and breadcrumb coating stick.
Gluten-Free Flour: Either gluten-free all-purpose, or a 1-to-1 gluten-free flour blend like Bob's Red Mill.
Eggs: For the egg wash layer.
Gluten Free Breadcrumbs: Avoid gluten free Panko breadcrumbs as these are too large and don't form a nice, even coating (of course, if you're not making gluten-free onion rings, you can go ahead and use regular Panko because it's not quite as large!). 
Cornmeal: Cornmeal is gluten free and fills in the texture and flavor of the gluten-free breading.
Parmesan Cheese: Grated parmesan adds loads of extra flavor to the breadcrumb coating.
Seasoning: I season the onion ring breading with a mix of smoked paprika, onion powder, garlic powder, Kosher salt, and black pepper.
Oil: For cooking. Aim to use olive oil or another cooking oil in a mister bottle for spraying, versus a nonstick cooking spray (certain chemicals in cooking sprays like PAM can damage the finish on your air fryer).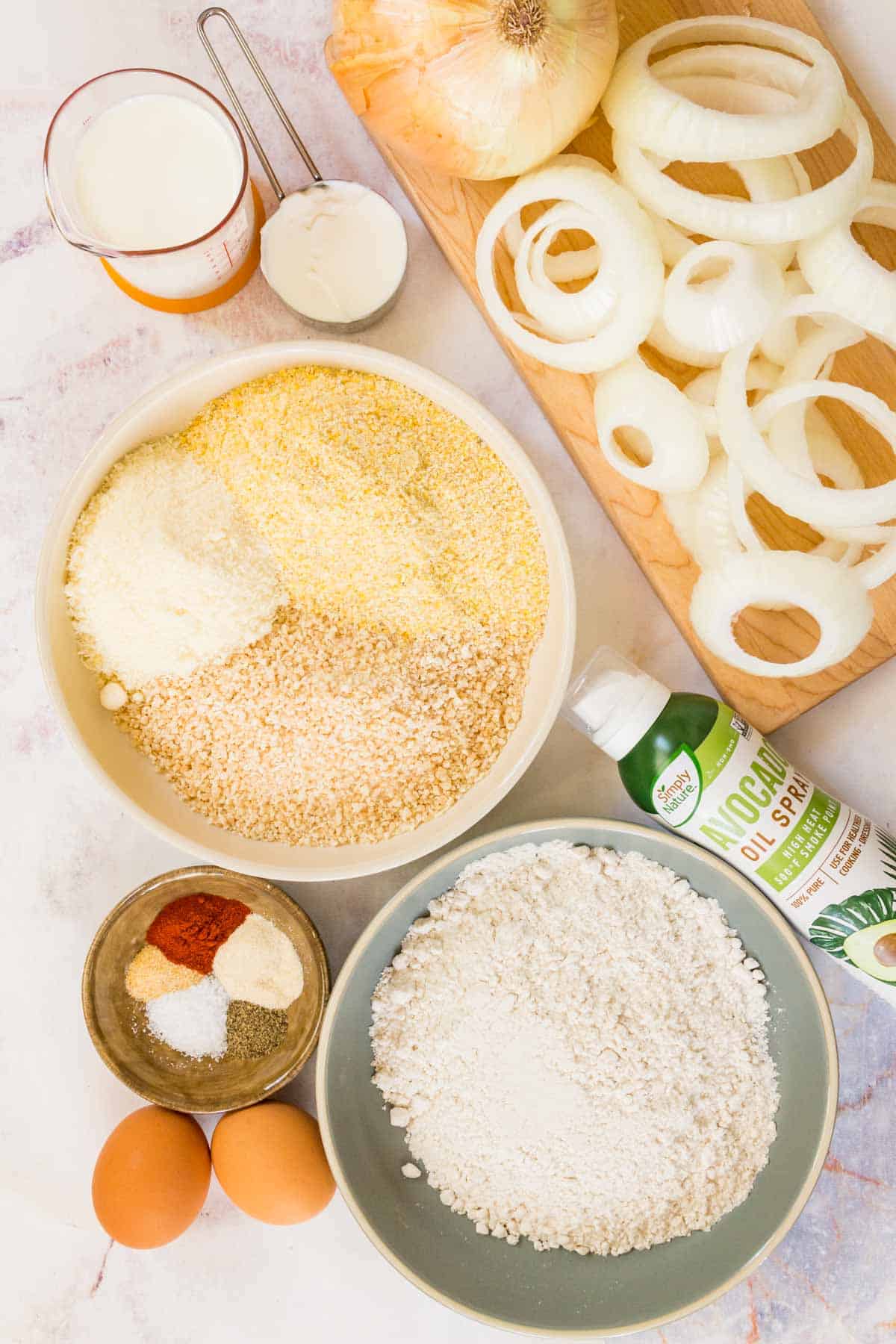 What Kind of Onions Are Best?
The best onions for onion rings are sweet varieties like Vidalia, Maui, Walla Walla or Texas onions. Sweet onions are flatter and lack the pungent flavor of some other types of onions.
Can I Use Frozen Onion Rings?
If you'd prefer to hit fast-forward on your onion ring craving, you can use your air fryer to cook ready-made frozen onion rings. BUT, these usually have gluten in the coating, so you may have to avoid the frozen ones unless you can find gluten free onion rings.
If you can enjoy frozen onion rings safely, the cooking time is about the same! Place the frozen onion rings in the fryer and cook them at 400ºF for 15 minutes or so.
You can also freeze your own homemade onion rings to reheat in the air fryer – I've included tips for freezing further down in this post!
How to Make Gluten-Free Onion Rings in the Air Fryer
Marinate: While you assemble the other ingredients, place the onion slices in a mixture of milk and Greek yogurt and pop this into the fridge to soak.
Prep: Pour your flour into a shallow dish. Beat the eggs together in a second shallow bowl. Finally, combine the breading ingredients in a third dish and set these out on your counter or workspace.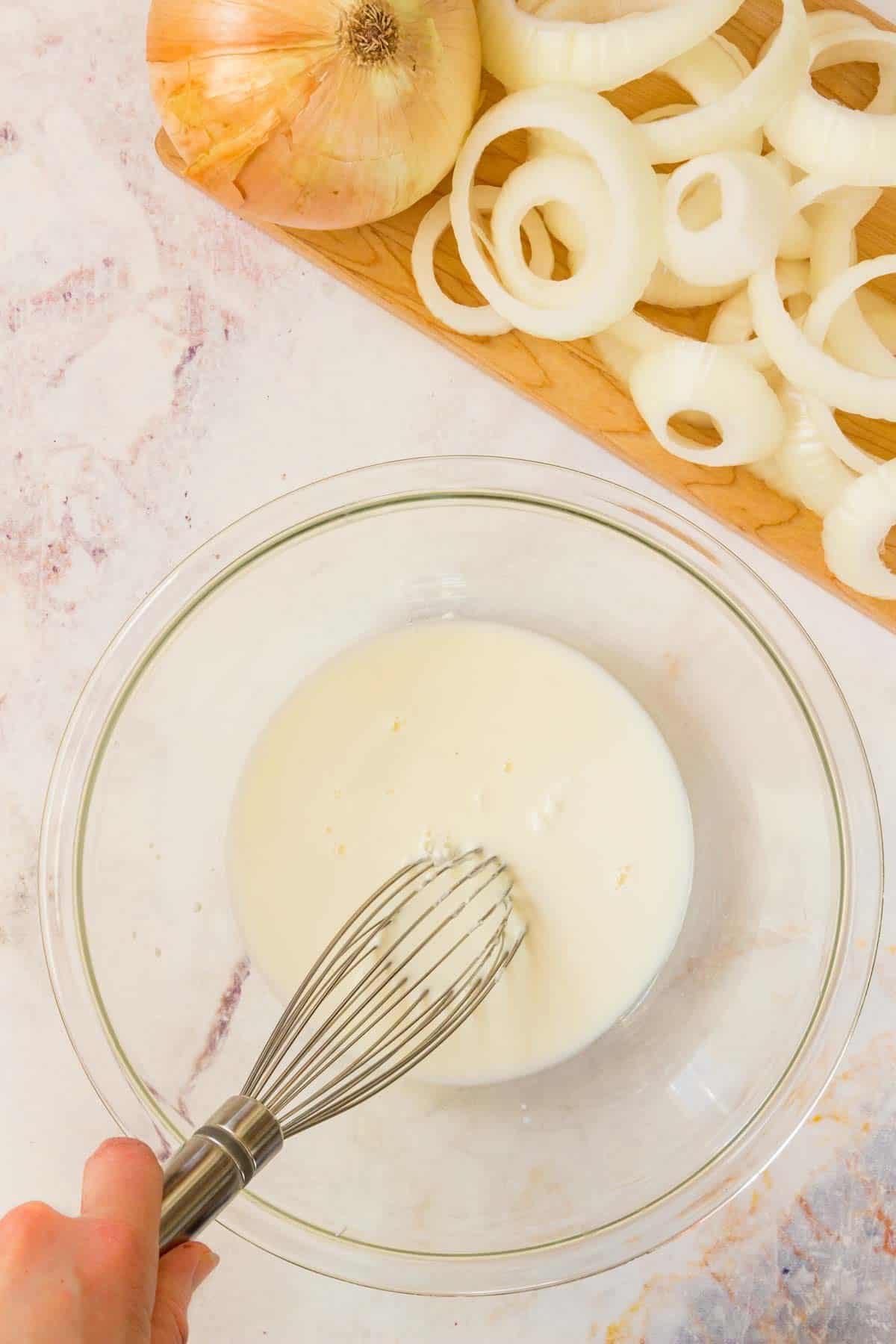 Coat: One at a time, lift an onion ring from the milk mixture. Dip the ring into the flour, followed by the egg, and lastly the breadcrumbs. Repeat with the rest of the onions, placing the coated rings onto a baking sheet. Make sure your onion rings are laid out in a single layer, and give them a generous spray with cooking oil as your air fryer preheats.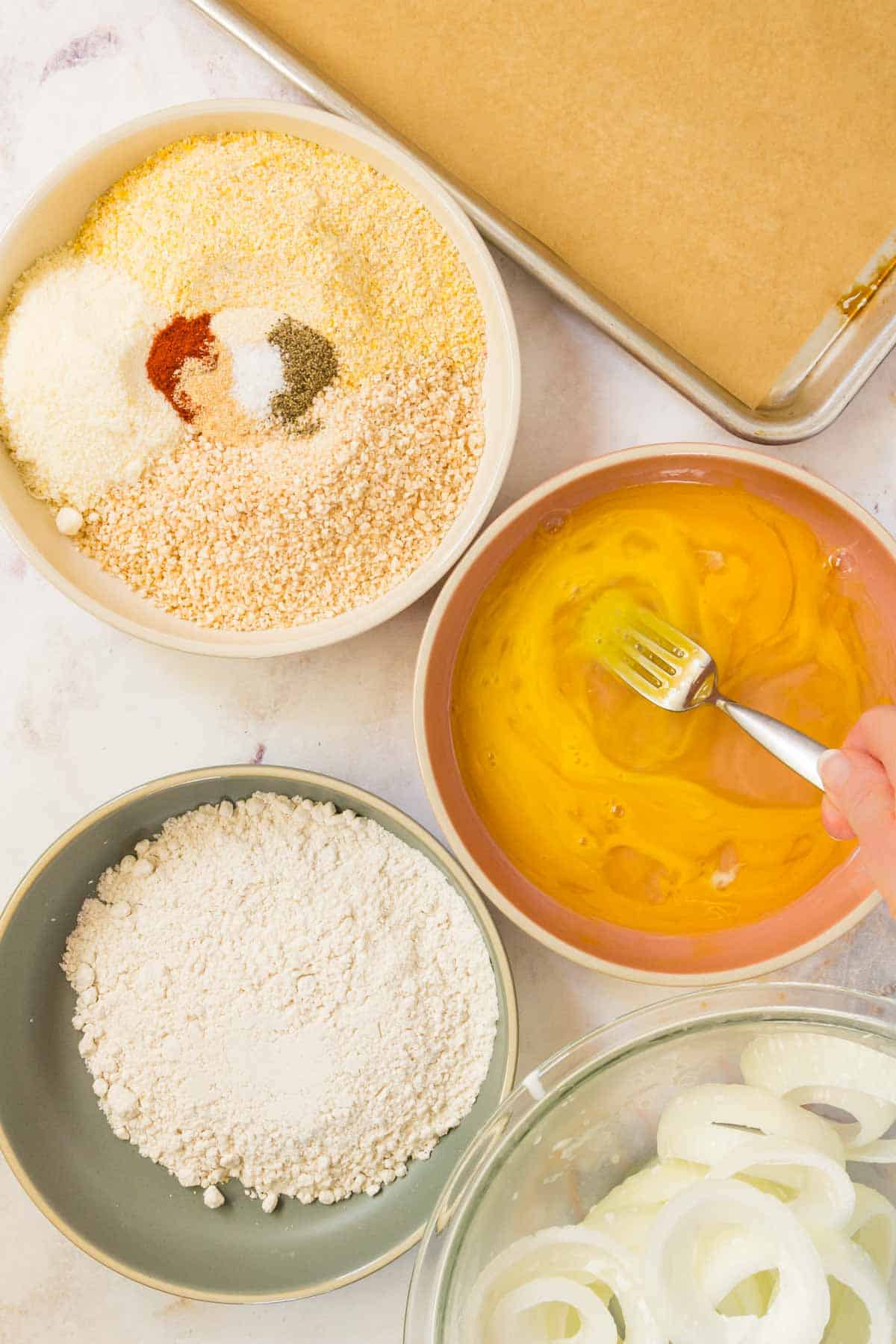 Cook: Once the air fryer is ready, give the basket a spritz as well before carefully placing the onion rings into the fryer. Work in batches and cook the rings for about 5 minutes per side, until the breadcrumb coating is golden and crispy.
Keep your finished onion rings covered to keep them warm until you're ready to serve them. Serve as a side, appetizer, or with any of your favorite dipping sauces!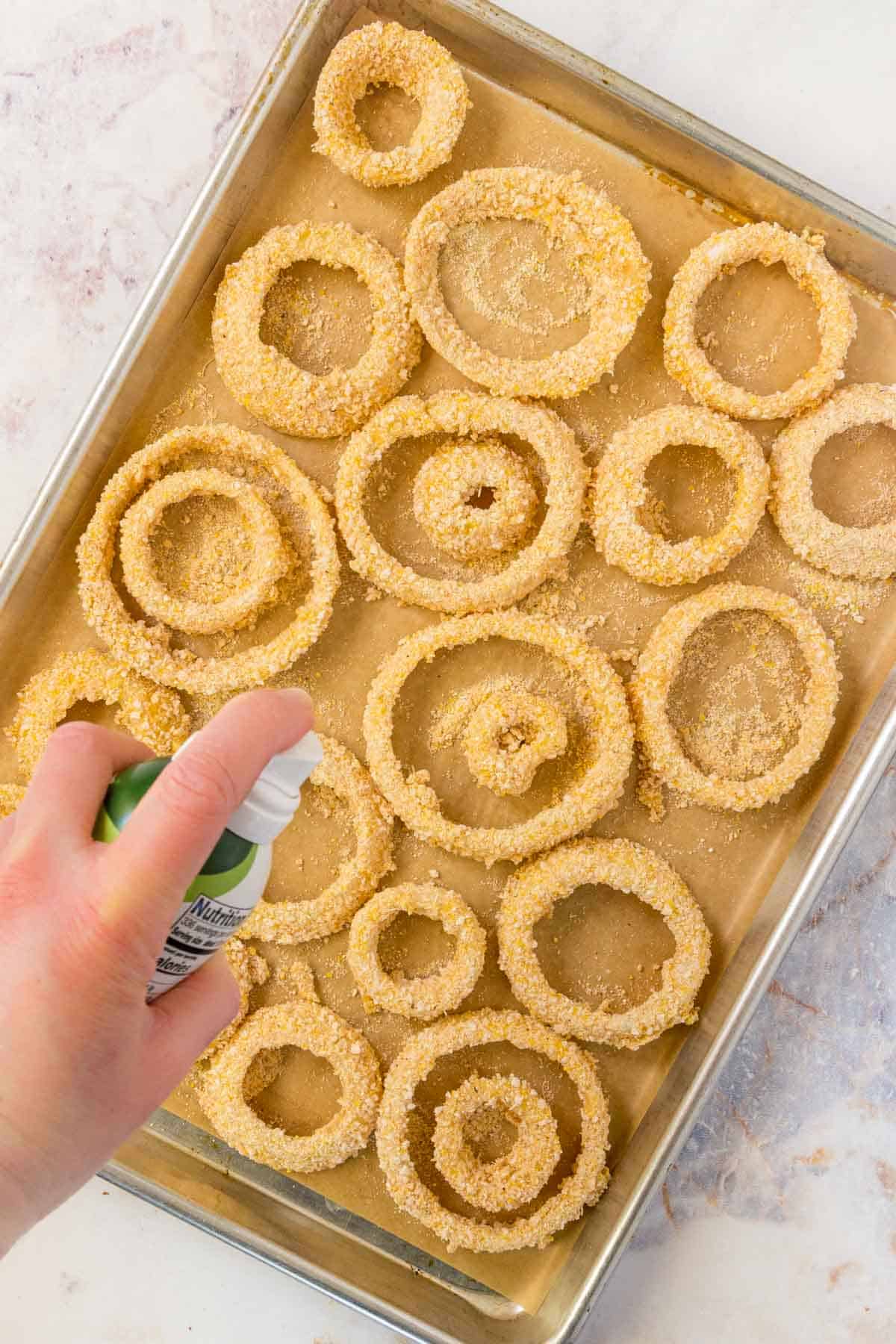 Tips for Success
Set Aside Half of the Breadcrumbs: One thing I've noticed is that depending on the number of onion rings I'm dunking and dredging, the breadcrumb mixture can become sticky after a while. One trick to keep the coating fresh is to set aside a portion of the seasoned breadcrumbs, so you can swap it out if the first bowlful becomes overly clumpy.
Fry in Batches: When it comes to air frying, batches are gospel – be sure to cook your onion rings in a single layer, with minimal touching for the best, crispiest results.
Cooking Times May Vary: Not all air fryers are the same, so pay attention to the cooking time, keeping in mind that it may vary between models.
Add Spice: If you're after another layer of spice in your breadcrumb coating, try adding in cayenne pepper or chili powder for extra heat!
Don't Forget to Spray!: Giving the onion rings a spritz with oil as you turn them over halfway through cooking will ensure that the outside gets extra crispy.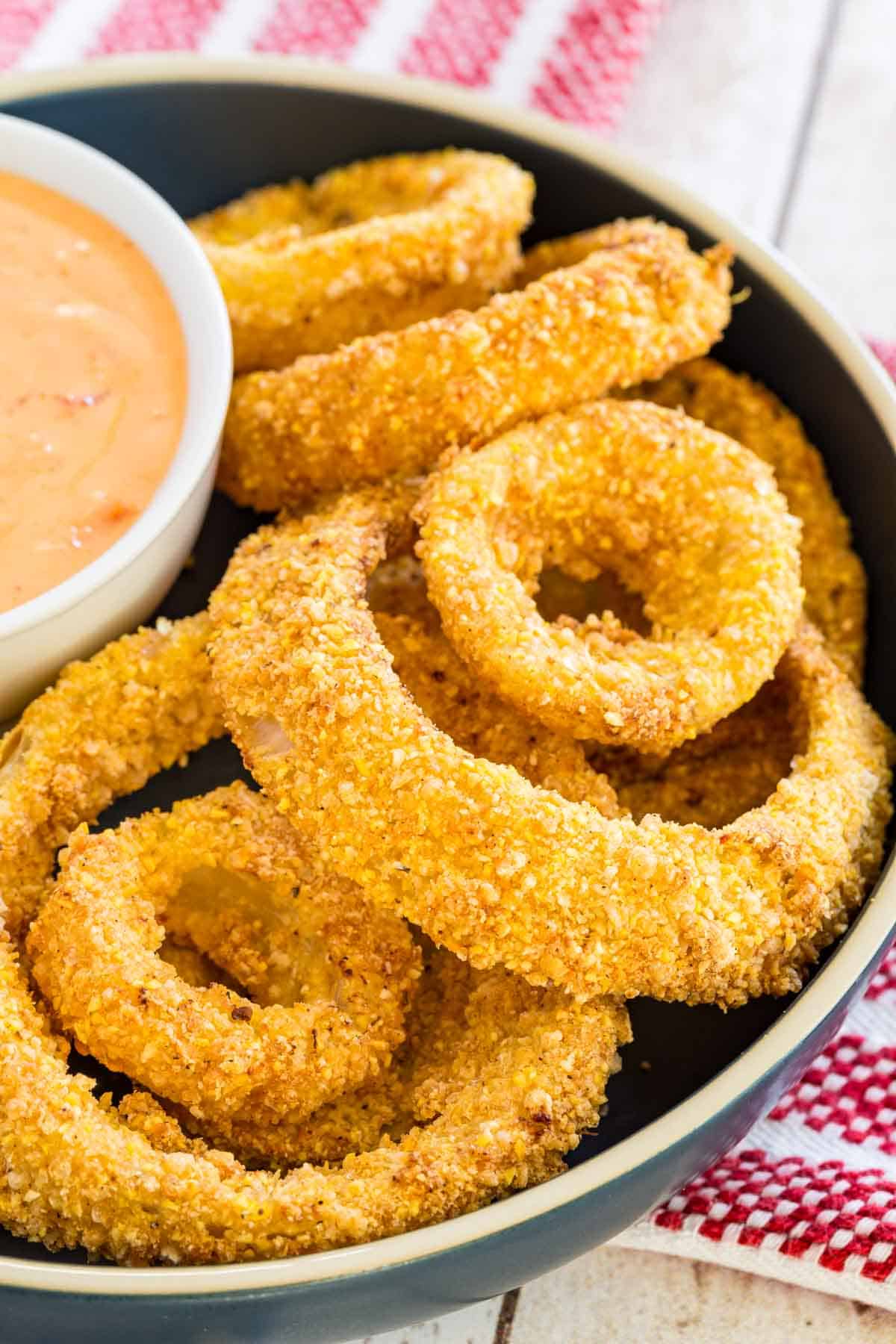 Make It a Meal
Onion rings are a classic pub food, and I love to serve these with other pub-style favorites like Air Fryer Hamburgers, Hot Dogs, and Homemade French Fries.
They're also an easy and satisfying snack or appetizer to dip into sauces like Honey BBQ Sauce, Gluten Free Cheese Sauce, Bang Bang Sauce, and my favorite: Healthy Big Mac Sauce! 
You can also make onion rings into a meal with kid-friendly Gluten Free Air Fryer Chicken Tenders and veggies like Air Fryer Roasted Carrots, Bang Bang Cauliflower, and Crisp Tender Air Fryer Asparagus.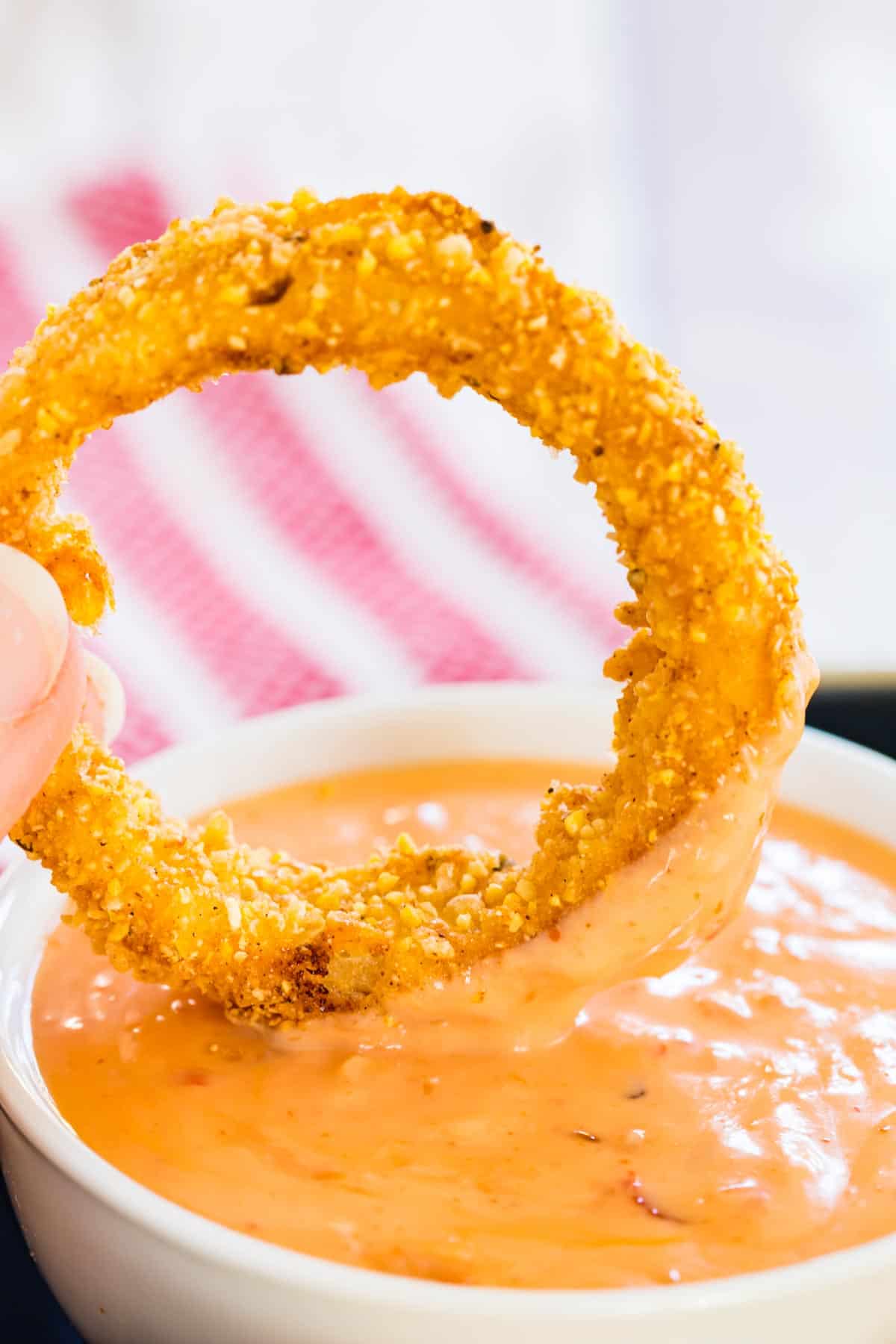 How to Store and Reheat Extras
Store your leftover onion rings airtight in the fridge for up to 3-4 days. The best way to reheat onion rings is to toss them back into the air fryer for a few minutes at 370ºF, or until they're good and crispy again.
Are These Freezer-Friendly?
You can freeze the cooked onion rings for easy reheating. Wait until the onion rings are fully cool, and then flash-freeze them in a single layer before transferring them to a freezer bag.
Reheat your frozen onion rings in the air fryer straight from frozen (as you would with any store-bought version), for healthier, homemade onion rings, anytime!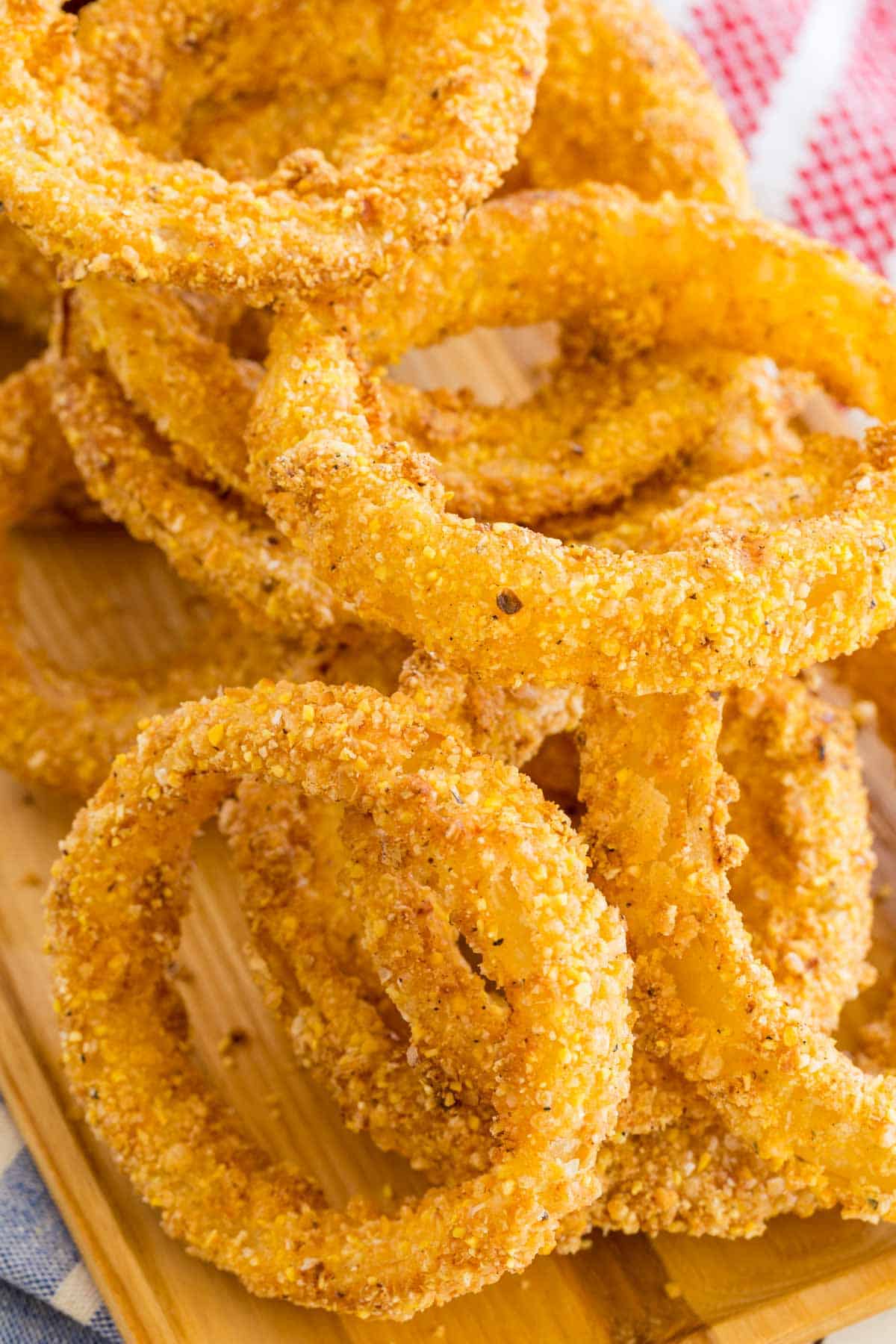 What Air Fryer Do I Recommend?
The Cosori XL 5.8 Qt air fryer has a regular spot on my countertop because I use it several times a week. It has a nice, large and deep basket to fit lots of onion rings!
$139.93
in stock
5 used from $139.93
as of Dec 7, 2023 4:01 pm
Last updated on Dec 7, 2023 4:01 pm
More Amazing Air Fryer Munchies to Try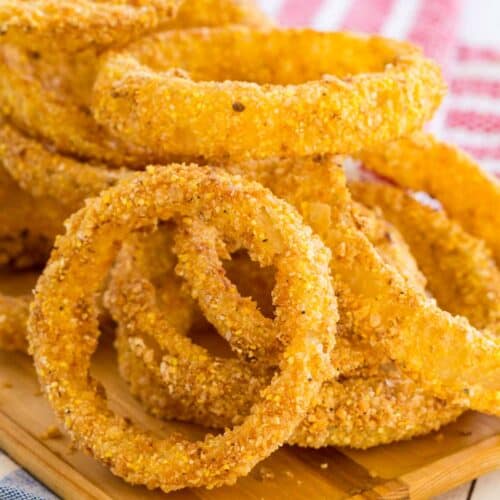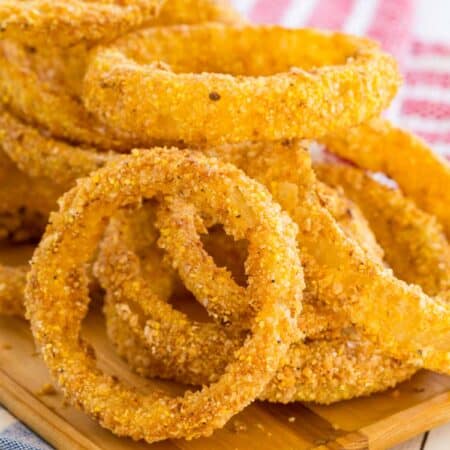 Air Fryer Onion Rings
Extra crispy homemade Air Fryer Onion Rings are made with tender sweet onions in a crunchy gluten free breading. This easy air fryer recipe is a favorite side dish or appetizer to serve up at parties or on game day.
Ingredients
1-2

large

sweet onions

sliced (recommend Vidalia, Maui, or another sweet onion)

¾

cup

milk

¼

cup

plain Greek yogurt

¾

cup

gluten free all-purpose flour

(or a 1-to-1 gluten free flour blend)

2

large

eggs

1

cup

gluten free breadcrumbs

(not panko!)

1

cup

gluten free cornmeal

½

cup

grated parmesan cheese

½

tsp

Kosher salt

½

tsp

smoked paprika

½

tsp

onion powder

½

tsp

garlic powder

¼

tsp

ground black pepper

Oil in a mister bottle for spraying, or cooking spray

(it's better to use a spray oil versus a nonstick cooking spray with propellant)
Instructions
Stir the milk and Greek yogurt together in a large bowl. Add the onion slices and let them soak in the refrigerator for 30 minutes to 1 hour.

Add gluten free flour to one shallow dish. Lightly beat the eggs in another shallow dish. Whisk together the breadcrumbs, cornmeal, parmesan cheese, salt, paprika, onion powder, garlic powder, and pepper in a third shallow dish.

Remove one onion ring from the milk mixture and let any excess drip off, then coat in flour. Dip in the egg, and then in the breadcrumb mixture. Place on a baking sheet.

Repeat with the remaining onion rings, spreading them out in a single layer separated so they don't stick together. Spray the tops of the onion rings thoroughly with oil or cooking spray. Flip and spray them again.

Preheat the air fryer to 370°F. Once it is preheated, coat the basket with cooking spray. Place onion rings in a single layer in the air fryer basket, and cook in batches at 375°F for 5 minutes. Flip and spray again with oil, then cook until golden brown and crispy on both sides, for another 3-5 minutes. Cooking time can vary based on the size of your onion rings and the model of your air fryer. This recipe was tested using a Cosori XL 5.8 quart air fryer. Cover to keep warm while cooking the remaining onion rings.
Nutrition Facts
Air Fryer Onion Rings
Amount Per Serving
Calories 461
Calories from Fat 99
% Daily Value*
Fat 11g17%
Cholesterol 108mg36%
Sodium 580mg24%
Potassium 360mg10%
Carbohydrates 74g25%
Protein 19g38%
Vitamin A 421IU8%
Vitamin C 4mg5%
Calcium 231mg23%
Iron 3mg17%
* Percent Daily Values are based on a 2000 calorie diet.
Categories: