Bang Bang Cauliflower Bites
Disclosure: This post may contain affiliate links. Cupcakes & Kale Chips is a participant in the Amazon Services LLC Associates Program, an affiliate advertising program designed to provide a means for us to earn fees by linking to Amazon.com and affiliated sites.
Bang Bang Cauliflower Bites are a healthy appetizer recipe based on Bang Bang Shrimp. Only this copycat recipe is made with veggies. Crispy baked cauliflower wings are covered in an Asian-inspired sweet and spicy bang bang sauce recipe that is lightened up with Greek yogurt.
These baked cauliflower bites make a yummy side dish and are perfect to serve as gluten free appetizers, too!

Ah, copycats. With two little boys, I certainly know all about that. Even at two years old, Little Dude already wants to be just like his big brother. The Bug just earned his gold belt in karate, and all during the belt tests, you could hear Little Dude in the background screaming "Ai-yah!" He already can almost count to ten in Korean, and even instructed his Nana to stand at attention.
I've found him getting more adventurous than The Bug at a younger age, wanting to go down the big slide at the park, and climb up and jump off of those playground pieces that indicate that they are for kids ages 6 to 12. But don't you dare try to convince him that he might be better off in the toddler section.
He asks to take showers, insists on brushing his own teeth, and yes, is even about ninety percent potty trained, all of which I owe to the example and encouragement of his older brother.
It goes in the reverse direction too, but unfortunately with not as desirable outcomes. As much as we try not to indulge the crying and whining, Little Dude is two.
Sometimes that's the only way he knows how to communicate his needs, and sometimes we've just had enough and when the crying and whining start, we just give him what he is whining and crying for.
The Bug, who is the most perceptive five year old you will ever meet, recognizes what we are doing, and will mimic these toddler antics in order to get his way. Little Dude will sometimes do things that are funny when a two year old does them, but then The Bug will copy, usually in a more obnoxious five year old boy manner, and then, much to The Bug's frustration, it's no longer funny.
So he's trying to be a copycat, but not really.
Kind of like these Bang Bang cauliflower bites!
Bang Bang Cauliflower Wings
This cauli-fied appetizer is lighter than their crustacean counterparts and also gluten free. The bang bang sauce is creamy, slightly sweet, subtly spicy, and lightened up with Greek yogurt.
How to make Bang Bang Cauliflower Bites:
Whisk together a light rice flour batter.
Coat cauliflower florets the batter and bake.
Stir together the easy bang bang sauce recipe.
After the bites are golden and a bit toasted in spots, toss them in the sauce.
Bang Bang Cauliflower Bites Recipe Tips:
The Bang Bang Sauce recipe uses Sweet Chili Sauce, which is typically found with the Thai ingredients in your local grocery store. It is sweet with a hint of spice, versus a spicy chili pepper sauce. The heat comes from the sriracha sauce, and you can adjust the amount you add to your preference.
You can cut the cauliflower into the size florets you prefer. The larger ones will take longer to cook and stay a bit firmer, and small ones soften up but then get nice and crispy if you leave them in long enough.
This recipe uses brown rice flour and almond milk for the coating. There are similar cauliflower wings recipes that use all purpose flour and regular milk. I have not done this myself, but it should work.
You'll bake the cauliflower bites until they are nearly done, then flip them over and put them back in the oven so they have the chance to get browned and crispy on all sides.
You will probably have more Bang Bang sauce than you need for coating the cauliflower, as it might make it too soggy. Use just enough to coat and save the rest for dipping.
For more yumminess from me and my foodie friends, keep up with me on…
Or sign up to have Cupcakes & Kale Chips delivered straight to your Inbox!
Want some more spicy cauliflower recipes?
Bang Bang Cauliflower Bites
A must-make gluten free appetizer recipe that need to appear at your next party, or as a side dish on your dinner table. This is one of those recipes where I just can't stop myself from finishing my serving and then after everyone else in the family had had their fill, I go back to the bowl and take whatever is left. So it may not be an exact copycat, but you all know that I am a bit cauli-obsessed, given my love of cauli-tots, cauliflower rice, and even just basic roasted cauliflower! Clearly it had to be done!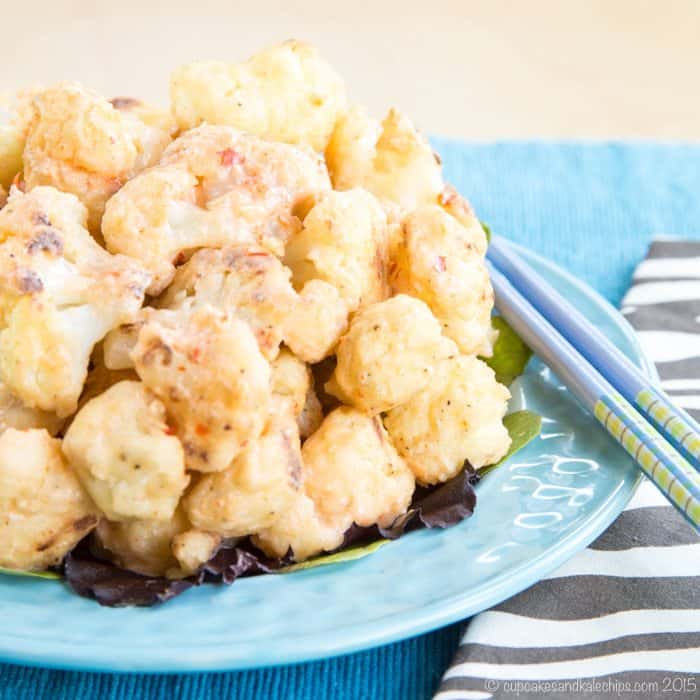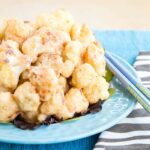 Print Recipe
Bang Bang Cauliflower Bites
A veggie version of a restaurant copycat recipe, these sweet and spicy Asian-inspired bites are an addictive appetizer or vegetable side dish.
Ingredients
For the cauliflower:
One

large head

cauliflower

½

cup

brown rice flour

(can use all-purpose flour)

1/2

teaspoon

kosher salt

1/4

teaspoon

black pepper

1/4

teaspoon

garlic powder

1/4

teaspoon

onion powder

½

cup

almond milk

or your milk of choice
Instructions
Stir together the ingredients for the Bang Bang Sauce in a bowl and set aside.

Preheat your oven to 450°F, and spray a baking sheet with oil or cooking spray.

Cut the cauliflower into florets. The smaller they are, the faster they will cook and softer they will get.

Whisk together the remaining ingredients in a bowl.

Toss the cauliflower in the batter until thoroughly coated.

Arrange the cauliflower on the baking sheet in a single layer.

Bake for 20 minutes, or until slightly less done than you want them.

Remove from the oven and gently flip the cauliflower. Return to the oven for another 5-10 minutes, or until golden brown and tender.

Transfer the cauliflower to a bowl, pour over the Bang Bang Sauce (you can reserve some for dipping, if desired), and gently toss to coat.
Nutrition
Calories:
125
kcal
|
Carbohydrates:
21
g
|
Protein:
4
g
|
Fat:
3
g
|
Cholesterol:
1
mg
|
Sodium:
385
mg
|
Potassium:
38
mg
|
Fiber:
3
g
|
Sugar:
7
g
|
Vitamin C:
93.1
mg
|
Calcium:
66
mg
|
Iron:
0.8
mg
First published on Jul 26, 2015.