This post may contain affiliate links. Read my disclosure policy.
Cheesy Mashed Cauliflower Gratin is a fluffy side dish kicked up with Horseradish Cheddar Cheese. This light and healthy vegetable side dish can be prepared ahead for a busy weeknight and is a delicious veggie for a holiday meal or an elegant dinner. Everyone will love this keto-friendly whipped cauliflower casserole. In fact, it's one of the best gluten free casserole recipes.
Horseradish Cheddar Mashed Cauliflower Gratin
I think The Hubby and I were clearly fed way too many mashed potatoes when we were kids because now we just don't like them. Occasionally I'll make some sort of smashed potatoes that are jazzed up with something flavorful and left kinda chunky – like this Balsamic Caramelized Onion Mashed Potatoes or Bacon Cheddar Cheesy Mashed Potatoes, and that is fine.
But plain, smooth, creamy mashed potatoes never happen in our house. So when a pile of white stuff shows up on The Bug's plate, even he knows it's cauliflower. And he is cool with that.
I love my kid as much as he loves the mashed cauliflower.
This simple low carb side dish is simple to make and tastes amazing. Simple mashed cauliflower is kicked up with horseradish cheddar cheese and baked in a casserole to give it a light and fluffy texture and amazing flavor. It's easy enough for a weeknight dinner, but special enough for a holiday meal.
Now, I'm not gonna try to tell you that cauliflower gratin tastes like mashed potatoes. Nobody buys that lie anymore. But I like cauliflower and my family likes cauliflower. So when I say that we are having cauliflower with dinner, I don't get any complaints. If you want to try to fool your kids, that's on you. 🙂
Ingredients
You only need four ingredients plus a little salt and pepper for flavor and some optional paprika for a little color on top. Just gather these together.
Cauliflower: you'll need the florets from one head. No need to cut them any particular size since you'll be steaming and pureeing them
Egg: Just one helps to bind it together and give it a thicken and fluffier texture than just plain mashed cauliflower.
Plain Greek yogurt: Gives it a creamier texture while still keeping it light and fluffy and not too thin.
Horseradish Cheddar Cheese: I used Cabot Horseradish Cheddar. Don't want the spice. Plain cheddar cheese works just fine!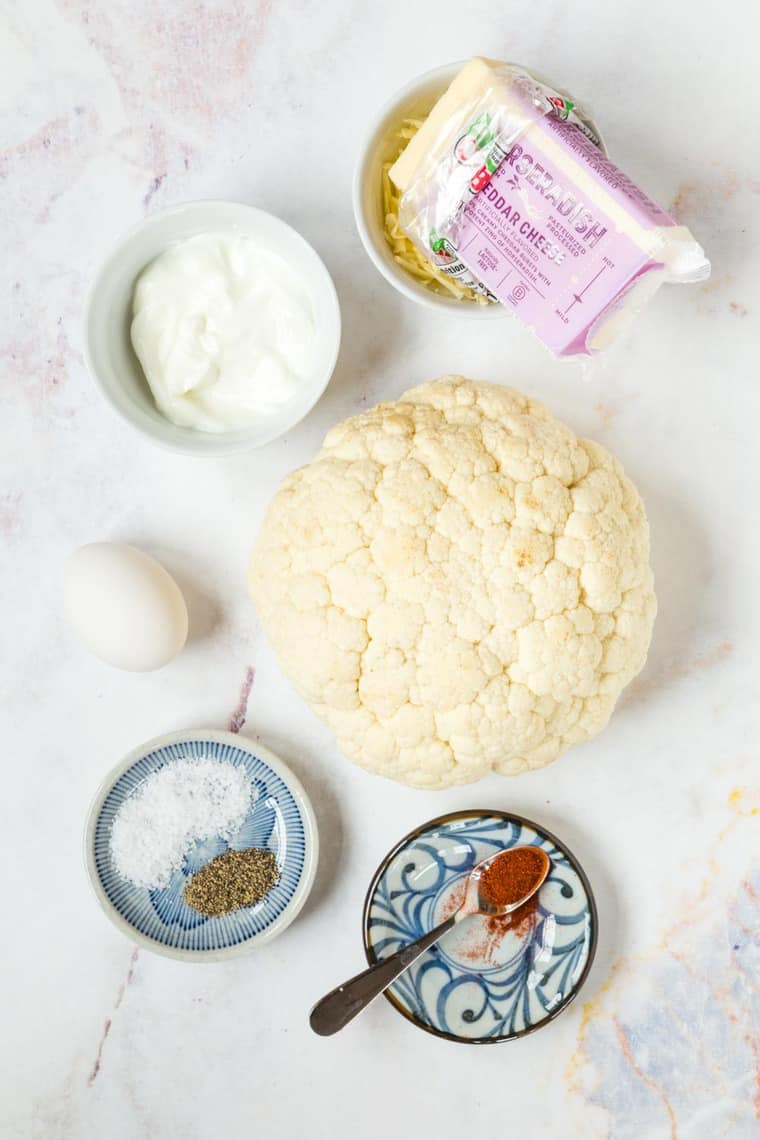 How to Make Cauliflower Gratin with Horseradish Cheddar
Just a quick overview here and some process photos to help you out. You'll find all the details and the full quantities of ingredients in the recipe card.
Start by steaming the cauliflower until it is very tender.
Puree it with egg, Horseradish Cheddar Cheese, Greek yogurt, salt, and pepper.
Spread it into a baking dish and top with shredded cheddar cheese (and the optional paprika, for color, if you like).
Pop it in the oven to give it that fluffy texture just like mashed potatoes.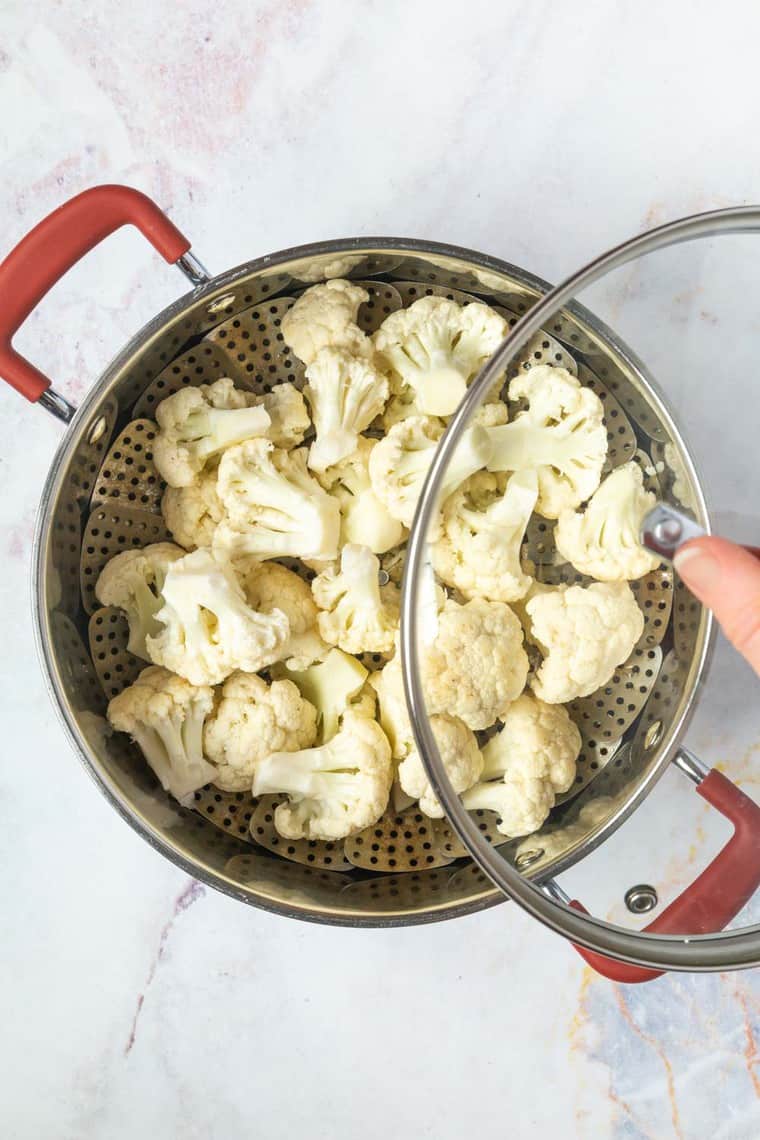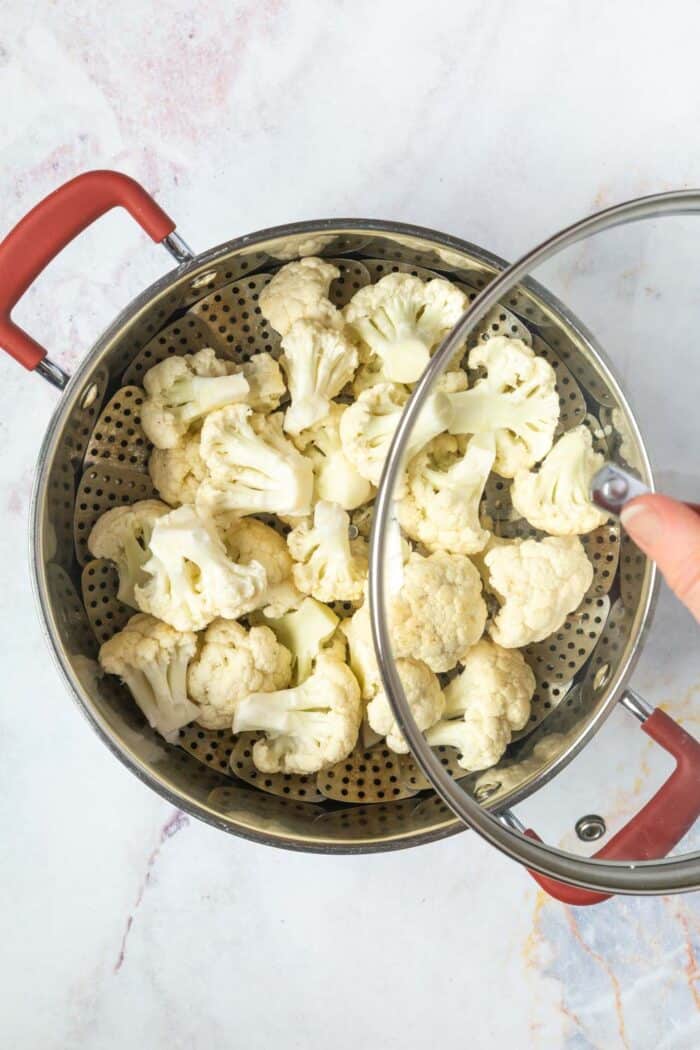 Tips for Success
If you are having a fancy little dinner party, you can put it into individual ramekins, as I did with this Whipped Cauliflower Gratin. Just adjust your baking time a bit.
Also, it never hurts to add bacon, like this Cheesy Cauliflower Mashed Potatoes recipe.
If you puree it in a high-powered blender, you will get a smooth and silky whipped cauliflower. A food processor makes them more like a thicker cauliflower mashed potatoes recipe.
Is cauliflower gratin gluten-free?
A traditional gratin (or the extra fancy term, au gratin) is a dish with a baked topping of bread crumbs and cheese. To make this a gluten-free gratin, the bread crumbs are left out. But trust me; this cheesy mashed cauliflower casserole is equally delicious without them.
Nice and fluffy, but because you add Greek yogurt and egg, and then bake it, there is structure to it. It's not super creamy (though it is smooth), and if you let the cauliflower drain well, it won't be watery either. Then you get the sharp cheddar cheesiness and the little kick of horseradish, which totally isn't overwhelming. Evidence – I had an almost four-year-old and a one-year-old shoveling this in their mouths.
Can you make gratin ahead of time?
One great thing about this easy gratin recipe is that you can prepare all of part of it in advance, which makes it ideal for busy weeknights OR holiday meals, where you have to prepare a lot of dishes.
To make the cauliflower gratin ahead:
Steam the cauliflower, then let it cool down and dry off (that actually keeps it from being too watery).
OR, get the entire mashed cauliflower casserole prepared and refrigerate it unbaked, or bake it off completely then reheat it in the oven to get the cheese extra toasty. (That's what I did since I was taking photos at around 3 in the afternoon).
What do you serve with Cauliflower Gratin with Horseradish Cheddar Cheese?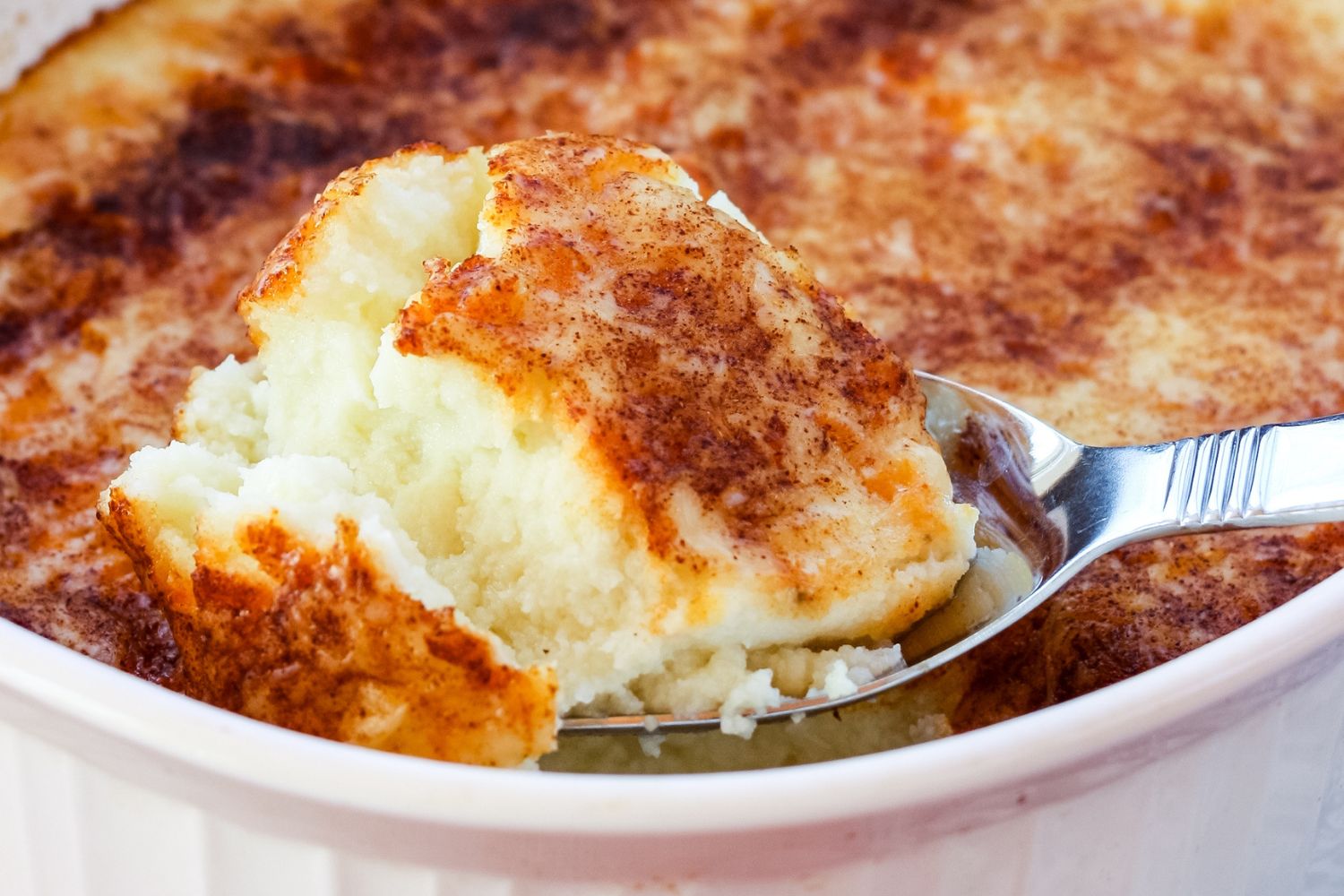 Brianne's Favorite Blender
I love to use my Blendtec. It is a high-powered blender that gives you the smoothies and creamiest mashed cauliflower, smoothies, soups, and more.

I am a Blendtec ambassador, and should you make any purchases through my  Blendtec Store link, I will receive a small commission, but that also means you can use the code CUPCAKESANDKALECHIPS to receive 20% off.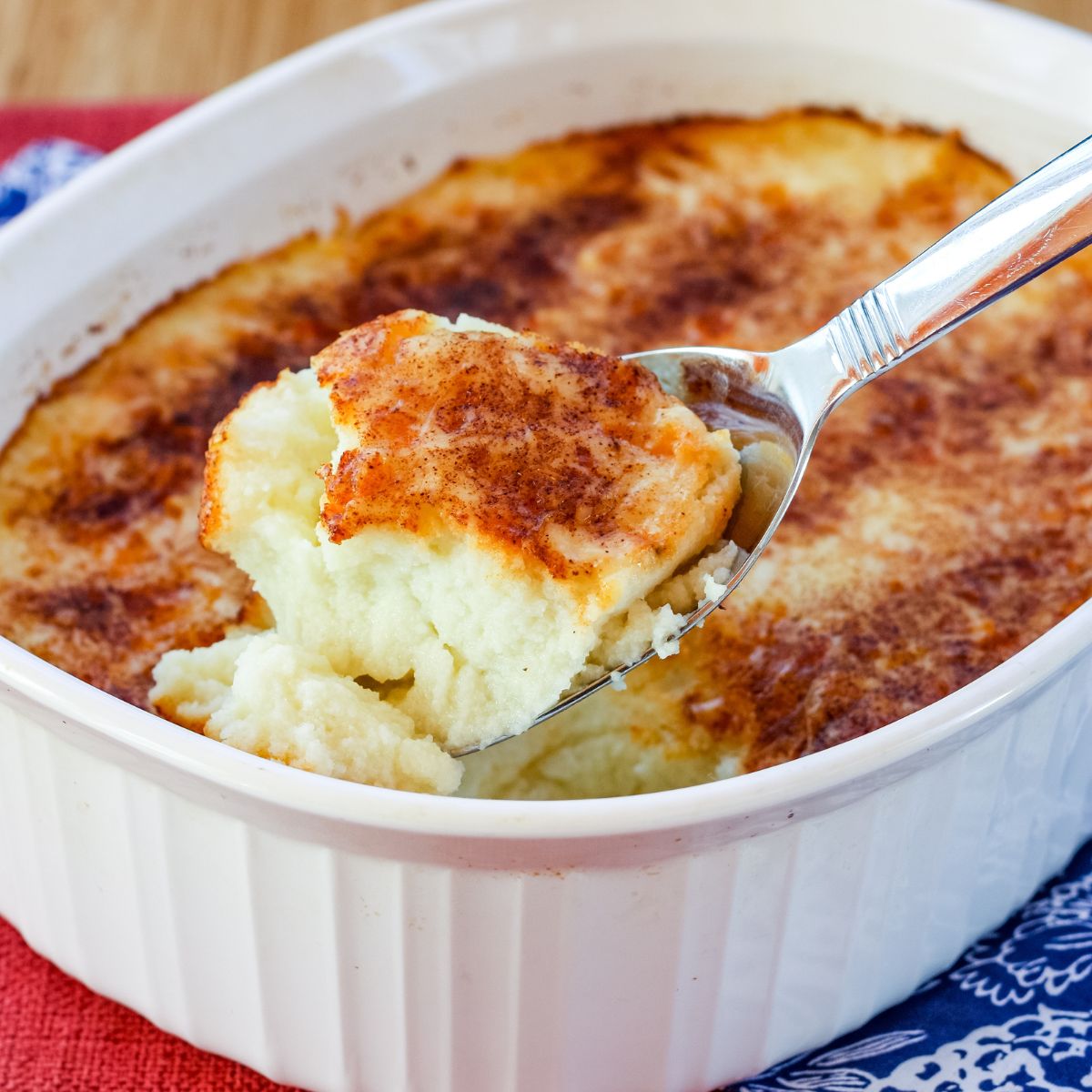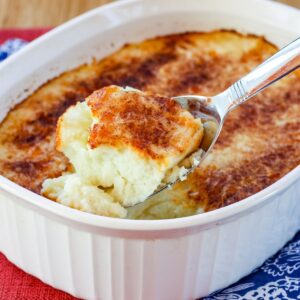 Cauliflower Gratin with Horseradish Cheddar Cheese
Fluffy and cheesy with a little kick, Horseradish Cheddar Cauliflower Gratin is a light, healthy vegetable side dish for a busy weeknight or a holiday meal. A gluten-free and low carb side dish!
Instructions
Preheat your oven to 400°F, and lightly coat a 2 quart casserole dish with oil or cooking spray.

Cut the cauliflower into large florets, discarding the tough stem, and steam over boiling water until very tender.

Drain thoroughly, and allow to cool slightly so that some of the excess moisture evaporates.

Place the cauliflower, Greek yogurt, egg, 3/4 cups of the cheese, salt, and pepper into a blender or food processor, and process until smooth.

Transfer the cauliflower to the prepared dish and sprinkle with remaining cheese, and paprika, if desired.

Bake for 25-30 minutes, or until heated through and browned on top.
Notes
You can also divide the cauliflower mixture between 4-6 ramekins and bake for 15-20 minutes.
The casserole can be prepared ahead of time and baked or reheated before serving.
Nutrition Facts
Cauliflower Gratin with Horseradish Cheddar Cheese
Amount Per Serving (1 g)
Calories 117
Calories from Fat 63
% Daily Value*
Fat 7g11%
Cholesterol 47mg16%
Sodium 547mg23%
Potassium 315mg9%
Carbohydrates 5g2%
Protein 8g16%
Vitamin A 230IU5%
Vitamin C 46.2mg56%
Calcium 172mg17%
Iron 0.7mg4%
* Percent Daily Values are based on a 2000 calorie diet.
Categories: