Bacon Cheddar Cheese Mashed Potatoes – Only 5 Ingredients!
Disclosure: This post may contain affiliate links. Cupcakes & Kale Chips is a participant in the Amazon Services LLC Associates Program, an affiliate advertising program designed to provide a means for us to earn fees by linking to Amazon.com and affiliated sites.
Cheesy Mashed Potatoes with Bacon are a fast and easy side dish recipe the whole family will love. Only five ingredients and lightened up with Greek yogurt. But there is plenty of cheddar cheese and crumbled bacon to make them irresistible. Save time by leaving the skin on for homestyle rustic mashed potatoes. Everyone will be asking for seconds!
Ah, mashed potatoes. A classic side dish. The ultimate comfort food. That one dish that unites a family, even if they disagree about every other part of the meal.
Guess what. I don't like mashed potatoes.
I mean, unless they are sitting atop a yummy mixture of saucy ground beef and veggies, like my Shepherd's Pie recipe. Or packed with all kinds of other flavors and textures like these Balsamic Caramelized Onion Mashed Potatoes.
Nope, I'd much rather save my carb consumption for a giant scoop of corn pudding. And when it comes to cheesy whipped sides, give me mashed cauliflower any day of the week.
So why would you trust a mashed potatoes recipe from someone who says they don't like mashed potatoes?
Because these are cheesy mashed potatoes. With bacon. And goodness gracious, I loved them. So if I loved them, then I know you will with their blend of creamy with some texture and plenty of cheesy, salty, smoky goodness.
Seriously, tater-lover or tater-hater, these easy, cheesy bacon mashed potatoes need to on your menu soon!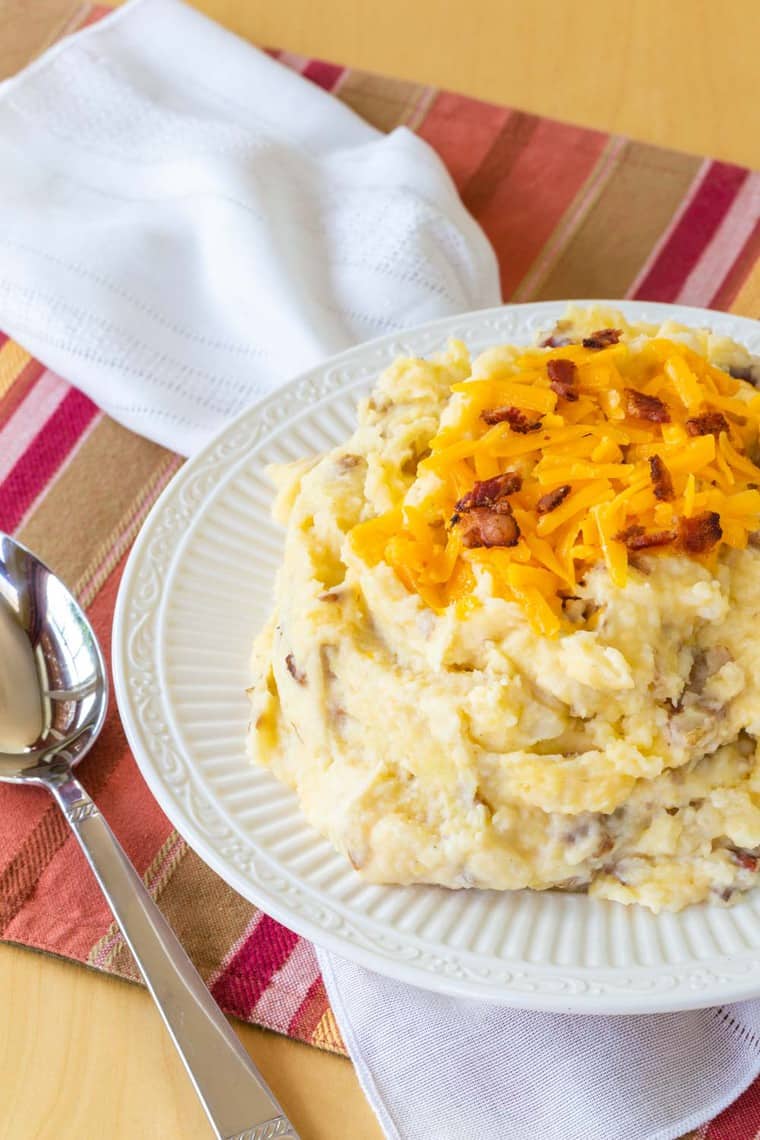 Cheddar Bacon Mashed Potatoes
What do you love most about these cheesy bacon mashed potatoes? Is it the fact that they are filled with cheesy, bacon-y deliciousness but not loaded with tons of cream and butter, making them a lighter, but still smooth and creamy side dish? Or is it the fact that it is a super-fast side dish for everything from a busy weeknight dinner or a holiday meal when you are juggling the rest of the feast? My vote is for all of the above!
How do you make Cheesy Mashed Potatoes with Bacon?
You only need five main ingredients:
White or red potatoes – cut into 1/2-inch pieces
Sharp cheddar cheese – grated and divided
Greek yogurt – plain, you can use nonfat, light, or whole milk yogurt. You can also substitute sour cream.
Milk
Bacon – cooked till crispy and crumbled
Plus salt and pepper, to taste.
How to make mashed potatoes with cheese and bacon:
Place the potatoes in a pot, cover with cold water, and bring to a boil. Cook until fork tender and drain.
Mash the potatoes.
Add cheese and cover to let the cheese melt.
Add Greek yogurt, milk, salt and pepper, and stir everything together.
Stir in the bacon.
Transfer to a serving bowl and top with more cheese and bacon.

Why do I love these mashed potatoes so much?
Well, there are a few reasons.
First, they aren't loaded with a ton of butter and cream.
Now don't get me wrong. I actually do like a super-rich and creamy mashed potato. But instead, I used Greek yogurt and a little milk. Yes, that does lighten them up a bit to help balance out the richness from the cheddar cheese and bacon. However, that tangy flavor is actually a nice balance and really helps to enhance the sharpness of the cheddar. You could even use sour cream so that they taste like a loaded baked potato.
Second, I made these mashed potatoes with skin and just used a basic hand potato masher.
This does a few things. It saves time because you don't have to peel the potatoes. And, since you don't have to take out and then wash any special gadgets or appliances to whip the potatoes, these become a total weeknight side dish option. No more saving mashed potatoes for Sunday dinner!
Third, it is not necessary to get rid of every lump.
The small chunks and bits of tender skin make for nice homestyle, rustic mashed potatoes. Combined with the crispy bits of bacon, it is a nice bit of texture to go along with the creamy, cheesy goodness.
What are the best potatoes for making mashed potatoes?
Most people will say Yukon gold or Russet potatoes are the best for mashing. And it is true that these varieties yield a super fluffy and creamy finished product.
But if you are leaving the skin on, like this recipe, you'll want to go with a basic white or red potato. These have thinner skin that gets very soft when cooking. So it's fine to leave it on.
If you prefer, you can choose to peel the potatoes, regardless of the type you choose.
Brianne's Pro Tips:
The texture I love is actually a happy side benefit of what makes these potatoes so easy – no need to peel the potatoes and no breaking out any special contraptions or appliances to mash them. Just use a basic potato masher.
If you cut the potatoes into small cubes, they boil in way less than 20 minutes.
After draining the potatoes, return them to the hot pot with the lid off to allow some of the excess moisture to evaporate.
From beginning to end, these potatoes take about 30 minutes. Most of that time is boiling so you can spend that time preparing the rest of your meal.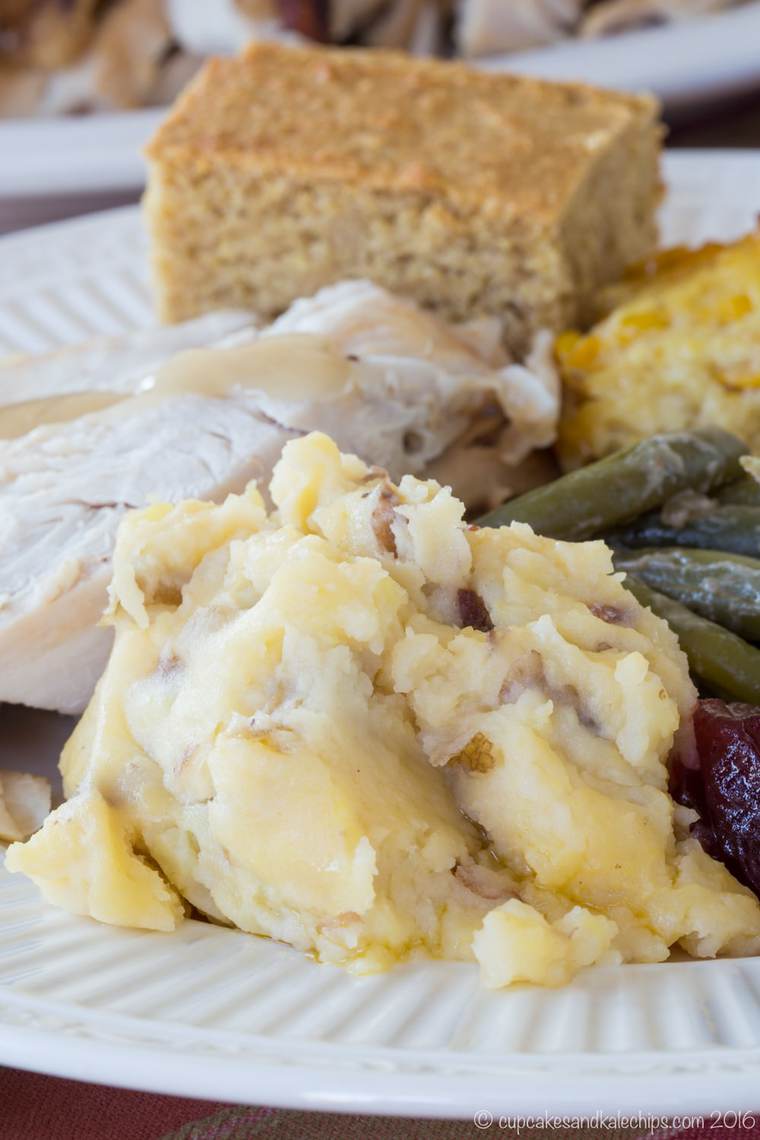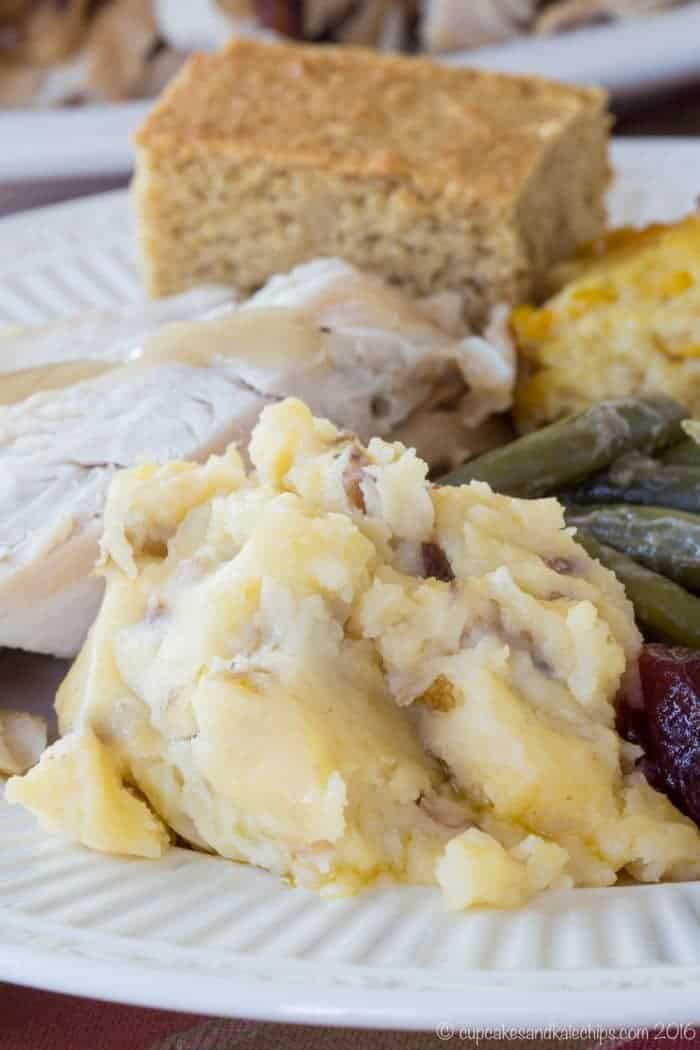 Looking for another cheesy potatoes recipe?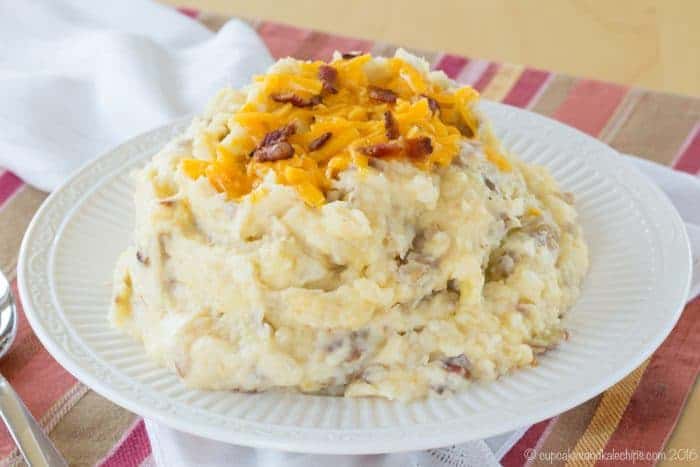 For more yumminess from me and my foodie friends, keep up with me on…
Or sign up to have Cupcakes & Kale Chips delivered straight to your Inbox!
What do you serve with cheesy mashed potatoes?
Let the potatoes boil while you prepare the rest of your quick and easy weeknight meal, like these quick and easy dinners:
Upgrade the basic mashers you serve with a classic Sunday dinner like one of the following:
They also make a perfect side dish to a holiday meal like:
Easy Cheesy Mashed Potatoes Recipe with Bacon
I hope you'll leave a comment and give it a FIVE STAR rating or share a photo on this pin on Pinterest!

Print Recipe
Easy Cheddar Bacon Cheesy Mashed Potatoes
A new family favorite side dish for busy weeknights or holiday meals. Lightened-up with Greek yogurt and made fast and easy with five ingredients.
Ingredients
2

pounds

white or red potatoes

cut into 1/2 inch pieces

4

oz

shredded sharp cheddar cheese,

(1 cup) - reserve about 1/4 cup for sprinkling on top, if desired

1/2

cup

plain Greek yogurt

1/2

cup

milk,

any variety

2

slices

cooked and crumbled bacon,

reserve a small amount for sprinkling on top, if desired

1

teaspoon

salt,

or to taste

1/2

teaspoon

black pepper,

or to taste
Instructions
Cover potatoes in a pot with cold water, and bring to a boil over medium heat.

Cook for about 12-15 minutes, or until potatoes are fork tender. Drain well and return potatoes to the pot, allowing some of the excess moisture to evaporate.

Mash potatoes with a hand potato masher, leaving just a little chunky.

Sprinkle the cheese over the hot potatoes and cover with a lid for a couple minutes to allow the heat to start to melt the cheese.

Add the Greek yogurt, milk, salt, and pepper, and stir in with a spatula until smooth, then stir in the bacon.

Transfer potatoes to a serving bowl, and top with reserved cheese and bacon, if desired.
Nutrition
Serving:
1
g
|
Calories:
164
kcal
|
Carbohydrates:
15
g
|
Protein:
9
g
|
Fat:
7
g
|
Saturated Fat:
4
g
|
Cholesterol:
20
mg
|
Sodium:
439
mg
|
Potassium:
513
mg
|
Fiber:
2
g
|
Sugar:
1
g
|
Vitamin A:
165
IU
|
Vitamin C:
13
mg
|
Calcium:
170
mg
|
Iron:
3.8
mg
Enjoy!