Easy Homestyle Cheddar Bacon Mashed Potatoes
Disclosure: This post may contain affiliate links. Cupcakes & Kale Chips is a participant in the Amazon Services LLC Associates Program, an affiliate advertising program designed to provide a means for us to earn fees by linking to Amazon.com and affiliated sites.
Cheddar bacon mashed potatoes are lightened up with Greek yogurt, made with only five ingredients, and ready fast. Your new family favorite side dish for holidays and busy weeknights alike will be these cheesy and Easy Homestyle Cheddar Bacon Mashed Potatoes.


How to Make Cheddar Bacon Mashed Potatoes


MY LATEST VIDEOS
My sister is my closest sibling in age, and I was nearly ten years old when she was born. By then, I was basically old enough to help take care of her, so while I adore her, she was never my playmate. Because of this, I've never really understood sibling dynamic. So watching interactions between my boys is totally fascinating to me since I've never experienced it myself. Literally just watching them be brothers. I know this probably makes no sense at all to anyone who grew up with siblings.
Since the boys head off to their different schools in the morning, on a daily basis they only have a little bit of time together. And in the past several weeks, we have spent a lot of time going to baseball practices and games, Cub Scouts, and other family outings, plus visits from my mom. This has left them little time to just be together. So on Monday, when the big guy had no school, I kept the little one home from preschool knowing they were both a little tired after getting home late from our weekend trip to grandma's.
As I see their relationship develop, I realize how important it is to have those days where they just spend time together as brothers. Sure, activities and outings are fun and important, but sometimes they just need a day to play together and get bored together and figure out how to get un-bored together and fight together and work it out together and learn new things from each other and take care of each other.
And while I do play and referee and help as needed, sometimes the best thing to do is just sit back and watch.
However, one thing I'm not going to just watch is this, because I'd prefer to dive right in…
If I loved these Easy Homestyle Cheddar Bacon Mashed Potatoes, then I know you will. As I've told you when I shared my Parmesan Balsamic Caramelized Onion Smashed Potatoes recipe, I'm not a mashed potatoes kinda gal. That is, unless they have all kinds of goodness going on. In this recipe, that means a blend of creamy with some texture and with cheesy, salty, smoky goodness.
And the texture I love is actually a happy side benefit of what makes these potatoes so easy – no peeling the potatoes and no breaking out any special contraptions or appliances to mash them. By choosing a white or red potato with a tender skin, you can completely bypass the most time-consuming part of making mashed potatoes. And all you need for mashing is a simple hand masher. Then just stir in some milk, plain Greek yogurt, cheese, and just enough bacon to give it some bacon-y-ness but not smack you in the face with it. The Greek yogurt gives you the creaminess without having to load it up with butter and cream, and then bit of tang just kicks up the sharp cheese flavor so you don't need to use a ton of it for plenty of cheesiness.
I truly can't decide the best thing about these Easy Homestyle Cheddar Bacon Mashed Potatoes.
Is it the fact that they are filled with cheesy, bacon-y deliciousness but not loaded with tons of cream and butter, making them a lighter, but still smooth and creamy side dish? Or is it the fact that you can make them super fast side for everything from a busy weeknight dinner like chicken tenders to a holiday meal like a turkey breast or prime rib roast when you are trying to juggle making a ton of other parts of the feast?
Either way, these easy, cheesy bacon mashed potatoes need to on your menu soon!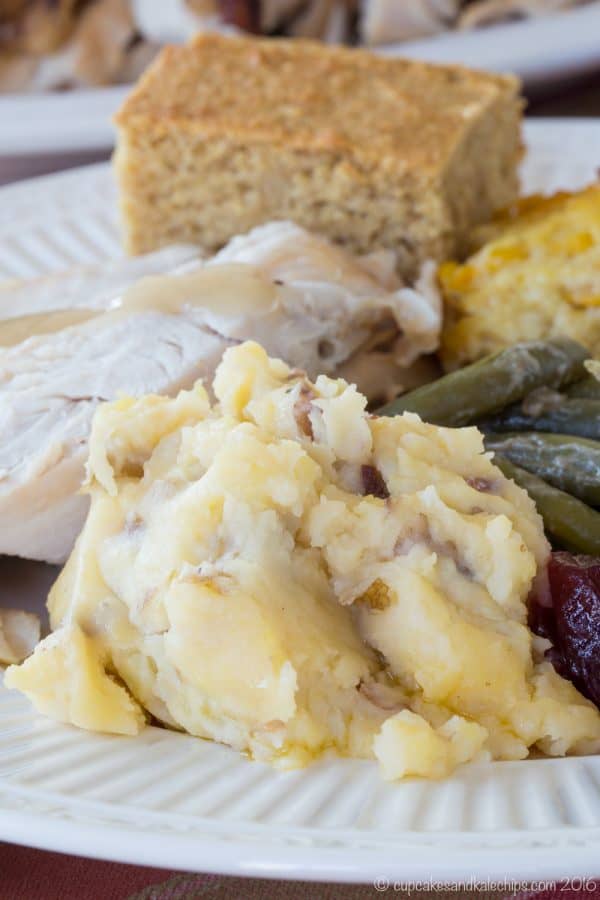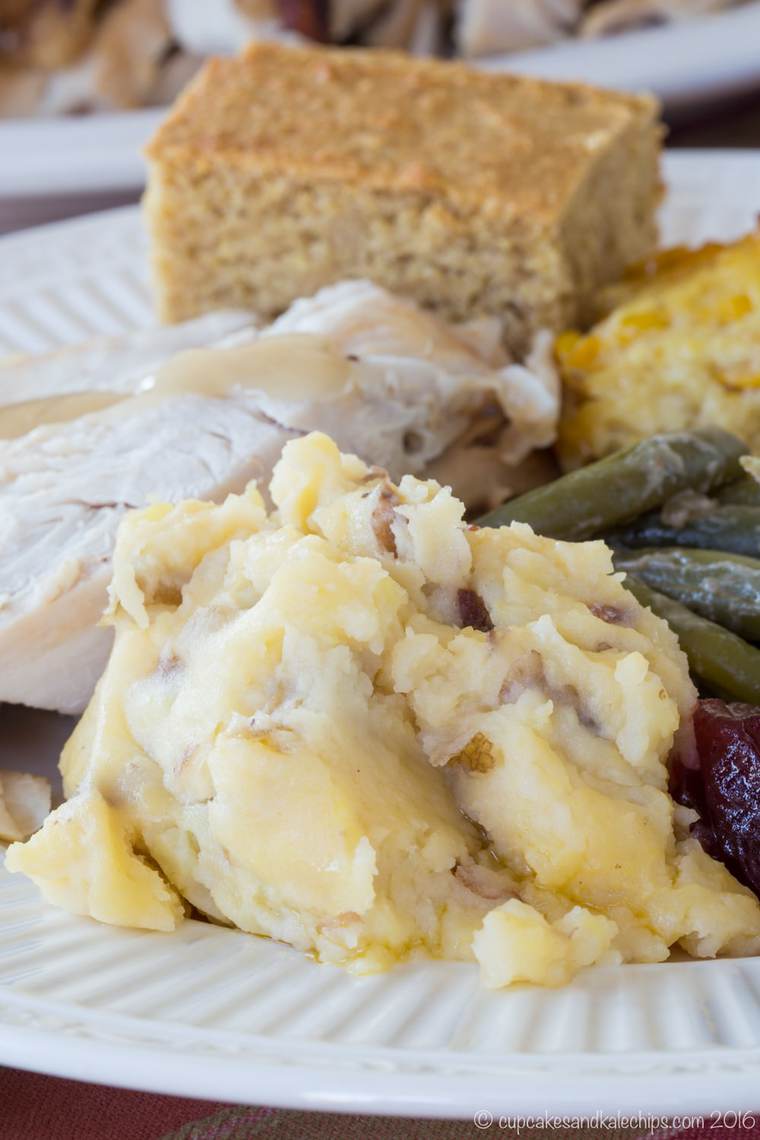 If you like this recipe, you need to try these…
If you love cheddar cheese and bacon, here's some more recipes to try. Warm Bacon Cheddar Dip from It's Yummi is a cheesy appetizer you'll love. Cheesy Bacon Chicken from Spend with Pennies is sure to be a crowd-pleaser. And these Bacon Cheddar Cauliflower Tots from Foodie with Family are totally irresistible.
Want to chat with fellow foodies? Join my No-Fuss Food and Fun group on Facebook. Everyday we have fun topics, share recipes and ideas, ask and answer questions, and see all of my new Cupcakes & Kale Chips creations! If you'd like to check it out, you can request to join HERE.
For more yumminess from me and my foodie friends, keep up with me on…
Or sign up to have Cupcakes & Kale Chips delivered straight to your Inbox!

Here are some things you might need to make cheesy bacon mashed potatoes…
Enjoy this Easy Homestyle Cheddar Bacon Mashed Potatoes recipe!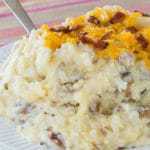 Easy Homestyle Cheddar Bacon Mashed Potatoes
A new family favorite side dish for busy weeknights or holiday meals. Lightened-up with Greek yogurt and made fast and easy with five ingredients.
Keyword:
cheddar bacon mashed potatoes
Ingredients
2

pounds

white or red potatoes

cut into 1/2 inch pieces

4

oz

shredded sharp cheddar cheese,

(1 cup) - reserve about 1/4 cup for sprinkling on top, if desired

1/2

cup

plain Greek yogurt

1/2

cup

milk,

any variety

2

slices

cooked and crumbled bacon,

reserve a small amount for sprinkling on top, if desired

1

teaspoon

salt,

or to taste

1/2

teaspoon

black pepper,

or to taste
Instructions
Cover potatoes in a pot with cold water, and bring to a boil over medium heat.

Cook for about 12-15 minutes, or until potatoes are fork tender. Drain well and return potatoes to the pot, allowing some of the excess moisture to evaporate.

Mash potatoes with a hand potato masher, leaving just a little chunky.

Sprinkle the cheese over the hot potatoes and cover with a lid for a couple minutes to allow the heat to start to melt the cheese.

Add the Greek yogurt, milk, salt, and pepper, and stir in with a spatula until smooth, then stir in the bacon.

Transfer potatoes to a serving bowl, and top with reserved cheese and bacon, if desired.
Nutrition Facts
Easy Homestyle Cheddar Bacon Mashed Potatoes
Amount Per Serving (1 g)
Calories 164
Calories from Fat 63
% Daily Value*
Total Fat 7g 11%
Cholesterol 20mg 7%
Sodium 439mg 18%
Potassium 513mg 15%
Total Carbohydrates 15g 5%
Protein 9g 18%
* Percent Daily Values are based on a 2000 calorie diet.
Enjoy!