Shepherd's Pie Loaded Baked Potatoes
Disclosure: This post may contain affiliate links. Cupcakes & Kale Chips is a participant in the Amazon Services LLC Associates Program, an affiliate advertising program designed to provide a means for us to earn fees by linking to Amazon.com and affiliated sites.
Shepherd's Pie Loaded Baked Potatoes are a fun, simple twist on a classic St. Patrick's Day meal. Carrots and potatoes and cheese, oh my! These shepherd's pie loaded baked potatoes are a perfect way to enjoy a gluten free St. Patrick's Day!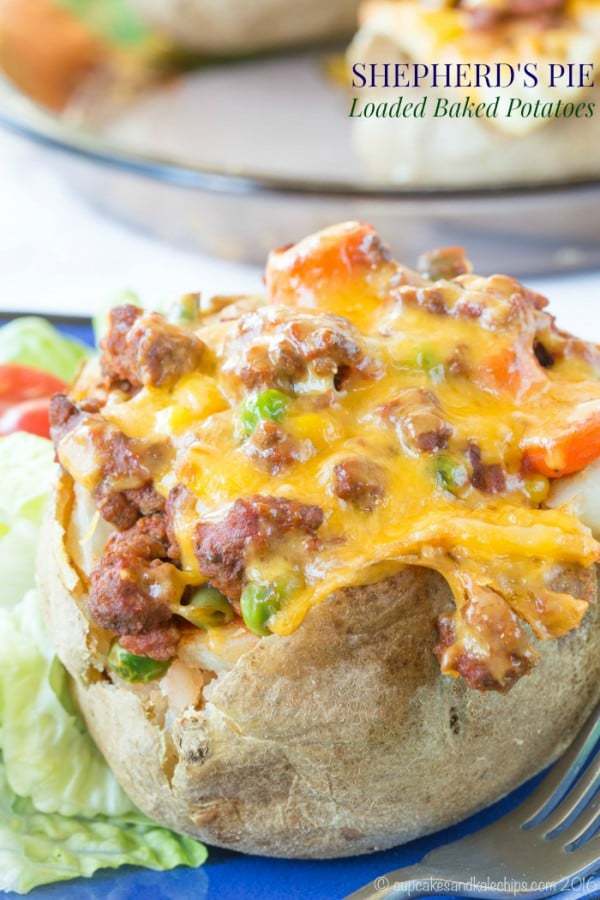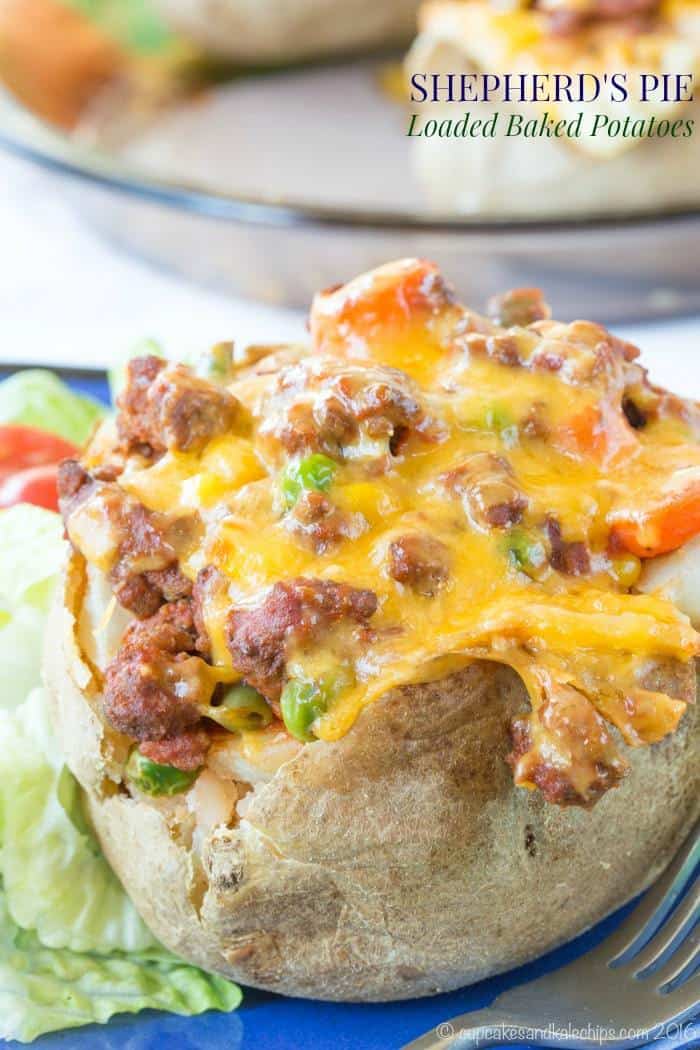 How to Make Shepherd's Pie Loaded Baked Potatoes
You've gotta try this recipe based on an Easy Shepherd's Pie recipe…

MY LATEST VIDEOS

My kids love a book called I Will Never Not Ever Eat a Tomato with Charlie and Lola from that cartoon TV show. They've actually never watched the show, but I stumbled upon the book in a little bookstore in Burlington, Vermont about two years ago. It was shortly after The Bug, following the unfortunate timing of stomach virus onset just after eating a spaghetti dinner, banned all tomato products from his life except ketchup. When I saw the title I knew he had to have it.
It is a super cute book, and one that I actually don't mind reading repeatedly. Little Lola is an extremely picky eater. Big brother Charlie does everything he can to get her to eat a nutritious dinner by insisting that he is giving her Orange Twiglets from Jupiter, Green Drops from Greenland, Cloud Fluff, and Sea Nibbles from the undersea grocery store, and not the carrots, peas, mashed potatoes, and fish sticks that she so despises. But the tables get turned on Charlie when, much to his surprise, she requests the most dreaded veggie of all – tomatoes – by asking for "moonsquirters".
Now I must say, as happy as I am that they enjoy reading the book, I was hoping the tactic would work for me. My kids are not picky eaters in the least, but The Bug doesn't care whether I call them tomatoes or moonsquirters – he is NOT going to eat them.
And Little Dude, well, he needs a book called "I Will Never Not Ever Eat a Potato" because the kids refuses any sort of potato. Well except fries (yes, even homemade oven fries, and not just the French fries he steals off of daddy's plate when we go out to eat) and that time that I made potato waffles. But calling it "cloud fluff" is not going to convince him to dig in to a pile of mashed potatoes. He won't eat them roasted or even loaded with cheese.
But it was definitely his loss that he won't eat them baked either, because the rest of us loved these…
These Shepherd's Pie Loaded Baked Potatoes were a total family-pleasing dinner.
Well, except my little picky potato dude, who ate all the filling but insisted that I remove all evidence of potato contamination from his plate. The Bug devoured his entire serving plus seconds, and even took some of the leftover filling in his thermos for lunch a couple days later. And The Hubby and I enjoyed ours as well. It really couldn't be easier, either. Bake some potatoes in the oven or microwave, cook up a simple filling with ground beef and frozen veggies, load those potatoes and top with plenty of cheese.
Now I know I'm gonna get flack. Shepherd's Pie has lamb. Shepherd's Pie has a more traditional brown gravy-type sauce. The potatoes aren't mashed. Can we just say it's inspired by Shepherd's Pie and leave it at that? It tastes good. Just go make it. Call it Beef and Veggie Loaded Baked Potatoes if you like. It's all good. I'm okay with that.
[Tweet "Shepherd's Pie Loaded Baked Potatoes – an easy and fun twist on a classic!"]
Here are some more creative takes on Shepherd's Pie…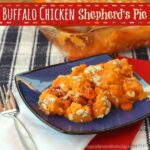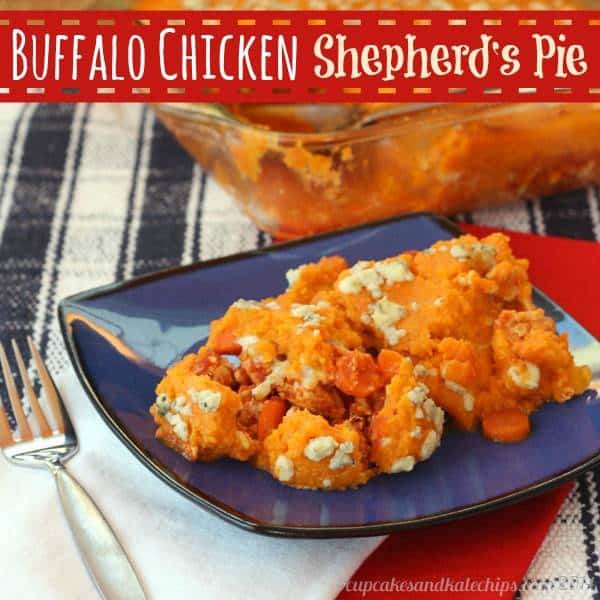 Have you ever tricked someone into eating something they don't like?
For more yumminess from me and my foodie friends, keep up with me on…
Or sign up to have Cupcakes & Kale Chips delivered straight to your Inbox!
Let me know what you think of these Shepherd's Pie Loaded Baked Potatoes!
Shepherd's Pie Loaded Baked Potatoes
A fun and easy twist on a classic recipe with a simple beef and vegetable filling for stuffed baked potatoes.
Ingredients
4

baking potatoes

1

pound

lean ground beef

½

cup

chopped onion

(about 1 medium onion)

1

garlic clove

crushed or minced

¾

cup

tomato paste

one 6-ounce can

¼

cup

Worcestershire sauce

1 1/2

cups

beef broth

2

cups

frozen mixed vegetables

thawed (carrots, peas, corn, and green beans)

1

cup

shredded cheddar cheese

about 4 oz.
Instructions
Bake the potatoes in a 400°F oven for about an hour or until they can be pierced easily with a fork. Or you can cook in the microwave for about 10 minutes, rotating after five minutes.

While the potatoes are cooking, heat a skillet over medium heat, add the ground beef, onion, garlic, and a pinch of salt and pepper. Cook, breaking up the meat, until it is browned. Drain any excess grease.

Stir in the tomato paste, Worcestershire sauce, and beef broth.

Add the vegetables, bring to a simmer, and cook until thickened slightly. Season to taste with salt and pepper.

Cut a slit down the length of one potato then another one perpendicular to make an "x". Squeeze the sides of the potato to open it up and place in a glass baking dish. Repeat with the remaining potatoes.

Spoon the filling into the potatoes and top with shredded cheese.

Return to a 400°F oven for about 5 minutes, or place under the broiler for 2 or 3 minutes, or until cheese is melted and lightly browned.
Nutrition Facts
Shepherd's Pie Loaded Baked Potatoes
Amount Per Serving (1 g)
Calories 564
Calories from Fat 144
% Daily Value*
Total Fat 16g 25%
Cholesterol 99mg 33%
Sodium 1195mg 50%
Potassium 2214mg 63%
Total Carbohydrates 65g 22%
Protein 42g 84%
* Percent Daily Values are based on a 2000 calorie diet.
Enjoy!
Check out the #SundaySupper Root Vegetable Recipes…
Appetizers
Breakfast
Main
Sides
Desserts