This post may contain affiliate links. Read my disclosure policy.
Shepherd's Pie Stuffed Baked Potatoes turn your favorite comfort food casserole upside down for a fun twist on a classic. A simple spud becomes a full meal when you fill your loaded baked potatoes with ground beef and veggies and top with melted cheese. This easy dinner idea will be a new (naturally gluten free) family favorite!
Originally published October 10, 2018. Updated with video and more helpful information.
Shepherd's Pie Loaded Baked Potatoes
My kids are not picky eaters in the least, but my youngest would not eat a potato for years. That is until I took the filling from my favorite Shepherd's Pie and, instead of doing all the work of peeling and boiling and mashing potatoes, I just turned it in a loaded baked potato.
This tasty loaded baked potato recipe is super popular for good reason. It takes classic comfort food and makes it even easier. Obviously, nobody can resist the hearty combination of meat and potatoes. Adding a savory sauce, veggies, and melted cheese just makes it even better. It'll instantly be one of your favorite easy family dinners that kids and adults will enjoy!
While not a traditional Shepherd's pie filling, this way of making it is so easy, so flavorful, and naturally gluten free.
They were a total family-pleasing dinner. And not just in my family. Check out what some of nearly 150,000 people who have pinned this recipe and over 7 million people who have seen the video on Facebook have to say:
This is such a perfect, comforting, cozy meal for fall and all of the colder months. I have always loved Shepherd's Pie, but have never had it like this before. Such a great idea! – Bee

I love this recipe. I'll be making it again tonight for I think the 5th time <3 – Andrea

Hi! This sounds perfectly yummy and quick (while fairly inexpensive) and exactly what this tired single mom is looking for! – Sue
And while it is one of our favorite easy dinner recipes for any night of the year, this loaded baked potato recipe is a perfect simpler way to enjoy a gluten free St. Patrick's Day!
Ingredients
This entire recipe has only nine ingredients and just a few steps. No need to make a roux or slurry to thicken the gravy. And the filling can be made during the last twenty minutes or so that the baked potatoes are in the oven.
Russet baking potatoes
ground beef
onion
garlic
tomato paste
Worcestershire sauce
beef broth
frozen mixed vegetables
cheddar cheese
Directions
Bake the potatoes using one of the methods below.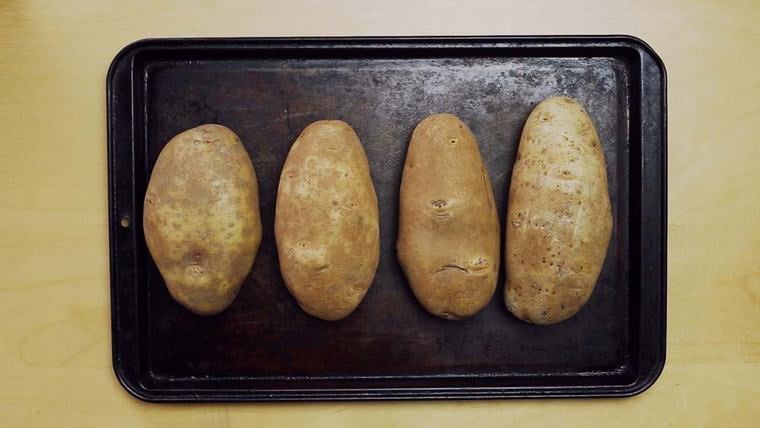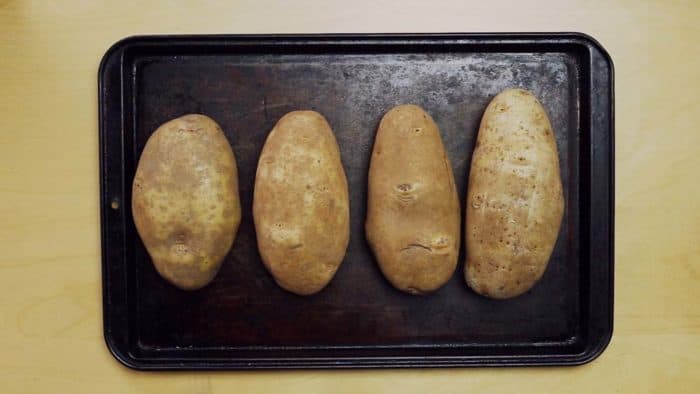 While they bake, brown ground beef in a skillet with onion, garlic, kosher salt, and black pepper.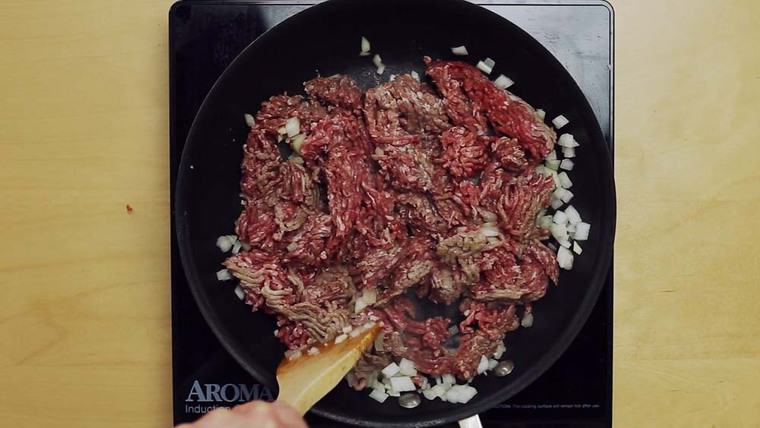 Stir in tomato paste, Worcestershire sauce, and beef broth. Add vegetables and simmer till thickened.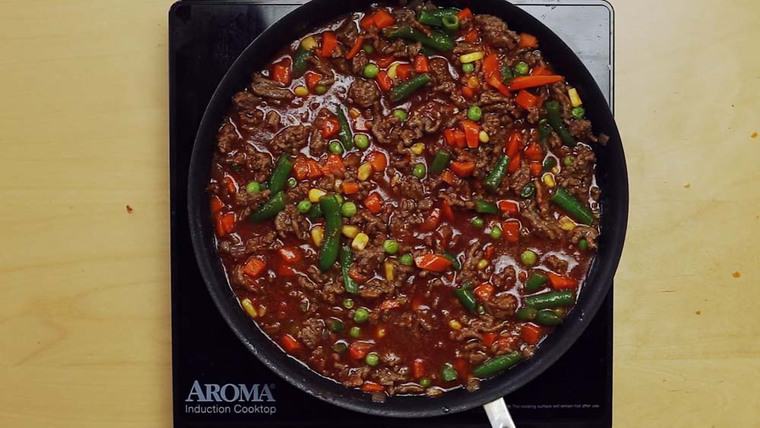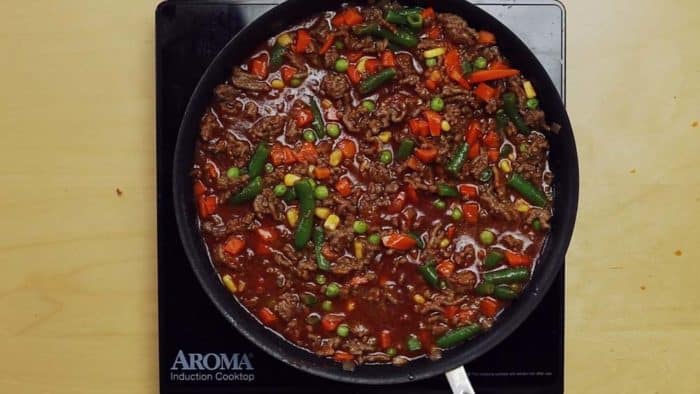 Once the potatoes are baked, cut through the potato skin and open them up with a fork. Place the potatoes in a cast iron skillet or glass pie plate and spoon the filling inside.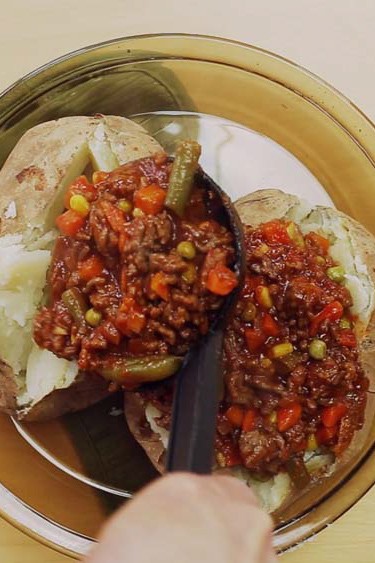 Top with shredded cheddar cheese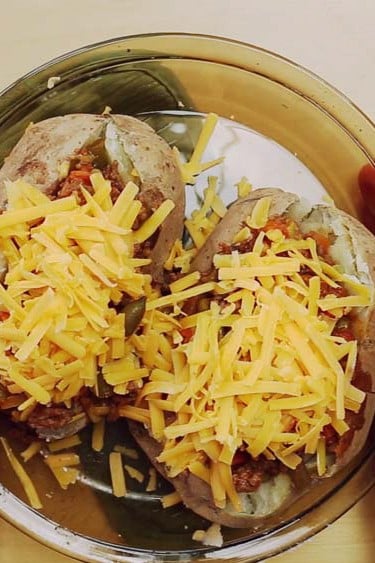 Return to the oven until the cheese melts.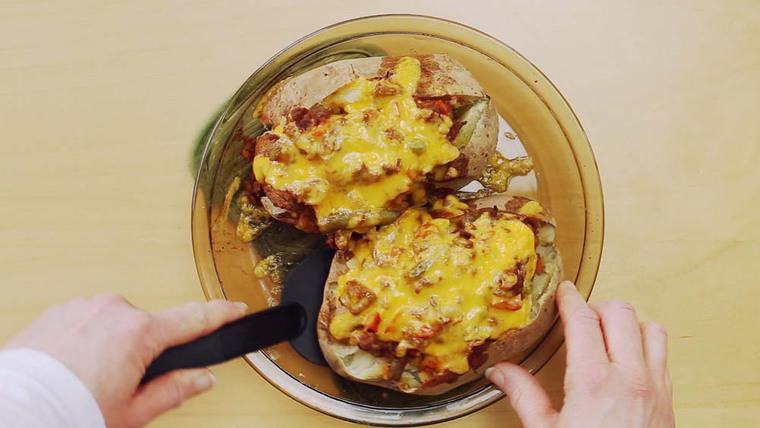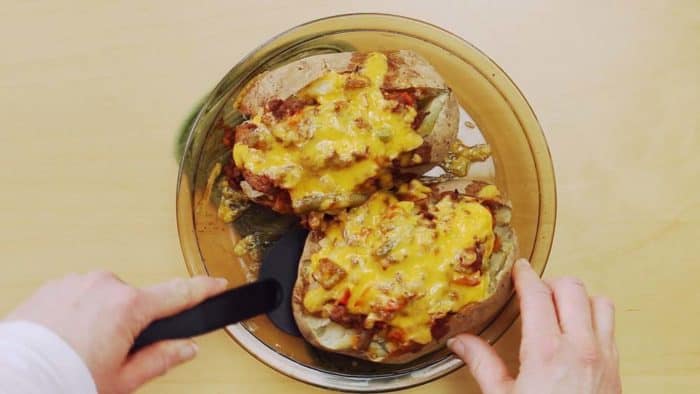 You actually have more options than just the oven for baking potatoes. However, your first step will be to wash them well and pierce them several times with a fork. Then follow any one of these methods listed here. You'll know the potatoes are done when they can be easily pierced with a fork
Oven-baked potatoes:
Place the potatoes on a baking sheet. Bake at 425°F for about an hour, depending on the size.
Microwave baked potatoes:
Place the potatoes on a microwave-safe dish and cook at 100% power for about 10 minutes (for four potatoes), rotating after 5 minutes. If you are cooking more or less potatoes, you will have to adjust the time.
Instant Pot baked potatoes:
Place 1 cup of water and the steamer insert in your Instant Pot. Place potatoes on the steamer basket, put on and lock the lid in place, and set to Manual for 12 to 18 minutes, depending on the size of your potatoes. 6-8 oz. potatoes will take about 12 minutes, 8-10 oz. potatoes will need about 15 minutes, and 10-12-oz. will be done in about 18 minutes. Allow the pressure to release naturally for about 15 minutes.
Slow cooker baked potatoes:
Rub the potatoes with olive oil and place in the crockpot, cooking on low for 8-10 hours or high for 4-5 hours.
Make it a meal
When most people think of a stuffed baked potato, they typically think of a side dish like Broccoli Cheese Twice Baked Potatoes to serve with a steak. However, this is a baked potato dinner, so you might just need a light veggie side dish like one of these:
Is a traditional Shepherd's Pie made with beef or lamb?
Shepherd's Pie typically has lamb and it usually has a more traditional brown gravy-type sauce. It is also pretty much always made with mashed potatoes.
This one uses ground beef and a more tomato-ey sauce. And, obviously, it uses baked taters instead of mashed.
Let's just say this recipe is inspired by Shepherd's Pie and leave it at that. It tastes good. Just go make it. Call it Baked Stuffed Potatoes with Ground Beef and Veggies if you like. It's all good. I'm okay with that.
Gluten free ingredients
Potatoes don't contain gluten, so it is easy to make gluten free stuffed baked potatoes as long as you choose the right gluten free ingredients for the filling.
For this recipe, you'll need to pay particular attention to the labels on the following to look for gluten-containing ingredients:
Beef broth – while many brands of stock or bone broth are gluten free, there are some that are not due to colors and flavors that are added.
Worcestershire Sauce – in the United States, Lea & Perrins Worcestershire Sauce is gluten free. But in other countries or with other brands, do check the label or company website.
Variations on Shepherd's Pie
Shepherd's Pie Loaded Baked Potatoes
A fun and easy twist on a classic recipe with a simple beef and vegetable filling for stuffed baked potatoes.
Ingredients
4

baking potatoes

1

pound

lean ground beef

½

cup

chopped onion

(about 1 medium onion)

1

garlic clove

crushed or minced

Salt and pepper

¾

cup

tomato paste

one 6-ounce can

¼

cup

Worcestershire sauce

1 1/2

cups

beef broth

2

cups

frozen mixed vegetables

thawed (carrots, peas, corn, and green beans)

1

cup

shredded cheddar cheese

about 4 oz.
Instructions
Bake the potatoes in a 400°F oven for about an hour or until they can be pierced easily with a fork. Or you can cook in the microwave for about 10 minutes, rotating after five minutes.

While the potatoes are cooking, heat a skillet over medium heat, add the ground beef, onion, garlic, and a pinch of salt and pepper. Cook, breaking up the meat, until it is browned. Drain any excess grease.

Stir in the tomato paste, Worcestershire sauce, and beef broth.

Add the vegetables, bring to a simmer, and cook until thickened slightly. Season to taste with salt and pepper.

Cut a slit down the length of one potato then another one perpendicular to make an "x". Squeeze the sides of the potato to open it up and place in a glass baking dish. Repeat with the remaining potatoes.

Spoon the filling into the potatoes and top with shredded cheese.

Return to a 400°F oven for about 5 minutes, or place under the broiler for 2 or 3 minutes, or until cheese is melted and lightly browned.
Nutrition Facts
Shepherd's Pie Loaded Baked Potatoes
Amount Per Serving (1 g)
Calories 564
Calories from Fat 144
% Daily Value*
Fat 16g25%
Cholesterol 99mg33%
Sodium 1195mg50%
Potassium 2214mg63%
Carbohydrates 65g22%
Protein 42g84%
Vitamin A 5665IU113%
Vitamin C 36.3mg44%
Calcium 310mg31%
Iron 8.1mg45%
* Percent Daily Values are based on a 2000 calorie diet.
More favorite easy dinners
Enjoy!