Individual Shepherd's Pies
Disclosure: This post may contain affiliate links. Cupcakes & Kale Chips is a participant in the Amazon Services LLC Associates Program, an affiliate advertising program designed to provide a means for us to earn fees by linking to Amazon.com and affiliated sites.
Individual Shepherd's Pies are single serving portions of a classic St. Patrick's Day recipe and a perfect way to enjoy a gluten free St. Patrick's Day!
From yummy flavors and fun shapes to delicious dips and occasional sneakiness, like most moms, I'm always looking for different ways to get my kids to eat their veggies. Read on for some of my ideas, and this yummy veggie-packed dinner full of flavors kids love – Individual Shepherd's Pies.

Whether people are checking out my photos of The Bug's lunchbox on Facebook or Instagram, or just reading along on the blog about my adventures in feeding the little guys, I often get questions or comments about people being surprised or impressed or envious that my kids are such good eaters.
As a reformed picky eater myself, I know how hard it can be. And today, 9 out of 10 people in the United States do not get the proper amount of vegetables, according to The State Of The Plate report.

So what do I do? Well, part of it started from Day 1, just making sure they were exposed to tons of different flavors and textures, and trying over and over and over again. But other times, it takes a little creativity. Here are a few of my strategies and recipes…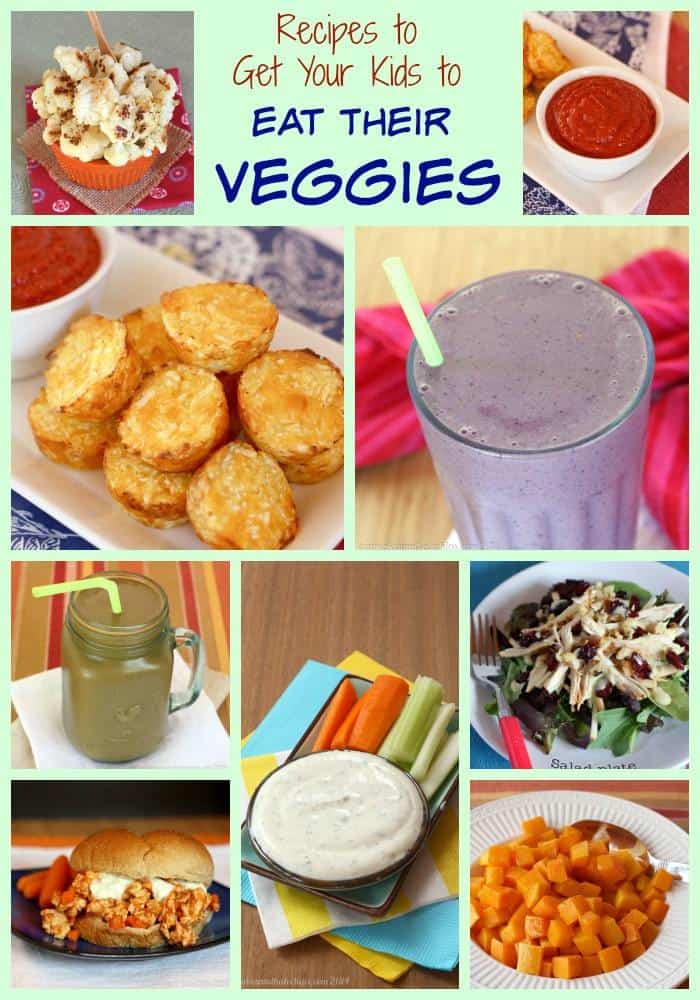 Just do it – as in, just feed them the veggies. This has to be the first step. Prepare your veggies in a simple but tasty way without a lot of other stuff on it, like this Basic Roasted Cauliflower and Basic Roasted Butternut Squash, and just put it on their plate. Every time. They need to know what a vegetable looks and smells and tastes like, or they'll never eat it.

Take a dip – in some Pantry Greek Yogurt Ranch Dip, Homemade Ketchup, or another healthy dip. My kids will eat anything if it's topped with or dipped in ketchup. And I mean anything. Like, even broccoli. Totally weird, but whatever.

Whip it, whip it good – since kids love mashed potatoes, right? Well how about mashing their veggies? Browned Butter Whipped Butternut Squash and Whipped Cauliflower Gratin were gobbled up in my house.

Go green – green smoothies, that is. It never hurts to toss a few handfuls of dark leafy greens into the blender with some yogurt, milk, fruit, and maybe a few other add-ins to make it healthier or tastier, like my Peanut Butter & Jelly Smoothie or Chocolate Pumpkin Spice Smoothie (that one gets you a double dose of veggies!). But the key is to be up front with your kids. If they know that "nasty" spinach is going into their super-delicious smoothie, spinach may not seem so "nasty" anymore.

Tots for tots – Cauli-Tots, Zucchini Tater Tots, Pizza Tots… 'nuff said.

Be sneaky – OK, sometimes you have to sneak in those vegetables. I like to do this in addition to, and not in place of just serving veggies in as close to their "original" form as possible. But if you have a really picky eater, this is a good place to start, just once they realize they like it, make sure you tell your kids what's in the recipe. Butternut Squash Macaroni and Cheese and Buffalo Chicken Sloppy Joes are great places to start.

Don't give up – trust me! The Bug wanted nothing to do with salads for a long time. I always put the littlest piece of lettuce on his plate, he had to eat that little bit, but beyond that, I didn't push the issue. Then one day he wanted a bit of my lunch salad, and he liked it! So when I made dinner salads, like this Autumn Turkey & Apple Salad, I started giving him some, but maybe had a higher ratio of turkey and apples and cheese to lettuce. Gradually I increased the amount of lettuce, and now he will eat a simple veggie side salad without all of the other stuff on top!
I'll be honest with you, though. Lately time has not been on my side, so whipping and chopping and shredding and "totting" hasn't been happening as often as I would like. Luckily Birds Eye has a selection of more than 40 unique frozen vegetable blends to help busy parents get nutritious veggies on their families plates at an affordable price.

Individual Shepherd's Pies take flavors and ingredients that kids love, but incorporates a ton of vegetables, too!
My boys are much more likely to gobble down dreaded green veggies like peas and green beans when they are mixed with things they love. Ground beef, carrots and corn in a yummy sauce, topped with mashed potatoes and cheese! Yup, cheese is always a winner in my house.

I hope you love this recipe as much as we did. Use some of these ideas to help reshape your kids' veggie perceptions. If you do it well, they'll like veggies for life.
How do you get your kids to eat their veggies?
Let me know what you think of these Individual Shepherd's Pies!
Print Recipe
Individual Shepherd's Pies
An easy, tasty beef and veggie mix topped with cheesy mashed potatoes in individual servings make these Shepherd's Pies fun to eat.
Servings:
8
individual pies
Ingredients
1

pound

ground beef

½

cup

onion.

chopped (about half of a medium onion)

1

garlic clove

crushed or minced

¾

cup

tomato paste

one 6-ounce can

¼

cup

Worcestershire sauce

1 ½

cups

beef broth

4

cups

or about two 10 oz. packages Birds Eye frozen vegetable medley, thawed (carrots, peas, corn, and green beans)

1

pound

white or russet potatoes,

peeled and cut into about 1 inch chunks

¼

cup

plain Greek yogurt

or sour cream

¼

cup

milk

1

teaspoon

kosher salt

1

cup

shredded cheddar cheese

divided
Instructions
Heat a skillet over medium heat, add the ground beef, onion, garlic, and a pinch of salt and pepper and cook, breaking up the meat, until it is browned. Drain any excess grease. Stir in the tomato paste, Worscestershire sauce, and beef broth. Add vegetables, bring to a simmer, and cook for 10-15 minutes or until thickened slightly. Season to taste with salt and pepper.

While the meat is cooking, place the potatoes and a pinch of salt into a pot of cold water, cover, and bring to boil. Remove cover and boil for 10-12 minutes, until fork tender. Drain and return to the pot, add ½ cup shredded cheddar cheese, Greek yogurt or sour cream, milk, and salt. With potato masher or hand mixer, mash to desired consistency.

Preheat your oven to 350°F and have eight 4 oz. ramekins ready.

Divide the meat mixture between the ramekins, then top with the mashed potatoes and remaining cheese, and place ramekins on a baking sheet.

Bake for 25-30 minutes, or until heated through, and cheese and potatoes are slightly browned.
Nutrition
Serving:
1
individual pie
|
Calories:
245
kcal
|
Carbohydrates:
18
g
|
Protein:
18
g
|
Fat:
10
g
|
Saturated Fat:
5
g
|
Cholesterol:
52
mg
|
Sodium:
871
mg
|
Potassium:
799
mg
|
Fiber:
1
g
|
Sugar:
5
g
|
Vitamin A:
555
IU
|
Vitamin C:
10.6
mg
|
Calcium:
156
mg
|
Iron:
3.1
mg
Enjoy!