This post may contain affiliate links. Read my disclosure policy.
Loaded Mashed Cauliflower is easy and cheesy with plenty of cheddar cheese and bacon. With only five ingredients, a few minutes of work, and a couple of tricks, you can whip up this easy low carb side dish recipe. Make everyone forget about mashed potatoes when you serve this veggie-packed keto and gluten free casserole.
Disclaimer: This recipe was developed through a sponsored partnership with Cabot Creamery Co-operative. As always, all opinions are my own.
Loaded Mashed Cauliflower Recipe
This easy side only has five ingredients (plus salt and pepper) and it super easy. While the cauliflower cooks, you can prepare the baking dish, crisp up the bacon, and gather the other ingredients. Then just mash everything together and pop it in the oven while you prepare the rest of your meal.
This recipe takes your usual veggie side dish to another level. In fact, you might be ready to skip the carbs altogether. You can enjoy all the flavor of fully loaded mashed potatoes by adding plenty of bacon and cheddar to this cheesy cauliflower bake.
How do I know that you'll be passing on the spuds to get your hands on a scoop of this deliciousness?
Well, I was ready to sit down with a spoon and the entire casserole dish. And I kept going back to the fridge and sneaking bites even when it was cold. But you may well know that I am a cauliflower superfan since the day I discovered cauliflower tots. So perhaps my love of this dish does not come as a surprise to you.
Instead, I could tell you that our dinner guests loved it too.
But to really convince you, I am going to tell you that my husband, the man who previously banned roasted Brussel sprouts from the house and prefers his salads drenched in hot bacon dressing, went back for seconds. And thirds.
Each time he declared how good the "mashed potatoes" were despite knowing full well AND being reminded that he was, in fact, eating vegetables and not the cheesy mashed potatoes that this recipe is based on.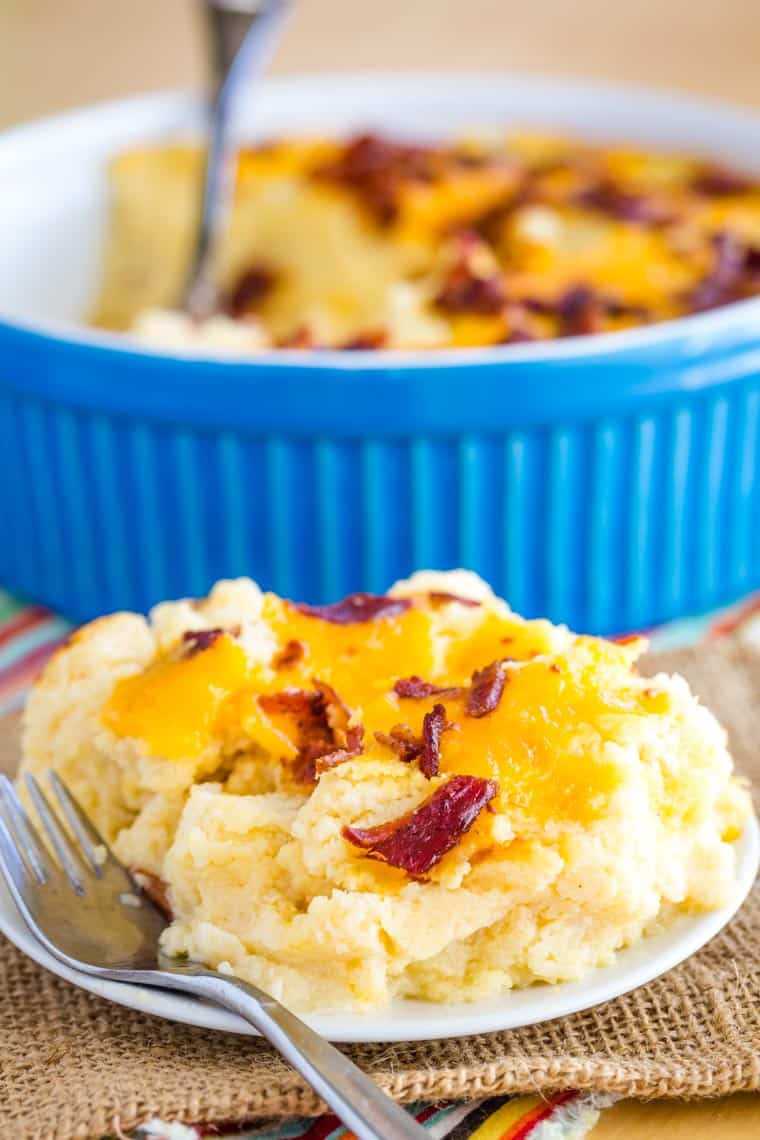 Cauliflower FAQs
What does cauliflower taste like?
While some people might say cauliflower is bland or bitter, it actually has a fairly mild flavor. When prepared properly, it is actually a little sweet. With such a neutral taste, it is perfect for pairing with other ingredients to highlight their flavors.
In this case of this recipe, that's bacon and cheddar cheese! The smoky saltiness of the bacon and sharpness of these cheese really shine.
Which is healthier potatoes or cauliflower?
Potatoes do have their place for providing fiber and vitamin B6 and potassium for those who don't have to restrict their carb intake. But cauliflower does have the benefit of being lower in both carbs and calories while still providing high amounts of fiber and B vitamins.
With only 5 grams of carbohydrates per 1 cup of raw cauliflower and 2 grams of those carbs being from fiber (source), it is definitely a keto-friendly vegetable.
That's why many people now turn to this cruciferous vegetable to turn it into cauliflower rice, as the creamy base for a keto broccoli cheese soup, as the topping for low carb shepherd's pie, and so much more!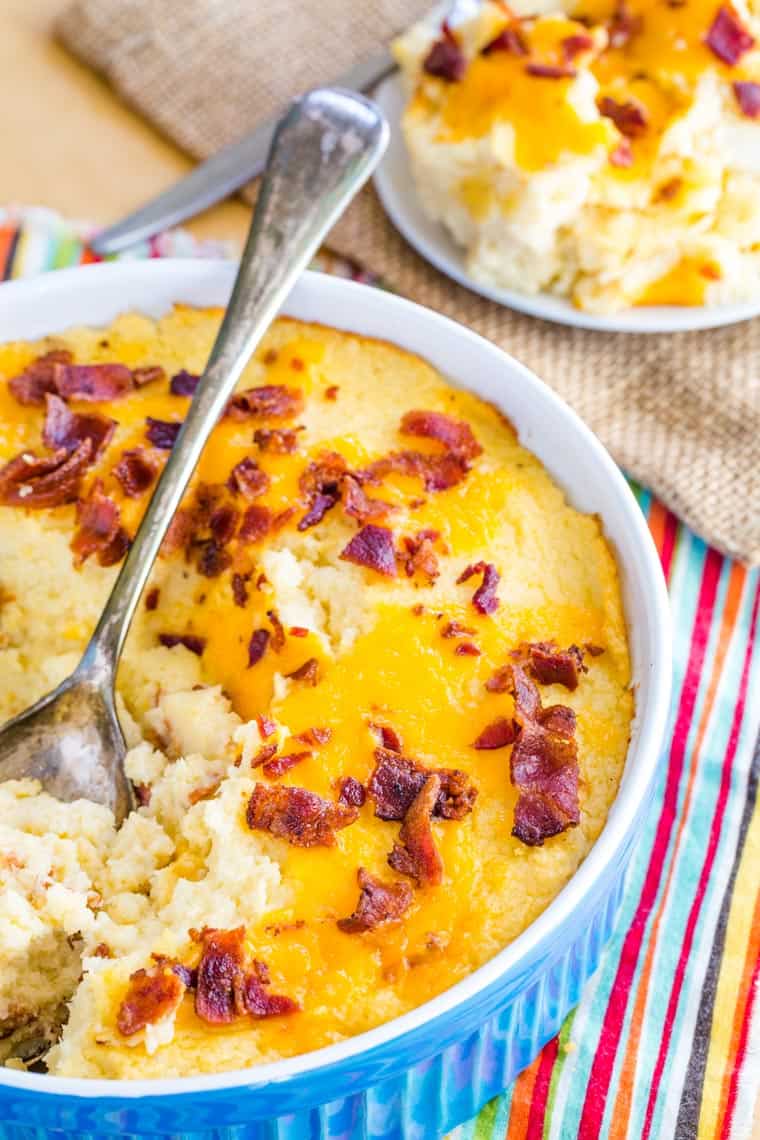 What You'll Need
cauliflower – one large head or one and a half to two smaller ones
plain Greek yogurt – nonfat to save calories, whole milk to make this truly keto
egg
cheddar cheese – I used Cabot Seriously Sharp Cheddar Cheese, but use your favorite
bacon – cooked until crisp
salt and pepper
Directions
Steam cauliflower until very tender.
Transfer to a food processor or blender and add yogurt, egg, shredded cheddar cheese, salt, and pepper. Puree to desired consistency, scraping down the sides as needed.
Crumble two slices of bacon and stir into the cauliflower.
Transfer the mashed cauliflower to the baking dish and top with more shredded cheddar cheese and crumbled bacon.
Bake at 400°F until heated through and slightly browned on top.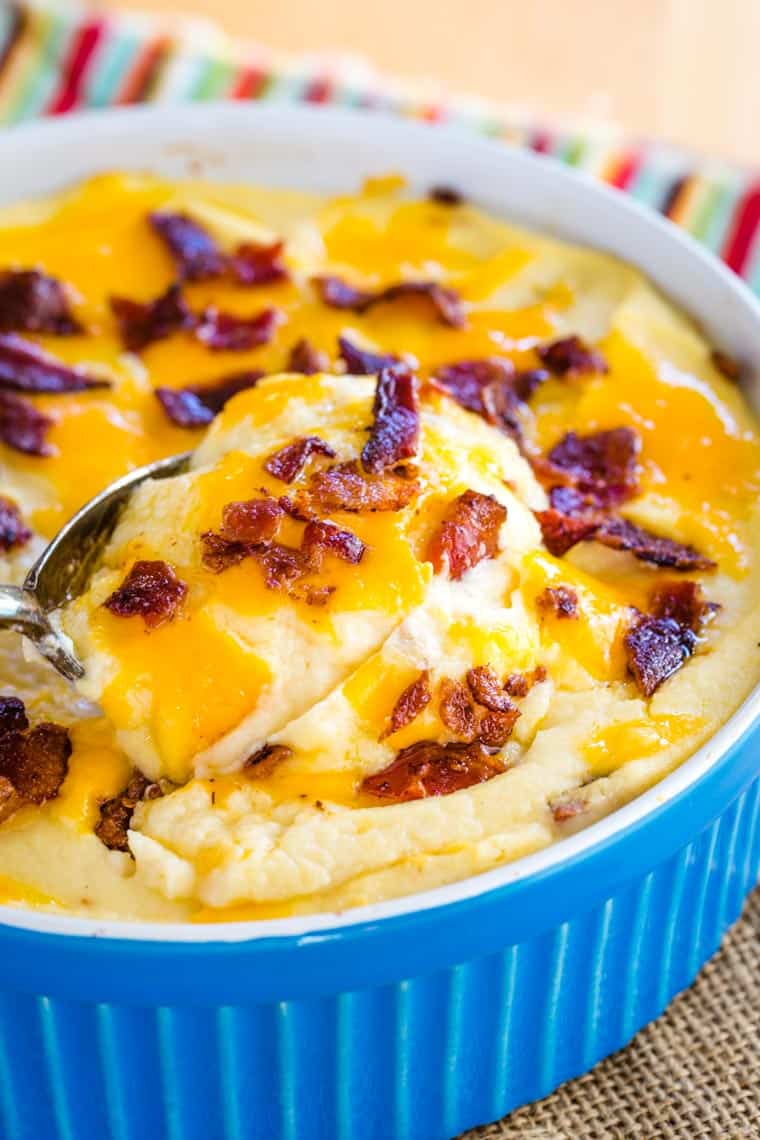 How to thicken mashed cauliflower
One benefit of mashed cauliflower over mashed potatoes is that you can't whip it to the point of being gluey. But sometimes it can be a bit too thin. So here are my tricks for the perfect cauliflower mash consistency:
Steam the cauliflower instead of boiling it. Also, I recommend fresh cauliflower instead of frozen, which sometimes has excess moisture.
Let the moisture evaporate. After steaming the cauliflower, remove it from the pot and leave it on a steamer rack or laid out on a sheet pan to allow it to give off some steam for just a few minutes.
Bake it in a casserole dish. Instead of just mashing it and serving it in a bowl, adding Greek yogurt and an egg and baking gives it a nice, scoopable consistency.
I prefer a 1.5 quart ceramic baking dish that is fairly shallow so that it is filled completely and you can see the nice golden, cheesy top. A 2 quart ceramic or 9-inch square glass baking dish will work, but it won't be filled quite to the top.
How to mash cauliflower
Use a food processor to puree the cauliflower. It breaks it down so that it stays thick but doesn't have large chunks of cauliflower.
Use a potato masher. If you like the chunks, you can just mash it with a hand potato masher. Then stir in all of the other ingredients before baking.
Use a high powered blender. If you prefer a more smooth whipped cauliflower puree, a Blendtec will do the trick. I am a Blendtec ambassador, and should you make any purchases through my Blendtec Store link, I will receive a small commission, but that also means you can use the code CUPCAKESANDKALECHIPS to receive 20% off.
In the photos below, the left one was whipped in the food processor and the right in the high-powered blender.
BRIANNE'S PRO TIPS
Is it better to boil or steam cauliflower?
For this recipe, it is better to steam cauliflower. Boiling causes some of the nutrients to be stripped away. Steaming allows it to get tender without absorbing excess moisture that will make your cauliflower bake too watery and runny. Truthfully, you could probably even use roasted cauliflower to add even more flavor!
How long does cauliflower take to steam?
You'll want it very tender so that the mashed cauliflower recipe turns out creamy and smooth. This will take about 15 minutes. You'll know it is done when a fork goes through it very easily and it can be cut and mashed with the side of the fork.
Can you double this recipe?
Yes, you can double the recipe for a large family meal. Then just bake it in a 2 1/2 quart casserole dish ort a 9×13-inch glass baking pan for the same amount of time.
How long does mashed cauliflower last?
When covered tightly and refrigerated, this dish can be made a day in advance, and leftovers can be kept for three to five days.
How do you reheat mashed cauliflower bake?
The entire casserole dish can be reheated in a 350°F-400°F oven for 10 to 20 minutes. The time will depend on whether you just pulled it out of the refrigerator and how much is still remaining in the baking dish. You want it to just get hot in the middle.
Can you freeze a cauliflower casserole?
You can freeze it. Wrap it tightly in plastic wrap before putting in the freezer, where it will keep for up to two months. The texture might change slightly, but it will still be delicious.
What kind of cheese should I use?
I highly recommend a sharp or extra sharp cheddar cheese for that bold, cheesy flavor. Though you can choose a mild or medium if you prefer. And yellow or white works just fine.
Cabot has long been my favorite cheddar. Perhaps that because they have been making high-quality dairy products since 1919. With a 100-year history, you know their award-winning cheddars will make this and any recipe extra delicious. You can use your favorite Cabot cheese, from Vermont Sharp to the Legacy Collection Farmhouse Reserve. Whatever cheese you choose, you'll taste Cabot's commitment to making the best products in every bite.
In addition, Cabot is a co-operative owned by farm families throughout New England and New York. 100% of profits go back to the farmers. Plus Cabot is dedicated to communities, the environment, and volunteers. Learn more about not only the products, but also their B Corporation certification and the Reward Volunteers program by following them on Facebook, Twitter, Pinterest, and Instagram.
Make it a Meal
This easy gluten free casserole makes a great side dish for these easy keto dinner recipes: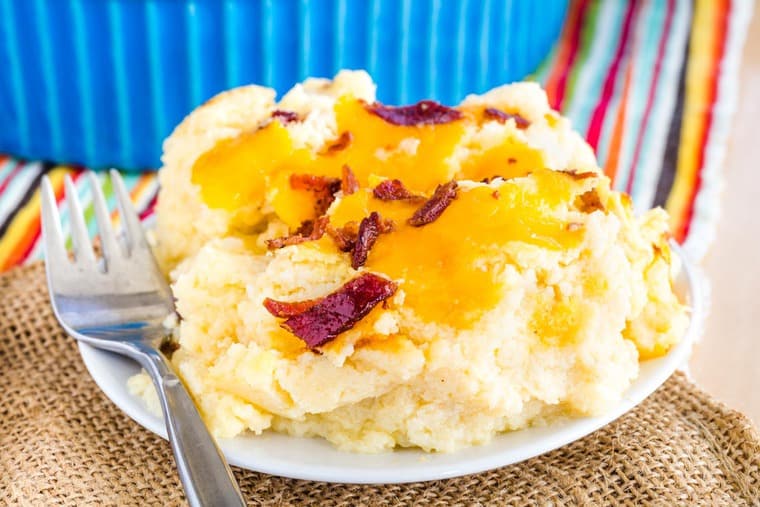 More cheesy mashed cauliflower casserole recipes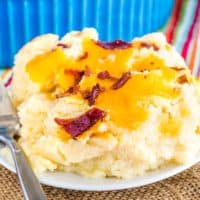 Bacon Cheddar Cheesy Mashed Cauliflower
Takes your usual veggie side dish to another level. Skip the carbs but keep all the flavor of fully loaded mashed potatoes by adding plenty of bacon and cheddar cheese. Five ingredients, seriously easy, and so delicious, the entire family will be going for seconds and thirds.
Ingredients
1

head cauliflower

(about 3 lbs of 5-6 cups of florets)

1/4

cup

plain Greek yogurt

1

egg

1

cup

shredded Cabot Seriously Cheddar Cheese

, divided (about 4 oz.)

1

teaspoon

kosher salt

1/8

teaspoon

freshly ground black pepper

4

slices

bacon

, cooked until crisp and crumbled
Instructions
Preheat your oven to 400°F, and lightly coat a 1.5 quart casserole dish with oil or cooking spray.

Place a steamer basket in a large pot with about an inch of water.

Cut the cauliflower into large florets, discarding the tough stem, and add to the steamer basket in the pot.

Bring to a boil over medium-high heat and steam until very tender, about15 minutes

Remove steamer basket from the pot and allow to cool slightly so that some of the excess moisture evaporates.

Place the cauliflower, Greek yogurt, egg, 3/4 cups of the shredded cheese, salt, and pepper into a blender or food processor, and process until smooth.

Stir in about two slices of the crumbled bacon.

Transfer the cauliflower to the prepared dish and sprinkle with remaining cheese and the rest of the crumbled bacon.

Bake for 25-30 minutes, or until heated through and browned on top.
Notes
The casserole can be prepared ahead of time and baked or reheated before serving.

The entire casserole dish can be reheated in a 350°F-400°F oven for 10 to 20 minutes. The time will depend on whether you just pulled it out of the refrigerator and how much is still remaining in the baking dish. You want it to just get hot in the middle.

You can easily double the recipe for a large family meal. Then just bake it in a 2 1/2 quart casserole dish ort a 9×14-inch glass baking pan.
Nutrition Facts
Bacon Cheddar Cheesy Mashed Cauliflower
Amount Per Serving (1 serving)
Calories 178
Calories from Fat 117
% Daily Value*
Fat 13g20%
Cholesterol 57mg19%
Sodium 645mg27%
Potassium 368mg11%
Carbohydrates 6g2%
Protein 10g20%
Vitamin A 228IU5%
Vitamin C 48mg58%
Calcium 171mg17%
Iron 1mg6%
* Percent Daily Values are based on a 2000 calorie diet.
Categories:
Enjoy!