This post may contain affiliate links. Read my disclosure policy.
On Tuesday I made some admissions about hiding veggies. You may think I do that a lot. That is totally NOT what I am doing here…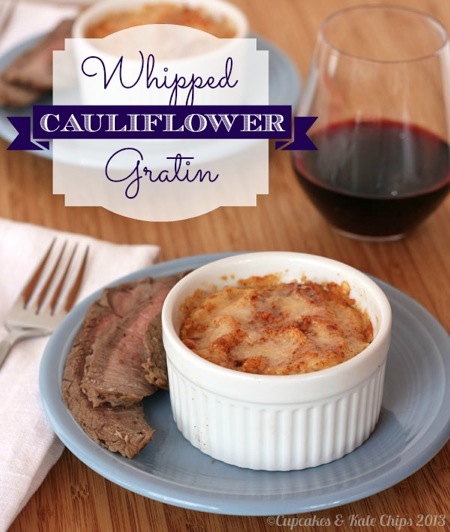 I swear. The Bug and I love cauliflower. The Hubby, well, he eats it without complaint, so I'll take that. He hasn't banned it from the house, like Brussels sprouts. So why this Whipped Cauliflower Gratin?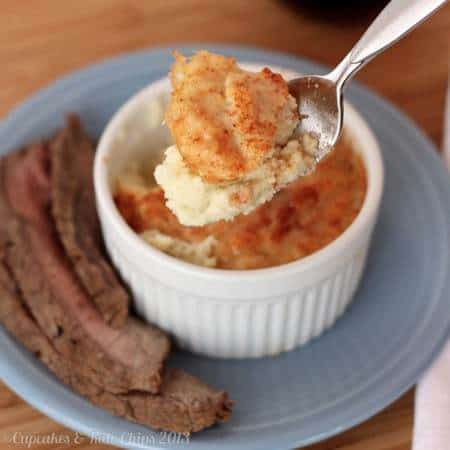 I wanted mashed potatoes. And to be honest, I never want mashed potatoes, unless I am really going to fancy them up. But it was Valentine's Day, and I was making an impromptu, totally unplanned, not at all thought-out special-ish dinner. You know you want to marry me when this…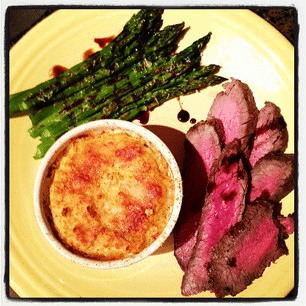 is what you get for an impromptu, totally unplanned, not at all though-out special-ish dinner. Steak, asparagus, mashed potatoes – totally way-to-your-man's-heart, classic steakhouse food! Buuutt, once again, gestational diabetes rears its ugly head, and potatoes can really only be consumed in small quantities. And I'm hungry. Enter Whipped Cauliflower Gratin…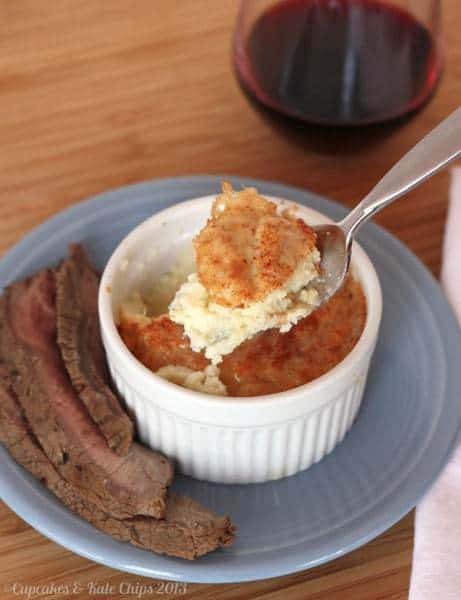 And its virtual lack of carbohydrates. Score one for me! And this Whipped Cauliflower Gratin totally has the texture, and, quite honestly, a similar flavor to mashed potatoes. Now, I have made just plain whipped or mashed cauliflower before, and I would have called it a good cauliflower recipe, but something really entirely different from potatoes. This, I could probably fool my mashed potato obsessed mom or sister.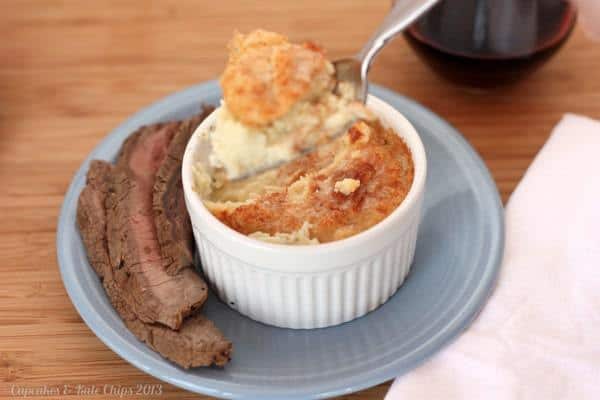 I mean really – look at them. You totally would have thought they were potatoes if I hadn't told you…
Are you a mashed potato lover, or not so much? Have you ever tried cauliflower as a lighter substitute?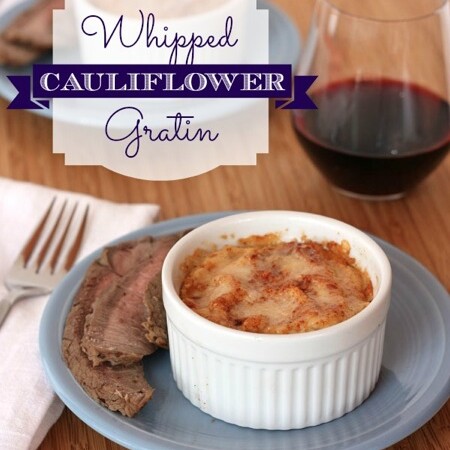 Whipped Cauliflower Gratin
Whipped Cauliflower Gratin is a delicious alternative to mashed potatoes that is simple enough for everyday, but fancy enough for a special meal.
Ingredients
1

head cauliflower

1/2

c

plain Greek yogurt

I used Chobani 0% plain

1

egg

1/2

c

parmesan cheese

divided

1

T

coarsely chopped chives

or more, if you like more oniony flavor

1

t

kosher salt
paprika

optional
Instructions
Preheat your oven to 400°F, and lightly spray 4-6 ramekins (or one large casserole dish would probably work).

Cut the cauliflower into large florets, discarding the tough stem, and steam over boiling water until very tender.

While the cauliflower is steaming, place the Greek yogurt, egg, 1/4 c of the parmesan cheese, chives, salt, and pepper into a blender or food processor, and process until thoroughly combined.

Once the cauliflower is tender, add it to the contents of the blender or food processor, and puree until smooth.

Divide the cauliflower mixture among the ramekins, and sprinkle with remaining parmesan, and paprika, if desired.

Baked for 15-20 minutes, or until heated through and browned on top.
Categories:
Enjoy!